The cat's not out of the bag until it's had its portrait painted! There's no denying that this adorable feline has pretty much saturated every single platform out there at this stage.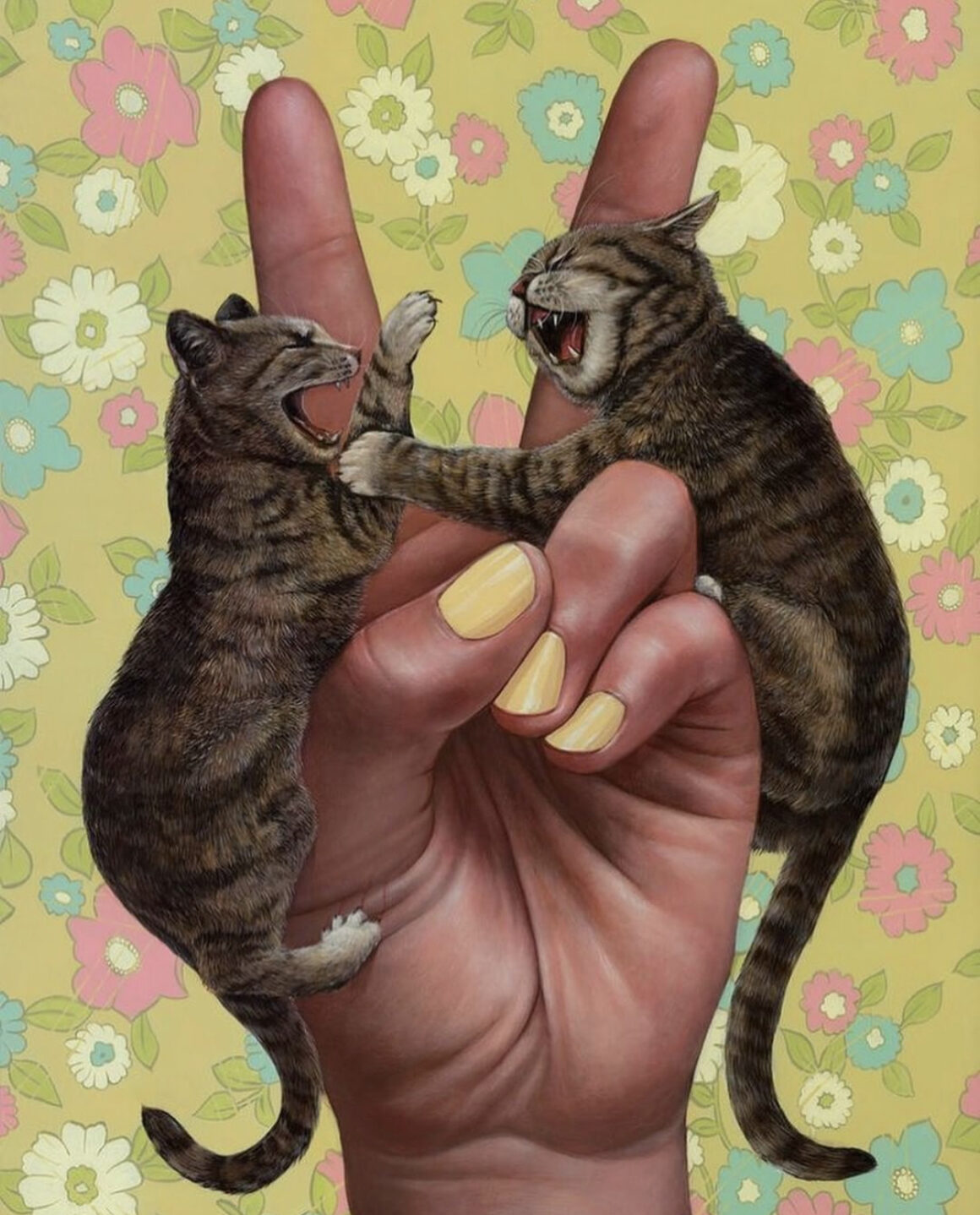 But in our contemporary society which likes to portray cats as the most beautiful and amiable creatures in any of the visual arts, there's one guy who's marching out of step, an artists who actually owes his success to overturning this cliché.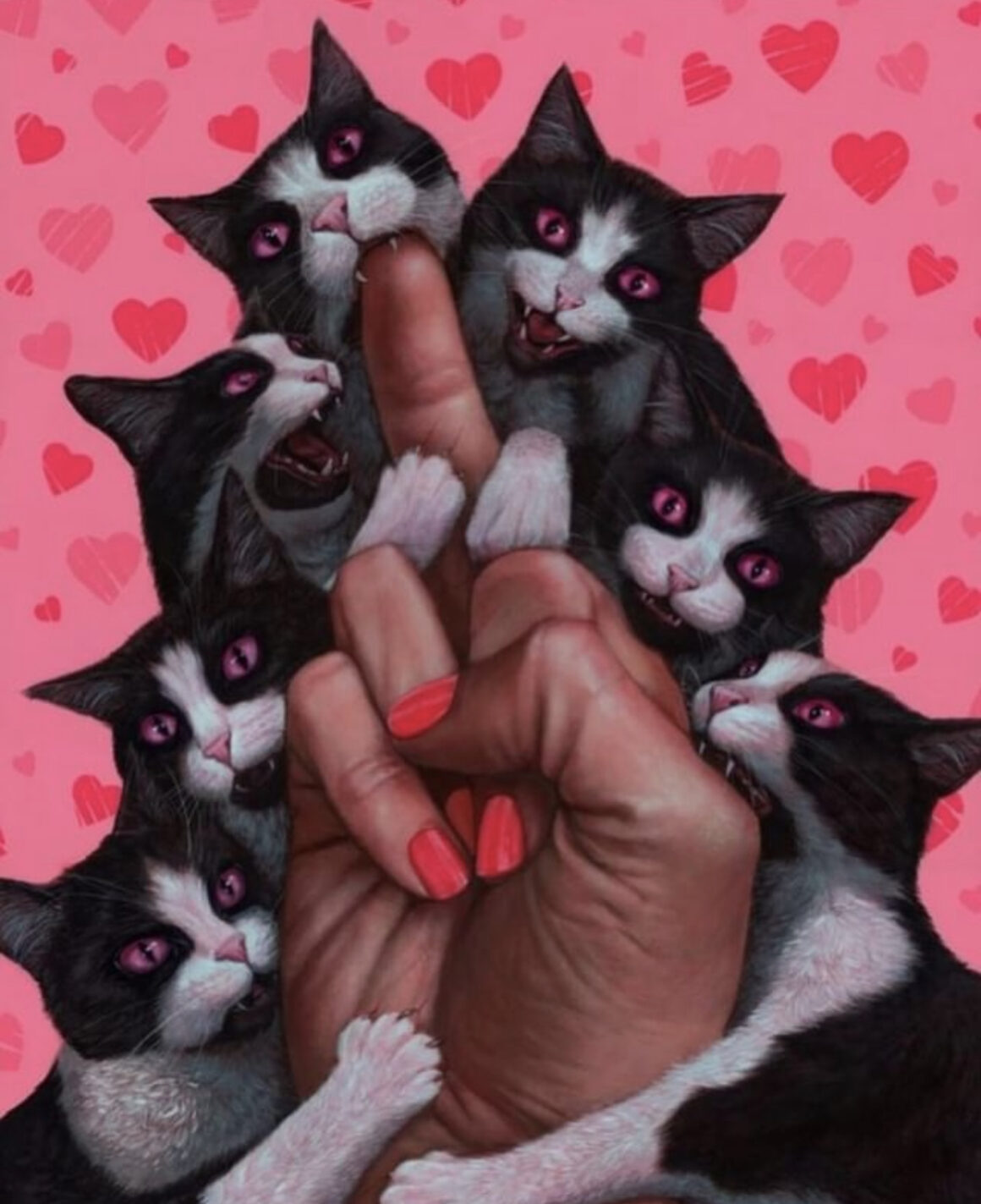 Casey Weldon is an American artist born in 1979 in Valencia, a district of Santa Clarita in Los Angeles County in southern California. This is where he spent most of his life until he graduated in 2004 from the Art Center College of Design in Pasadena.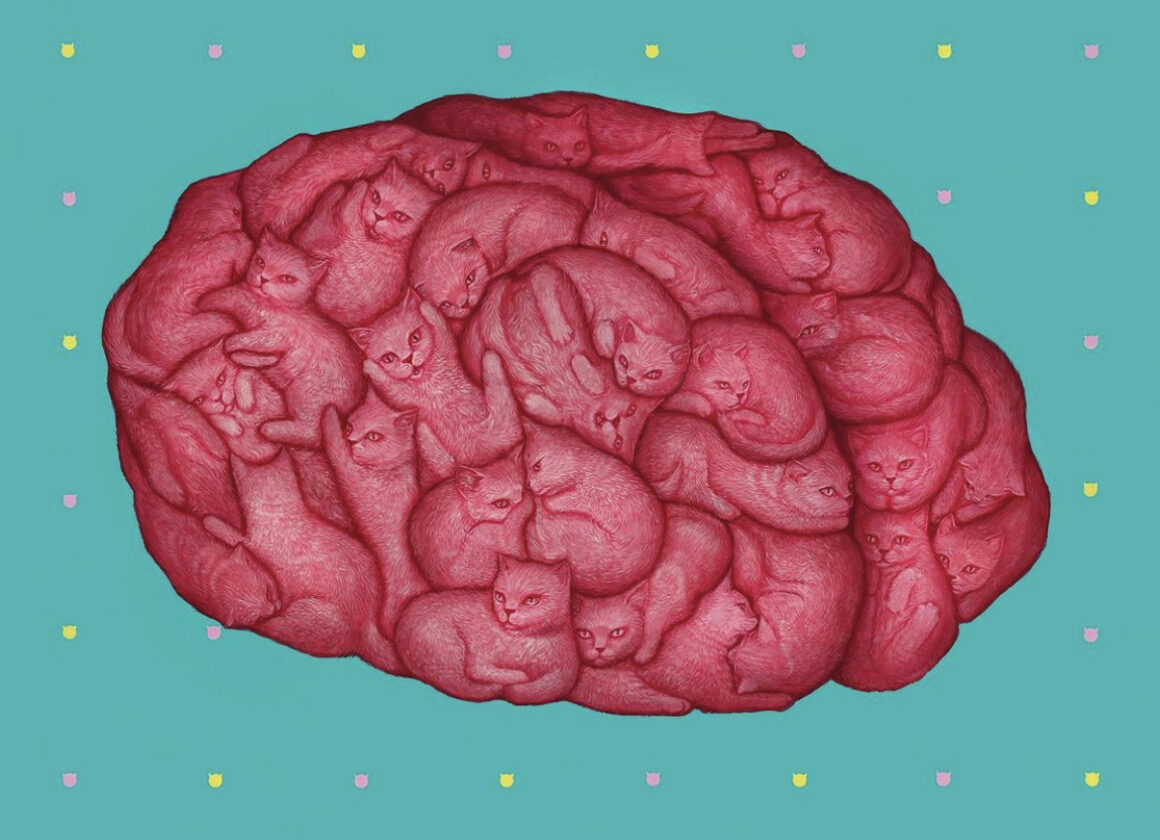 After 3 years, from 2004 to 2007when he managed his own studio in Las Vegas, Nevada, he moved to Brooklyn, New York.
Four years later he returned to Los Angeles always on the lookout for galleries willing to give him the visibility he deserved and then he moved to Seattle, Washington, where he lived and worked for eight years. For the past year and a half he has been back in Vegas where he lives and works as an illustrator and allround artist.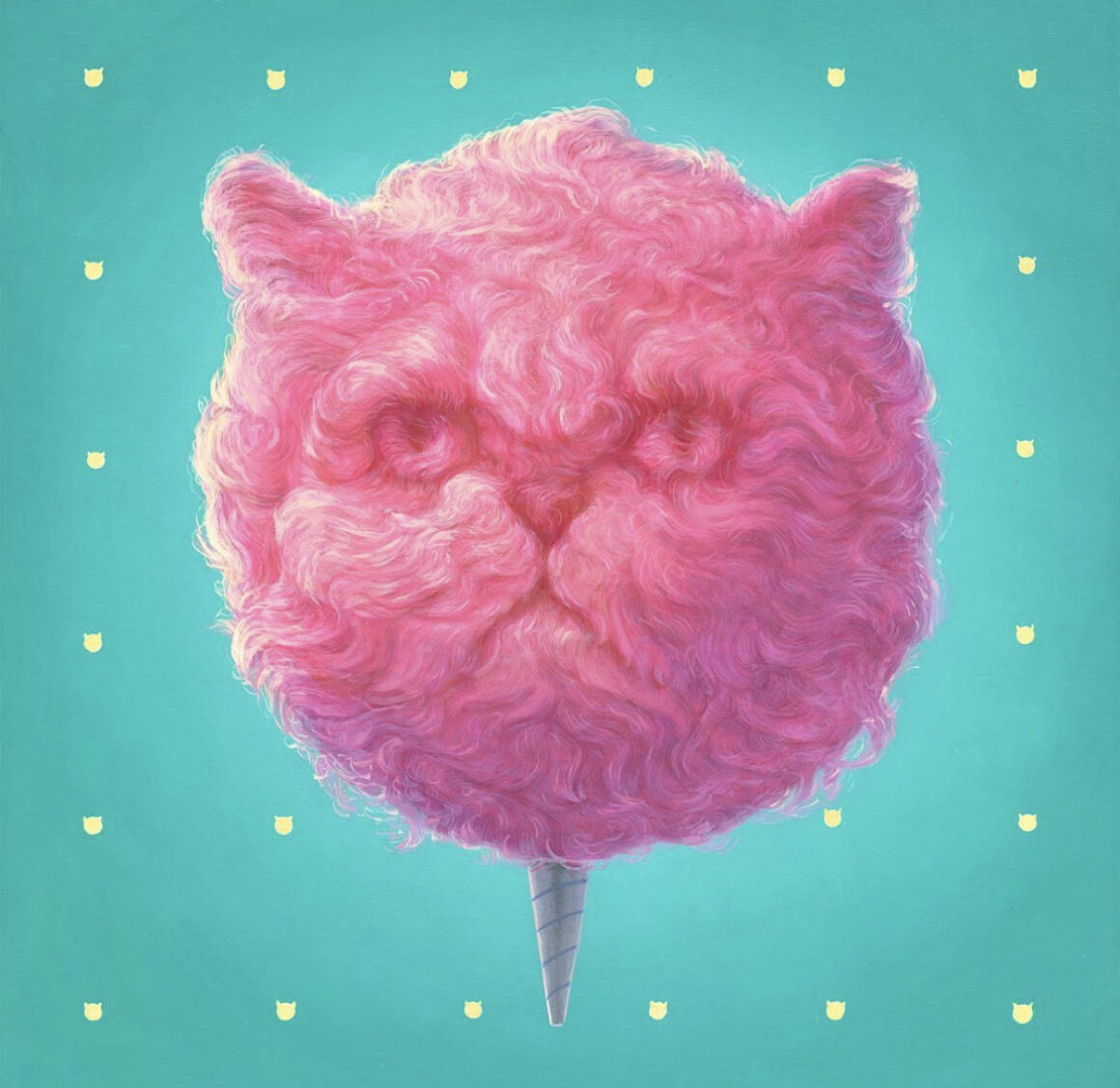 Under Casey Weldon 's brush, the classic kitty turns into a mutant, at times victim, at others butcher, a symbol of social contradictions and vehicle of protest.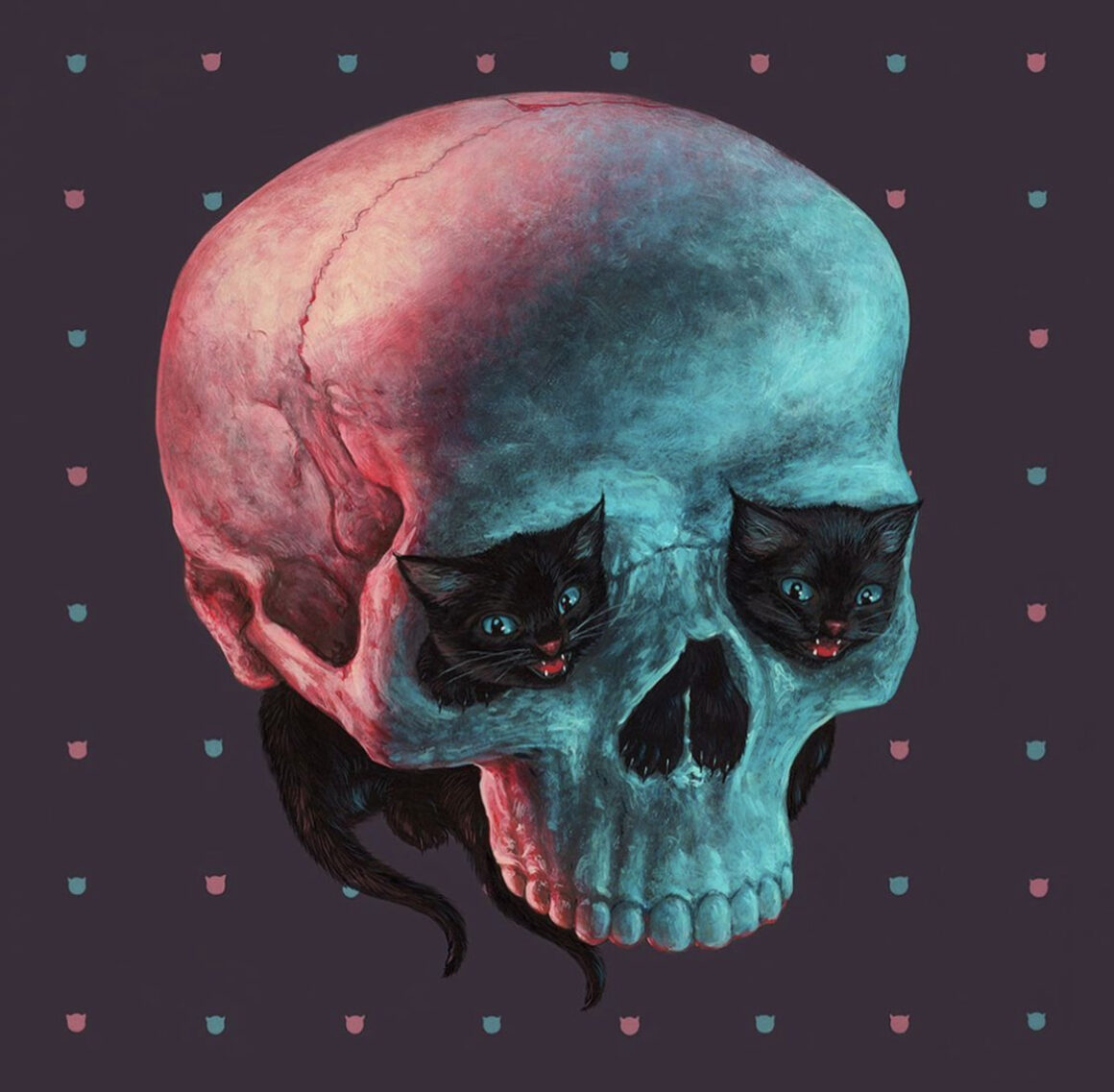 Success came in 2010 soon after he moved to New York with the series "Kitty Kitty" a fabulous collection of portraits of Four-Eyed Cats, making him a popular artist who was soon in demand at all the major pop art galleries.
His connection with the little feline goes back to when he was born, he grew up surrounded by cats and currently lives with four marvellous creatures which, as he puts it. "chose" him. The artist simply finds the cat an interesting subject, like someone who while trying to look cool is up to something dirty.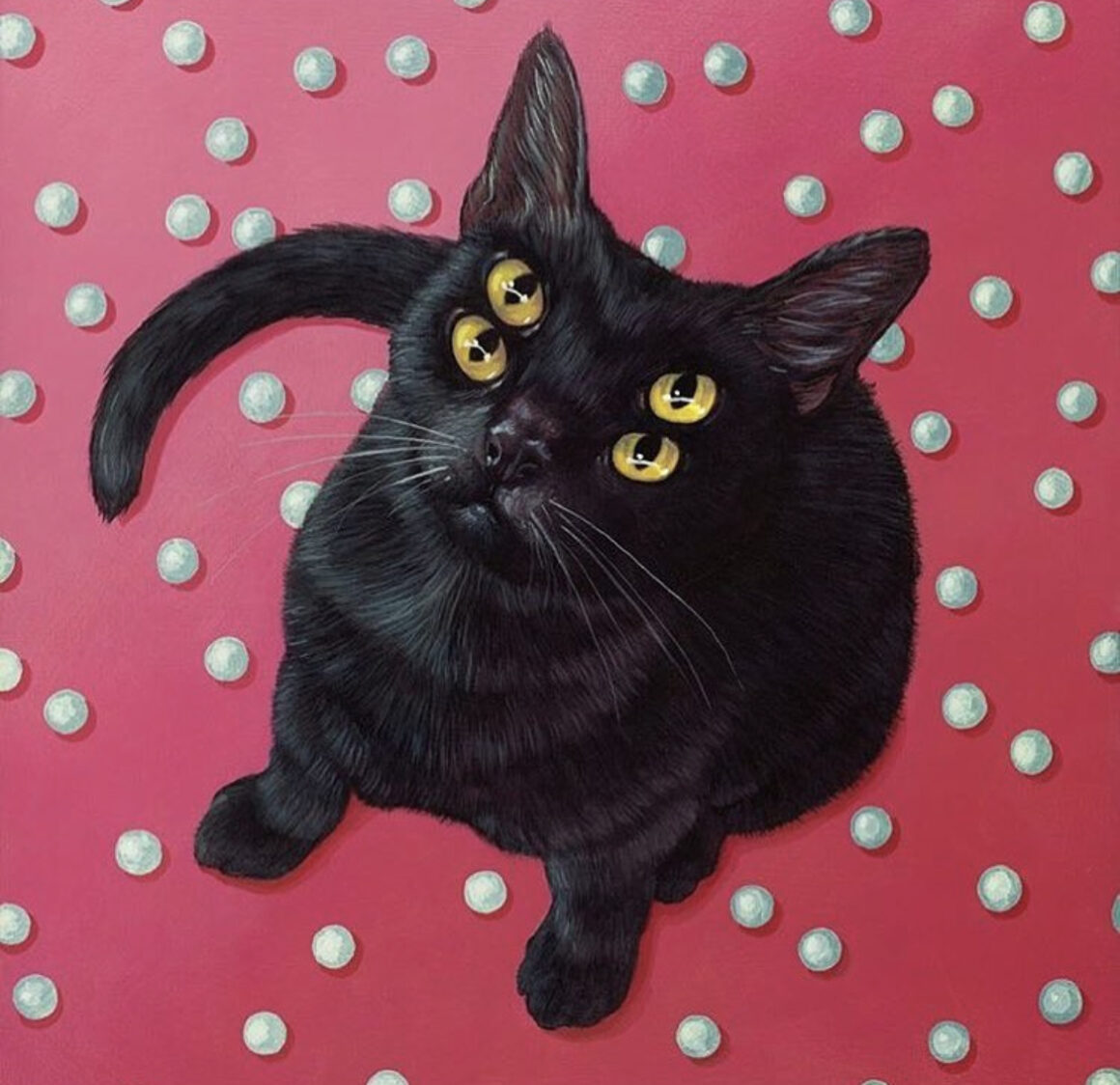 He often chooses cats as the subjects of his paintings because even though they are not people we can still identify with many of their particular traits.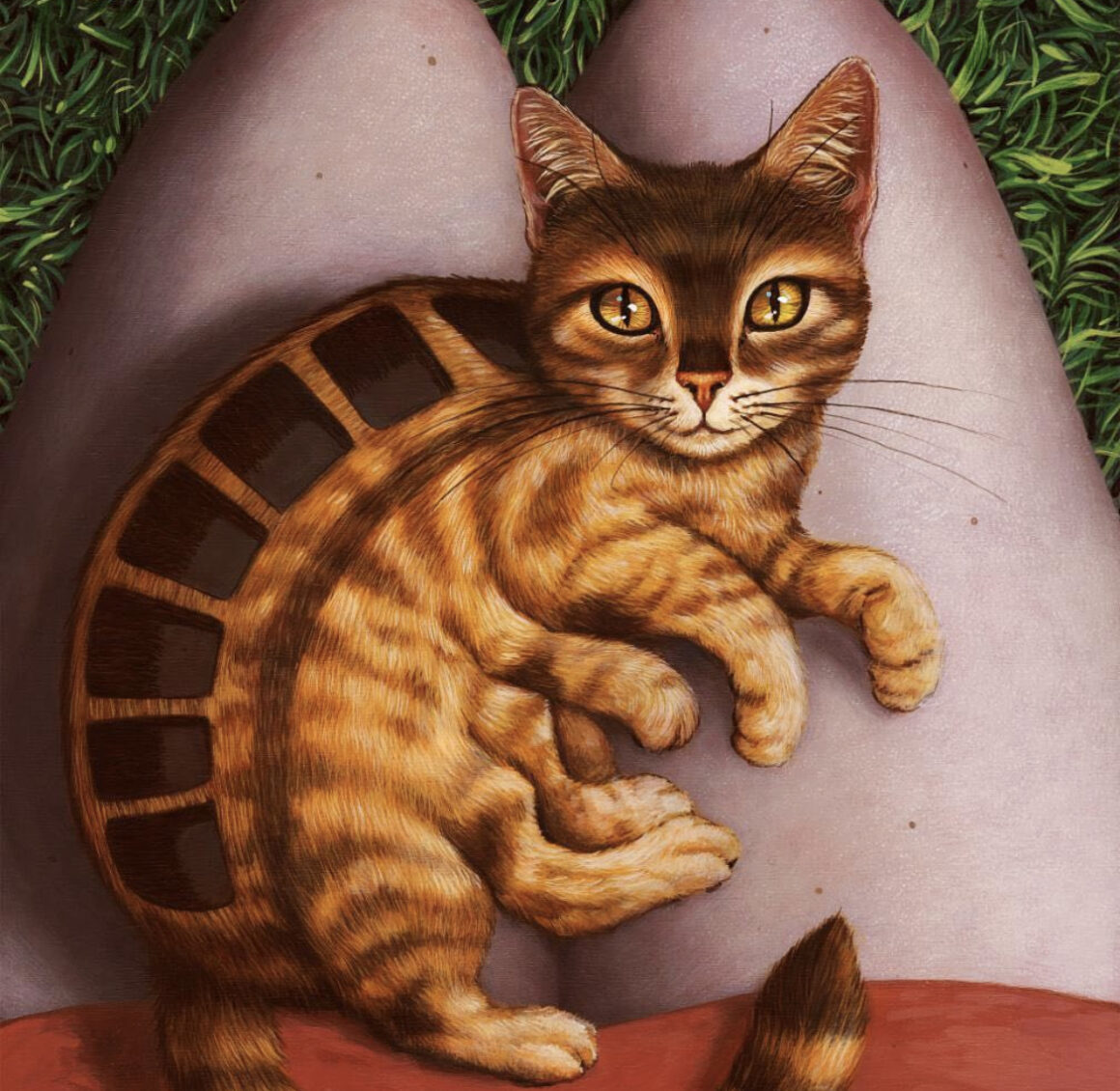 Using today's iconography and the pop culture of yesterday, his work aims to reawaken feelings of nostalgia in the viewer, though often with with wry humour, you feel the melancholy and longing for days gone by.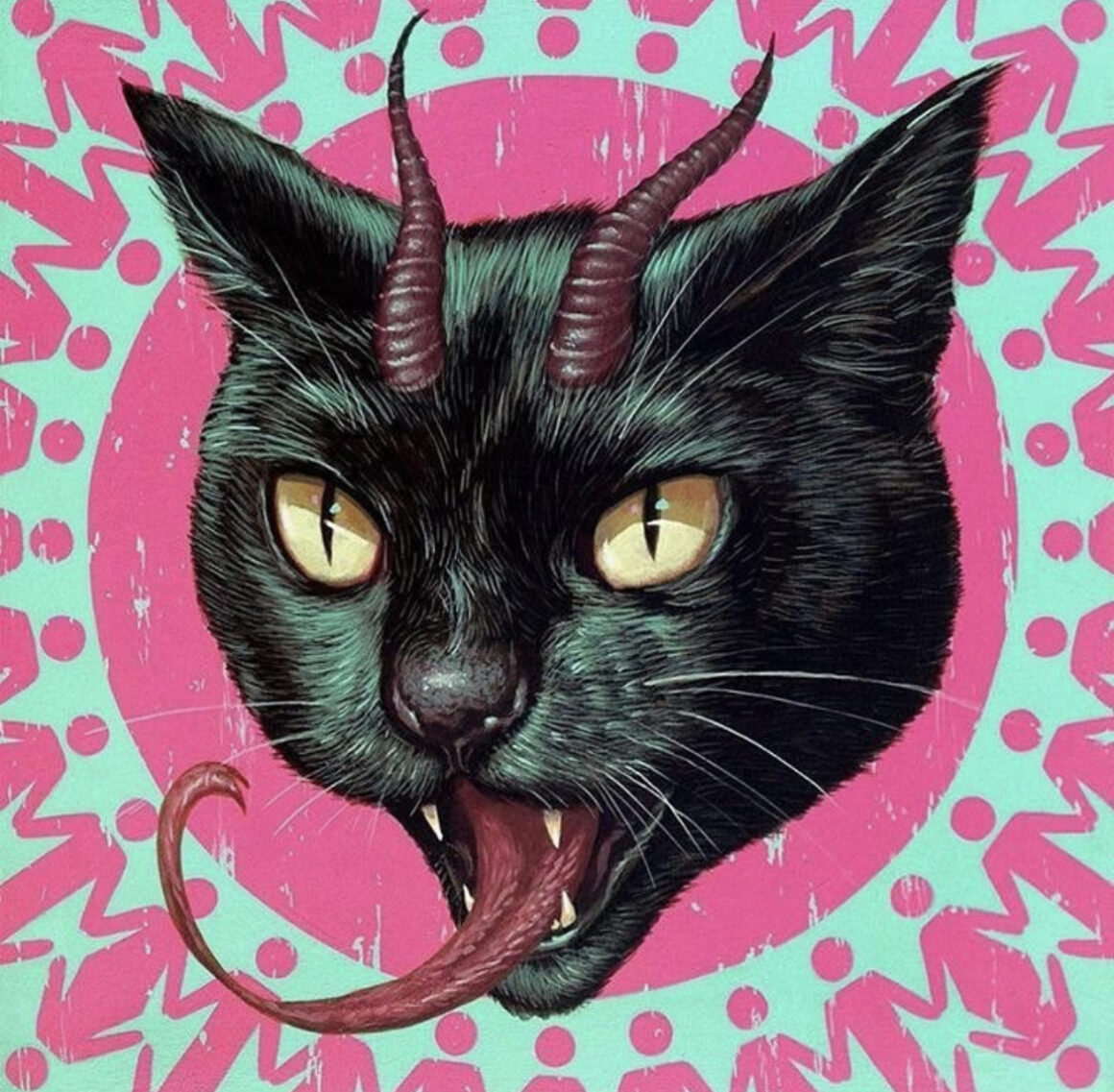 What Californian portrait artist Casey Weldon is actually exploring in his work is the force combat black humour tied to veiled nostalgia. The work is rendered vibrant by the surprising technique. His paintings often communicate a sense of tension, frequently portraying human subjects roo in contrast with their environment. Weldon's style is evocative, iconic and backward looking. The tones are vivid, capturing light and shade with delicacy and precision, the colours recurring in everything.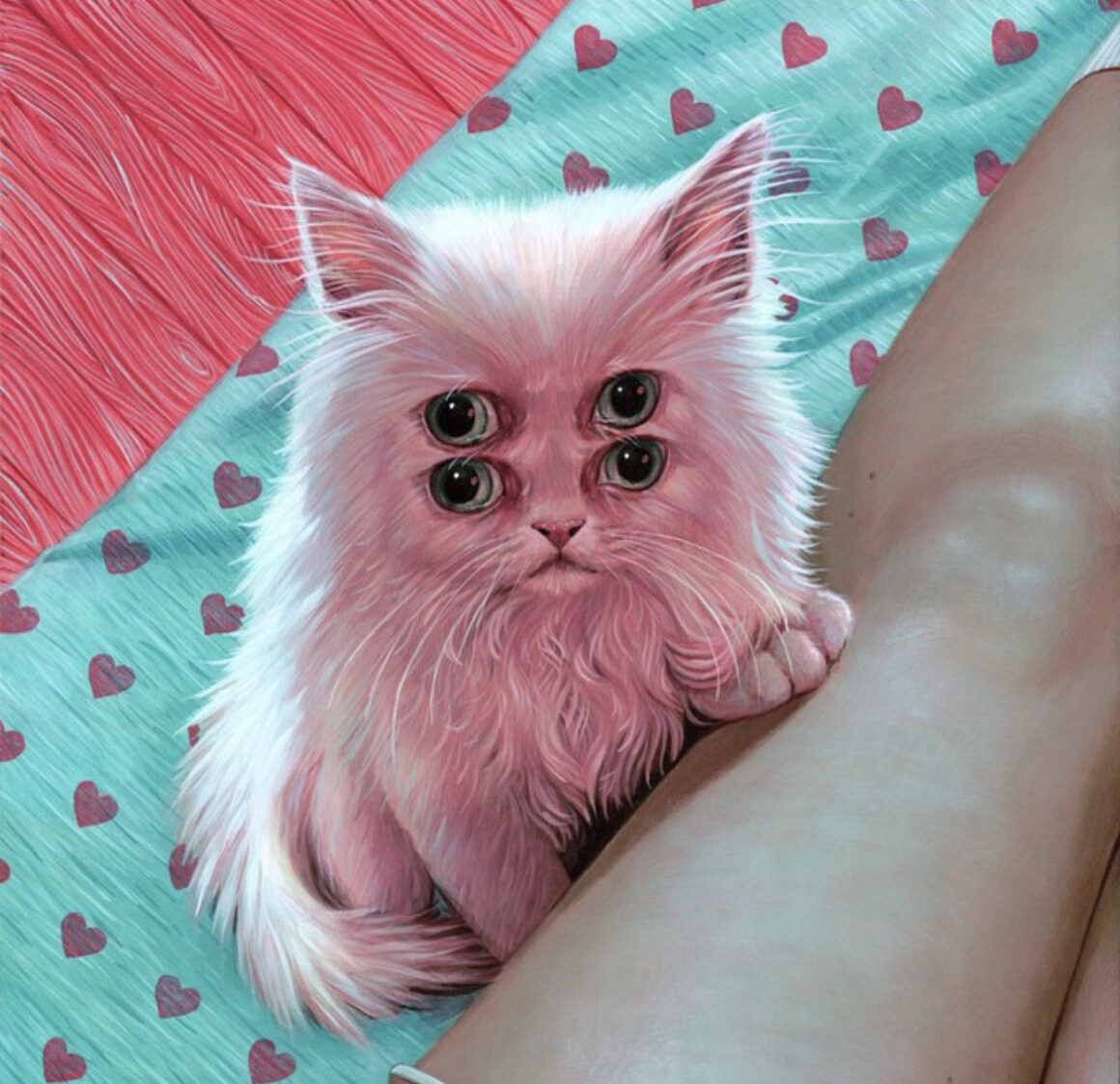 His palette, together with his haunted subjects, recalls Surrealist masters such as Breton and de Chirico. In any case, there is a certain hyperreal quality which definitely makes his works of art stand out. His hyperchromatic palette is bright and vibrating, carefully using layers of gloss paint to create a supernatural glare, almost as if the painting were illuminated from within. The resulting cinematographic storytelling draws us in so that we become actors rather than mere spectators.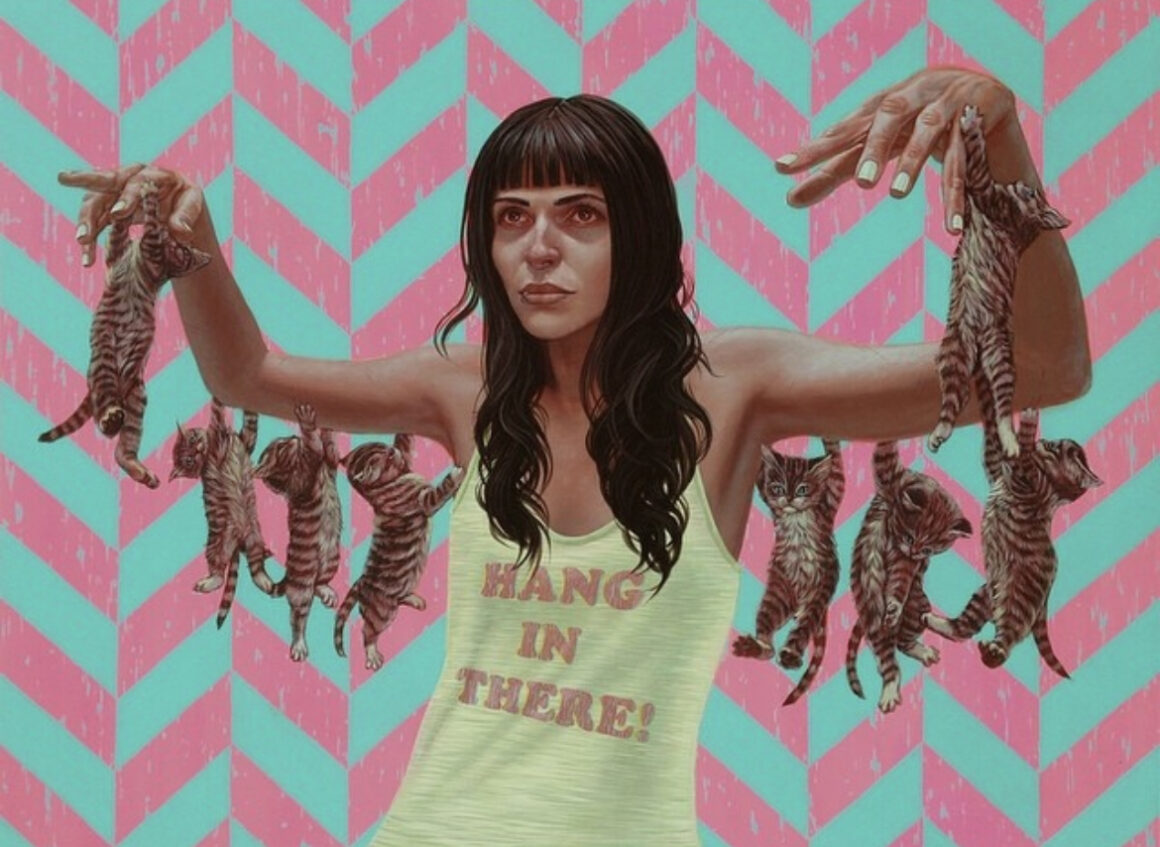 "Everything is always naturally inclined towards the darker side. To make up for that, I started to include super bright light sources. It's a lot of fun inventing these effects like a garish blue light under a red setting sun."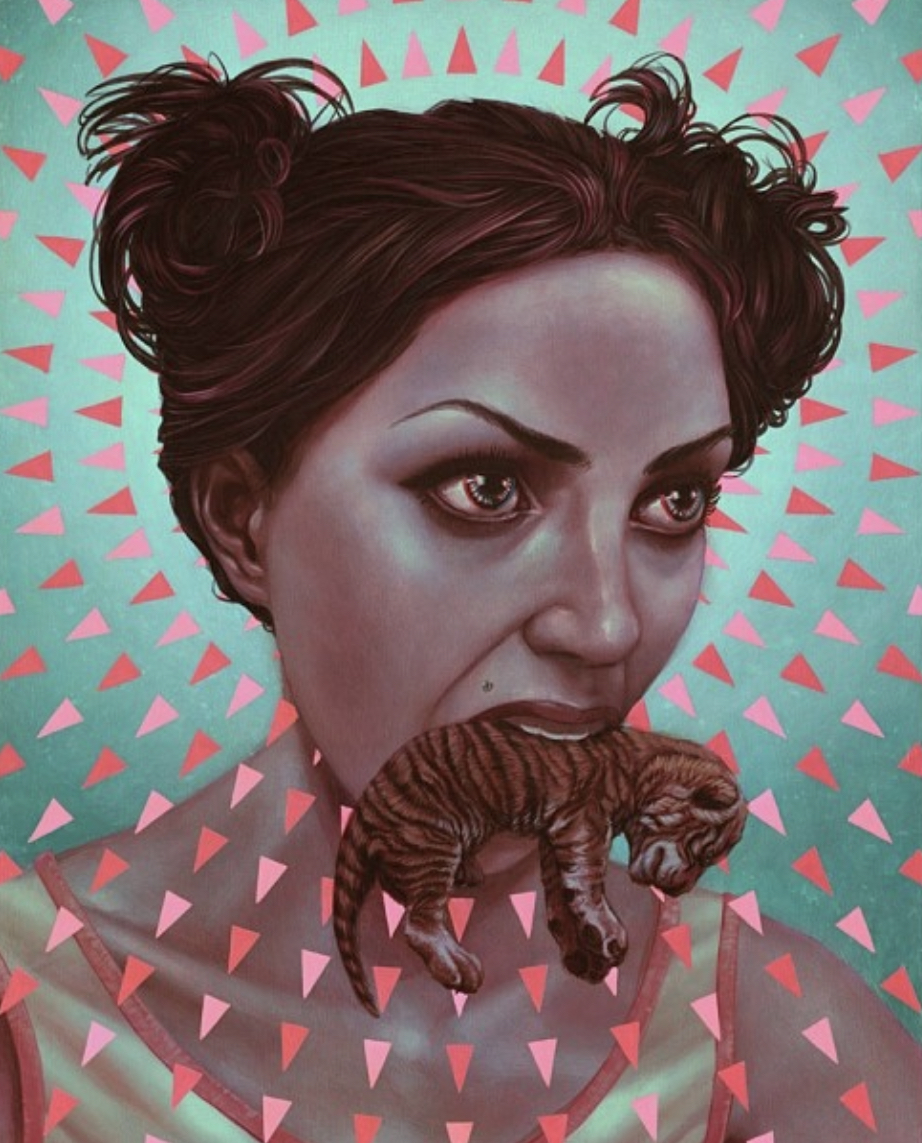 Casey Weldon did the animation for the music video "Zebraska" for the band Black Camaro. In 2016 he presented a piece titled "Pet Cemetery" at the "Crime on Canvas show" curated by rock star Jessicka Addams. His work is currently on show at Thinkspace Projects in Los Angeles. Numerous key galleries and museums like the KochxBos Gallery have featured the work of Casey Weldon in the past.
The first piece by the artist to be auctioned was "Searchlight" at the Capsule Gallery auction in 2020. Casey Weldon has been presented in articles for prestigious journals such as LA Weekly, Mutual Art and Hi-Fructose.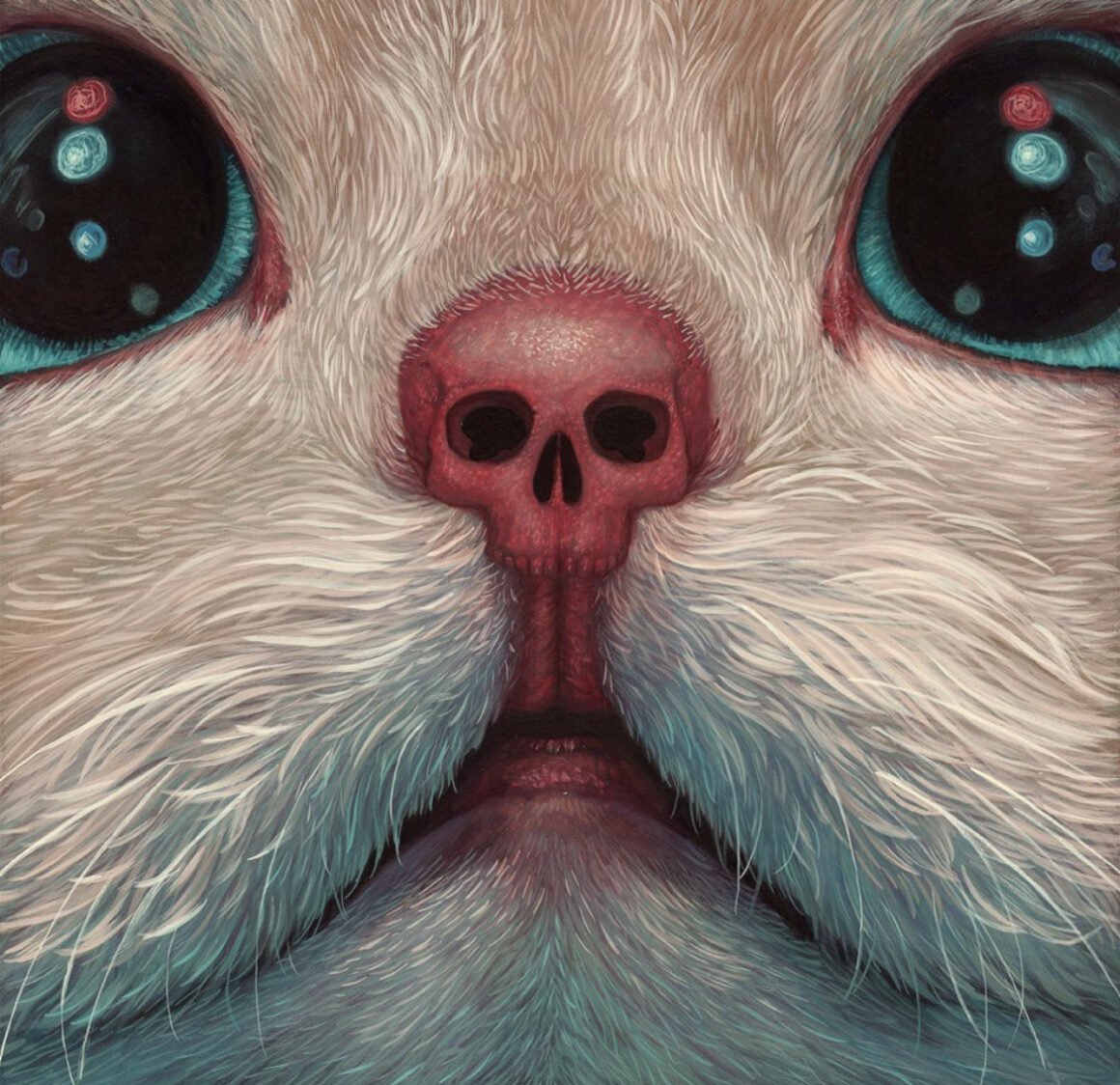 The work of Casey Weldon has been described by critics as Post-Pop Surrealism.
Weldon has exhibited and sold his work in the major galleries of contemporary art in the United States and his work is in collections worldwide .