Animals, creatures and monsters, strong images and graphic bold are the ingredients behind the explosive visual language of the New York tattoo artist Henbo, owner, together with Kiku Punk, of Good Luck NYC in Brooklyn. We met him there, intent at his great passion: illustration. Let's see what he's doing…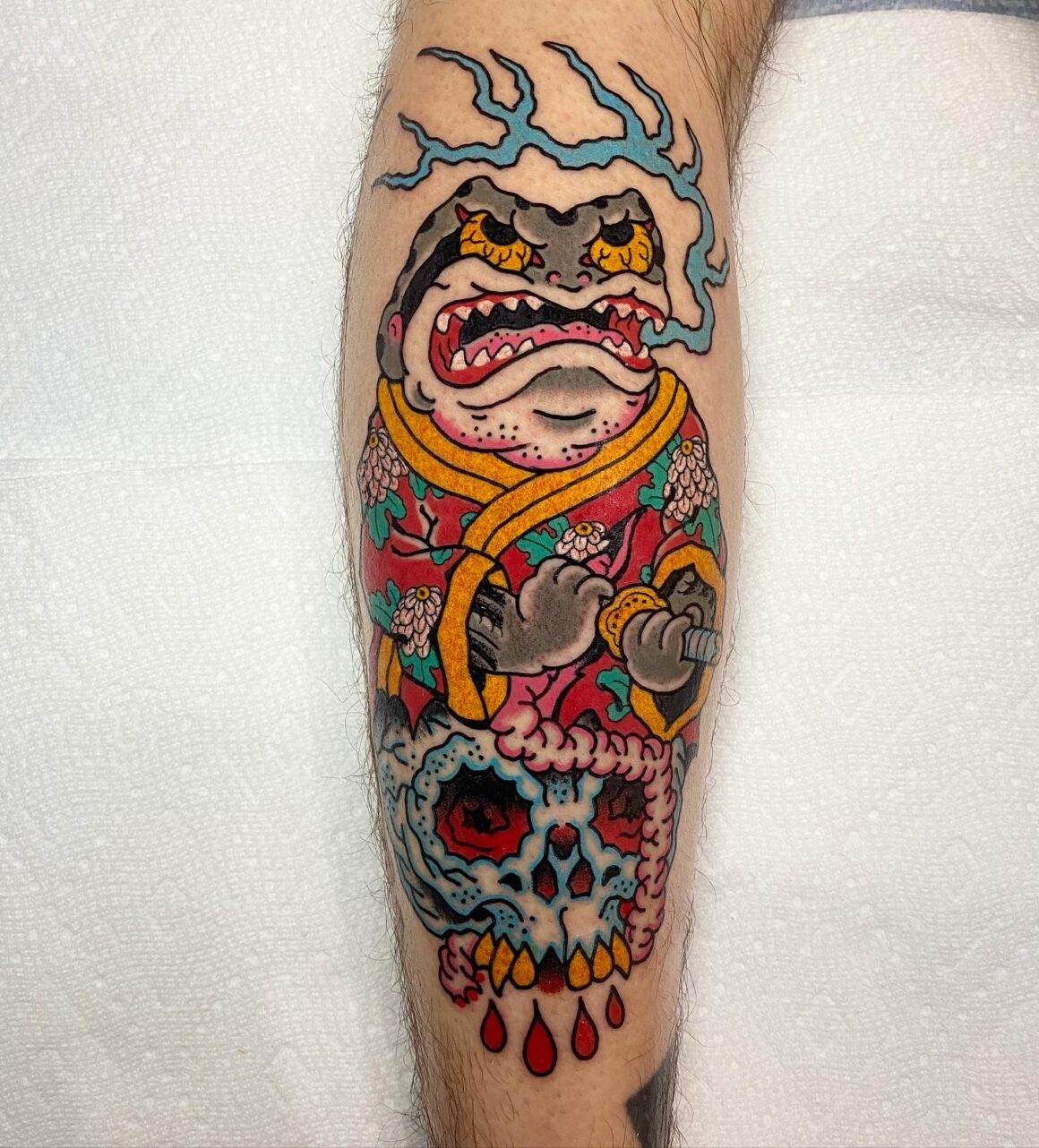 Hi Henbo, would you like to introduce yourself to our readers?
Hey, I'm Henbo a northern Englishman  currently working at Good Luck Nyc in Greenpoint, Brooklyn in New York City. And along with my friend Kiku we own Good Luck Nyc.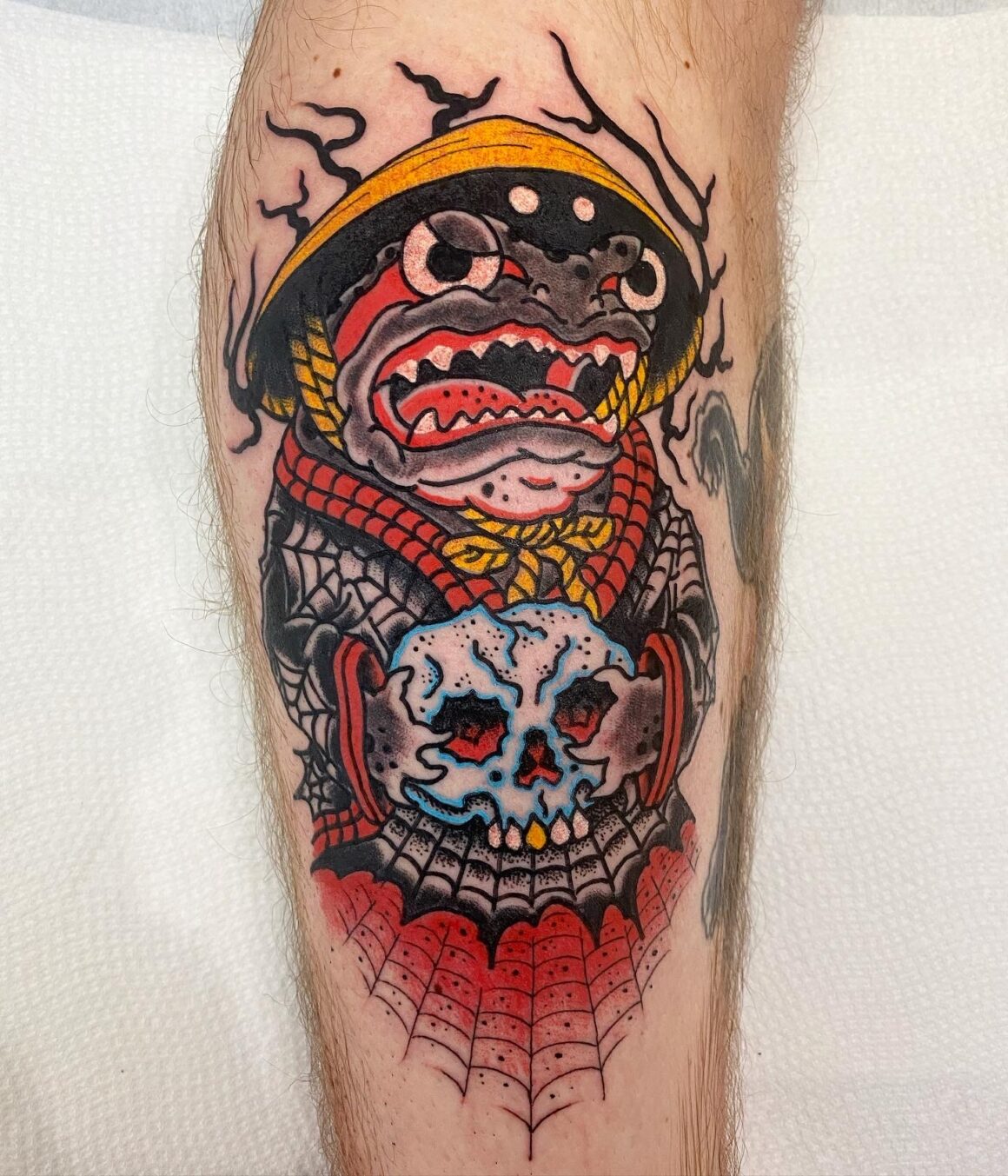 We met a while ago for an article we publish in Tattoo Life on Good Luck NYC and I was impressed by your work in which the Traditional combines with illustration. But surely you can describe your style better than I can, will you?
So I guess my style is heavily influenced by Traditional and Japanese tattooing. I am also an illustrator and animator so I can't help that creeping into my work, and obviously working with such a talented crew inspires me every day!
I think my style is a bit of a hybrid in a way, I have such an affinity for animals, creatures and monsters but also graphic bold and strong imagery, this is what drew me to Japanese tattooing which in my eyes is one of the best artistic forms.
I love how with a limited palette and strong lines you can tell a story with so much rich history and character. As an illustrator it's nice to loosen up and make more folk like art for my tattoos and give things life.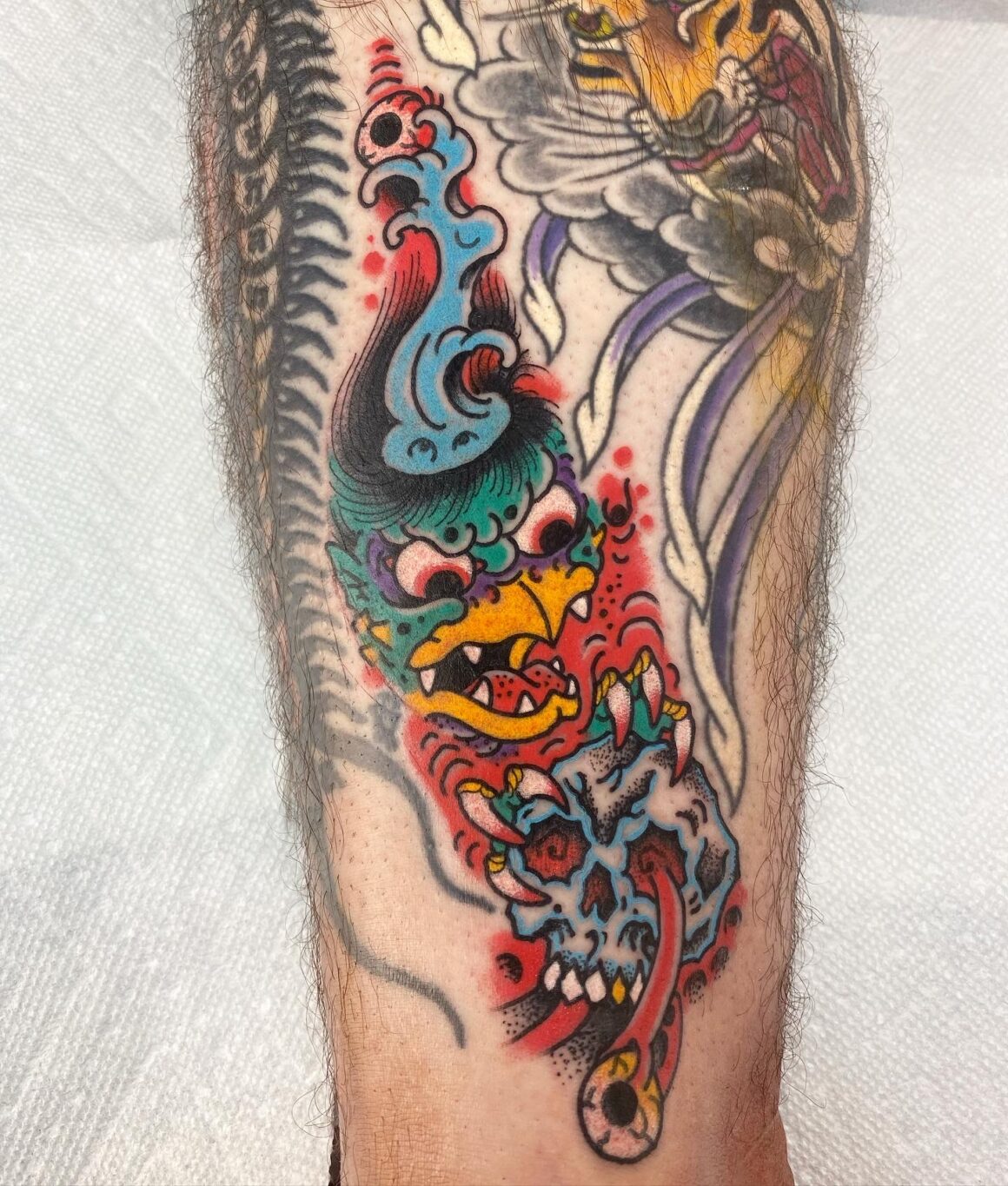 Is illustration a job or a hobby? Can you tell me about some of the works you have done?
Well I've been drawing ever since I could hold a pen, really I just love it. It's more than a hobby it's my life really, but I am lucky in that I also make a living from illustration and tattooing. In the day I tattoo and at night I illustrate.
Some of the recent works I have done are a tour poster for the musician YUNGBLUD a hot sauce label for the show HOT ONES on a sauce made by the heatonist which I also did limited t-shirts for. Branding for GUPPY NFT, and Roberta's pizza, ALLSHIPS and Daves New York. I also did a painting for vital climbing gym.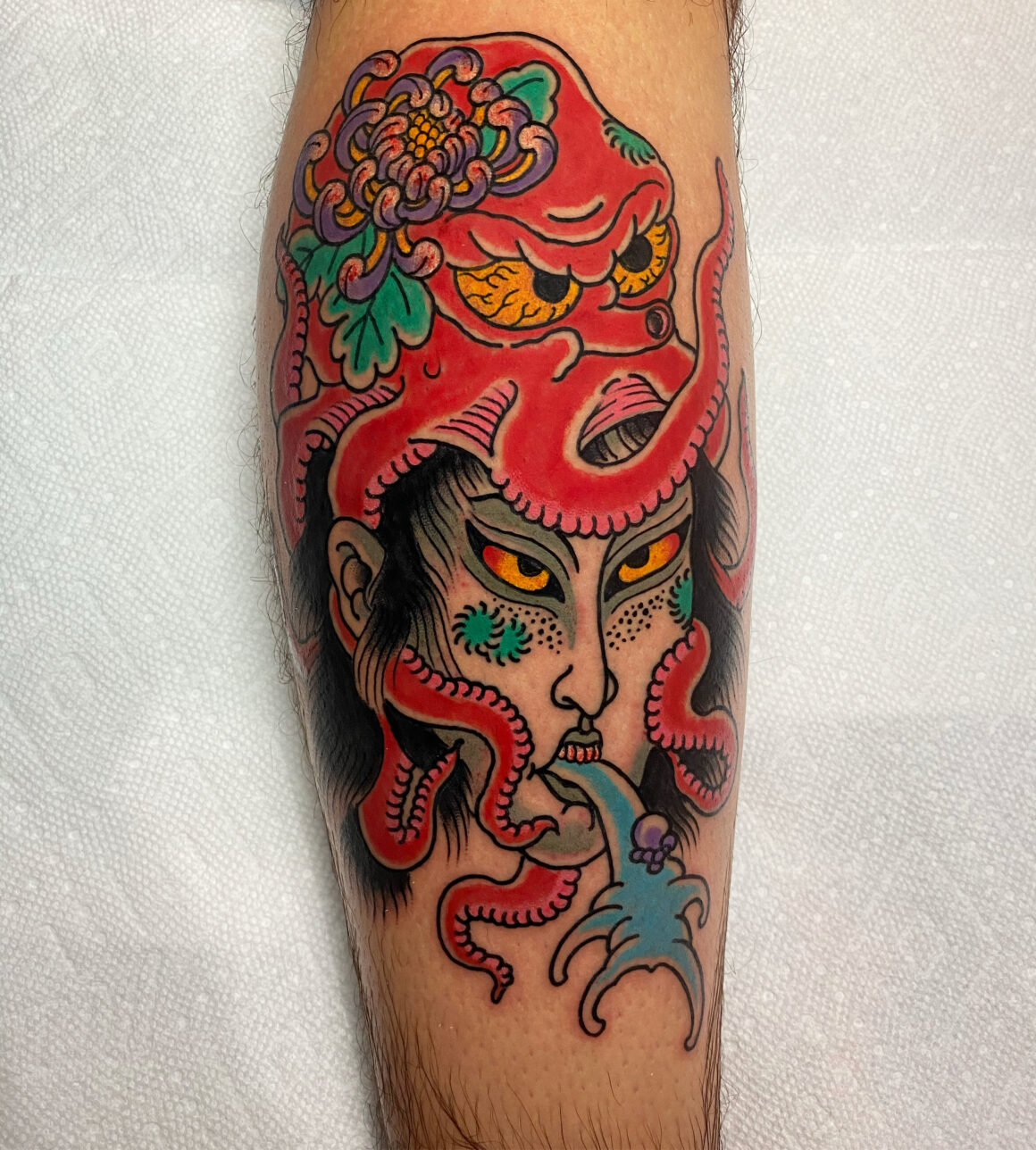 Going back to tattooing, you are one of the owners of Good Luck NYC, when did you join the project and why this choice?
So Good Luck was born out of the pandemic in 2020 really Kiku and myself are friends and decided to open a shop. It happened quick and we took a gamble on a space we found in the heart of the pandemic in May 2020. With some good fortune and amazing support from our colleagues and family we were able to open in July and we have now just celebrated our second year anniversary July just passed.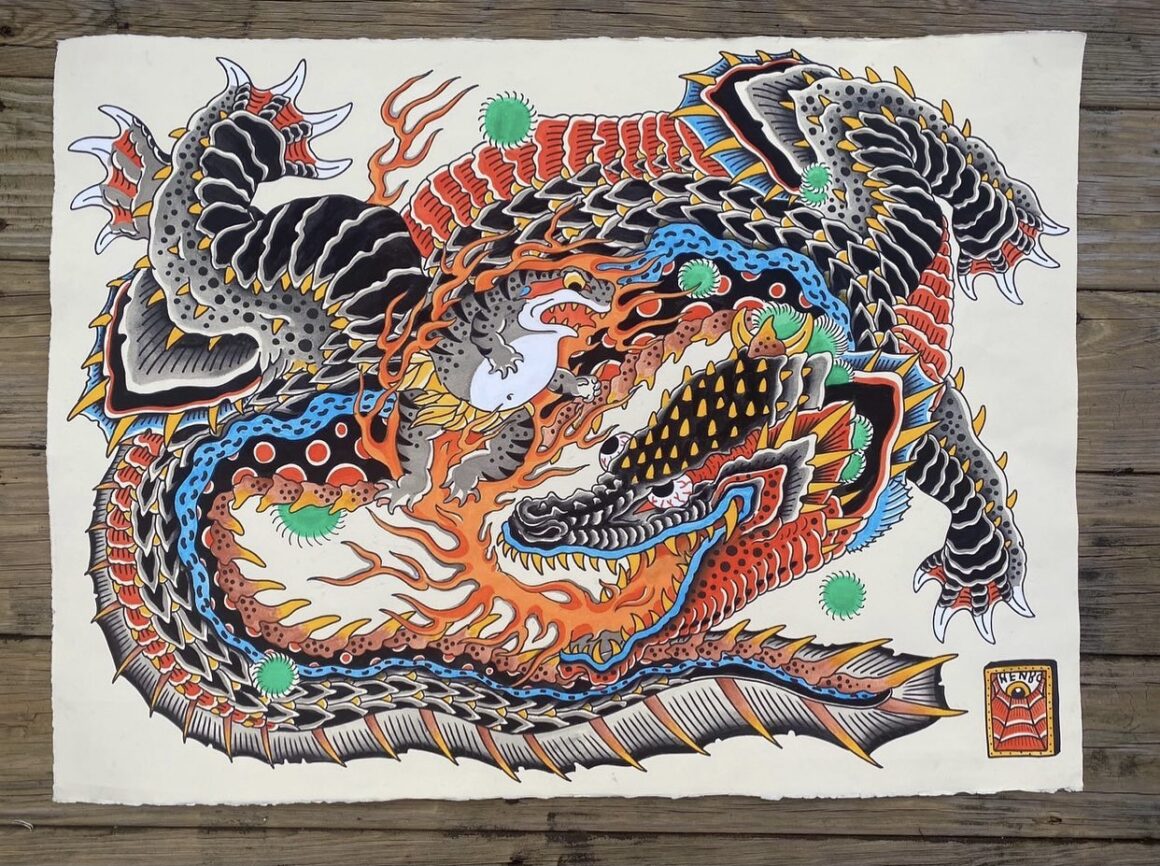 Are you now focusing on any particular theme or artistic research?
I mean I am constantly looking for any reference I can get my hands on. I love contemporary art but finding old yokai cards or books I love the stuff from the 70s it's so wild and draw in a crazy way so whenever I find them on EBay I buy them.
A little curiosity: how is it that so many bizarre little animals crowd your imagination as a tattoo artist? Where do you get your inspiration from?
Well I've always had an extremely potent imagination, I love deep sea creatures and amphibians, basically anything weird but I also love little monsters and folklore.
When I was a kid my dad, who is a carpenter, would bring home these huge rolls of under lay wall paper and I would just draw whole worlds of monsters and landscapes, seriously I would draw for hours and hours on end maybe 10 meters of the stuff filled with monsters and fantasy battles.
Before we say good bye, I would like to give your followers a small information: Is there any possibility of getting tattooed by you or is there a closed waiting list at the moment?
I always have my books open and I tattoo 5 days a week, I don't like to book too far in advance as I've suffered from that in the past, so around 3-6 months normally. You can book by emailing henbotattoo@gmail.com