The powerful impact of total black on skin, his travels and encounters with other cultures have moulded the artistic vision of Dino Vallely. In this interview he tells us about the path that led him to a style he himself defines as Tribal Black, perhaps as a tribute to all the cultural influences it encapsulates.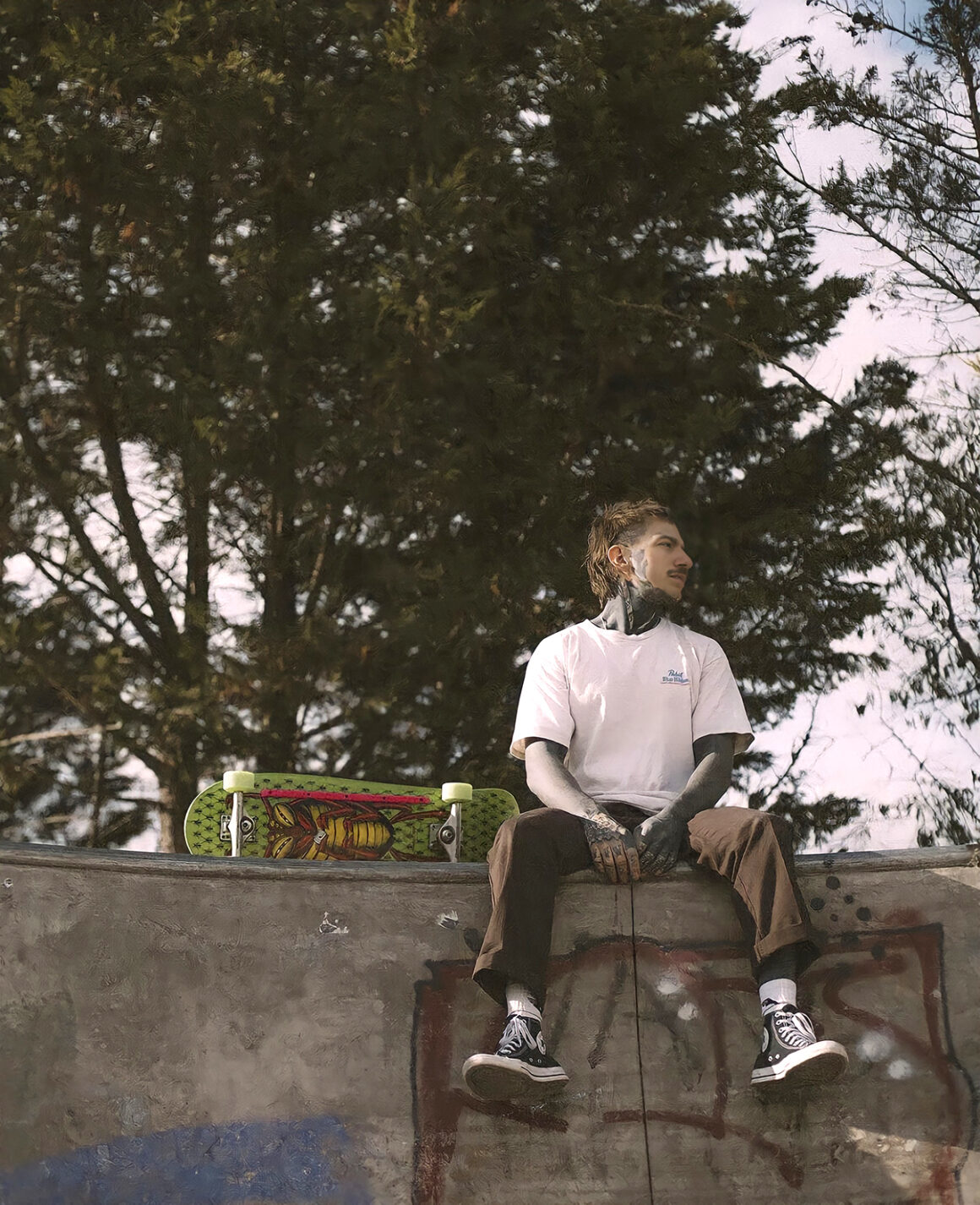 Hi Dino, welcome to Tattoo Life. Introduce yourself to our readers!
Hi, I'm Dino Vallely, 35 years old. I started tattooing eleven years ago and I've never been happier!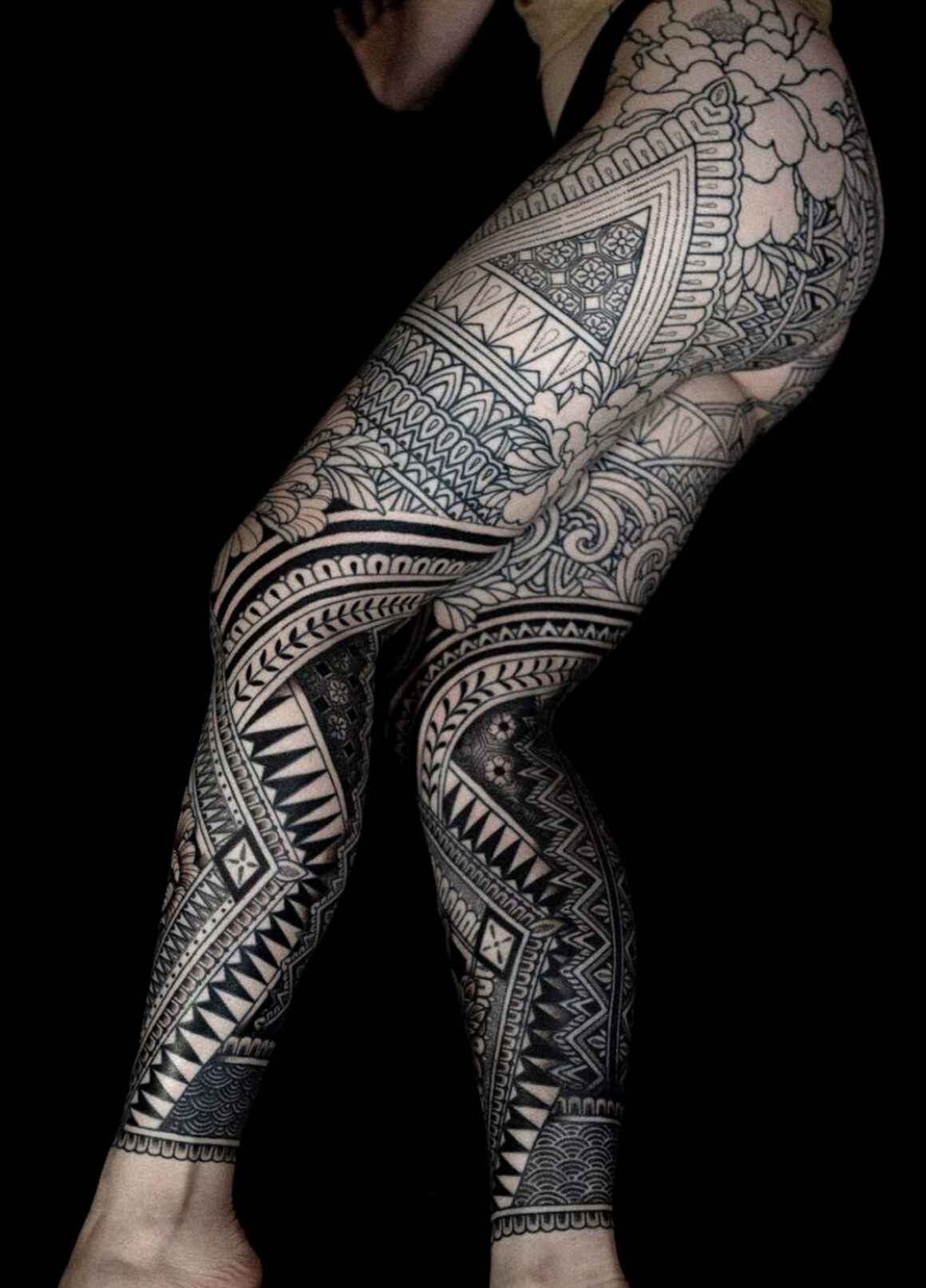 Let's start with you and the tattoos you have on your skin: some single tattoos and large body parts covered with black ink. Is this an aesthetic issue for you or is there some other meaning behind it?
I started getting tattoos at a very very young age (12), probably too soon, and at that time I just wanted to have ink on my skin no matter really what the design was. So I quickly become covered in ink but with bad ink or designs that didn't suit me at all, so I started to black out my right arm and it was like a revelation for me, black out really blew my mind and I decided to add more.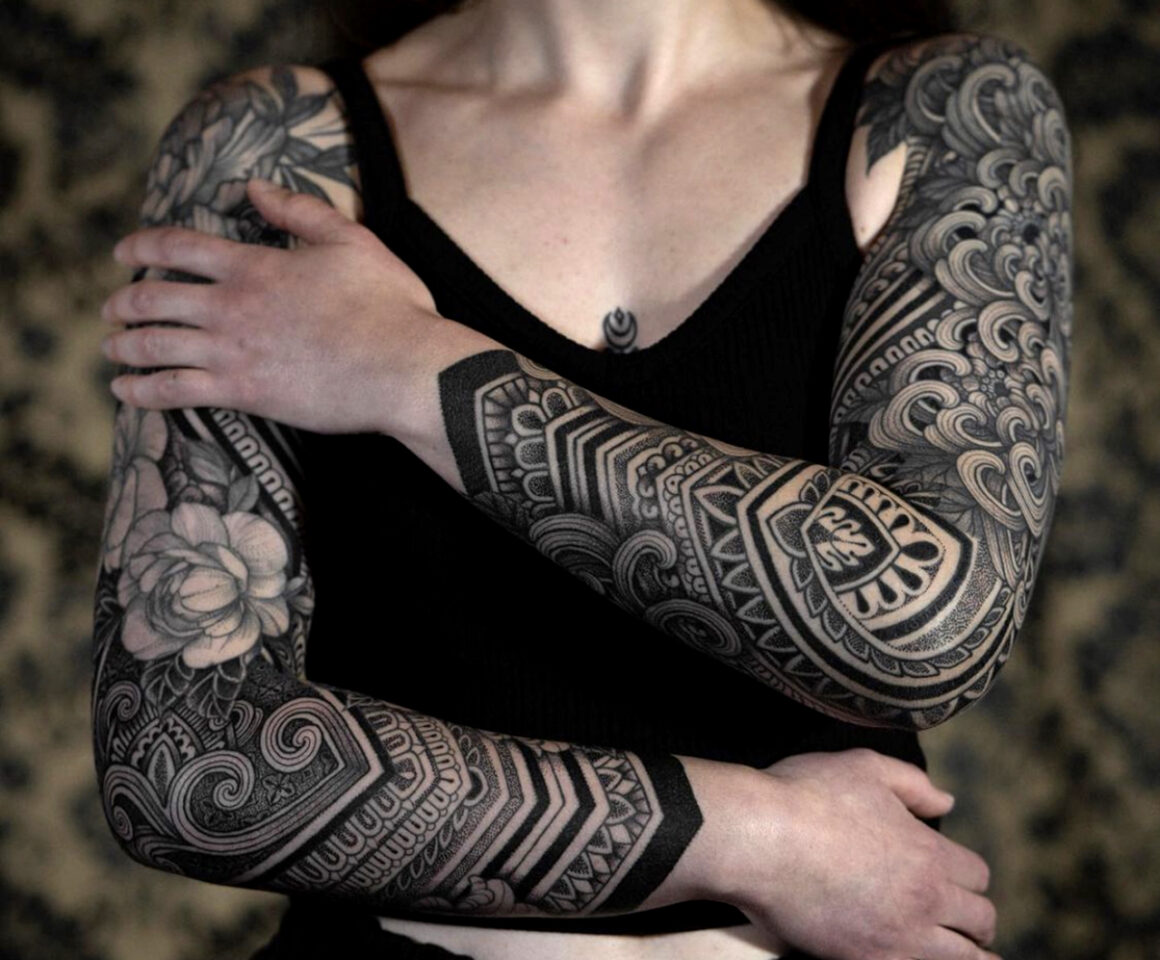 What was it that won you over?
I really like the deep impact that it has and the contrast with old colourful tattoos that I still have because I like to keep blank space where I can still see my old tattoos, I like to remember who I was and see what I've become.
How did you become a tattoo artist? What's your background?
My parents were heavily tattooed, my stepfather was a tattoo artist and I started hanging out in tattoo shops at a very young age and have been drawing tattoo flash since I was able to hold a pen. Then I often saw my dad, who was not a tattoo artist but a bricklayer, do hand poked tattoos on his friends. He and his friends were covered in prison style tattoos.
So tattoo was always a part of my life and for me it was obvious that later on I'd be a tattoo artist.
So when I finished with high school and went about finding an apprenticeship and started tattooing, my parents were very supportive of this choice and I still tattoo my mom regularly.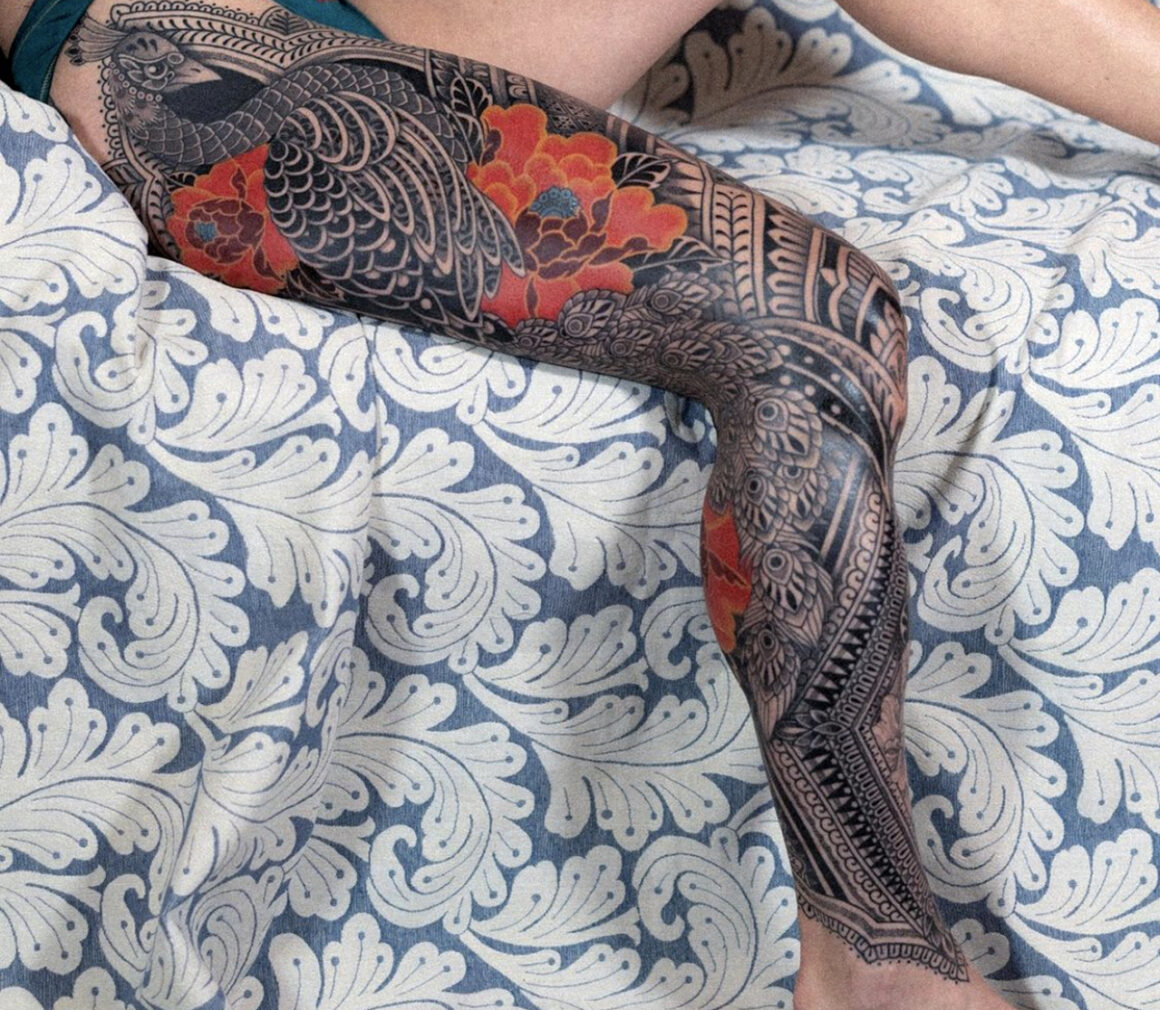 What were the steps that saw the greatest changes in your style?
Starting travelling overseas and being able to see other cultures and ways of life really opened my eyes to how big the world is and how much we have to discover about others. I started to open to others and also be more aware of the kind of human I wanted to be.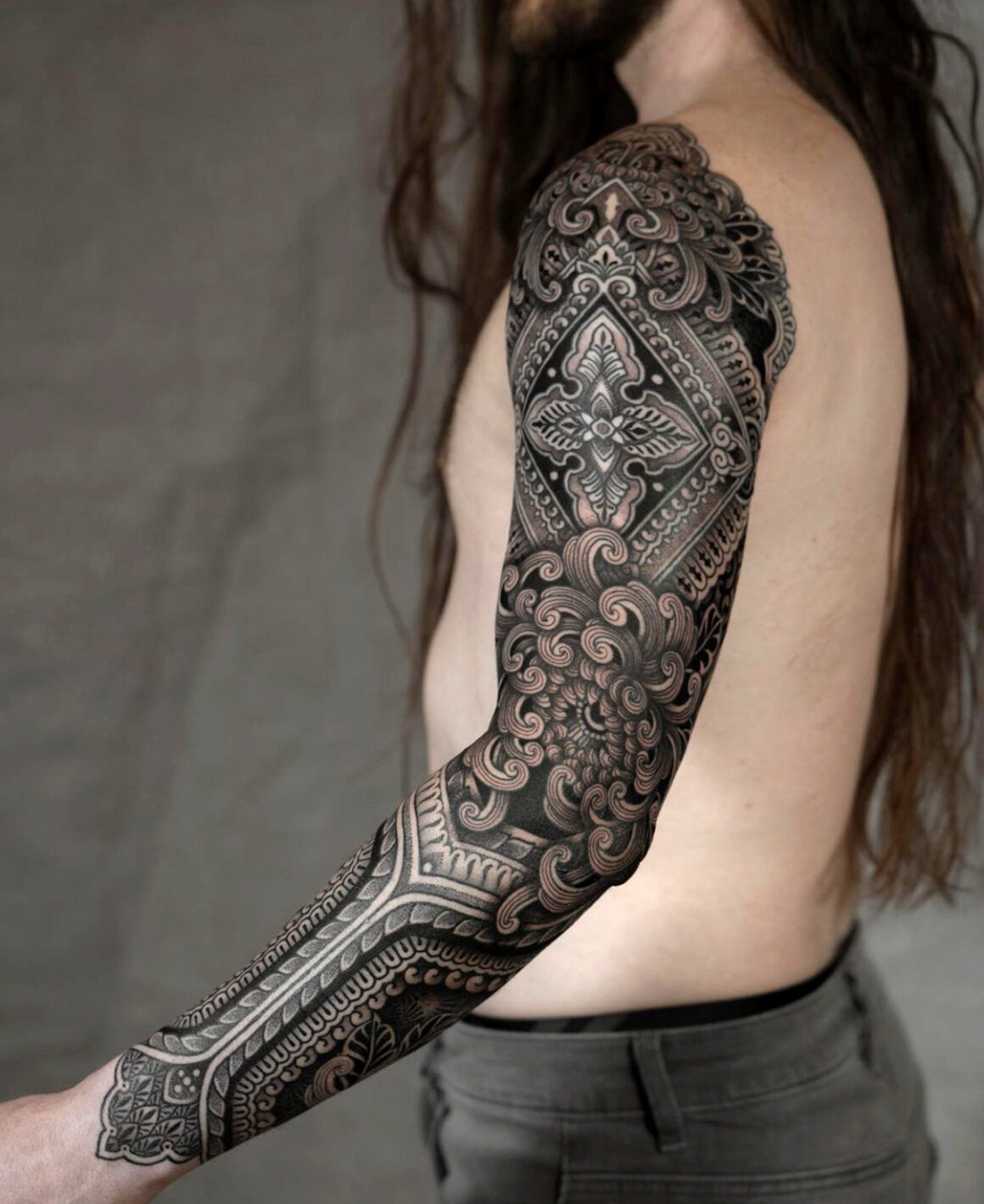 Did you get work experience travelling around before settling in Sète, France, where you currently live? Do you have a shop of your own now? Would you like to tell me about it?
Yes ! I'm from there but since I started tattooing I've never been able to stay in the same city more than two years. I've always wanted to see more and meet more people and see different ways of tattooing, so I started travelling to different cities in Europe, and also Canada, and worked with awesome artists I've met during my travels and guest spots from whom I have learned so much.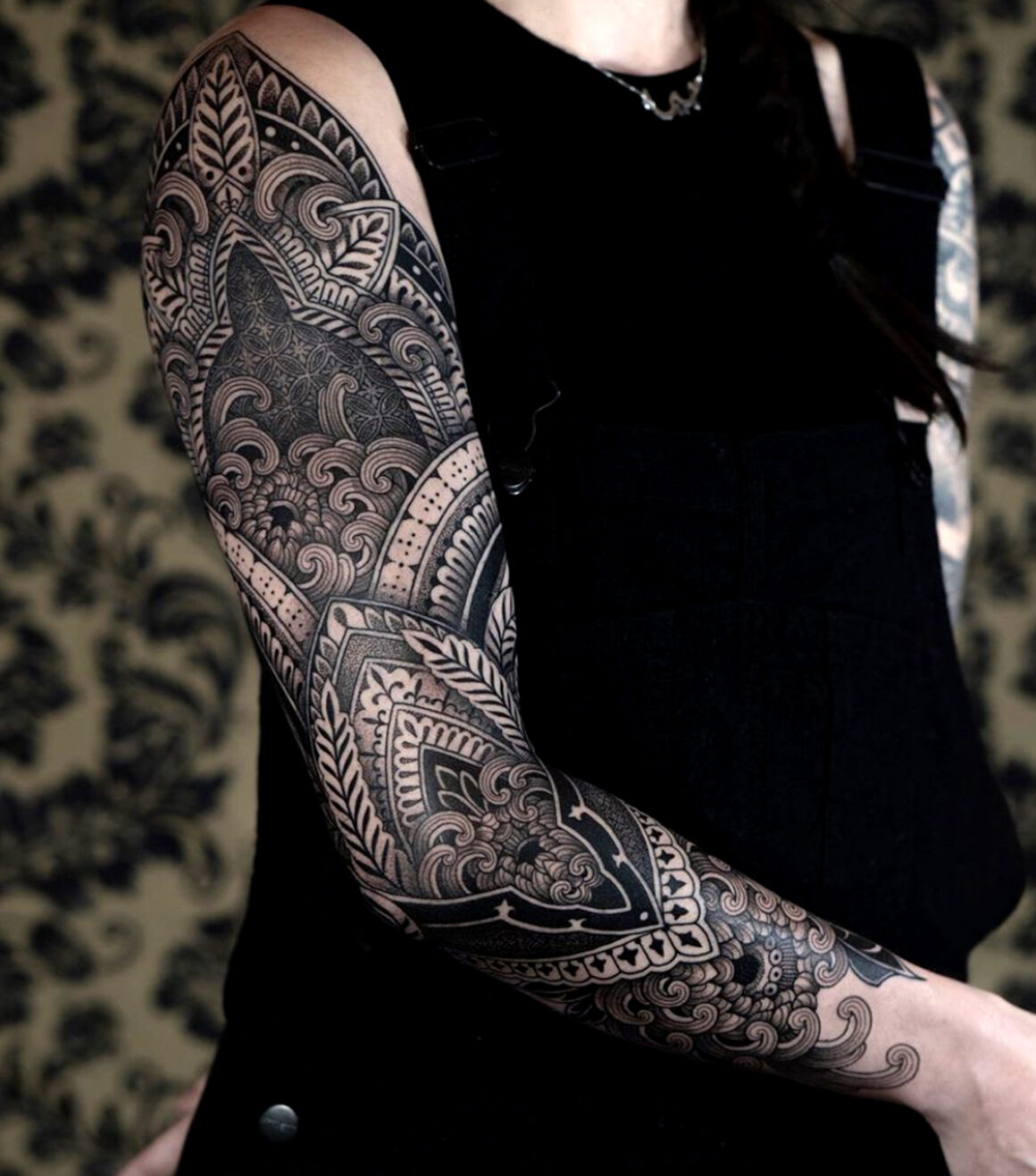 Do you want to give us some names?
Arrtists such as Gotch, Shamus, Alix Gé, Damien J Thorn and many others …
When did you decide to come back to base?
I came back to Sète 5 years ago when I wanted to settle down and be closer to my family. So I started to work with Alix Gé in her private studio and after that we decided to open Misericorde Tattoo with her and Vincent. I need to work with a team. I don't think I'll ever be able to work alone (or at least not yet) so I'm not the boss but this shop is a common project and we opened it up as a team and I'm so glad to work with such kind humans and amazing artists, such as Alix Gé, Guyguy, and Vincent.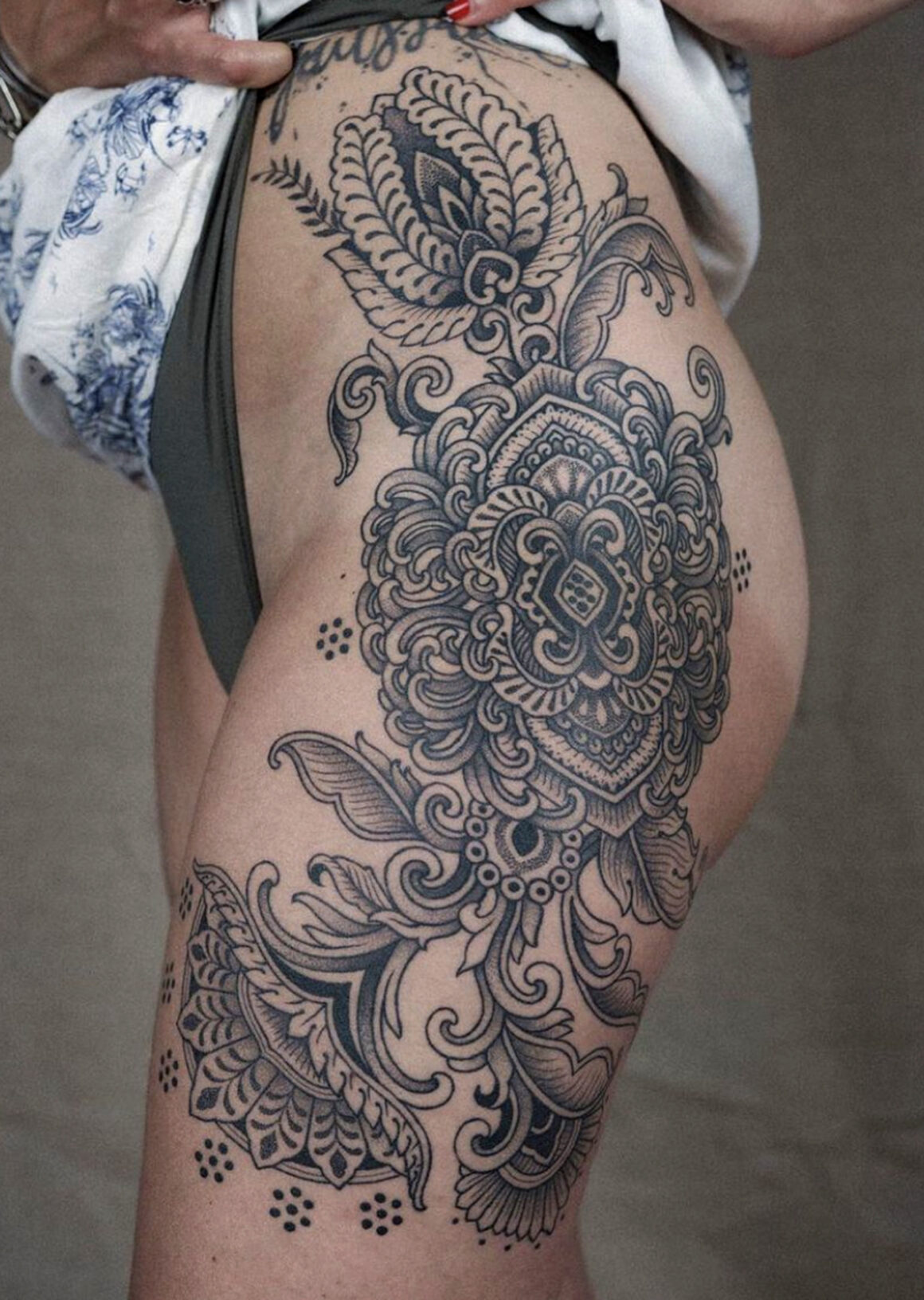 From a stylistic point of view, you specialize in Ornamental. I'd like you to tell me more about this style, what's the hardest thing about it, how you study a design, the various steps of the creative process, sources of inspiration… I'll leave the floor to you, as if you were in front of an audience that wants to learn from you.
I mostly do Neo Tribal/Ornamental tattoo/Blackwork and Floral composition. I like detailed pieces that fit with the body lines. I mostly do freehand, I prefer this technique because for me it works the best to fit perfectly with any kind of body lines and structures.
I like to work with the shape of each person differently because nobody is the same.
Sometimes it is a challenge but in a good way. I often start to draw big lines and shapes like it was a flow of water to see the direction to take, then I slowly add details, patterns and subjects or flowers. I often go freehand but I will always have worked before on many sketches to have different ideas about what I can do.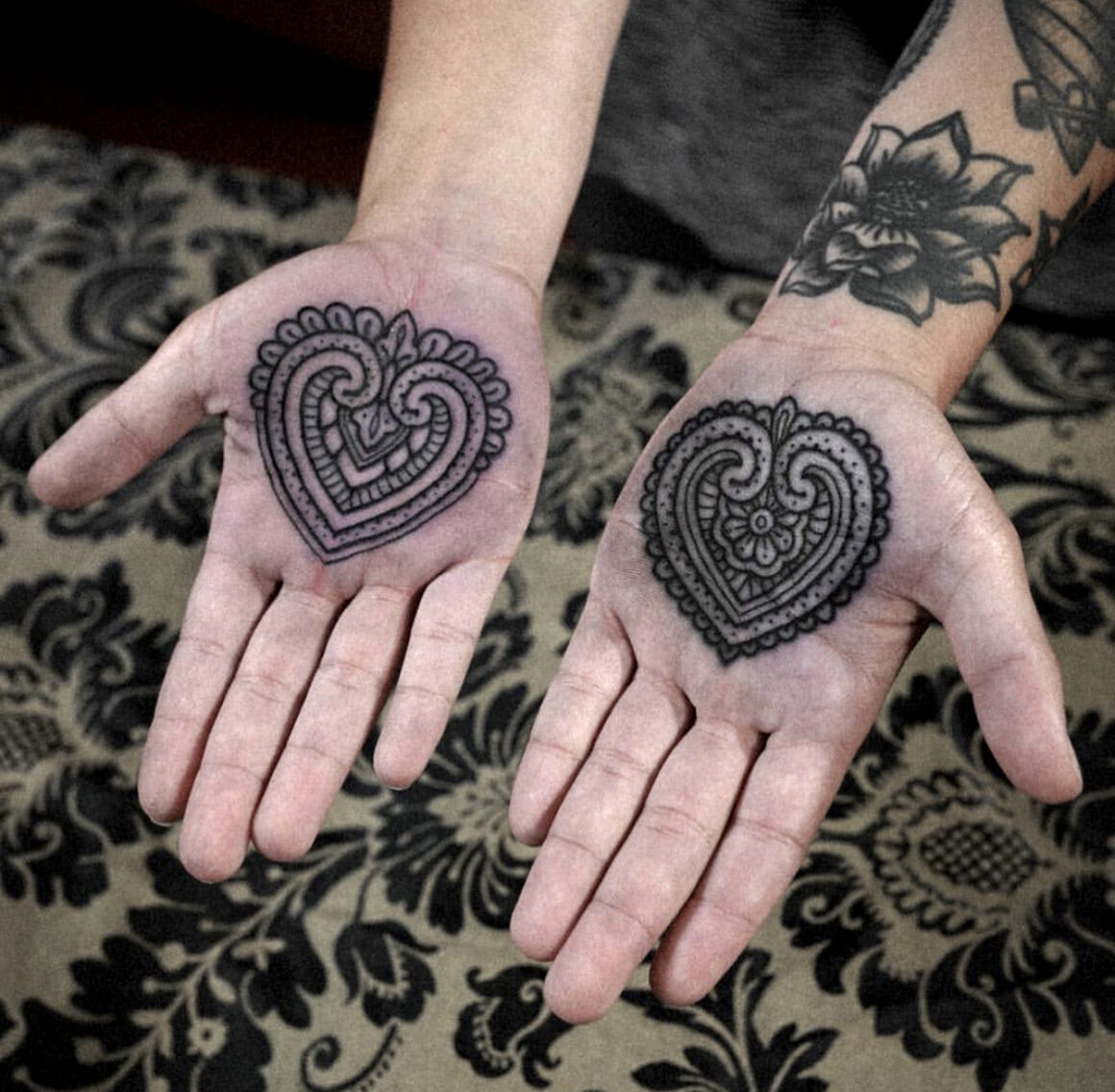 And what were the stages you passed through in terms of technique?
I started to learn every technique possible in every style of tattooing. I practised single line, handpoke even Japanese Tebori. I always wanted to learn all there is to know about tattooing. But Ornamental and large pieces is where I can freely express myself, that's what I loved the most so I decided to go blindly in that direction.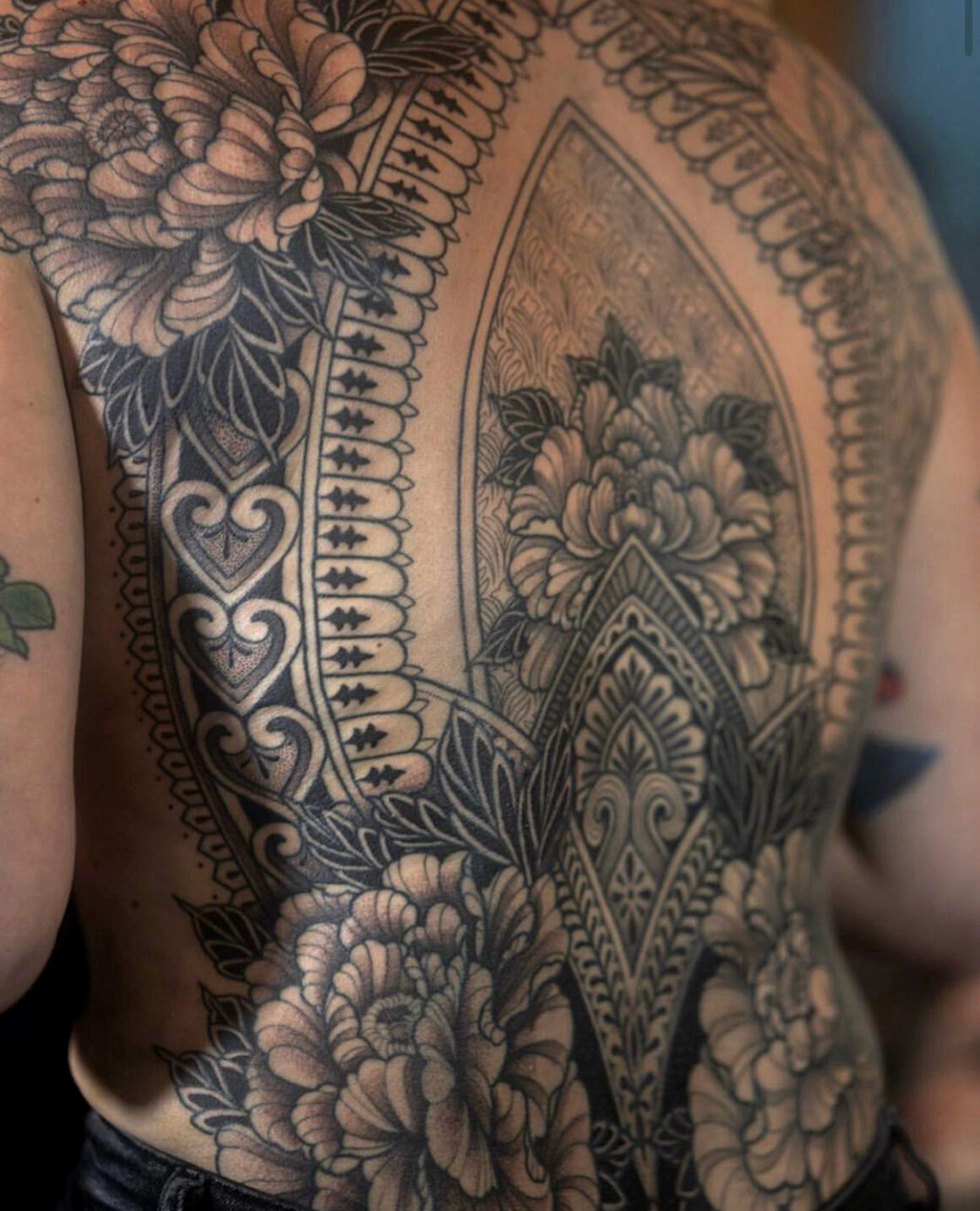 So how would you describe your style today?
I think my style is a mix of many influences: Berber tattoo, Samoan, Mindhi, Dayak, Ainu, Balga, South American, which I try to instinctively mix to to offer a kind of Neo Tribal, Japanese pattern, Oriental architecture… So Ornamental (for me at least) is the obvious purpose of all the experience I've gained over the past few years. It was a natural choice and not something that I decided to do intentionally.
I've noticed that the tattoos you do on the palms of the hands come up again and again. It's a particularly difficult area, isn't it? You need to know how to work well so that they remain over time. How do you go about it?
For me it's one of the most difficult areas to work on because of the pain and the fact that I have to saturate the skin to have something clean when it's healed. So I work very slowly and it's a mix of dots and lines. I like to do palms with a very punchy but slow machine. So yeah, for the client the pain is there for sure, it's like a rite of passage. Once your palms are done you earn respect.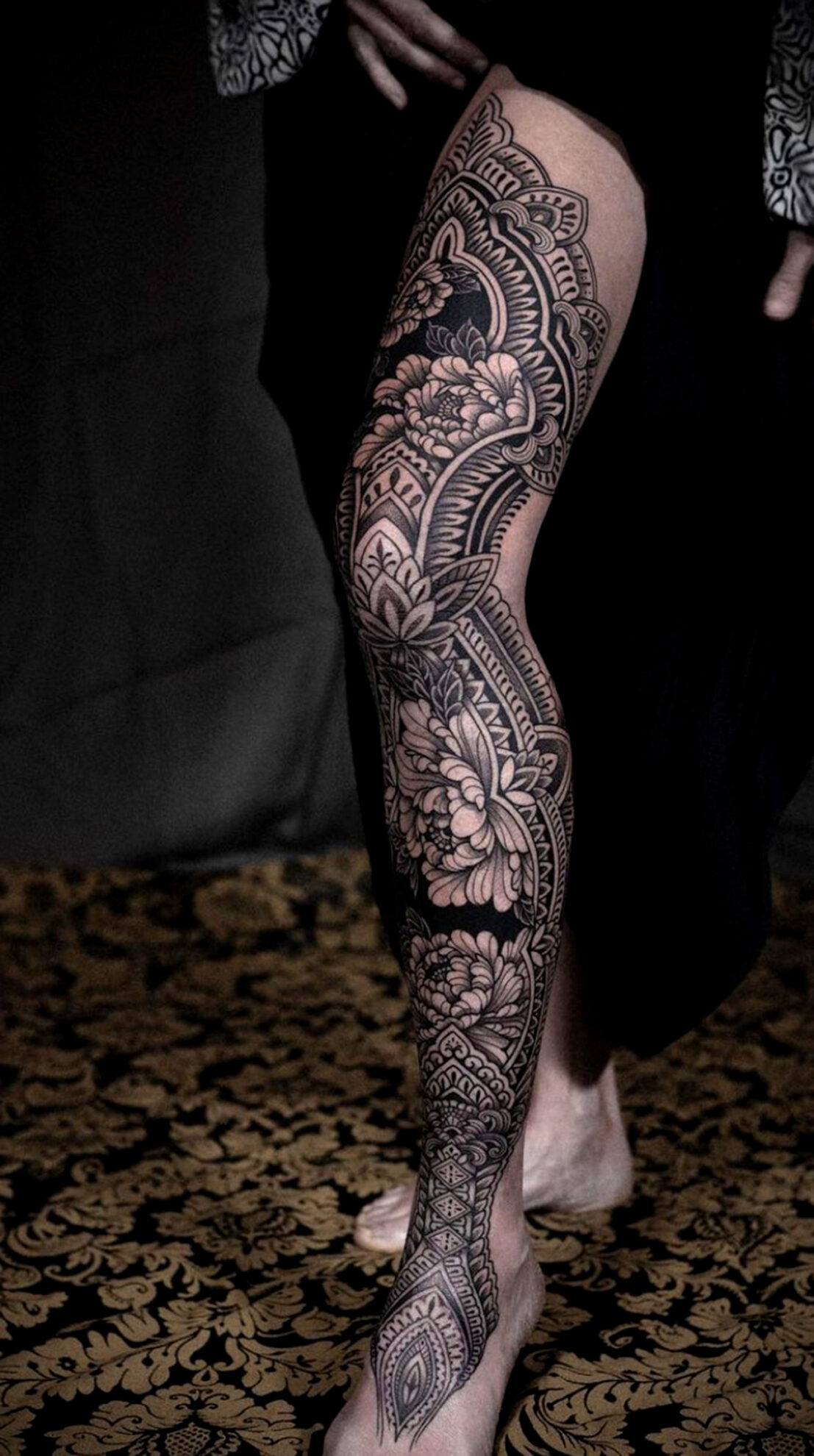 Are there any pieces you prefer to do at the moment?
I really like to work on legs. It's definitely my favourite part of the body to work on. I like hard work and legs are the biggest part of a body. I need more sessions for a leg than a back piece, so when a customers ask for both symmetrical legs that's the best for me. And I like to work on shapes than lengthen the body structure, spread it from toes to hips, like a second skin. It requires effort, focus and many many hours, but it's so gratifying when it's done, and the pride of the person who gets them is the most satisfying thing of all.
For your style and genre of work, where drawing and precision is so important, do you also practice on paper or is it the experience on the body that matters most?
I always pre-draw on paper before an appointment, many sketches, but it often ends up very differently once I start drawing on skin because I have to adapt to the body shapes or I start getting new ideas in a middle of a freehand session, And that's the most important thing, being able to do something unique on every different person, trying to do something new and not sticking to something already seen by many.
I always improve and try to bring in my vision as close as I can to how I have it in my mind.
That's why I like getting references from different mediums such as architecture books or tapestry and so on…to not get stuck in a rut.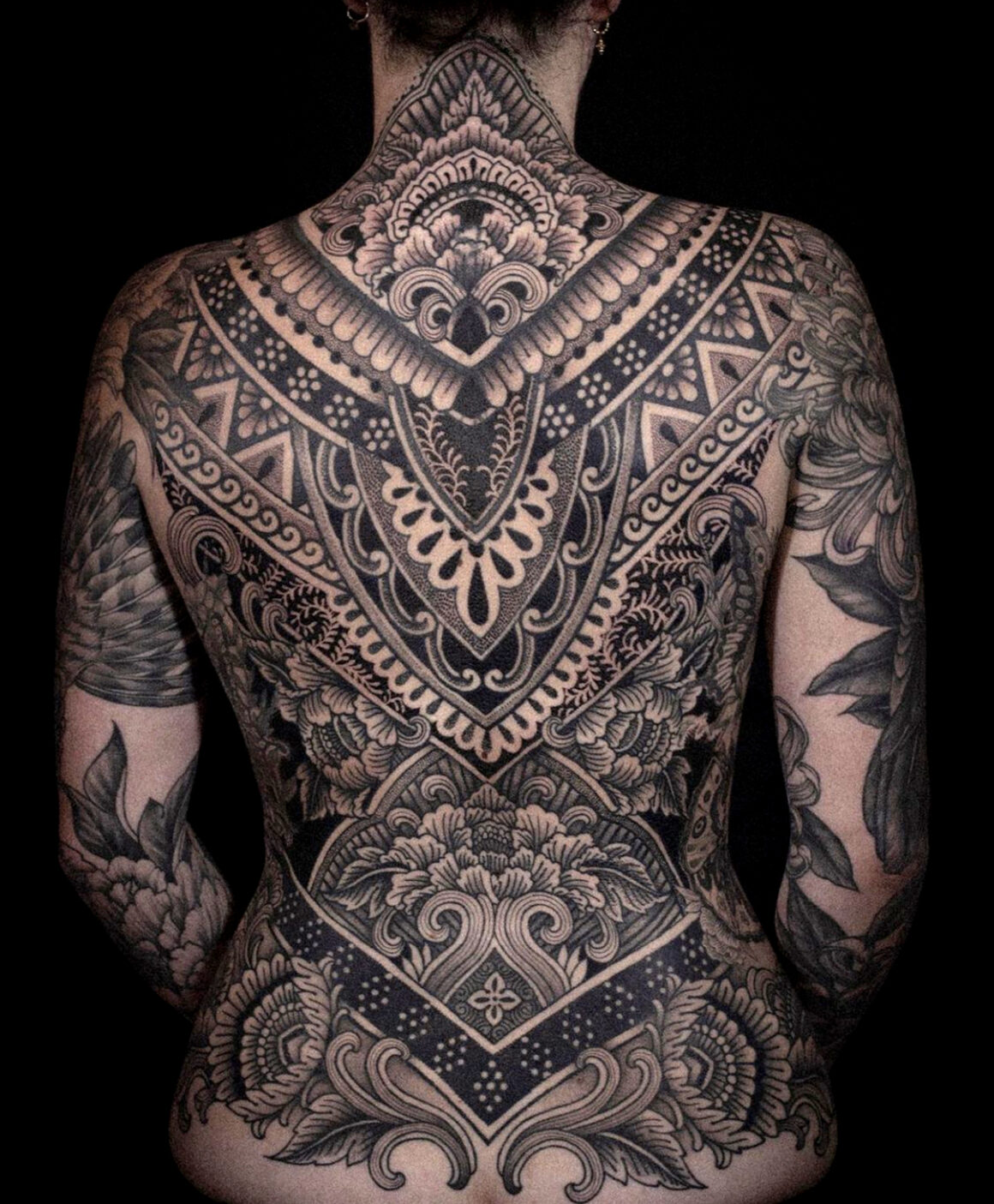 Last question: how does it work for a body suit? Is each body part stand alone as a design, or do you develop one big drawing that then opens up to the whole body?
For the first body suit I did on Isia it was a total improvisation, no pre-drawing or sketches at all. It was an agreement between the two of us, and it ended up pretty well, but not everybody has her level of trust. But now I usually start with a drawing of the whole project so my client can choose to start from the part of their choice, and until it's finished the project can evolve and often end up being a bit different to what it was on paper. So yes, I like to draw the entire project to see in what direction we're headed but I still bring my part of improvisation to the final project.