Chameleonic is the favourite word for Kim to describe herself. Experimenting is what she loves to do when she poses as a model for photoshoots.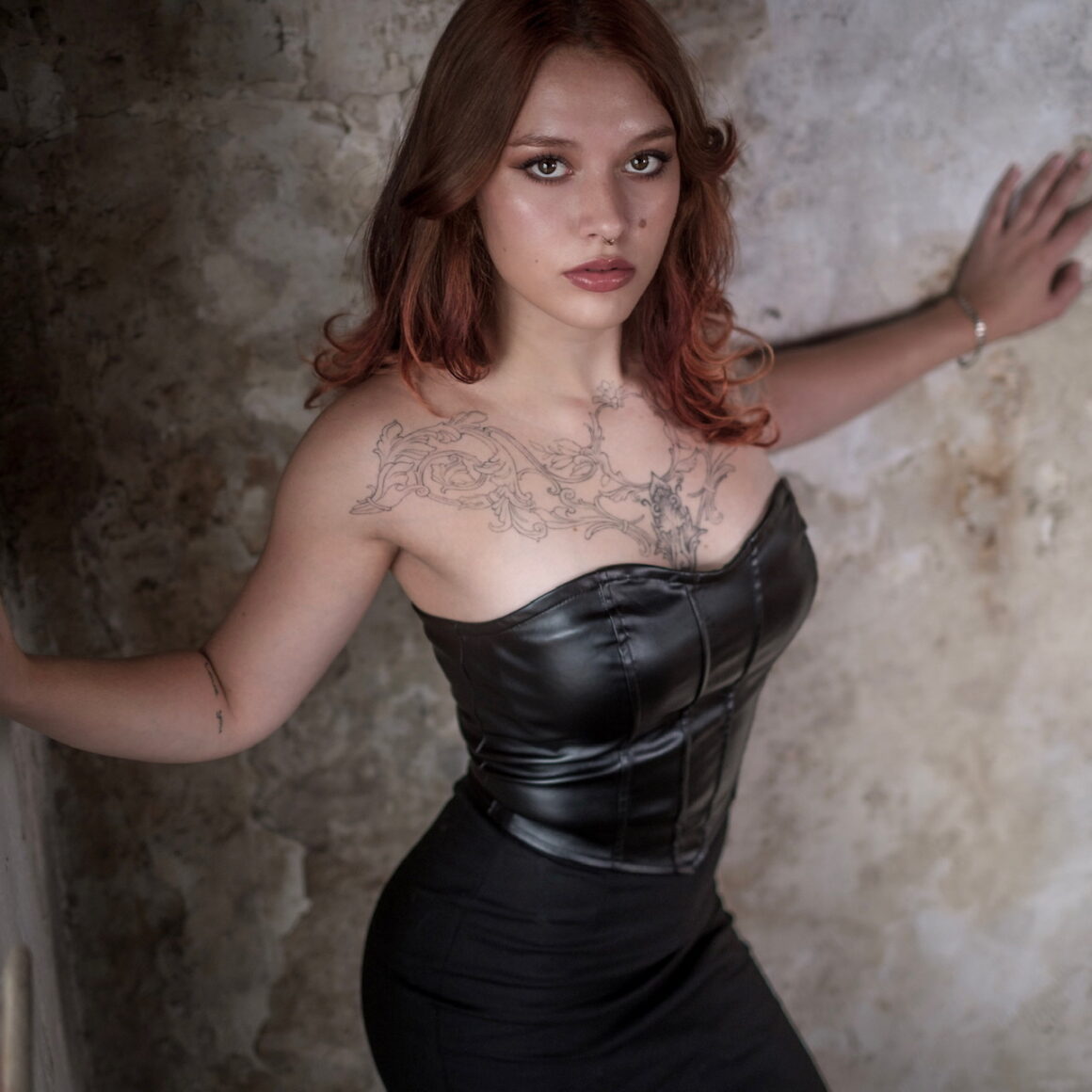 Dynamic and weird poses that might feel strange but look so unique on photo. "I usually do what comes up in my mind". She is a model, she works in a snackbar and she introduces herself in this way: "Hi Tattoo Life readers! My name is Kim Viergever and I am a tattoo collector. I love blackwork, linework and especially if it has an architectural, dramatic or emotional feel to it".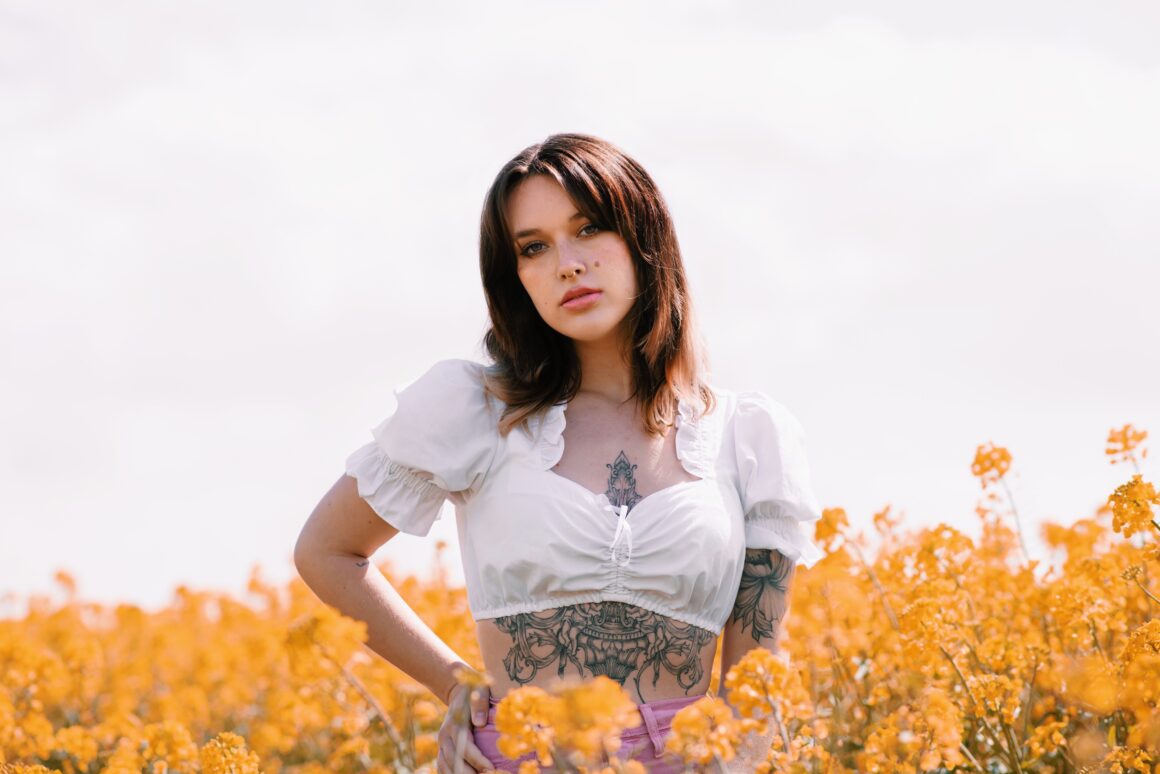 Where are you from and how old are you?
I am a 24 year old girl from The Netherlands. Born and raised in a small town along the coast.
Where do you live at the moment?
My life is split in half since 2 and a half years after meeting my boyfriend. I live in the same town I was born for half of the time. I spend the other half in Limburg, Belgium. Which feels like my hometown as well.
Let's talk about your tattoos, starting from the back piece and the front piece, can you tell us their stories and something about the subjects, meanings and who are the tattoo artists?
Jenny Olivia is an artist that I've been following on Instagram since 2016. She has a private tattoo studio Rosegold Studios with her best friend in The Hague. She specializes in Ornamental, Floral and Mandala. In 2019 she was looking for a canvas for a full backpiece. I applied and got chosen to my surprise. This piece was exactly what I had in mind but I didn't know how to explain it to anyone.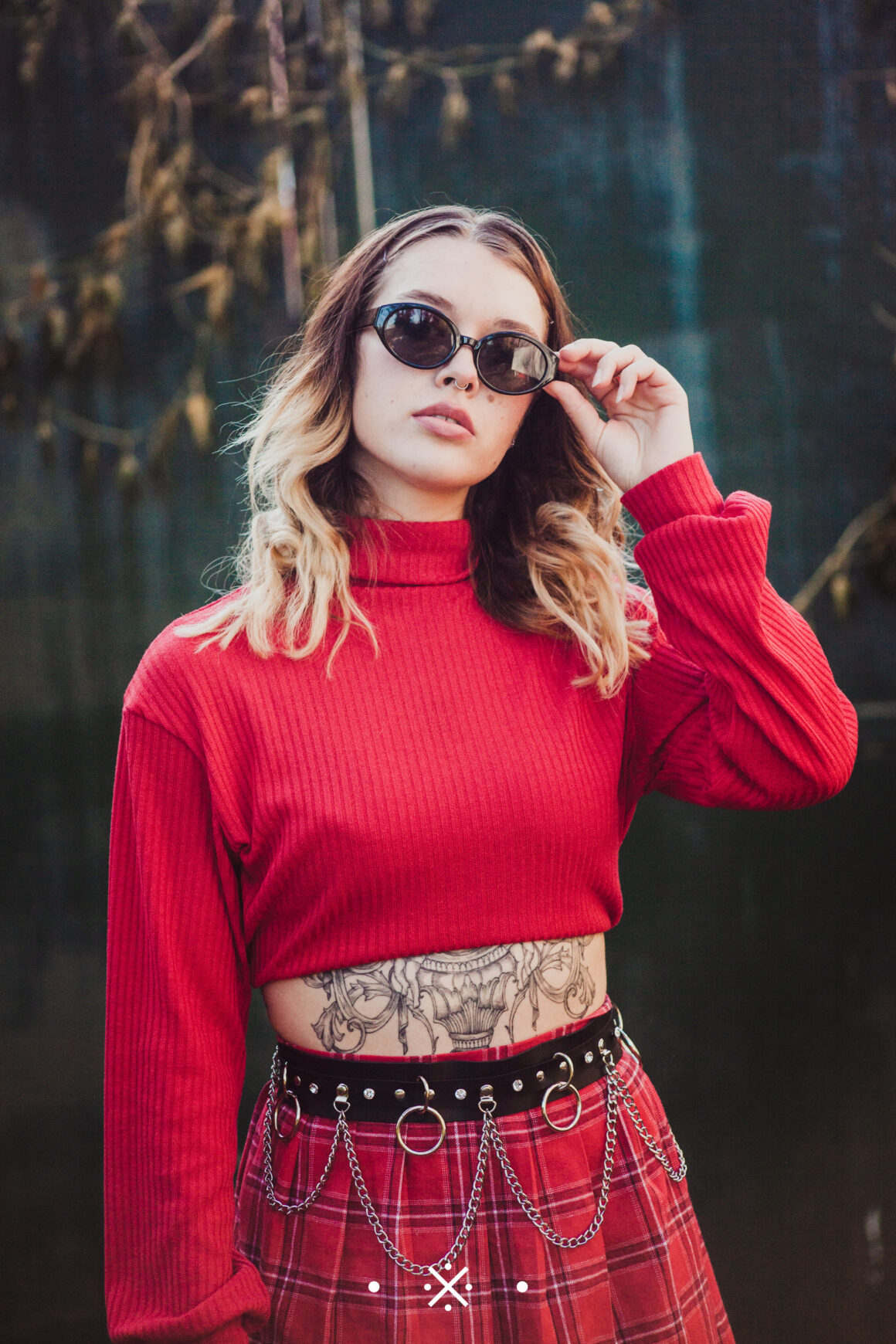 Italy stole my heart with its beautiful architecture, and this was a combination of flowers and ornamental details inspired from architecture. This piece was Third in the "Blackwork" category at the Rotterdam Tattoo Convention. We connected on both a creative and personal level. So during our sessions that amounted to about 25 hours of tattooing we started talking about a new piece. Which was my sternum.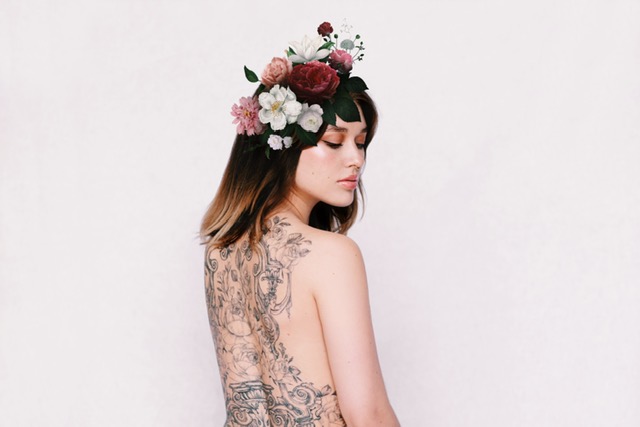 My sternum tattoo is also inspired from Italian architecture. It has ornaments and instead of flowers we added cherubs/angels. This piece is symmetrical and designed to fit and accentuate my body in the right way.
There was supposed to be a small part in between the chest but it didn't fit well so we placed it a little higher.
It was a small step to a full chest piece eventually. After the sternum piece I booked a session for a leg piece with Jenny Olivia. I cancelled this one because she posted a chest piece flashwork which I fell in love with. We changed the tattoo to a full chest piece with a rose in the middle placed in a frame. Which also looks like a vintage cameo to me. The frame is surrounded by ornaments. We added two roses, one on each of my shoulders and leaves on the higher points. She only used colour for the roses, this gives the piece some "air" and femininity. Because all my tattoos are quite dark and detailed.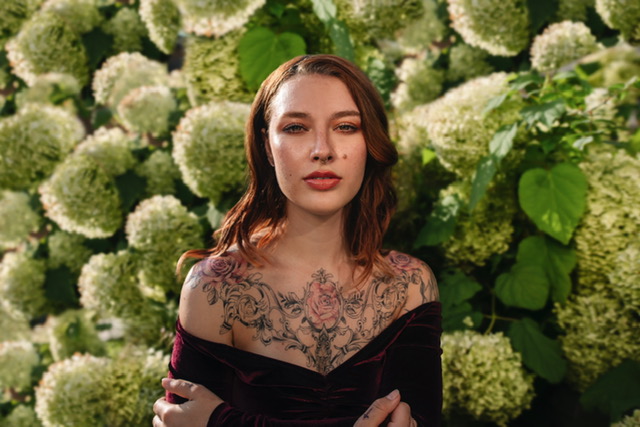 So basically all her pieces are inspired from romatic, dramatic, ornamental architecture. This makes me feel so much more confindent, feminine and powerful. Because this is the feeling I get when I'm in an environment like that. Our tattoo journey isn't over yet.
When did you start to collect tattoos?
It all started when I turned 18. My mom always wrote me notes, she still does even to this day, saying small things such as "There's food in the kitchen, xxx love you". So my first tattoo had to have a special meaning to me. I had the tattoo artist copy her handwriting saying "love you" and this was tattooed on my forearm by Fiona at Inkstitution Rotterdam. I followed the Dutch blackwork artist Levi Jake who now works at 66onions. I travelled all the way to Vaders Dye, Hamburg to get a half sleeve with two peonies. A year later I got two different tattoos from Levi Jake as well. Two realistic symmetrical roses on my lower stomach and a blackwork piece. The blackwork piece isn't everyone's favourite. It's a woman with tears running down her face with the writing "Cry Baby" in an Old English font. It is inspired by Melanie Martinez – Cry Baby. To be an emotional person is not a weakness.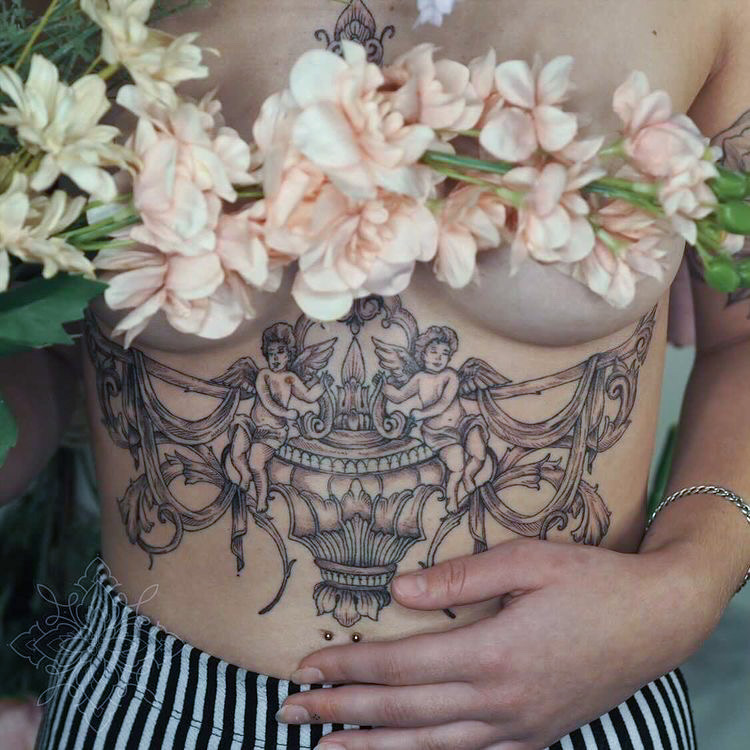 I saw some photoshootings published on your IG page. Are you a model? Would you like to tell us something about this?
In 2017 I was an intern graphic designer at the vintage store "Ruby Lee and the Vintage Factory" located in Rotterdam. Sometimes I modelled the clothing for her Instagram, that is when my curiosity for modelling started growing. One of my friends (Nienke Coumou) is a photographer as well so I did a shoot with her and felt very relaxed. A few months later a photographer called Eldin from Diginaat was interested in a shoot with me. We started shooting on a regular basis. We did at least 10 shoots together. My curiosity grew even more and started to grow my portfolio with other photographers. Now 95% of my Instagram photos are done professionally by a photographer.
Usually I do all the styling, make-up and hair myself. I like the creative side of modelling.
What do you like to do in your free time?
Fitness is my favourite thing to do. It costs a lot of energy but you get so much more back after a good workout. I wanted to be stronger and get a more honed body and that is what I achieved. My workouts got better after meeting my boyfriend. He coaches me. Modelling is also my second hobby. It started for fun. Combining styling, make-up, hair and creativity in one is the perfect combination for me.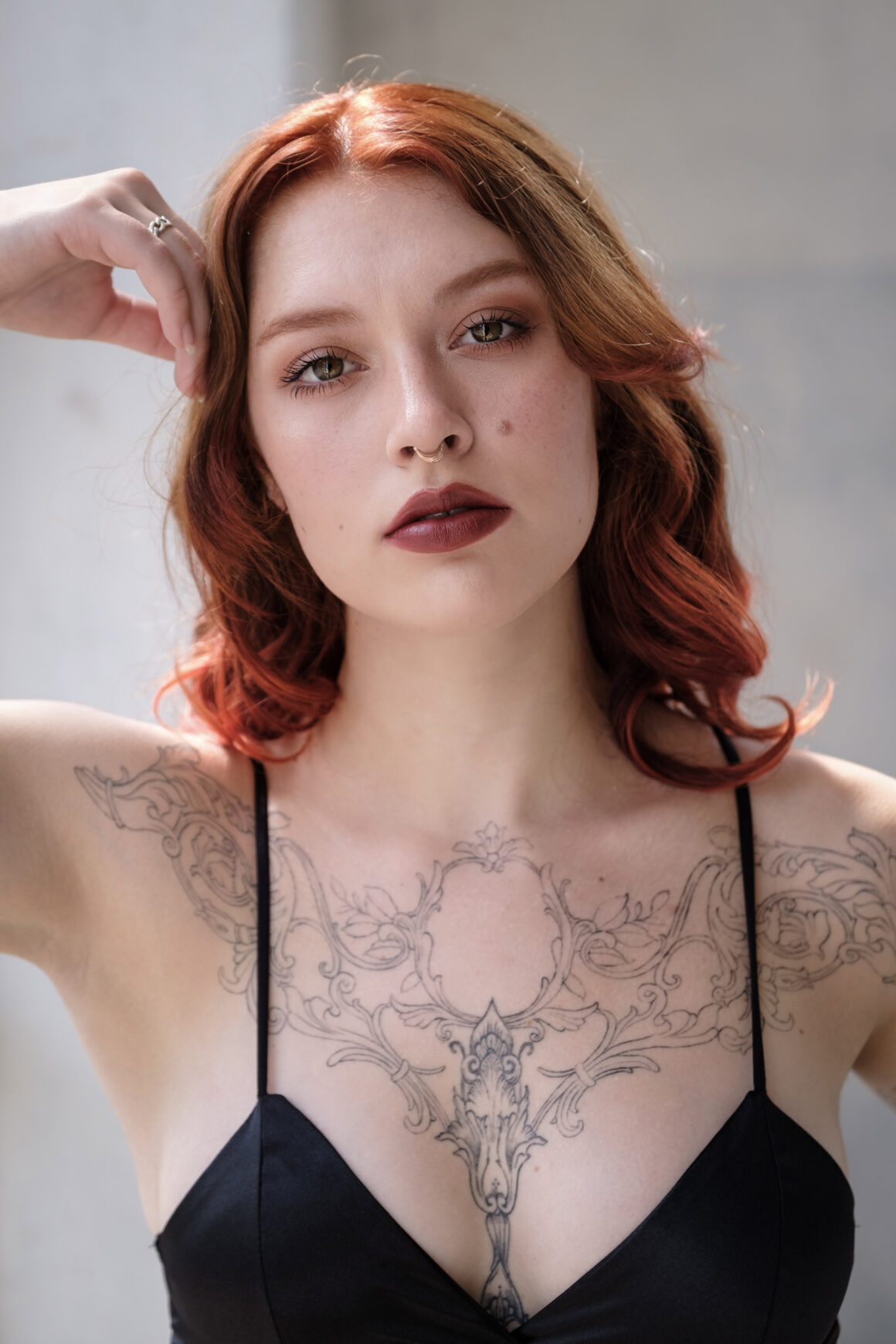 Would you like to add something to close this short chat with us?
Thank you so much for this wonderful opportunity to share my tattoo collection on this amazing platform. It was so much fun to write this and think about all the good things that tattoos can do to a person. Stay safe everyone!