After the article published in Tattoo Life magazine, we are proud to meet Hanna again and to talk with her about her art and her love for tattoos. She is a super creative person, and a great tattoo collector…!
Hi Hanna, how would you introduce yourself to Tattoo Life readers?
Actually my real name is Joana. I chose Hanna as my nickname because that's what all my loved ones call me. I was born in the north of Germany and still live there today. I've built quite a nice life for myself and I absolutely feel at home here, even though many people think that a "big city life" would suit me better. But I prefer the small, friendly places – with character. I need places where I have enough space to breathe and where I can be alone when I leave my house.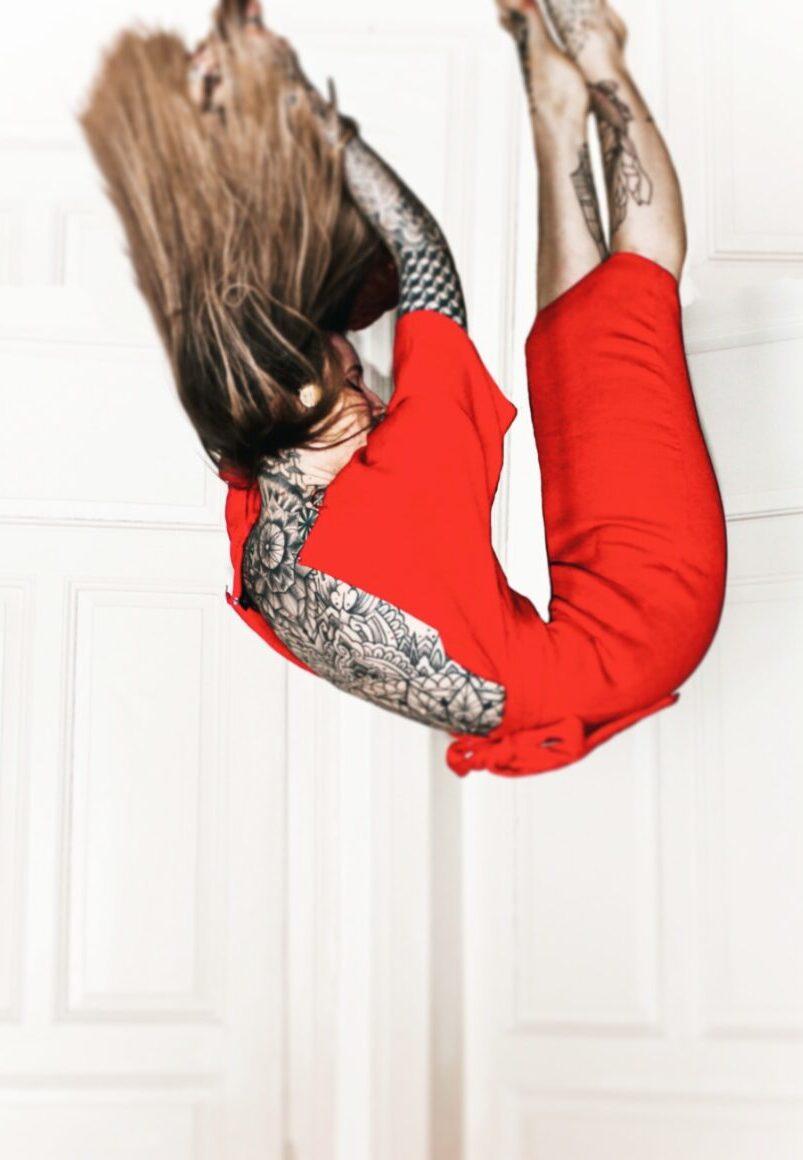 What's your background? Is your family into art?
I come from a very creative family and I was introduced to self-fulfillment very early on. My mother played and painted with me from morning to night. My father wrote poetry and philosophized with me. My sister showed me the variety of music. I got the chance to move freely – without any conditions. My mom was in the fashion scene, so it started with a tailor's apprenticeship.
I lived in fashion and I loved fashion as well, but I actually only used it as a medium for my "different personalities". Well, I noticed at a young age that I couldn't place myself in my environment. I was really versatile and changeable. I loved to express this through my dress style.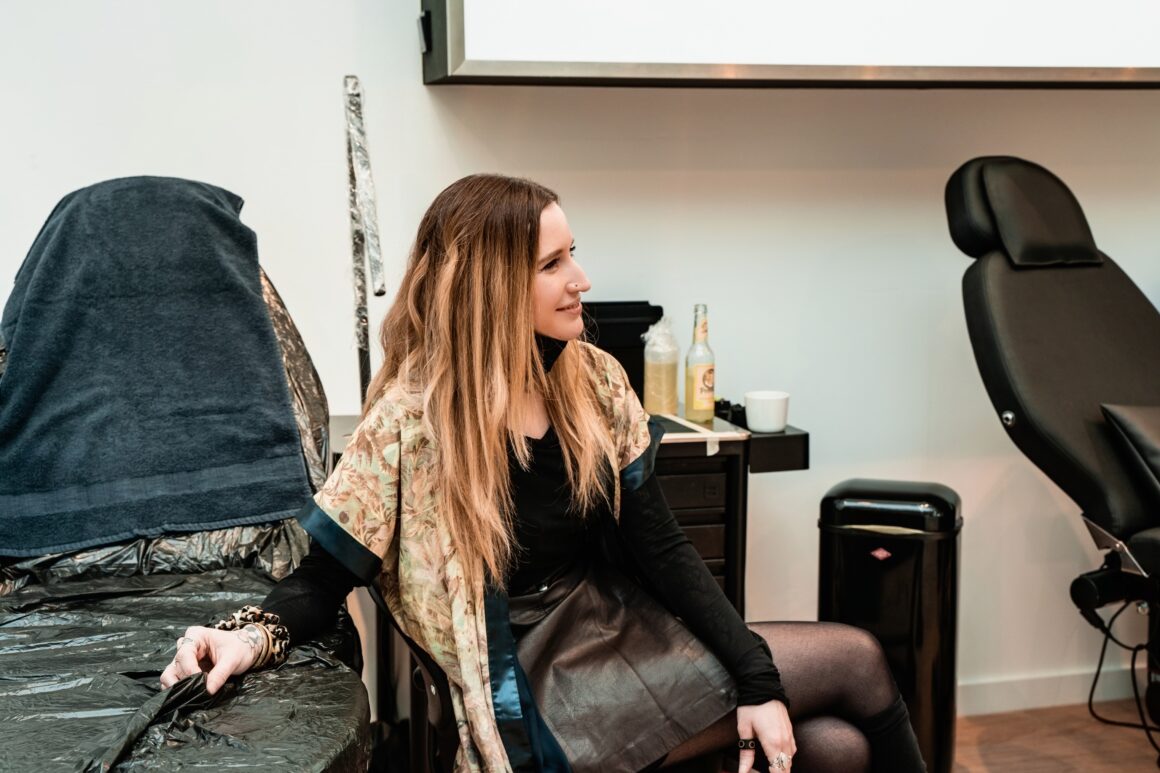 I always wore clothes that I had sewn to represent my mood. In the apprenticeship I realized that so much was going wrong in this world. I encountered a lot of arrogance, hierarchy and prejudice. From this point I wanted to criticize society and our system more.
My dream of a career as a fashion designer broke and I was more concerned with my environment.
Where did you study?
I studied art at a small art academy that also offered animation, comics and graphic design. I felt very at ease there because there weren't many students and we supported each other as well. I like to think back to that time. These years really shaped me a lot. I can still recommend training courses in smaller companies to this day. In my opinion it's more intense, more attentive and more effective in my opinion.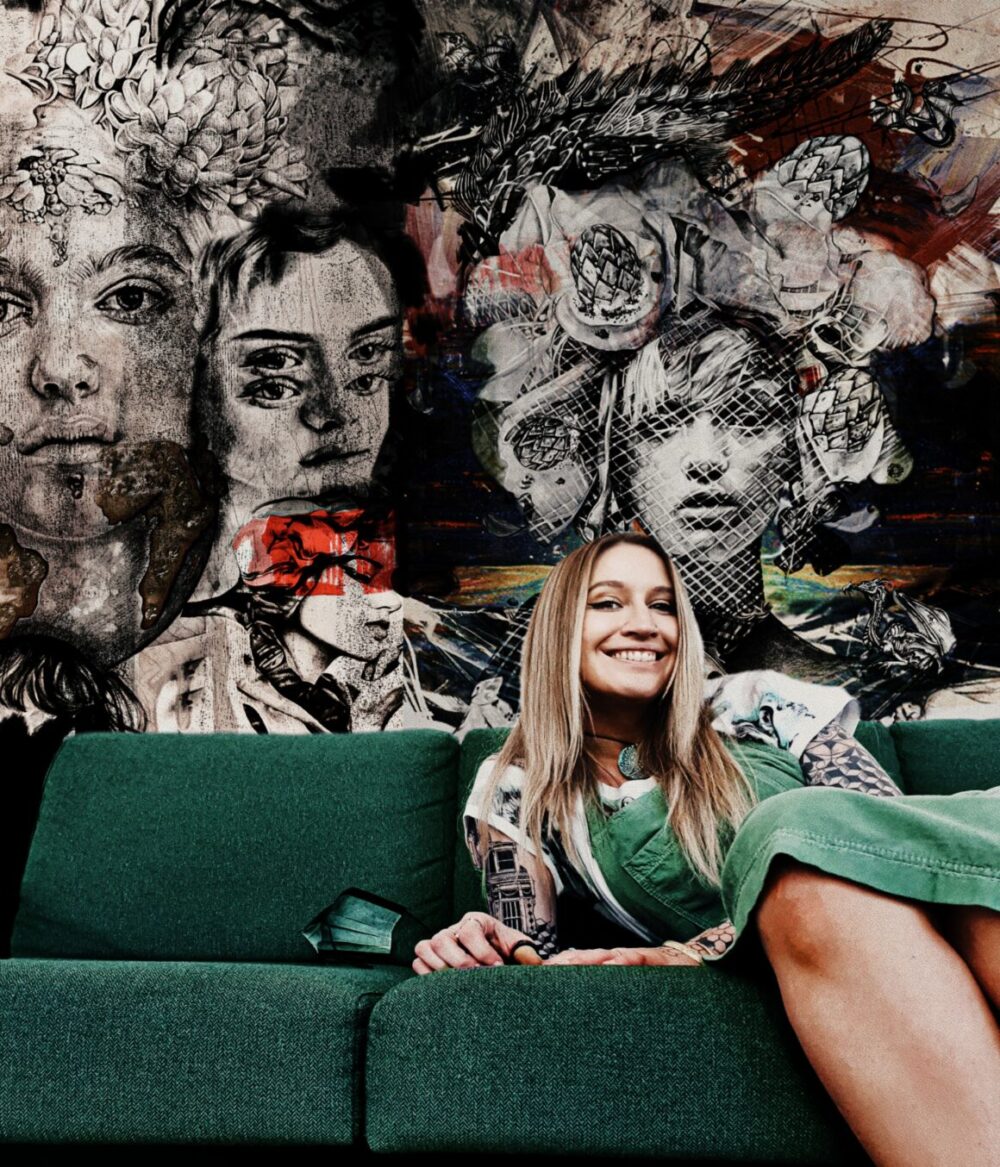 And what happened next?
After this episode I decided to start a second degree in graphic design. I learned to specialize my art more and I was taught to be more responsive to customer requests than to my own. It was much more pragmatic and commercial compared to free art studies, but I also really liked this time. Teamwork was extremely important.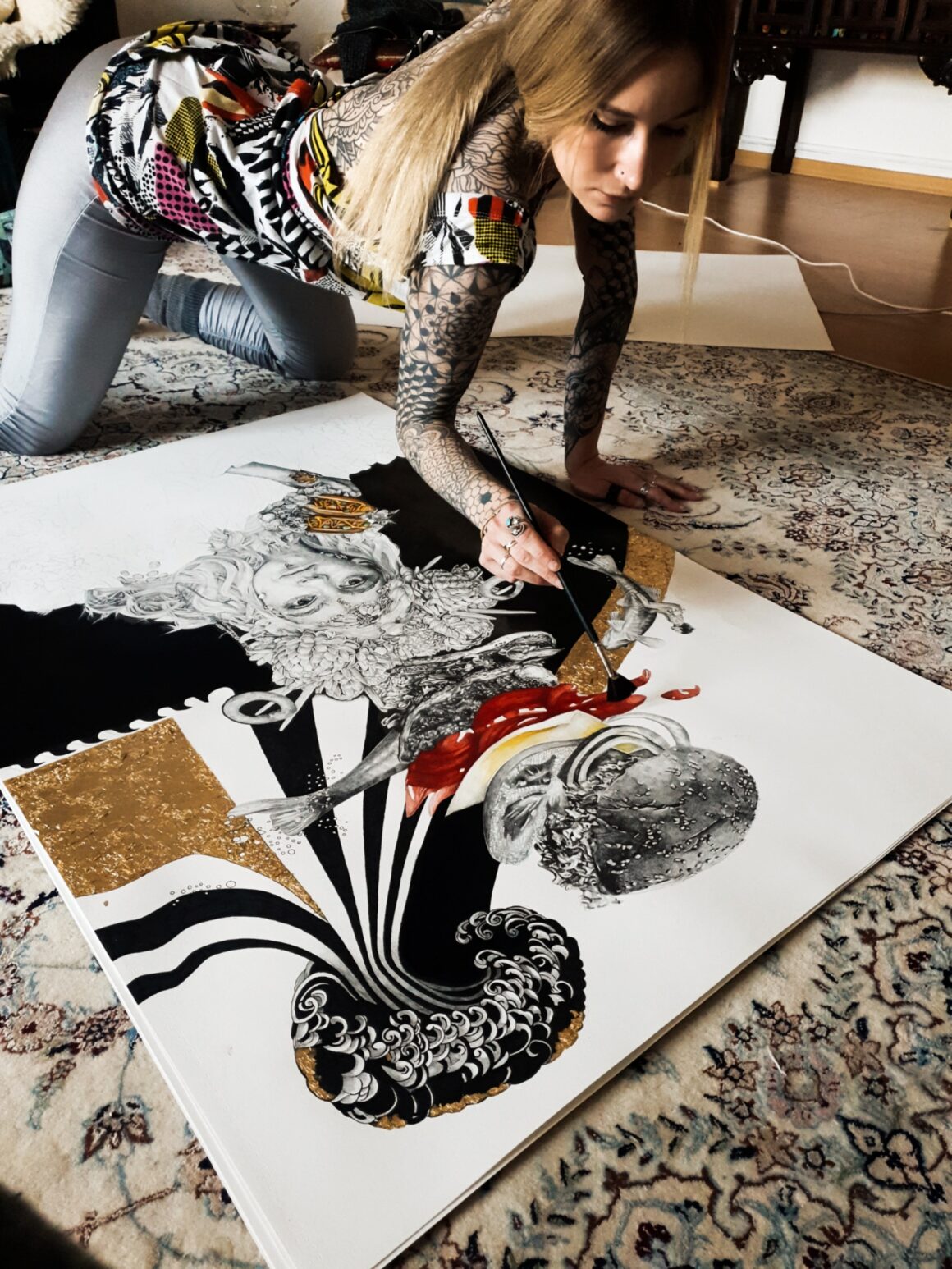 Well, I think at university you learn to get rid of the narrow-minded view of yourself and instead open up more to other people. So you had to pay more attention to the wishes of others rather than to your own. After all that years I am now a graphic designer and freelance artist, and I'm currently in a tattoo apprenticeship by the way. I can't stay in one job for long and I always have to learn something new and develop myself further. I think this is important to stay happy in life.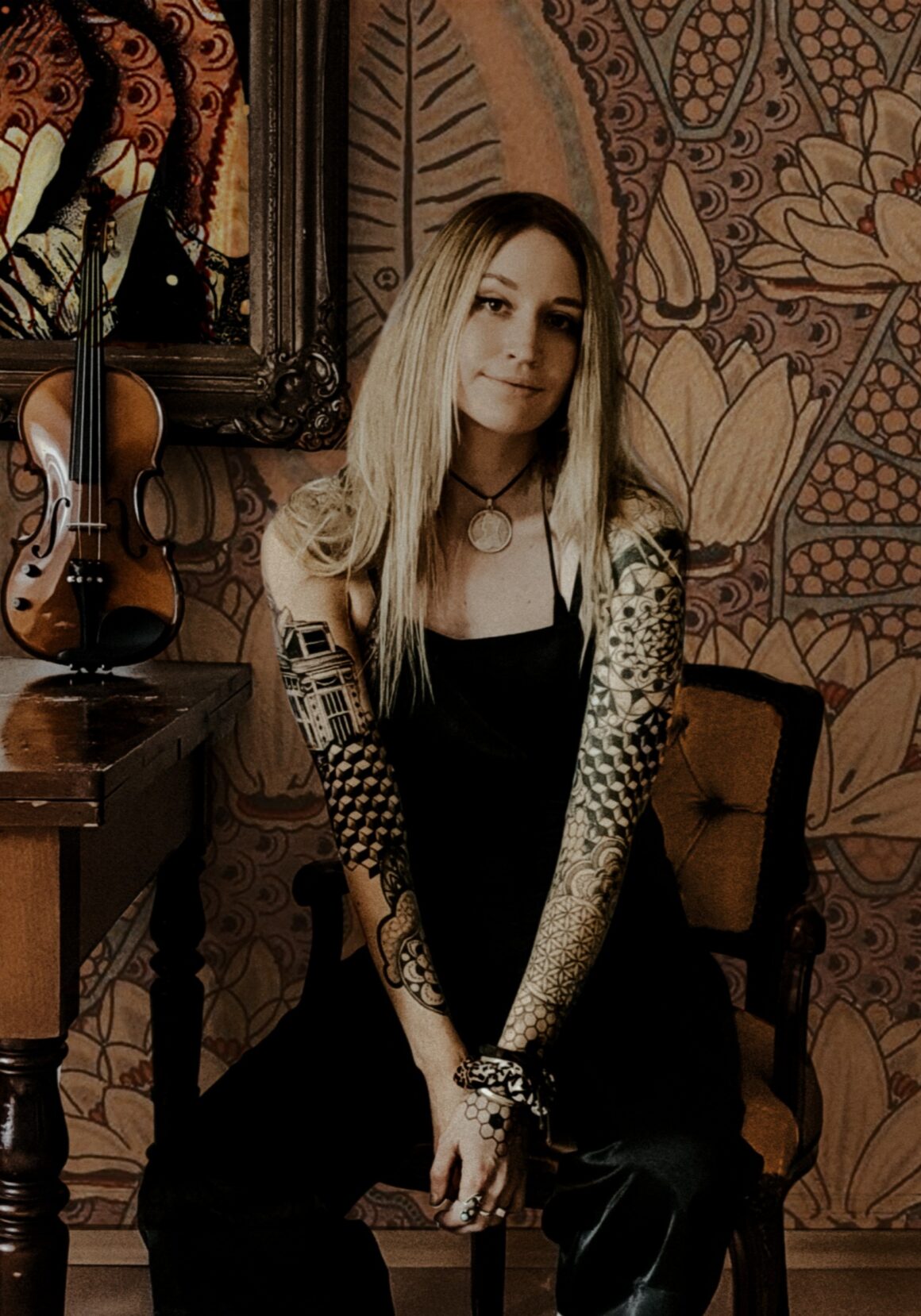 Do you want to tell us more about your love for art and what it means to you
Art has always been very important to me. When I was very young, I probably didn't even know what art was, but subconsciously I have always lived in my own imagination and have seen it as a place of retreat. I used to be very reserved and introverted. I thought more than I talked. Seen in this way, my drawings were a glimpse into my inner world but even then I was very interested in other people, in how different everyone actually is.
I love to observe from my hiding place and to put myself in other people's shoes.
I was able to empathize with other humans and was able to quickly find out about their characteristics. However, features that these people found bad about themselves I found them interesting and sometimes unique.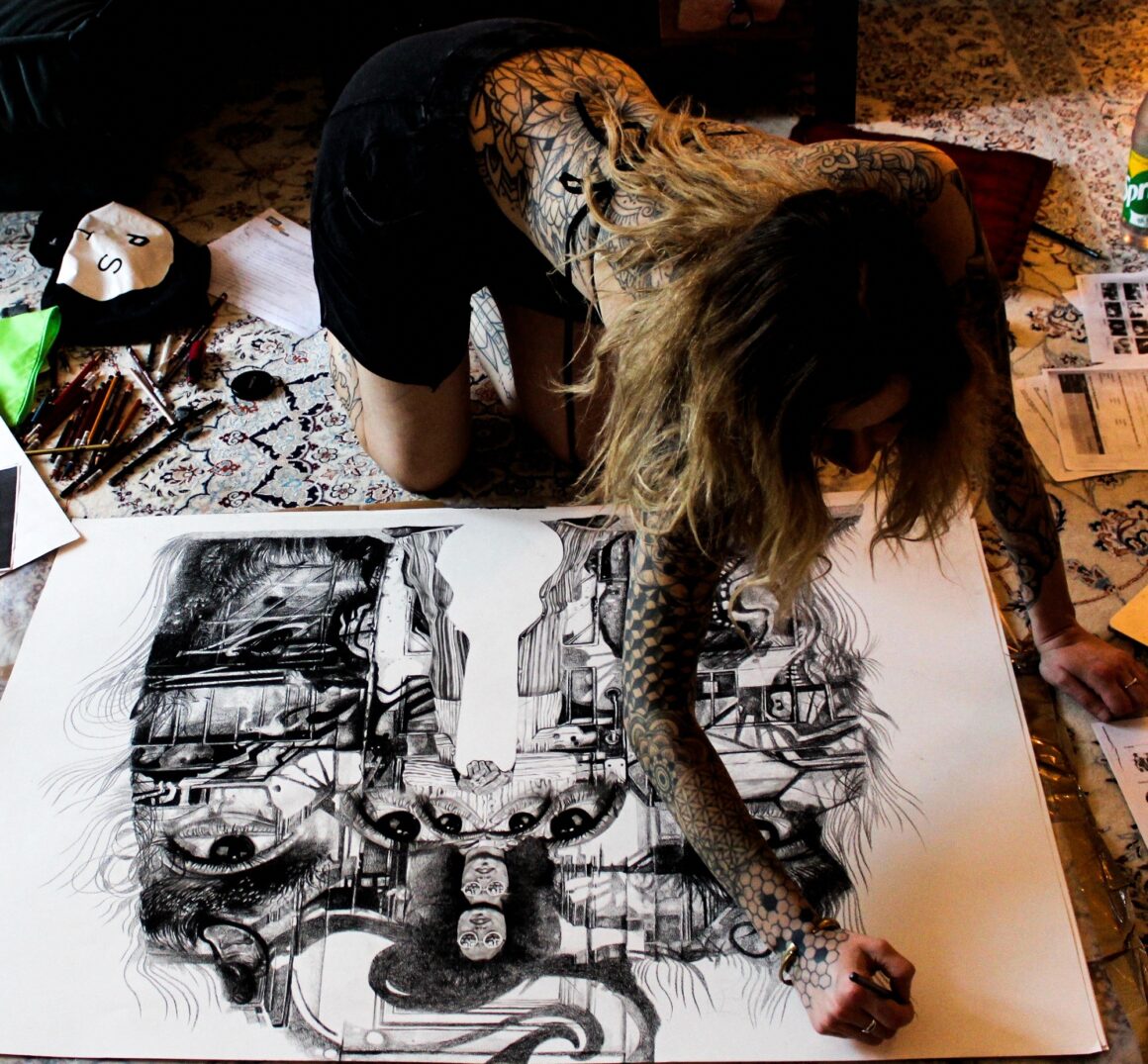 Well, I like to draw people who don't even know how special they are and try to show them how special they actually are and I prefer to deal with topics that are current. Problems that once arise between people but which ultimately become a fundamental social problem in our world.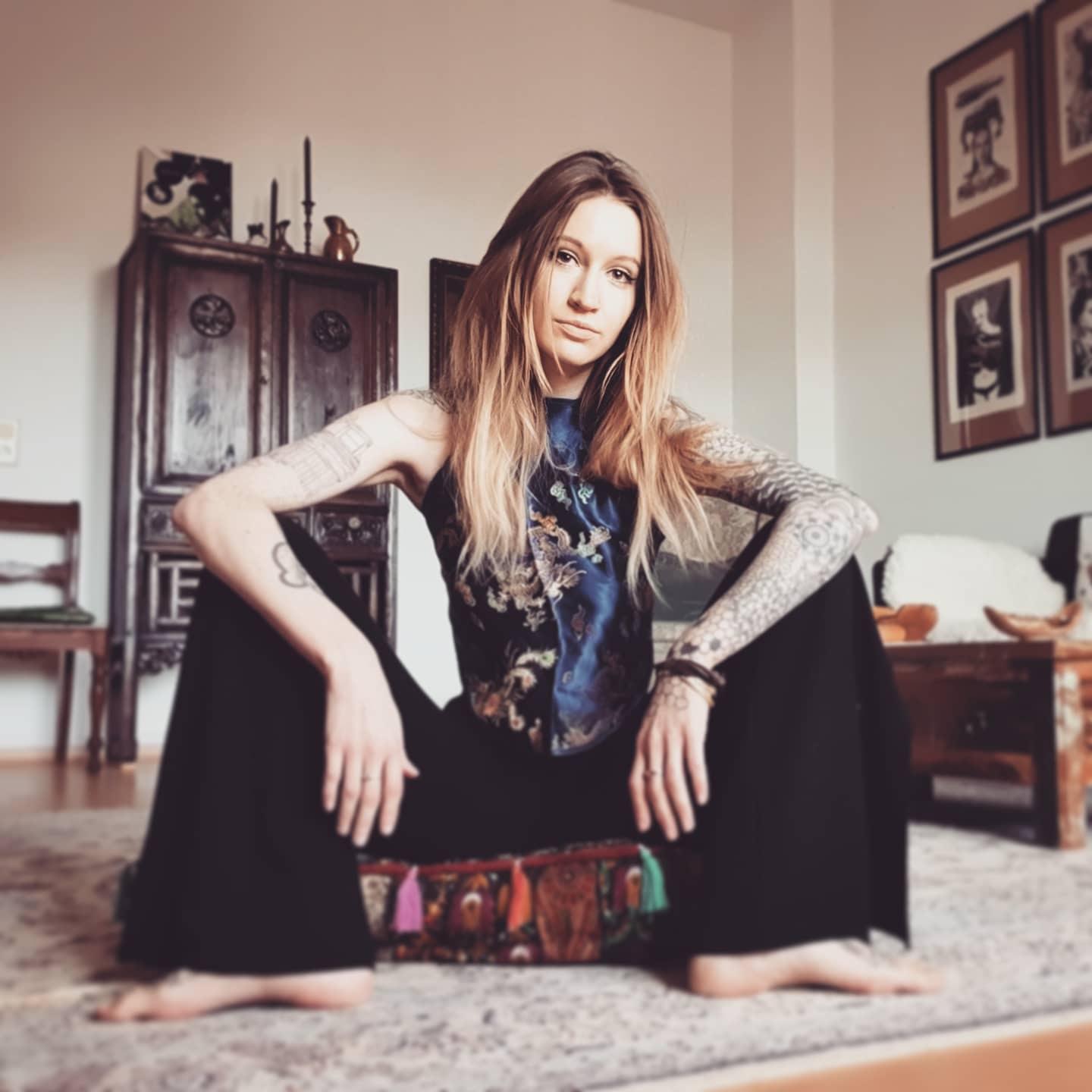 What about your passion for tattooing? What was your first tattoo and is there one you are particularly fond of?
My interest in tattoos has always been very strong, but I decided to have some on my own body when I was creating a tattoo concept for myself as an artist. The constellation is particularly important to me. Everything has to be consistent and adapted to my personality. Back then, about 10 years ago, I went to my tattoo artist, who was also my friend. I wanted something graphic, detailed. We started with my sleeve. Every new tattoo was actually based on this. I really like every single one.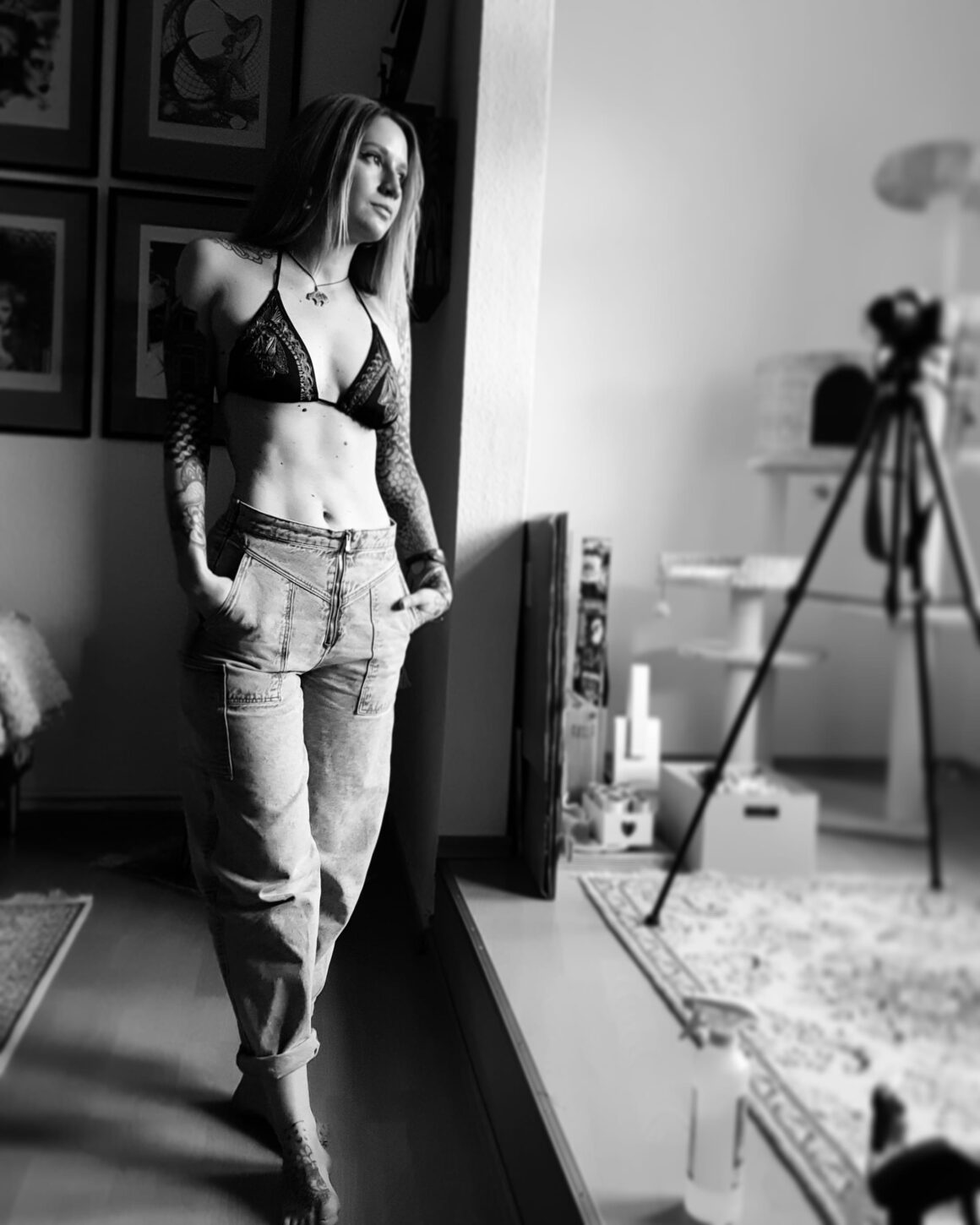 Each one is related to another. but if I had to choose I would pick the architectural tattoos. Now I'm also starting to tattoo and I'm very interested in human anatomy and the adaptation of tattoos to body parts in general, a very exciting craft that I really enjoy.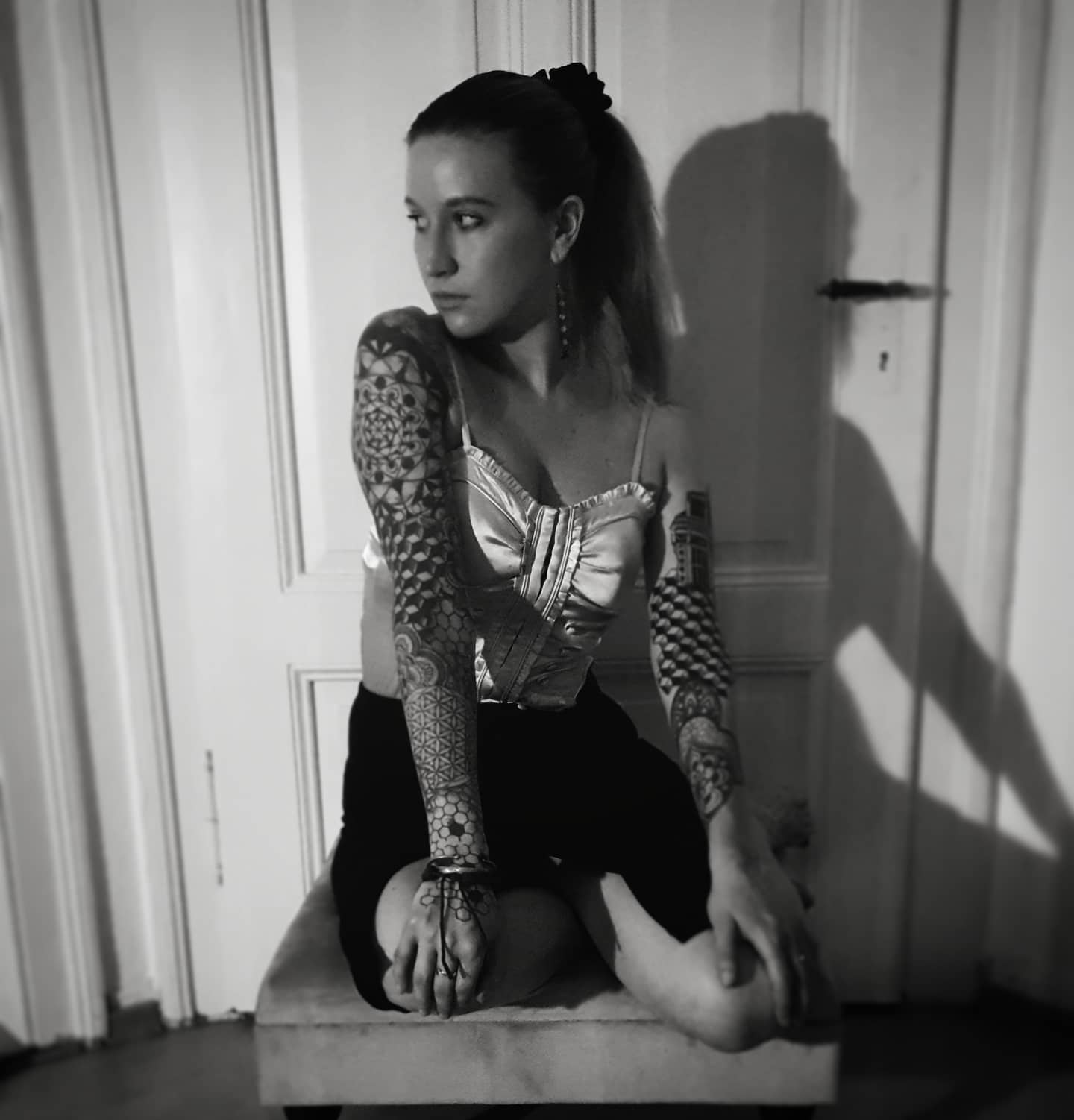 You are an incredible tattoo collector: where does your love for Ornamental style come from?
I think most of it comes from my own art. I love symmetry and harmony, and especially linework. I think it's remarkable how lines can be used to encase different parts of the body so that they stand out. It's generally exciting how a body can be transformed through tattoos. It's like magic.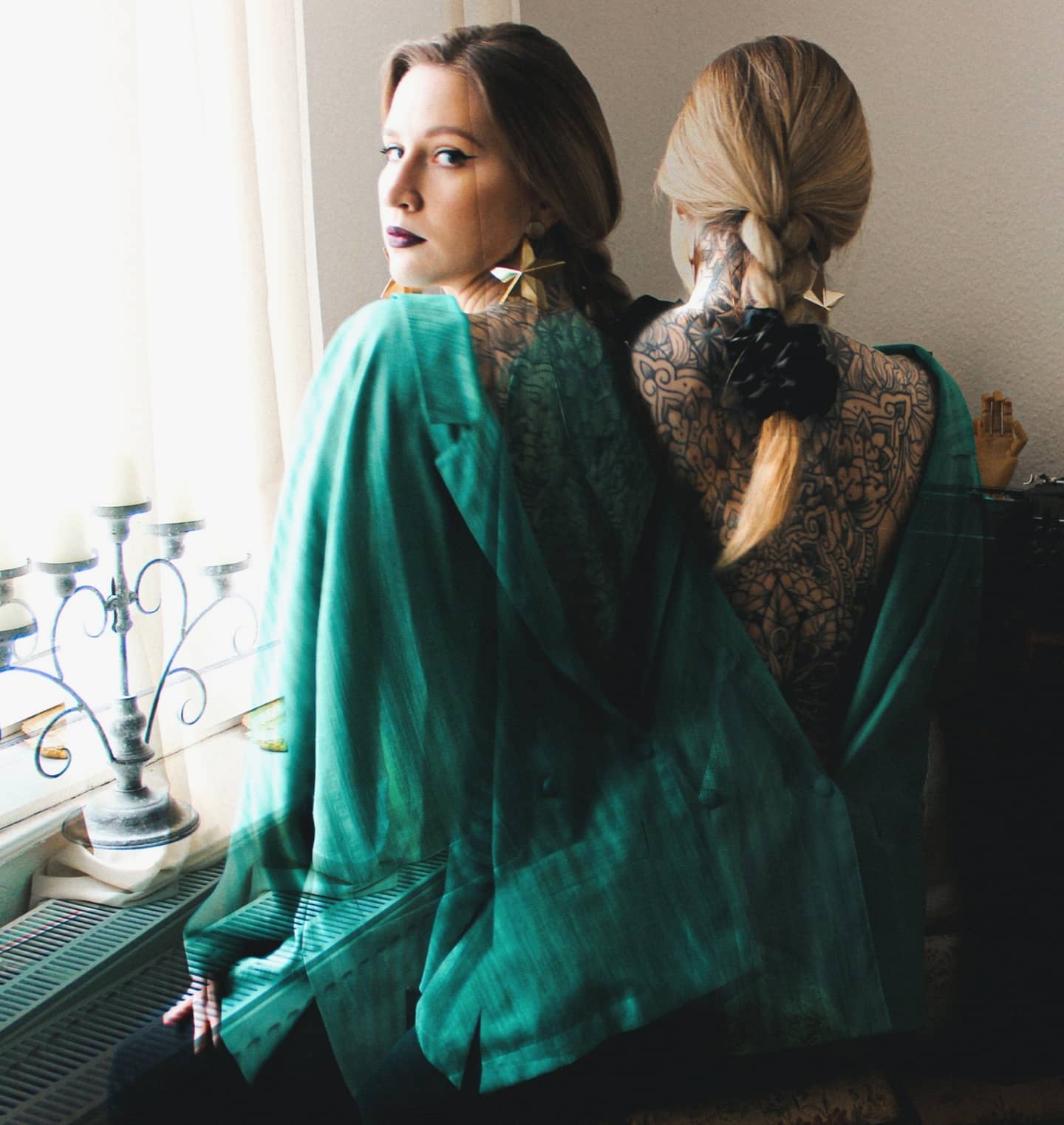 Who tattooed you over the years and who took care of your gorgeous backpiece?
I was actually always loyal to my friend and tattoo artist who started with my arm. The backpiece is also from him. We've really known each other for a long time and I trust him completely. It's sometimes more important to me to have someone with whom I feel connected than always looking for someone better. If my friend doesn't tattoo me, then I only get tattooed by people I really like.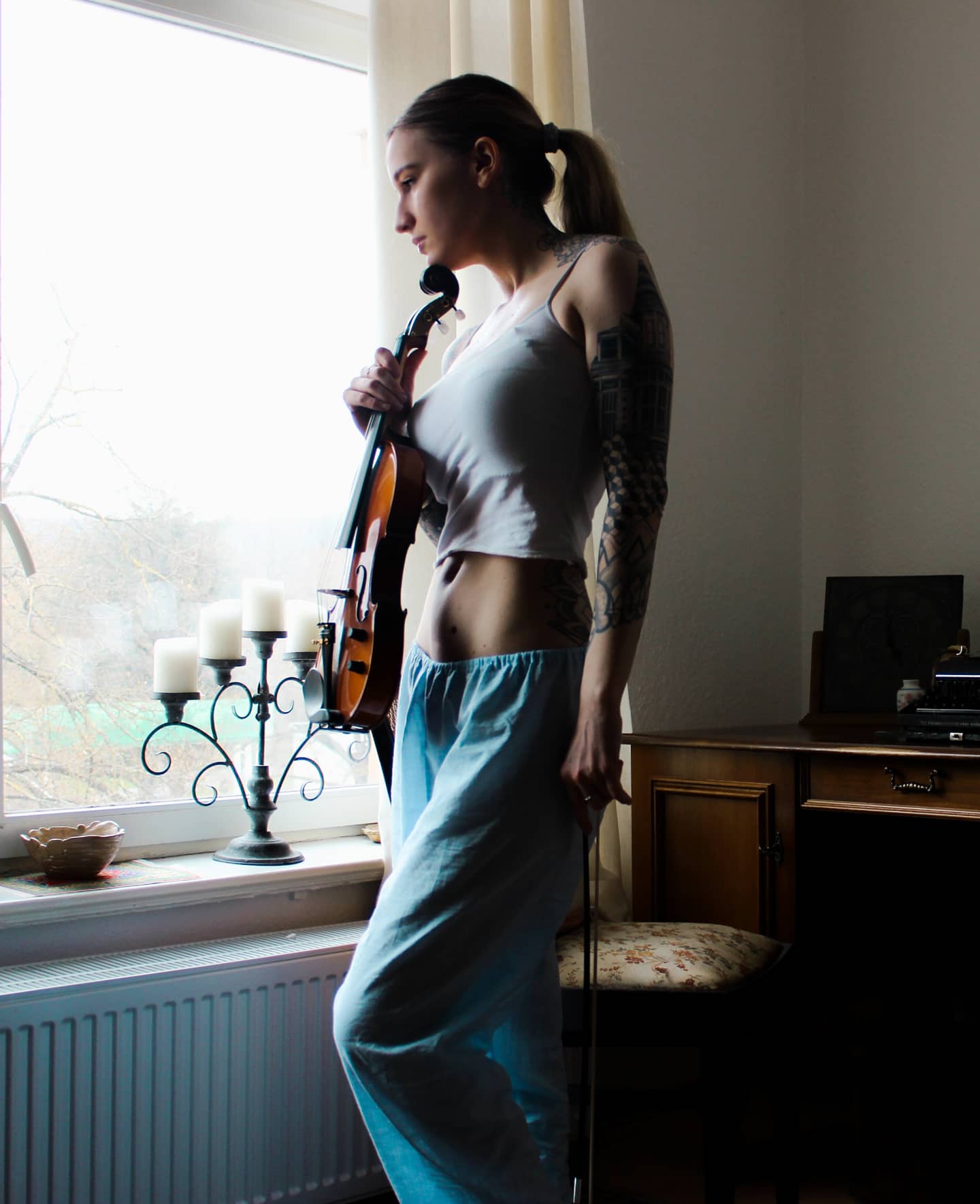 Are you planning something new for your skin?
Yes, actually this month. My neck and my décolleté will be embellished. I'm very excited about it. It's something architectural again. I'll go to Ilja Hummel for this project, a talented, friendly tattoo artist from Germany.
What are your other great passions?
Definitely music. I play the violin and I love string instruments. I often visit harmony orchestras to relax mentally. I love instruments and especially their versatility. My friends are all mainly musicians. They inspire me a lot and we often make music together. I'm also very committed to animals. I try to save all dogs and cats, but there are too many on our planet who are in need. The profit of my next exhibition goes to animal rescue.
I'm interested in a lot of things and I wish I had endless time to try everything out.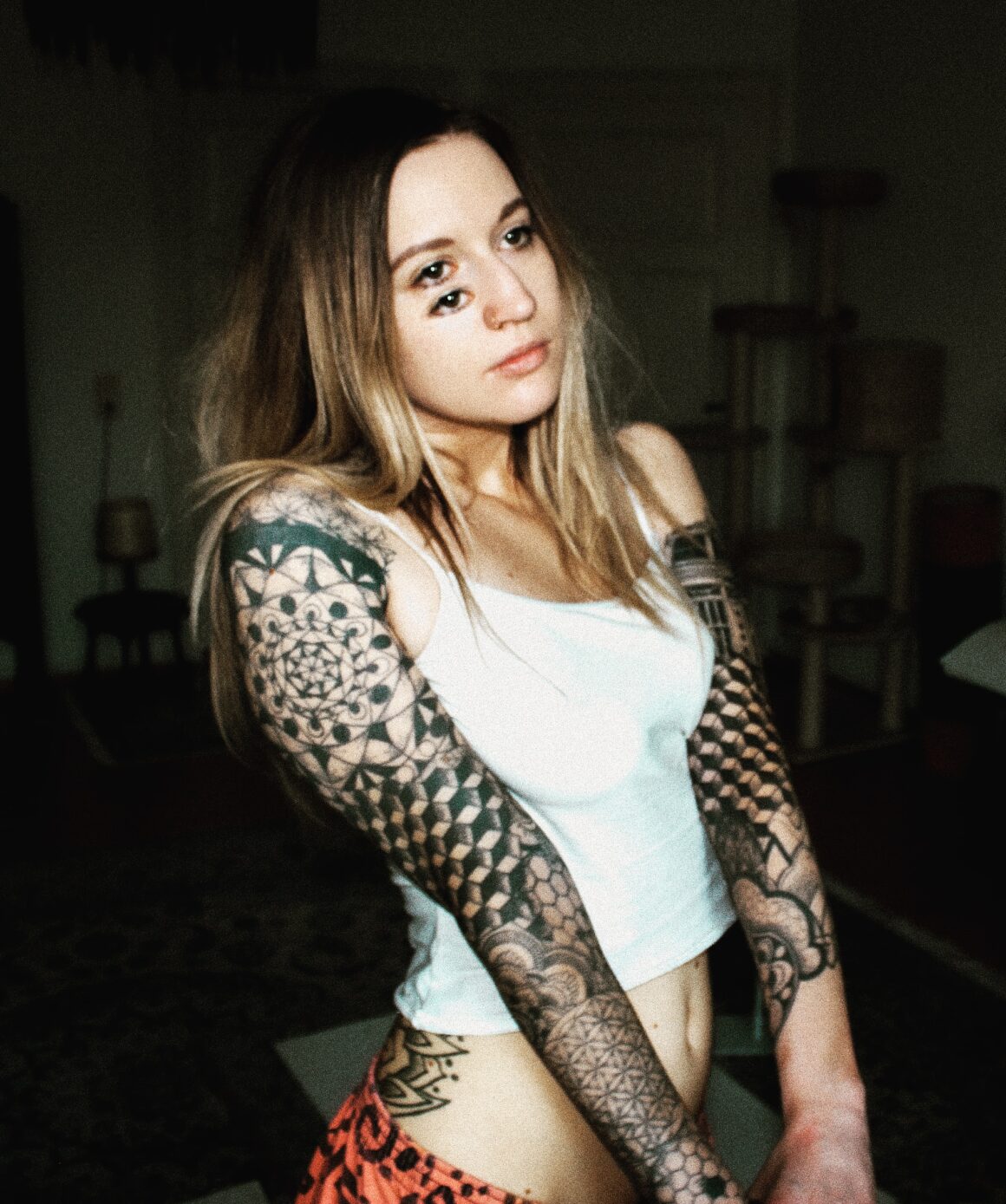 How is your typical day?
My everyday life is very well planned at the moment. There are a few rituals that are particularly important to me in the morning, before work begins. I make coffee, give my cats breakfast, and go back to bed for about an hour. There I enjoy the calm – before the storm comes. Then I turn on music, take a shower and go to the tattoo studio. I spend there all day. After that I often go to my art studio and work on my current projects, sometimes well into the night.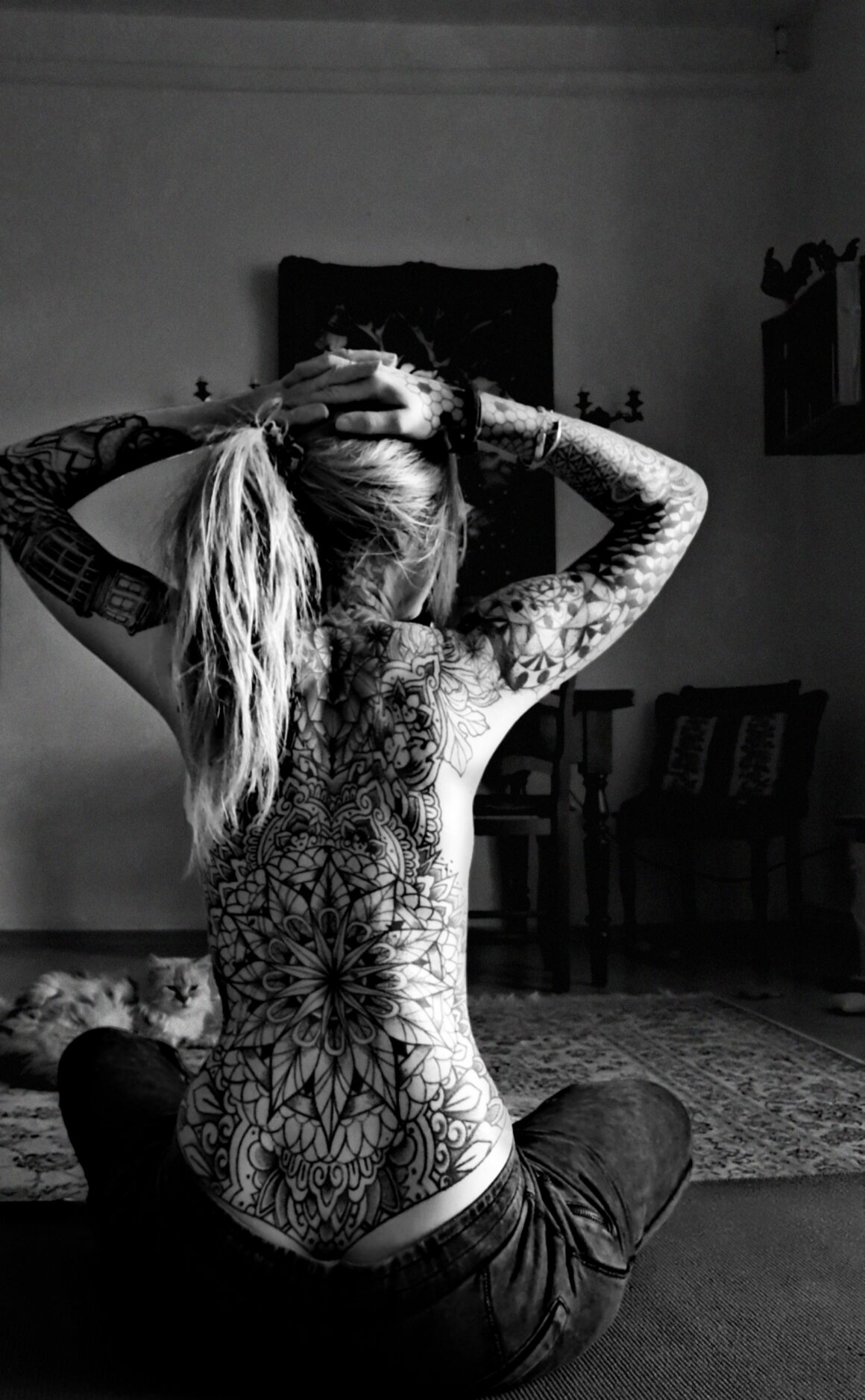 I often order food there, via delivery service. I know it isn't that healthy but on such days there is no time left to cook food. Although I really like to cook. Well, I could make an art project out of pizza boxes. When I'm back home I usually answer emails and prepare tattoo designs. If there is any time left, I take a bath to recover from the day… and at the end I do a yoga lesson! I haven't slept much in the last few months because the working days are very intense. Most of the art commissions happen on weekends, besides the music.
What are your plans for the future?
I'm currently still at the beginning of my tattoo apprenticeship. Someday I would like to bring my art into the skin of people, in order to combine my art with the craft of tattooing. My art style is very elaborate and detailed and it will probably cost me a lot of strength to replace pens with needles, but I like to walk a long, exhausting path when I know that I will eventually achieve my goal.
Is there anything you want to add before saying goodbye?
In the end you should always say 'thank you'. I'm really grateful that I could do everything I ever wanted to do. Even if it's a lot of work. Some people cannot take this path. And I value my life. I'm absolutely happy to share my bizarre fantasy with you and the whole world. I just recommend everyone to do the same.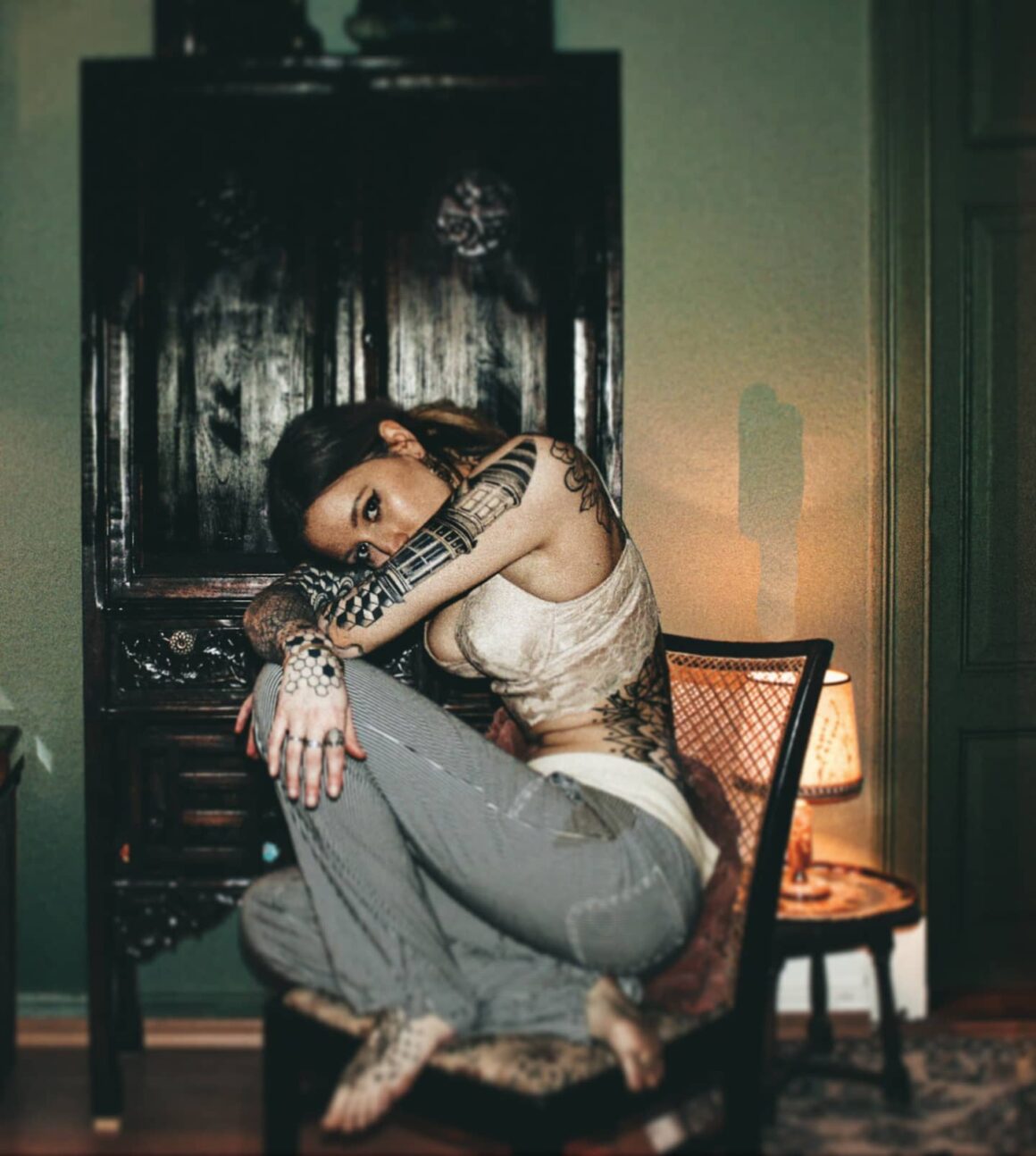 Discover more about Hanna's Art on the next issue of Tattoo Life magazine!