From a vineyard in Lodi (California) to a tattoo studio in LA: let's get to know Adam Warmerdam better, and discover his beautiful tattoos – representing the classic "Americana imagery" at its best!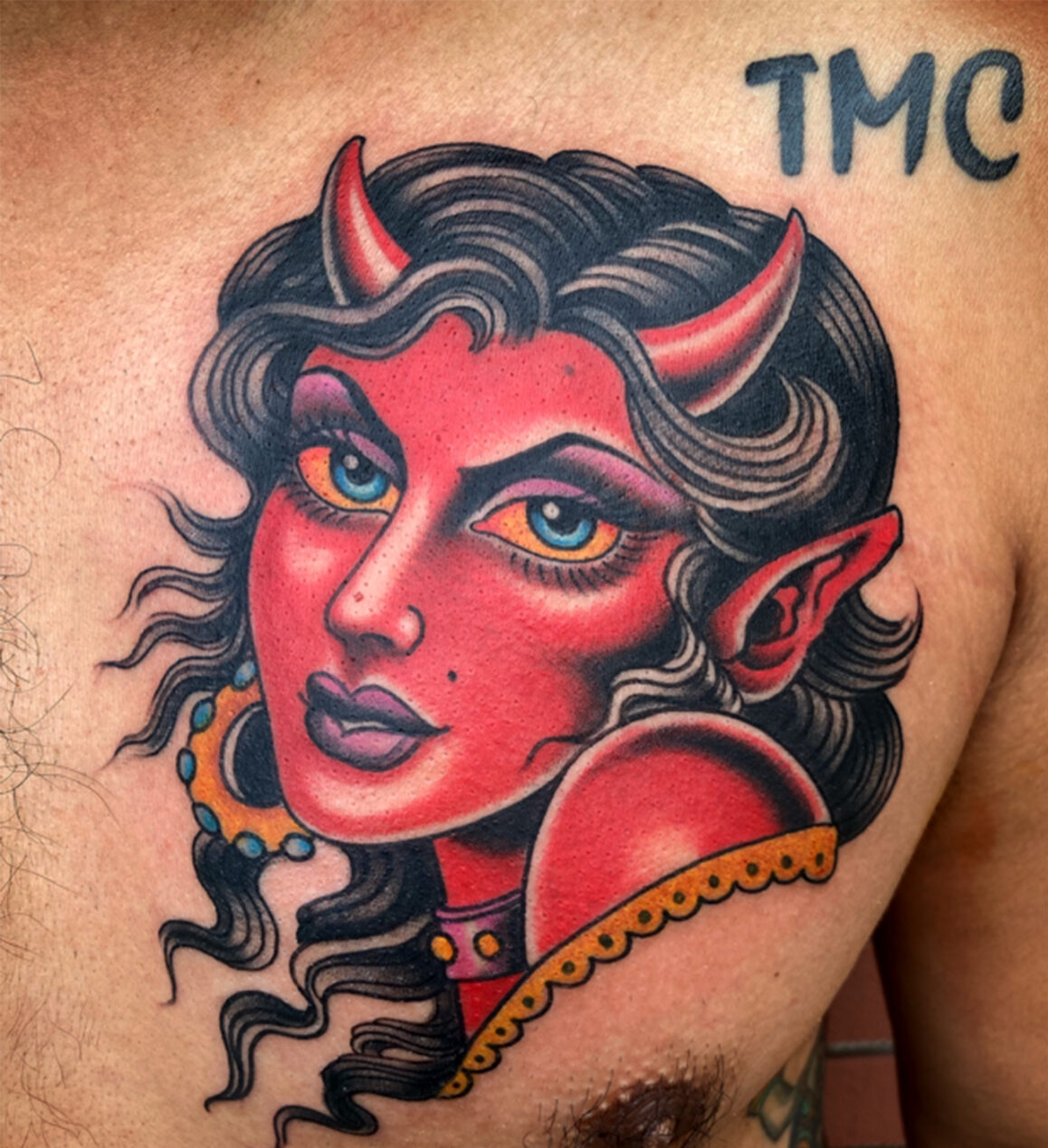 Hi Adam, thank you for this interview! We would love to start this chat by asking you to introduce yourself to our readers… Who is Adam Wamerdam?
My name is Adam Warmerdam, I'm from Lodi, California where I grew up on a grape vineyard farming with my family and making wine. I moved to Los Angeles in 2004 to go to school, dropped out shortly after and began to pursue a career in tattooing. I started tattooing at a shop called Yer Cheat'n Heart and worked there for a couple years after a while of shop help.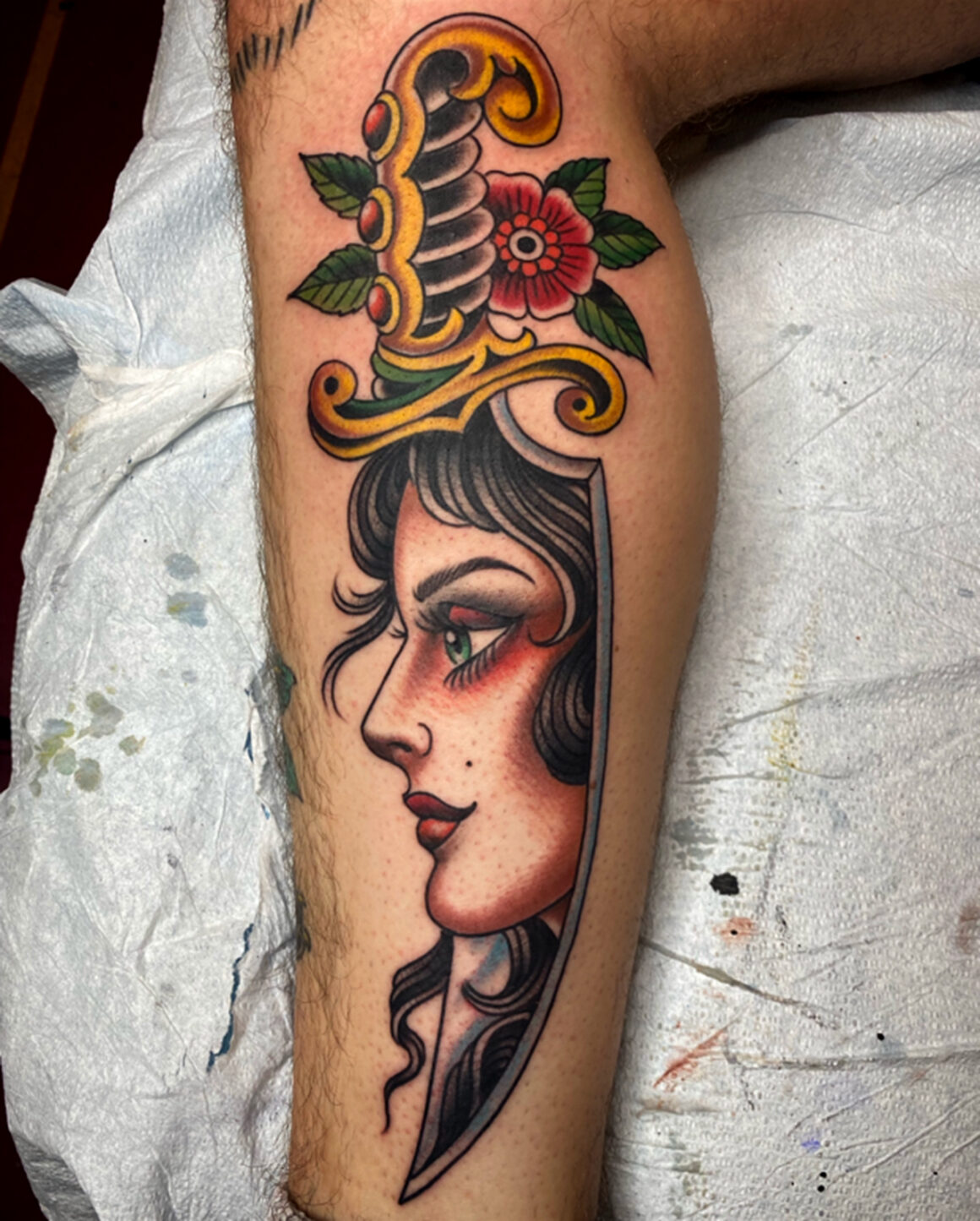 I was living around the corner from Spotlight tattoo at the time and was always hanging out there on my days off getting tattooed by some of those guys as well. I was able to do some tattoos on friends there and that's where I met Bryan Burk. Long story short, after leaving Spotlight he opened Dark Horse in 2010 and I have been tattooing there since then, 11 years now.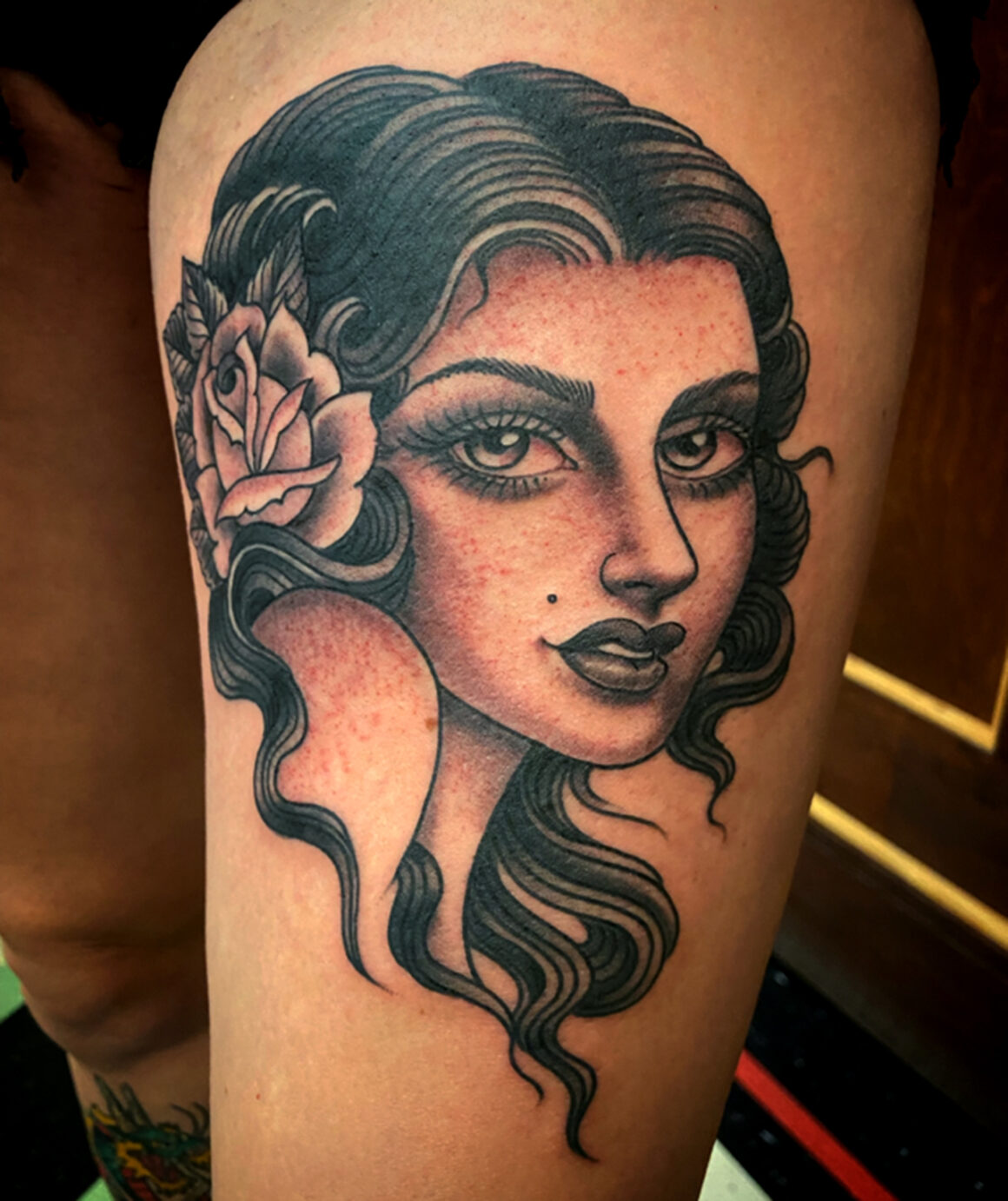 When and how did you approach the world of tattooing?
I guess just after high school is when I started getting tattooed and then shortly after becoming interested in tattooing. It was a tattoo that my brother got that made me first fall in love with it, he got a flash design tattooed on him from Uzi, it was a dagger running though a heart and a banner around the heart that read "SLUT".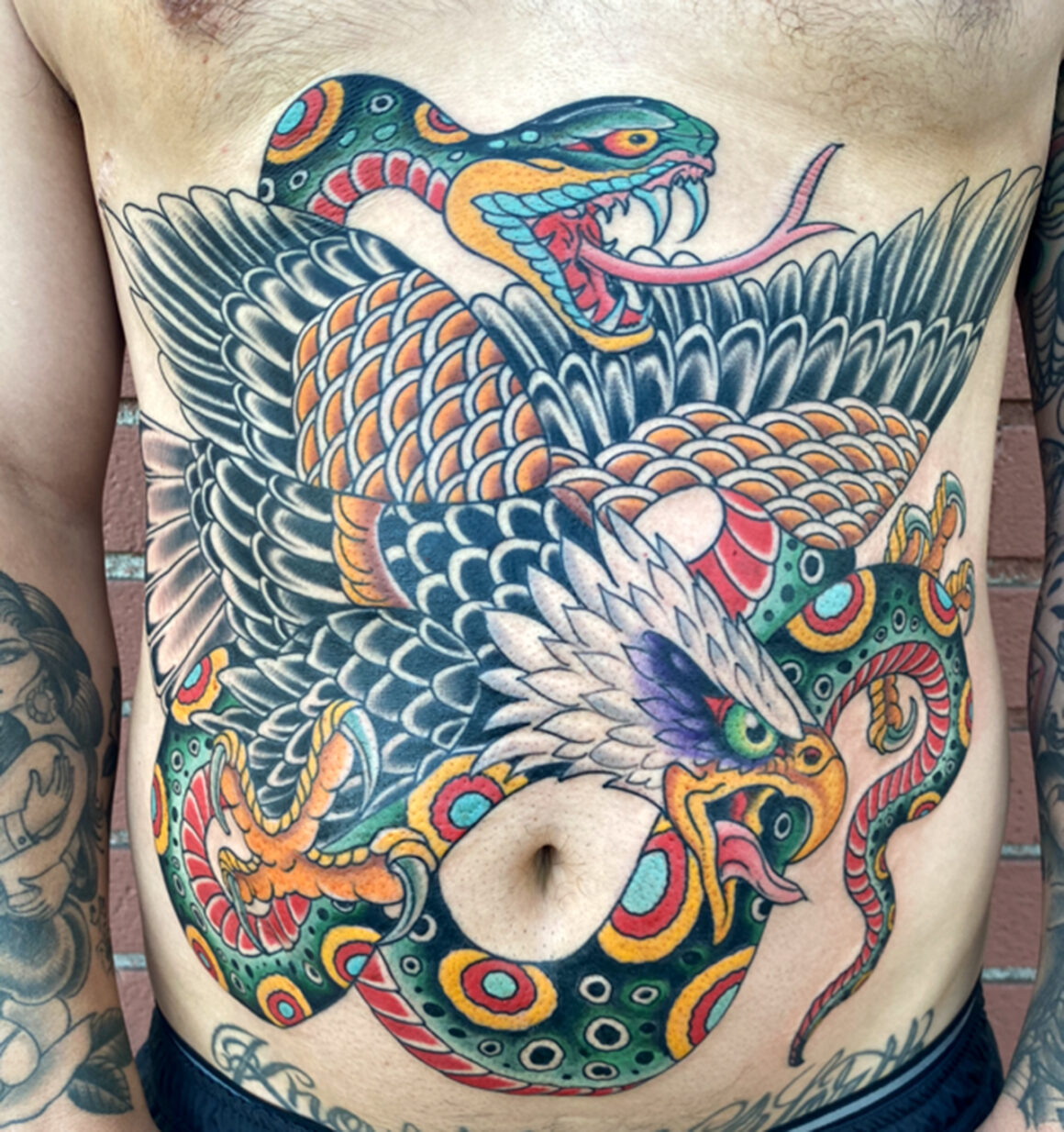 I was going to school in LA at the time and driving back home to Lodi to get tattooed as much as I could, Uzi also did my first tattoo, a bunch more and eventually my entire back. That shop was fun! We didn't have much money but they were always cool, I'd show up with a case of beer and we would party and tattoo and that's just the way it was… fun!
Not sure if that answers the question but that's just my first memories of the "tattoo world".
Who are your reference in the contemporary tattoo scene?
I'd say definitely Bryan, huge influence on my designs and style of drawing tattoos. Uzi since day one has been someone I look up to and learned a lot from. Bob Roberts, Ed Hardy, goes without saying!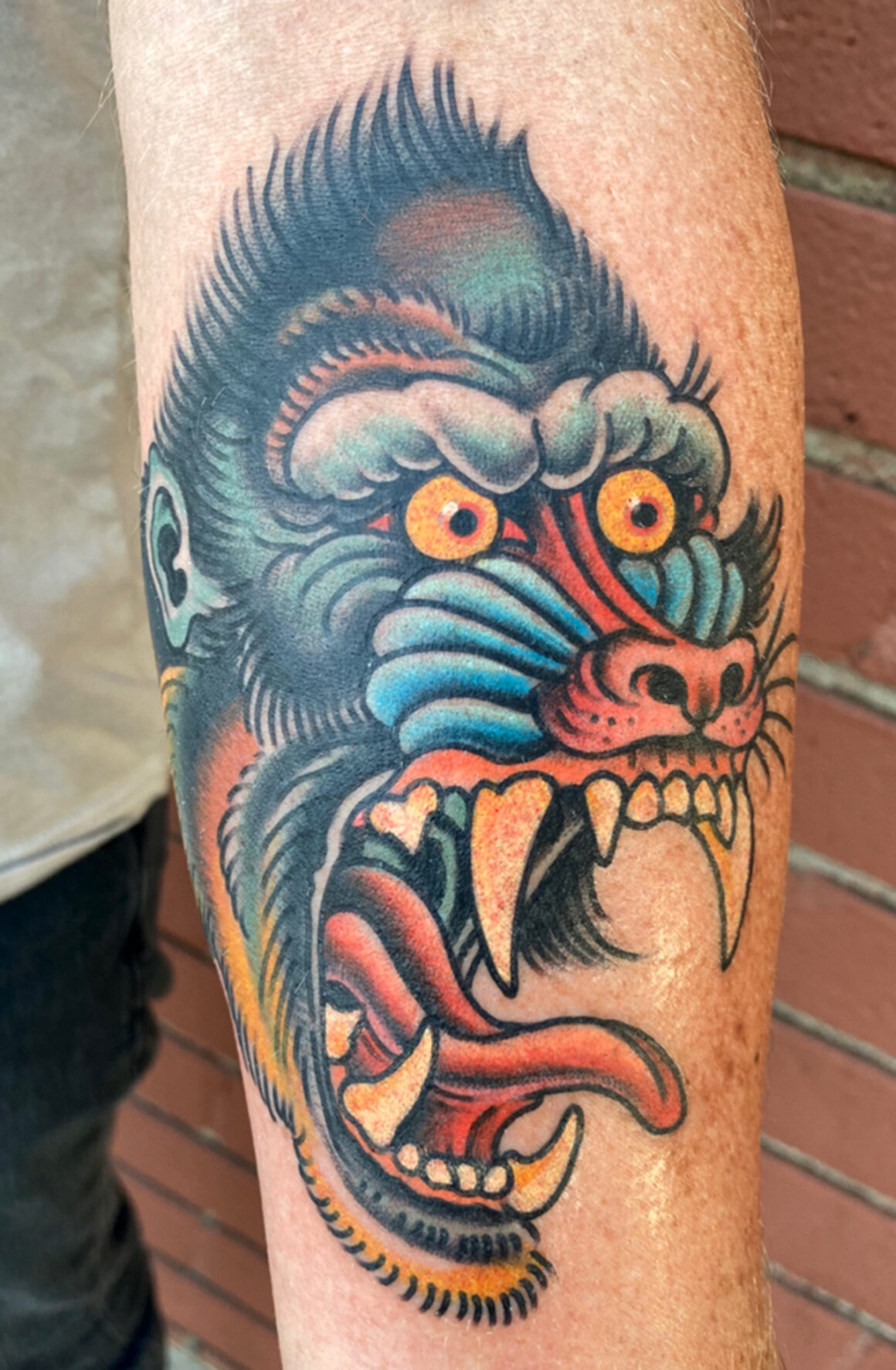 Black or color? Why?
Black or color doesn't make a difference to me. I enjoy it all.
What are your favorite subjects? And what are the most requested subjects by your clients?
Favorite subjects would be the classic Americana imagery. Anything from pretty ladies, big cats, wild animals, hearts and daggers… stuff like that! I love it! Lucky for me those are the designs most people ask me to do for them.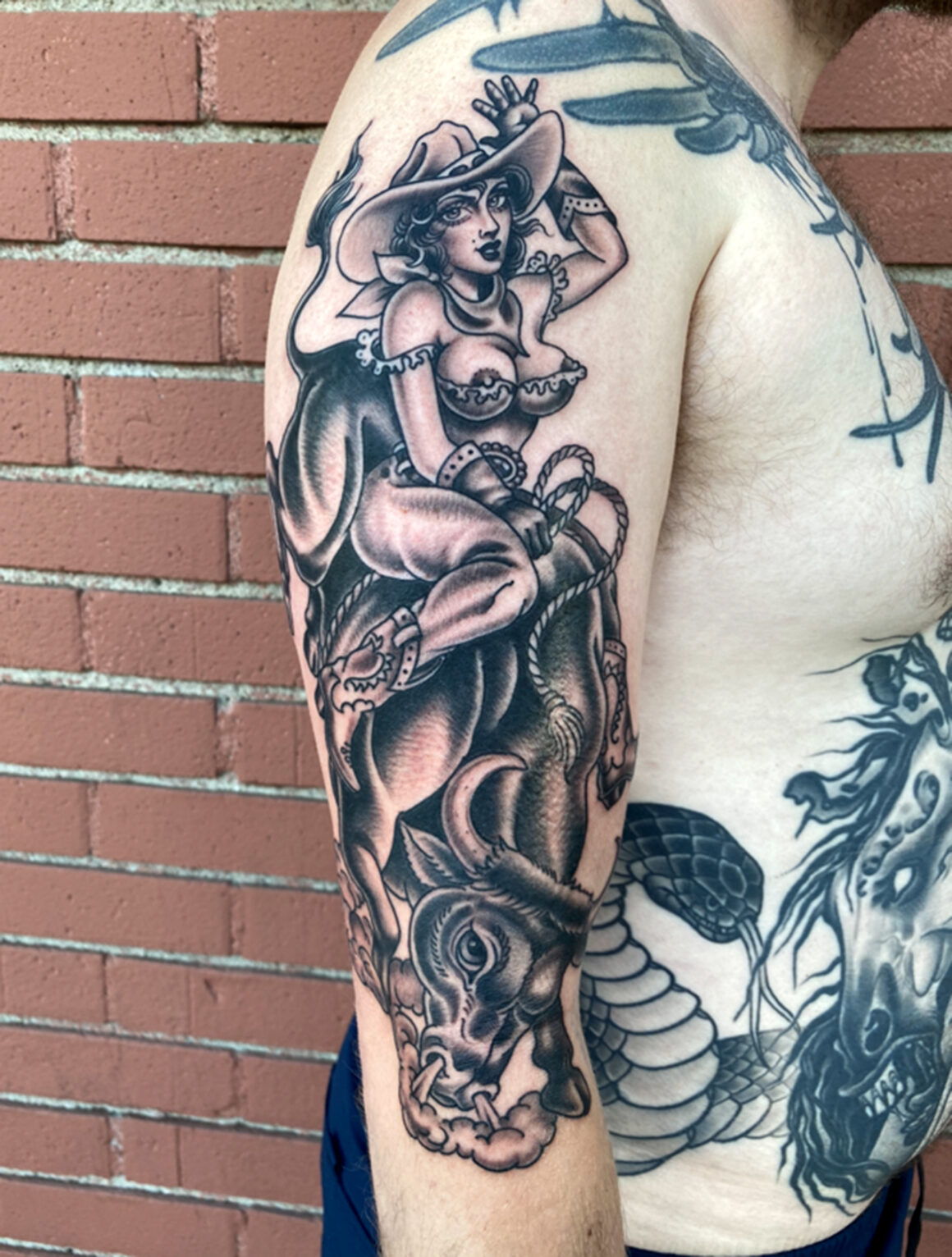 Tell us more about the Dark Horse Tattoo? What is the atmosphere like on Hollywood blvd?
Dark Horse Tattoo I would describe as a very laid back and creative type of atmosphere. We have artists there they can handle any style of tattooing, we draw a lot of custom tattoos and at the moment it's mostly appts. We're a few miles east of like touristy Hollywood where the stars on the sidewalk are haha the shop is actually in Los Feliz which I guess I'd describe as a little hipster sort of up and coming neighborhood.
Wine bars and overpriced vintage clothes and shit like that. It's cool. I like it.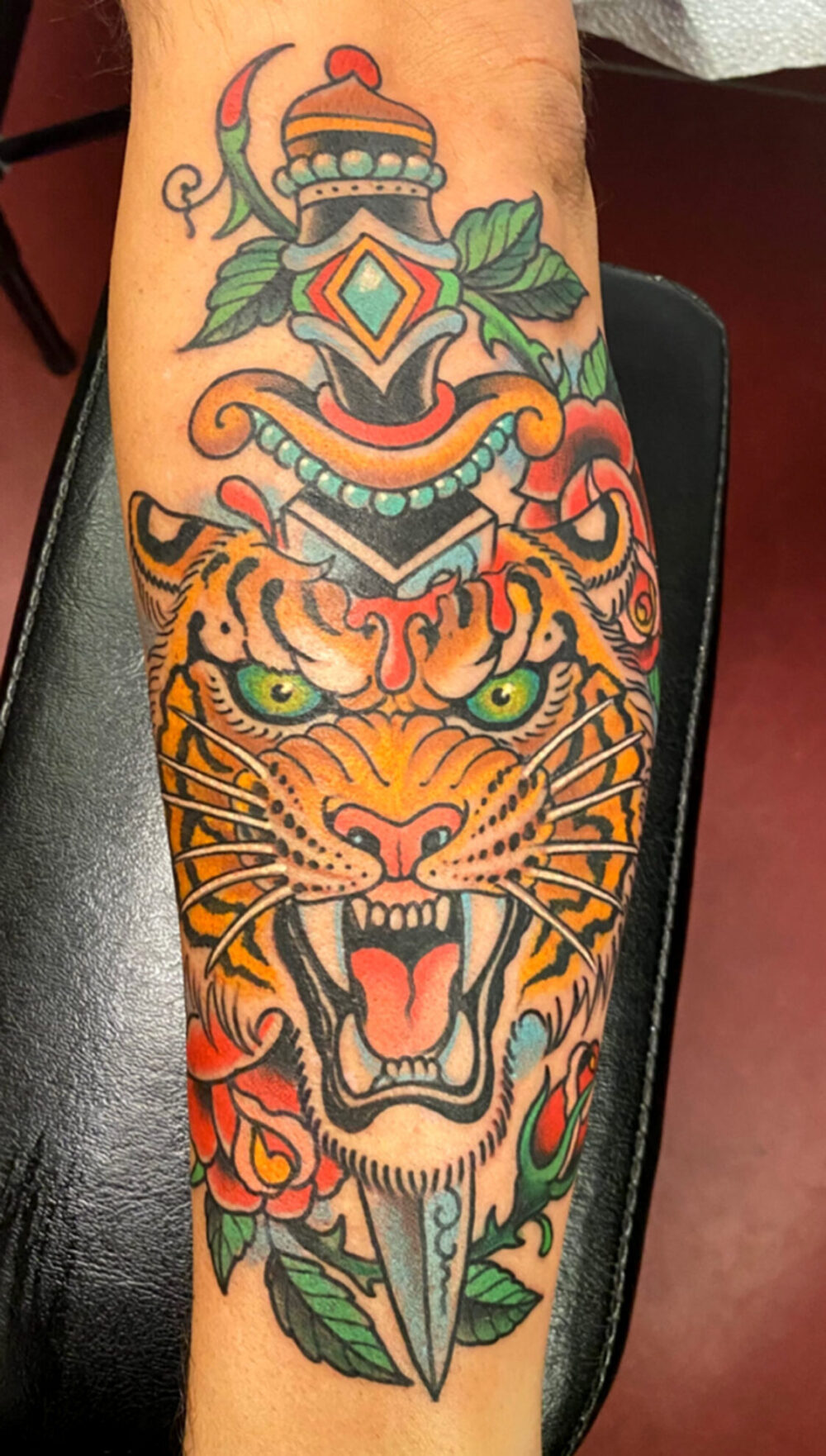 How would you describe the tattoo scene in Los Angeles right now?
Tattoo scene in Los Angeles I would say… hmm I don't know, I guess keeping with that hipster theme… sort of just like that. Too cool for me that's for sure! (he laughs – ed.)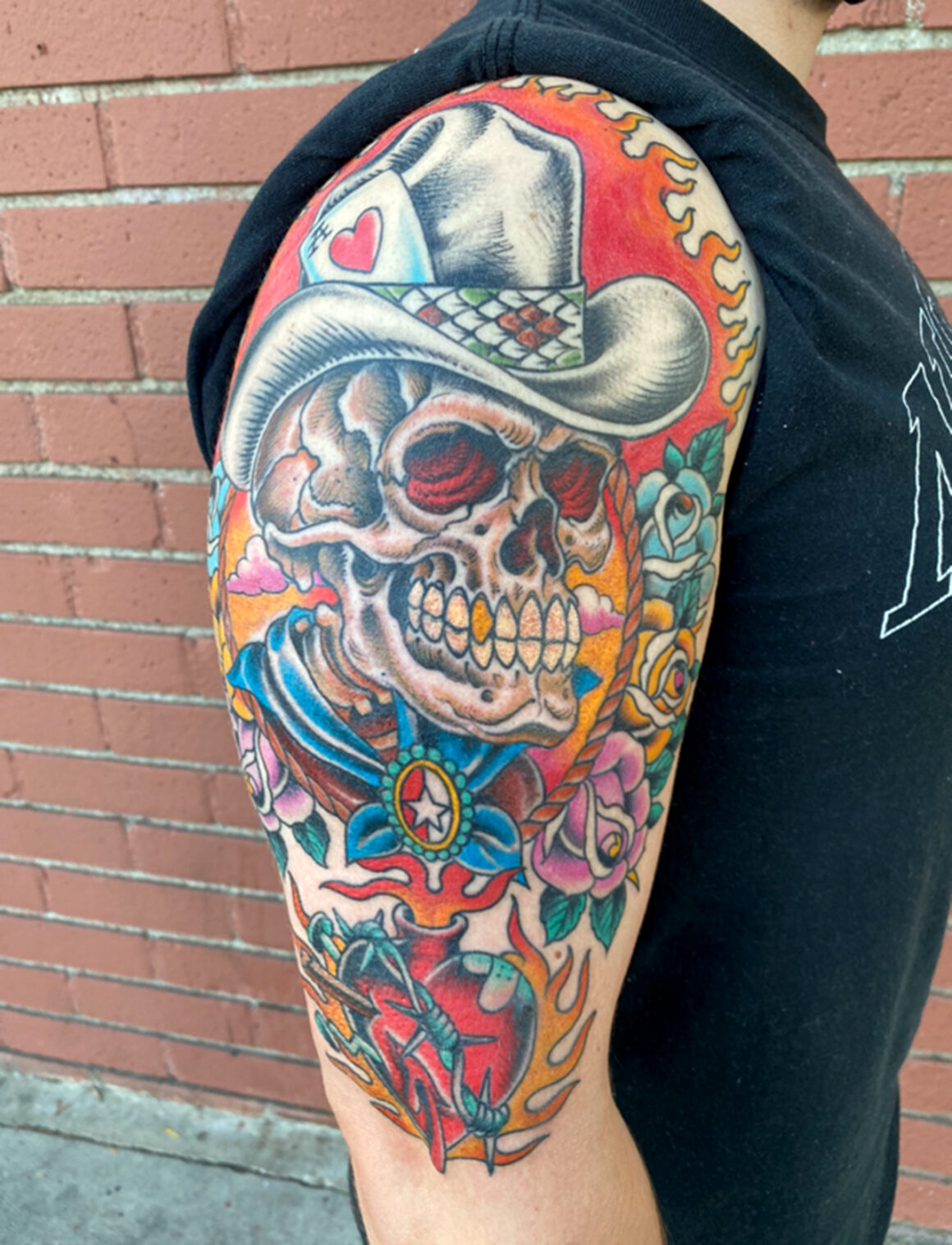 Do you have other passions besides tattooing? Music, cinema, art?
Tattooing consumes most of my time that's for sure. Besides that, my dog Louie, she's a 13 years old chihuahua rescue and I love her to death! Motorcycles and my truck I guess, and I love the Dodgers!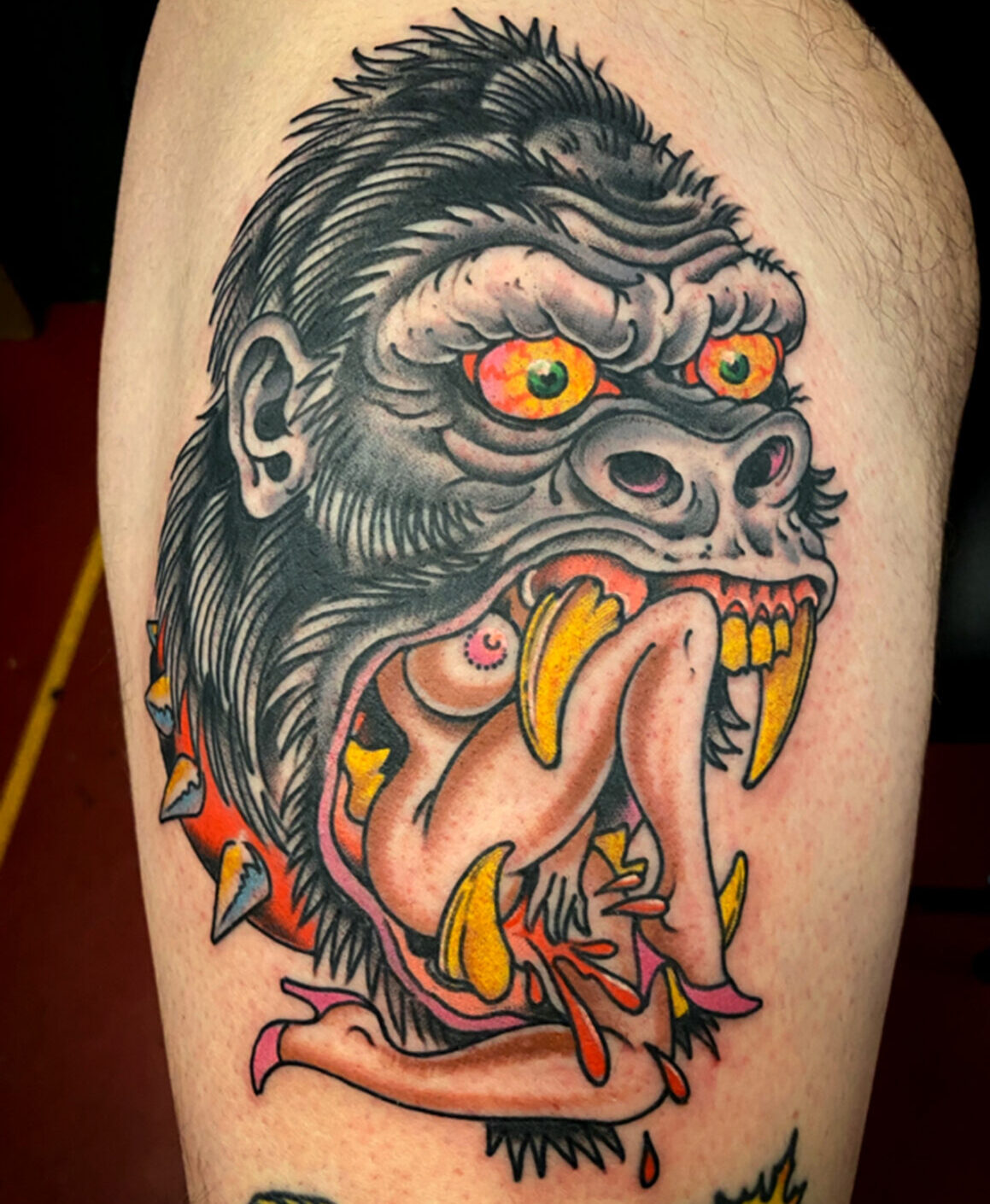 What do you do in your spare time?
In my spare time I just like the usual shit hanging out with friends, listening to music, hang with Louie, constantly drawing whether it's for tattoos or not. I should paint more.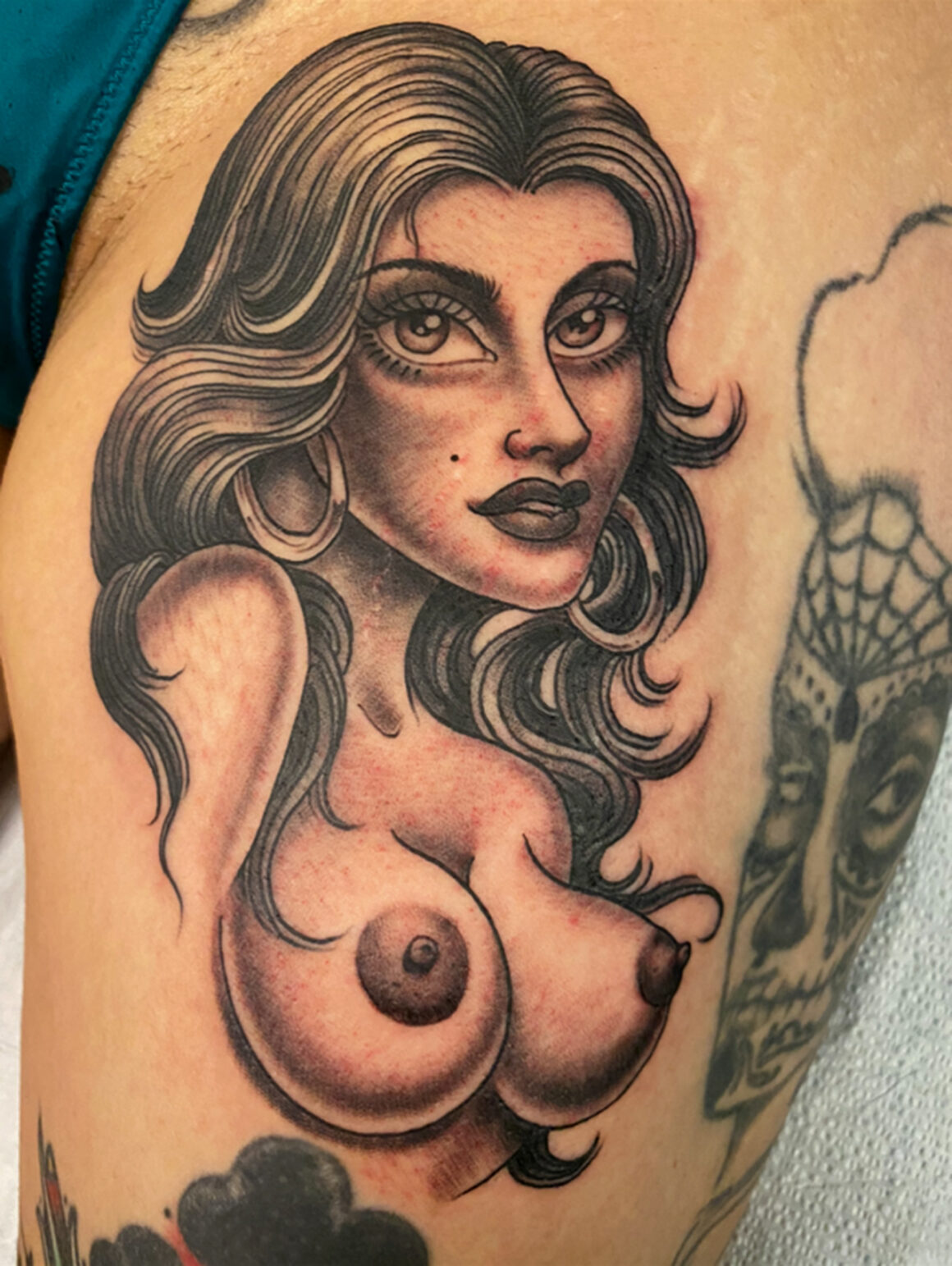 What are your plans for the future?
I haven't really sat down and thought about any concrete plans for the future I'm just kind of taking it day by day, maybe one day I'll have to move back up north to the vineyard and get back into that whole wine making thing… when my hands quit working and I can't tattoo anymore of course.