Marie Larkin is an Australian Pop Surrealist artist. Her art embodies an undeniably feminine oeuvre, meticulous execution and attention to detail.  Her richly coloured worlds are inhabited by her signature women who imbue the works with narrative and emotional content.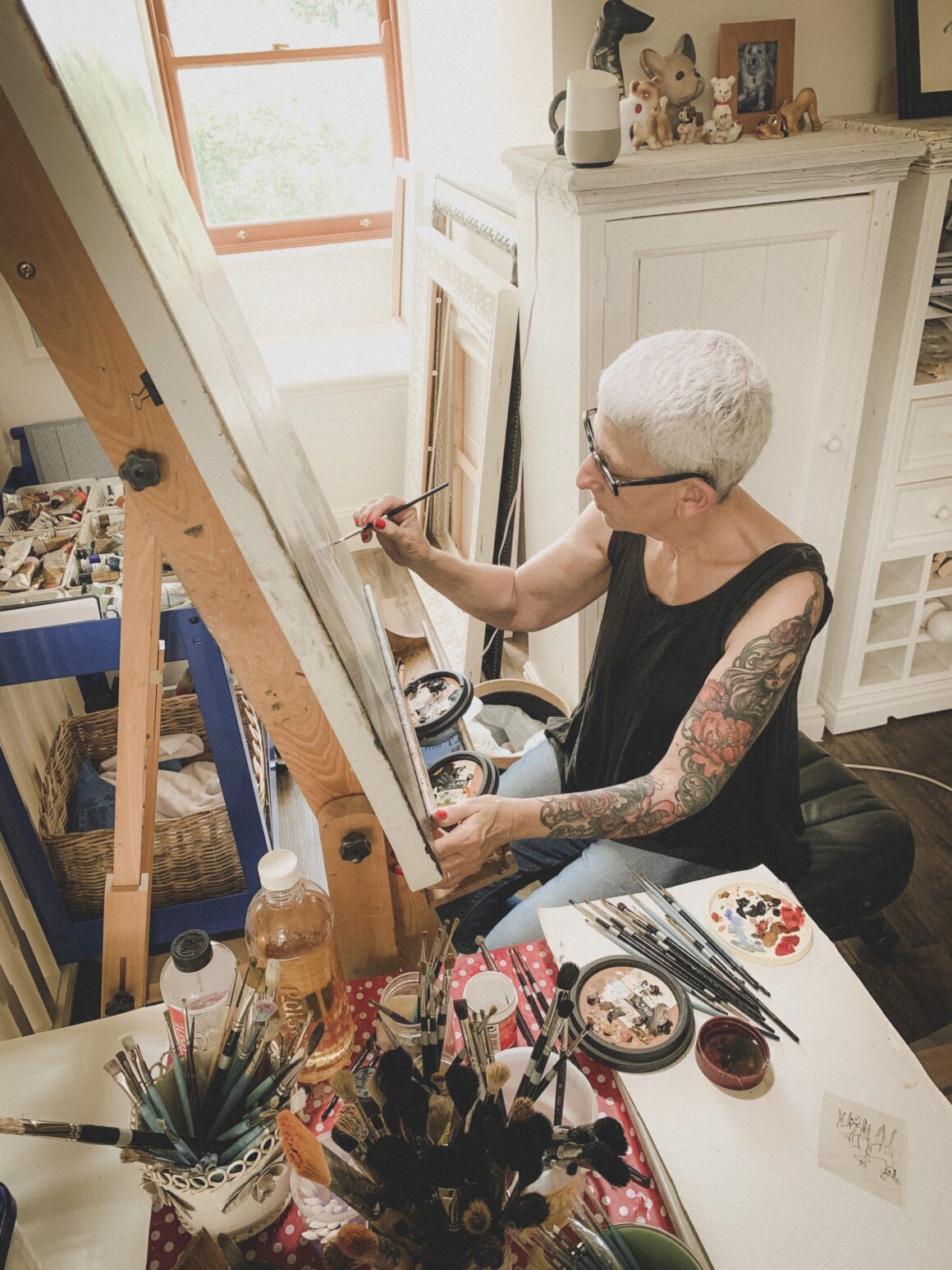 They are women of strength and character, whose undeniable feminine force has become the artist's trademark. Her early works in painting, drawing and sculpture were inspired by fairytale and nursery rhyme narratives and pop culture. Gradually over 10 years, the women and their narratives have become more meaningful. Marie has come to use the females as more complex metaphors to express ideas about The Feminine.
Her later work often attempts to show that elements of a goddess archetype are present in the everyday feminine and she seeks to help women find this within themselves. Through her, the artist articulates notions of woman as creator, protector, and nurturer.
Dear Marie, I'm totally honored to have the chance to display your suggestive art to our Tattoo Life audience. So, welcome on board!

Thank you, Claudia, for inviting me to be featured!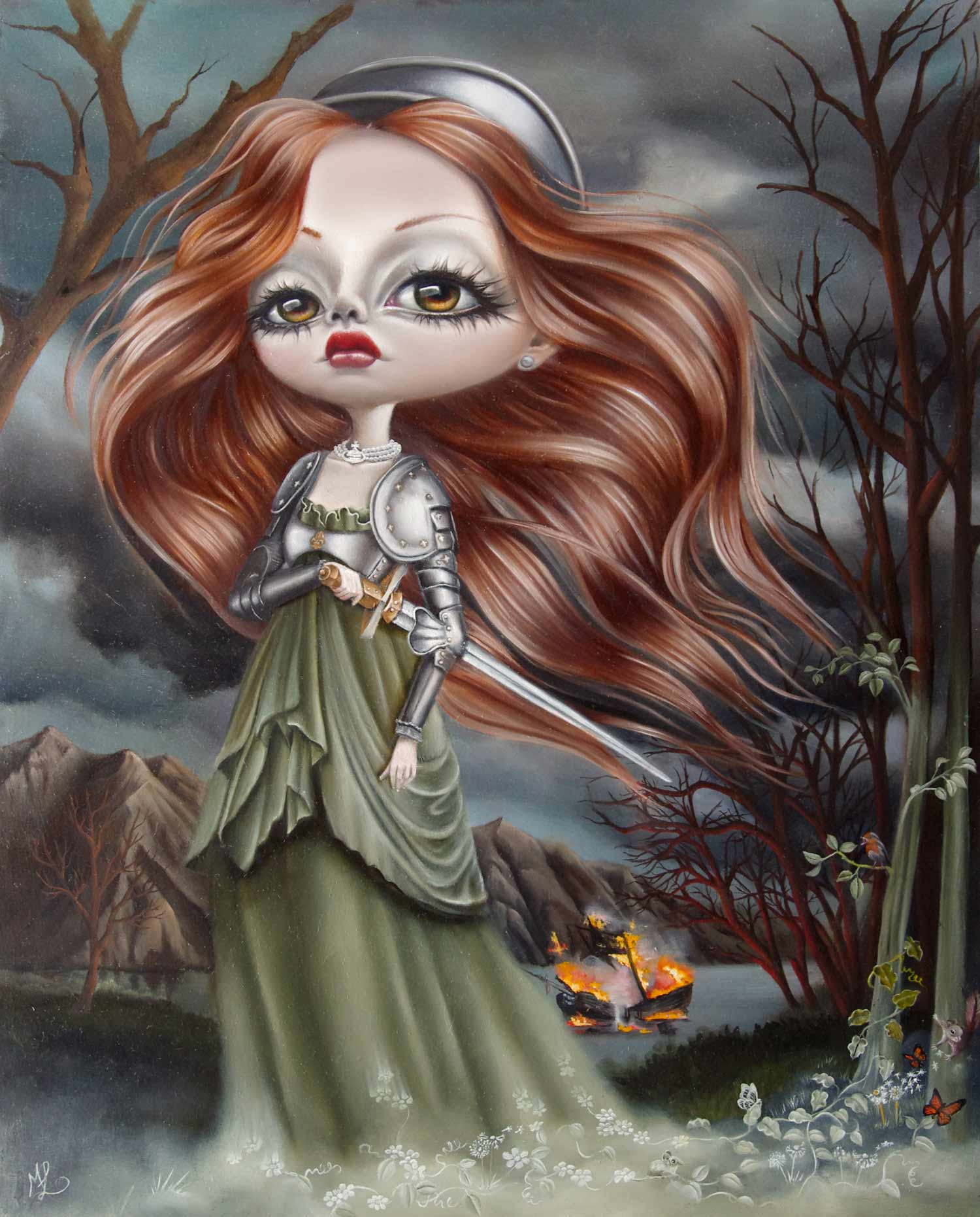 Embroidery, drawing, painting, sculpting, and teaching art: in thinking about your life, can you fit all of this into a chronological order? I know there was a moment when you exchanged your needle for a paintbrush. Do you want to talk about how that happened?
I have a Bachelor's Degree in Visual Arts Education and I spent thirty years teaching the visual arts at high school; I also worked for The Regional Galleries of NSW as an Education Officer. I think teaching has had a profound effect on the way I approach artmaking, and has given me a deeper understanding of how others approach it. Paradoxically, in the 1970s art school was so 'loose' – there was no formal training in discipline. It was literally four years of 'just do your own thing'. So I never learnt any formal technique. But even back then I liked to embroider.  I remember stitching a tapestry during a lunch break in a painting class and my lecturer said to me "Why can't you paint like that?" I found it really interesting because I could think creatively with ease for embroidery, but a blank canvas just overwhelmed me back then. In the early 1990s I had my third child and was able to stay at home with him.
I took up embroidery and was very successful as an embroidery artist.
I won two major national awards and my Revealing Threads exhibition toured Regional Galleries in three states of Australia. I don't know whether the embroidery helped me as a mother, but it certainly helped me as a person – to be able to 'scratch that creative itch'. I was in the middle of this success when the financial demands of a family meant that I had to make the decision to go back to full-time teaching and put my art career on hold indefinitely. I didn't leave full-time teaching to pursue an art career again until 2009, and by then the art world was a very, very different place. So I suppose I view my success as an embroidery artist as a separate thing to what I do now, because that success belonged to a different time and place, and when I started back in the art world, I had to start from scratch. I had stopped embroidering and had no desire to pursue it again, and painting and drawing seemed a natural progression. I have always liked to play around with 3D and sculpture, and I made quite a few pieces around 2009 and 2010, but I had to build my skill base in oil painting and drawing and of course become tech-savvy with my website and using social media, so I have concentrated my focus there.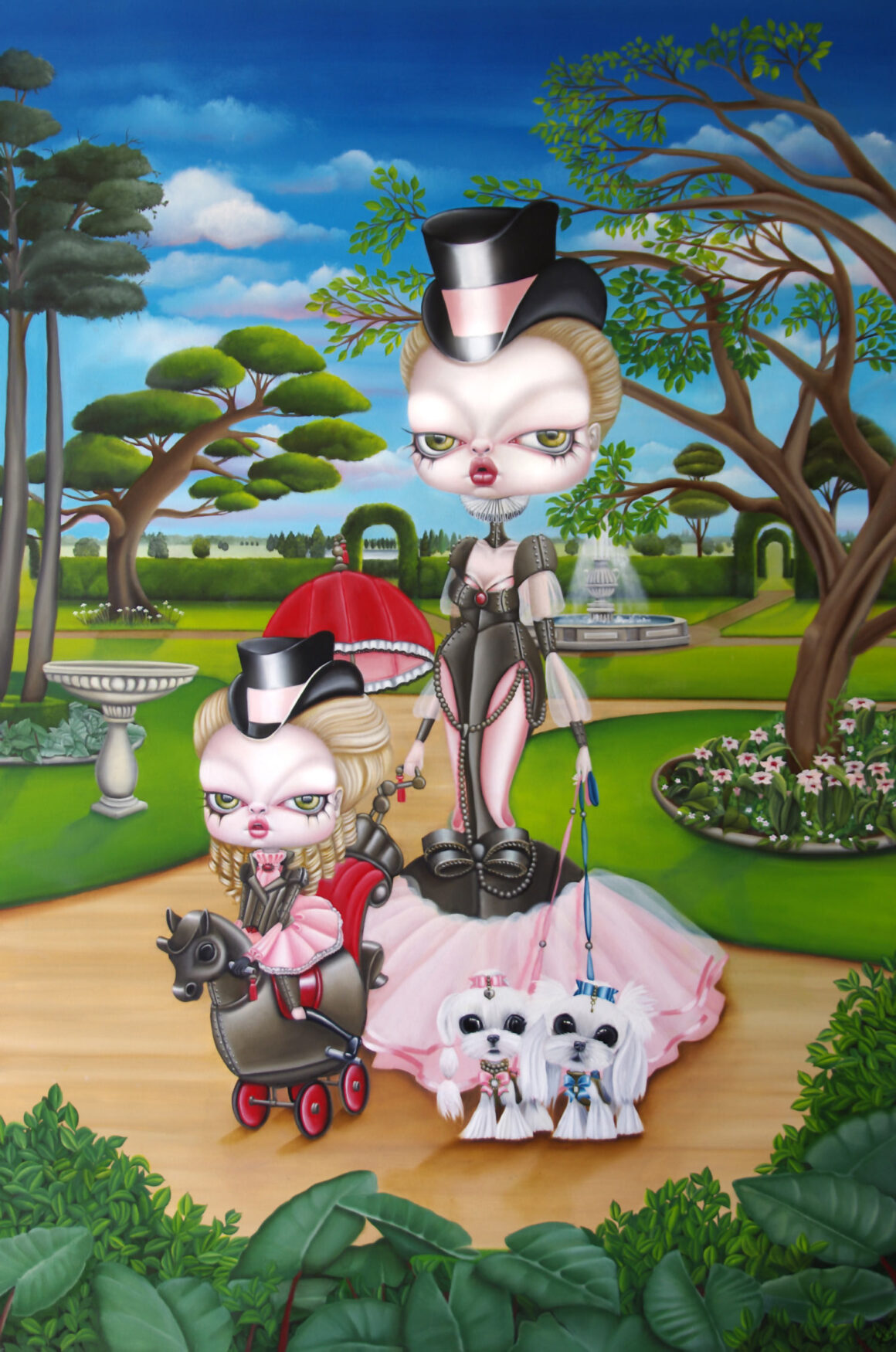 So if we connect all these dots, and add that you also became a mother of three and a grandmother on your life path, you seem like an atomic woman to me! Could I say that some of the power that you describe in your paintings is actually a bit autobiographical? I mean, is there a little bit of yourself in your super heroines, or are they just from another world?
Yes, most definitely. Perhaps not directly, but I do think my own personal narrative is enormously influential. I paint the Feminine because it is what I know best. I grew up in a mostly female household with a mother firmly entrenched in post-war values and gender expectations. I went to a private school for girls. I never had a brother or any male cousins. My early years were influenced by a very female construct. Then I had two daughters and later I taught for 11 years at a private school for girls. So I have a genuine and long-term interest in and understanding of women. I identify most powerfully with my strongest women. I am a strong woman, not in the sense that I dominate those around me, but in the sense of that steely strength women are capable of. I have endured horrendous physical and emotional traumas and you know what they say, 'If it doesn't kill you it only makes you stronger.' I think this 'core of strength' I feel in myself is what I try to build into my female subjects. That said, I do try to make the women 'larger than life' and otherworldly. My later work often attempts to show that elements of a goddess archetype are present in the everyday feminine, and the goddess has been a recurring character in a number of paintings. Through her I have sought to articulate notions of woman as creator, protector and nurturer.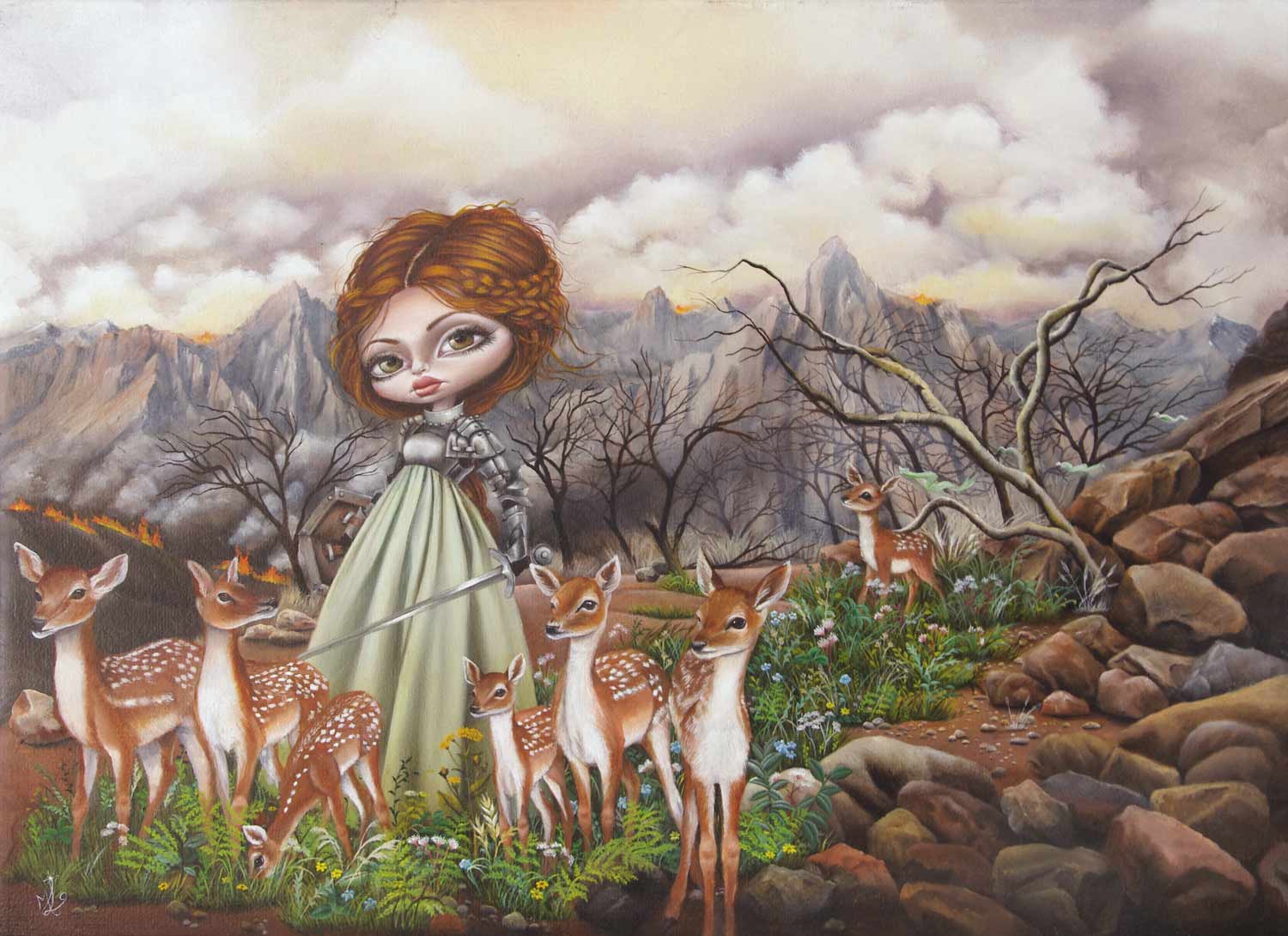 Being an artist myself, I want to say that I am a great admirer of your artworks because within the growing pop surrealist scene I find your work immediately recognizable, and I know very well how precious this is for those doing our job. We know that all artists go through different transformations on an iconographic level during their artistic growth; how did you manage to create the characteristic face that seems to be a signature imprinted on all your female icons?
I think one of the things that currently distinguishes me in Pop Surrealist/Lowbrow is the fact that I fiercely hold to that stylization of the women in my artwork and in the way I stylize them. I hope that those stylized characters are instantly recognizable as mine. The proportions have gradually changed over the past ten or so years until I settled into a structure that really felt right. I see many Pop Surrealists gradually abandoning their uniquely stylized imagery for more mainstream realistic representation, and I'm not sure this is attributed to a maturing expression of a response to a trend away from the genre. I can certainly paint 'dead to rights' realism, but I choose not to. I love the playfulness and fantasy of my stylized females. I feel it gives them another layer, more mystery or allure.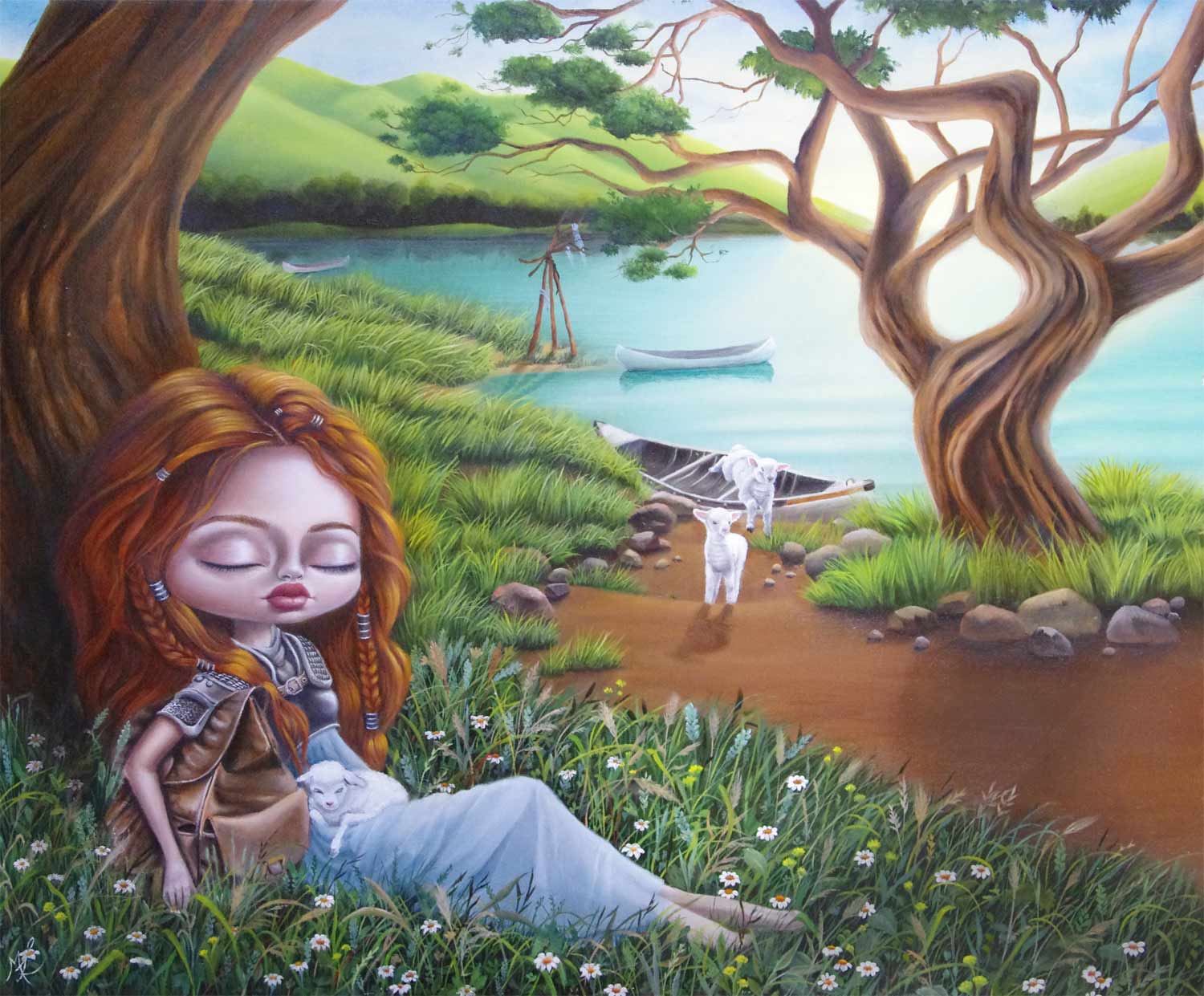 Technically your obsessive attention to detail is mesmerizing for observers, and aside from the females characters, nothing is left to chance in your landscapes. Which artists have inspired you the most for working on landscapes? I also imagine this is a slow process – what do you put on as background sound while you're painting, to help you focus? Do you put on some music, or a film, or something else?
I have a love/hate relationship with landscape, and greatly admire art history's Romantic landscape painters with their huge realist panoramas – particularly the American romantic landscape painters, works by Albert Bierstadt (Rocky Mountain Landscape) or by Cole (The Course of Empire – The Arcadian or Pastoral State) and pretty much any large work by Australian painter Eugene Von Guerard. Such drama and majesty they were able to capture! I also admire contemporary painters, such as Aron Wiesenfeld and the meticulous attention to detail he puts in his landscapes. I made the exploration of painting landscape very much a goal in my last series, The Journey, and it was a real artistic journey of struggle to paint detailed landscapes for the first time. I love creating atmosphere and context the way landscape does, and you are right, it is extremely time-consuming and slow. I find the repetitive nature of layering to achieve this very tedious, in a way that I don't find that layering of detail tedious when creating a figure. While painting the last series, I had a playlist of very broad orchestral soundscapes, many were themes from movies that suited the mood and narrative of what I was trying to achieve in the works.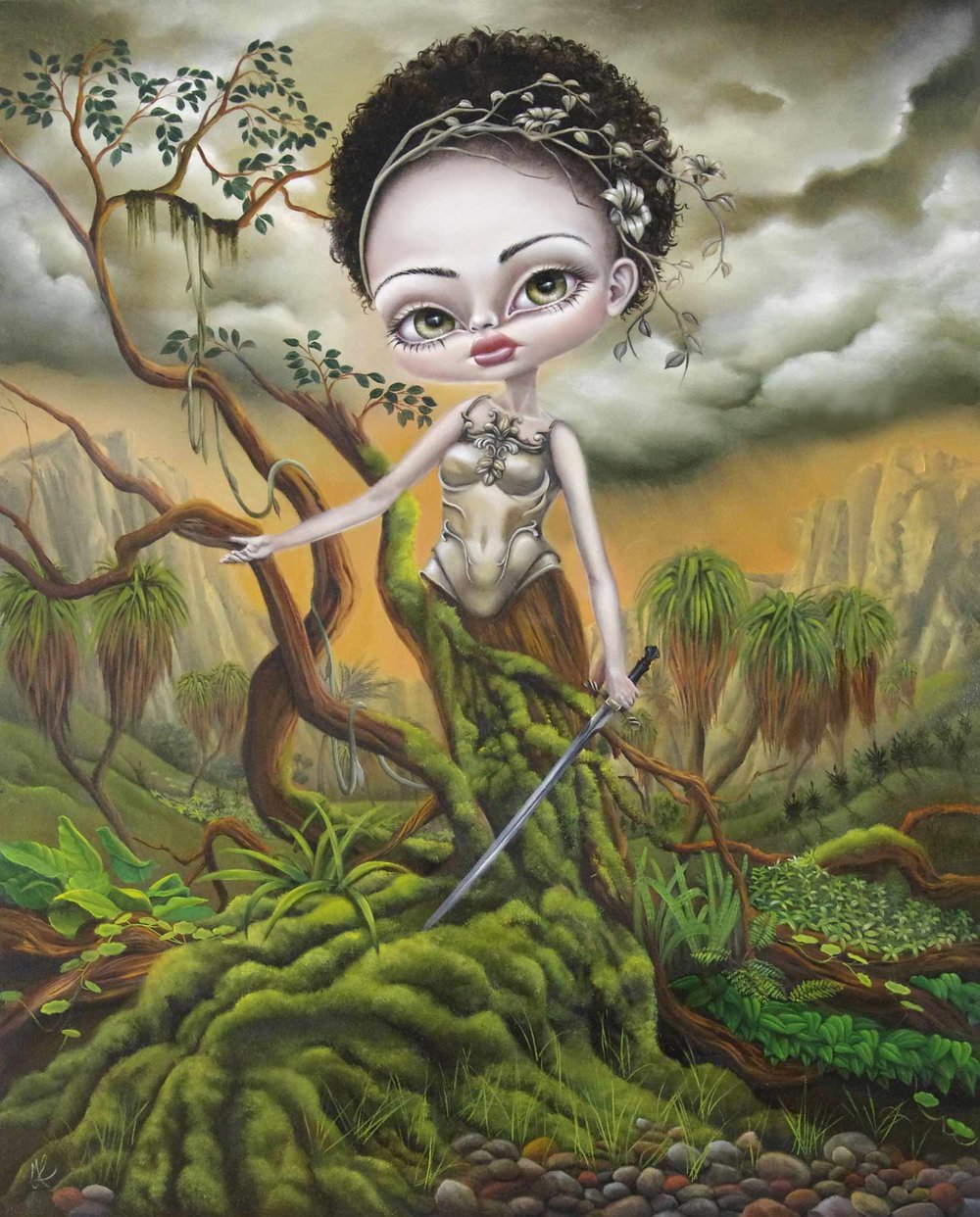 Have you ever painted any of your female figures with tattoos on their skin?
I have painted quite a few women wearing tattoos in my artworks. In 2011 I completed an entire series called Irezumi Angels, based around tattoo style imagery and women with tattoos. I have included my favourite here from that series where the 'angel' floats high above the landscape, tattooing herself. Around that time I was considering getting a tattoo but wasn't quite ready to 'pull the trigger' on that, so I painted the series instead.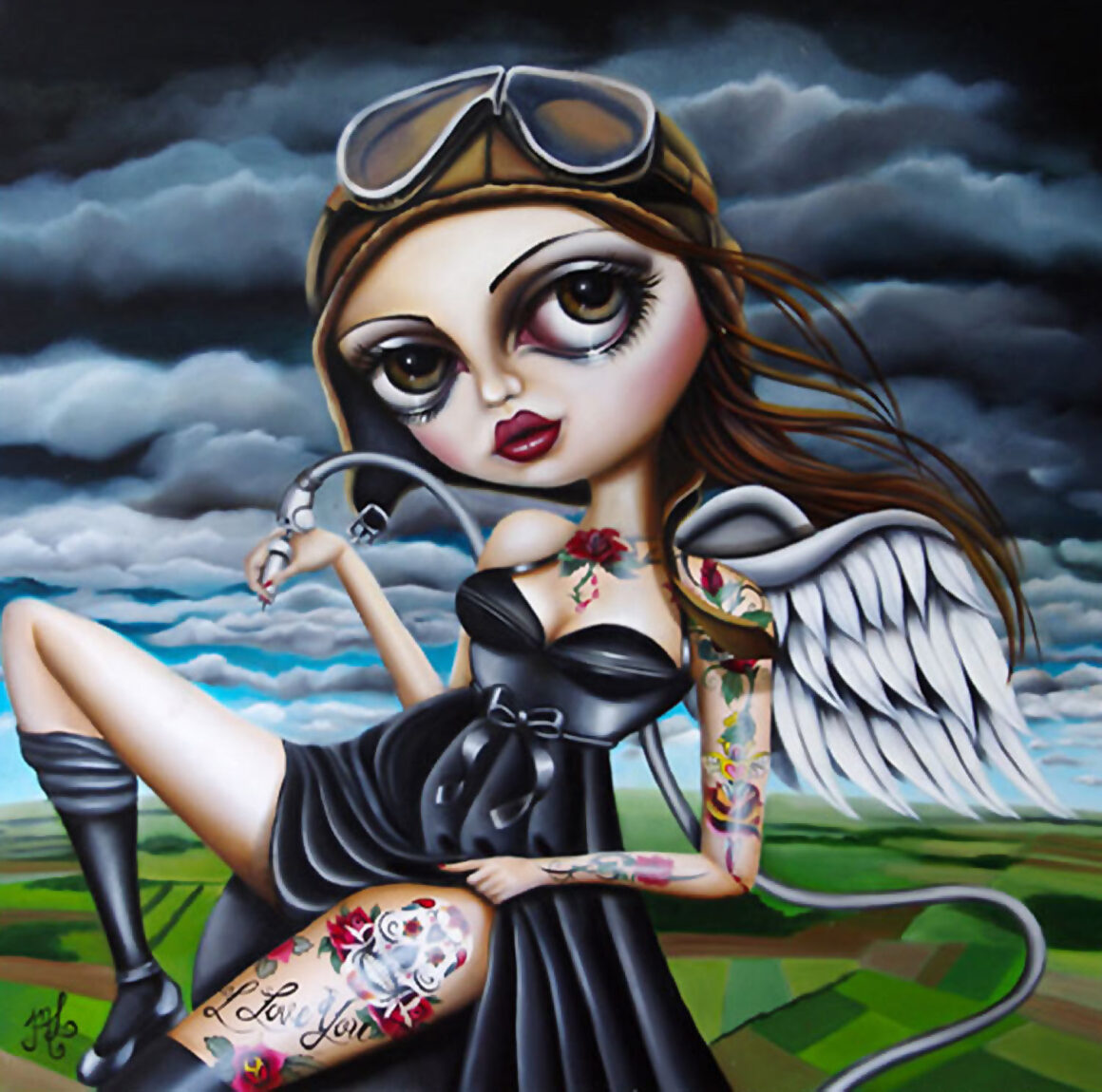 On the web I found some pictures of you, and I noticed that you have a lot of tattoos. Would you like to tell us about your passion for tattoos and your tattoo collection? Are there any stories you'd like to share with our followers? Have you ever asked anyone to tattoo something of your own creation on your skin? If so, what meaning does it hold for you?
So yes, I decided for my 60th birthday that I wanted a tattoo, and I started with one on my lower arm. When I told my daughter I was getting a tattoo, she said "Well you won't have to worry about what it will look like when you get old!" After I got the first one I was on an absolute high. I was so proud of myself for doing it, and now I have almost a whole sleeve. I found the process so wonderful. I loved the studio 'Little Tokyo' (@_littletokyo_) in Sydney, where I had it done. It's a warm and friendly open space, filled with light. All the artists are interested in each other's work and everyone made me feel so welcome and at home there.
I did quite a lot of research into tattooists and their styles before deciding to approach Maia Arminem.
I wanted someone with a unique decorative style who could integrate one of my girls into their work in a sort of collaboration. When I apporached Maija, she considered what I was asking for carefully before accepting the work, because she understood that in tattooing an artist's own work onto her body it would be important to make a faithful copy. She has done an amazing job. I love the way her beautiful work surrounds and envelops my females and the way her design wraps its way around and up my arm. I originally only planned to get the lower arm tattooed, but I knew, even as I walked out that first day, that I would have it extended. There are two women in that tattoo. The second, rather fierce warrior girl was from a painting that marked a milestone in my career, so she is very special.
Have you ever thought about trying to tattoo?
No, I would never consider becoming a tattooist. I couldn't handle that level of pressure. I am totally in awe of what they do: tattooists create a tattoo in a matter of hours – what would take me days to create. They do it in one go, or in sections, with no revisions. I often paint over faces time and again to get them right. They paint on a moving surface with ink going everywhere, but still make sense of what they are doing with the most incredible accuracy. The realist tattooists blow me away with their level of skill in rendering photographic realism on a body. It's hard enough to do that on a flat surface!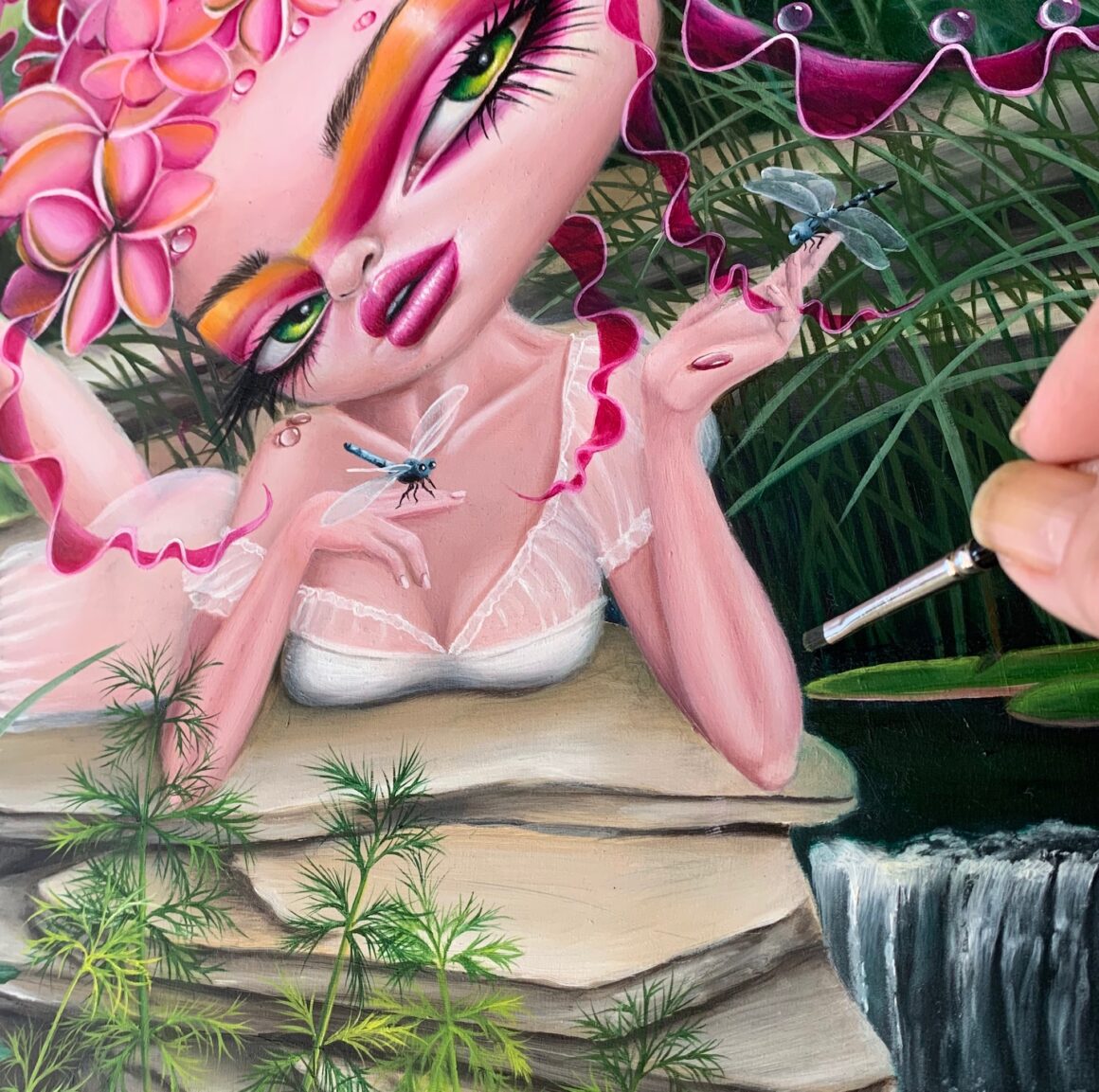 What do you think about tattooing as an art? Do you think it can be compared to painting in terms of artistic value?
I think tattooing has become a very real artistic expression in every aspect, because of the creative vision and style and skill each artist has.
After doing a bit of research I noticed that your works have often been a source of inspiration in the tattoo world (as happens to other artists as well), and that some people have asked you to use your works for their own skin. How do you experience this phenomenon personally? Does it flatter or annoy you?
I think it's a tremendous compliment that someone loves my work enough to have it permanently rendered on their body. Obviously some tattooists have captured my women better than others, but that's to be expected.
Are there any famous tattoo artists you'd love to be tattooed by?
There are so many whom I admire that I'd end up being covered in no time!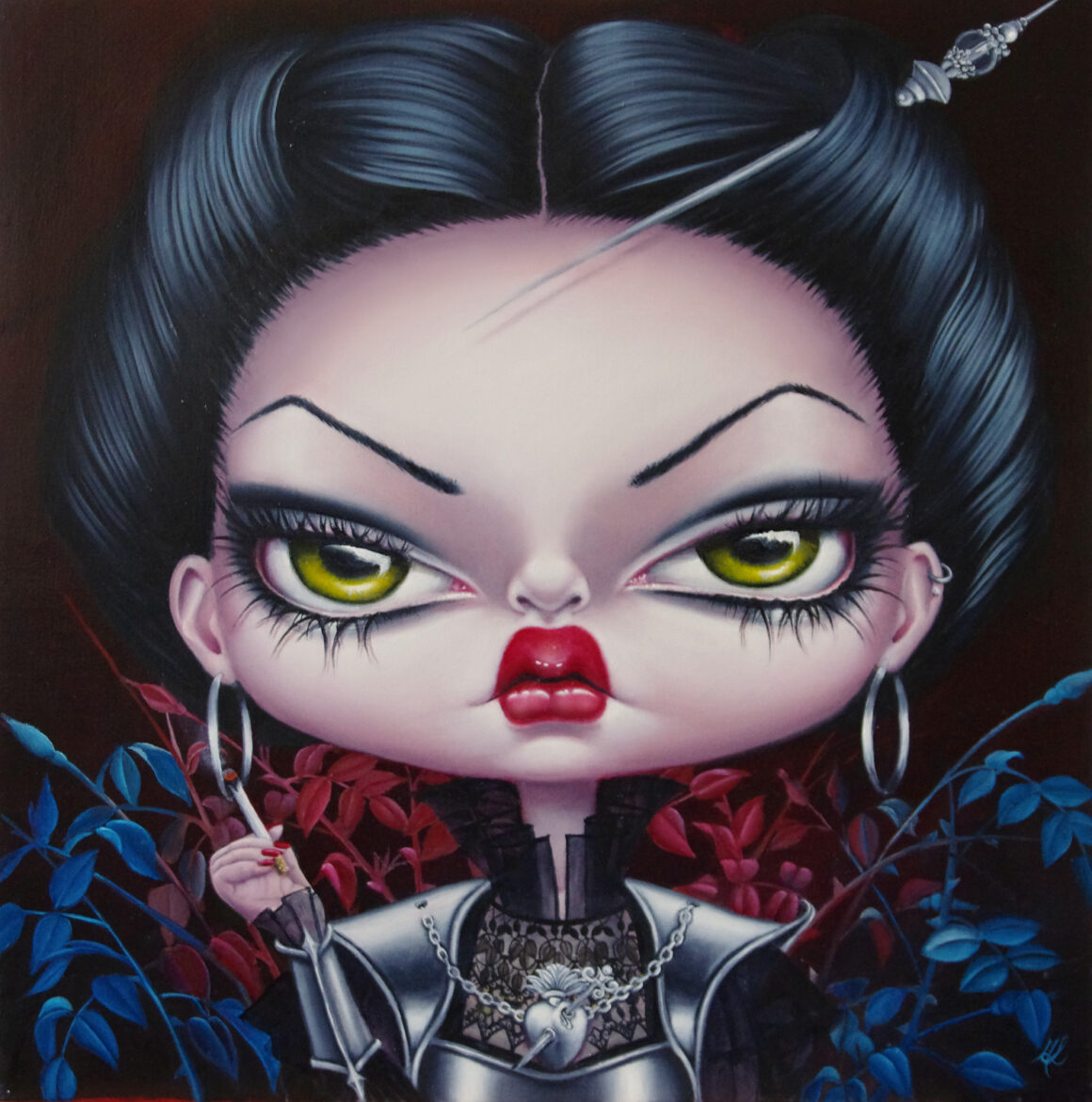 What new projects are you working on at the moment?
I've just sent my new body of work off to Corey Helford Gallery in Los Angeles for my first solo show: Birds of Paradise. This intensely-coloured and lavishly-detailed body of work continues the narrative of the Quest series. Following on from the previous suite "The Journey', in which the women begin their Quest, journeying through the burning Badlands to seek out a better place of natural abundance, beauty and safety. In these new works, they have found it, in a rainforest-like setting. Here they are safe, inhabiting the trees and waterways. In the steamy heat, they have discarded their armour, stripping down to their filmy underthings, and given themselves over to sensuality and a playful attitude. They have become exotic birds of paradise, taking on the colours, markings and feathers of birds themselves, or the lush greenery and flowers of the tropics. I've also worked on two different international group shows that are coming up by the end of the year: one at Modern Eden Gallery in San Francisco, and the other at Corey Helford Gallery in Los Angeles.
In the artistic field, what major goal would you like to reach?
Artistically I'm always reaching for greater levels of understanding, vision and skills. I strive for a higher level of excellence with each work and series. It is so easy to fall into the trap of wishing for and seeking greater 'acclaim', gallery representation, popularity, followers and sales… but it is always important to me to make the art itself, to focus on the goals within my own artistic practice more than external "markers of success".
I wish that for you with all my heart. Thank you so much for this lovely chat, and for giving a little of yourself to me and to the Tattoo Life readers.