In 1973, Toshihiro was born in Osaka, Japan. When his parents divorced, he ended up moving to Kagoshima.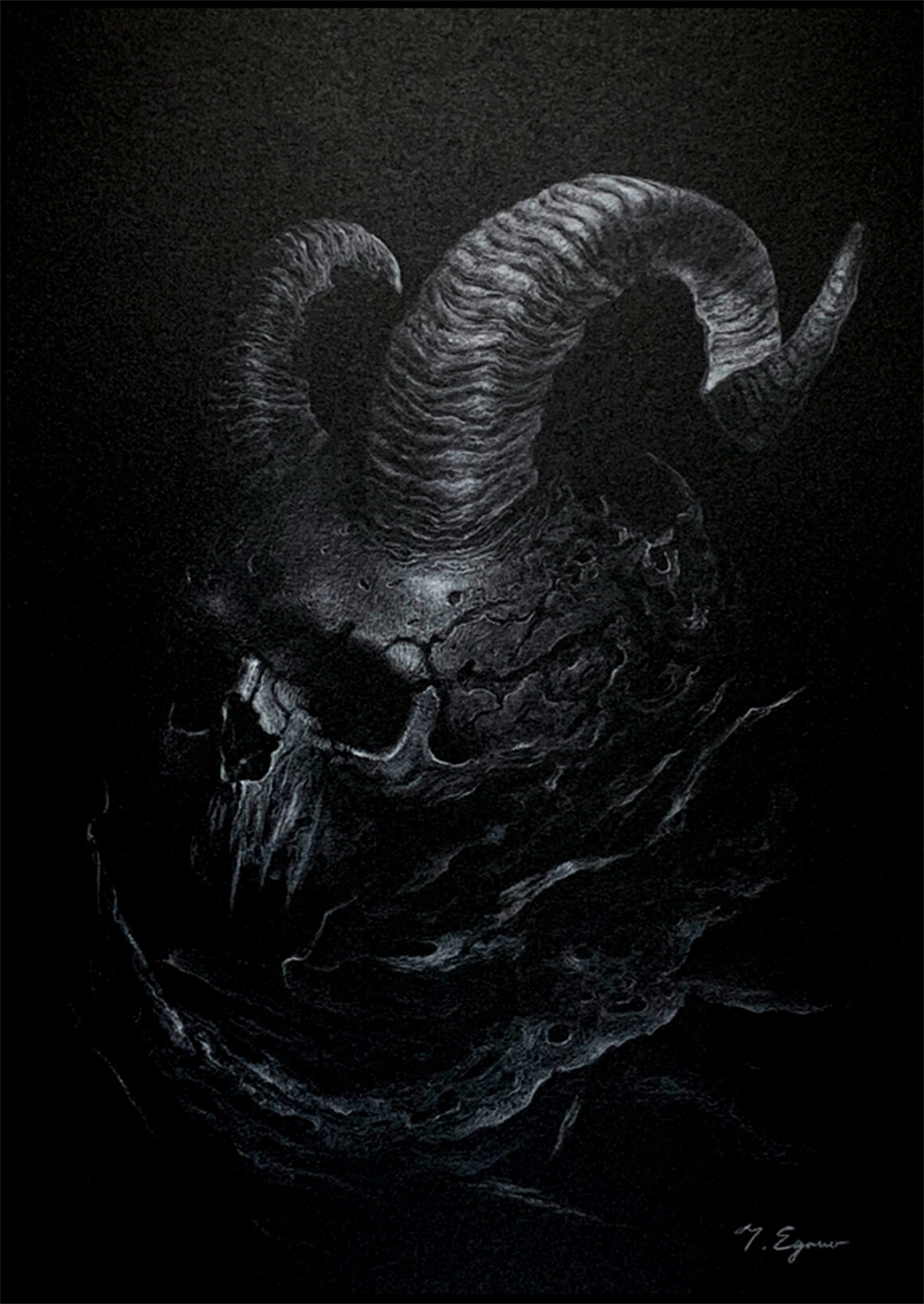 When he turned 10 years old, Toshihiro began to develop a strong interest for grotesque subjects such as how fragile human mortality was, death, and corpses.
In other words, this is the age where he began to develop his craft into what you see today. He started with drawing different works of art and comics with extreme amounts of gruesome brutality, death, and violence. At this point, he began to develop an incredibly profound passion for capturing the brutality and cruelty that man is capable of.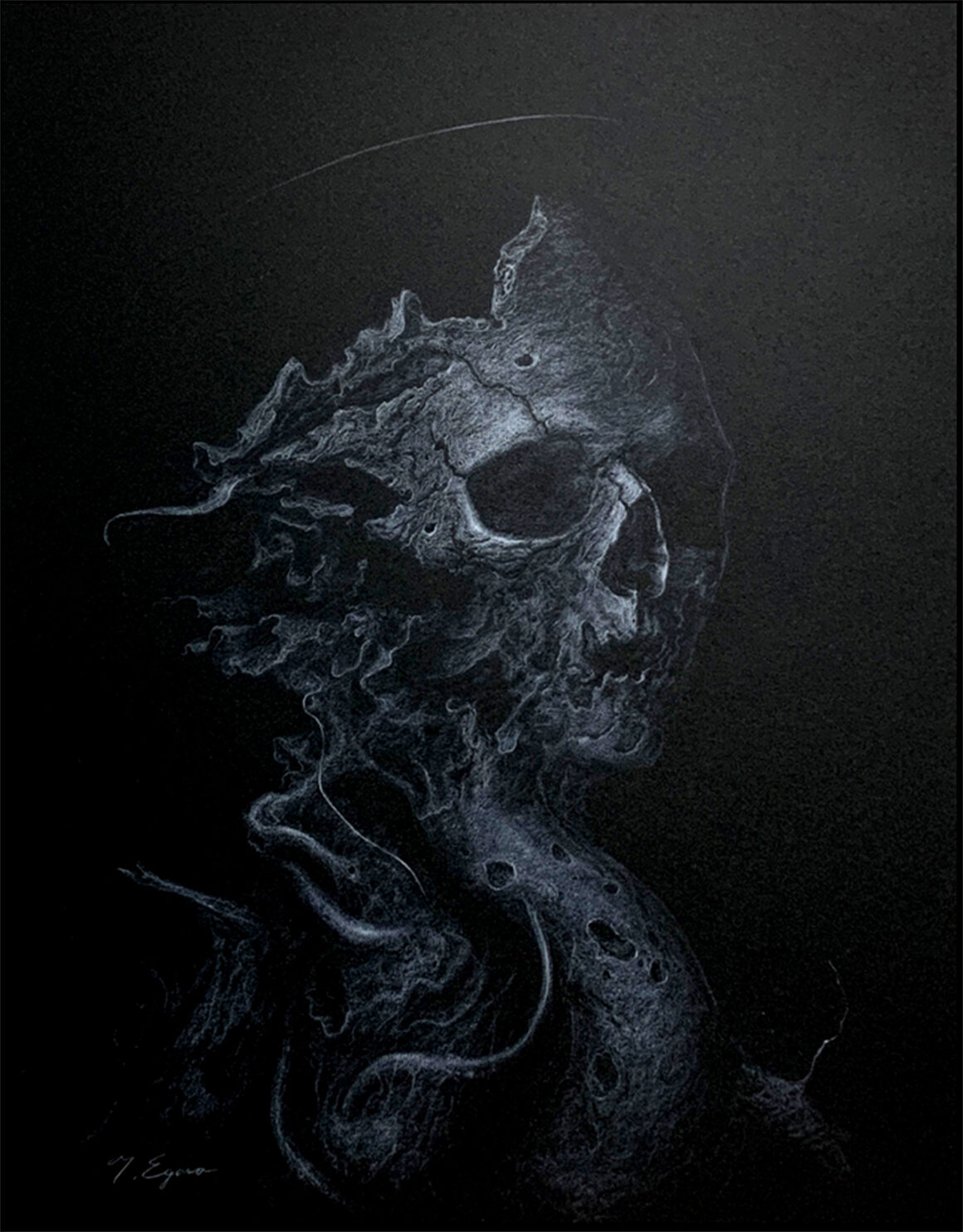 Toshihiro Egawa has produced numerous album covers, band logos, and t-shirt designs for death metal bands from all over the world for more than 20 years. Currently, he creates pencil art as an artist. His fine art is drawn by only white pencil on black paper stretched on the cradled panel, on the themes of memento mori, death, and skulls.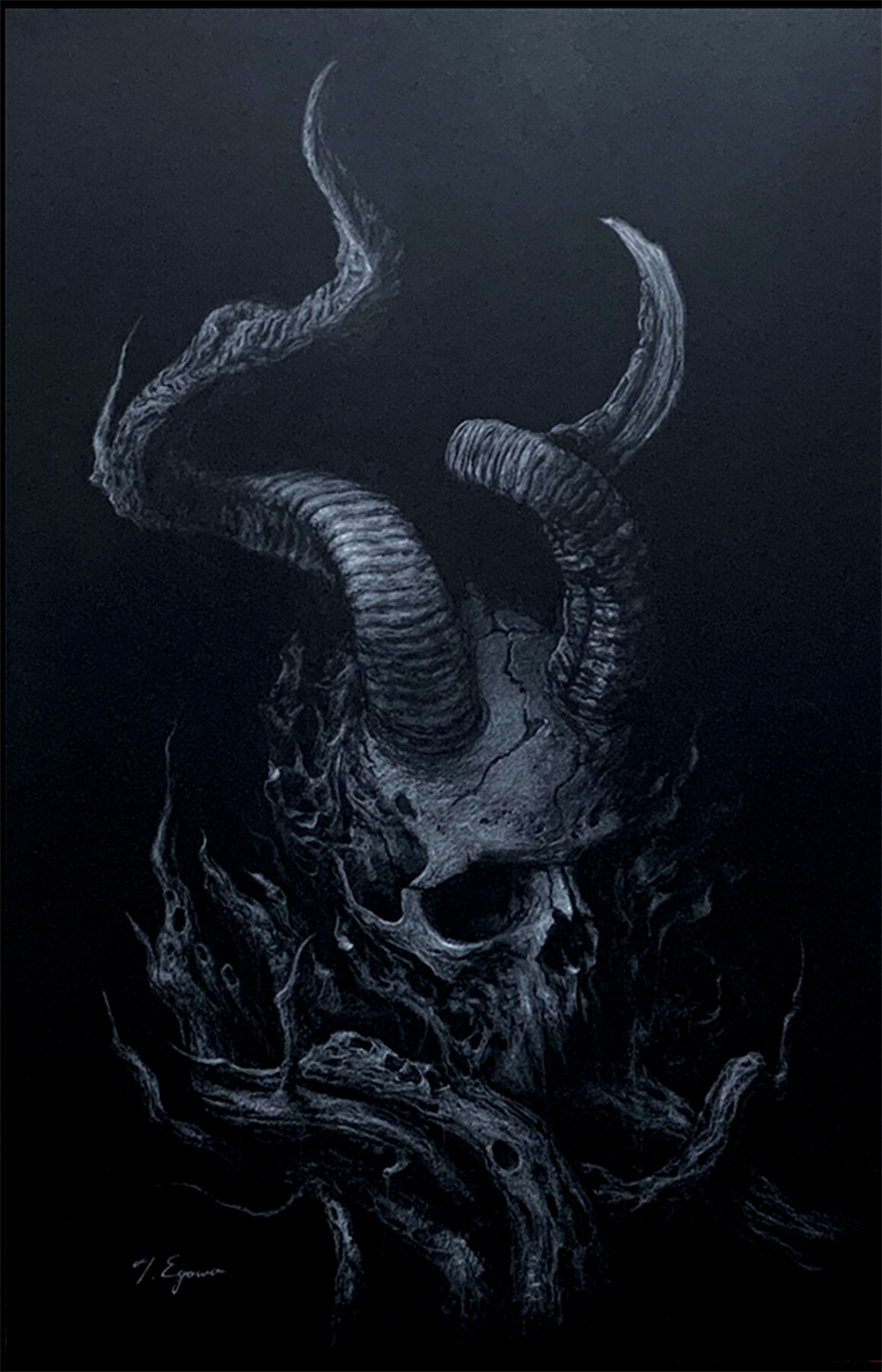 The following year, Toshihiro's father-in-law's health took a bad turn for the worse, which caused him severe depression. He committed suicide by hanging himself. This unfortunate event gave Toshihiro's inspiration an even further curiosity of death, violence, and mortality, which only further deepened his interest.
In 1999, Toshihiro received a request from a longtime Japanese death metal record label company (whom he had a strong relationship with) to do the mini CD cover art for the Colombian band, INTERNAL SUFFERING. In the span of one month, this cover art job got Toshihiro over 100 requests from artists, labels, and potential clients from all over the world.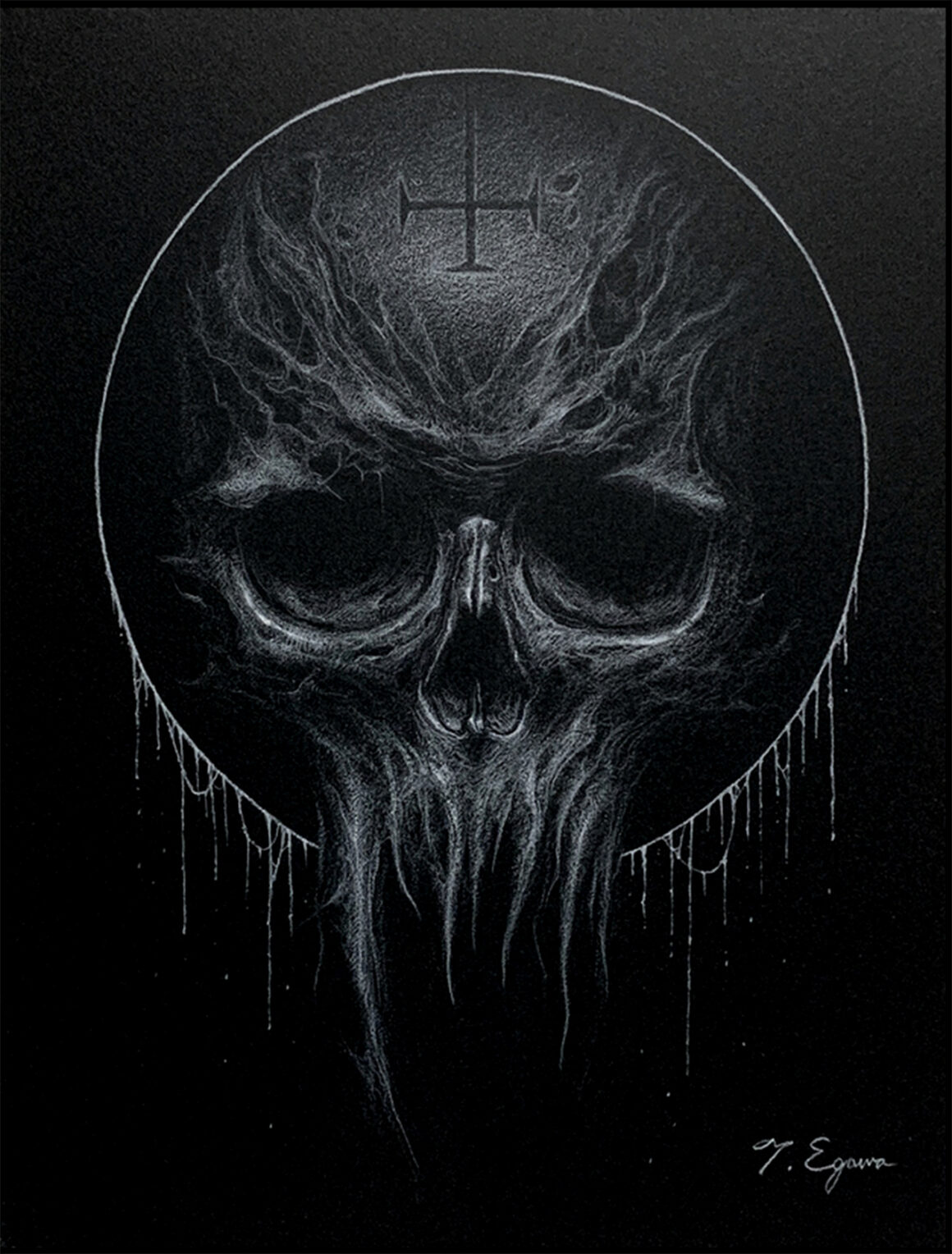 After doing many projects and gigs for various metal bands from all over the world, Toshihiro's interest in Christianity and mythology, human brutality, and anticipation of death became deeper than ever, which eventually branched out to Memento-mori and Dance Macabre.
Artist Statement
I have gone into three cardiopulmonary arrests during operations for my cardiac pacemaker. The near-death experience influenced me to create art on black paper with white pencils.
During the near-death experience, my existence felt like a fog consisting of the blackest black incredibly fine particles. It is hard to explain how I exactly felt. I felt one with every existing thing including the universe. I remember my body and mind felt exceptionally light and it was an extremely pleasant feeling. I will never forget this experience.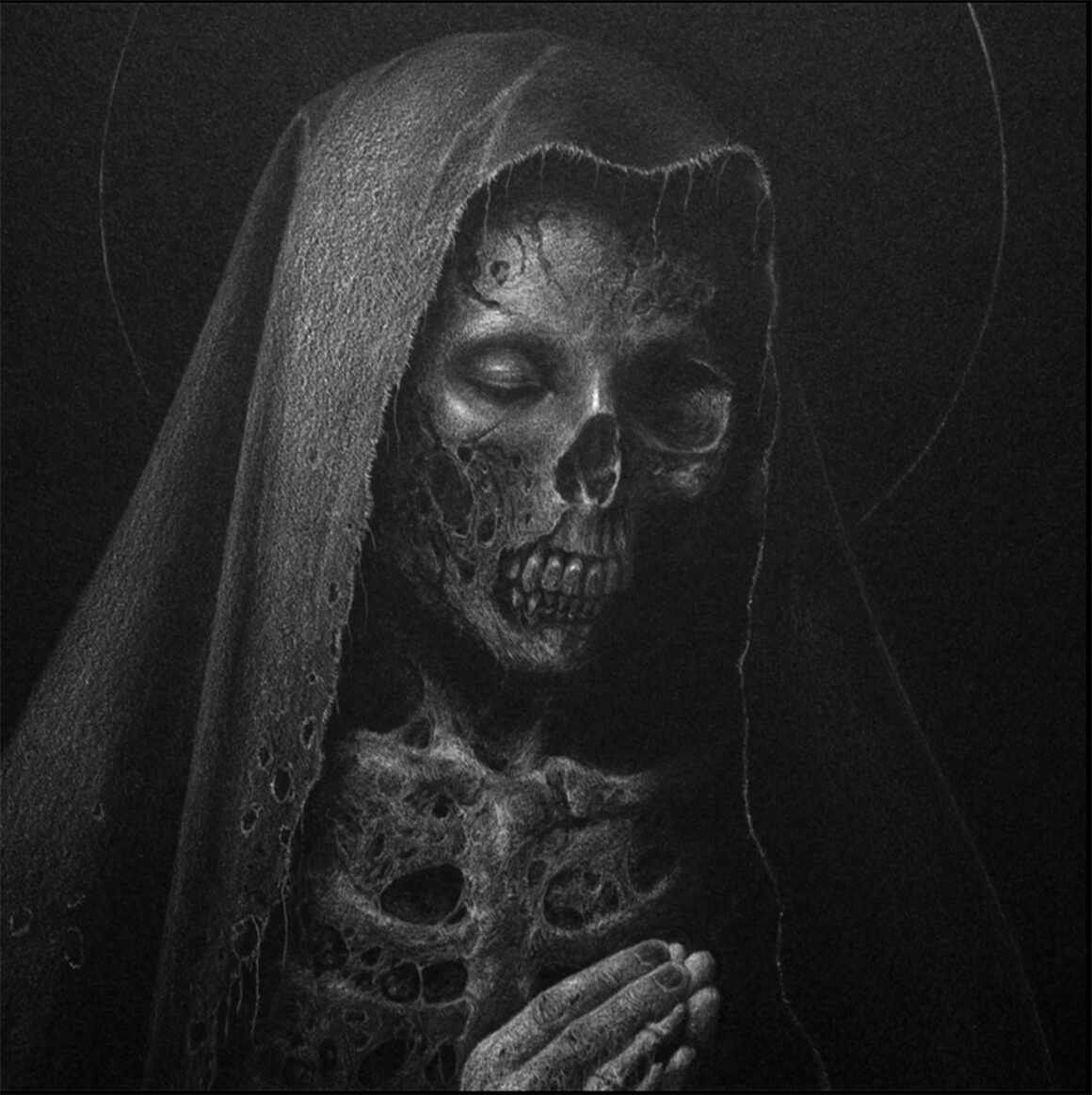 For my artworks, I have tried different materials and methods to find the best way to express myself. Then I came across this method on the internet, I was thrilled. The drawing technique which allows objects to emerge from the darkness was exactly what I was looking for.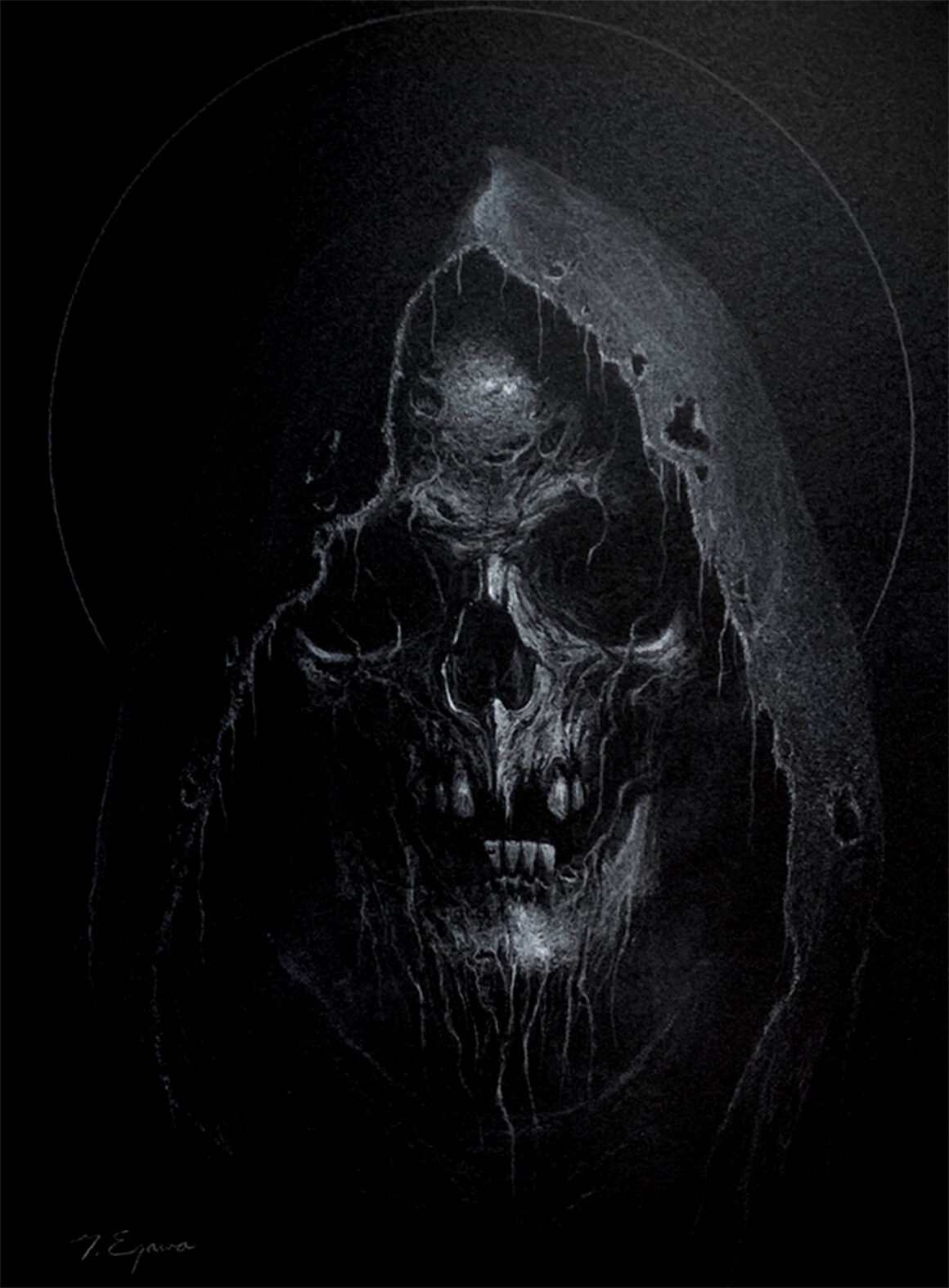 I have been familiar with colored pencils since I was young. The simple way of this method, needing only black paper and a white pencil, was perfect for me lying on the hospital bed. It was important for me to be able to keep drawing even if my body got weaker. It was the best method to express a riot of emotion in succession.
I am not a Satanist. And I am not standing against any religion. Religious or anti-Christ images of my artworks come from my interest in the power of these images.
I am an atheist, though I do not deny what people believe. Such religious iconographies and images of skulls strike me with awe.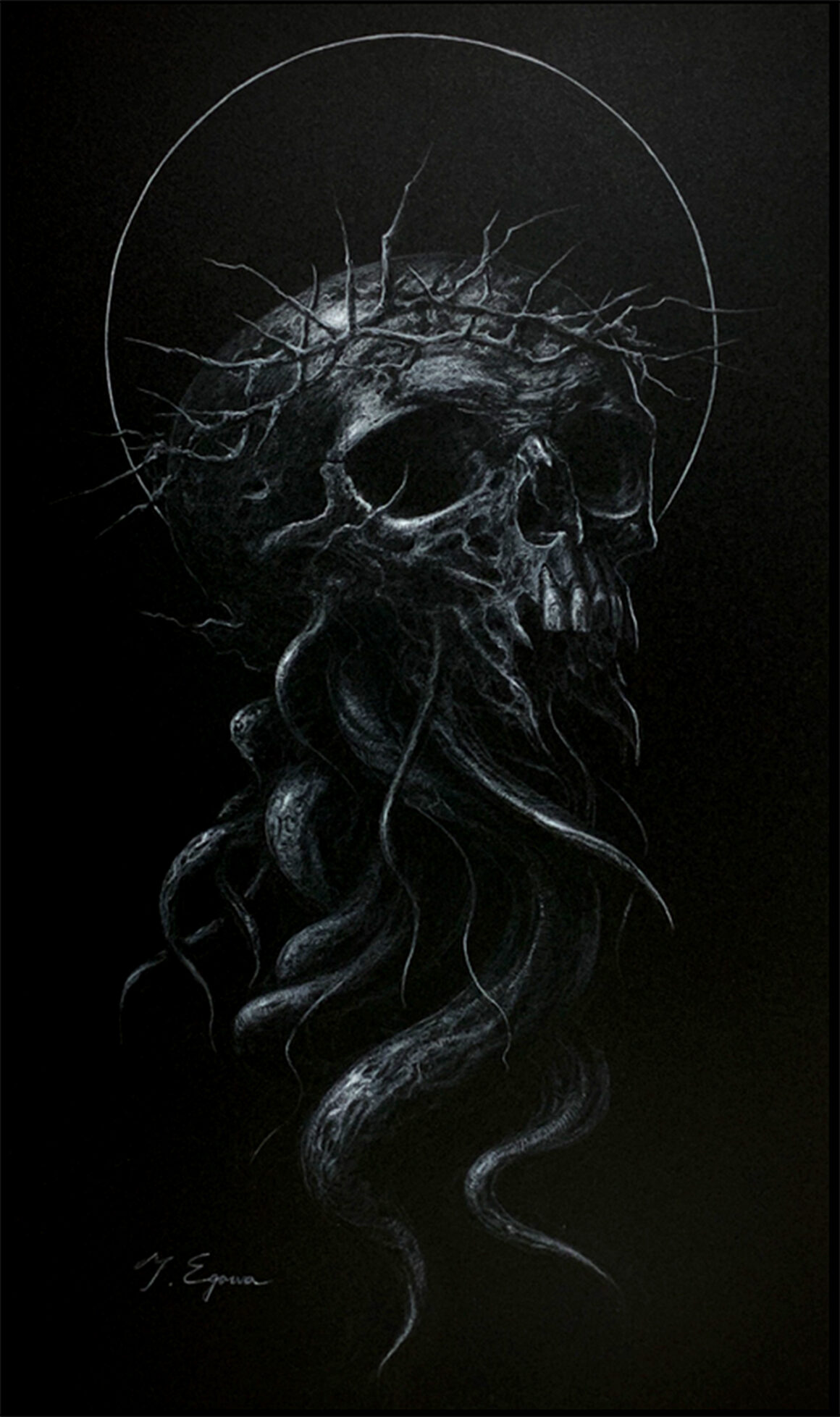 Their stillness, emptiness, and memento mori interest me. These are the origins of my inspiration.
Drawing makes me calm. Maybe it is saving me from pressures I have felt since I was young, near-death experiences, bereavements, and my body being fragile. And it is giving me hope.