Bruno Pontiroli is a French contemporary artist born in 1981 who lives and works in Paris. Drawn to art since childhood, he was always drawing or painting in any and every medium, exploring every means of expression available to him.
This enthusiasm developed into an ever more serious commitment which led to him spending most of his time striving to realise his own personal artistic vision.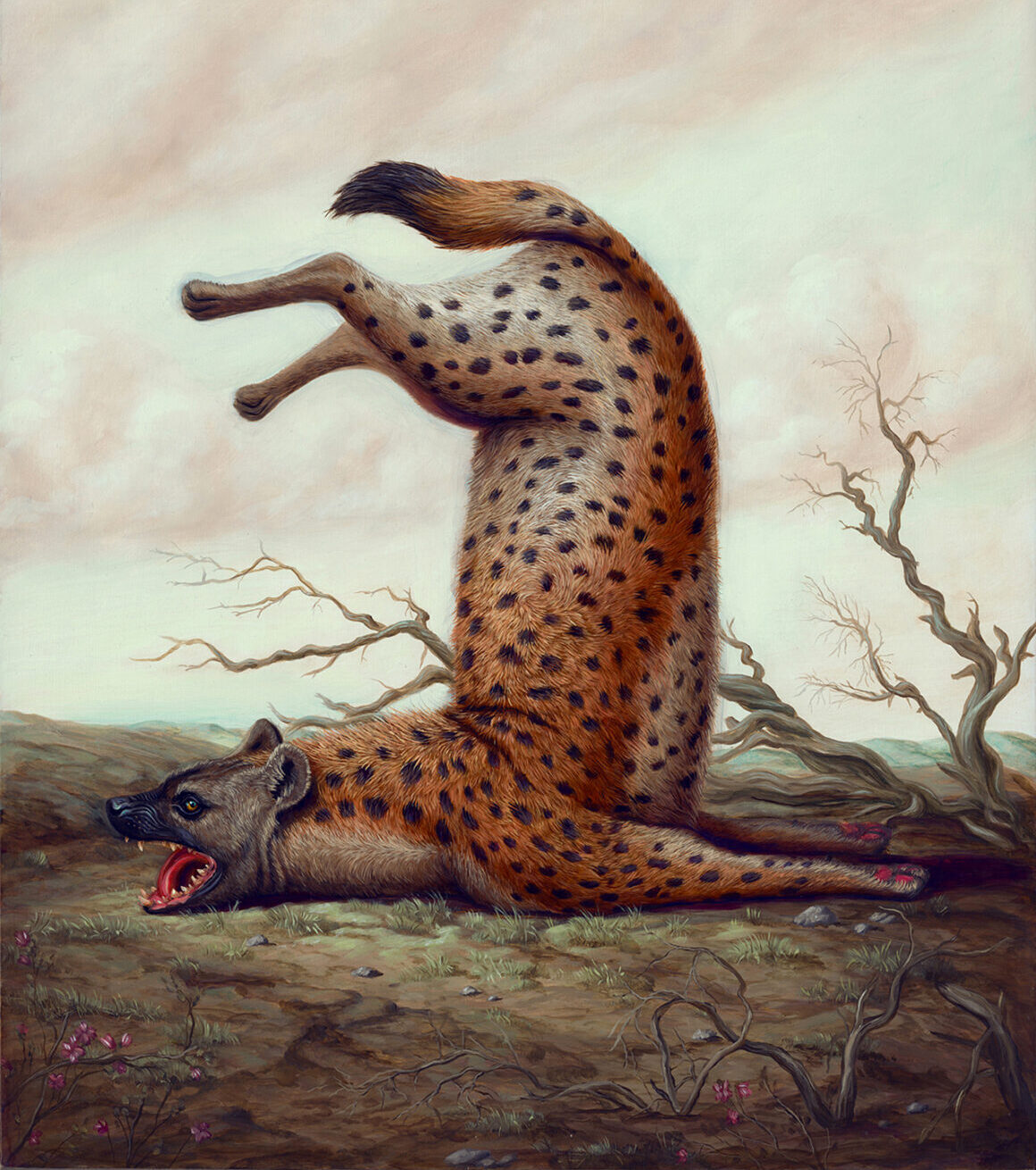 In order to learn as much as possible in terms of technique he attended as many courses as he could but where oil painting is concerned he is basically self-taught and has got to where he is now by reading and learning from books, inspired by the grand masters in the Louvre where he is a frequent visitor.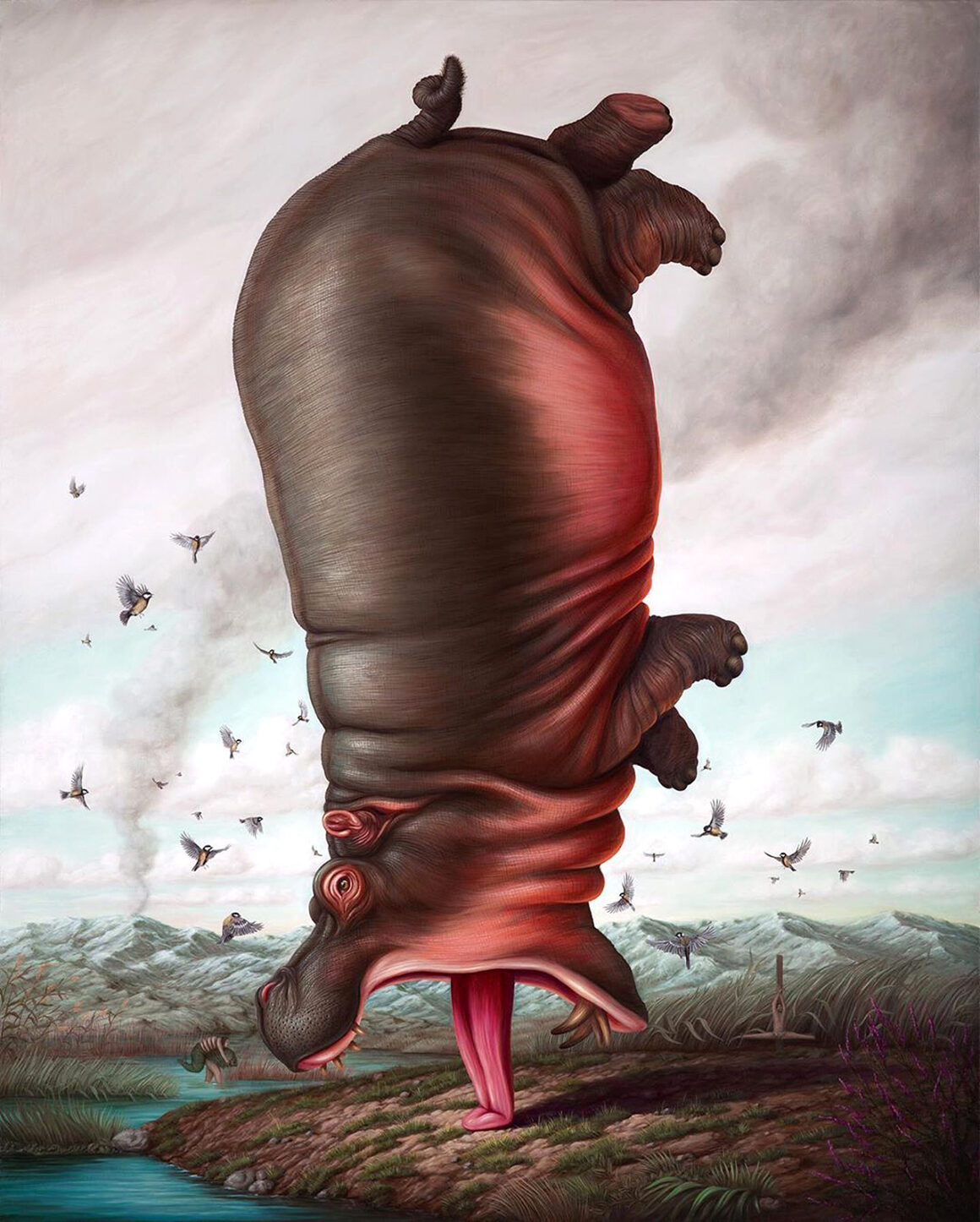 His main sources of artistic inspiration are the greats such as Rembrandt, Magritte, Rubéns and Élisabeth-Louise Vigée Le Brun. Later on his curiosity would lead him to discover the world of Nicolas Topor and pop surrealism where he would fall for the work of Mark Ryden and Todd Schorr.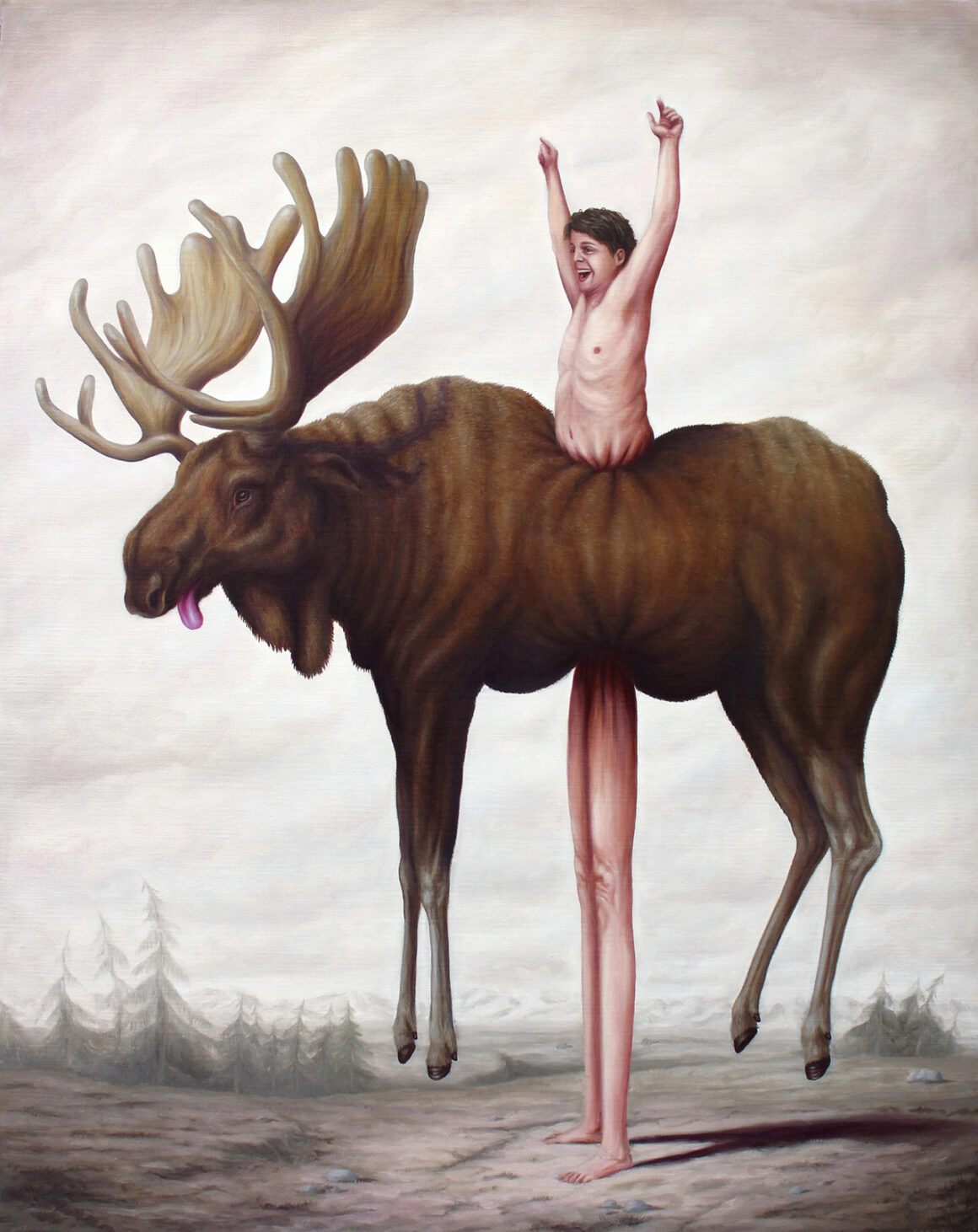 His process today involves jotting down ideas in a notebook after which he will begin sketching and finally move on to canvas, painting a substrate in black and white acrylic and then colouring with oils.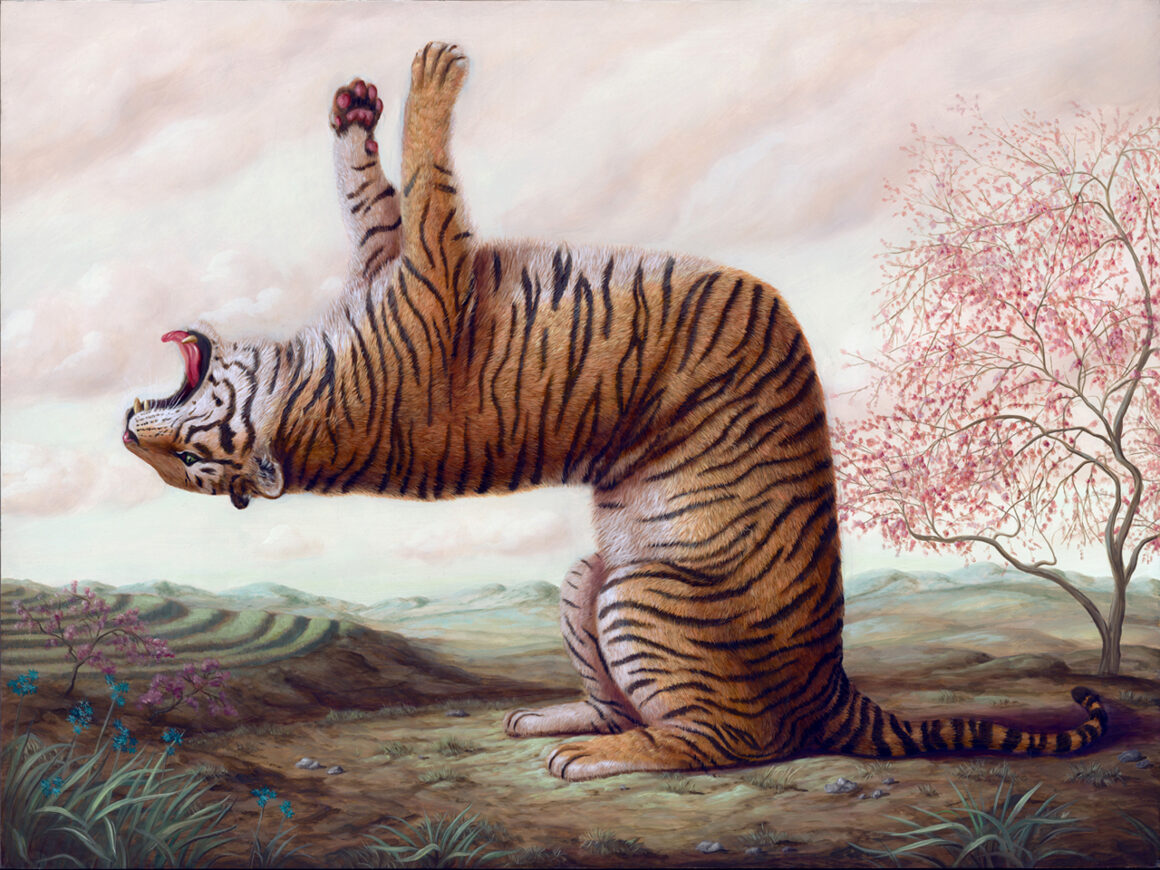 At a tender age he started out as a graffiti artist in the tunnels of the railway stations of Paris, savouring the rebellion and fight against time where he had to produce high quality work in the shortest possible time to avoid getting caught. As a street artist he travelled around the major European capitals, and always on the move, naturally had a chance to increase his knowledge, gain inspiration and broaden his artistic horizons.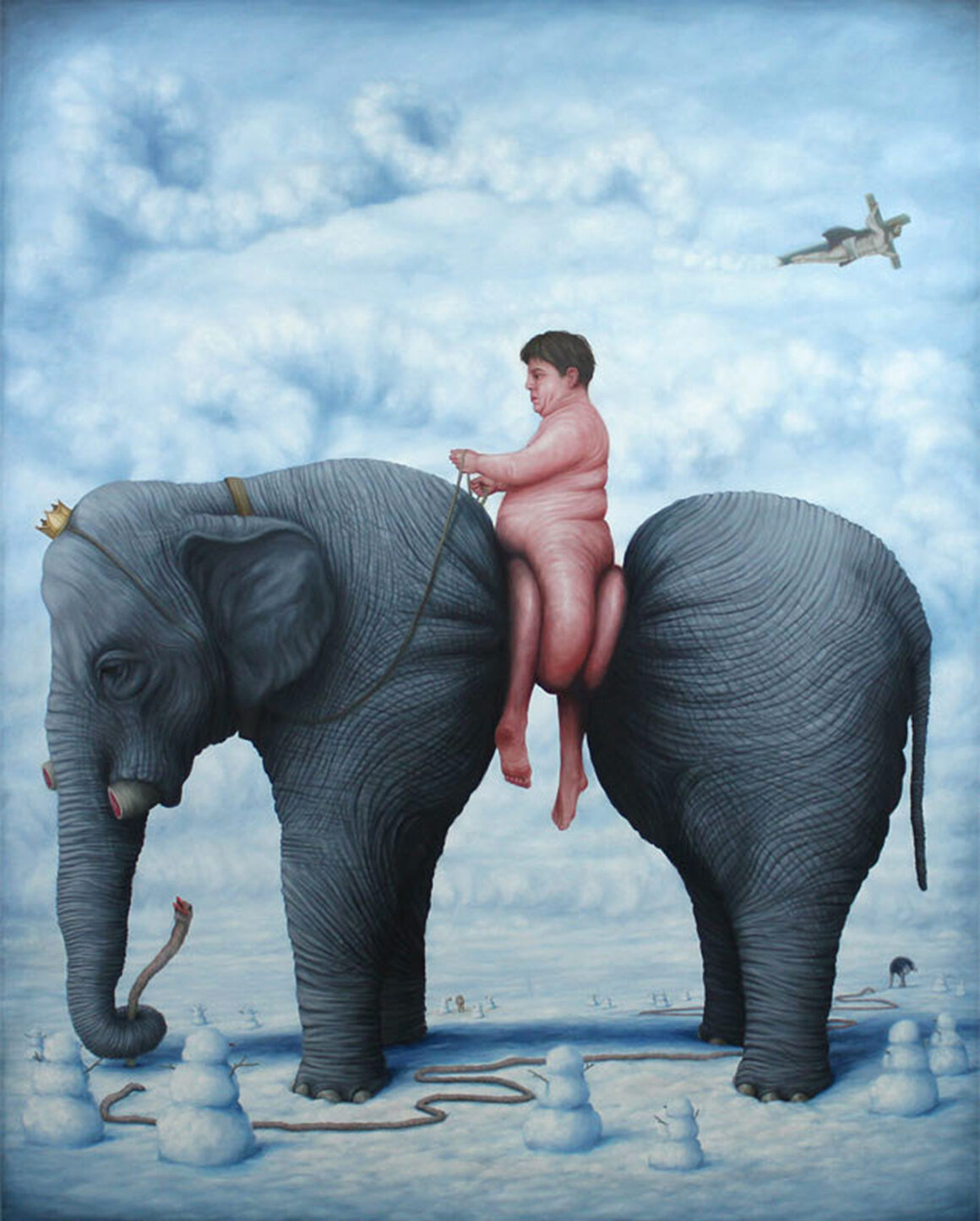 He began painting in oils in 2000. And after a decade or so he had his first shows, first in Paris, where in 2012 he had his first personal at the Galerie Le Laboratoire de la Creation, but over the years he has also exhibited in Italy, New York, Barcelona, London, growing all the time to the point where he is now showing in the most important contemporary art galleries.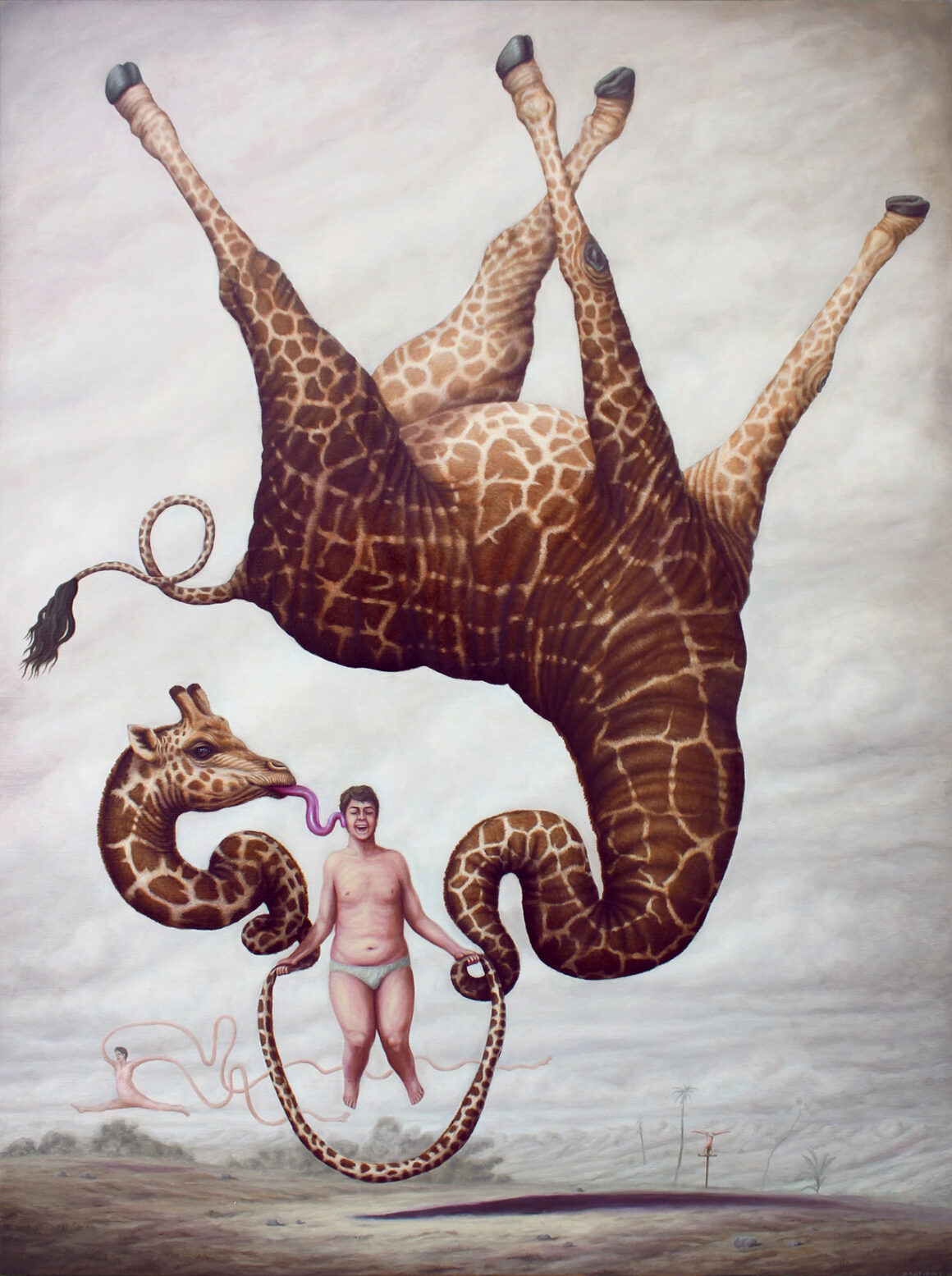 His is a world of upside down visions, distorted and teeming with paradox. It has been compared with Dadaism or Surrealism but this artist actually rejects stylistic labels of any kind, claiming that he simply paints his different point of view in relation to his personal observation and perception of the real world.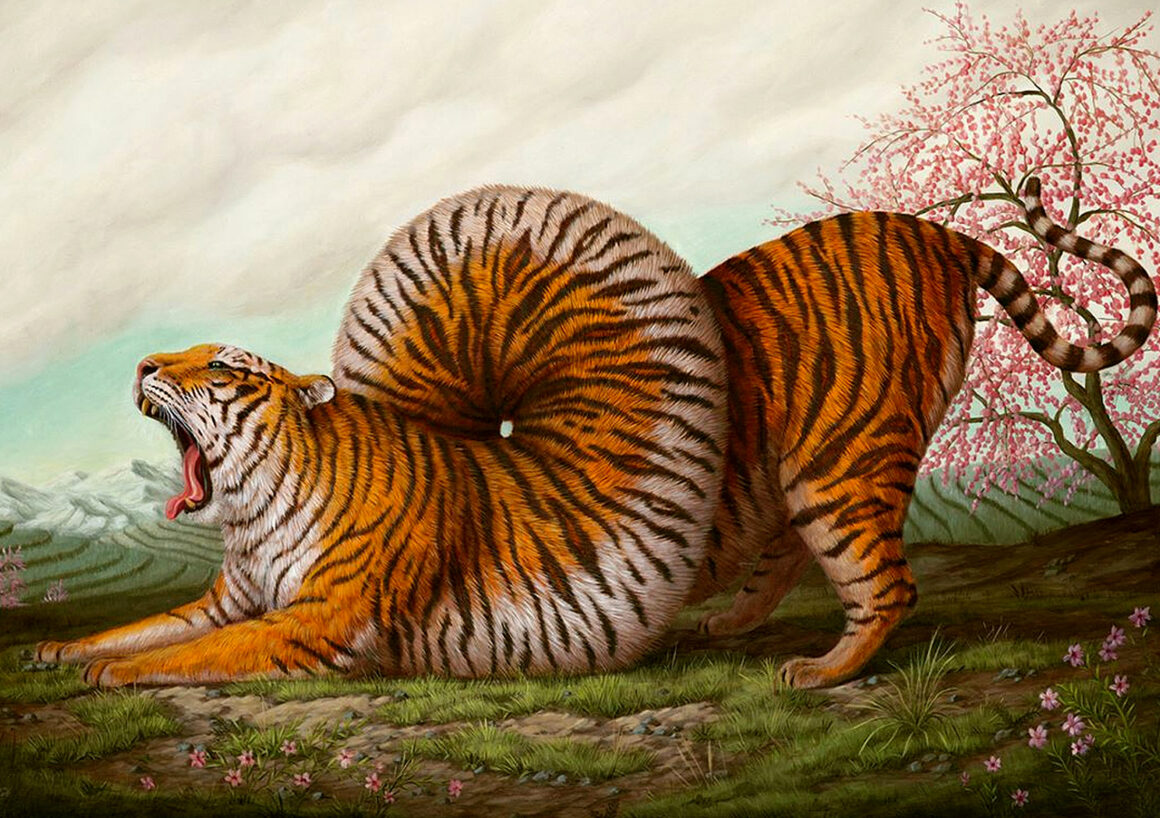 He does not in fact like to answer questions about the meaning or symbolism of his images, feeling that to reveal his intention in the work becomes counterproductive insofar as the public might fail to see anything beyond that interpretation. He prefers to leave a universe of possibilities, a range of interpretations which each individual can choose from when looking at his work.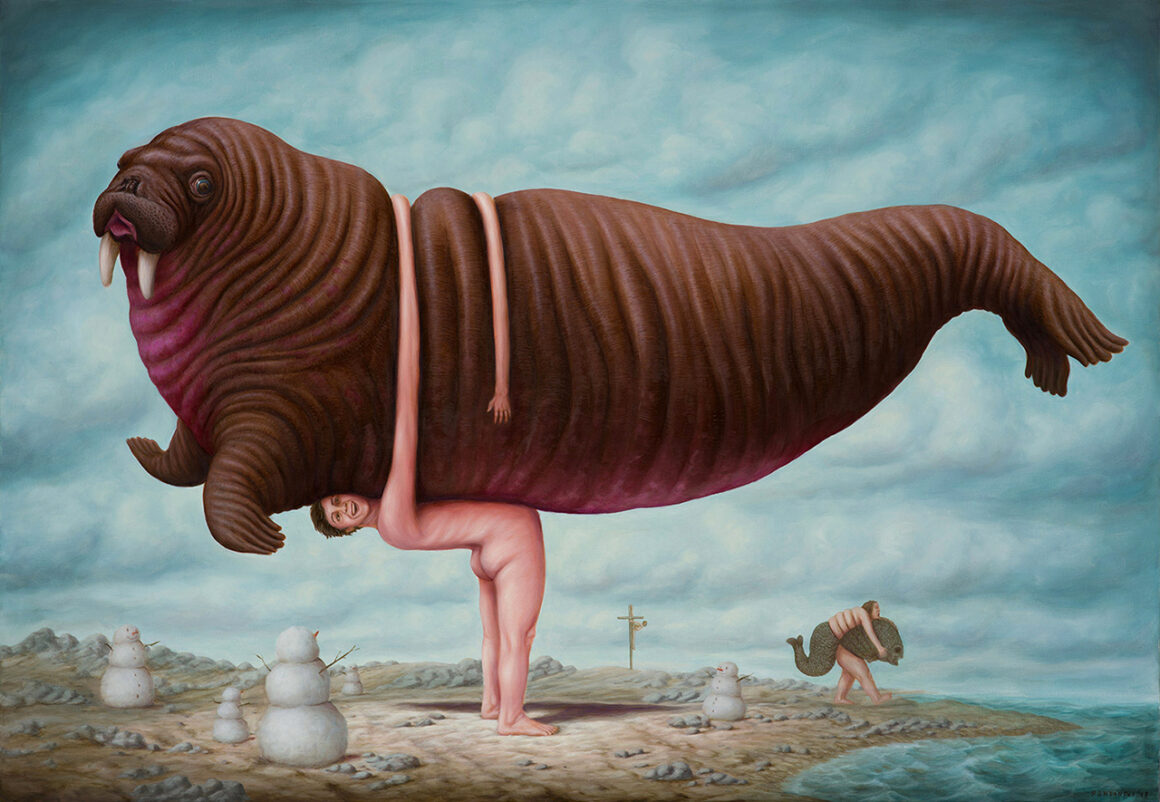 He creates a mental retreat into an exploration of the relationship between the human and animal kingdoms. The bodies of the figures twist, break up, completely rupturing any and every law of Physics, remaining in static poses of contractions and contortions yet appearing quite at their ease, at times even ecstatic. On other occasions human and animal bodies intersect, embrace in drastic deformations, extreme anatomical upheavels, making the impossible occur before our very eyes, defying any kind of logic.
A harmonious symbiosis of illustration and caricature, provocative at times. The background and terrain are infinite, accentuating the depth of field and pushing the scene into the foreground. The sombre palette ensures the tone is never dramatic nor yet too ironic in a chromatism of conscious flight from reality. The subjects seem almost plastic, modelled and manipulated so as to alter weight and mass and create an extreme, dystopic elasticity. Everything is deliberately and magically wrong.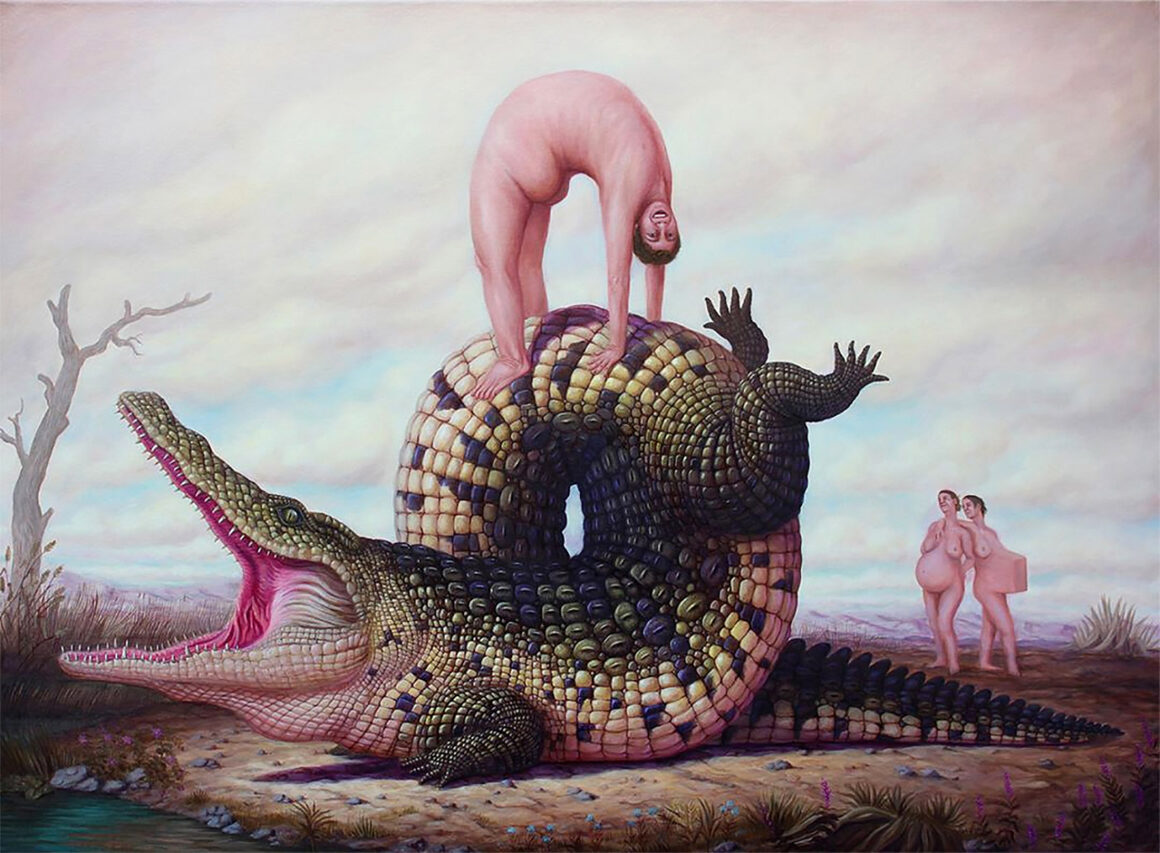 "My aim is to turn our narrow vision of the world on its head and disturb our imagination, shaking an accepted reality with incomprehensible images by making them familiar. Upending a symbol and mixing clashing universes allows me to question the identity of things so that I can reinvent them in a world without logic where anything is possible."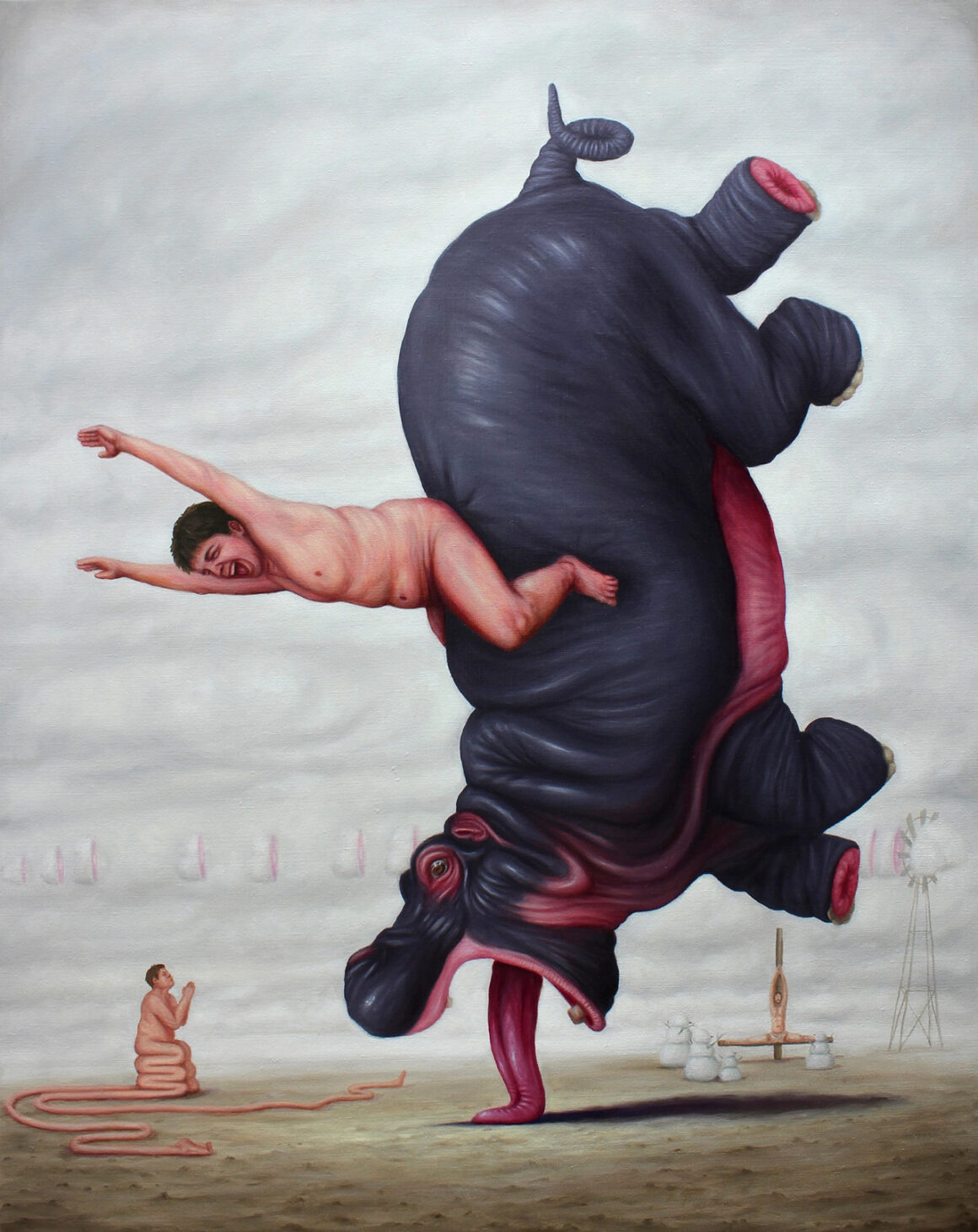 On a personal level however, there is one jarring element – the loneliness which characterises the work of an artist who at times requires isolation during the lengthy painting process. But the artist is fully aware that this is the right approach for his life, that which he has wanted ever since he was a child, and which he would never swap with anybody else. All that being said, the most important event in his life so far has been the birth of his son.