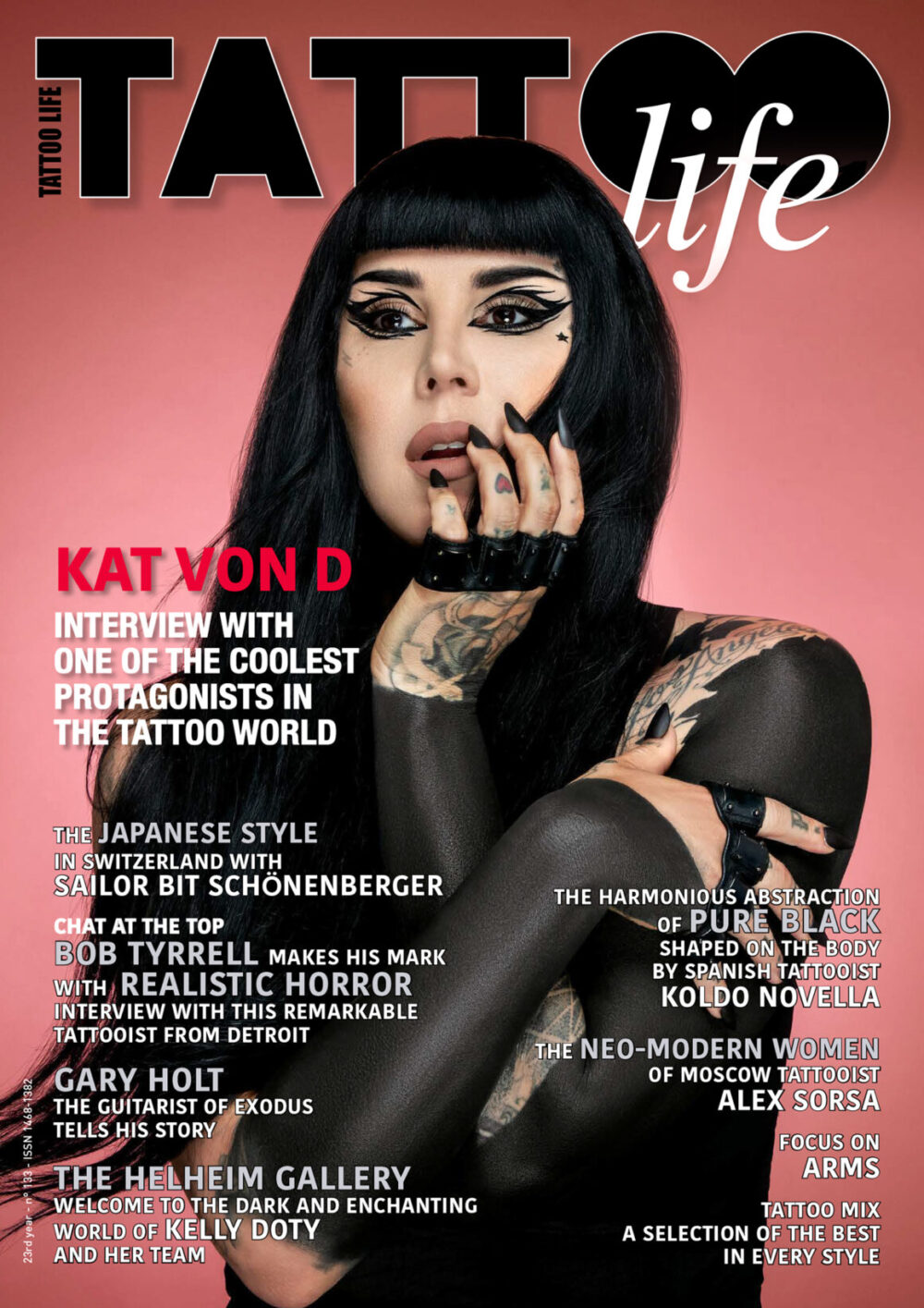 SHOP IT NOW!
Don't miss to have this amazing issue. Choose and shop now your version…
Cover Girl: Kat Von D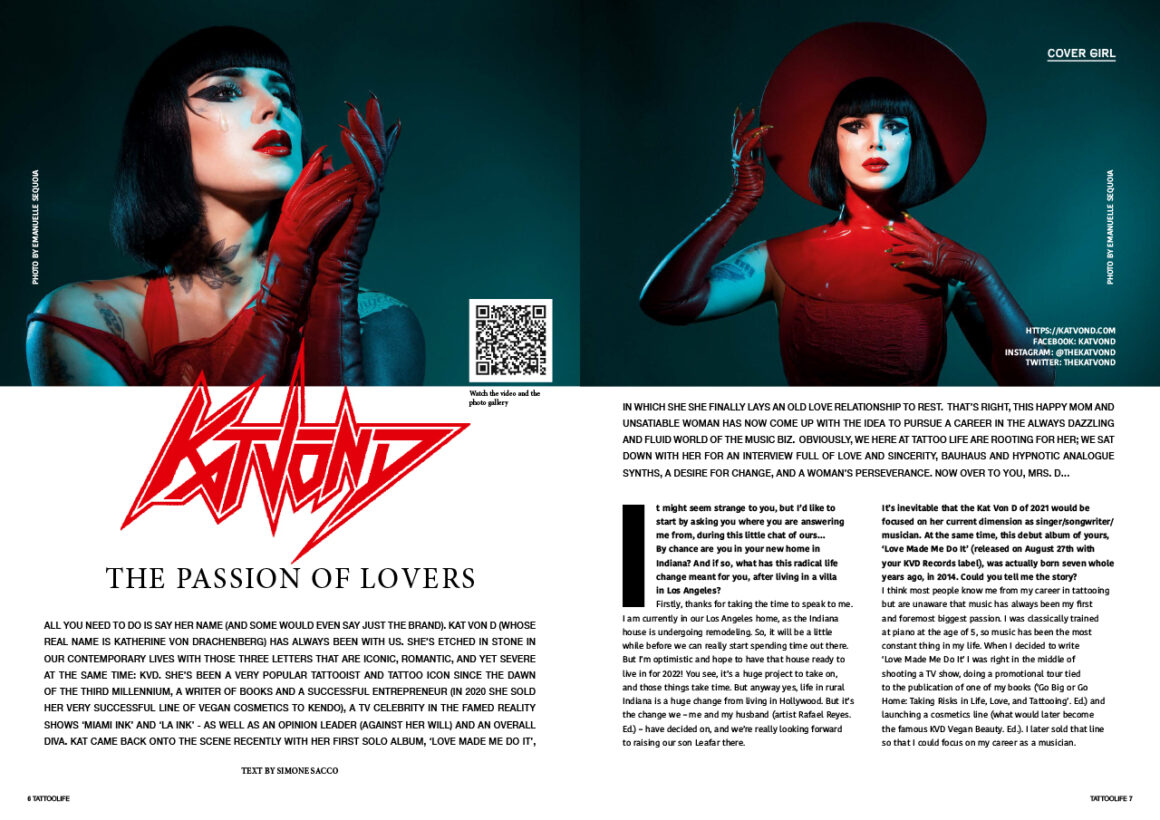 You need only say her name (and some would even say just the brand). Kat Von D (whose real name is Katherine Von Drachenberg) has always been with us. She's etched in stone in our contemporary lives with those three letters that are iconic, romantic, yet severe: KVD. Obviously, we here at Tattoo Life are rooting for her; we sat down with her for an interview full of love and sincerity, Bauhaus and hypnotic analogue synths, a desire for change, and a woman's perseverance. Now over to you, Mrs. D…
Alex Sorsa: The multiplicity of nature in a Neo-Modern style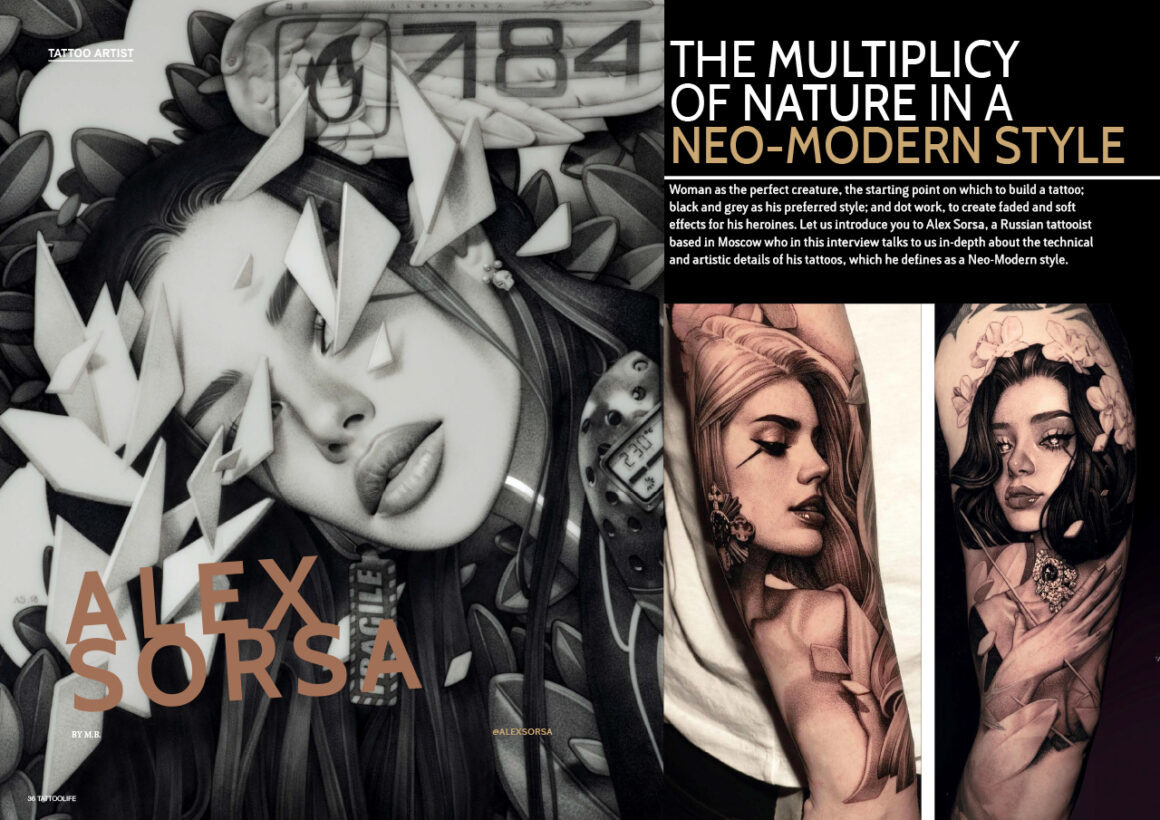 Woman as the perfect creature, the starting point on which to build a tattoo; black and grey as his preferred style; and dot work, to create faded and soft effects for his heroines. Allow us to introduce Alex Sorsa, a Russian tattooist based in Moscow who in this interview talks to us in-depth about the technical and artistic details of his tattoos which he defines as Neo-Modern.
Chat at The Top with Bob Tyrrell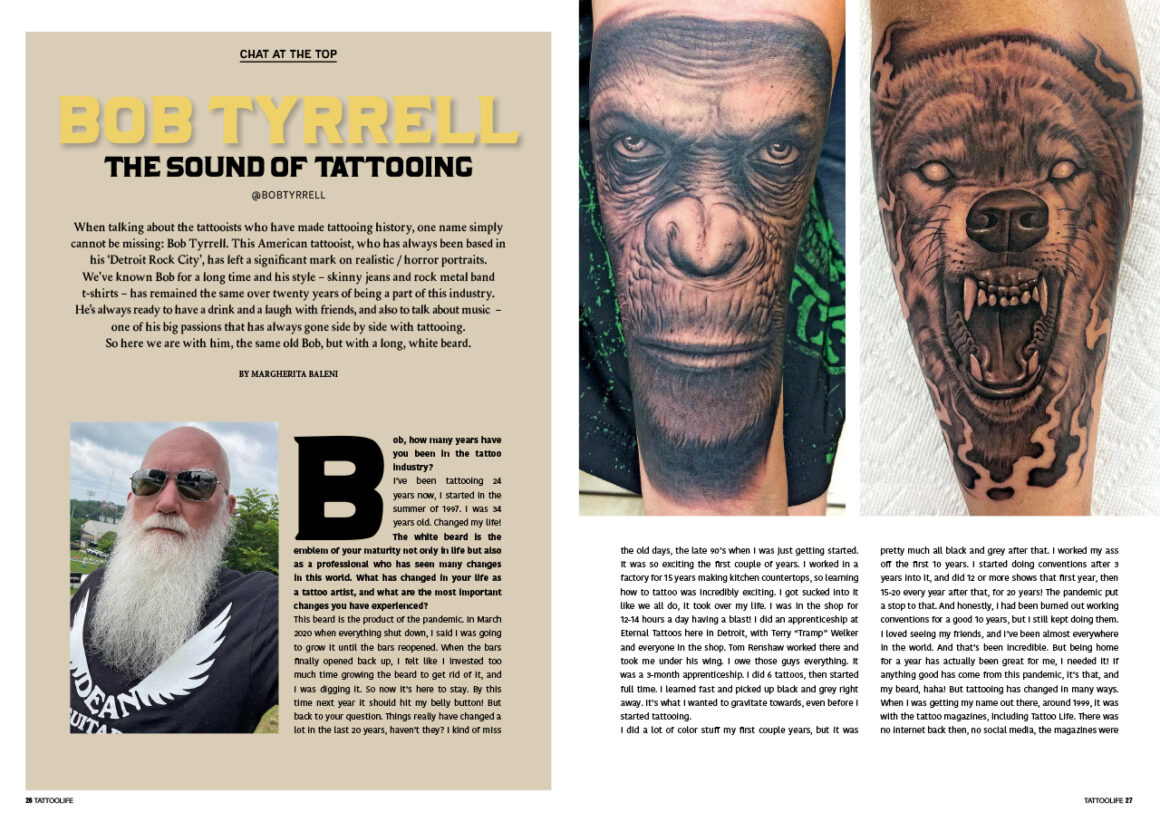 When talking about tattooists who have made tattooing history, one name immediately comes to mind: Bob Tyrrell. This American tattooist, who has always been based in his 'Detroit Rock City', has left a significant mark on realistic/horror portraits. We've known Bob for a long time and his style – skinny jeans and rock metal band t-shirts – has remained the same over the twenty years he's been part of this industry. So here we are with him, the same old Bob, but with a long, white beard.
The Helheim Gallery: The creepy cute house of Kelly Doty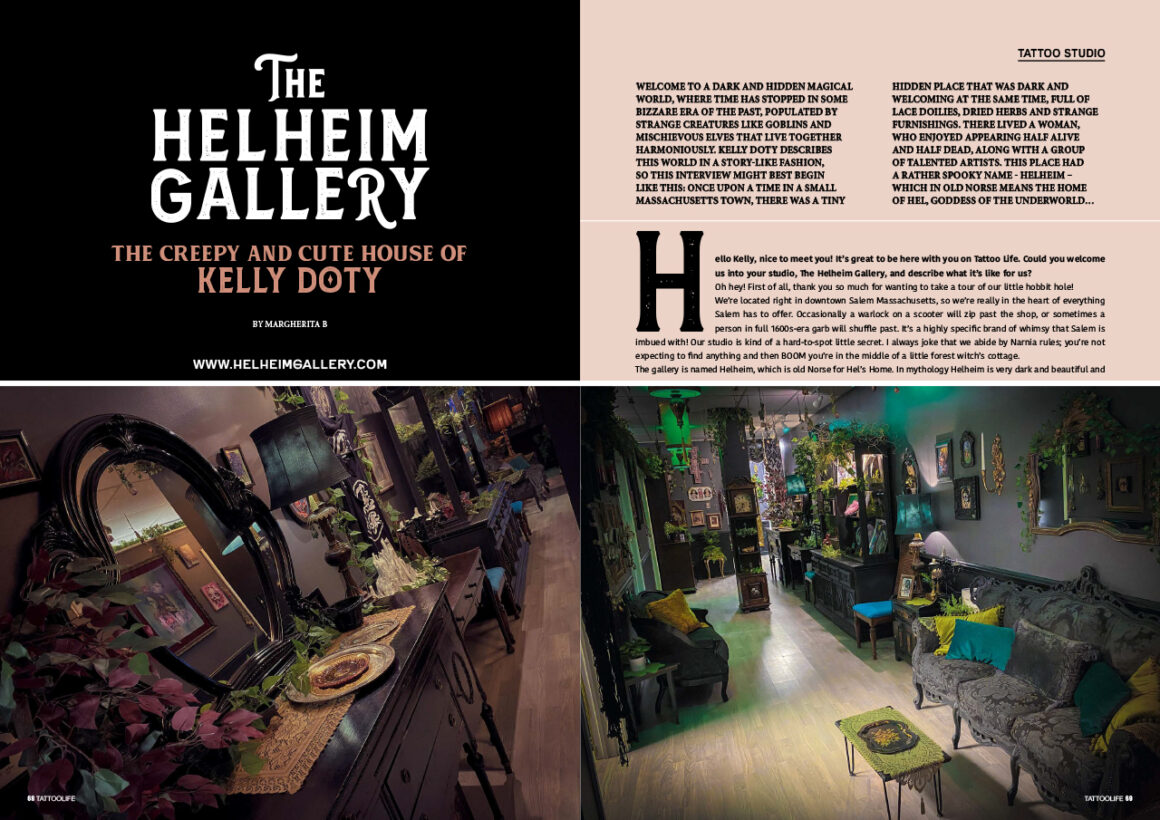 Welcome to a dark and hidden magical world where time has stopped in some bizarre era in the past populated by weird creatures like goblins and mischievous elves that live together in harmony. Kelly Doty describes this world in a story-like fashion, so this interview might best begin like this: Once upon a time in a small Massachusetts town, there was a tiny hidden place… This place had a rather spooky name – Helheim – which in old Norse means the home of Hel, goddess of the underworld…
Koldo Novella: Shaped by black, inspired by Japanese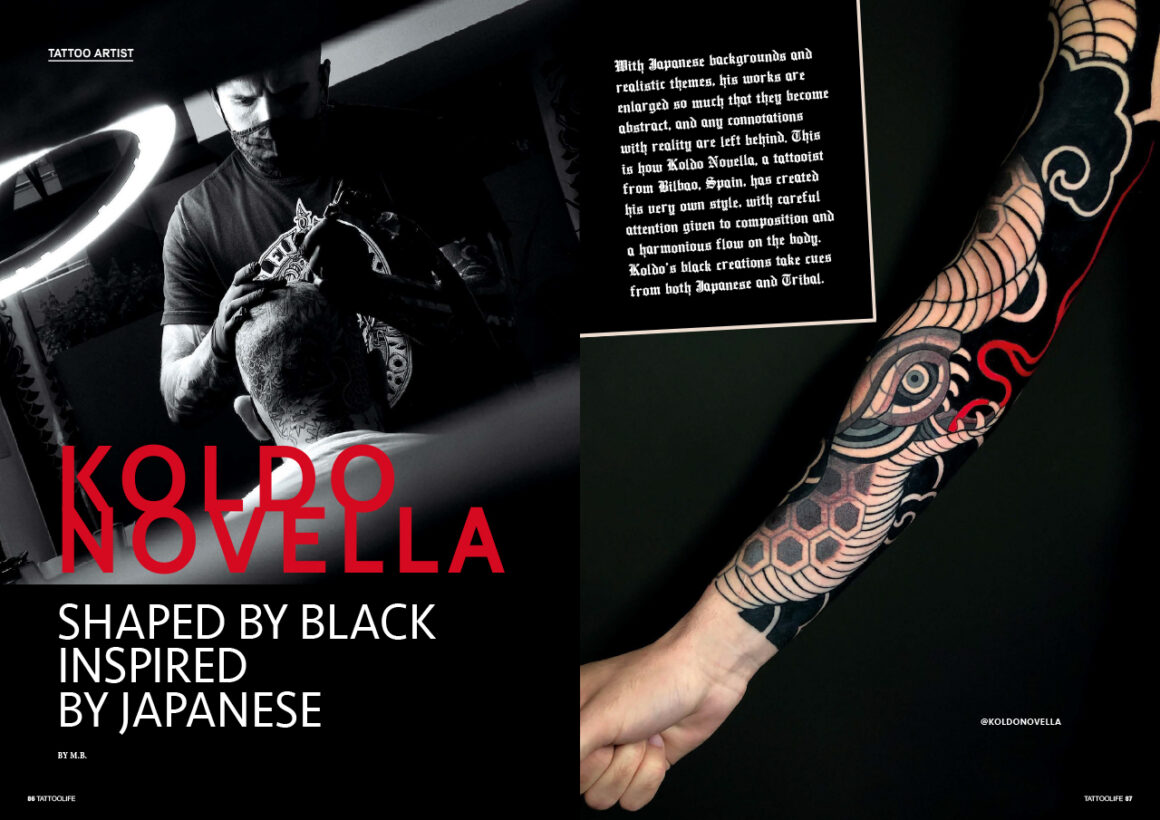 With Japanese backgrounds and realistic themes, his works are enlarged to such a scale that they become abstract and any connotations with reality are left behind. This is how Koldo Novella , the tattoo artist from Bilbao, Spain, has created his very own style, with careful attention to composition and a harmonious flow on the body. Koldo's black creations take cues from both Japanese and Tribal.
Sailor Bit Schönenberger: Oriental inspirations, dragons and water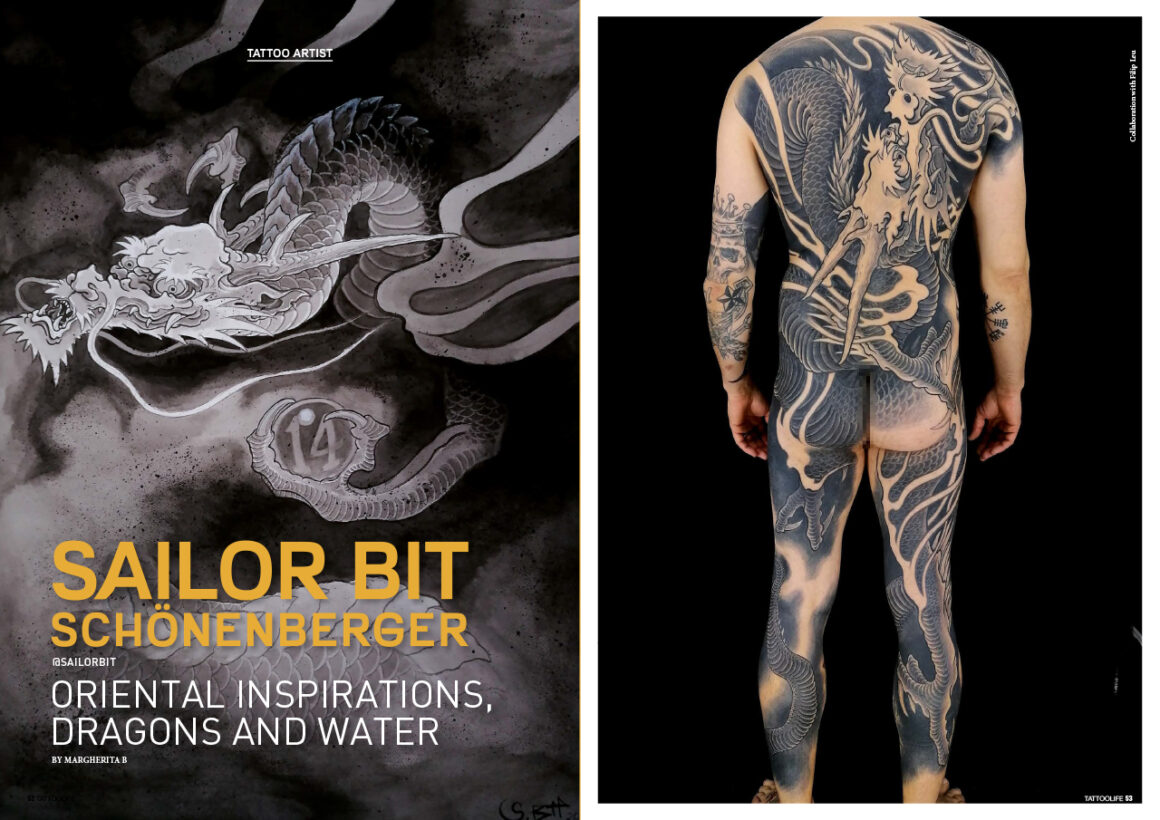 Tattoist Bit Schönenberg can boast a career spanning over thirty years which began in Switzerland and is currently firmly established in one of the most famous studios in the world – that of the Leu Family, located in the small Swiss town of Ste-Croix. This is where his Oriental style, love of water, and movement are best expressed in subjects like skulls and dragons. But a true portrait of Bit needs to dig a little deeper than that and this interview manages to present a more fully rounded picture of what a well-formed and mature tattooist he is.
Gary Holt (Exodus) The pleasures of tattooed flesh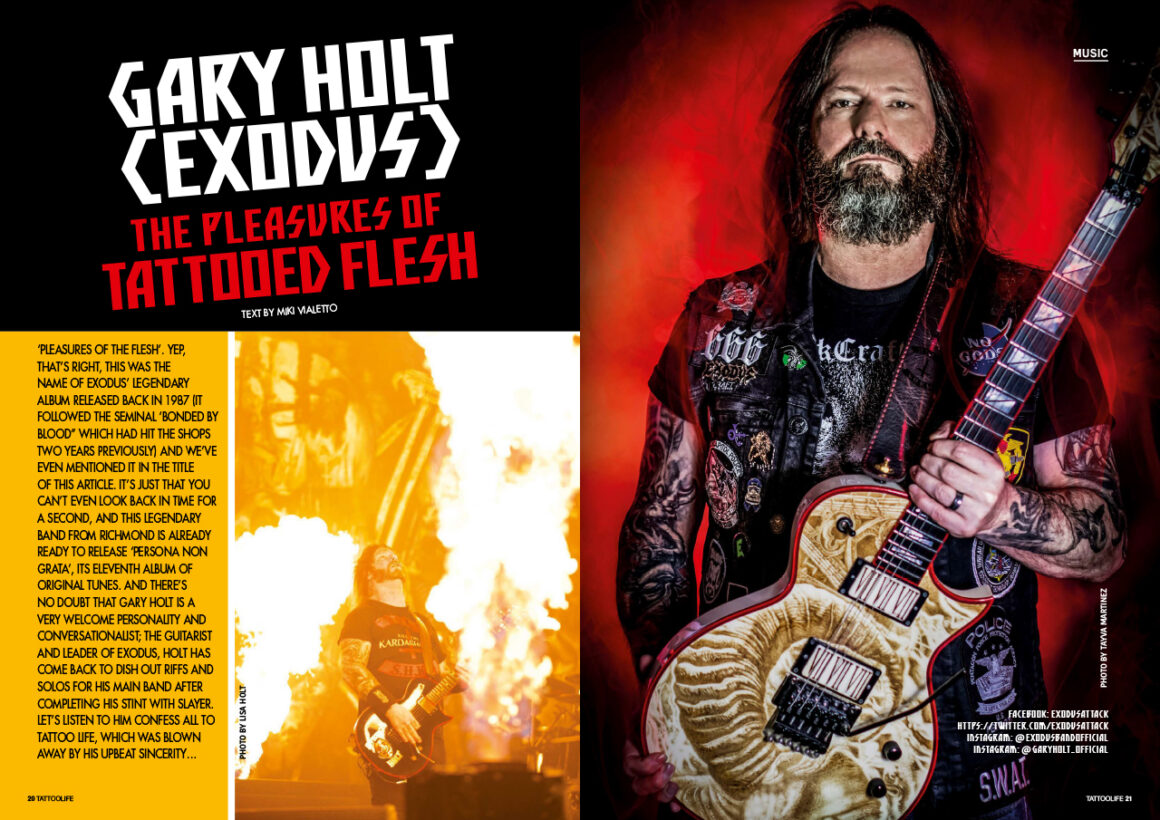 The guitarist and leader of Exodus Gary Holt has come back to dish out riffs and solos for his main band after completing his stint with Slayer. Let's listen to him confess all to Tattoo Life where he just blew us away with his upbeat sincerity when we put out the welcome mat for this great character and conversationalist.
Focus On: Sleeves, Tattoo Mix: A selection of the best in every style… and much more!
SHOP IT NOW!
Don't miss to have this amazing issue. Choose and shop now your version…