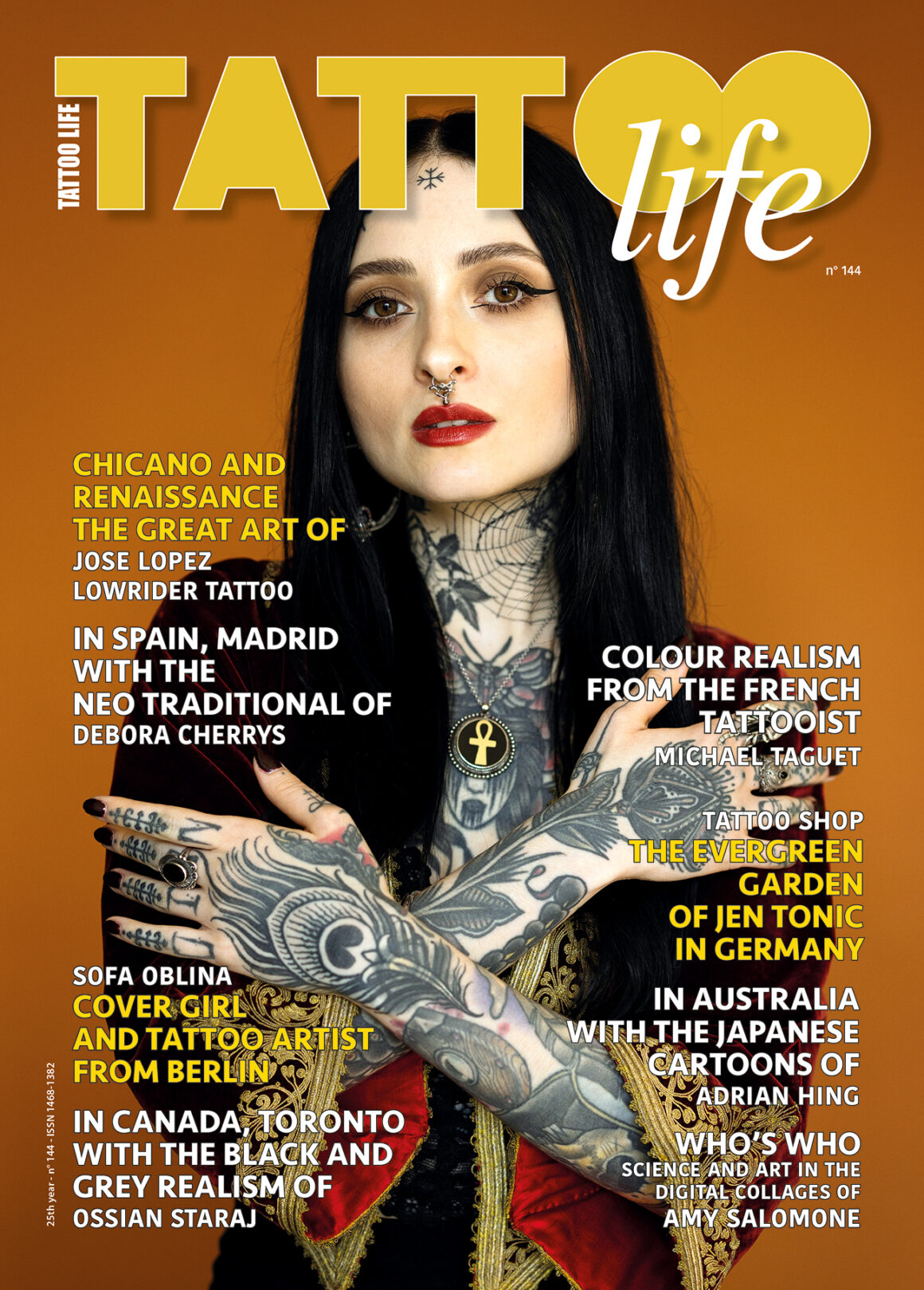 SHOP IT NOW!
Don't miss to have this amazing issue. Choose and shop now your version…
Cover girl: Sofa Oblina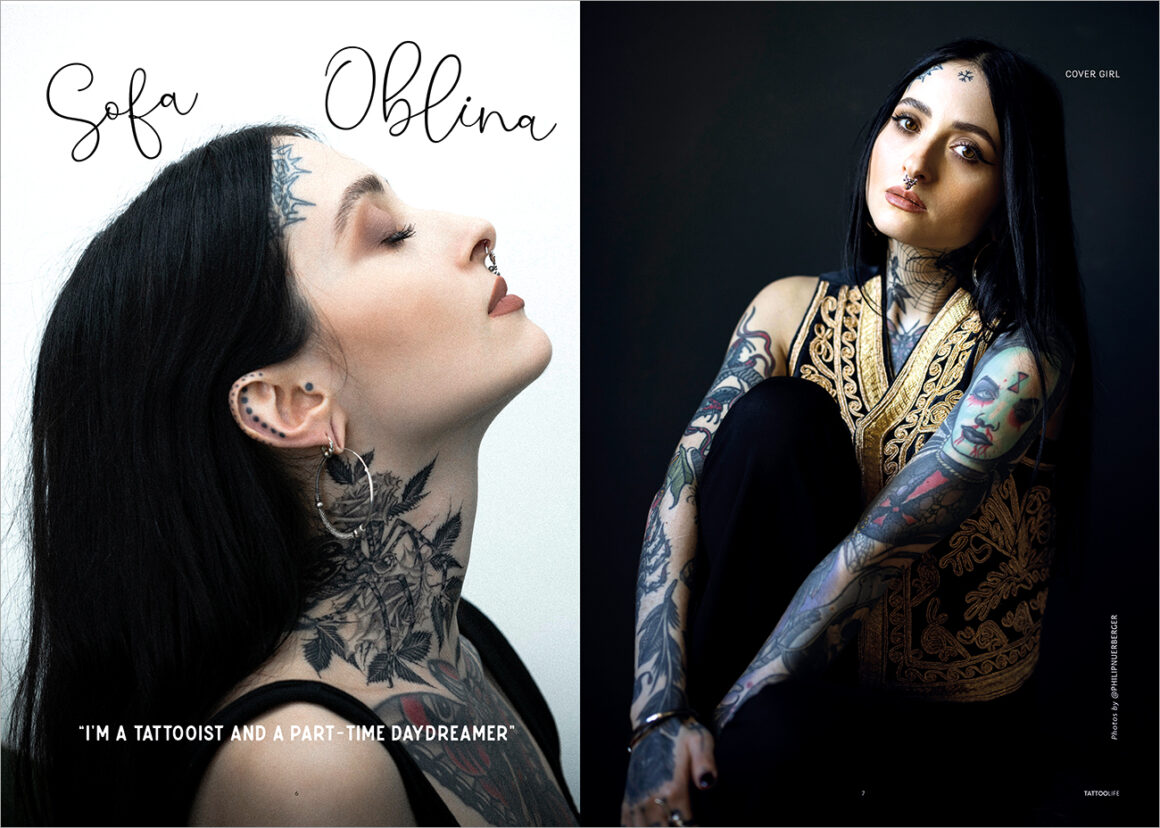 Let's step into the autumnal world of Sofa Oblina, our cover girl for this issue, as well as tattoo artist in Berlin. Raven hair, dark eyes, pale skin, she hates all that is commercial, banal, glitter. She loves the notes of Black Sabbath, incense, ancient architecture, black cats and witches associated with the superstition and magic she inherited from the Ukrainian traditions of her family. 
Chat at the top with Jose Lopez
Lowrider tattoo stands for fine line and Chicano Black and Grey, that West Coast American style with roots in the traditions of Mexico and South America fused with the epitome of consumerism. The man who created this cosmopolitan brand is Jose Lopez, a face known to all in the tattoo trade, charismatic, respectful, you could describe him as a gent from times gone by. In this article we have decided to collect his off the cuff reflections, tying them in with the most intimates aspects of his personality: that of the artist and creator of drawings of incomparable beauty where the contact with his private side emerges best.
Michael Taguet. From Tv series to skin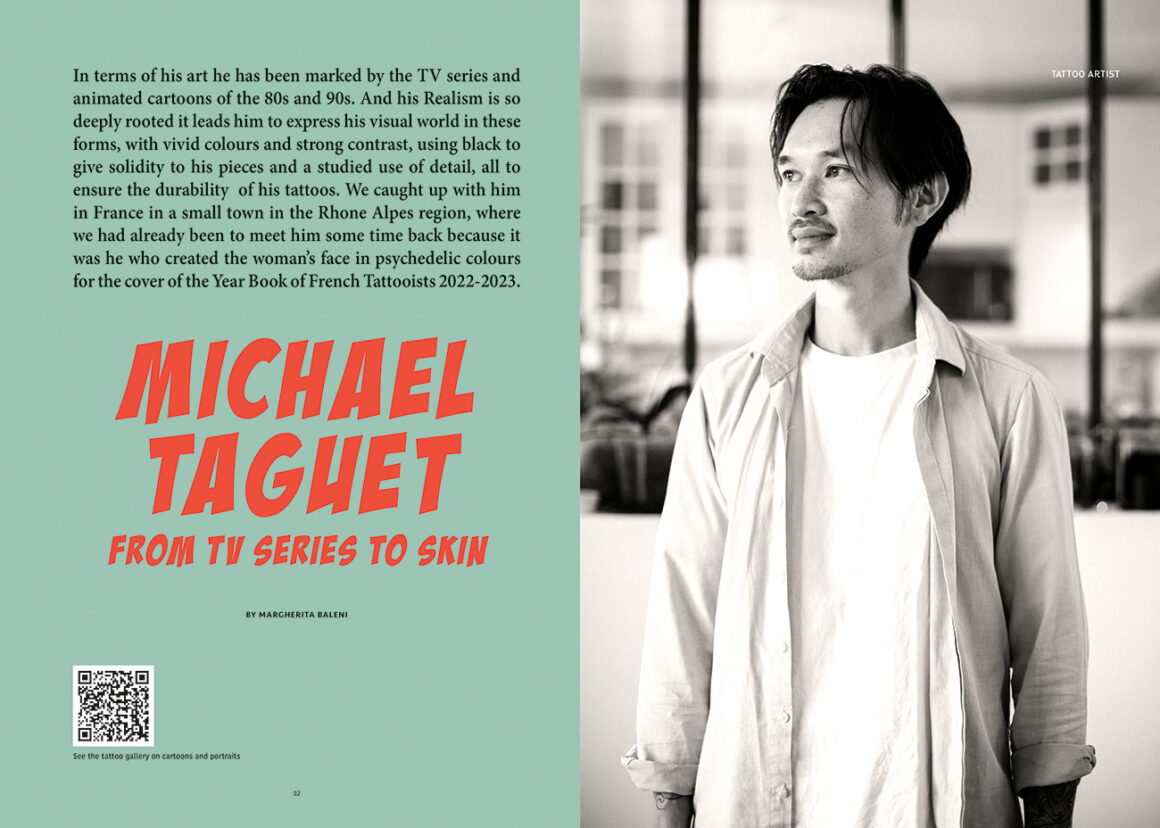 In terms of his art he has been marked by the TV series and animated cartoons of the 80s and 90s. And his Realism is so deeply rooted it leads him to express his visual world in these forms, with vivid colours and strong contrast, using black to give solidity to his pieces and a studied use of detail, all to ensure the durability of his tattoos. We caught up with him in France in a small town in the Rhone Alpes region, where we had already been to meet him some time back because as he was the designer of the woman's face in psychedelic colours of our French Tattooists Yearbook 2022-2023 >>
Ossian Staraj. Classic art in Black and Grey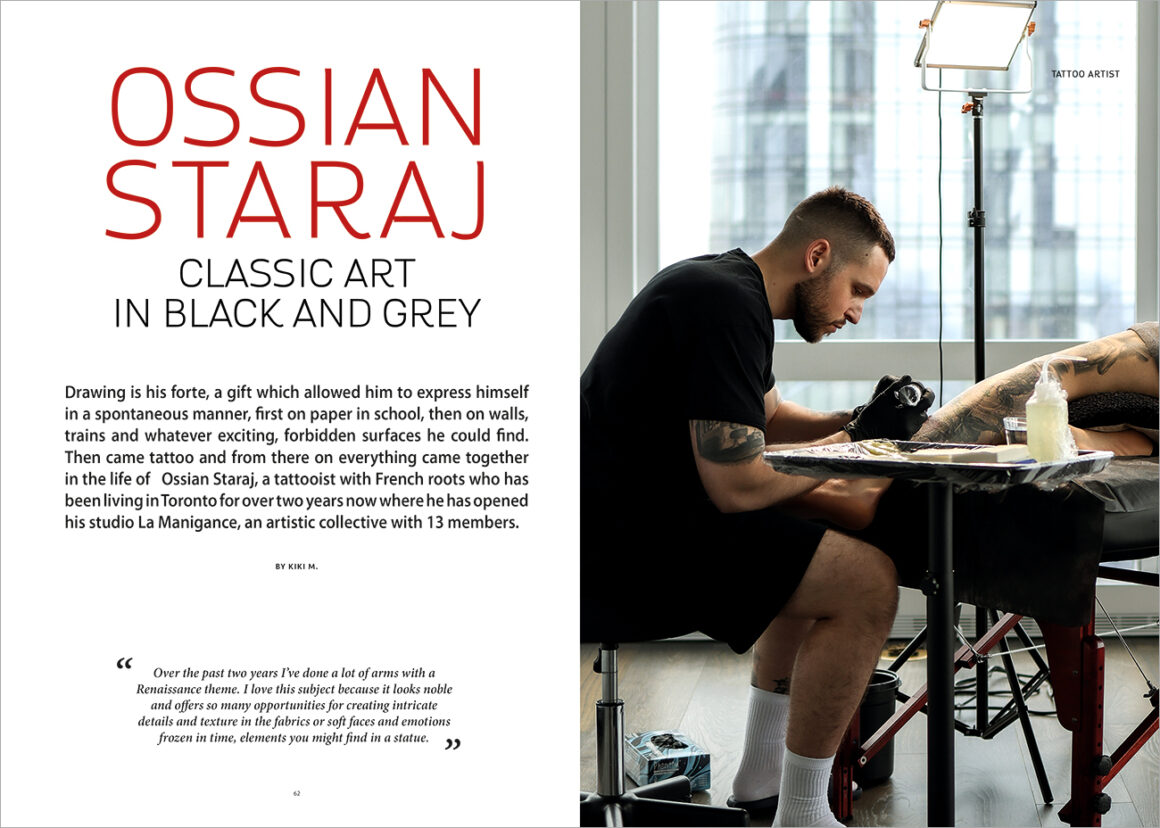 Ossian Staraj is a tattooist with French roots who has been living in Toronto for over two years now where he opened his studio La Manigance, an artistic collective with 13 members. Full length characters with lots of details and texture, jungles, post-apocalyptic scenes, nature and landscapes are his favourite subjects, all done in black and grey.
Adrian Hing. New direction of colour in Japanese style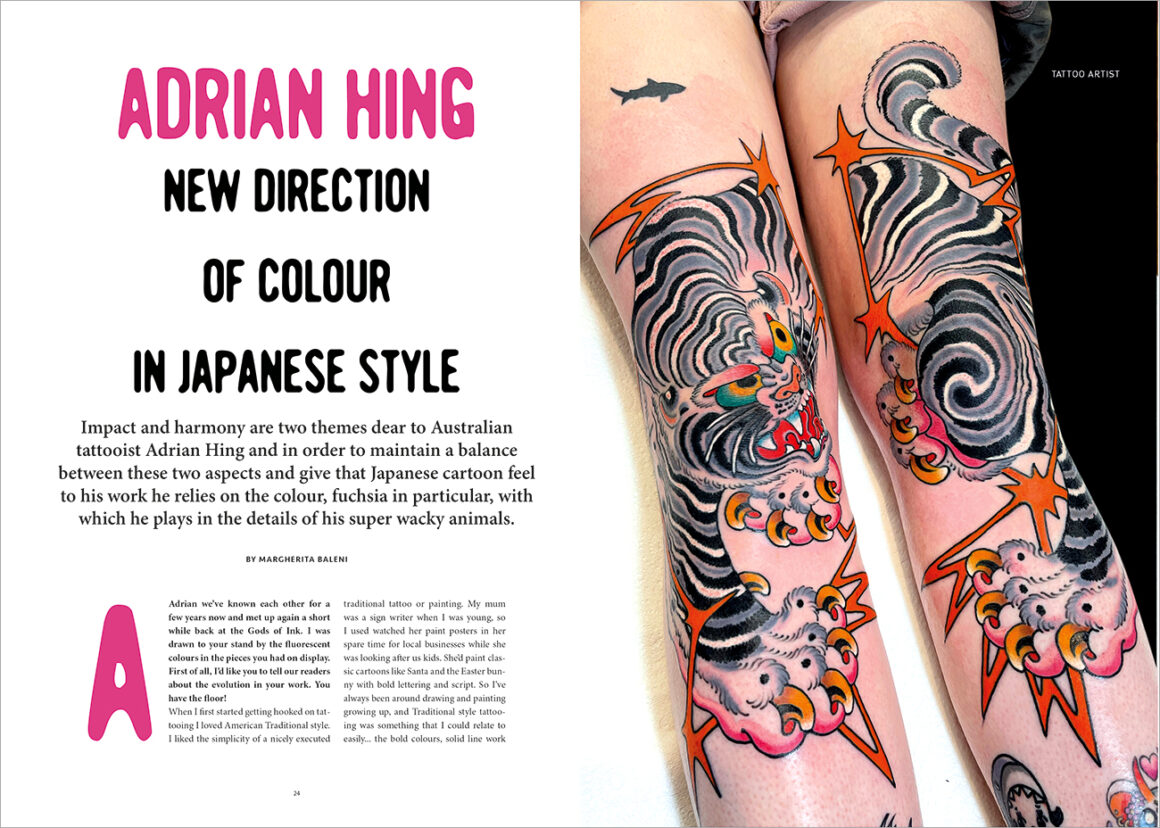 Impact and harmony are two themes dear to Australian tattooist Adrian Hing and in order to maintain a balance between these two aspects and give that Japanese cartoon feel to his work he relies on the colour, fuchsia in particular, with which he plays in the details of his super wacky animals.
Debora Cherrys. When the word respect is what matters most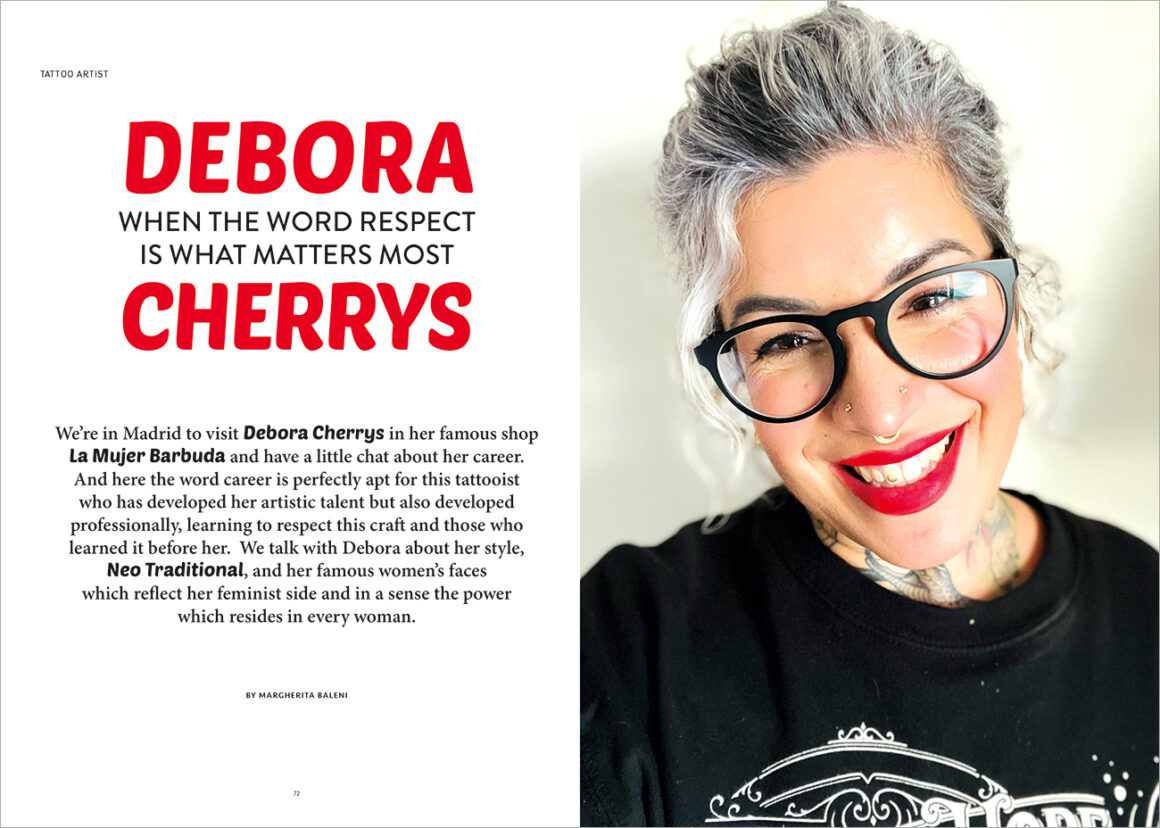 We're in Madrid to visit Debora Cherrys in her famous shop La Mujer Barbuda and have a little chat about her career. And here the word career is perfectly apt for this tattooist who has developed her artistic talent but also developed professionally, learning to respect this craft and those who learned it before her. We talk with Debora about her style, Neo Traditional, and her famous women's faces which reflect her feminist side and in a sense the power which resides in every woman.
The Evergreen Garden Atelier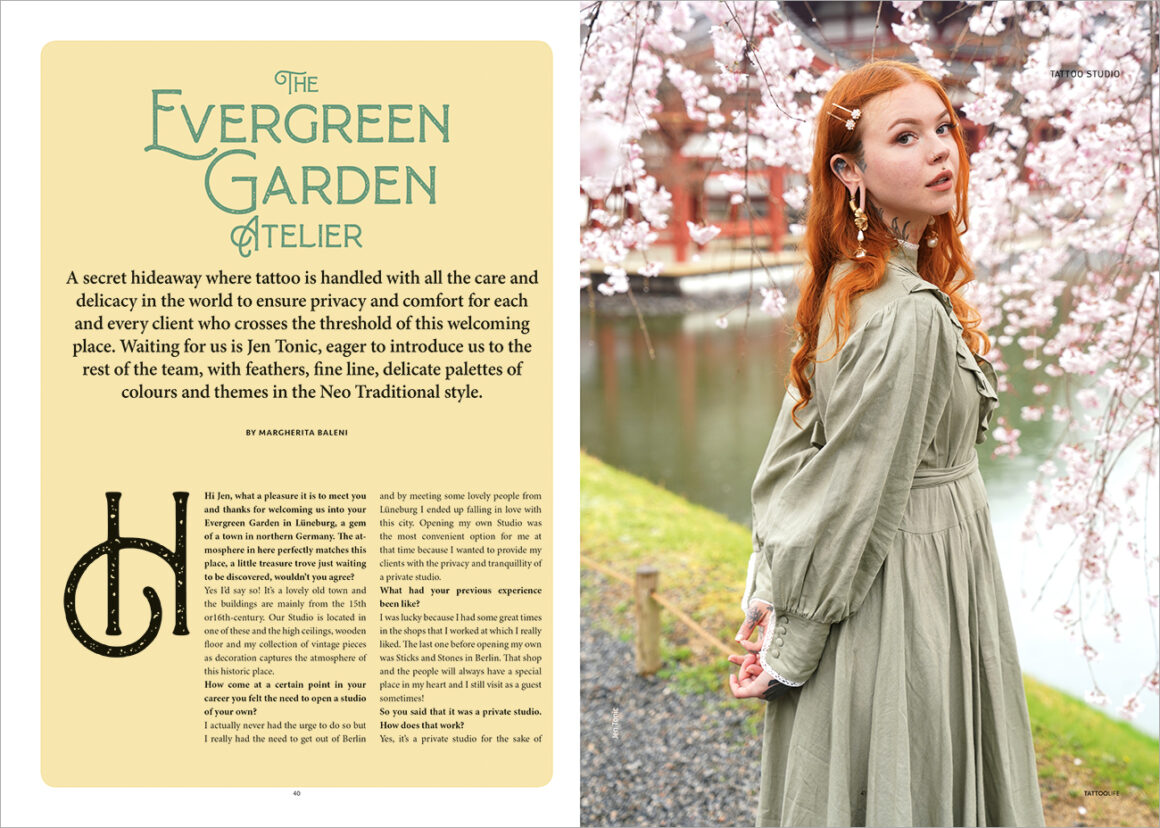 A secret hideaway where tattoo is handled with all the care and delicacy in the world to ensure privacy and comfort for each and every client who crosses the threshold of this welcoming place. Waiting for us is Jen Tonic, eager to introduce us to the rest of the team, with feathers, fine line, delicate palettes of colours and themes in the Neo Traditional style.
Tattoo Mix: A selection of the best in every style… and much more!
SHOP IT NOW!
Don't miss to have this amazing issue. Choose and shop now your version…