Mr. Cloutier works in a private studio in Montreal, says thanks to Luka Lajoie for his teachings, and tattoos figures where blends of colors and dark tendencies rule. And he loves cats, too!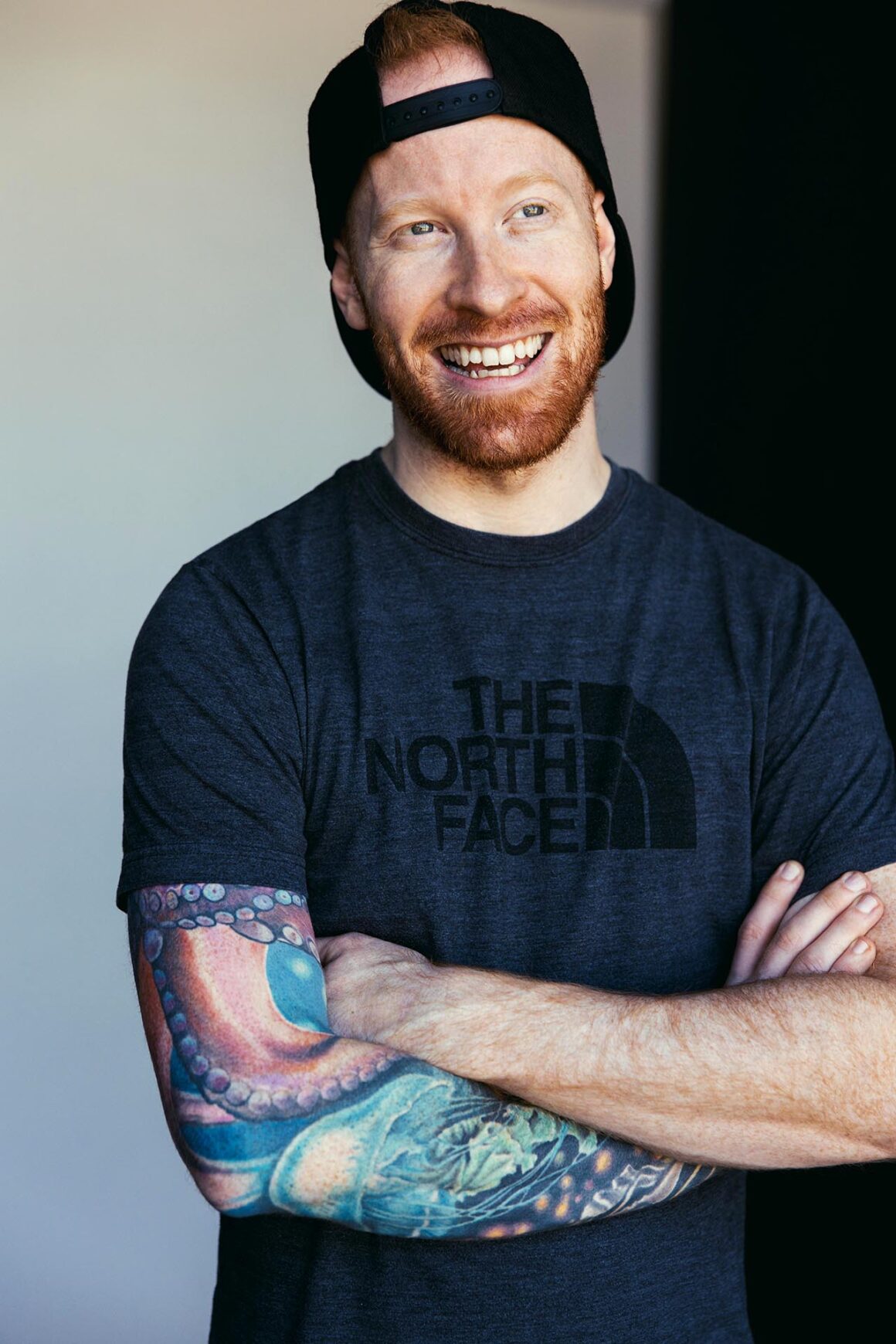 Michael, can you tell me a little bit about yourself?
Hi! Actually, since I was a child, I was fascinated by any form of art. It always has been an obsession to me as it used to be the only way I knew to express myself. Growing up, I found myself drawing a lot more and decided to explore this side of art.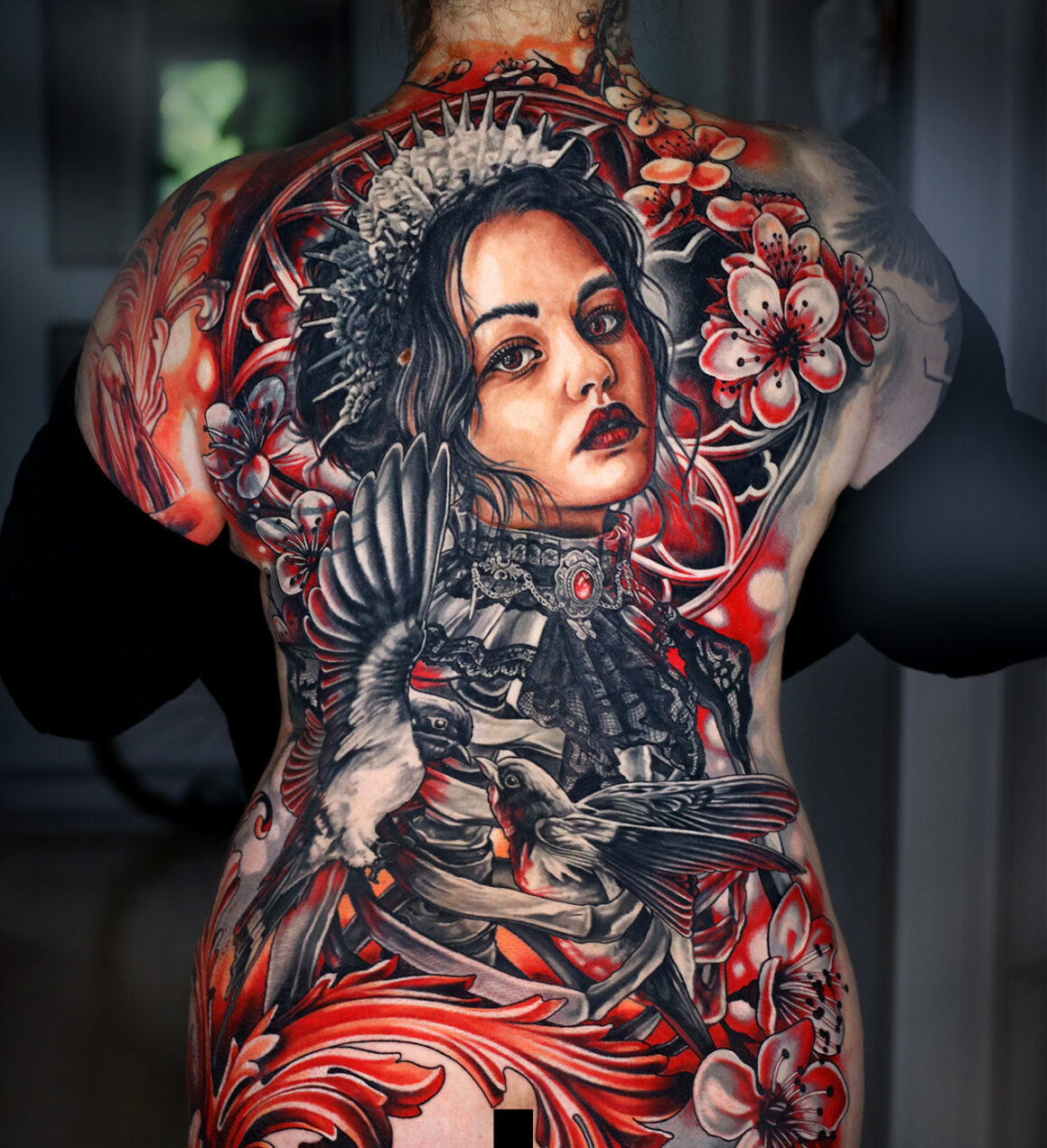 What was your course of study to become a tattoo artist?
It brought me to do 6 years of study to get my master in the world of Graphic Design and to become an Artistic Director in the field of advertising. But after two years I got tired of that field of work where everything seemed fake and plastic to me… I needed to get back to the source of art which was to being able to share emotions, knowledge, part of life, in short, the human part!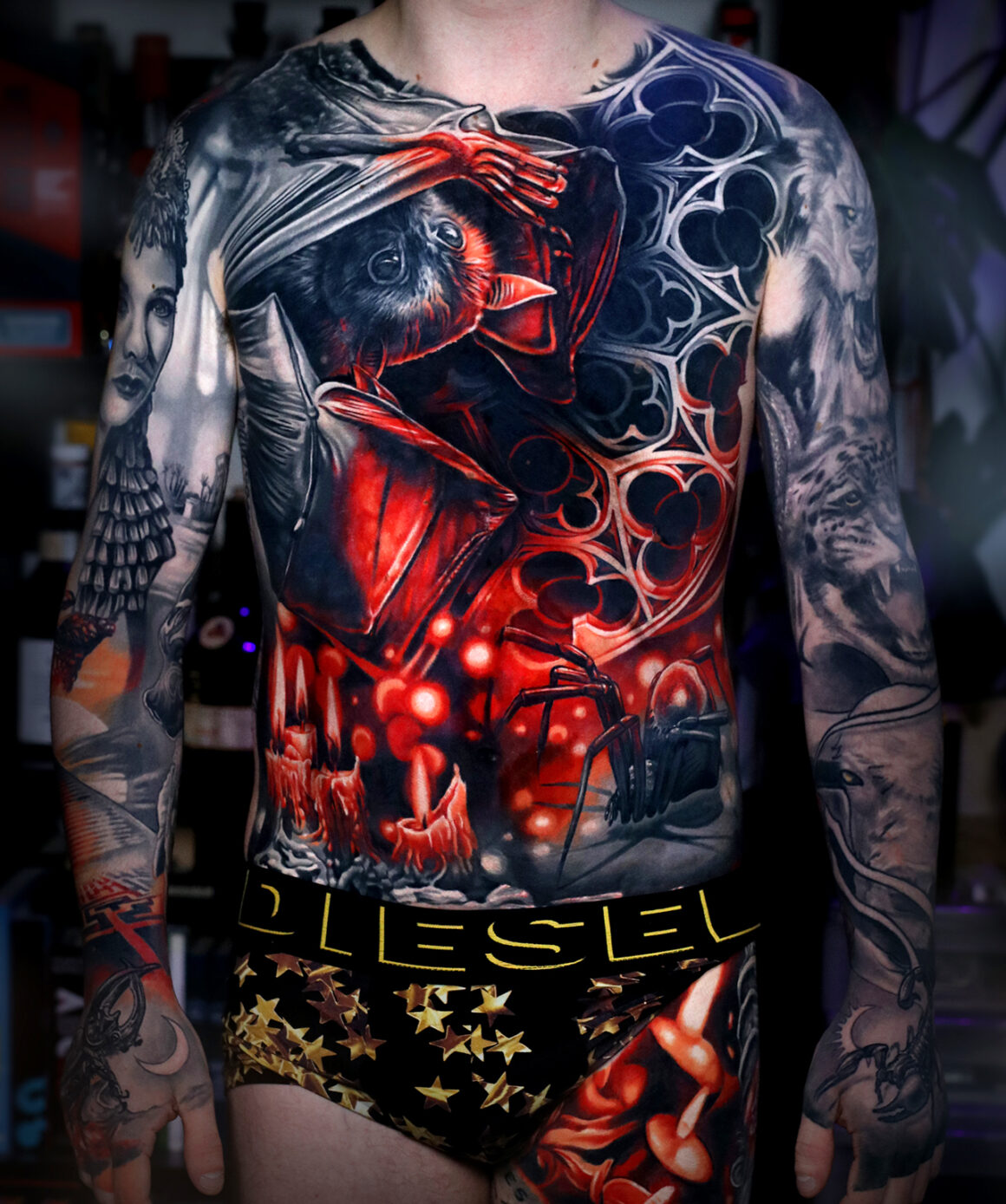 And that's when the tattoos came in…
Yeah! That's when the idea to start to learn the medium and culture of the tattoo world, an art that had always fascinated me, came to my mind. At that moment, I brought all the art knowledge I had, learned the tool and contacted an incredible human and artist that I can now call one of my really good friend Luka Lajoie in order to learn more of it and start my tattoo journey.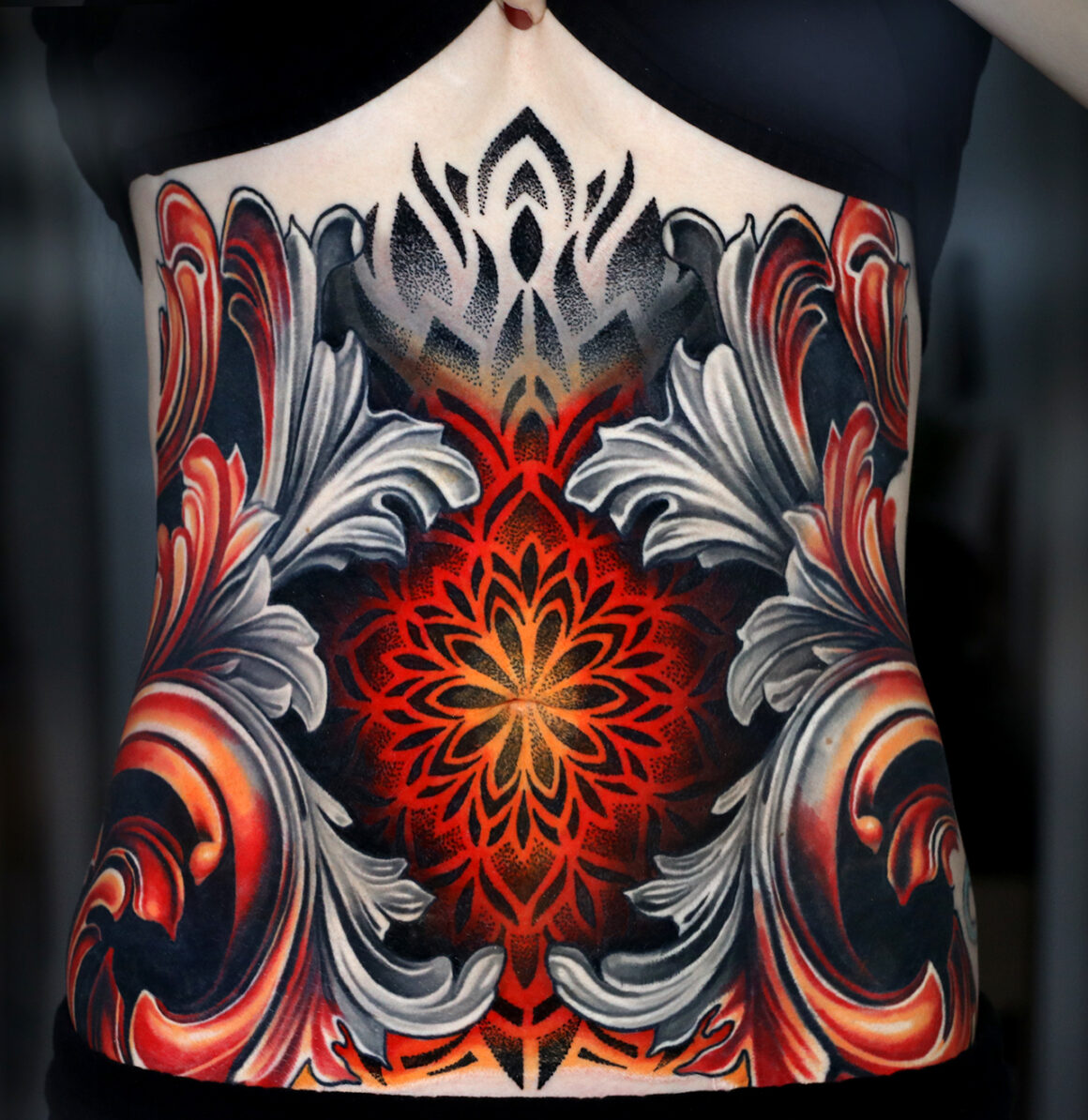 As far as tattoos go, I would say just look at your work on Instagram and be amazed by your blend of colours, impact of the figures portrayed, and dark tendencies. Tell me more about your role as a musician instead?
Well, when I was younger, I was in a band for a long time. But the tattoo world as I was growing up took all the place in my life. It's just recently that I needed to bring back that part into my life. So my "brother" Martin Savard and I decided a year ago to create a project named Botaniste (IG: @botaniste_official).
My role in the project is kinda blurry! (laughs) I do lyrics, voices, some guitar parts, some piano lines, some bass lines maybe, some compositions, etc. And Martin does a lot of all the same stuff too, but much more! (laughs again) We are only two, so there's a lot to cover. We are currently working on our first album named 'Figure.23' that will come to life in fall 2023. So stay tuned for it!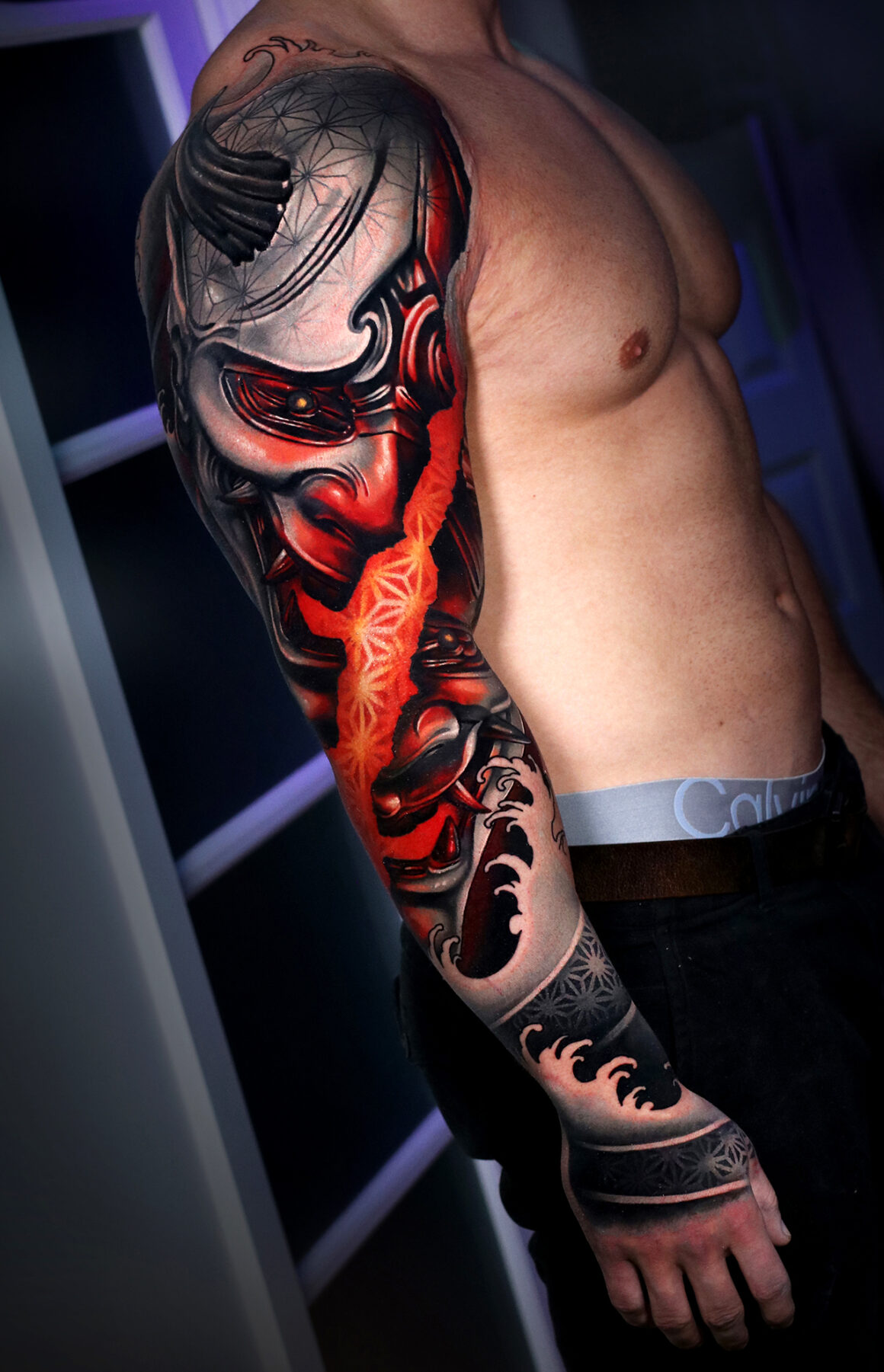 How many cats do you have? I noticed some on your Instagram profile…
Well I don't own one personally right now but I'm feeding few of them at my place… Like maybe 3 of them that are regular "customers"! (laughs)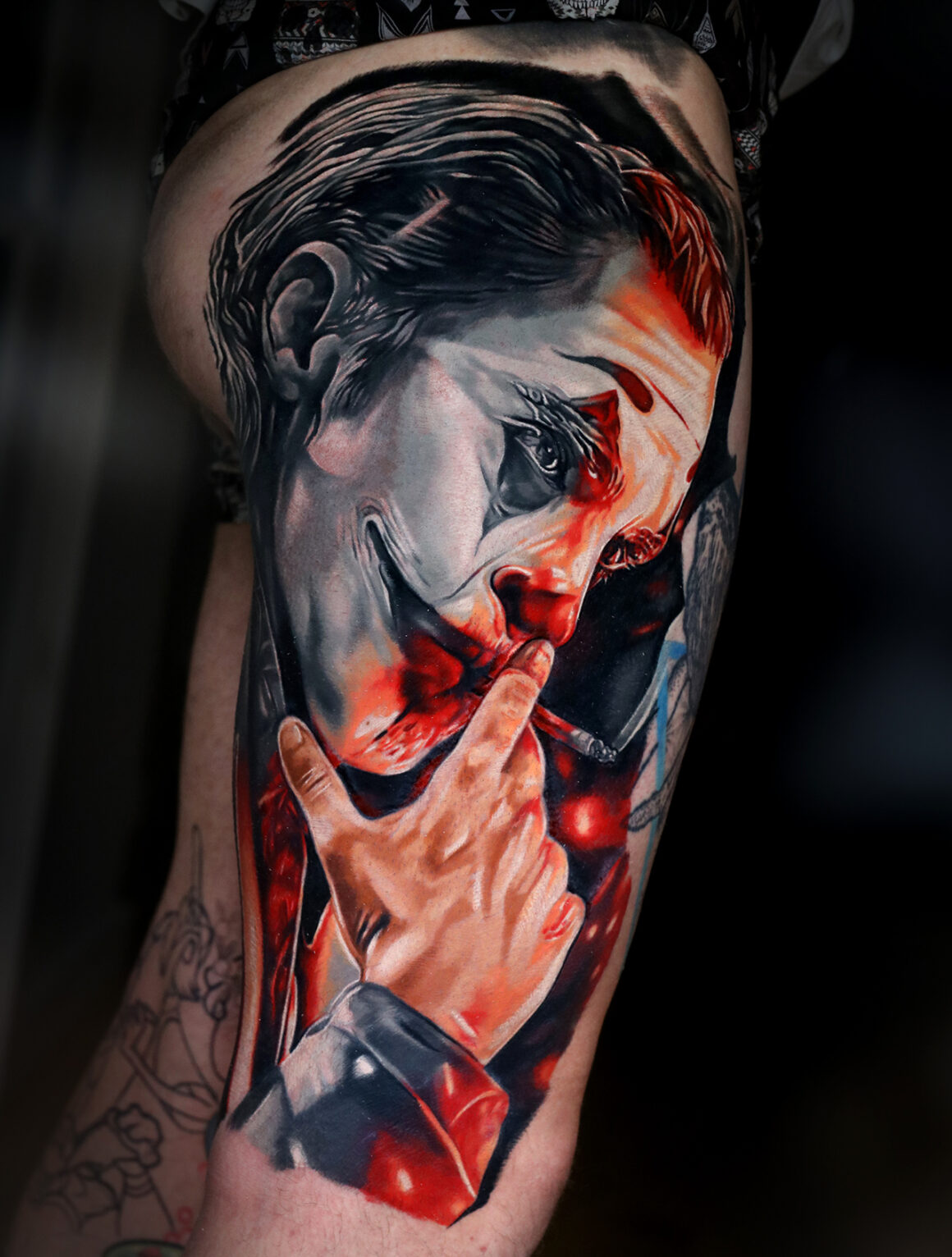 Can you reveal what was your major influence in forming your artistic DNA? An artist who doesn't have to be a tattoo artist, I mean.
Wow! That would be one of the most difficult question to answer! How to choose one person, that influenced me, when everything, every day, from every kind of art or way of acting, influence me.
I would say that super young, the person that influenced me the most and that I was always looking up too as an artist was my brother Sebastien.
He is an incredible musician and an artist that I have always admired and always will. If we are talking tattoo wise, then Luka Lajoie (IG: @lukalajoie) is the person who influenced me in creating my dedication, my ethic and my way of work in that field.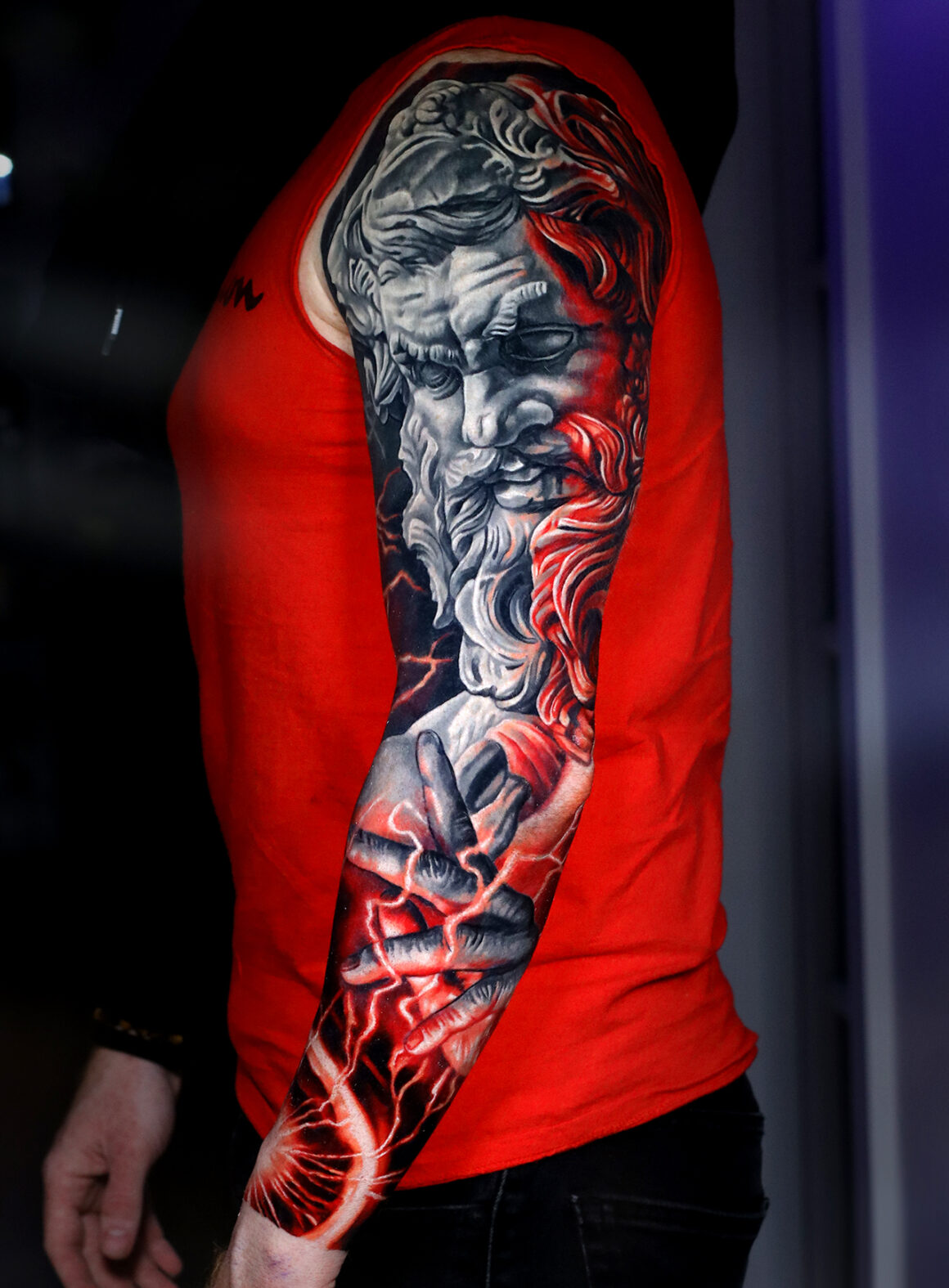 The color red is predominant in the flag of Canada. The red ink is one of your trademarks. Just a coincidence?
It is indeed, just a coincidence! (laughs) I just happen to like the contrast of the Red with the Black and Grey at the beginning of my work and finished by creating my own palette of it with time. But I can do a lot more than just those colours…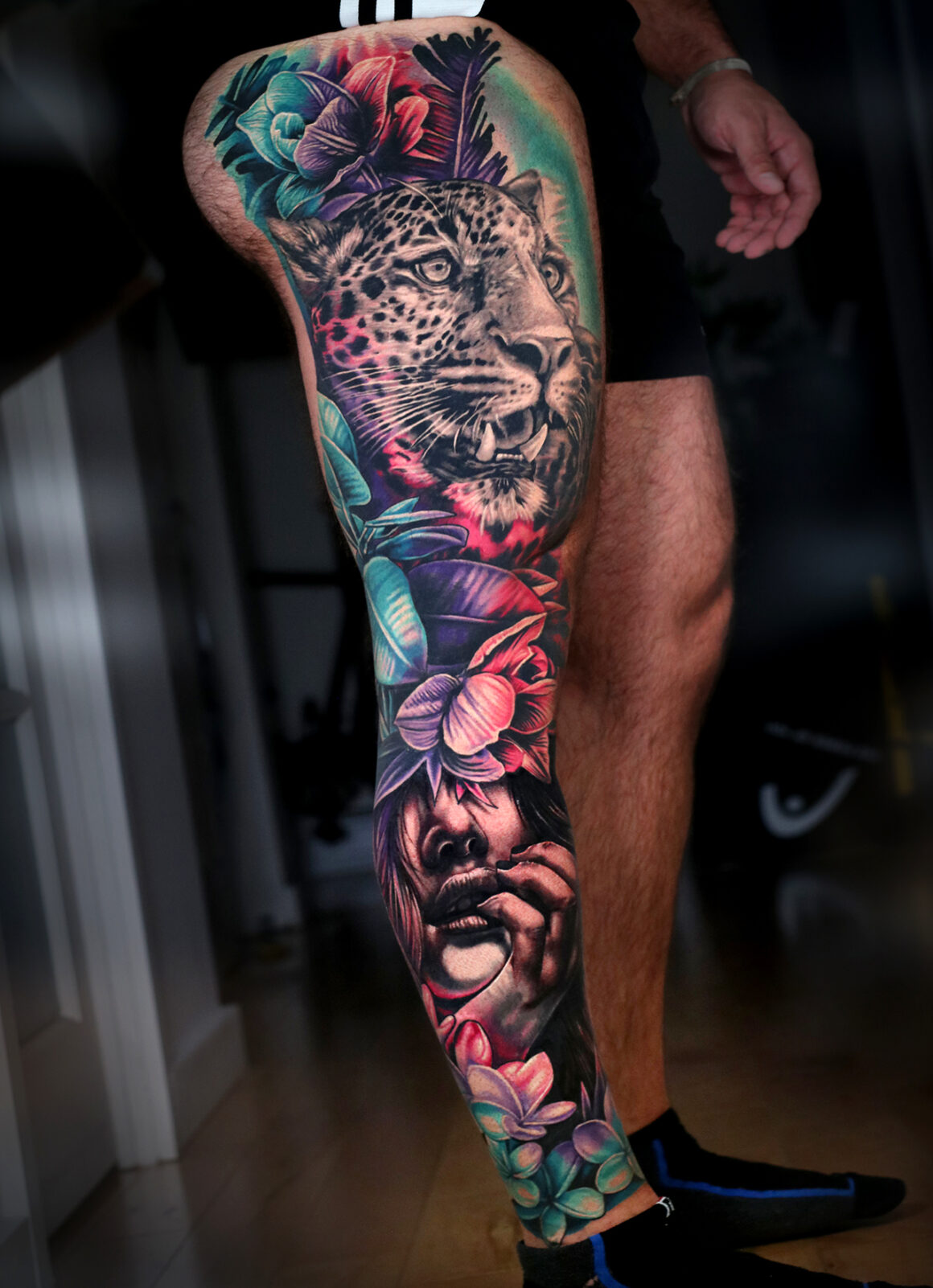 Where exactly do you work in Montreal?
I'm in a private studio alone. After having worked in different kind of places, I've noticed that the most important part of everything is the experience that you share with your client.
It's important they get the best of everything and from my experience, the private session is the one that was the most liked by pretty much everyone.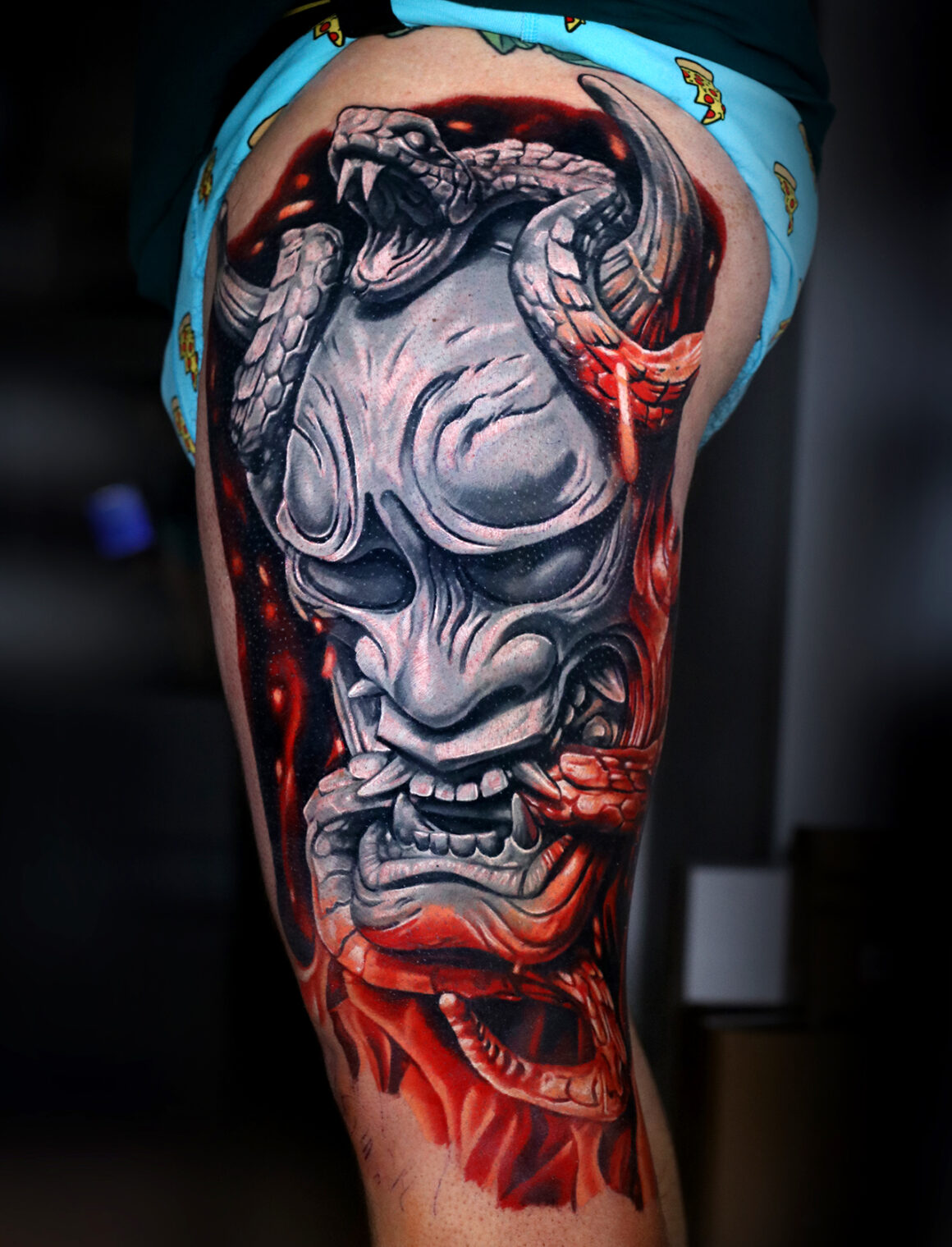 Do you like tattoo conventions and guest spots?
Hmmm… yes and no!? Hahaha! I'm a really anxious, stressed person and not a fan of big crowd, even if it's really difficult to notice as I become very social rapidly. But I do few conventions every year, such as the 'Gods of Ink' in Frankfurt (IG: @godsofinktattooconvention), that has happened recently, or the 'Tattoo Planetarium' in Paris (IG: @tattooplanetarium) which will take place in February 2024. That helps me to see other people's work and stay connected to the community. I do few guest spots as well so I can to see my friends here and there and have a good time.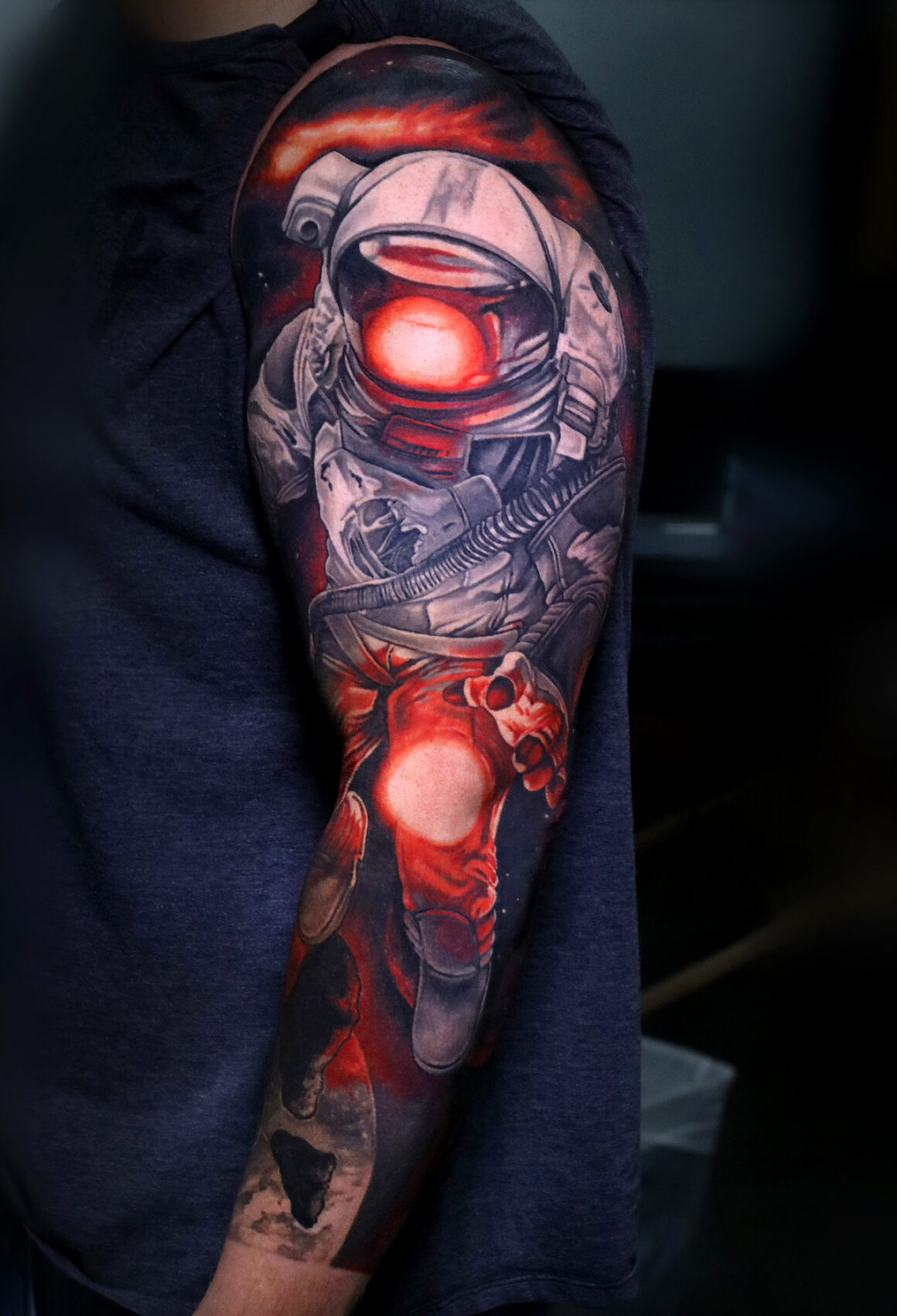 Explain to me just in conclusion what is your greatest asset in relation to your work as a tattoo artist?
My greatest asset? I wouldn't know really what to say. But as corny as it may sound… I would have to say that it's my personality that makes me always want to improve myself every day to become a better person and artist.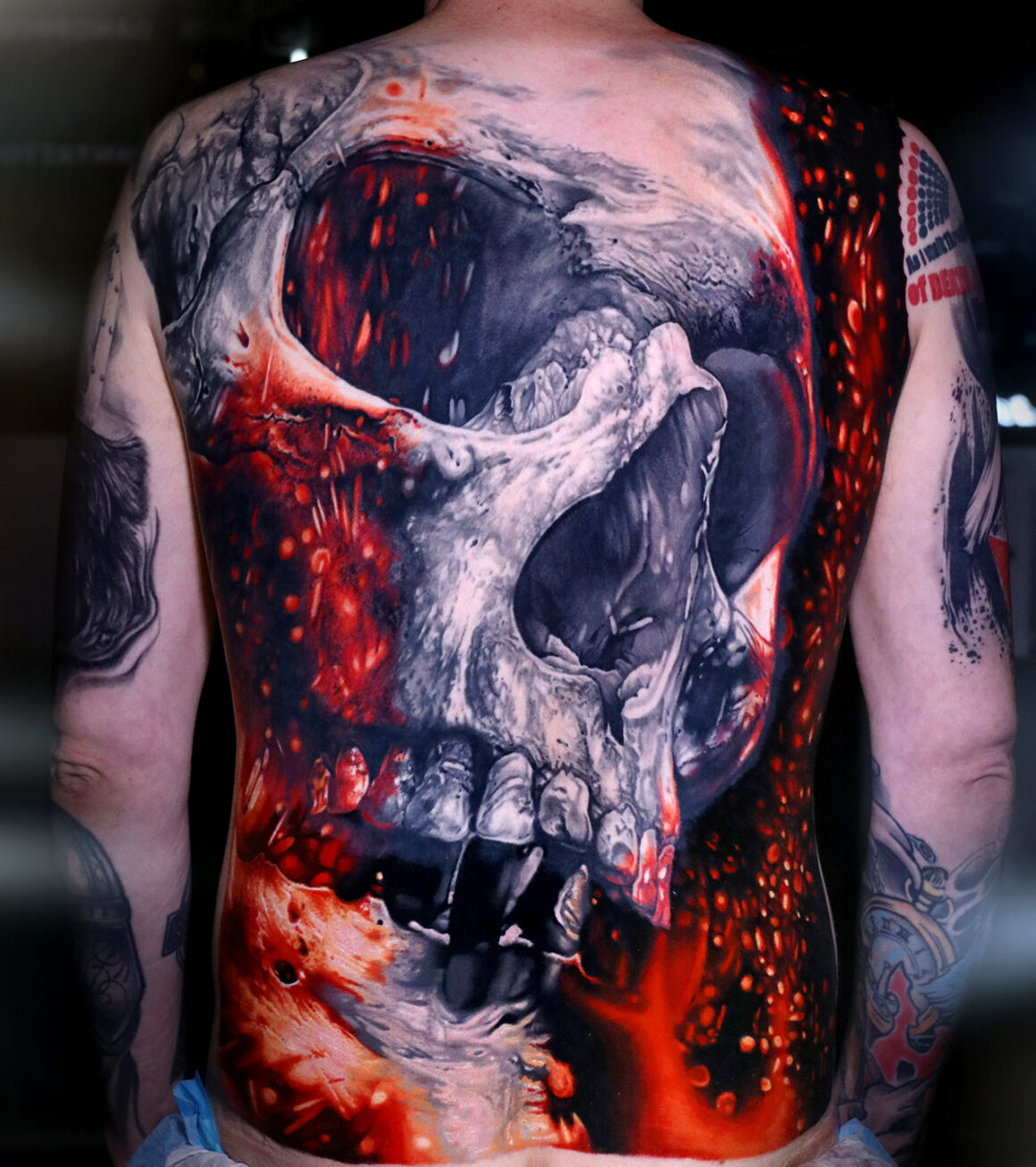 And your last famous words are…?
Be the best version of yourself. Don't compare, don't diss, don't be negative, make your own way with your own wonderful colour with respect and create your own future and share genuine love! Oh and love animals too! Especially cats. Love them, adopt them – cats are wonderful, they are the best!