She loves to surround herself with flowers, music and curious things that catch her eye. St. Paul's, London's cathedral, is a landmark for her, to be observed, imagined in memory and reproduced on canvas, paper or other media that make her mind free to travel.
Exactly as she is, Federica, who divides her time between Milan, Florence and London for her work and her passion for tattooing.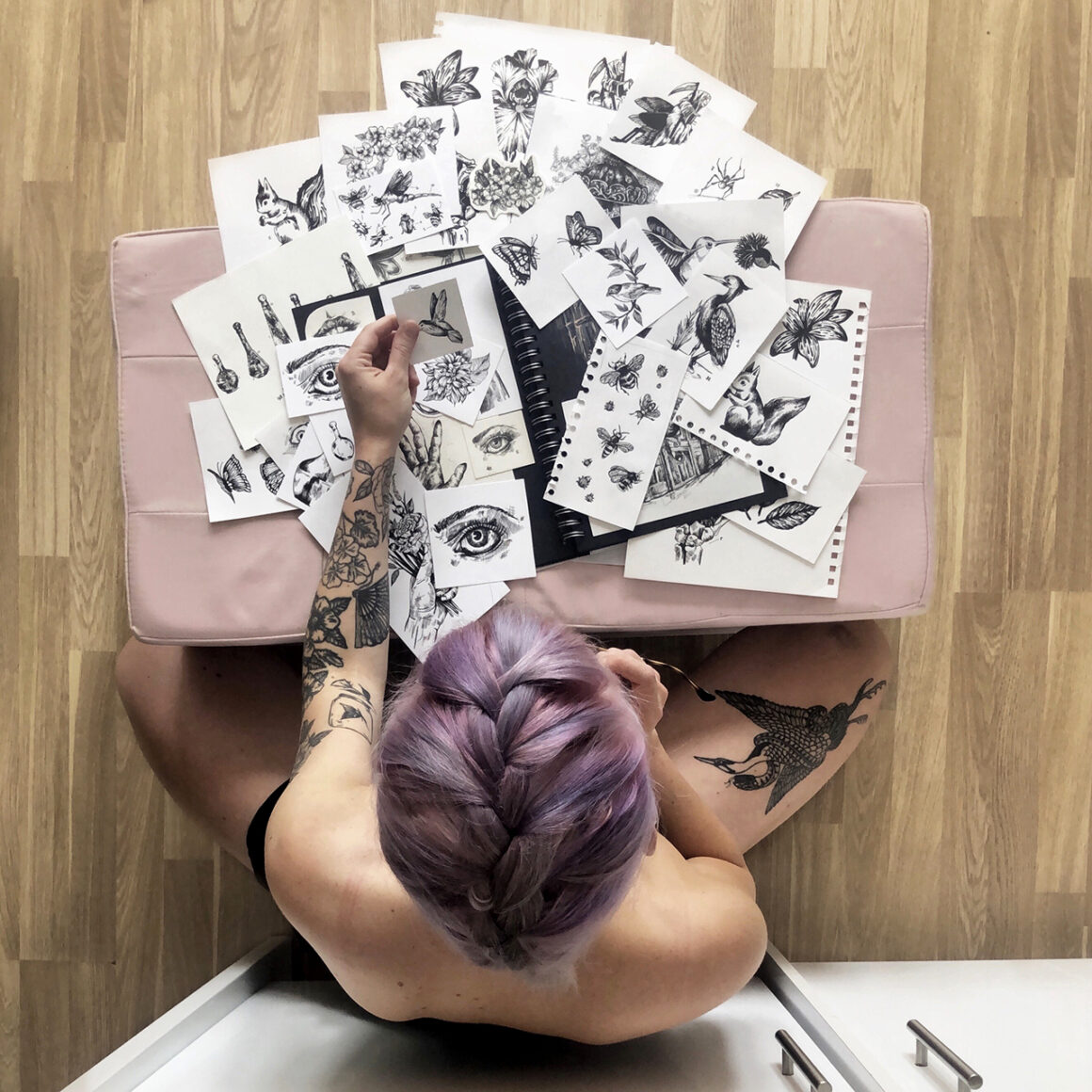 Hi Federica, would you like to introduce yourself to our readers?
Hi! My name is Federica, but I go by Fredriha on Instagram – a mix of 'Fredrica' (how most people say and spell my name in the UK) and 'Federiha' (how my name is pronounced in Florence). I'm from a super tiny town near Florence, Italy, but spend my time living between London, Milan and Florence. And yeah, I love to draw things on people!
Who is Federica in everyday life and what does she like to do?
Work takes a big part of my day and nights to be honest. I don't like to be just a printer, I like to research, keep studying and to always find something new to work on. I like to keep myself busy, to always have updated new small prints to give to each of my clients, new stickers, and so on.
But I like to just be out, be a tourist in my own city, and when possible see a new one.
Aside from learning guitar, my main hobby is to go to see gigs. Mostly I like to support and find small new bands. If you're in the London, Florence, or Milan music scene, I've probably seen you!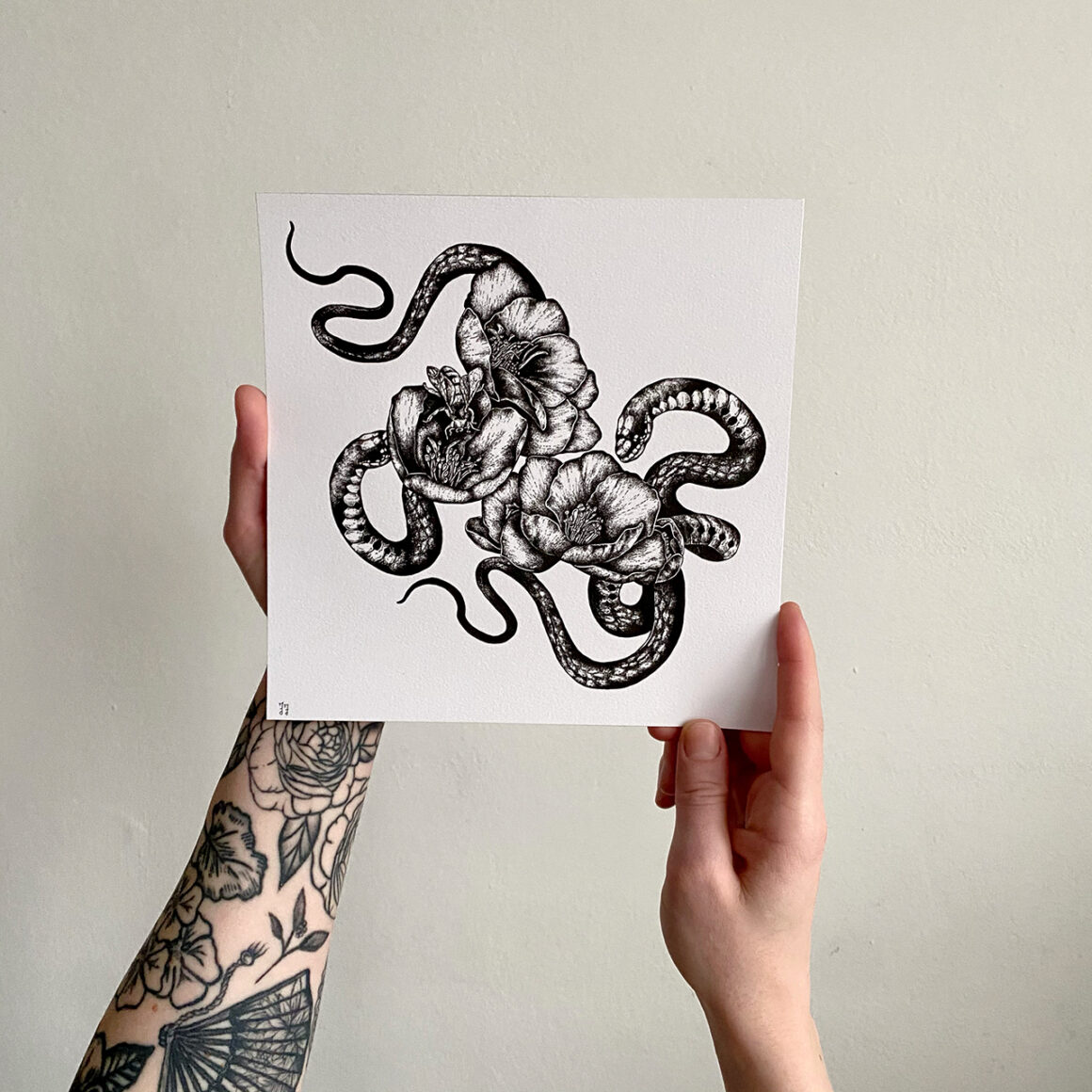 Are you an illustrator before being a tattoo artist or did the two go hand in hand?
I started as an Illustrator, mostly on commission. I worked for a bit in the fashion scene and then for a few years collaborated with bands, music labels and magazines. Being a guitarist, I enjoyed the music stuff quiet a lot being my…. Okay, I'm not that good actually! Now I'm simply a tattoo artist.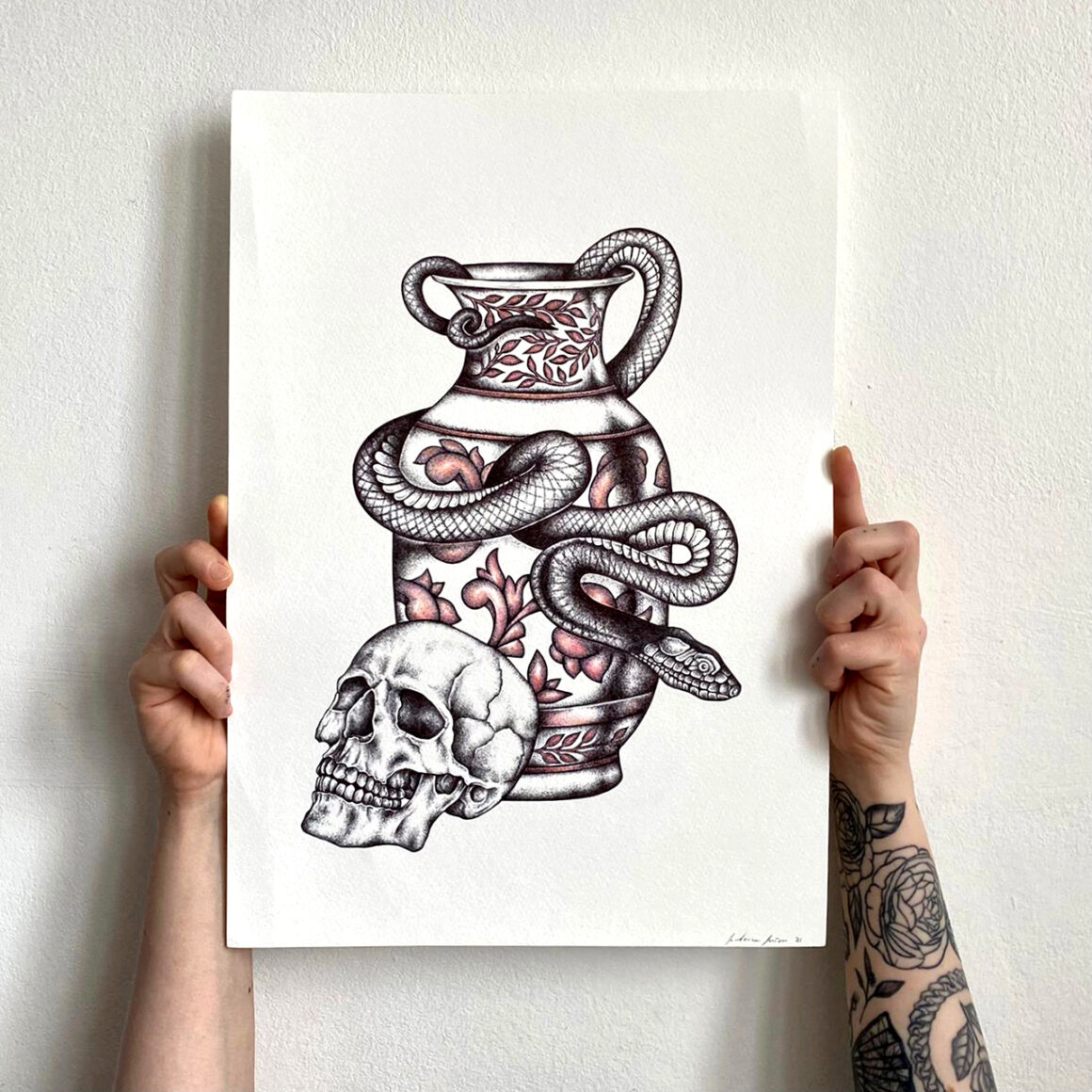 I often take on commission, but with all the recent work-related travel, it has been a bit more difficult. I've recently started getting back into painting again. I want to get back to be that person that sits in a square to draw building and people passing by. I used to have some of my art displayed in small exhibitions around London.
Your illustrations are very refined, just black lines, and a lot of lightness. Do you also bring these characteristics to your work on skin? What do you like to draw and tattoo?
I feel that my style changes a tiny bit every passing week. For most part, the technique stays the same, but each medium gives me different feelings and I like to follow instead of forcing something.
Art is expression, after all! With my clients, I never send the sketch of how the tattoo is going to be like once finished, or where the details are going.
I never shade it ahead of time. It's the design itself and the skin that inspires me and the final picture. It's never the same as the one before, even if the actual design is the exact same one.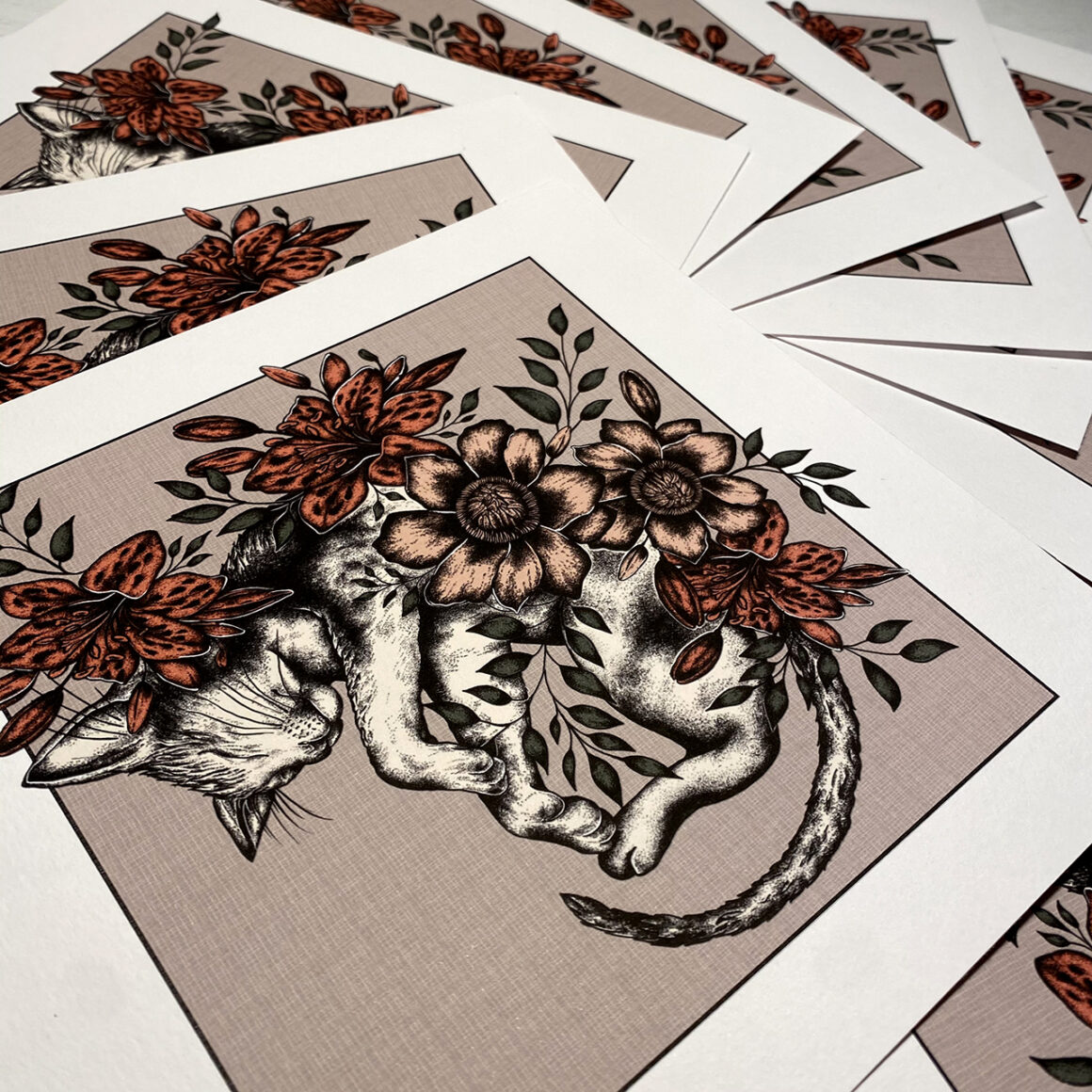 Your most recurring themes often include flowers. Where do you get the inspiration from?
I love flowers! I grew up surrounded by so many of them! My dad loves taking care of flowers, and every year he fills the balcony with gorgeous geranium, and the garden with a jasmine arch that climbs all up on the side of the house.
I like to draw flowers, animals and architecture and, most of all, mixing the things together.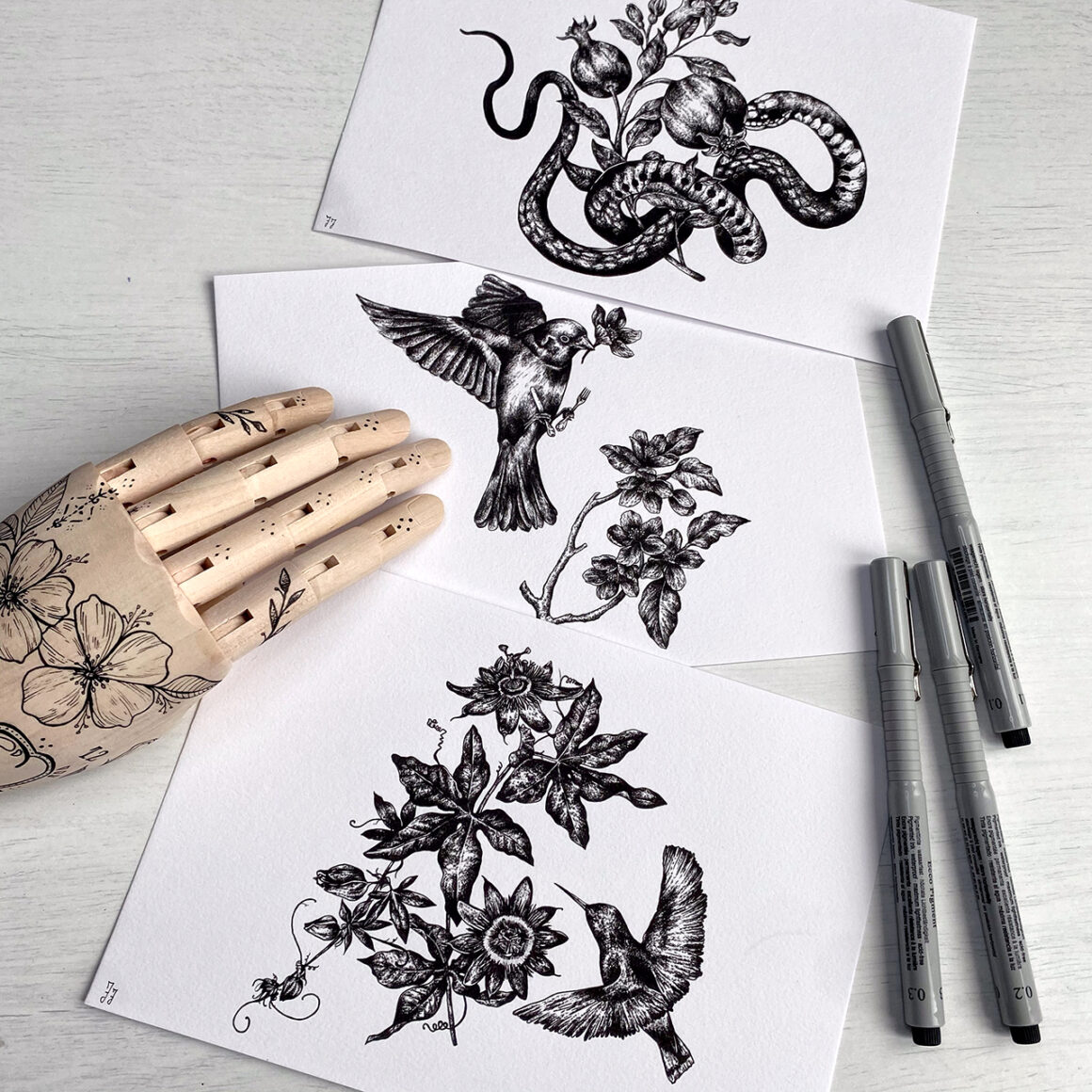 I'm enjoying doing "outcast" animals that no-one likes or wouldn't consider as first option to get tattooed (like lobsters, grasshoppers, etc..). I get inspiration from the vintage 18th-19th century anatomical\scientific prints, mostly in etching and engraving.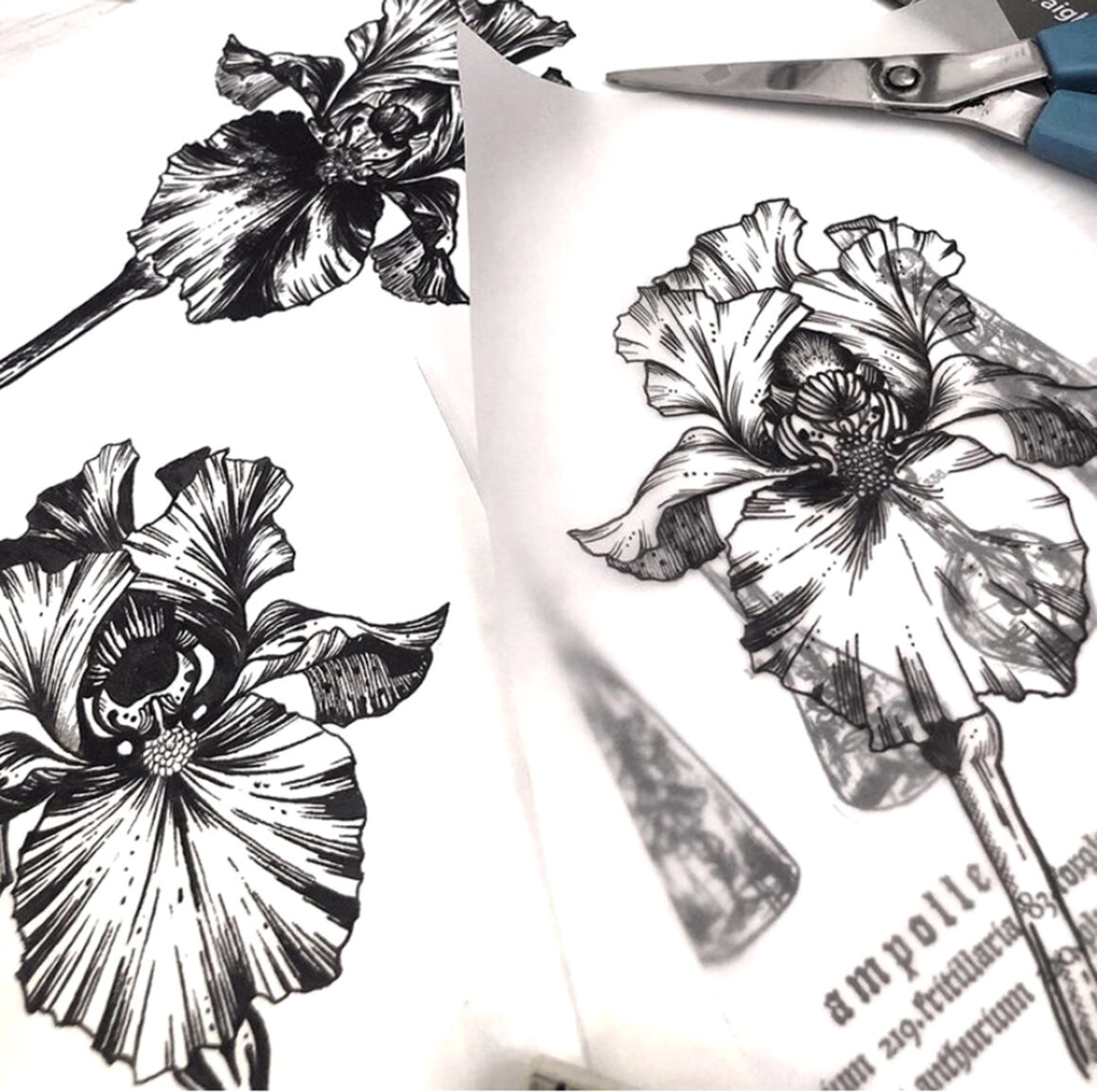 As you say you like to work on architectural works. Some reference to Gothic perhaps?
Yes, I like to dedicate myself to architectural drawings. For a while back, in high school, I actually wanted to do architecture and my first tattoo is in fact a drawing from a famous architect. My main inspiration is the St. Paul cathedral of London. I used to go there at least once or twice a week to just look at it, and then back at home try to draw It from memory. I don't like to finish the buildings I draw, I like to imagine them like floating, light and fragile.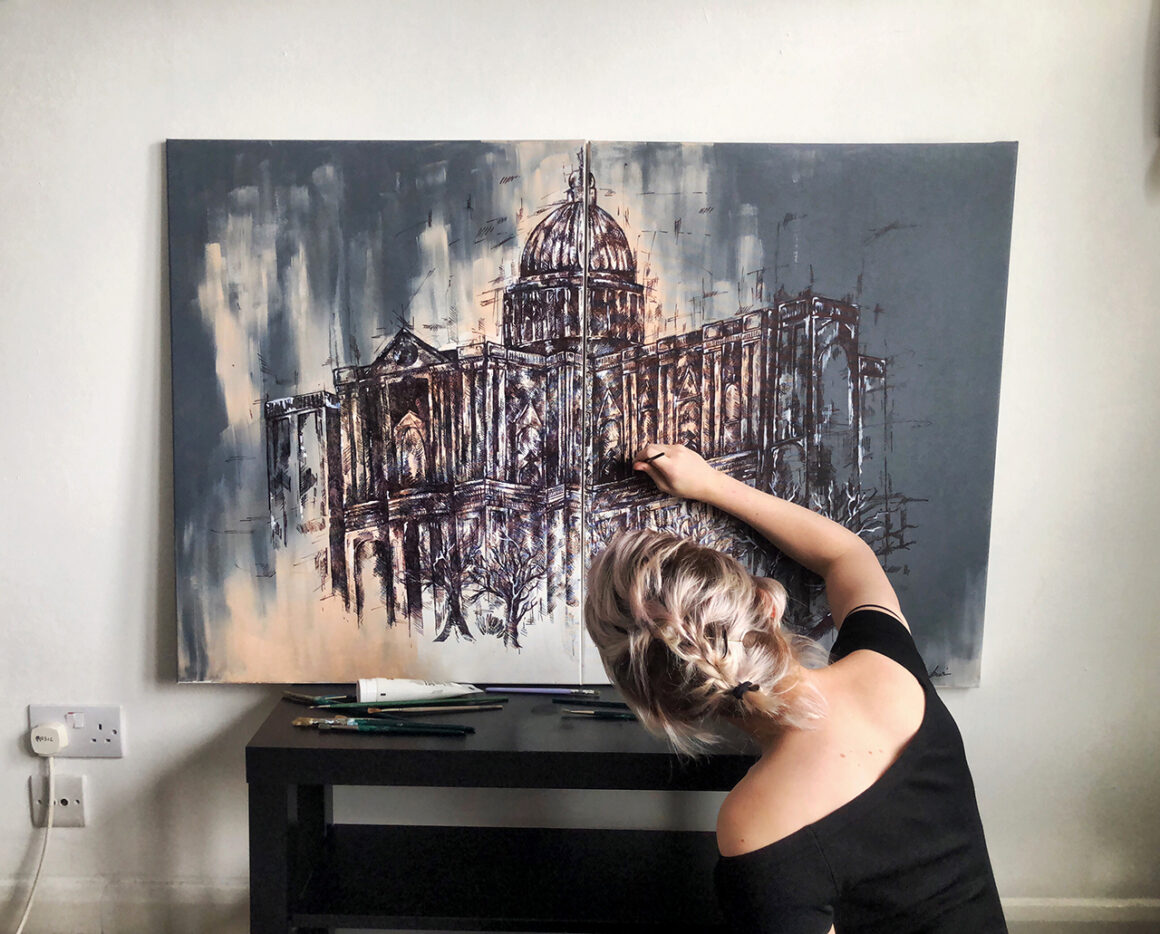 I saw that among the supports you choose besides skin and drawings are snowboard or skateboards, are they yours or did you make them for someone in particular?
They were actually on sale! I did them just for fun and then most sold at events and others got commissioned. I grew up skating and surrounded by people with skates, watching TV shows; I actually used to skate to work as well, before I realized that I needed my wrist intact to work! But it was really cool to skate to my old job in suits and skirts all around London.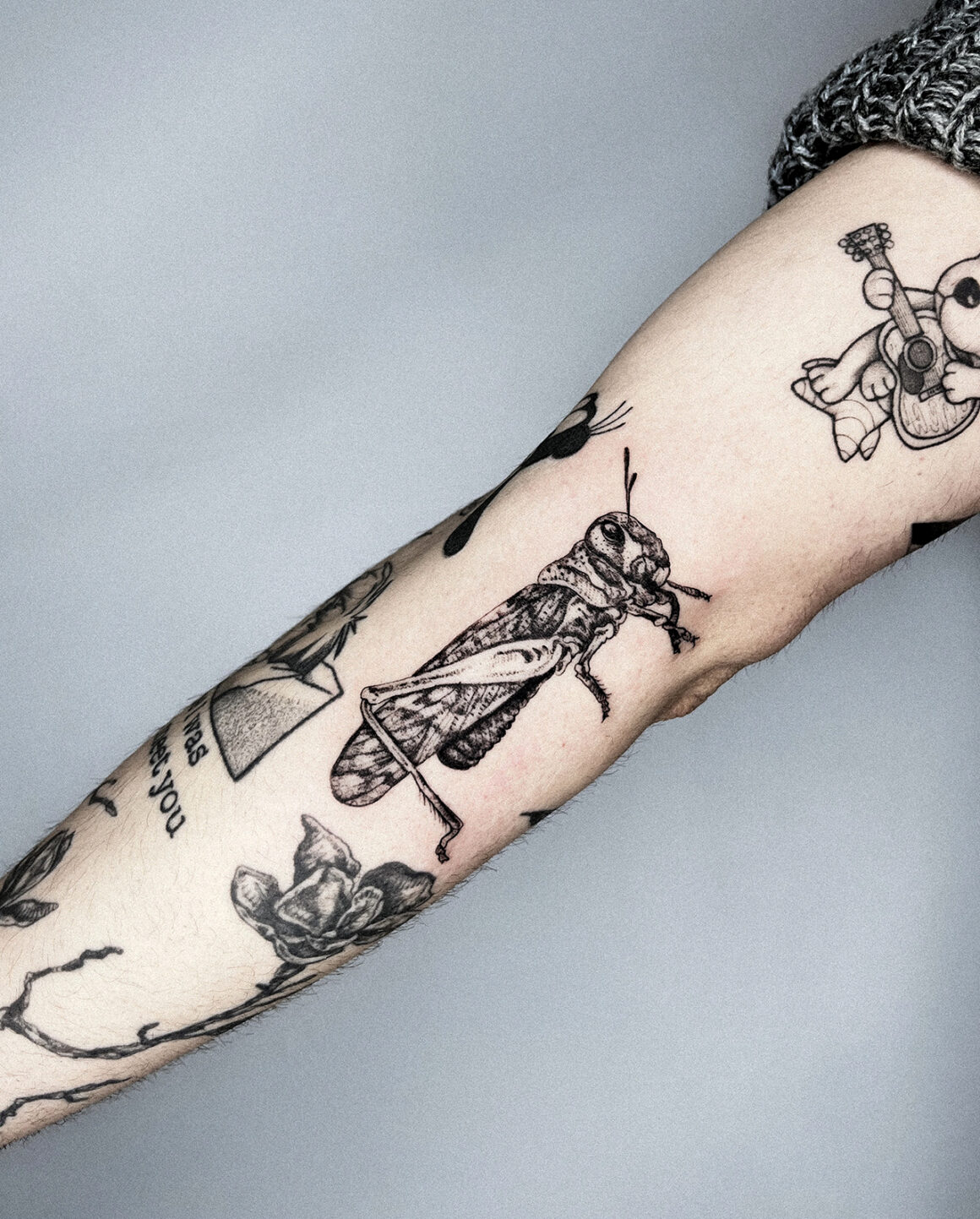 You split your time between Italy and England. When did you start your collaborations and how do you organise yourself?
I moved to London in 2015-ish and lived and actually started all my artistic career there. I started working in a tea shop in Covent Garden, while painting and working on commissions during days off and most nights. Slowly I worked my way up to a better paid job that allowed me to be part-time, and be able to use my free time to paint, participate at art shows, trying to get my name known in the underground music scene and keep studying and researching. All things that brought me here now!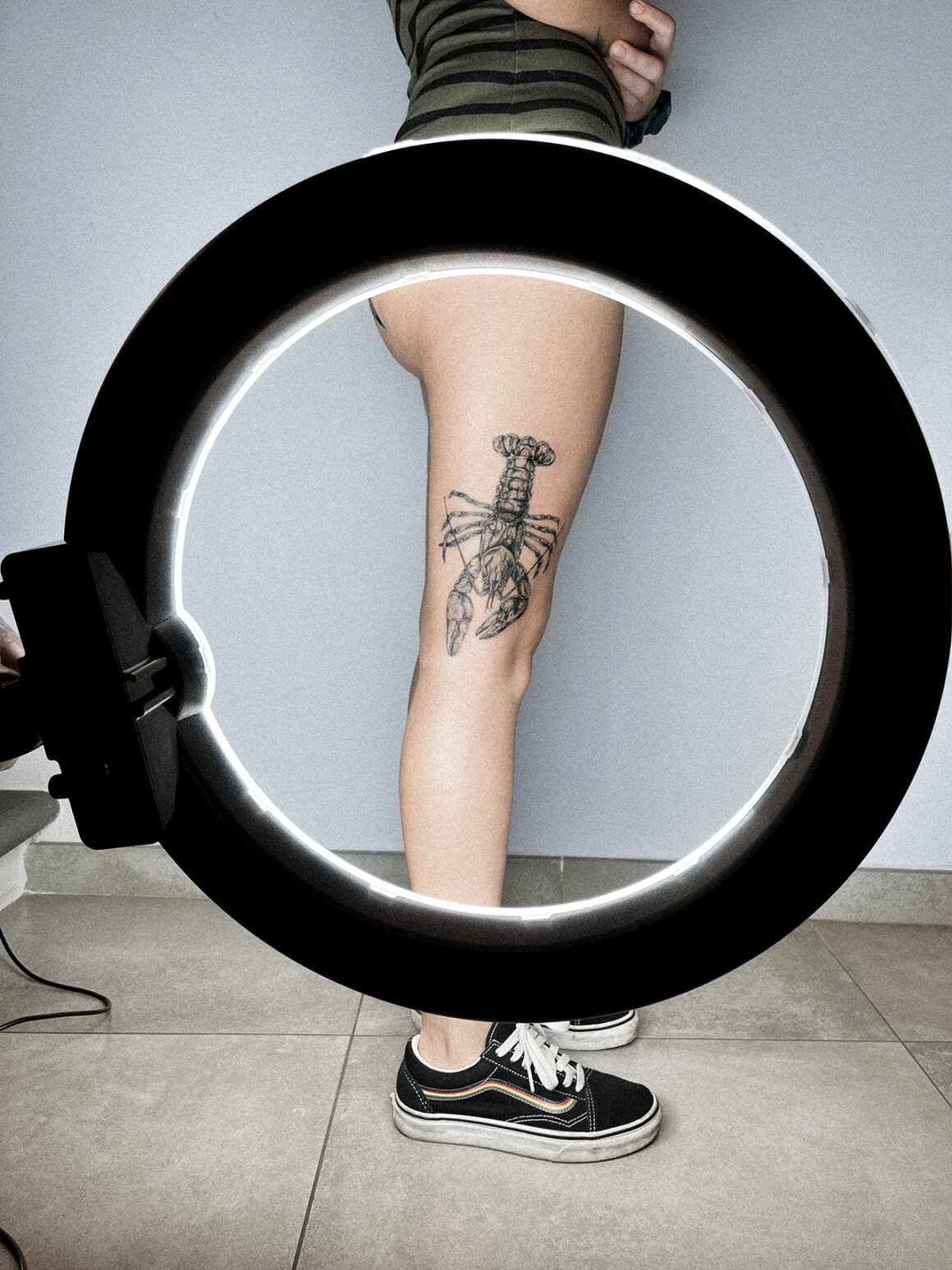 I moved back to Italy almost 2 years ago for a tattoo job offer, but never really left London. So every chance I get, I finish my vegan chocolate and go back! I'm super lucky to have a great relationship with the guys at Sixty Ink, and Claudio was super nice to let me be a fixed guest in their studio. And in Florence I have always guest spots with amazing team of the Blue Tony Toy.
I know it all sounds exhausting, and stressing (and it is), but I honestly love it! I'm able to combine the travelling with my dream job!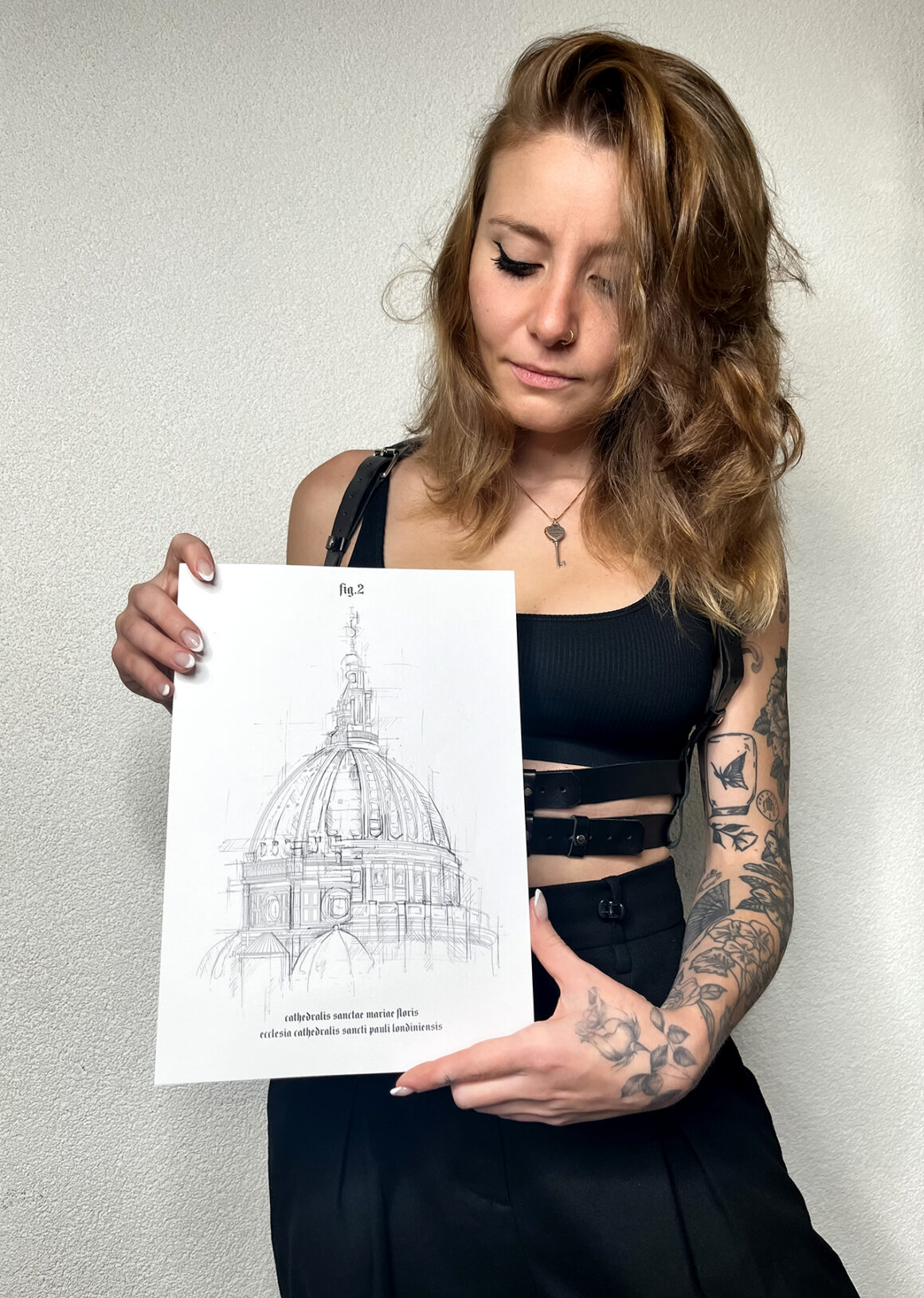 What did you choose to get tattooed on you? Can you tell what are the most important tattoos for you on your skin.
I'm most likely to give freedom to the other artists! I like to just say "whatever you'd like to do!" Everyone has that drawing that they really want to do, but can't find the clients that want to do it – well that's me!
I like to get the artists' "signature" tattoo – whatever represents their style the most.
I mostly have black patch work on myself, no colours. For sure, the most important one is the writing in my grandma's calligraphy, from one of the last birthday cards she gave me, just saying "I love you, Grandma and Grandpa". And the one I like the most is the rose on my hand, no particular meaning, I just love it!