The thrash legends and authors of 'Persona Non Grata' will play mainly in Germany where 12 concerts are scheduled, but shows are expected everywhere.
US thrash metal heroes Exodus have announced their 'Persona Non Grata' European Tour 2022, which will take place in July and August and will feature a slew of wild club shows as well as appearances at a variety of European most renowned summer festivals.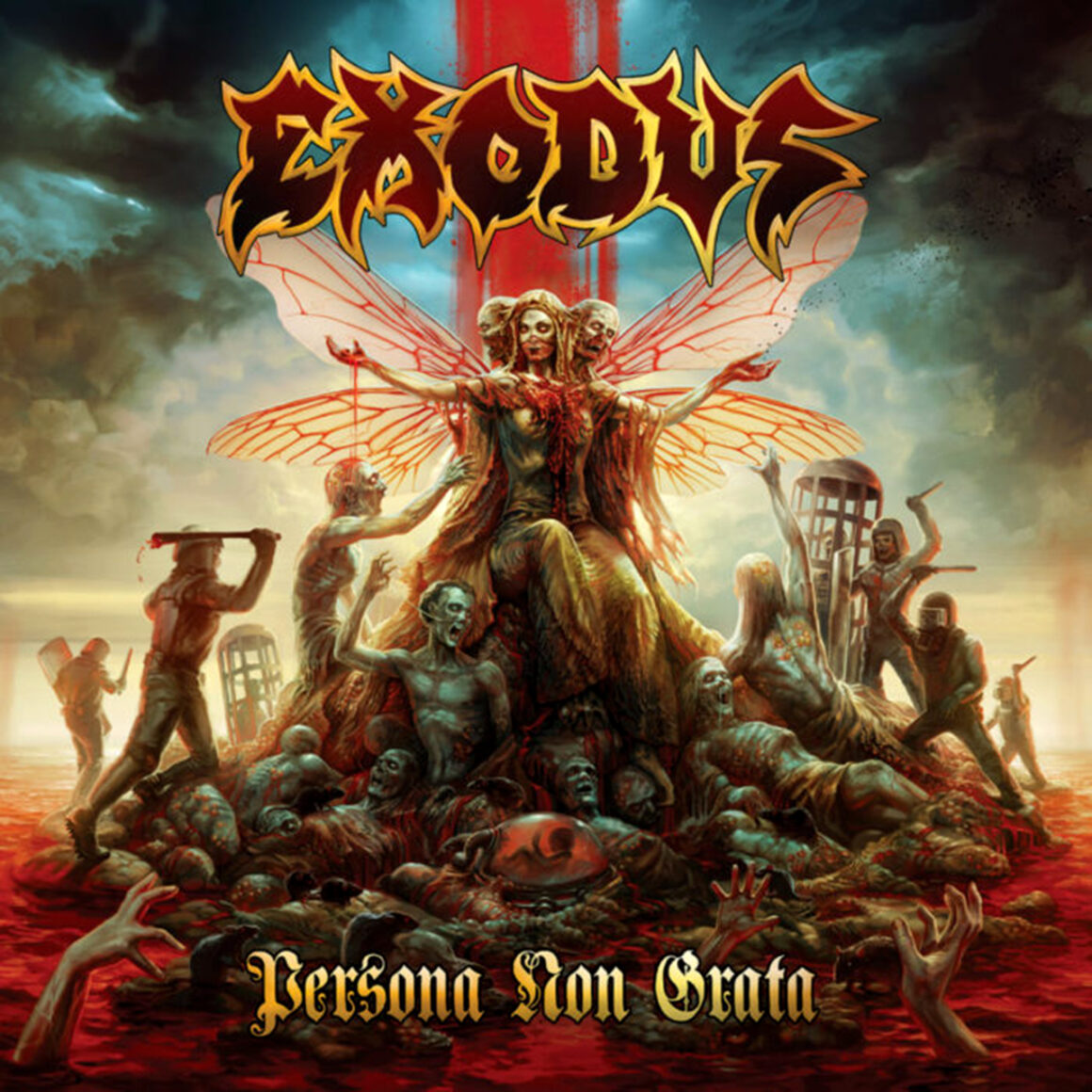 Some of the shows will also feature their peers and label mates, Testament. You can see all the European dates below.
Exodus have released their new studio album 'Persona Non Grata' in November 2021 and are eager to play a few of these brand new songs and a selection of classics live for their European fans.
Literally translating to an "unwelcome" or "unacceptable" person, 'Persona Non Grata' touches on themes of modern societal disgust and degradation.
The band gathered at Tom Hunting's house in the mountains where they produced and recorded 'Persona Non Grata' from three home-built studios. Steve Lagudi was at the helm of engineering while the band enlisted Andy Sneap of 'Backstage Studios' to mix the album. For the third time in the band's history, they returned to Swedish artist Par Olofsson to create the album artwork.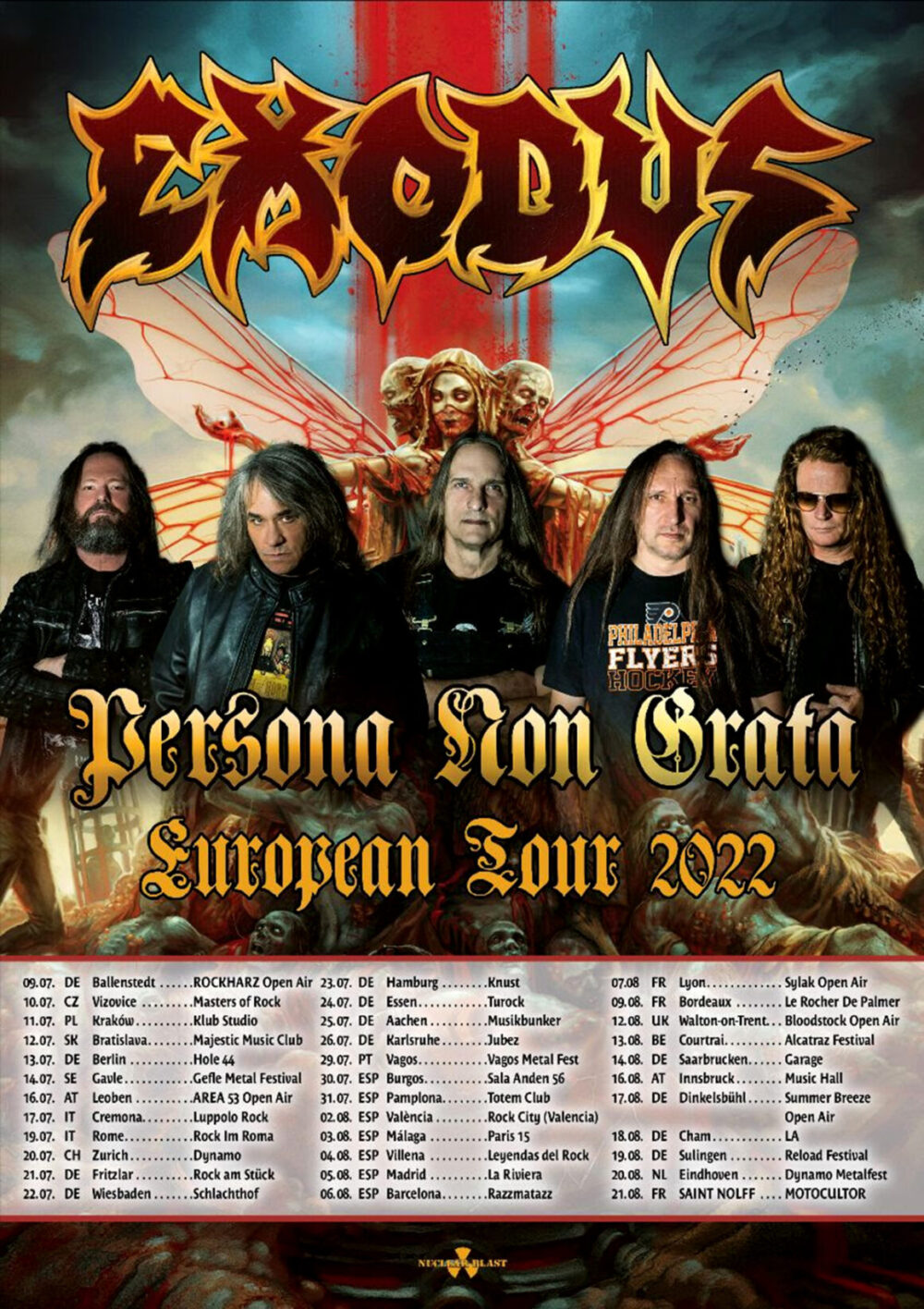 Read on 'Tattoo Life' of November/December 2021 our exclusive interview to Exodus leader and lead guitarist, Gary Holt:
www.tattoolife.com/tattoo-life-november-december-2021/
'Persona Non Grata' European Tour 2022:
09 July 2022 – Germany, Ballenstedt @RockHarz Open Air 2022
10 July 2022 – Czech Republic, Vizovice @Masters of Rock
11 July 2022 – Poland, Krakow @Studio
12 July 2022 – Slovakia, Bratislava @Refinery Gallery
13 July 2022 – Germany, Berlin @Hole 44
14 July 2022 – Sweden, Gavle @Gefle Metal Festival
16 July 2022 – Austria, Leoben @Area 53 Open Air 2022
17 July 2022 – Italy, Cremona @Luppolo Rock
19 July 2022 – Italy, Roma @Rock in Roma
20 July 2022 – Switzerland, Zurich @Dynamo
21 July 2022 – Germany, Fritzlar @Rock am Stück
22 July 2022 – Germany, Wiesbaden @Schlachthof
23 July 2022 – Germany, Hamburg @Knust
24 July 2022 – Germany, Essen @Turock
25 July 2022 – Germany, Aachen @Musikbunker
26 July 2022 – Germany, Karlsruhe @Jubez
29 July 2022 – Portugal, Vagos @Vagos Metal Fest
30 July 2022 – Spain, Burgos @Anden 56
31 July 2022 – Spain, Pamplona @Totem
02 August 2022 – Spain, València @Rock City (Valencia)
03 August 2022 – Spain, Malaga @Paris 15
04 August 2022 – Spain, Villena @Leyendas del Rock
05 August 2022 – Spain, Madrid @Riviera
06 August 2022 – Spain, Barcelona @Razzmatazz
07 August 2022 – France, Saint Maurice de Gourdans @Sylak Open Air
09 August 2022 – France, Bordeaux @Rocher de Palmer
12 August 2022 – United Kingdom, Walton-on-Trent @Bloodstock Open Air
13 August 2022 – Belgium, Courtrai @Alcatraz Festival
14 August 2022 – Germany, Saarbrücken, @Garage
16 August 2022 – Austria, Innsbruck , @Music Hall
17 August 2022 – Germany, Dinkelsbühl, @Summer Breeze Open Air
18 August 2022 – Germany, Cham @LA
19 August 2022 – Germany, Sulingen @Reload Festival
20 August 2022 – Netherlands, Eindhoven @Dynamo Metalfest
21 August 2022 – France, Saint Nolff @Motocultor