In Tel Aviv we met Yuna, a beautiful girl who loves tattoos and has two great passions: pole dance and aerial yoga.
On her skin she has tattoos of a mix of styles: old-school, traditional, blast over, abstract, because her tastes change a bit over the years, like a book that is yet finished to be written.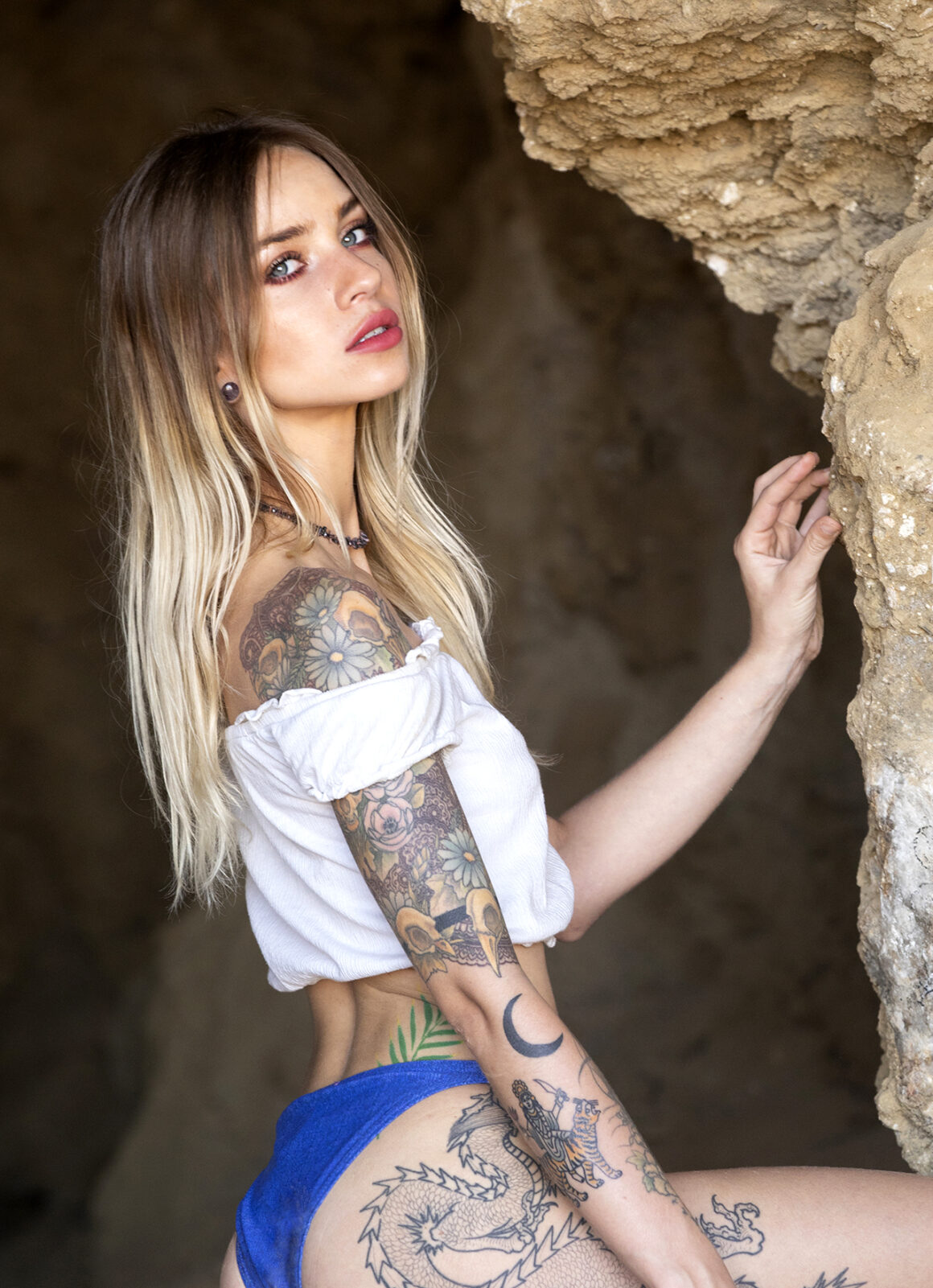 Hello Yuna, nice to meet you! First of all, we start from the bio of your IG page where you write: "I enjoy dancing, yoga, crystals and plants". So, let's talk about your passions!
My passions consist of everything that makes me a calmer person. I've been practising yoga for 7 years now in an on-and-off relationship, but in the last few years, I've been more into it expanding to different types of yoga, which brought me to my latest passion: Aerial yoga. If you tried yoga and like it, you should try it in the air!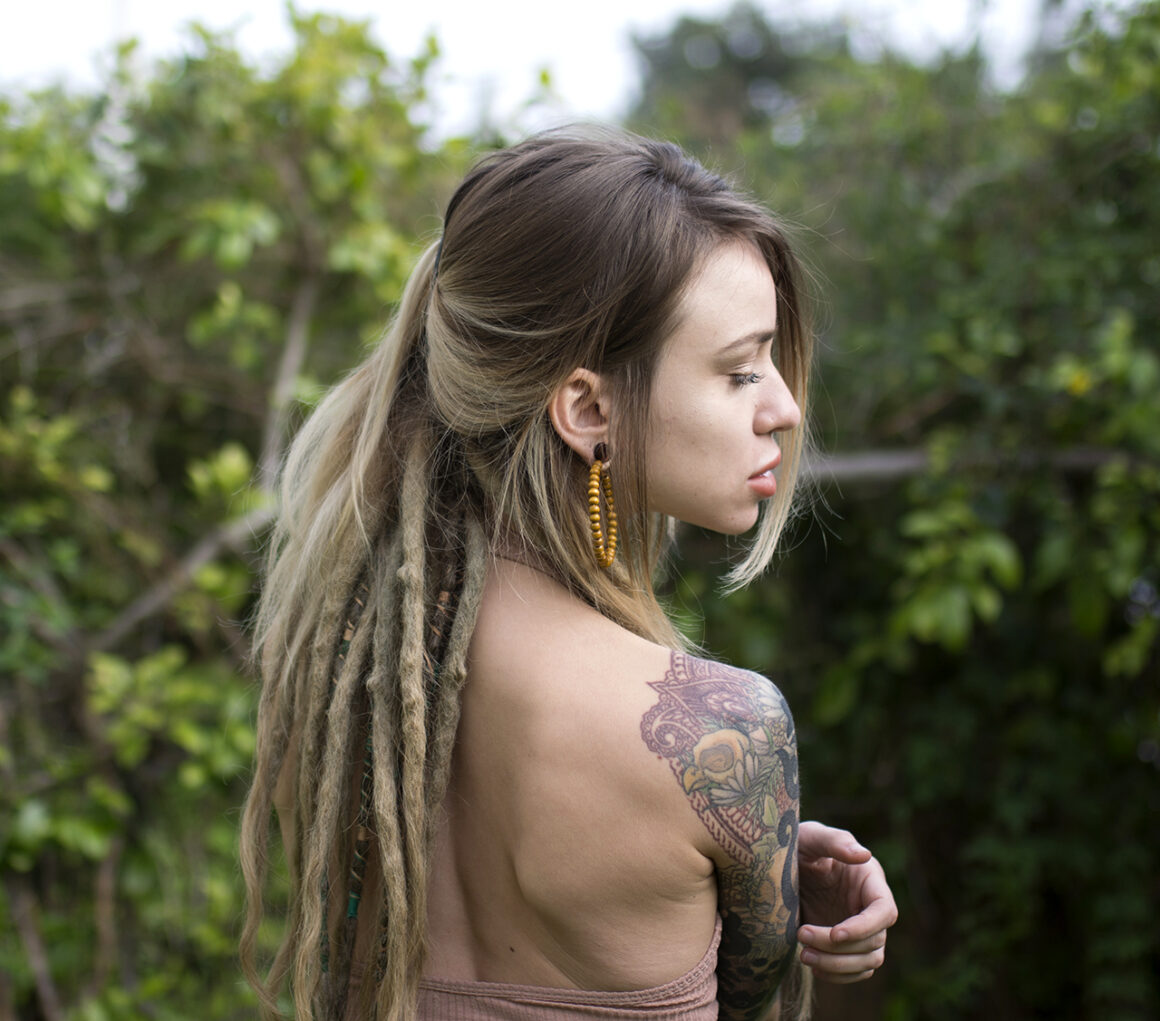 But your first passion is another one, isn't it?
Oh, don't even get me started about dancing, oh how I love pole dancing. I'm not a stripper nor would I ever become one, but I have been pole dancing in the past 5 years and I feel like a different woman from when I started. Not only does your body change and you become fit and flexible but you start a path of self-discovery of confidence and raw female energy through dancing with with extremely high heels (which are very comfortable by the way) with another group of women that encourage each other and want to have a fun workout. I was so inspired by pole dancing that I am now starting to learn how to be an instructor and hopefully by 2023 I can invite you for a dancing lesson.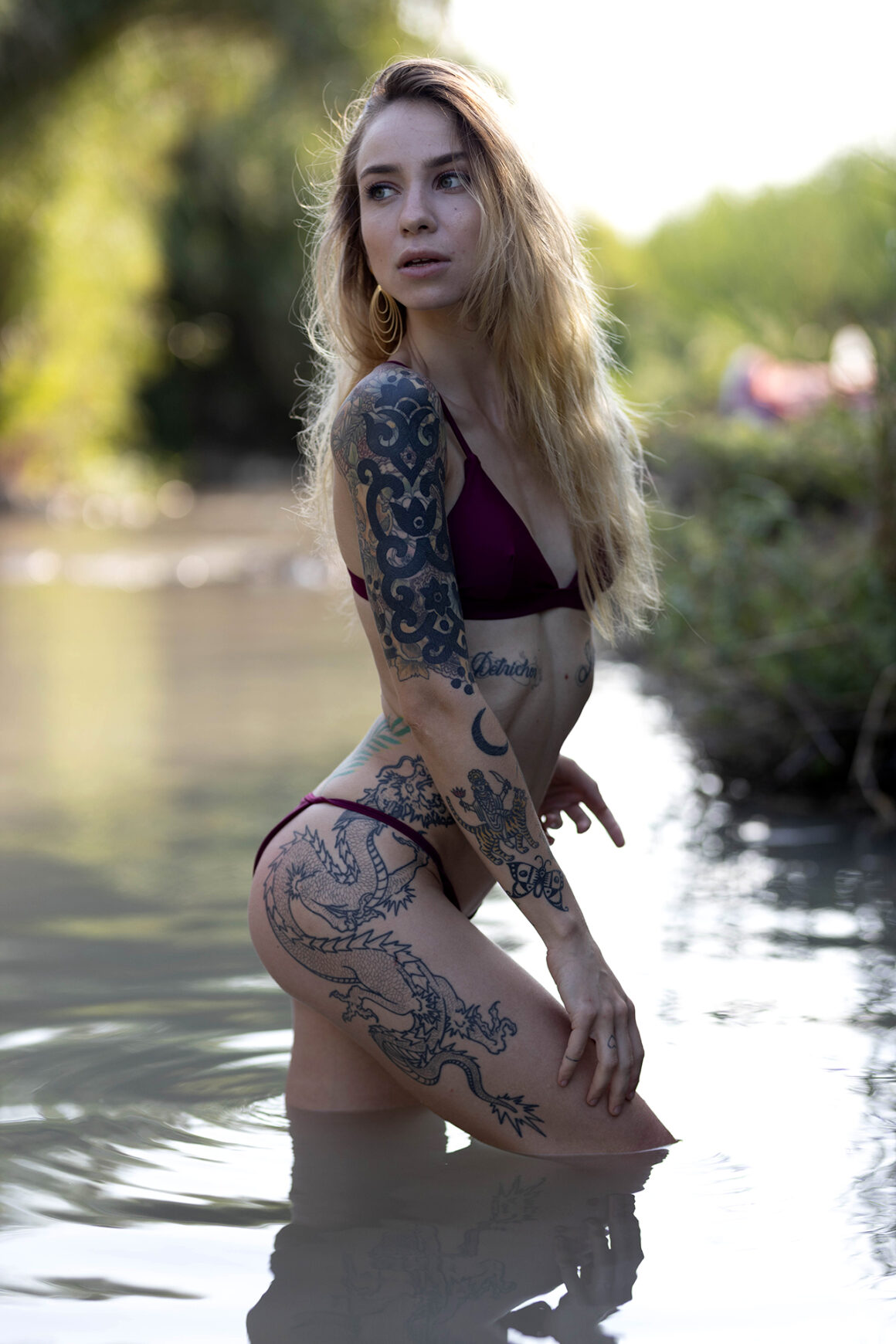 When I'm not dancing and doing yoga I like to chill at home with my boyfriend, watch Netflix, light up some incense and chill. Dancing is my fire, it's my air. I'm dancing in a studio mostly 3 times a week for 2 hours a time. I always had confidence and body image issues, I didn't believe I was curvy enough, I never had big breasts and my friends always considered me as the tomboy type. Through pole dancing, I really discovered my feminine side and my strength.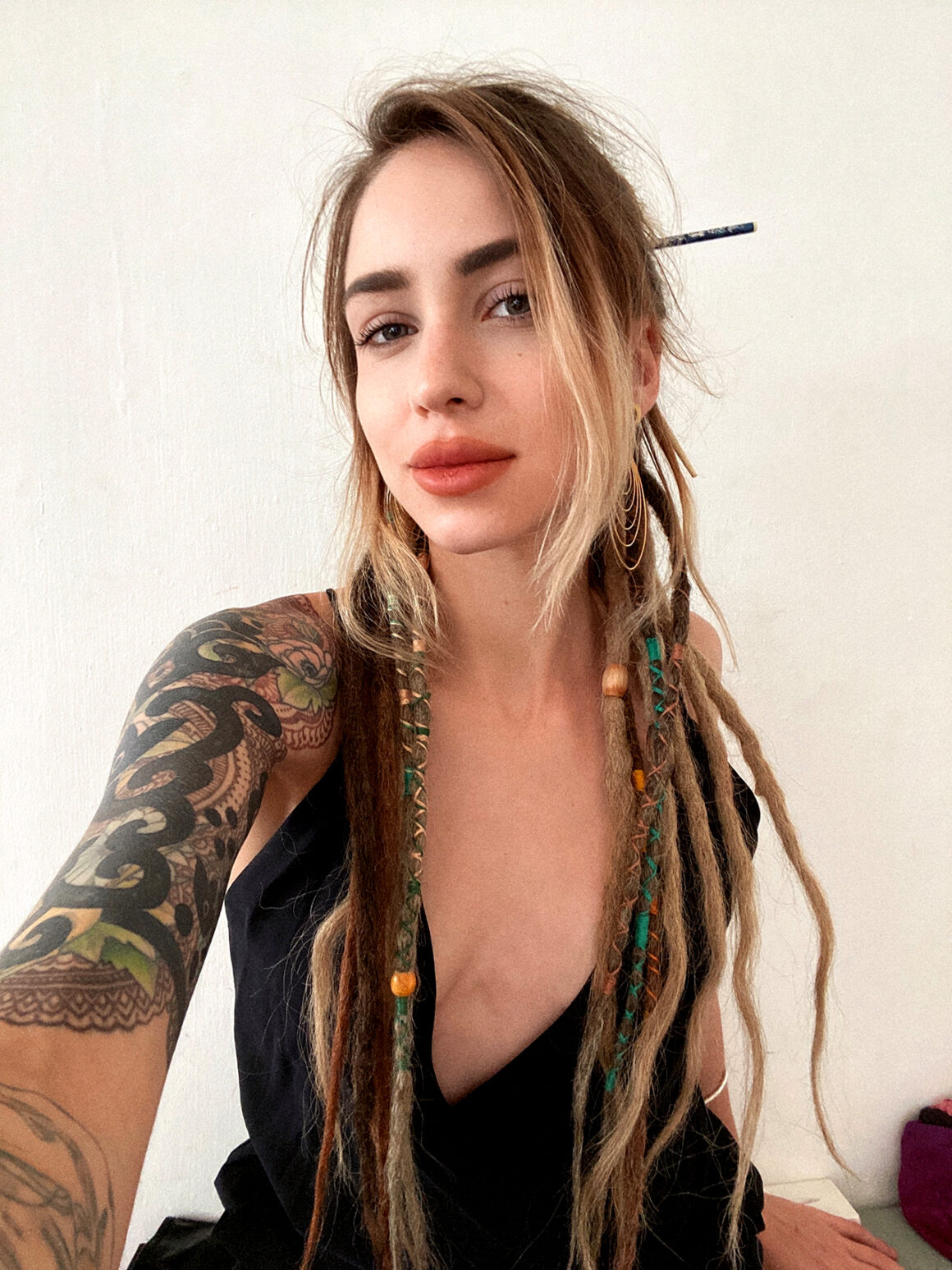 But really after all the self-discovery, the best thing is the movement, spinning in the air is extremely liberating and dancing is the best way to release tension prevent burnout and really keep the fire inside alive.
Today I cannot go a week without going to class, and I recommend it to anyone.
And now it's time to talk about your tattoos. What was the first one, and what about your actual collection? On your skin, among the others, you have flowers, a dragon and some tribal tattoos, is it correct?
I did my first tattoo, the second I turned 18. I did a piece by Audrey Kawasaki on my arm and hid it from my parents for a month. I now have a lot of tattoos, I have a traditional dragon tattooed on my thigh and it was supposed to be in colour but I stopped after the first session and left it black and white because I instantly fell in love with how it looked and today I couldn't be happier with it.
On my second tight I have the profile of an indigenous American woman wearing a ceremonial headdress.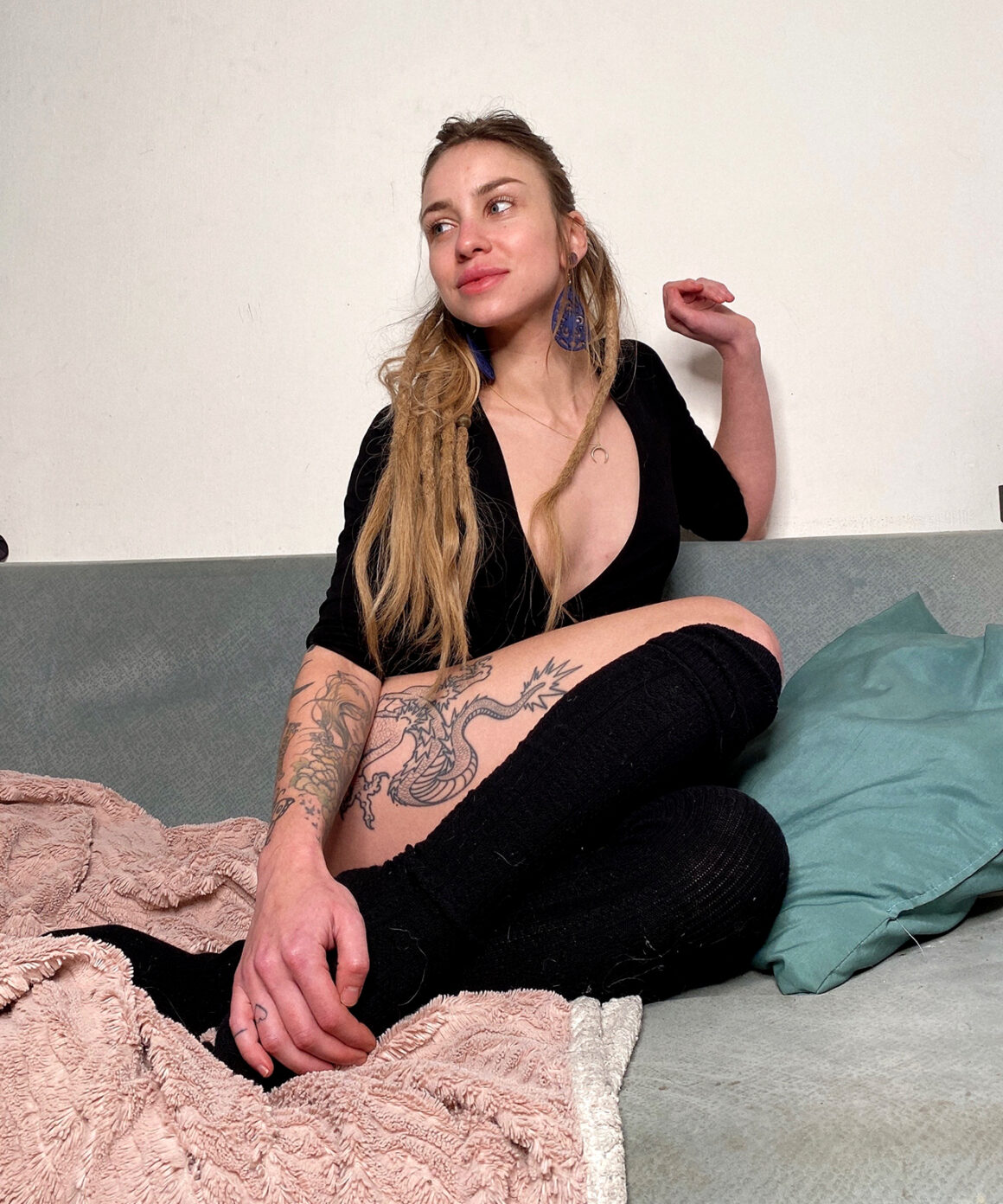 On my arms I have a traditional butterfly in black, a silhouette of a new moon in black and a tattoo of Durga which is my favourite at the moment – it depicts the Hindu goddess riding her tiger holding swords and flowers in her 4 arms.
I also have a cover tattoo I did recently which I think deserves a lot of explanation.
I started off with a half sleeve tattoo when I was 21, it had a mandala type of brown background and flowers and bird and cat skulls. You can still actually see my old tattoo in the background.
And don't get me wrong I still love my old tattoo but I love how it looks now much more.
In 2021 I covered my half sleeve with a bold black Mediterranean style tribal, which sits on my old tattoo very well and this style is called Blastover tattoo, When you cover one of your older pieces with a fresh black one. This style is really dope and I recommend checking it out, but of course, it's not for everyone by all means.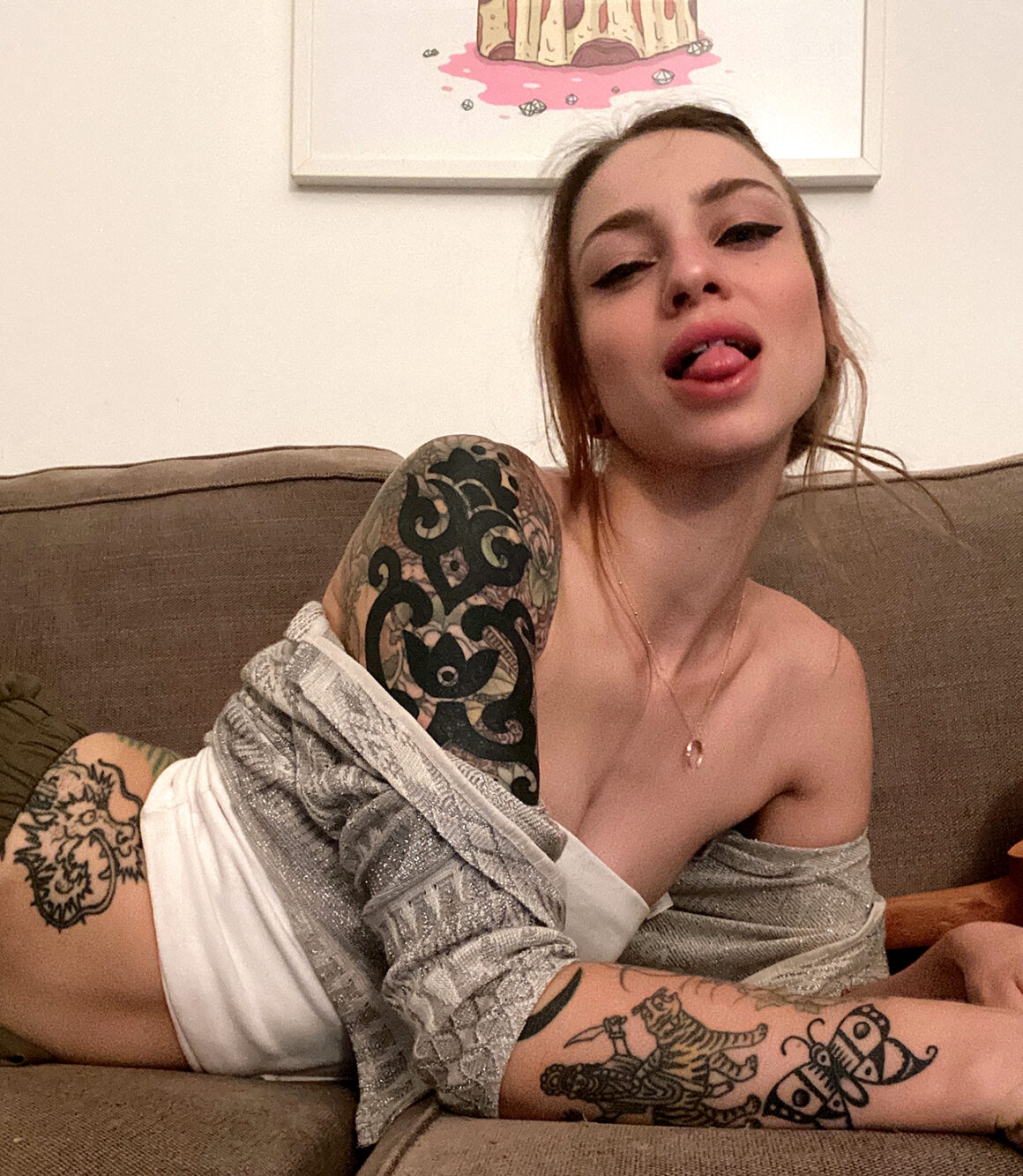 Do you have a favourite style or tattoo artist?
I myself have a huge mix of styles tattooed on me – old-school, traditional, blast over, abstract. It's also safe today that my taste changes a bit over the years and I always add new tattoos to mix and match with my old ones, like a book that is yet finished to be written. There are so many cool styles out there and amazing tattoo artists that I can't even start mentioning them all in this interview, but men there is some insane art out there from every style. I can definitely say that I always was a sucker for Sailors Jerry tattoos and I always wanted to get one of a naked lady with her boobies out, it's on my to-do list.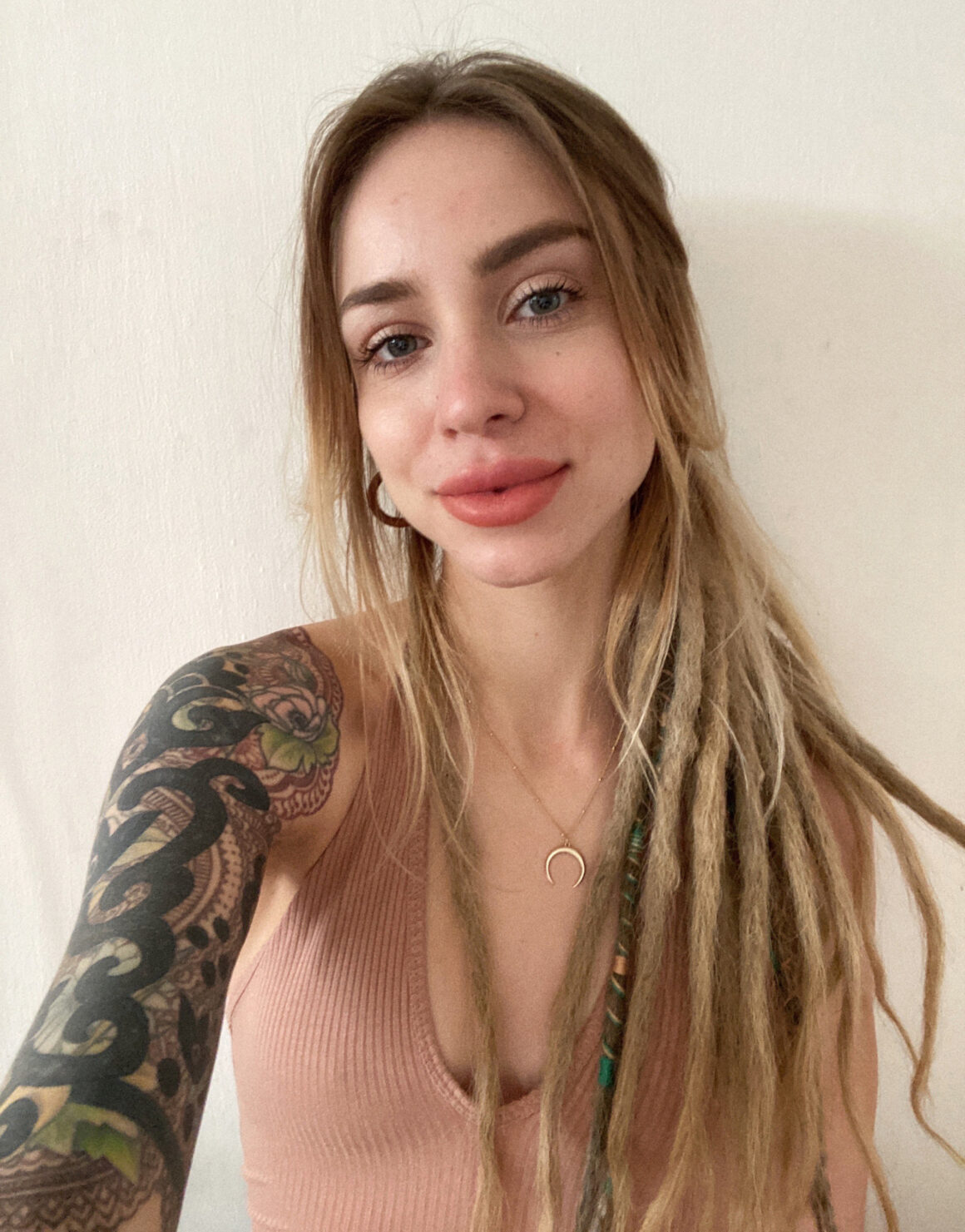 Are you a model too?
Instagram model maybe (are you feeling the cringe? I am). The past year I have been documenting my life via Instagram posting about yoga, dancing, tattoos and generally my daily life and working with brands globally. I have a serious day job in a cyber security company in Israel.  I've studied programming and worked in a few start-ups throughout the years.
Tattoos gave me some trouble finding a job, yes. But you don't want to be working in a place where you get judged if you have tattoos, I would rather be in a vibrant environment with like-minded people.
So some places didn't accept me because of my appearance, but I didn't give up and found the places that didn't judge me for my looks and eventually got hired and started a normal career path. The tattoos will close some doors for sure, but they will open others.
What is your favourite image of yourself at present?
I guess as a person you can relax and have a long conversation over a joint.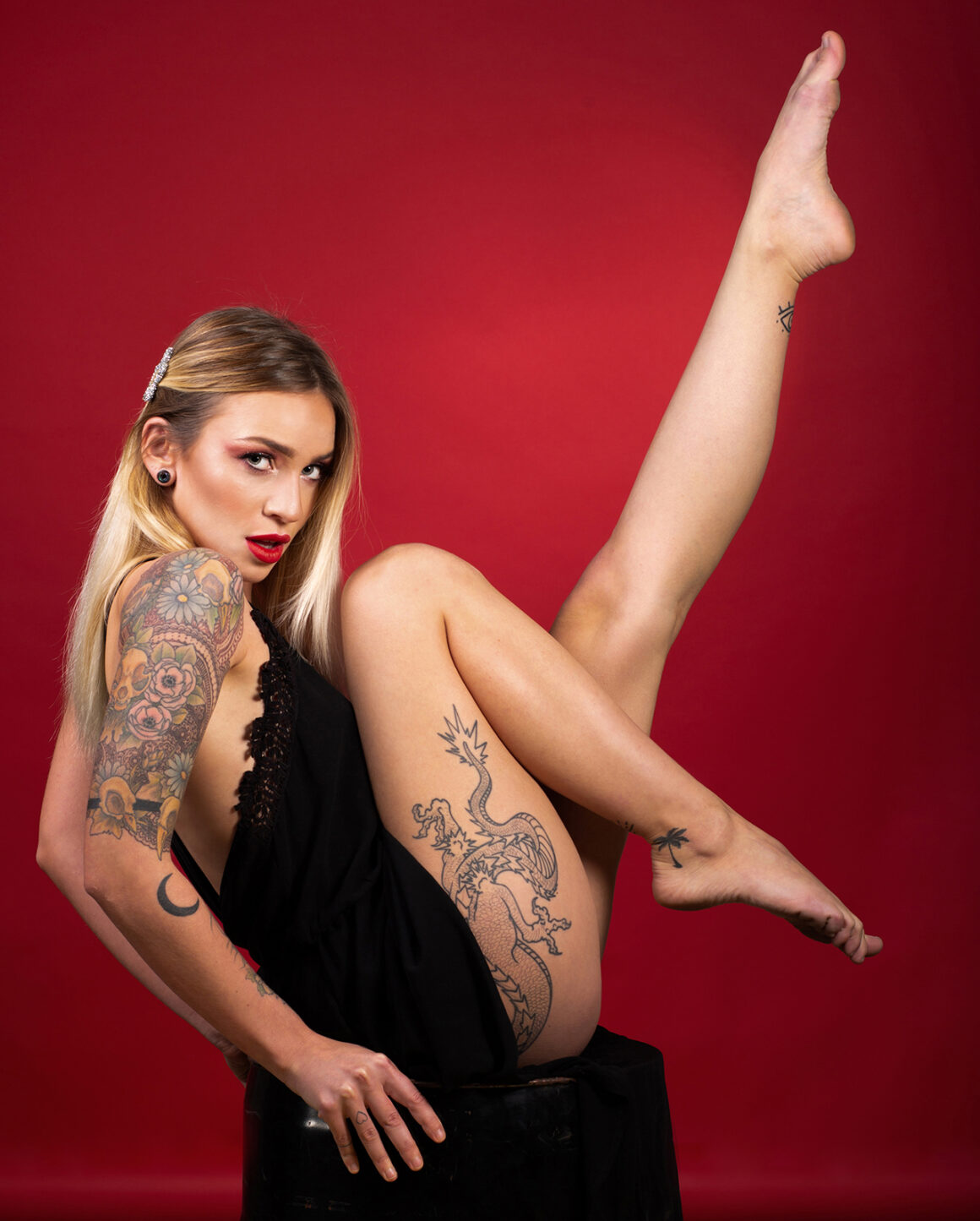 And to close this chat, do you think that tattoos changed you in some way?
Hell yeah, I can definitely say that I shaped my tattoos and they shaped me back.
Honestly, my tattoos made me more badass from the inside and outside. I can definitely say it's a great conversation starter, a great way to connect with people and a super effective way to catch attention even if sometimes unwanted, over time of course you learn how to politely answer annoying questions or turn the wrong people away of course, it's definitely a skill I developed. Overall I love my tattoos, they represent me and everything I went through. I will love them when I'm 70 years old and I'm planning on getting more! My next project is a back piece, wish me luck.