We spoke with Australian owner of 'Double Happy Tattoo Studio' in Melbourne, a place where people come to relax and not be afraid of the gun machine.
Hi Wendy, I know you've been tattooing for many years, worked quite a bit in Berlin, and now handle a style that is completely 100% your own. Isn't it?
Yes, it has been quite a journey! I've tattooed for about 16 years now and I'm currently moving my home and studio 'Double Happy Tattoo' to a new location in Melbourne.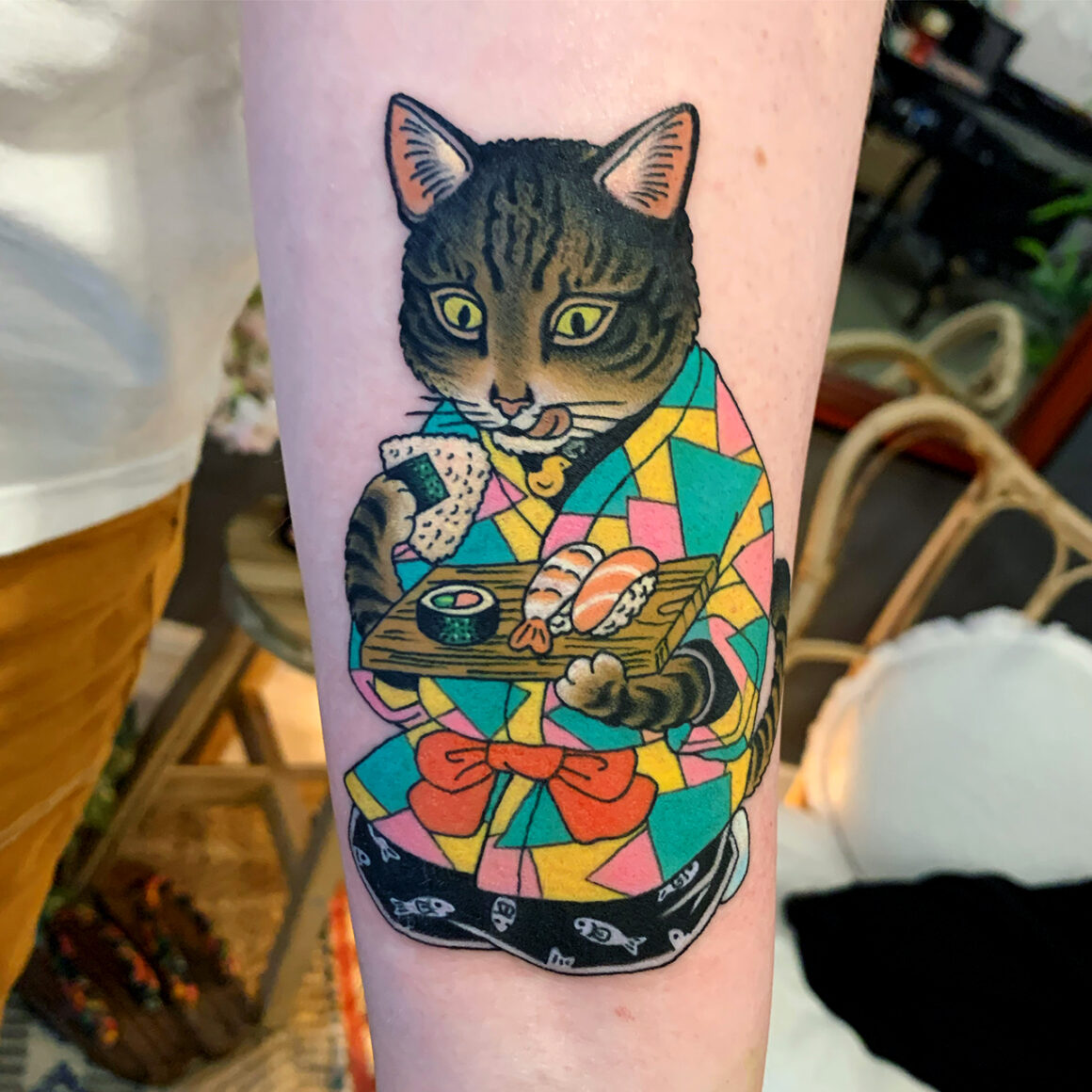 My back is absolutely killing me! (laughs) I like to think I have a recognisable style, it's definitely been influenced by many things that I like though! I think people can see that in the evolution of my work over the years.
You recently returned from Europe, right?
I lived in Germany for 6 years and got back just before the pandemic. I opened a studio and a few months later we were in all off those lockdowns. It was tough times! I'm so grateful I could transition into doing commission portraits though. Not tattooing for so long was really hard. I really missed chatting to clients and making tattoos.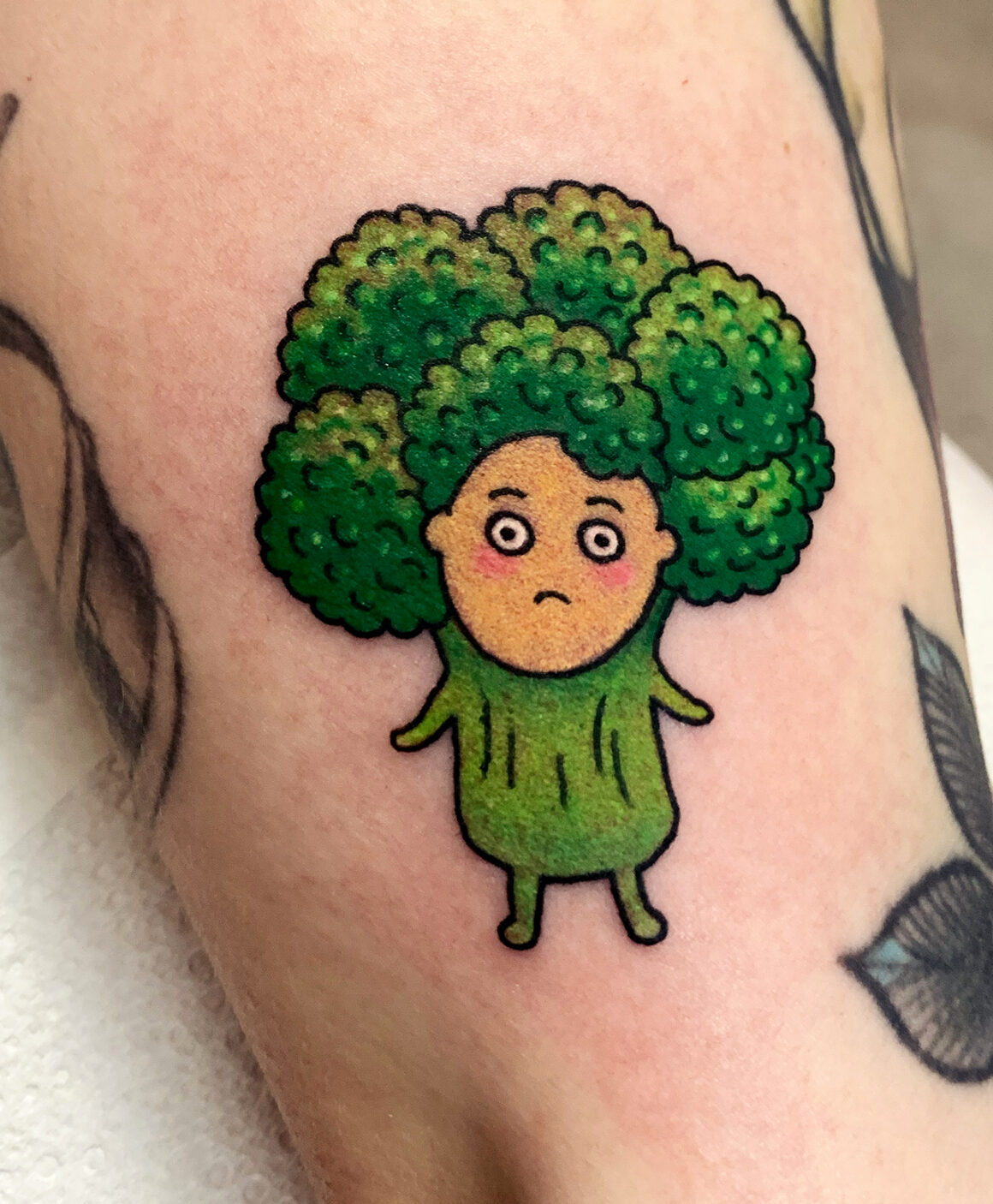 It's such a huge part of my life, I didn't quite know who I was without it. Being back to "normal life" now has made me so insanely grateful for my job. I love tattooing and I feel so lucky to have such amazing clients with fun projects.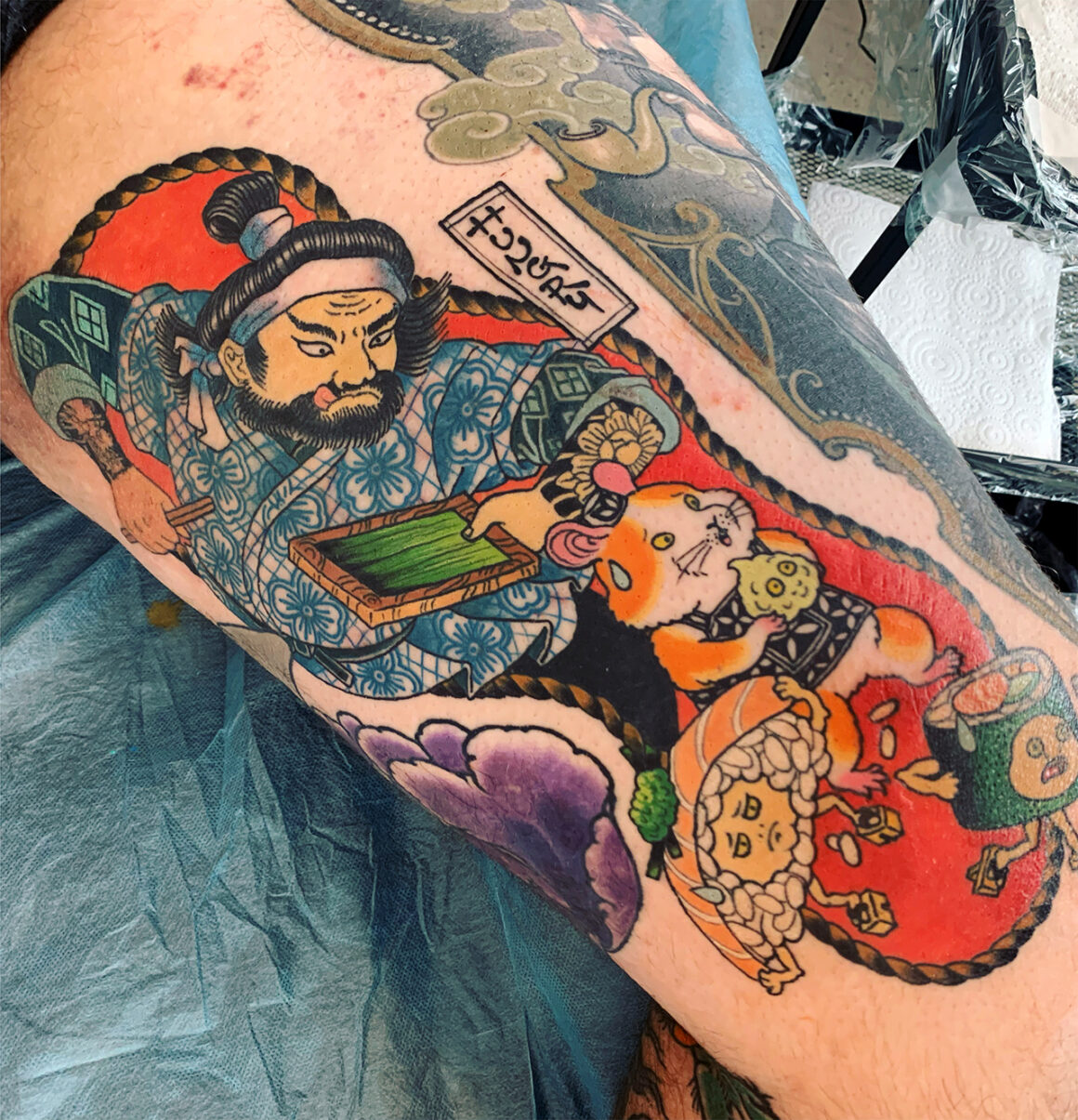 You mentioned Disney, Studio Ghibli, Anime and Ukiyo-e artwork among your main influences. What did Wendy Pham add of her own to complement her wonderful and original tattoos?
I definitely like to inject a bit of fun into my work! I have quite a weird sense of humour and like to push boundaries and do non-typical tattoo things – it is art after all! I don't like to take myself too seriously and like to get joy out of making a design. I like seeing my clients smile or laugh at their tattoo, especially after what we've all been through the past few years. Luckily I also have very open minded clients who are also excited about doing something different!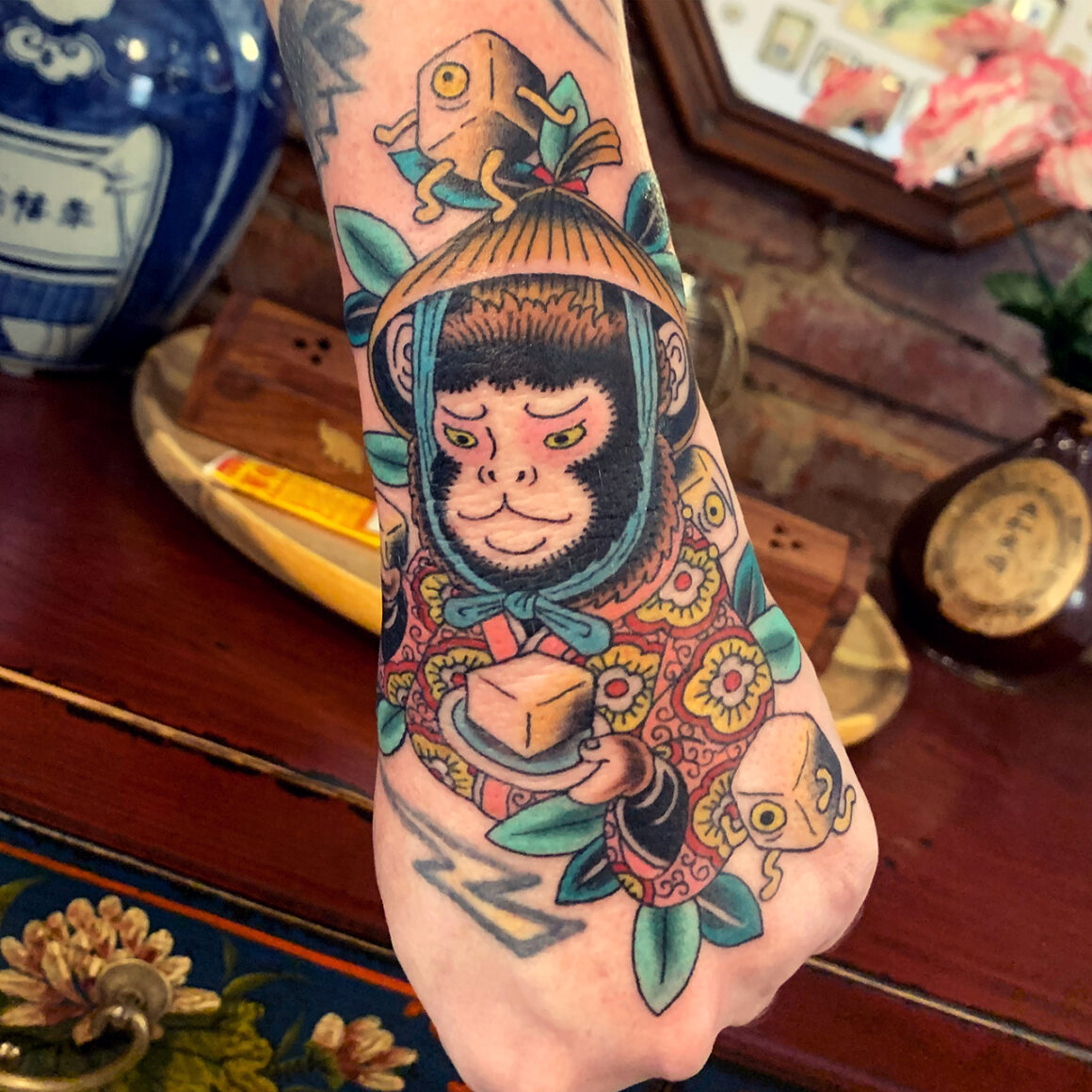 I coined this definition for your tattoos: works that parents should tattoo to make their children smile. What do you think of it? Is there a lot of joy and funny imagination behind your works?
I love this definition! I really like to bring out my inner child when making art. I want people to be able to show anyone my art and for them to feel some kind of joy when seeing it.
I feel the greatest sense of achievement when people buy my artworks to hang in their kids' rooms.
I'm reminded of a time where I drew a medieval dragon for a client. He bought his 9 year old son into the shop to look at the design. He showed his son and he asked what he thought of it. The kid said "I don't like it, it looks like a snake with wings!". I thought that was so hilarious, and a fair critique!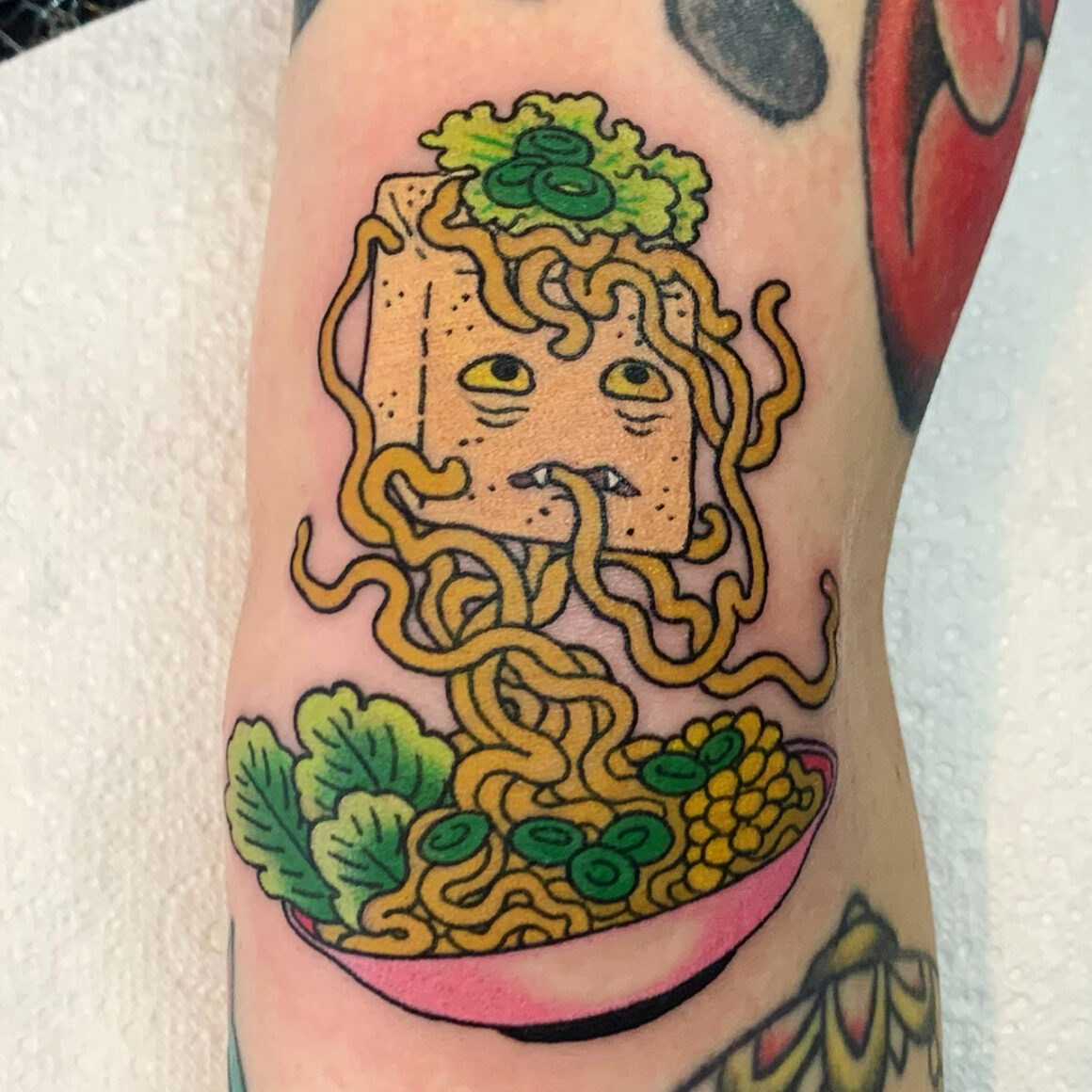 Did that innocent comment make you realize something?
At that time, which was the early 2000's, I was doing very common tattoo ideas – tribal, things picked off the flash wall, whatever the client wanted really. After many years of that I just wanted to feel excitement about creating art. It's not exciting for me to copy other peoples' work, knowing it's been tattooed thousands of times before.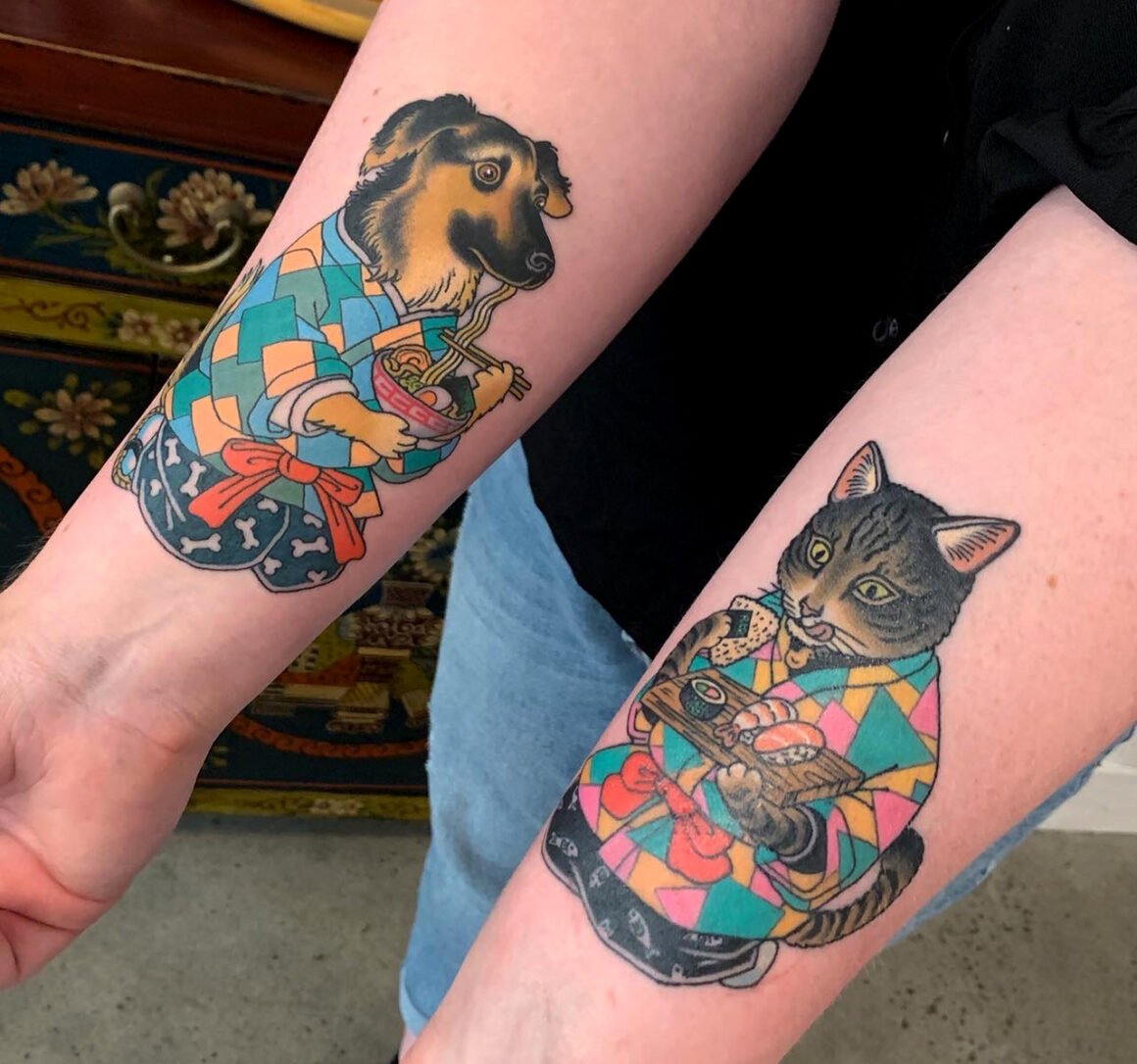 If I walked right this instant through the door of 'Double Happy Tattoo Studio' in Naarm/Melbourne, what would my eyes see? And what atmosphere would I breathe within those four walls?
Firstly you would smell a whiff of incense lit earlier that day. You'd be greeted with a friendly smile and a hello. The room is brightly lit and there are plants everywhere. The music is usually something chill, or something fun and upbeat. Clients tell me it's like walking into a SPA and they feel relaxed when they walk in. Some clients even fall asleep during the session!
I like to make sure my clients feel comfortable, because getting a tattoo is scary!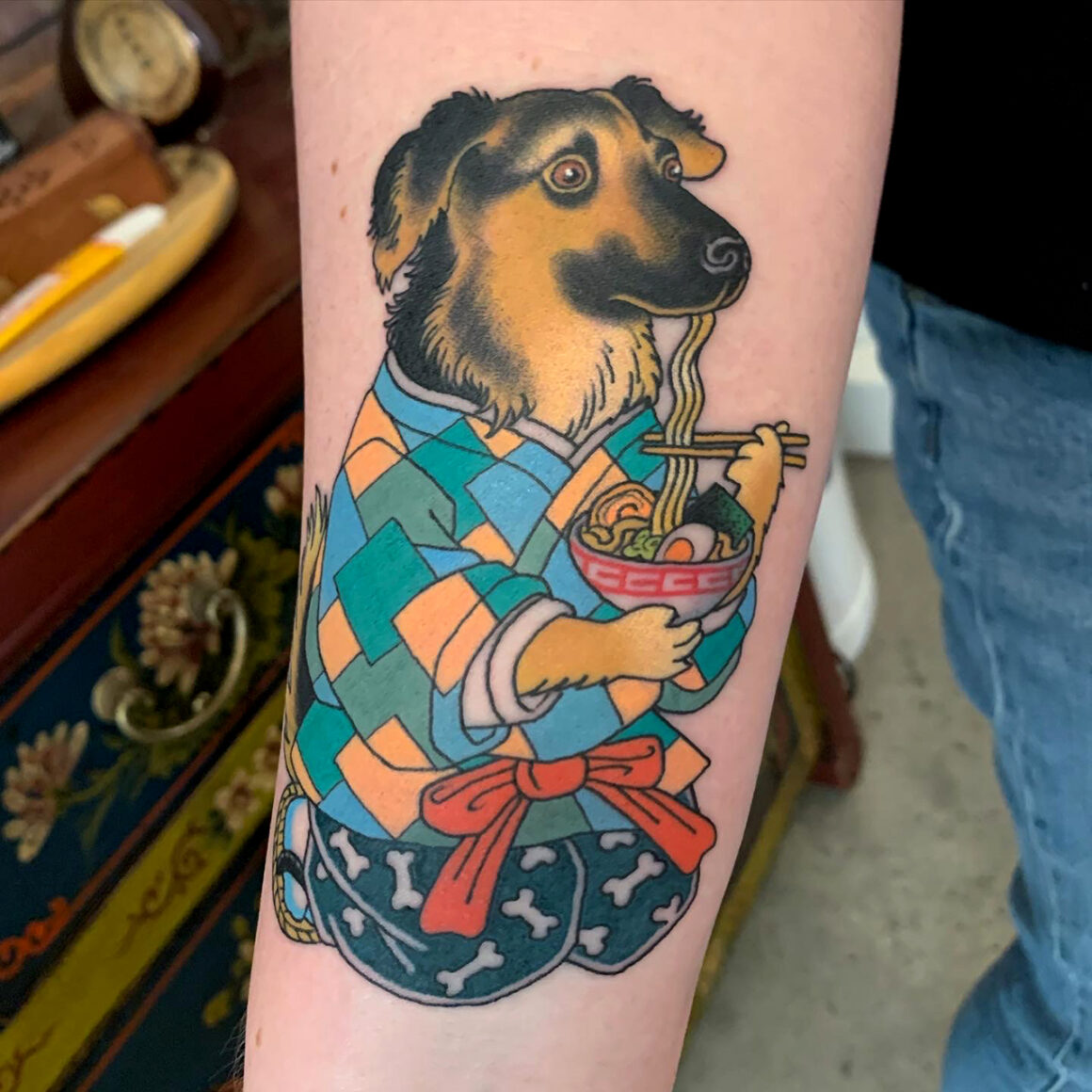 If some clients cannot come to Australia in the next times, is it possible to find you in some other part of the world to book one of your tattoos?
I'm not sure I will travel any time very soon, but when I do I will visit my best friend in Los Angeles and hopefully tattoo there too.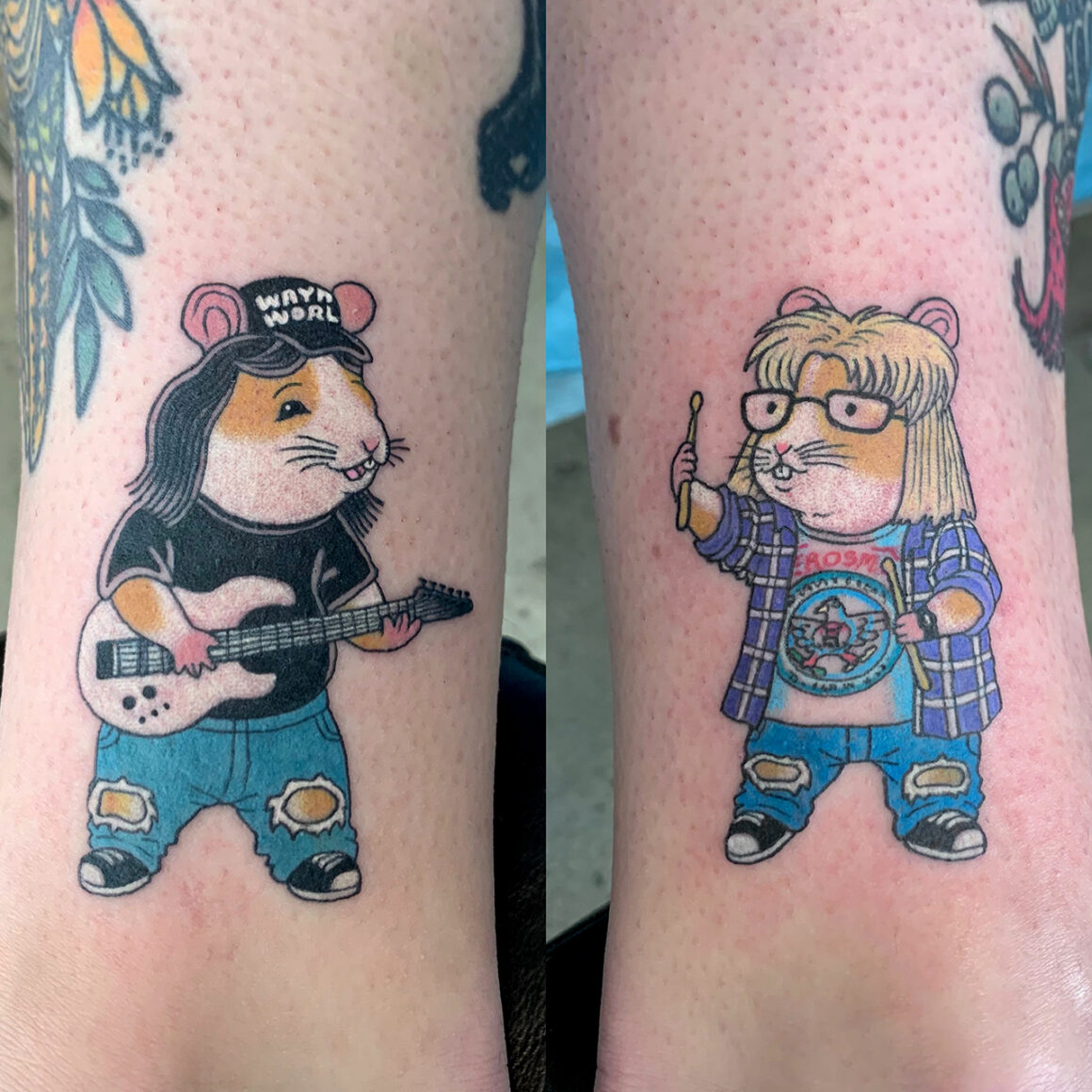 The best movie you've seen lately?
The best movie I've seen lately are Marvel's 'Shang-Chi and The Legend of Ten Rings' – the characters and story were so inspiring, I'd love to do a tattoo with Shang-Chi theme! Also 'Everything Everywhere All at Once'. That movie was absolutely awesome, I loved every minute of it!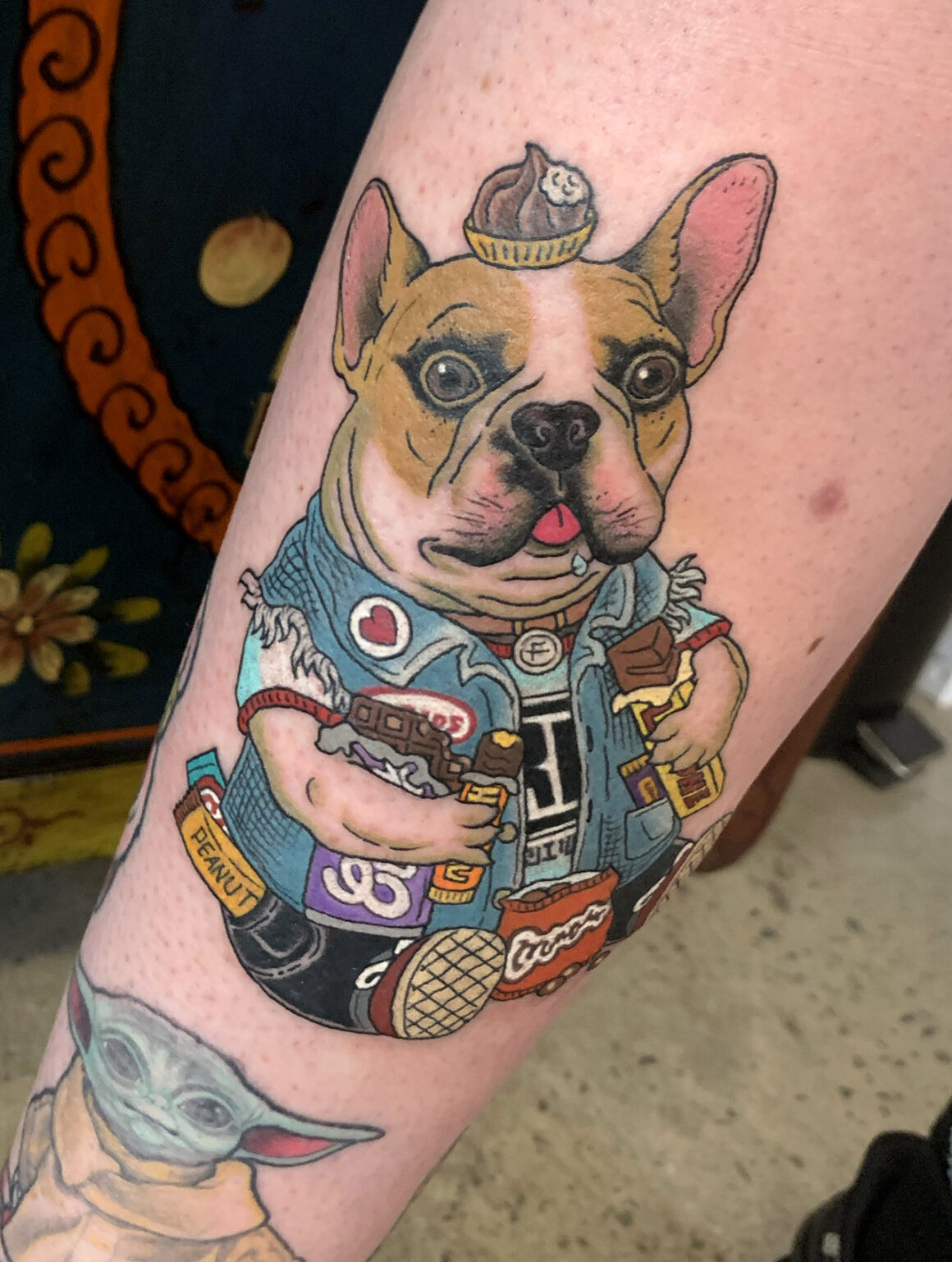 The book you are reading with the most interest?
I really enjoyed 'Notes on a Nervous Planet' by Matt Haig. It's broken into small chapters and really easy to read. It's about mental health and anxiety. I think everyone should read this book.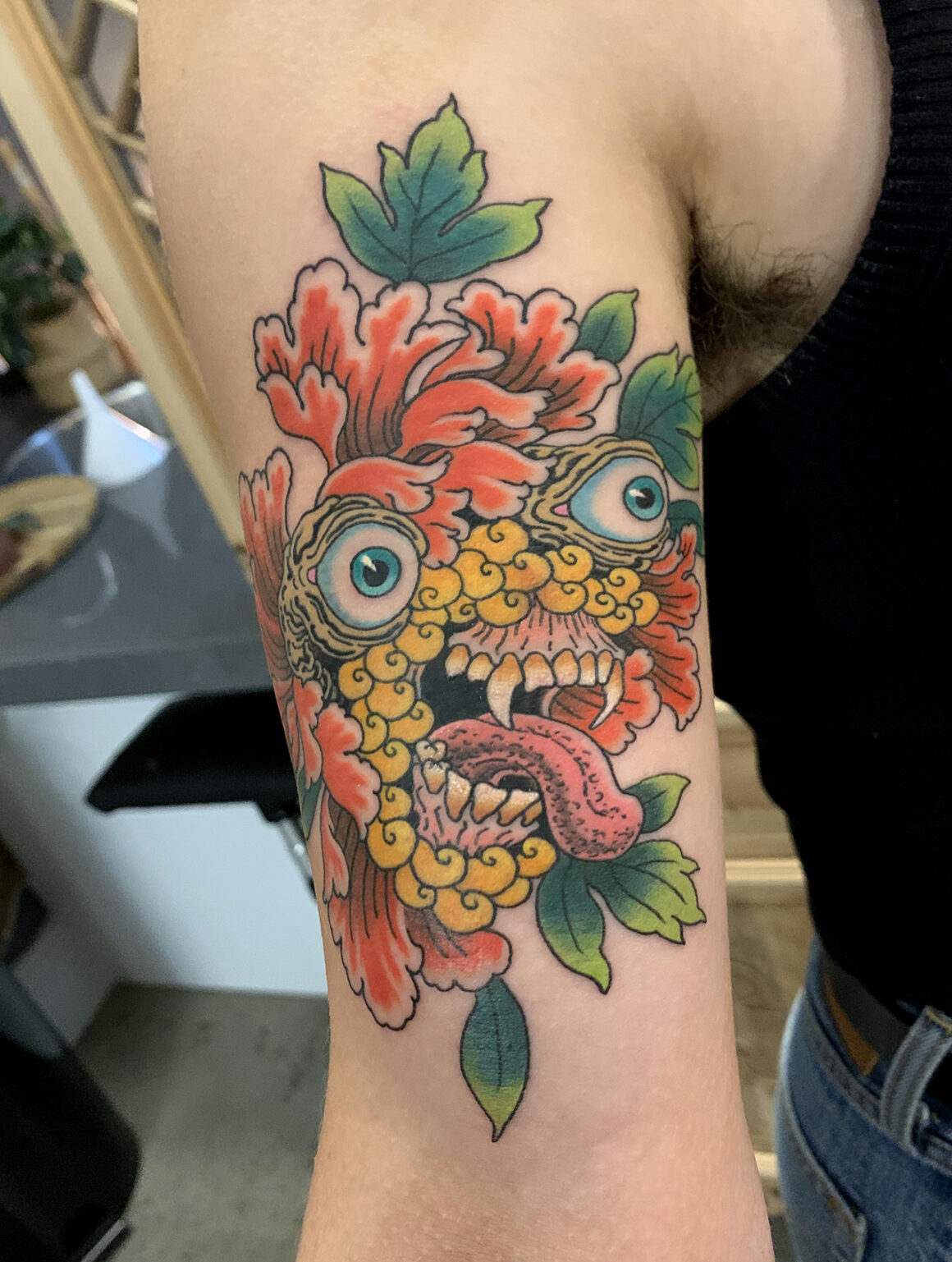 And your last famous words are…?
Always do a head-check before a U-turn.