The author of 'Uroboro' confesses and defines herself as "a person of contrasting views and a lover of ambivalent tattoos". Let's read the whole story!
Valentina Dallari is a genuine fan of music and tattoos. Coming back from a well-known afternoon Italian talk show, in January 2018 she confessed to media that she had started treatments to fight anorexia. After winning her medical and personal battle, Valentina opened a blog ('In her shoes') dedicated to this delicate topic and returned to her beloved DJ-sets.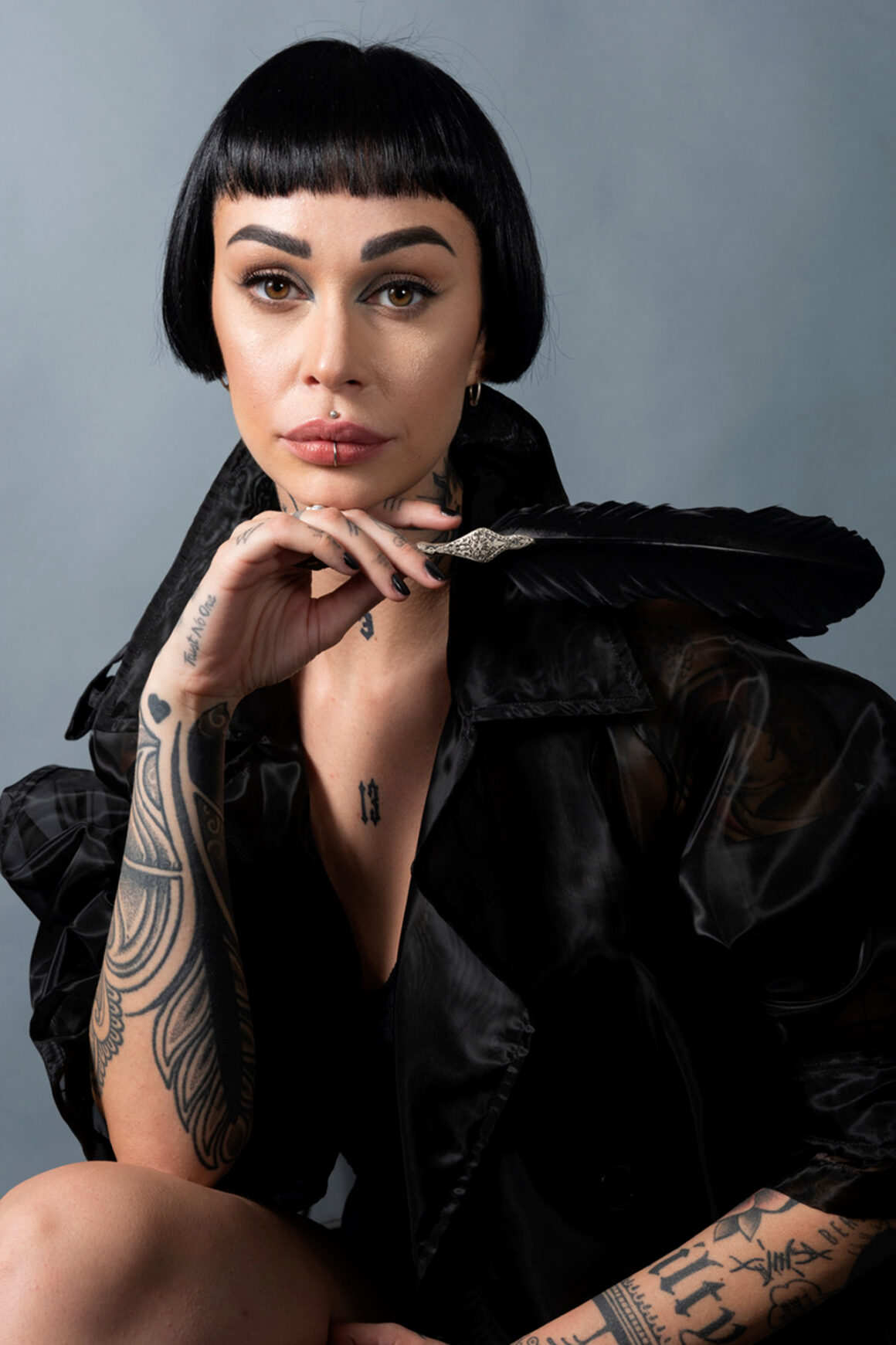 'Uroboro', released a few months ago, is her second book, introspective to the extreme, which follows her debut 'Non Mi Sono Mai Piaciuta' in 2019, a sort of autobiography dedicated to her most difficult years. It's from this last book and its emblematic title that we start our conversation made (also) of esotericism and ink.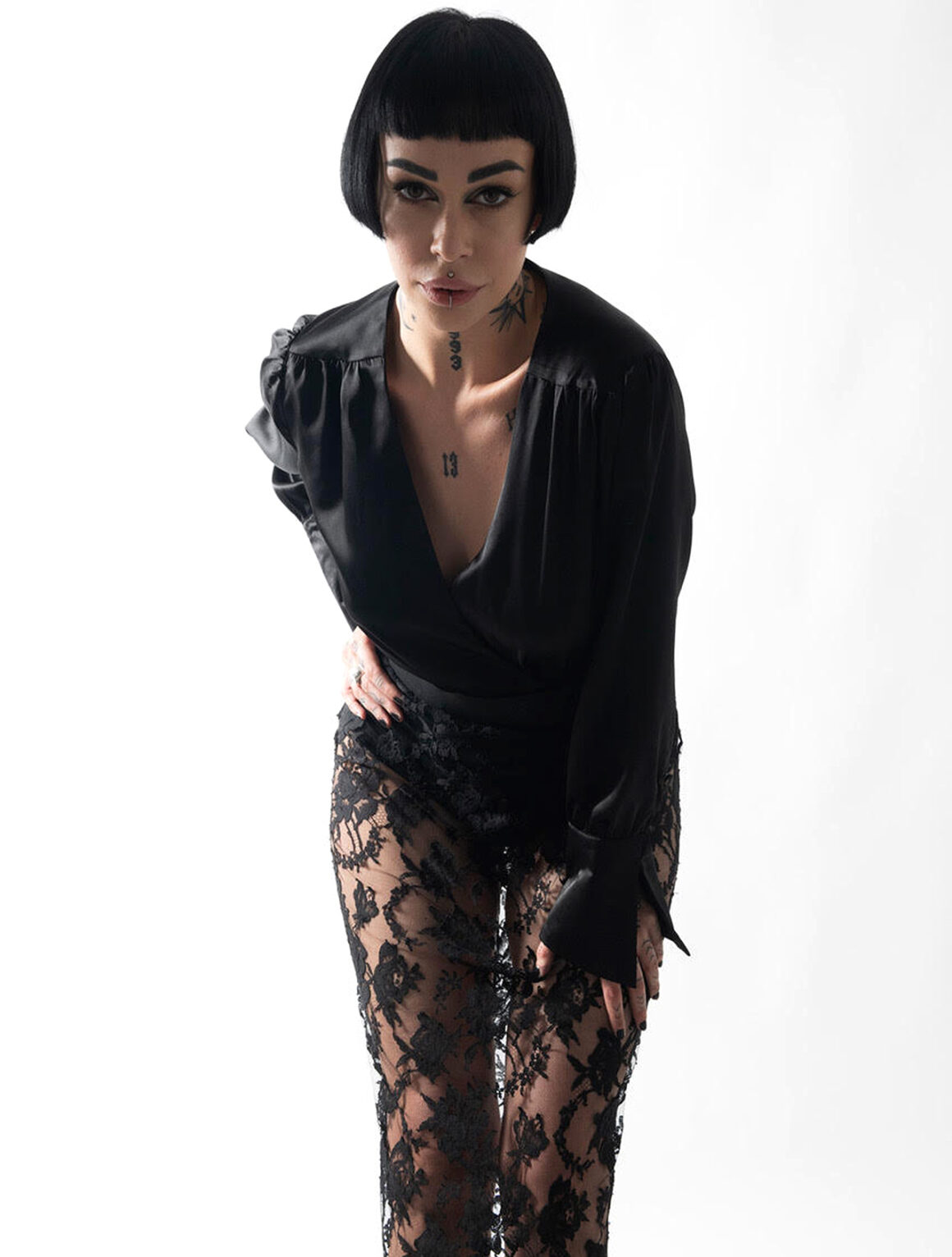 Excuse the bizarre association of ideas, but at least as a tattooed woman do you like yourself a little more?
I honestly don't know what to tell you because I've never seen tattoos – I mean all tattoos in this world – as something merely aesthetic. Yeah, I like to collect life experiences and a tattooed body is ultimately just a map full of clues that should lead you back, with your thoughts, to what you have lived.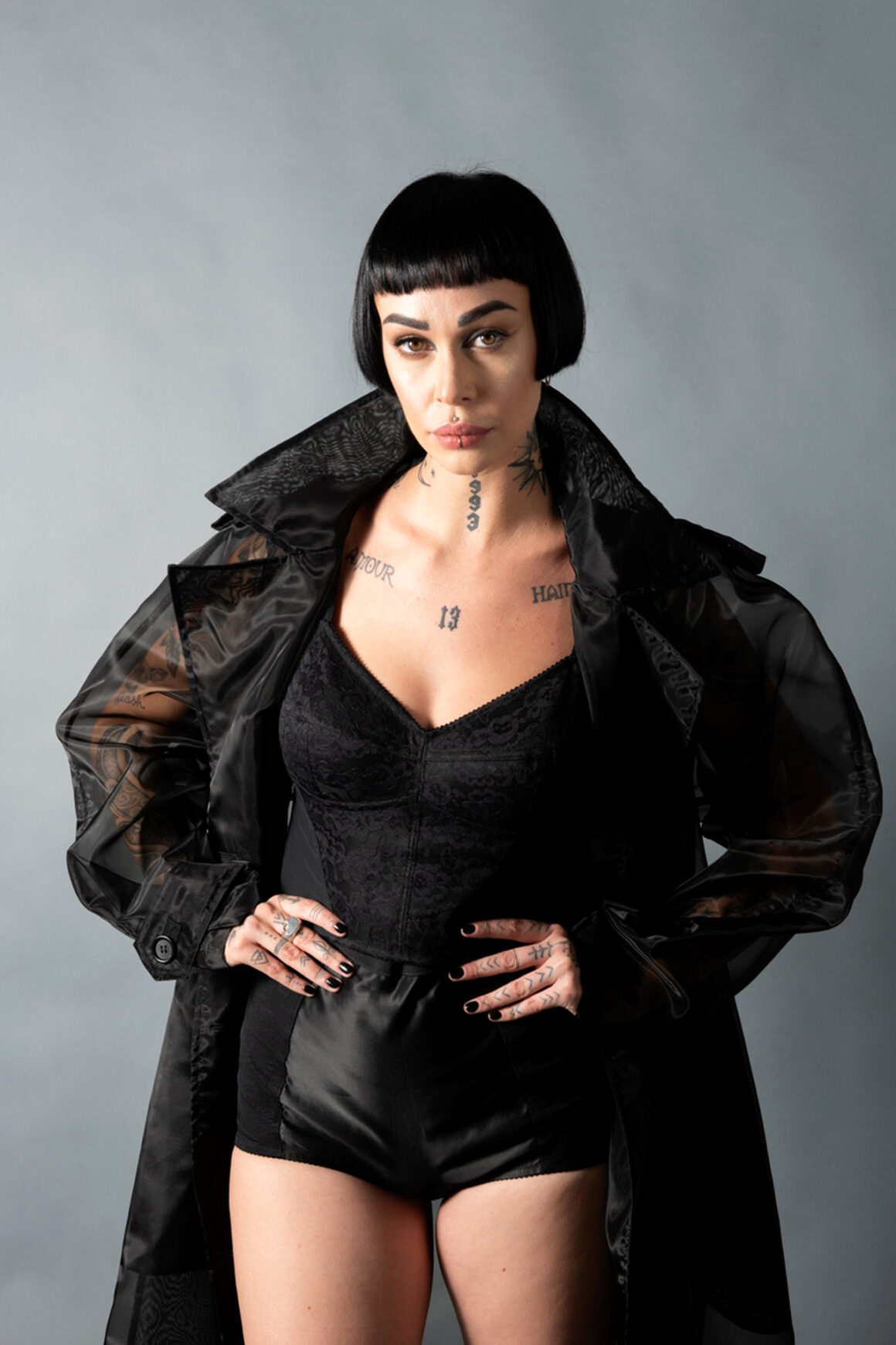 Why have you never liked yourself?
The title of my first book ('Non Mi Sono Mai Piaciuta' means 'I never liked myself'. Ndr) referred to an internal condition, not an aesthetic one.
From this point of view tattoos have certainly helped me, on a psychological level, by taking on the features of an armor.
A beautiful artistic armor able to protect my deepest inner self from the ugliness of the outside world.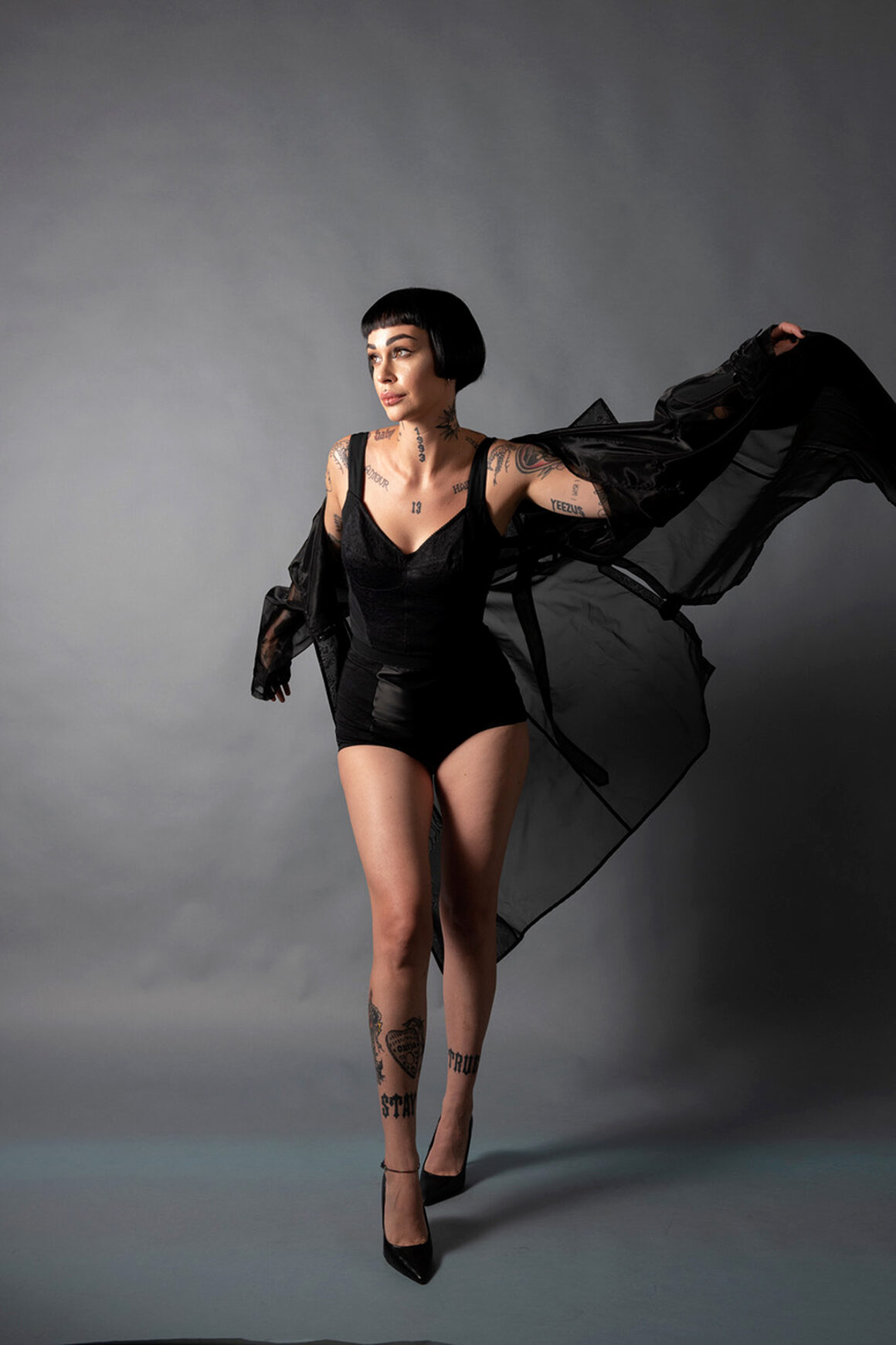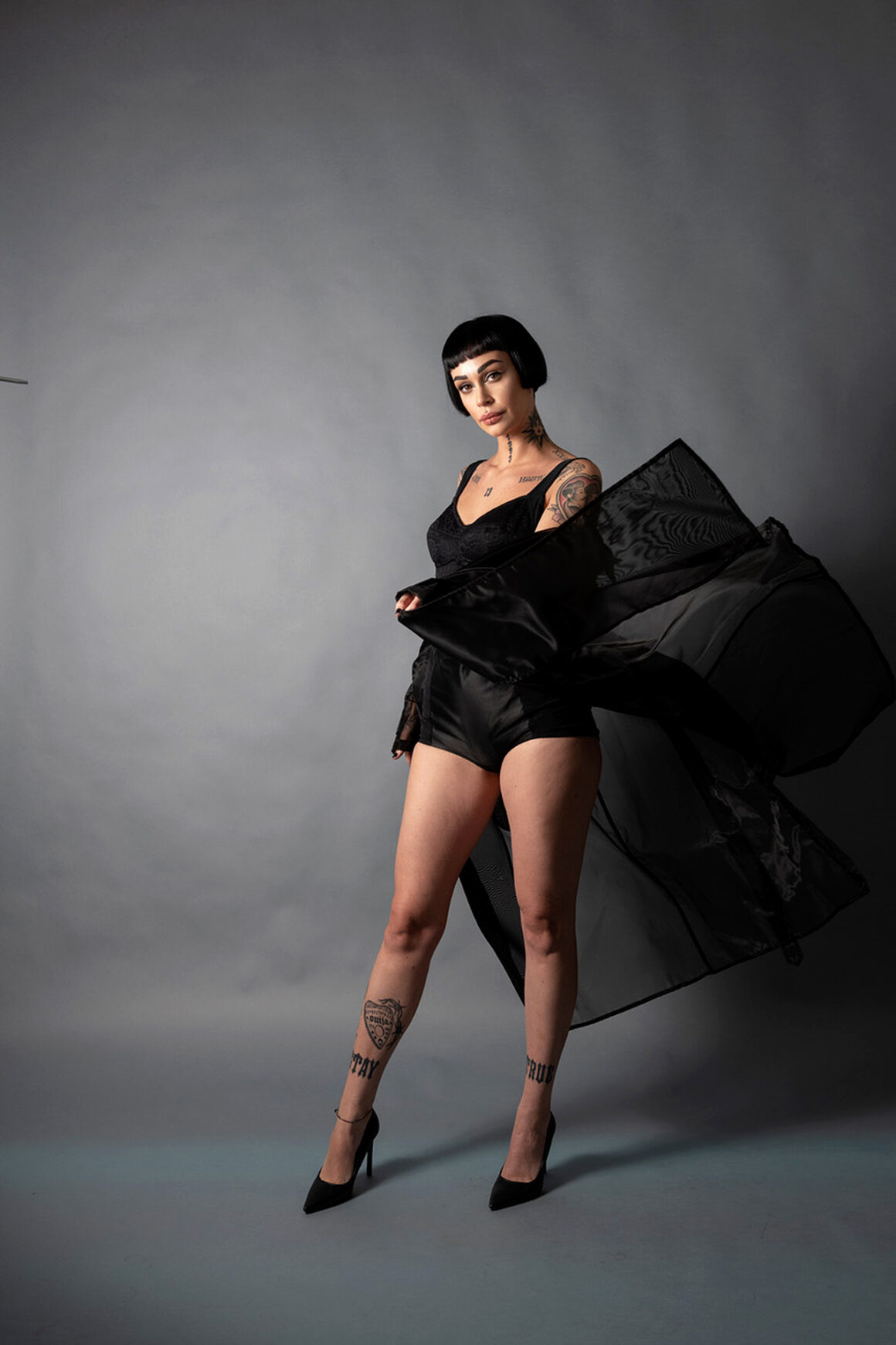 In 'Uroboro' do you talk about tattoos in any way?
Not explicitly, but between those pages there is actually something. (smiles)
For example?
Well, at a certain point a poem of mine appears in which I say that I am made of "love" and "hate". Exactly like the two French words – 'Amour' and 'Haine' – that I have tattooed on the sides of my sternum and that are literally spat out by two snakes branded on both my shoulders. In 'Uroboro' I often dwell on my fondness for black, which is both my existential flag and the ink color of almost all of my tattoos.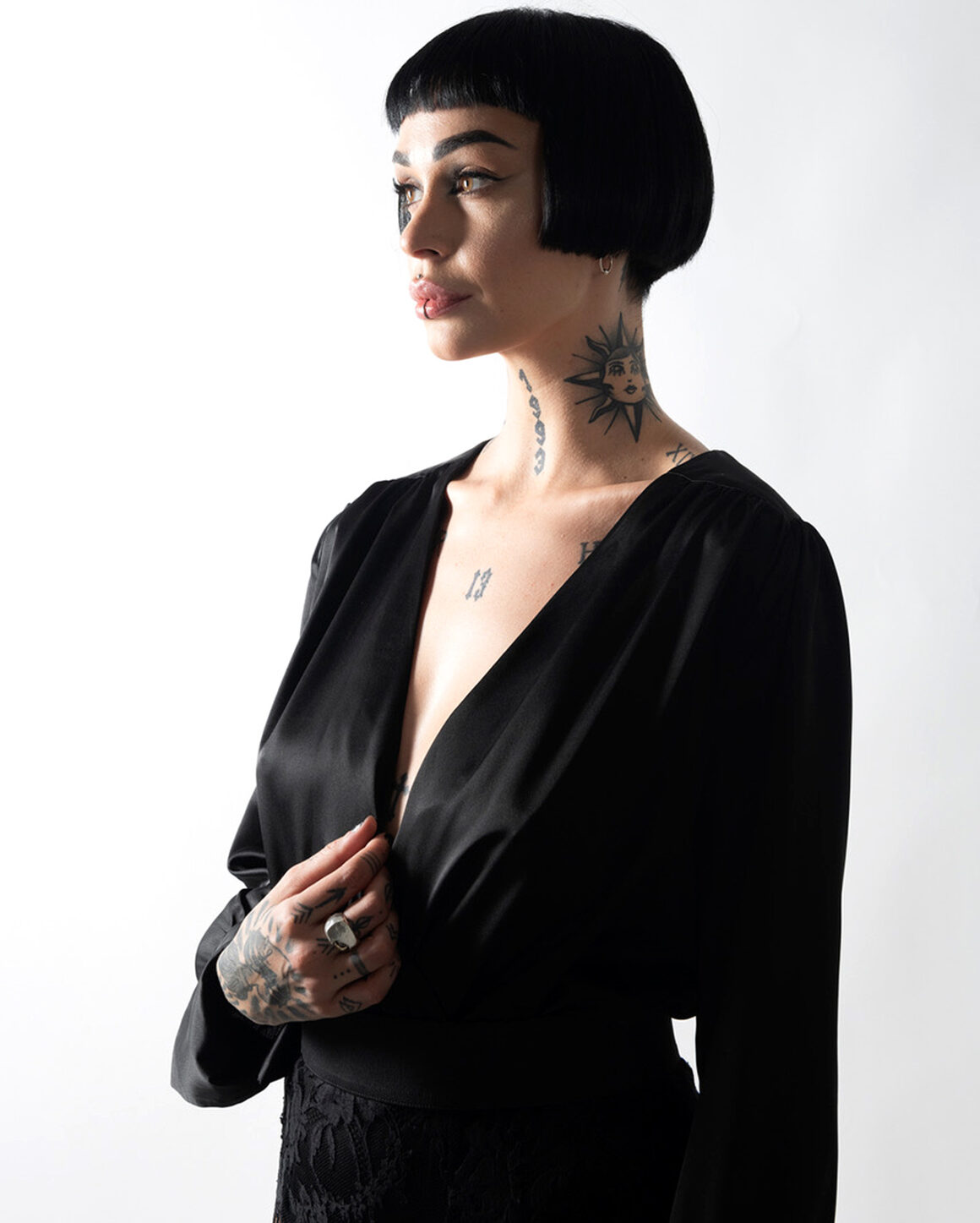 Are you a dark soul?
Let's say that empty and "clean" bodies, as well as aseptic places, continue to transmit me a pinch of anxiety. You know, I've always looked for contrasts as a sort of solution to get by and live better. And so I welcome a little black ink in contact with a skin as candid as mine.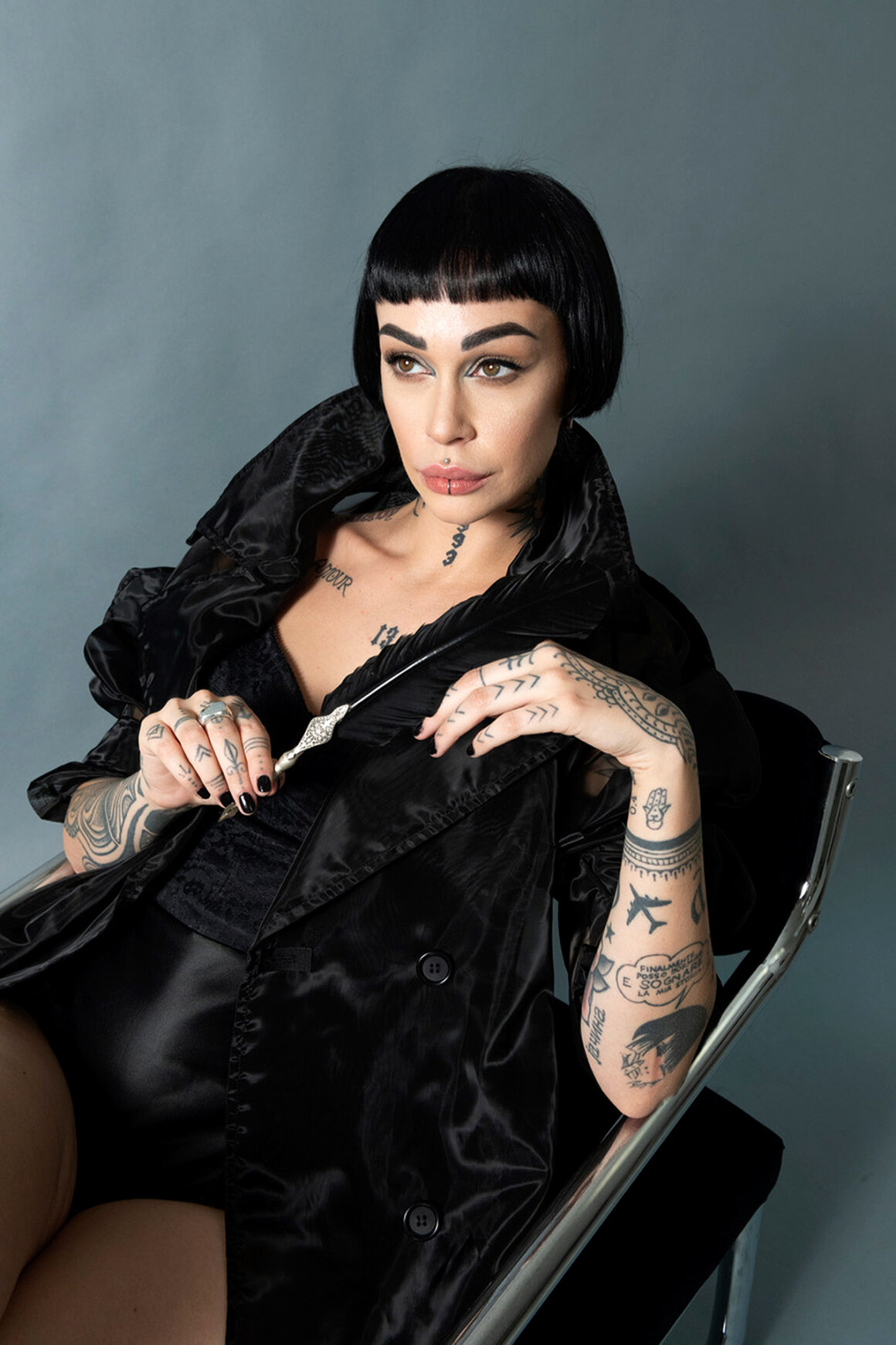 The uroboros, aka the alchemic symbol of the snake biting its tail, thus generating the regenerating force of infinity, is one of the most popular subjects in esoteric tattoo art. And you, not surprisingly, placed it on the cover as the title of your second book. Just a coincidence?
Not at all. I'm a big fan of esoteric tattoos – you only have to look at my back to realize that – and symbols such as the black moon, runes, Egyptian eyes, tarot cards, etc. abound on my body.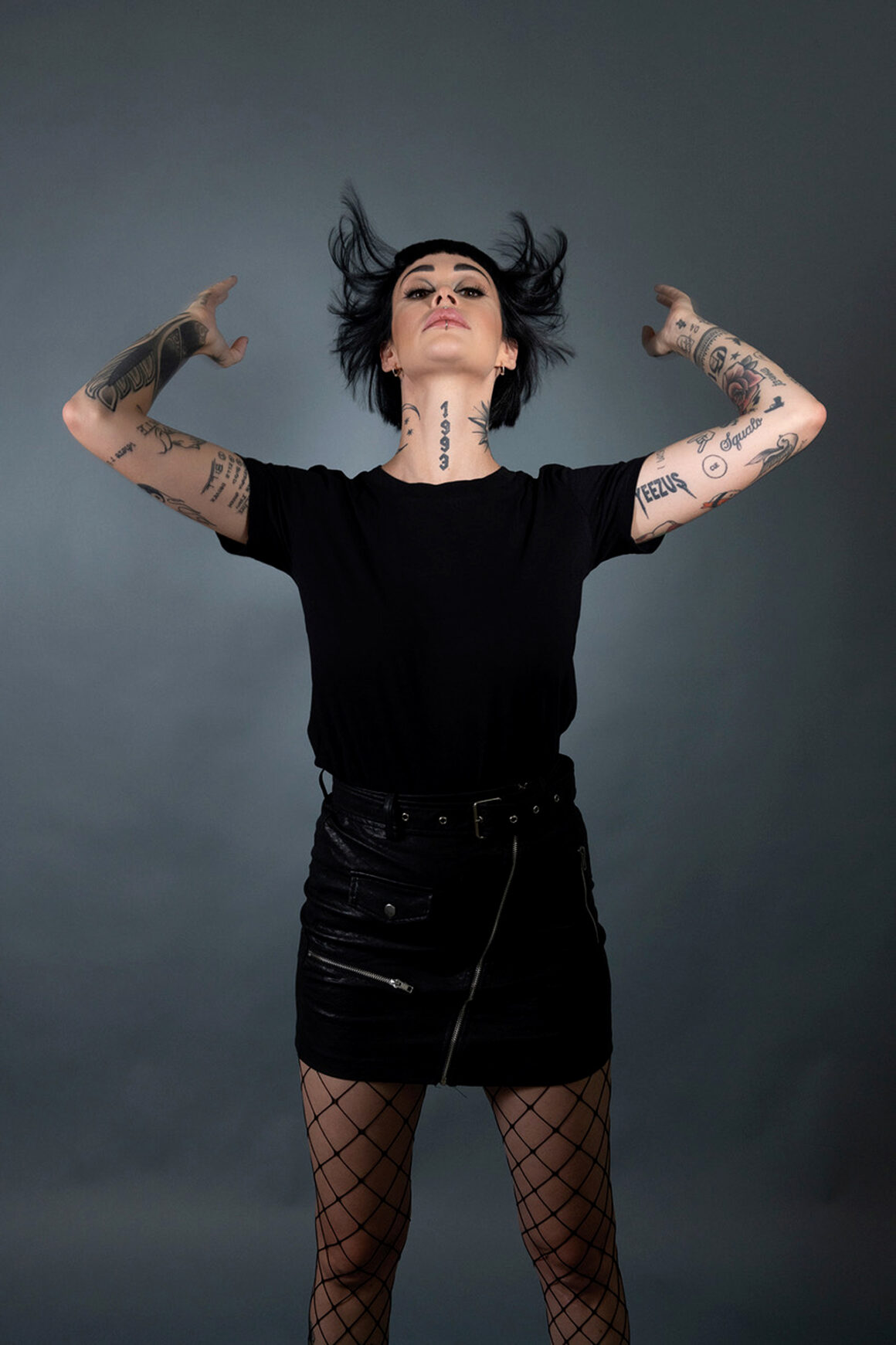 When exactly did this iconographic research of yours begin?
I've been getting tattooed since I was 18 years old and, above all, since I could afford to pay a tattoo artist's fee out of my own pocket! (laughs) You know, in my family they were not very intrigued by this strange passion of mine!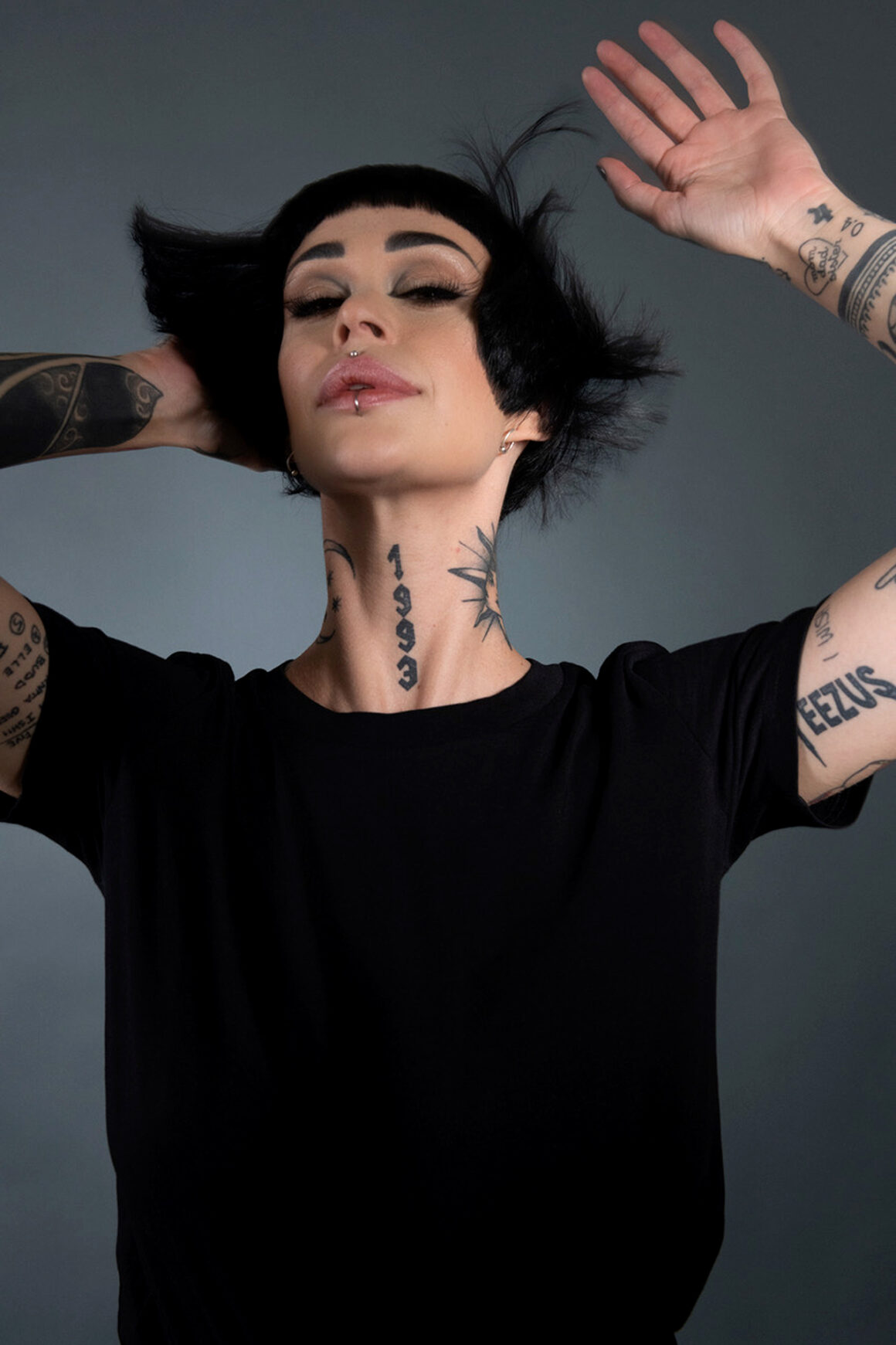 I'd say you've added more ink on yourself since then.
Yes, and I've never denied any of what I sport on my skin. And yet, as time has passed, I've also become more aware of the fact that I choose subjects that are more connected to the world of alchemy and arcane forces that have always made the world go round.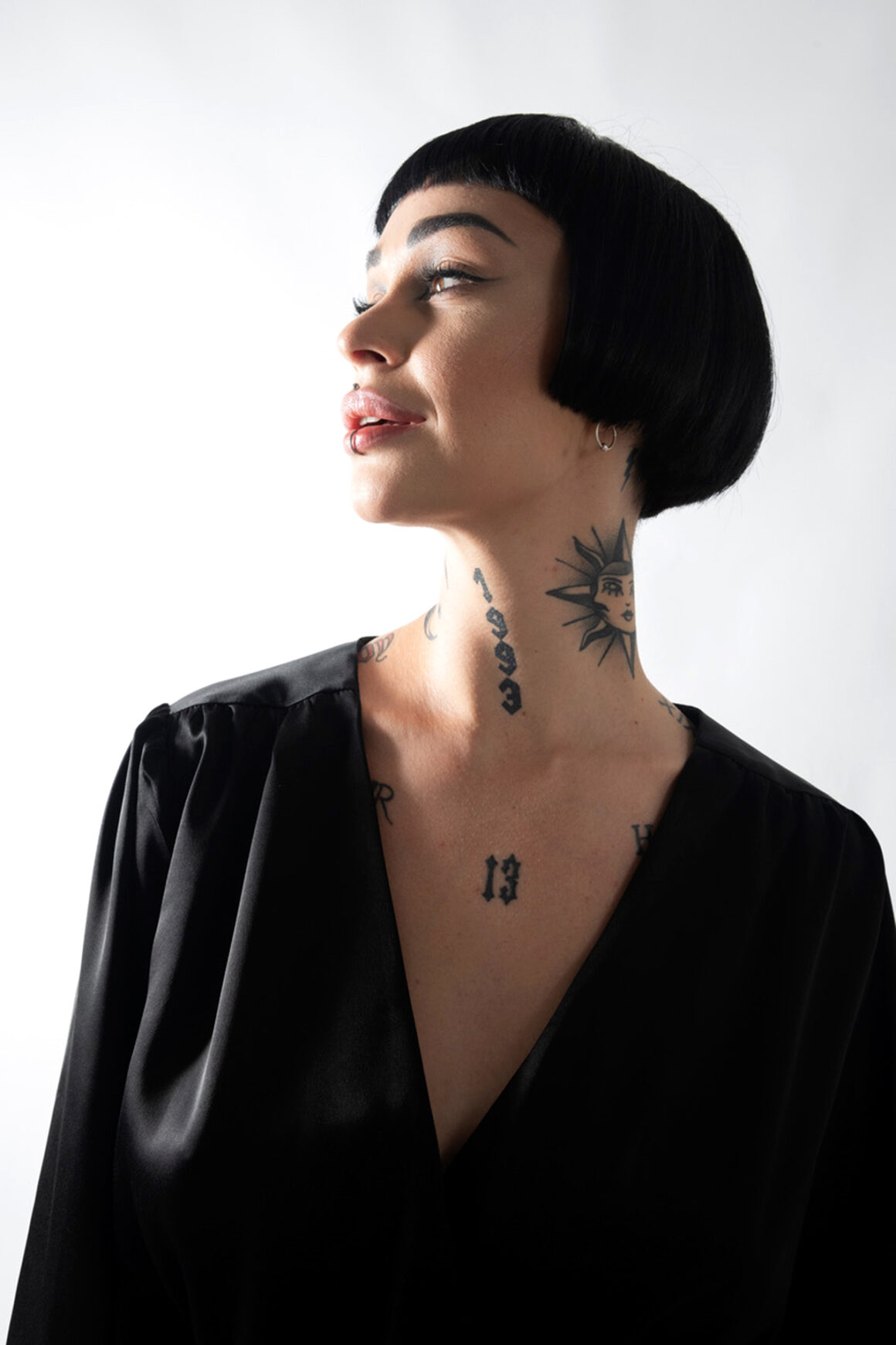 But you haven't yet tattooed the uroboros: how come?
You're right and I assure you that, at this point, I'll get it tattooed the first chance I get. Why have I procrastinated until now? Well, maybe I was waiting for the release of this second book – which I wrote by myself, last summer, locking myself in my house and getting out everything I had to say – to decide once and for all.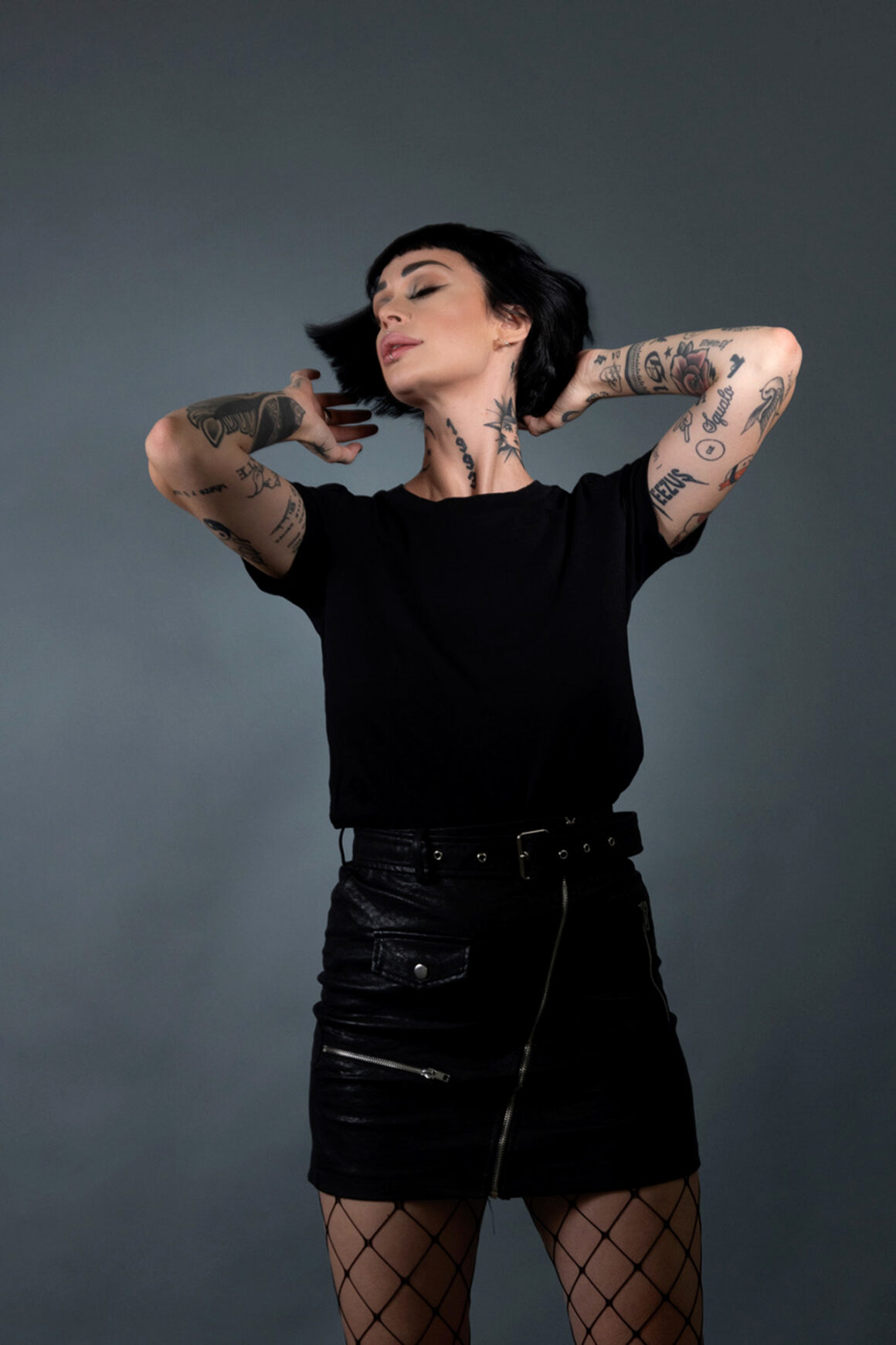 What does that symbol represent to you?
The ouroboros is beautiful because it can encapsulate the cyclical nature of existence. It's something very positive and – I imagine – destined to give me a lot of strength.
You have your birth year, 1993, tattooed vertically down your neck. And, not surprisingly, in September of that year …
'In Utero', Nirvana's third album, was released worldwide! That's right, as you can see from some of the photos I've scattered on Instagram, they are my favorite band and I think this cult comes from my dad who has always had a great rock culture and, when he was young, he also played guitar. By the way, I also have a quote from the song 'Heart-shaped box' ('I wish I could eat your cancer when you turn black'. Ed.) tattooed under the figure of the two lovers that I have imprinted on my left arm. Maybe being born that year wasn't exactly an accident.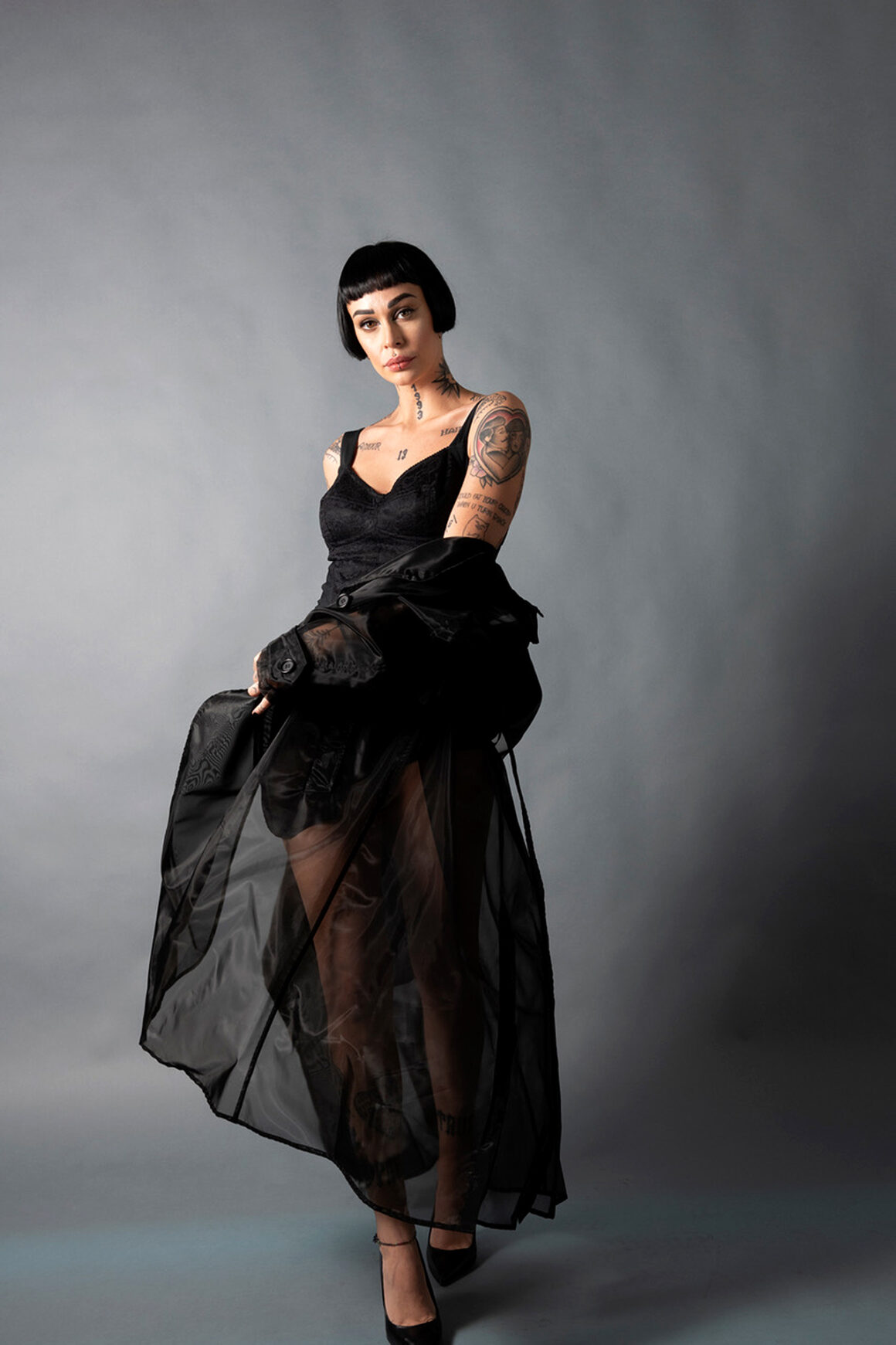 As well as writing, you also DJ, right?
Yes, I play in clubs and my genre caters to electronic music mixing breakbeat and tech-house. Music has been part of my life since I was a child and I have never stopped listening to it even if, to tell you the truth, I only use vinyls in my home stereo! (laughs) In clubs I go more with USB drives and laptops.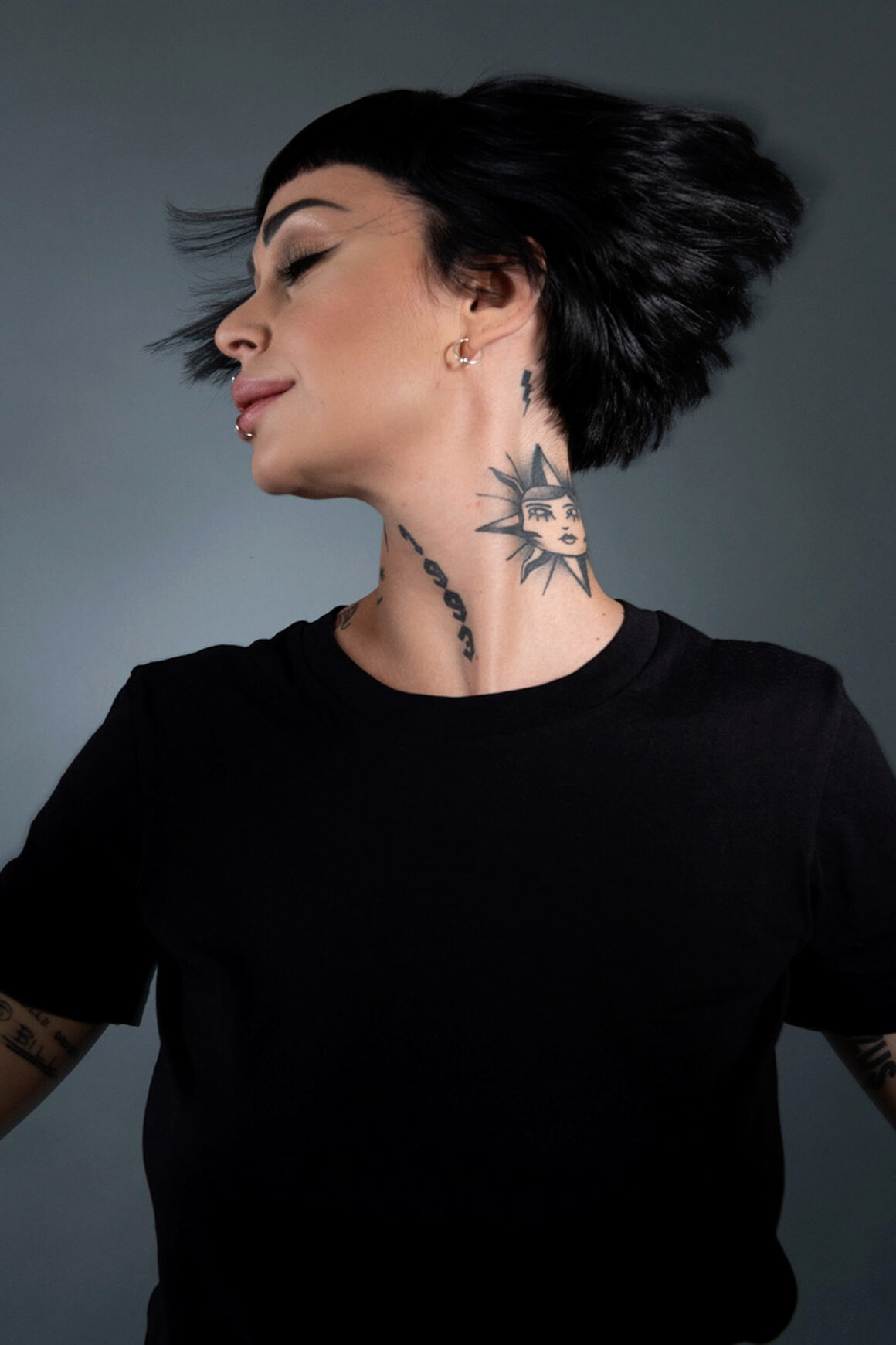 In the center of your chest you have a particular number tattooed: 13. I have read that that number would represent the actual number of your "deaths" on Earth. Can you explain the concept better?
That's just the way it is. And the "deaths" to which you referred, of course, were all metaphorical as well as harbingers of a relative evolution.
A personal rebirth that has allowed me to move forward.
That 13, however, is not only related to the period in which I had to fight against anorexia; although, I grant you, that was certainly my most intense and complicated "death" since I weighed something like 37 kilos.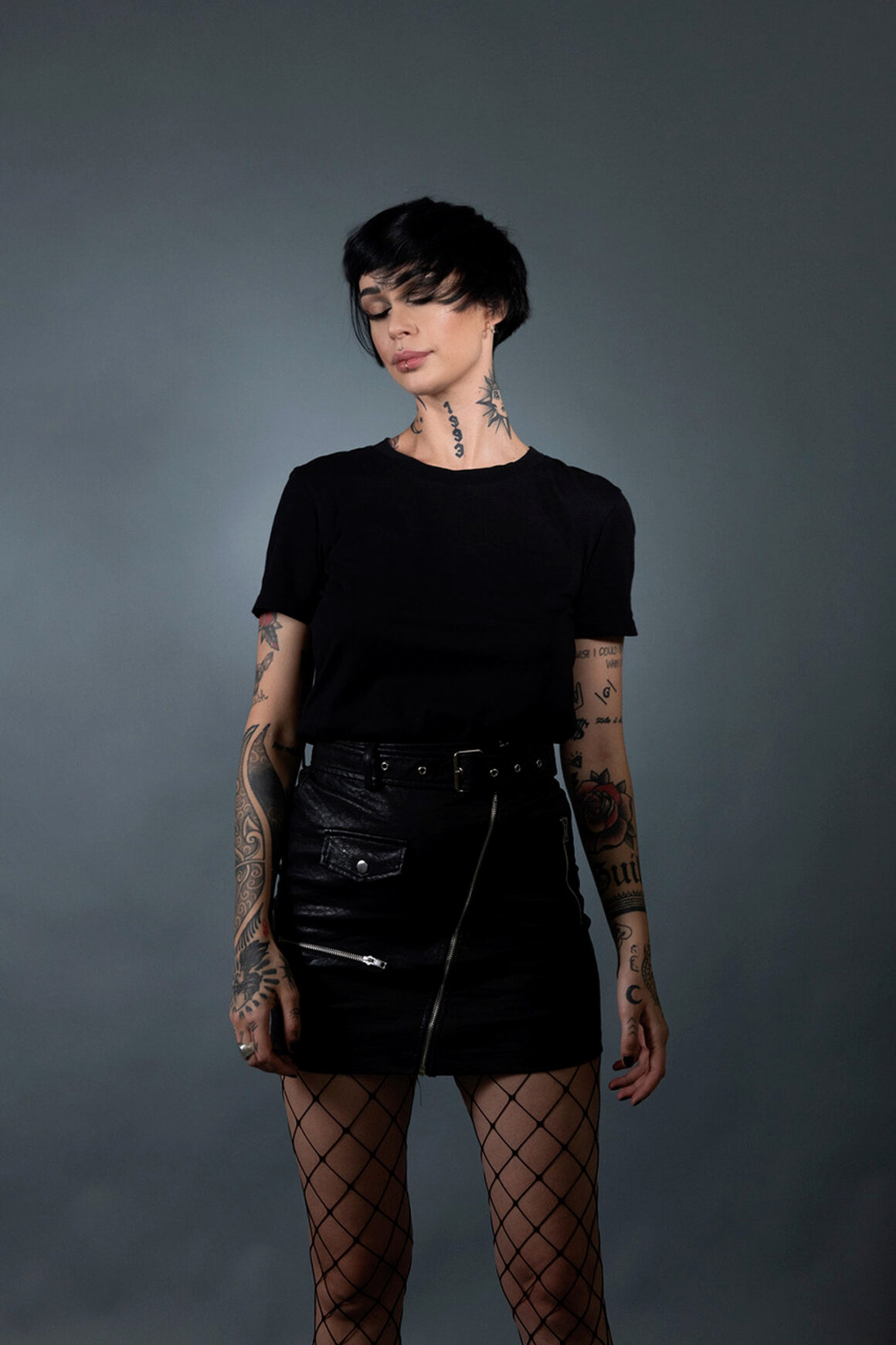 Can I ask you a fairly challenging question?
Sure. Ask me anything you want.
Do you think a simple tattoo could ever, in any way, "talk" about anorexia? Would it be able – through an ad hoc writing or subject – to send a message of solidarity towards those who suffer from eating disorders?
Beautiful question. Perhaps you anticipated my thoughts since I've had the idea for a similar tattoo in my head for some time, but I've never found a subject so strong and capable of "summarize" that message. I'm convinced that art always triggers something; and in this case it would do so through a tattoo, despite itself, decidedly dark.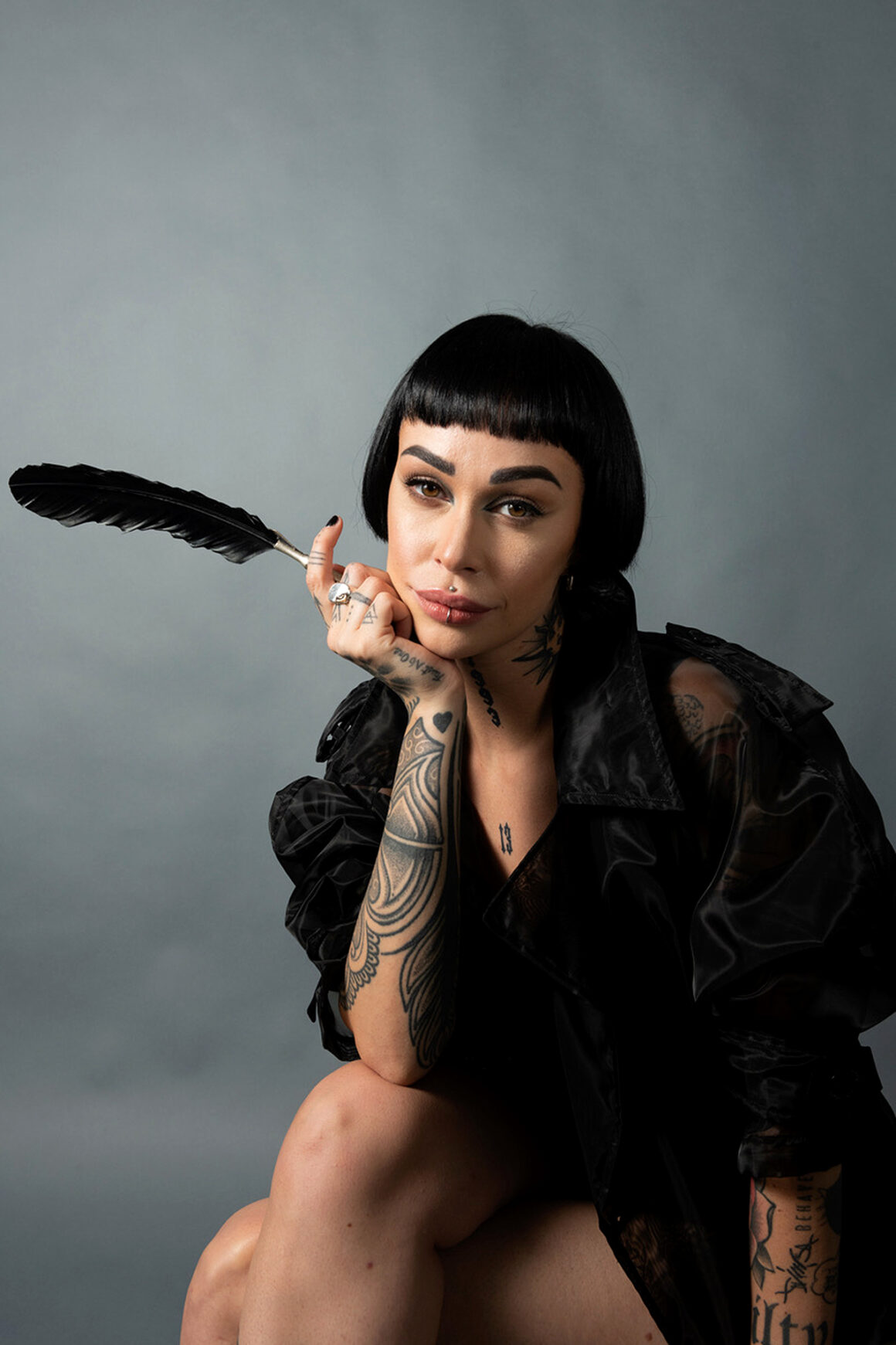 Who would you turn to in order to make it?
I don't know. So far I've met many good tattoo artists – from Marco Leoni and Sergio De Angelis to Erox of 'Satatttvision' in Milan – but for a tattoo like this I really don't know. Ah, in the past I also had a good time at Luca Pugno's 'No More Pain Tattoo' and I've had other subjects tattooed in a studio in Rome.
Last question: have you already started thinking about a third book?
Not at the moment, since I'm more of a reader at the moment. You know, I've just bought the original first edition of 'V.M. 18' by Italian author Isabella Santacroce (released in bookstores in 2007. Ed.) and I'm cutting down on the pages to prolong the pleasure of reading.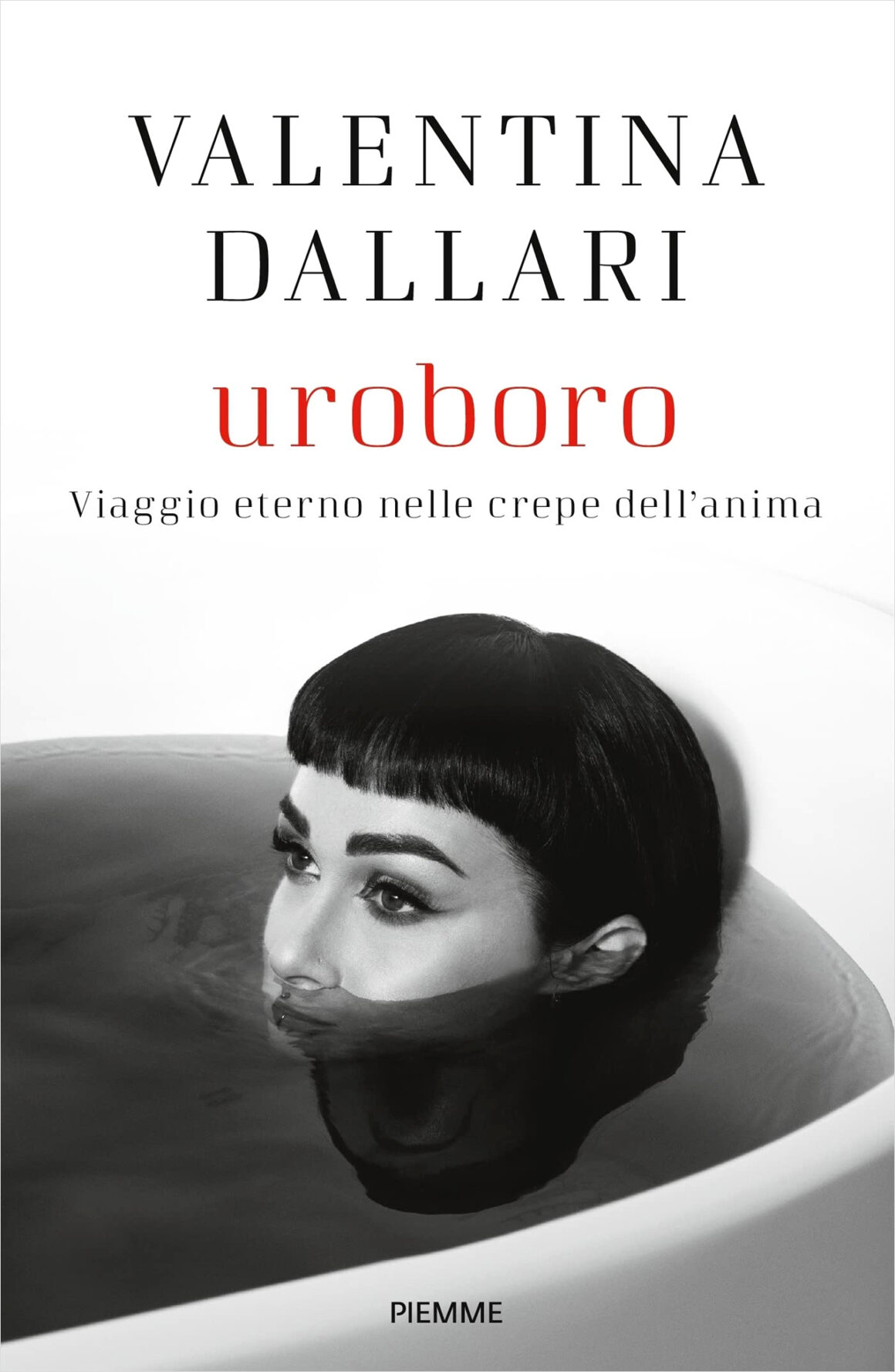 I insist: can you imagine a novel by Valentina Dallari in the next round?
It would be nice if I could find an original idea or a winning metaphor. In order to write, I have to recreate my own personal bubble each time, closed in a place I love and completely detached from the outside world. Once I reach that status, I think I'll feel like expressing myself on paper again.
Photos featured in this article are by Angela Lo Priore.
Follow
Valentina Dallari
on Instagram:
@valentinadallari_