Behind the Biomechanical style of this Oregon tattoo artist there is much more. Or as he puts it: "A lot of expression trying to break through to the viewer".
Ty, can you tell me a little bit about yourself?
Well, I'm 38 years old. Originally from Oregon, I've wandered all over. For the last 9 years I have called Phoenix, Arizona home.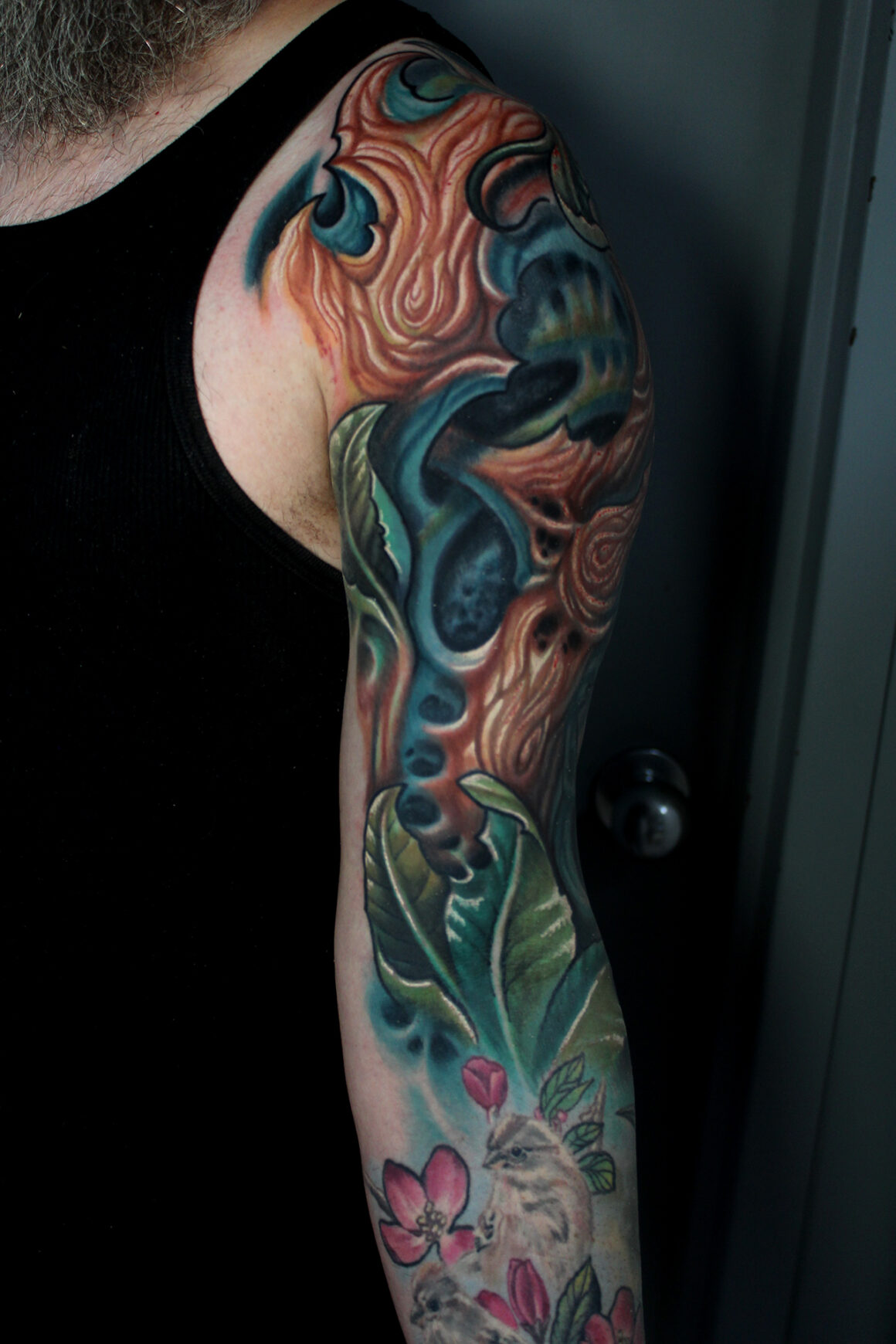 How many years have you been tattooing and what were the stages that brought you to Blind Tiger Tattoo in Phoenix?
I've been tattooing for 20 years. In 2014 I decided to move to Arizona, I knew Eric James (the Blind Tiger Tattoo owner, ed.) from previous guest spots in Phoenix. Eric is a great person and incredibly easy to work for.
Is there anyone in particular you would like to thank? Someone who noticed your talent before others did?
That is a long list but people who noticed me early on are my Dad, Terry McDonald, Guy Aitchison, Carson Hill and John Montgomery.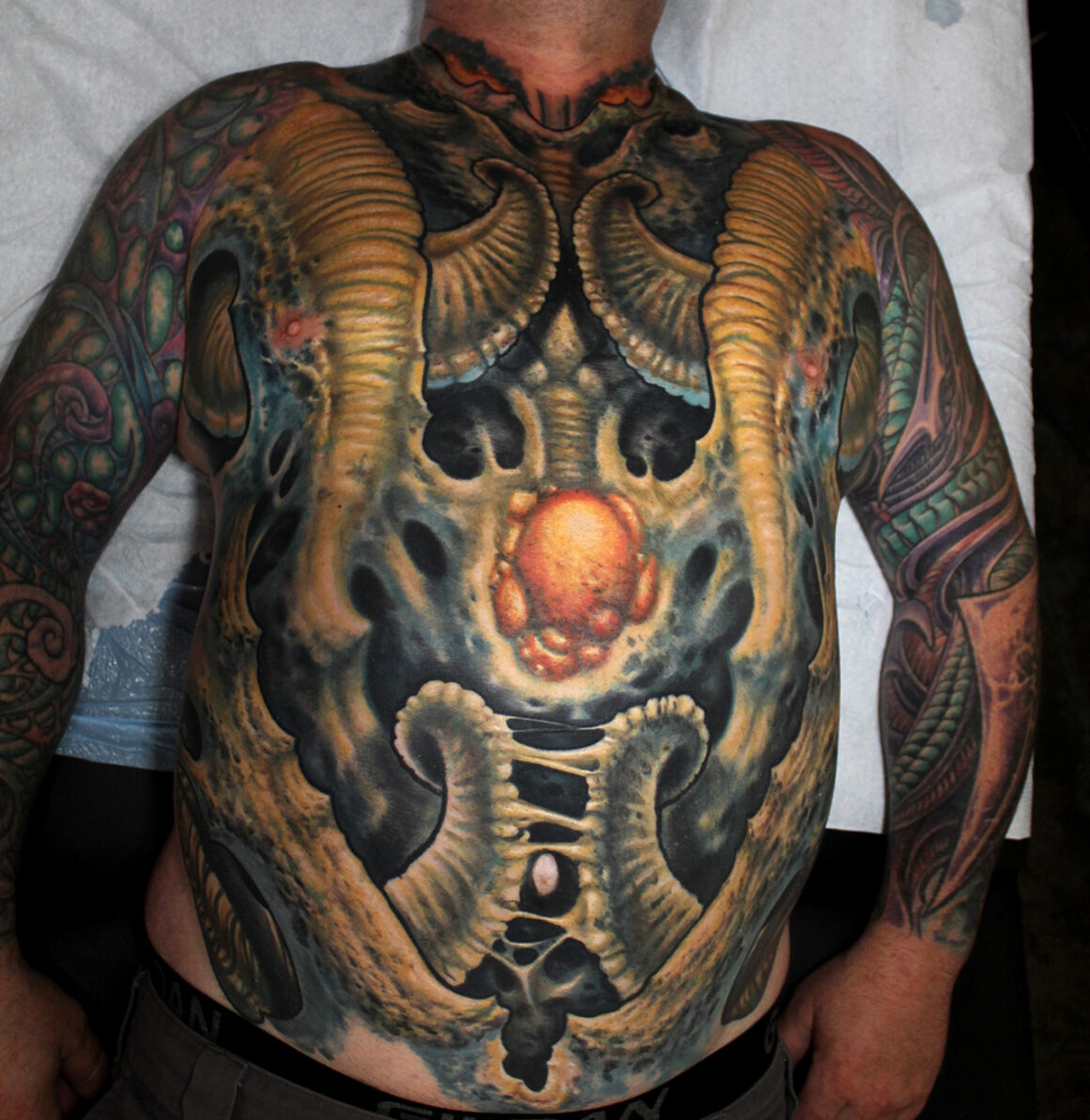 Do you think it's fair to call your works "Biomechanical," or is there something more to their DNA?
I think the term "Biomechanical" is what people know. But labels in art, any style or genre is merely the tip of the iceberg. There is a lot of expression trying to break through to the viewer.
Personally I'm always trying to deal with the struggle, beauty, fury, etc. That exists in nature and therefore within us all.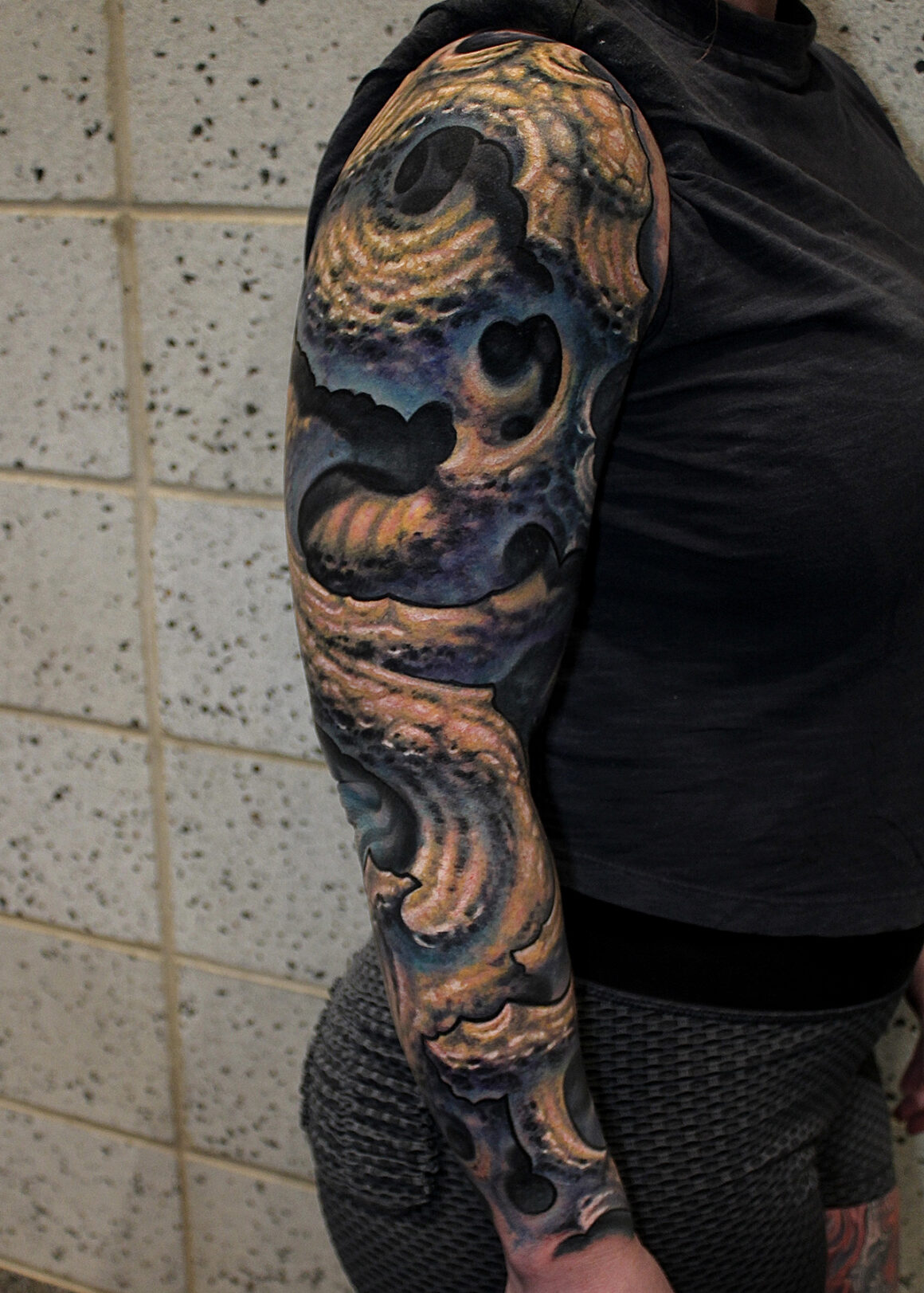 Looking at your work, I thought of some kind of "dream x-rays" or something like that. Not to mention a really special use of colours…
That's a really cool way to describe my art! A new one for me. (smiles) I think the way art is interpreted by people is what makes art special, and attractive.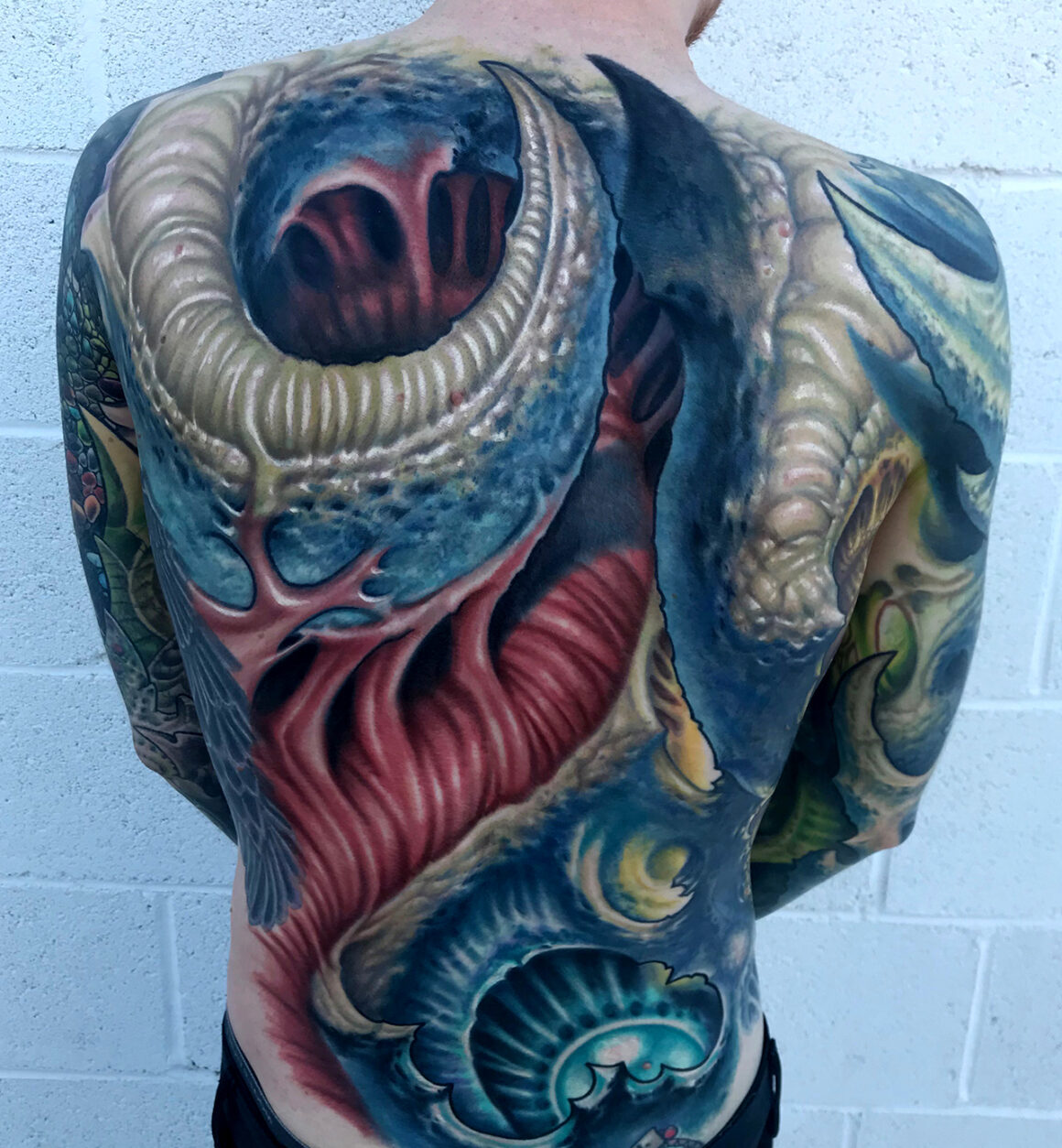 Can you describe the environment at Blind Tiger Tattoo and tell me what it's like to work with colleagues like Dylan, Eric and Jared? Do you complement each other artistically?
The vibe of the studio is what keeps me in Arizona. There's no drama, everyone is self motivated to create the best art that they can. It's very relaxed. Everyone does different styles and I think that is great to be around. I get to learn a lot.
Do you have any conventions or guest spots planned away from Phoenix regarding fall 2022 and winter 2023?
Yes, I'll be at 'The Hell City Tattoo' in Ohio, 'Evergreen Tattoo Invitational' in Eugene (Oregon), 'Tahoe Tattoo Show' in Lake Tahoe etc. Still working on guest spots. So stay tuned to my social media posts.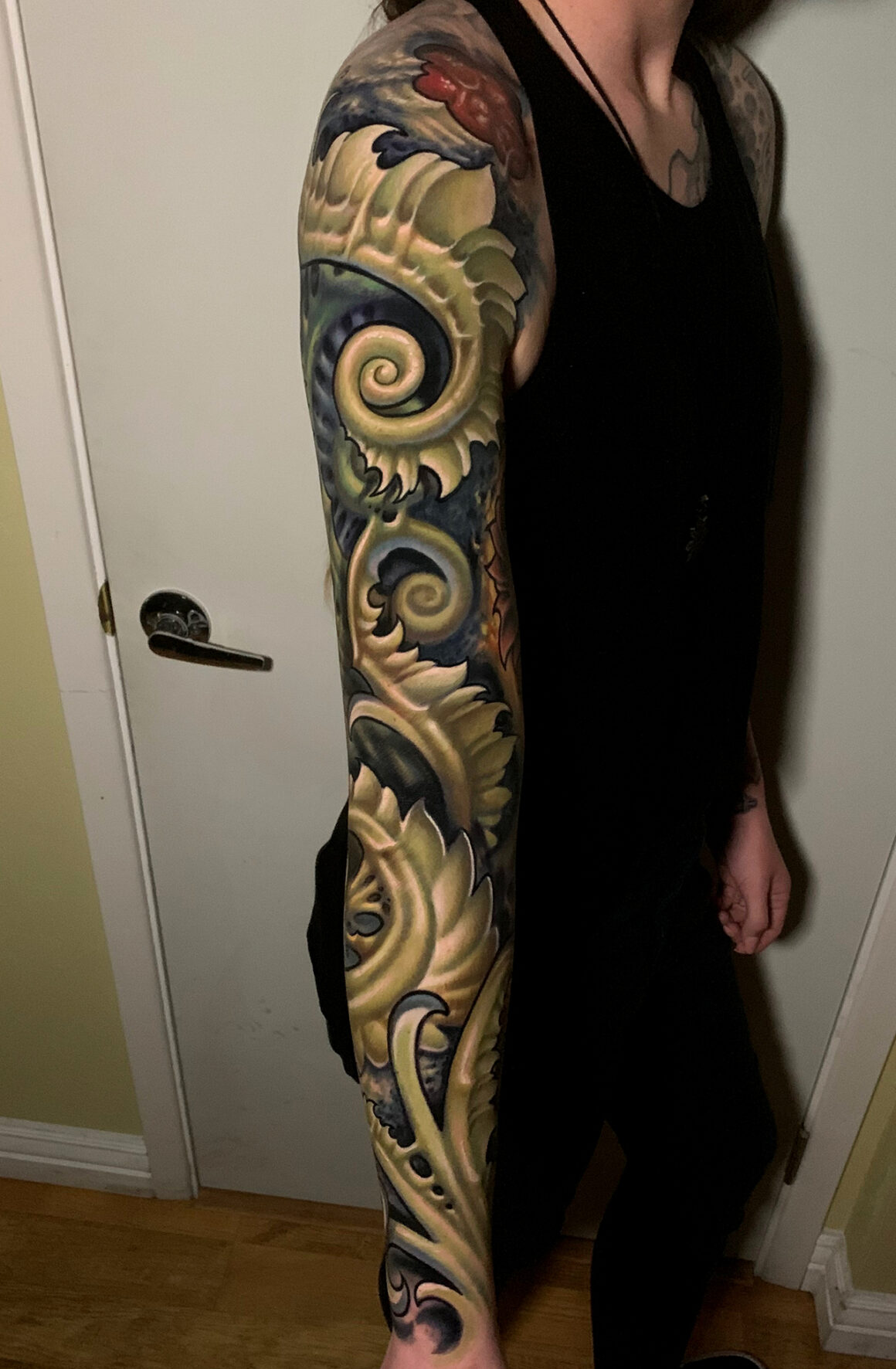 And your famous last words are… ?
You get out what you put in.