A master of black work, but also a journalist and in a certain sense a philosopher. His tattoos are potent, and this craft is for him a "a spiritual act". From his beginnings to these strange days, Taku Oshima tells us about his life and career…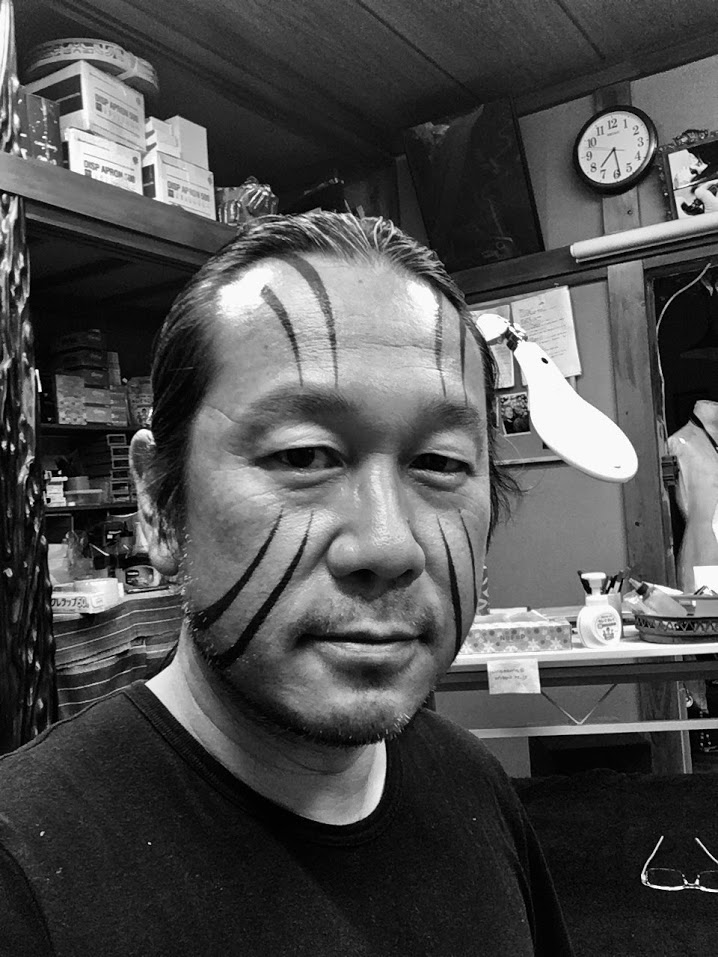 Hi Taku and thank you so much for this interview! How would you like to introduce yourself to our readers?
I'm a tattooist who focuses on tribal tattoo and modern black work. As my unique point. Recently, I have revived Okinawa traditional tattoo, Hajichi and Ainu traditional tattoo, Nuie; As well as Jomon, which is the name of Japan's prehistory period about 10000 years ago. In my opinion, tribal tattoo culture was widespread here in ancient times. So, I was inspired by earthenware in that time period.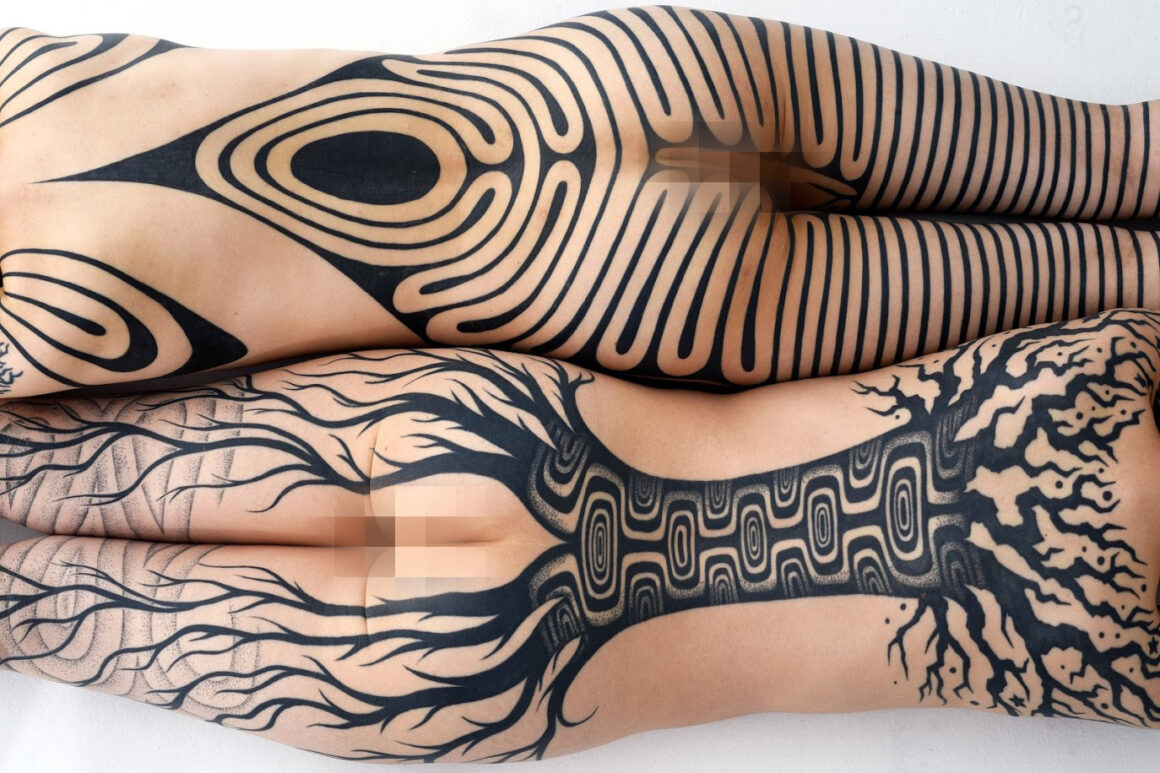 Tell us more about your background: where and when did you learn tattooing? Who is your master? What are the most important steps in your marvellous career?
I have learned tattoo myself while travelling since 1994. I have never had any fixed teacher. I just enjoyed tattooing with my hippie friends like Alessandro Pellegrini, Cy Wilson, and many more.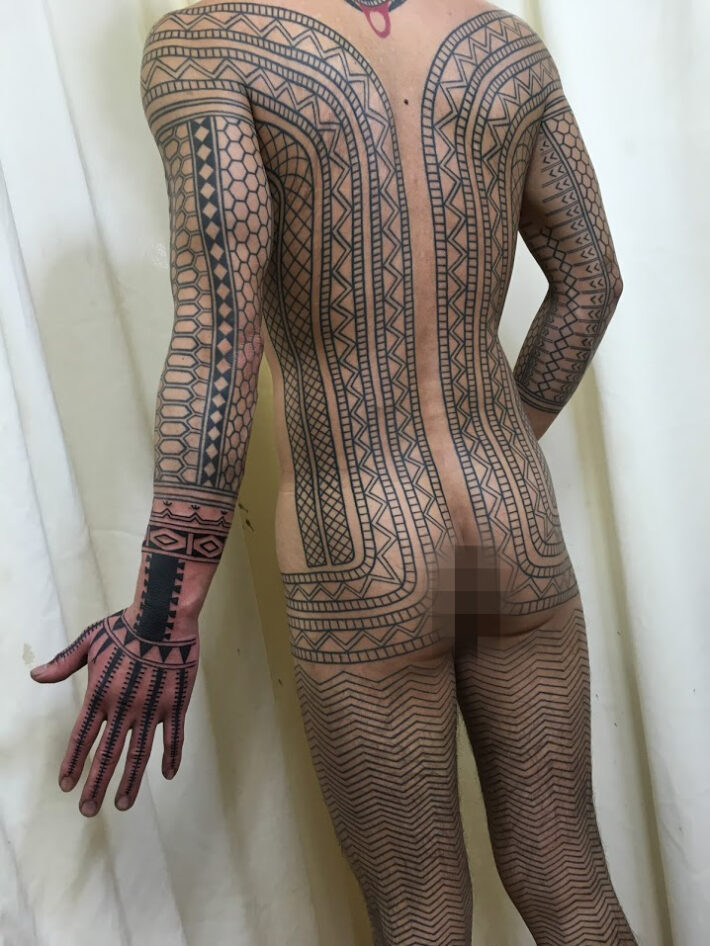 When did your fascination with tribal art begin? How did you choose your style and how would you define it? Has it changed over time and is it still in evolution?
I think it was something like in 1998, I was on the beach in Goa India, smoking an Italian chillum with friends. Then, I found a girl walking on the beach 30 metres away from us and was shocked: WTF was going on! That girl was tattooed with a full body suit in black work and it was so clean even 30 metres away! I ran up to her and talked with her. She said Alex Binnie had done it.
From that moment, I have always tried to make something that looks good long distance. and it should be big simple black work.
I read you once said "For me, tattooing is a spiritual act, but I don't mean this in the sense that it is an initiation rite as in Tribal societies. Rather, it's more an act of affirming an already existing identity." – would you like to tell me more about?
The meaning of tattoo has changed over time and from one society to another. But there is always a sense of fun about being tattooed anyway. I think it is connected to our positive outlook on life.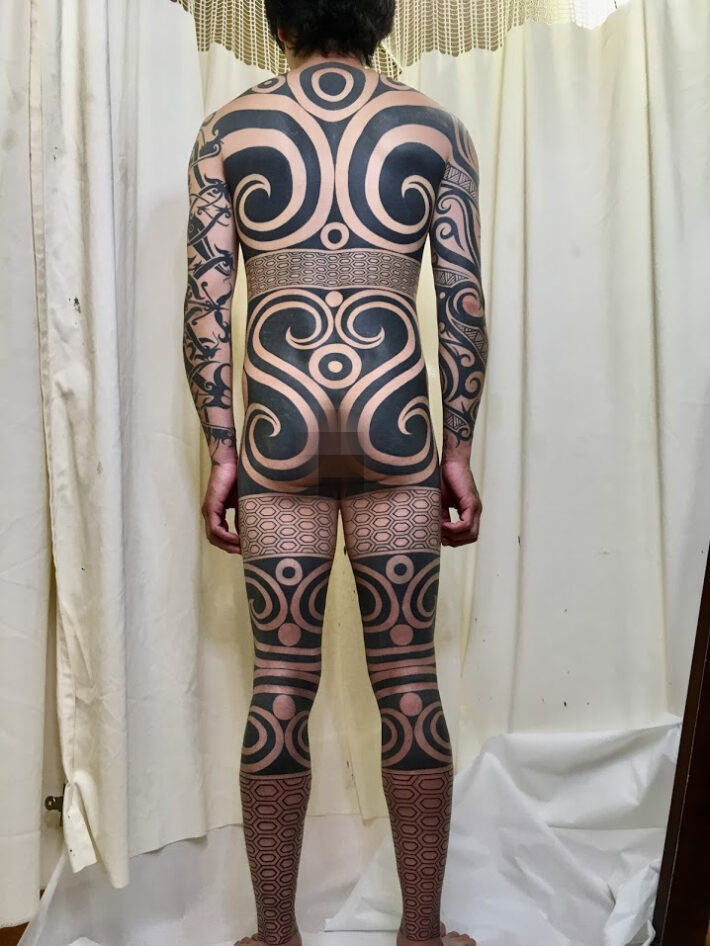 How does one of your projects on skin come about? From the idea to the real tattoo: what are the steps you follow?
I only draw an easy rough sketch to show the general idea to the client. The real body is my real battlefield. I take much more time to do free hand drawing on the skin.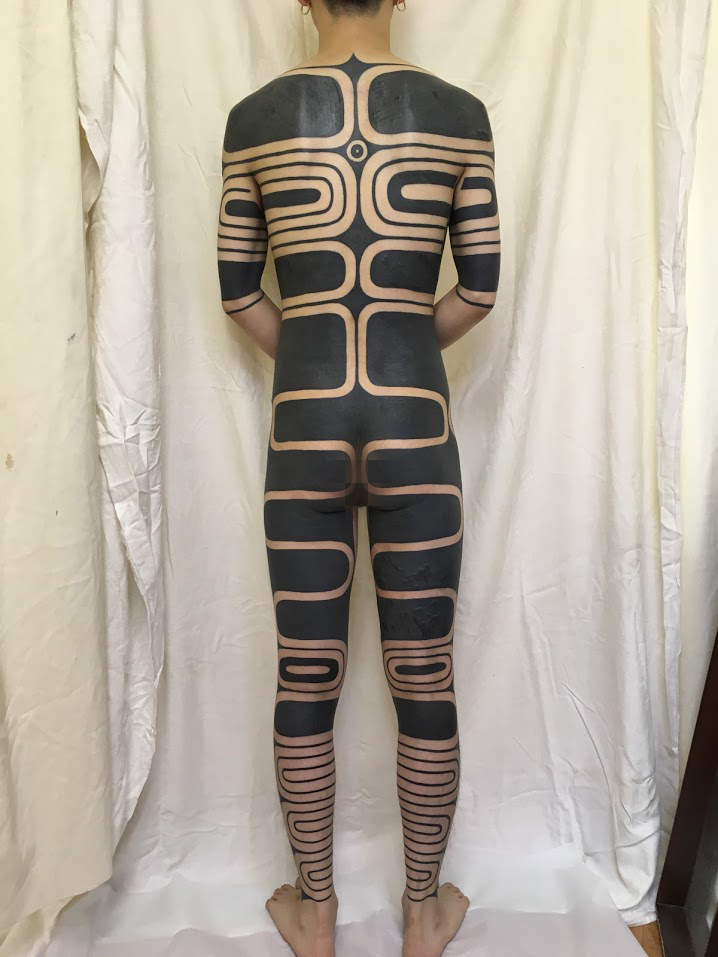 Speaking of techniques: what do you feel are the most important rules in order to get the best result?
I always say to people that look at your tattoo and yourself from a distance like somebody will look at you on the street. It is the best way to see fashion.
Are you in Japan at the moment? What is the tattoo scene like there right now?
I'm in Tokyo, Japan now. In October we finally emerged from the courts with a winning verdict. Tattooing is legal in public now.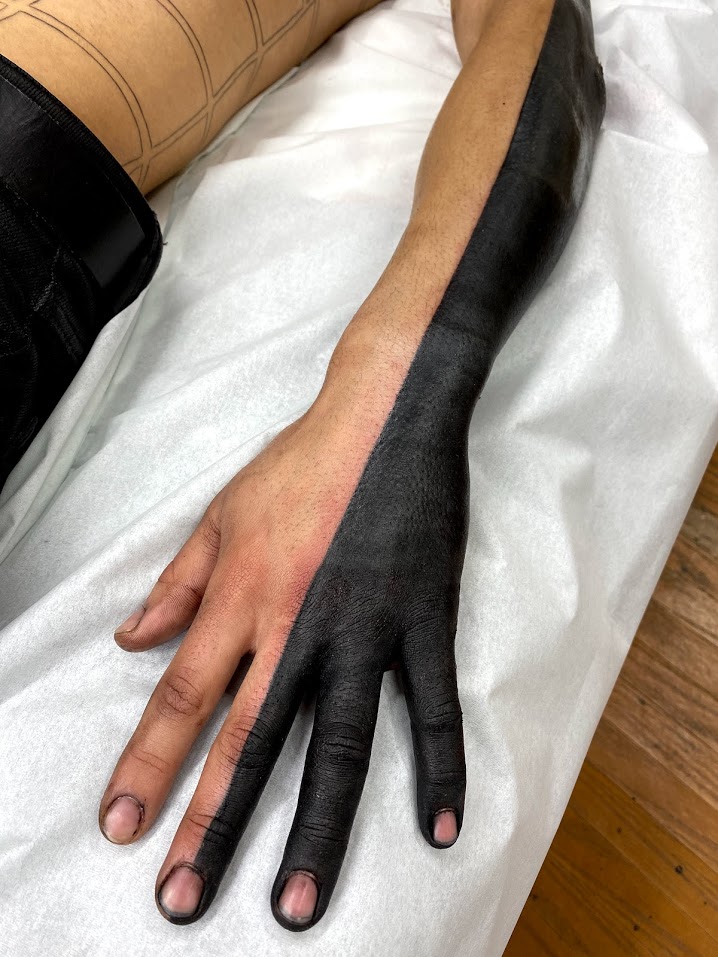 And what about the lockdown?
Japan's government gave priority to the economy. We have never had a lockdown this year. So, the situation on the tattoo scene is just like normal or little bit less than last year, I guess.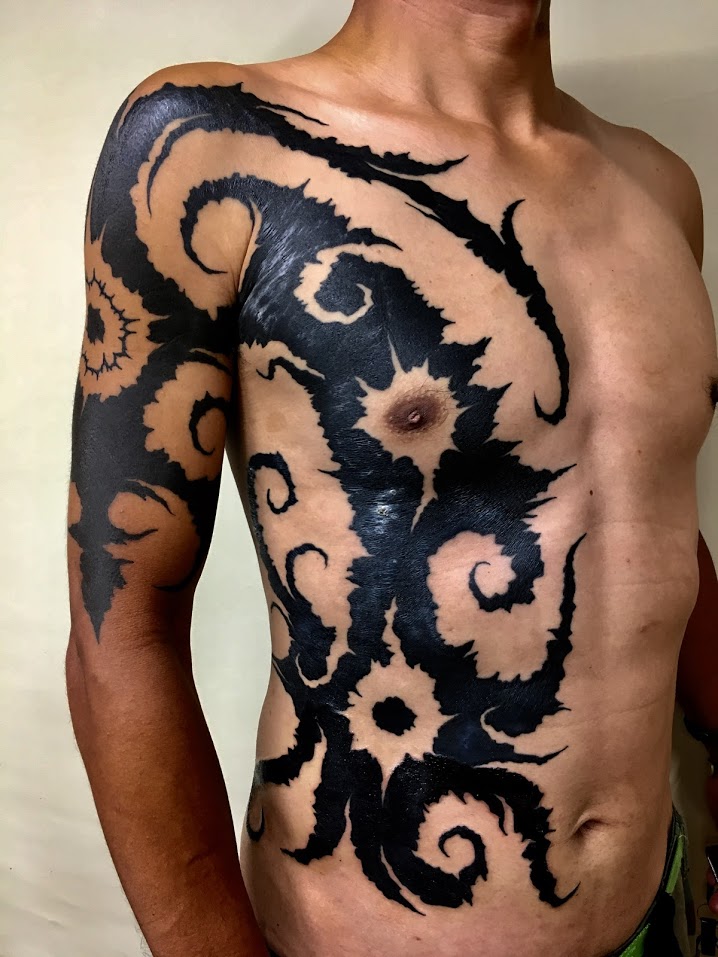 Do you also paint? What are the things you love most besides tattooing?
Recently I haven't been painting so much. Tattooing is my hobby too. I also spend a lot of time writing travel journals for Japanese magazines about tribal tattoos around the world.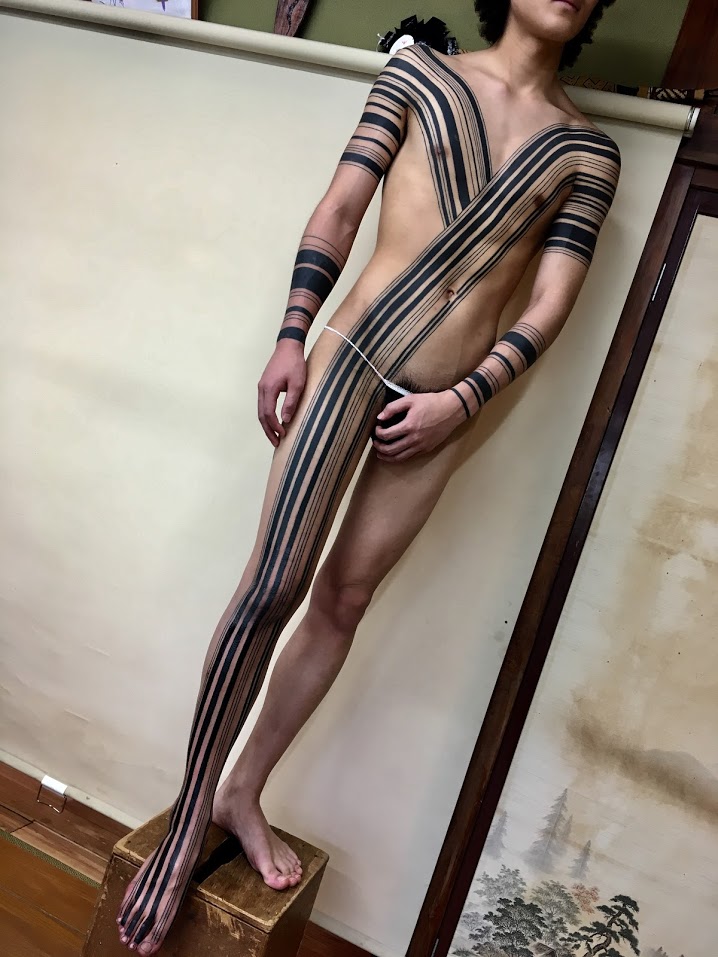 What is a typical work day like for you?
I have closed my studio in the centre of Tokyo and am working in my house in the suburbs so I can look after my mom now. I do house things in the morning and start designing and tattooing from 10 to 4 or 5 in the afternoon. Sunday is the busiest day for tattoo studio in Japan and the whole of Asia.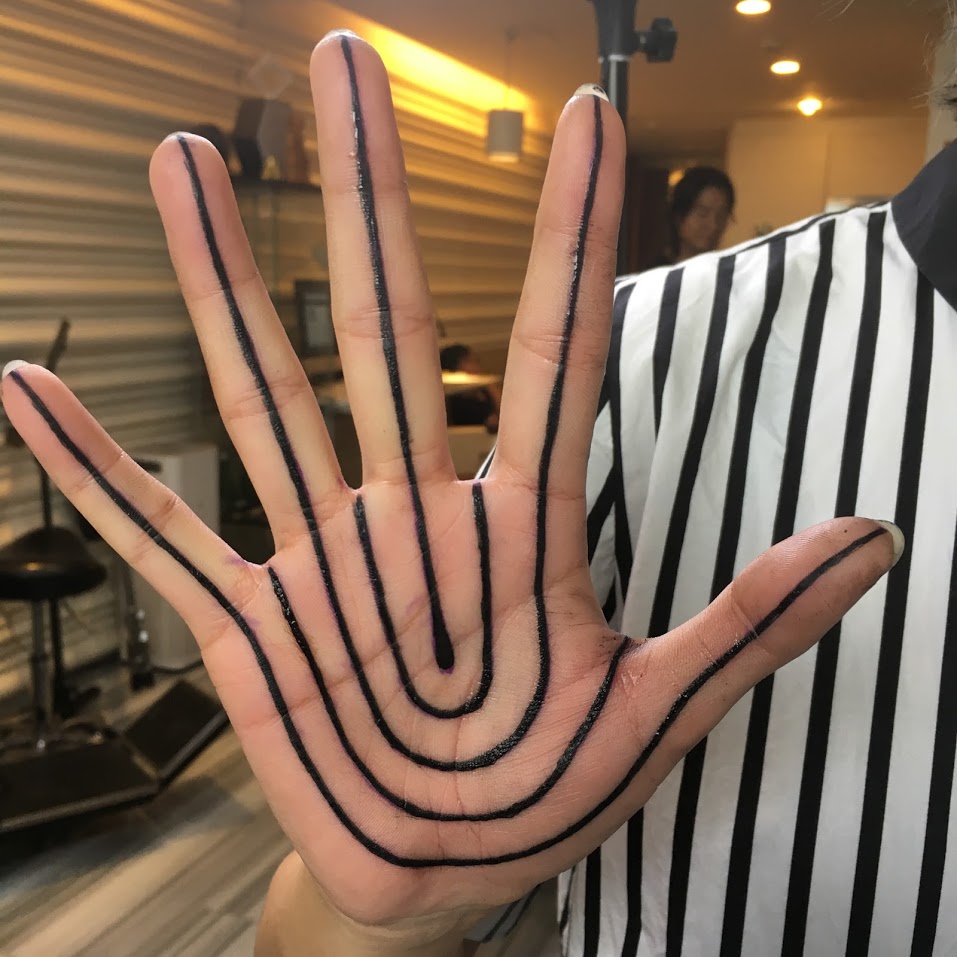 Is there anything you want to add?
Tattoo is not only my business but also my hobby. I don't need money if you give me a super incredible idea that surprises me!