When he started using the inks by World Famous, Tomasz Torfinski – aka TOFI – says that the quality of his work improved significantly.
His tattoos are simply breathtaking: three-dimensional, vivid, full of detail and utterly unforgettable… Together let's find out about the secrets, equipment and techniques of one of the most intriguing tattoo artists in this stunning style!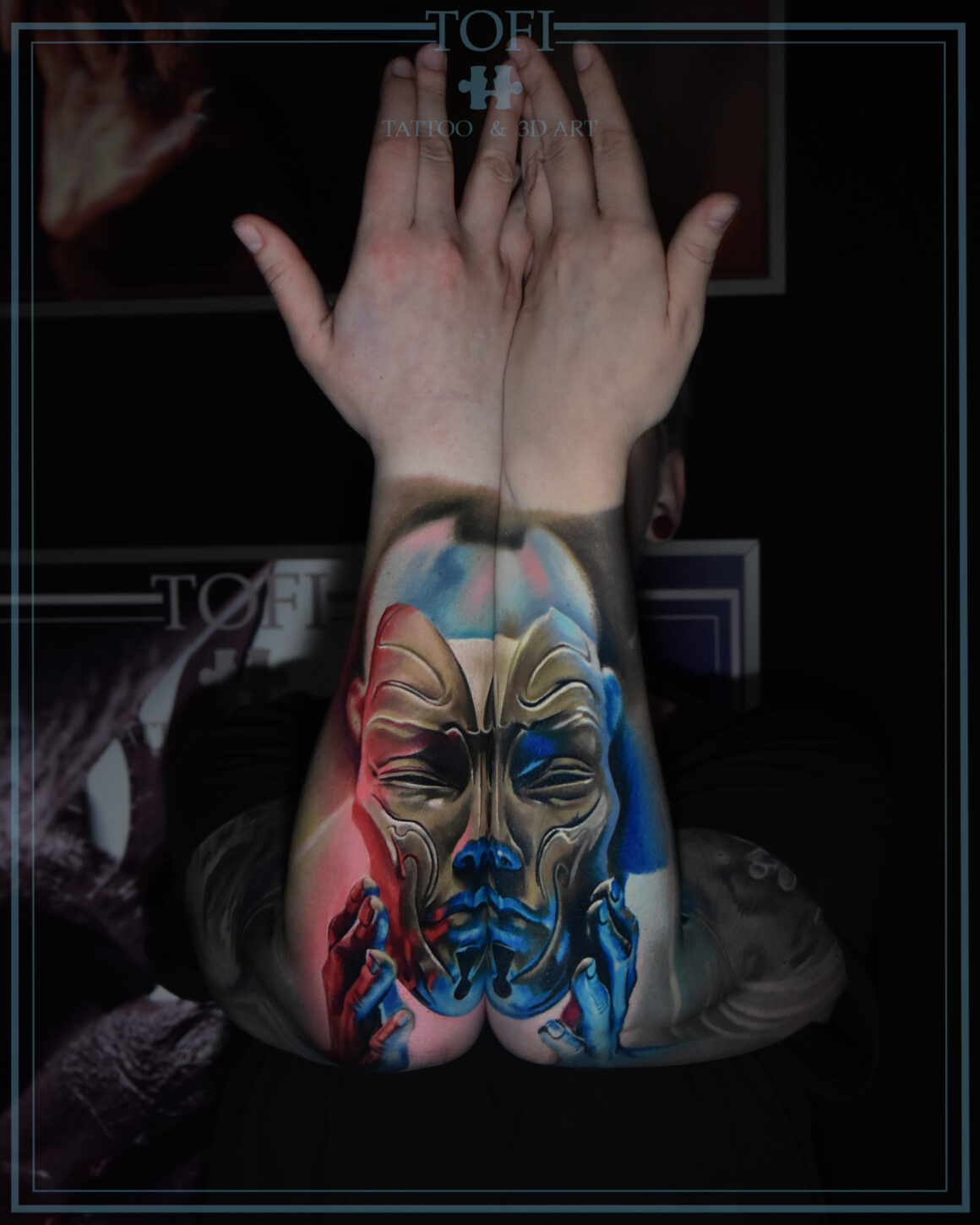 Hi Tofi, I'd like to start this interview by getting straight down to your tattoos and the magnificent colours that all your hallmark: how do you manage to achieve this brilliance and three-dimensionality?
There are two answers to this question. First of all, the clarity of colours depends of the ink brand each artist uses. I've been relying on my experience with World Famous inks for the past 6 years and it has improved the quality of my pieces both before and after healing. The second reason is my design workflow which is based on my 3D illustrations – I've been a pioneer in this for the past 11 years.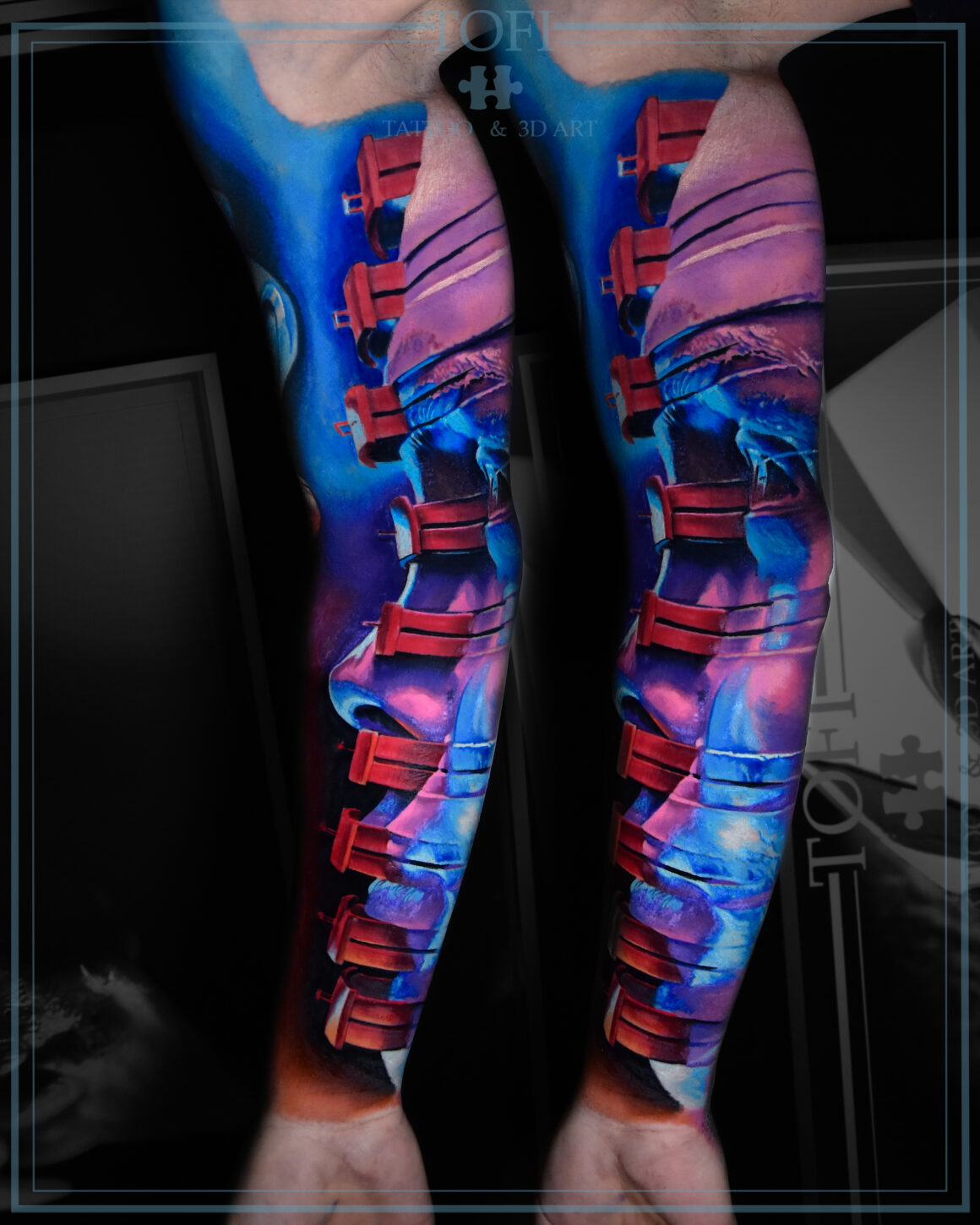 How would you define your style and how has it evolved over time?
My style is Colour Surrealism based on my own ideas and designs. It has evolved from realistic tattoos I started with at the beginning of my career 20 years ago. At the moment I'm also creating my images on computer and these are easily transferred in their pure form onto the skin.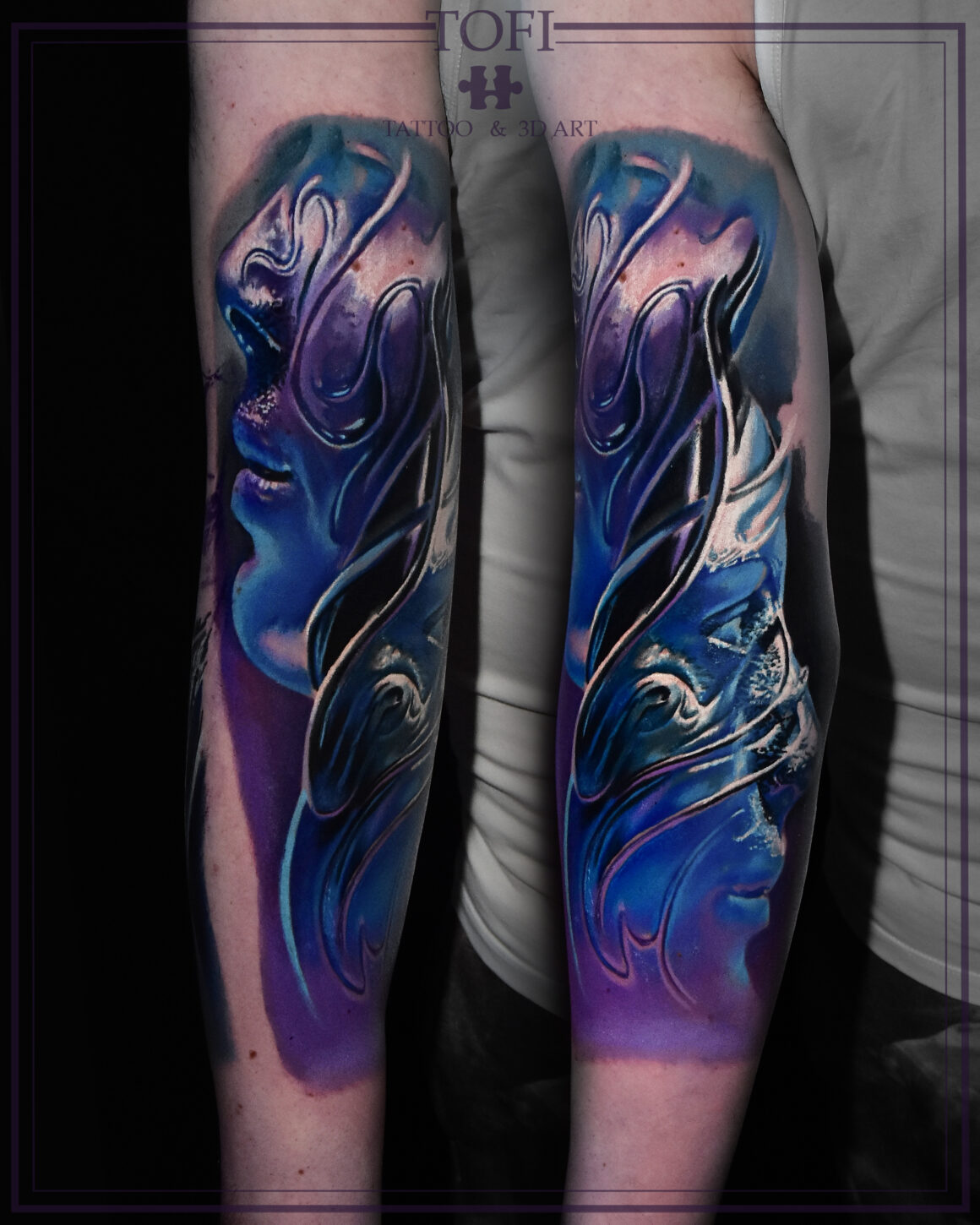 How many years have you been tattooing now? What's your background and how has it influenced your way of tattooing?
I've been tattooing for about 20 years for now. I began my career studying at art academy and finished in 2005 which was when my artistic development in tattooing really took off. So I started to explore my artistic soul and have been expressing it ever since. And the journey continues.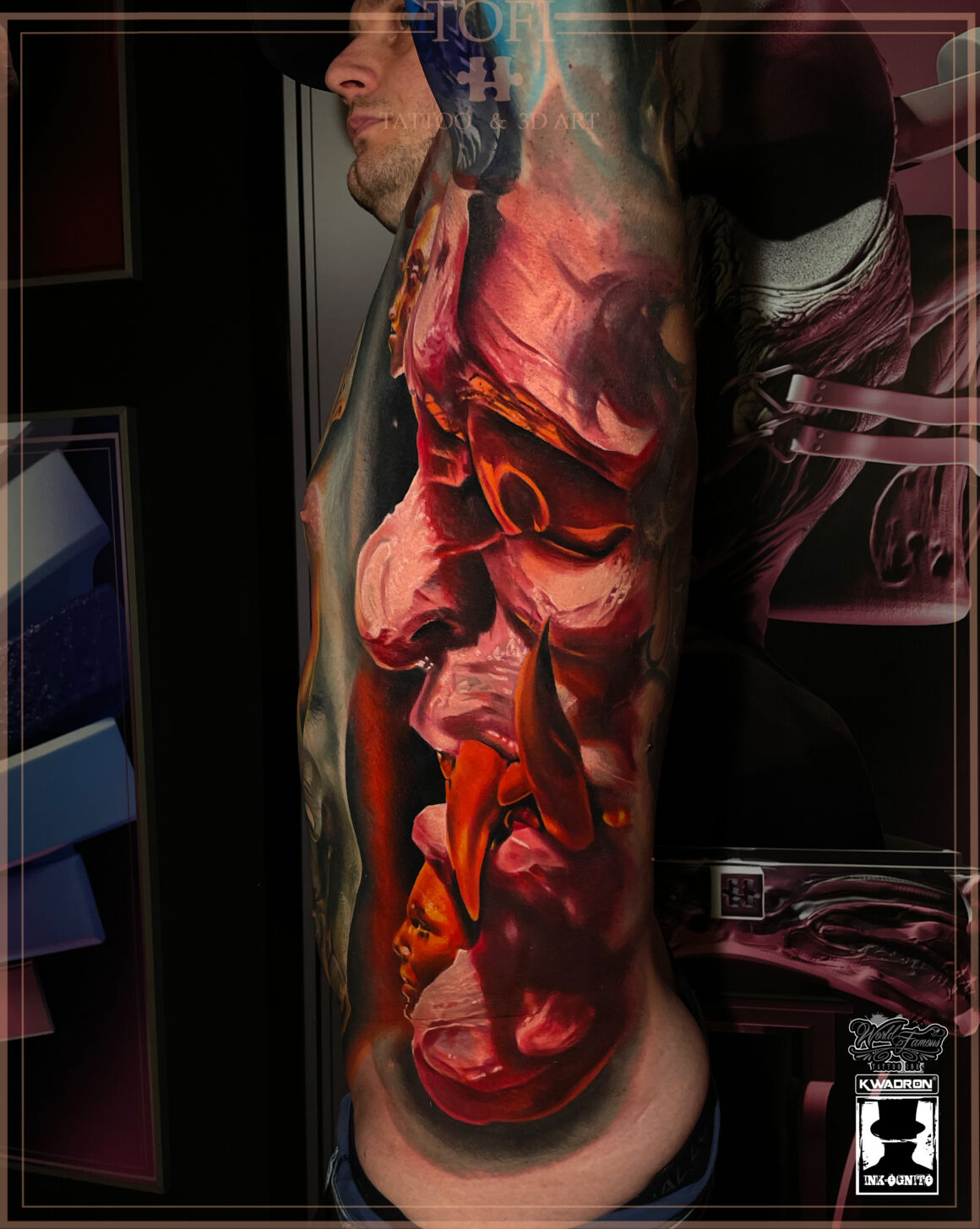 What sort of performance do World Famous inks guarantee you?
The very first time I used them I saw how it really popped the quality of my pieces and I'm sure that my carrier started to take off from that time as well. It was also the time I started to be strongly dependent on my 3D images and I found that I was able to transfer them onto the skin without losing any of the quality of the illustration.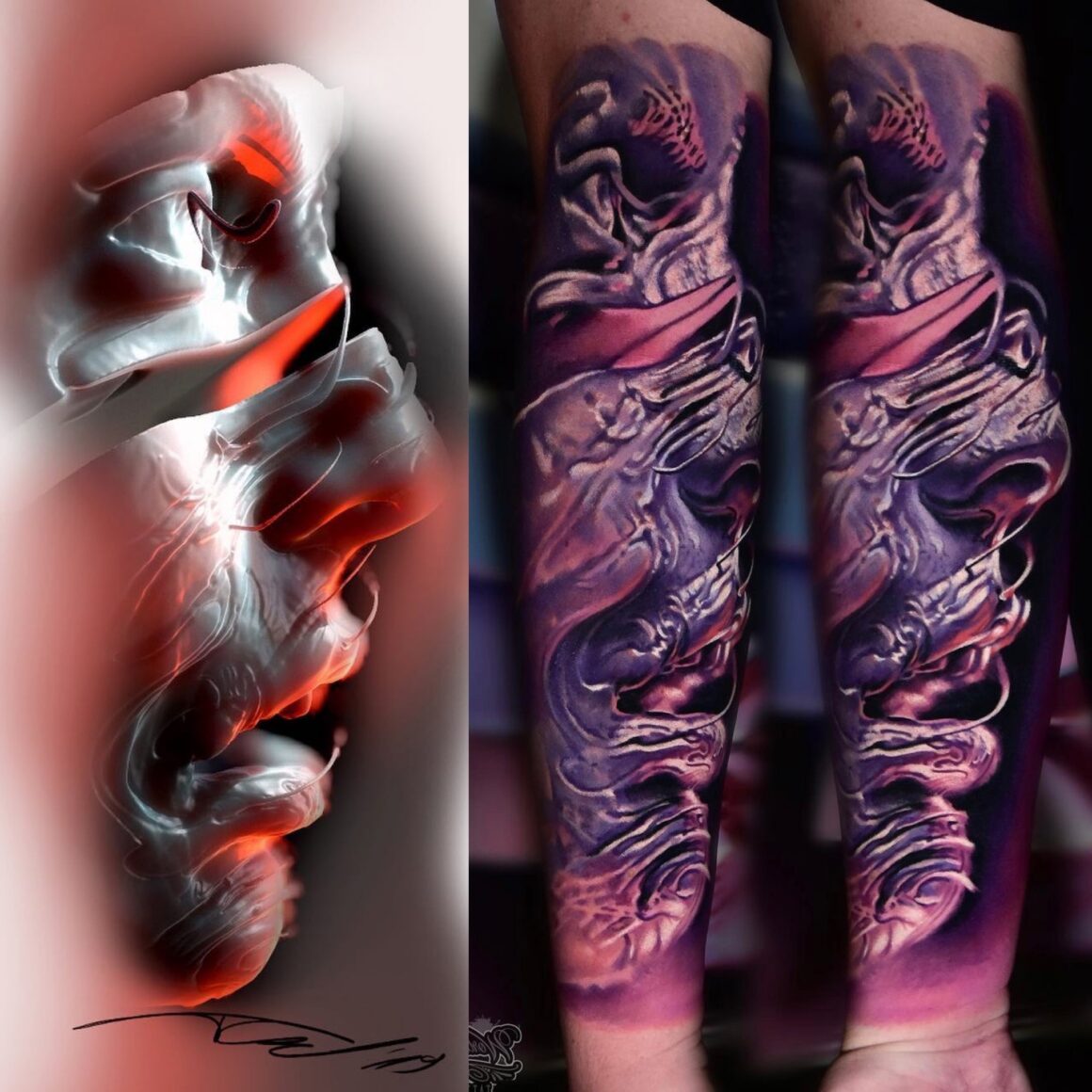 By this I mean that all of the contrasts between black (I use The Legendary Black Outlining which is really black and I've been using it as a base black for the past 6-7 years) and the rest of the colours which give me the right amount of contrast in light and medium tones and heal really well.
The greatest advantage I can think of is that for the first time in my career I can achieve the same tone from the bottle on the skin.
By this I mean the tone of a colour on the skin is the same as the tone shown on the bottle in both the fresh and healed version.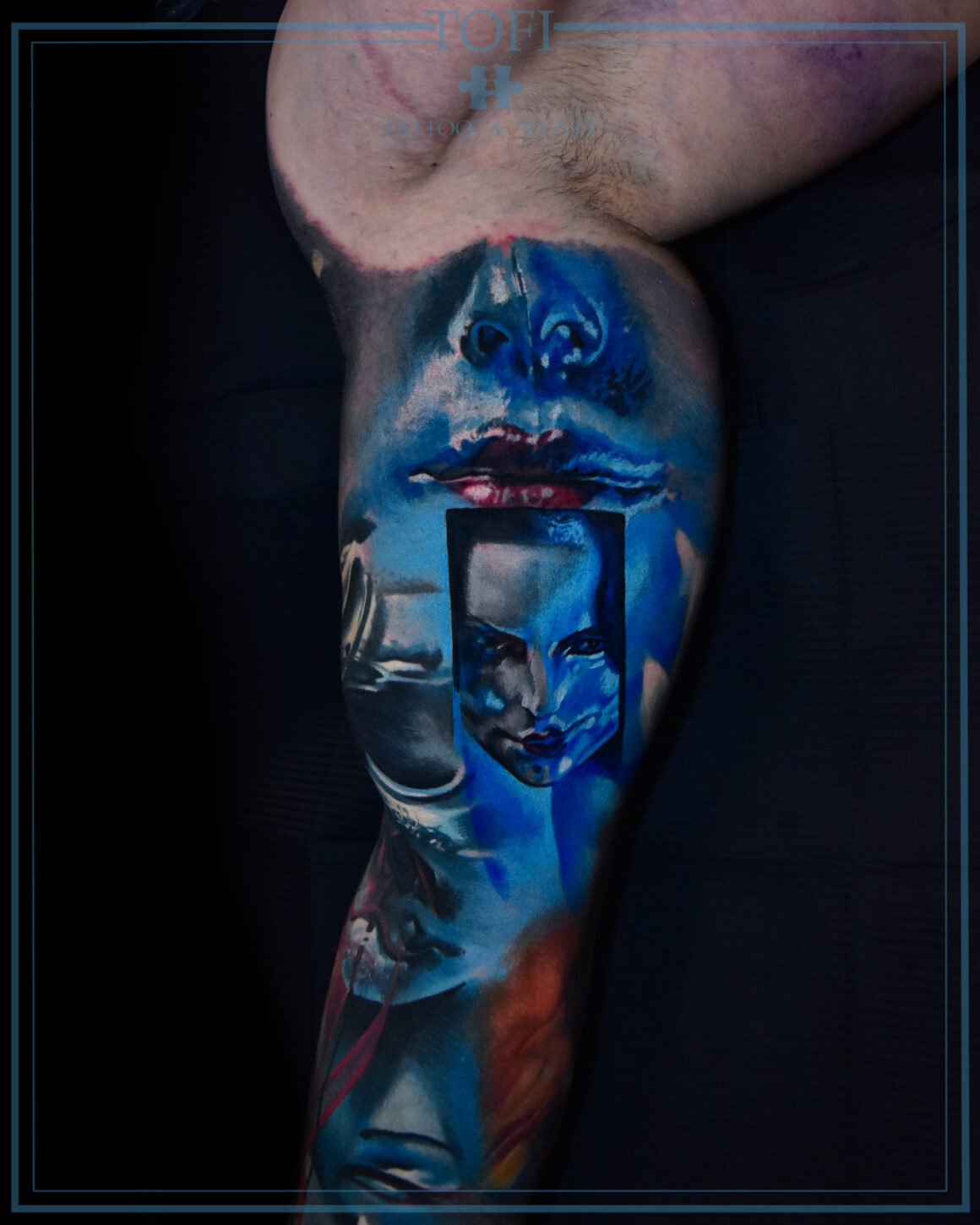 Do you have any favourite colours in your reference palette?
Sure I do. Mostly I like all of the blue tones and skin tones when it comes to saturated colours. I also use and admire all of the grey opaques.
Let's talk about the subjects: what are your inspirations and how do you design your compositions?
My inspirations are from my own art. In recent years I haven't been much into following social media to get inspired – it keeps my creations clean and personal, plus I can't stand the trend of artists that are the copies of a copy of other artists. I feel bad about it when I see someone else's solutions misunderstood and copied by others, even more than when it's just a copy of a tattoo done by another artist.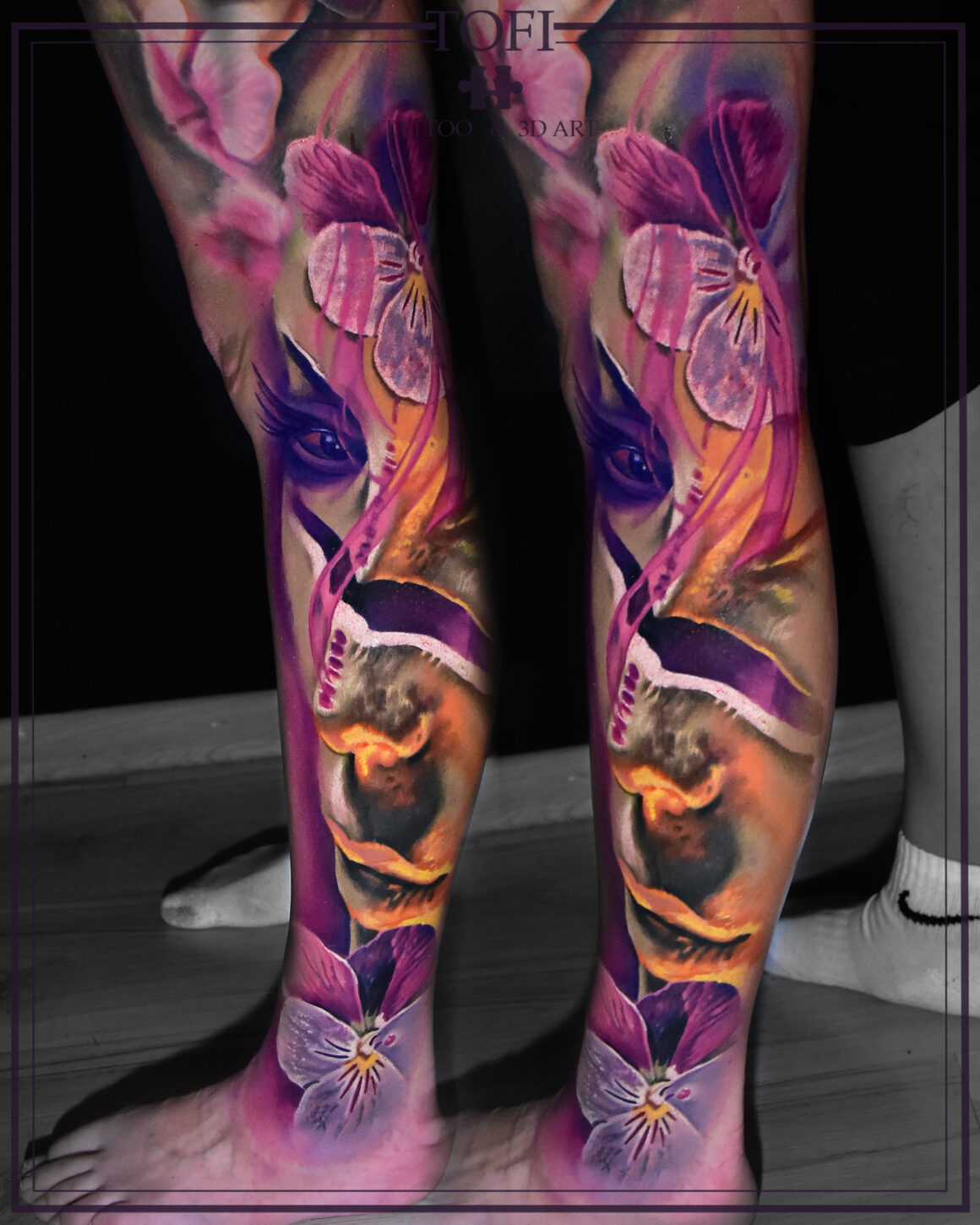 Is it sometimes difficult to interpret your customers' requests? What are the steps that take you from the idea to the final release?
Mostly in my pieces I use the ideas my customers ask me to interpret. I challenge myself every day on how to visualize their idea. In most cases I find that's the part that leads to the most amazing connections.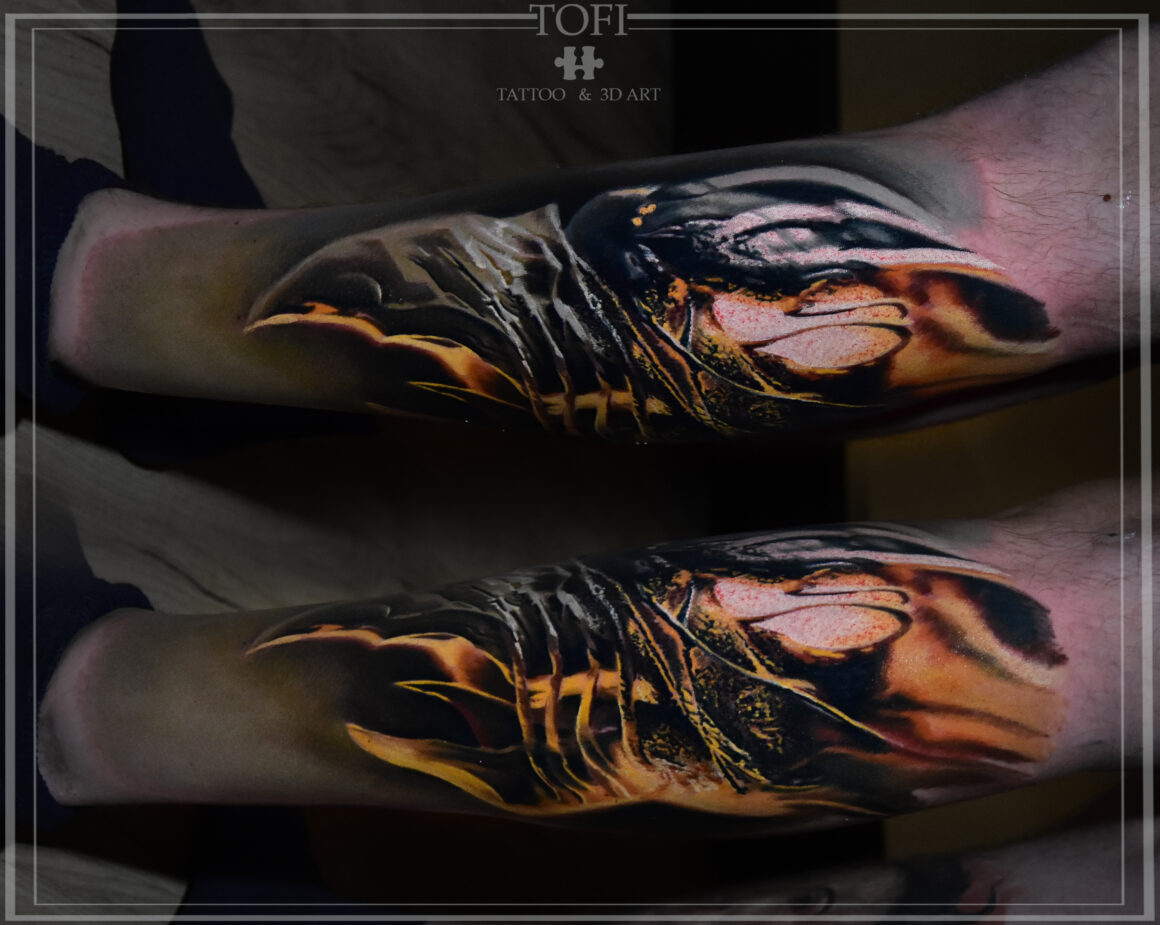 What are the technical challenges that allow you to obtain long-lasting results?
Over the past 20 years of my career I've been able to adjust all of the technical aspects, So at this point each of the elements is clearly structured starting with the design preparation that contains a lot of contrasts and balance between flat surfaces and detail-structured ones. Plus inks machines and needles helps me to achieve the best results. And I can't overemphasise the importance of WF inks which are the most strategic ingredient.
Where are you at the moment and what are you working on right now?
At this moment I'm in the best stage of my career because I'm able to spread my wings artistically the wayI've always dreamed of. Plus all doors are open to me for creating art and more formal movements around tattooing, like my YT podcast Tomasz Tofi Torfinski that shows each of my Tattoo Experiments episodes. Also, recently, I've started a series of interviews with well known tattoo artists at the top of the Polish scene and at this point I'm adjusting my schedule to extend it for the Italian and German market in the same format. I love to talk about tattooing in general, mostly about the ambitions and future artistic plans, mine as well as my friends. That's why I've decided to create a first series of my own showing the background of each artist. In my opinion it will all move into digital space and remain there for posterity. So I'm really psyched. I also co-create many amazing projects which are in the early stages of development so I can't share much about these at this moment.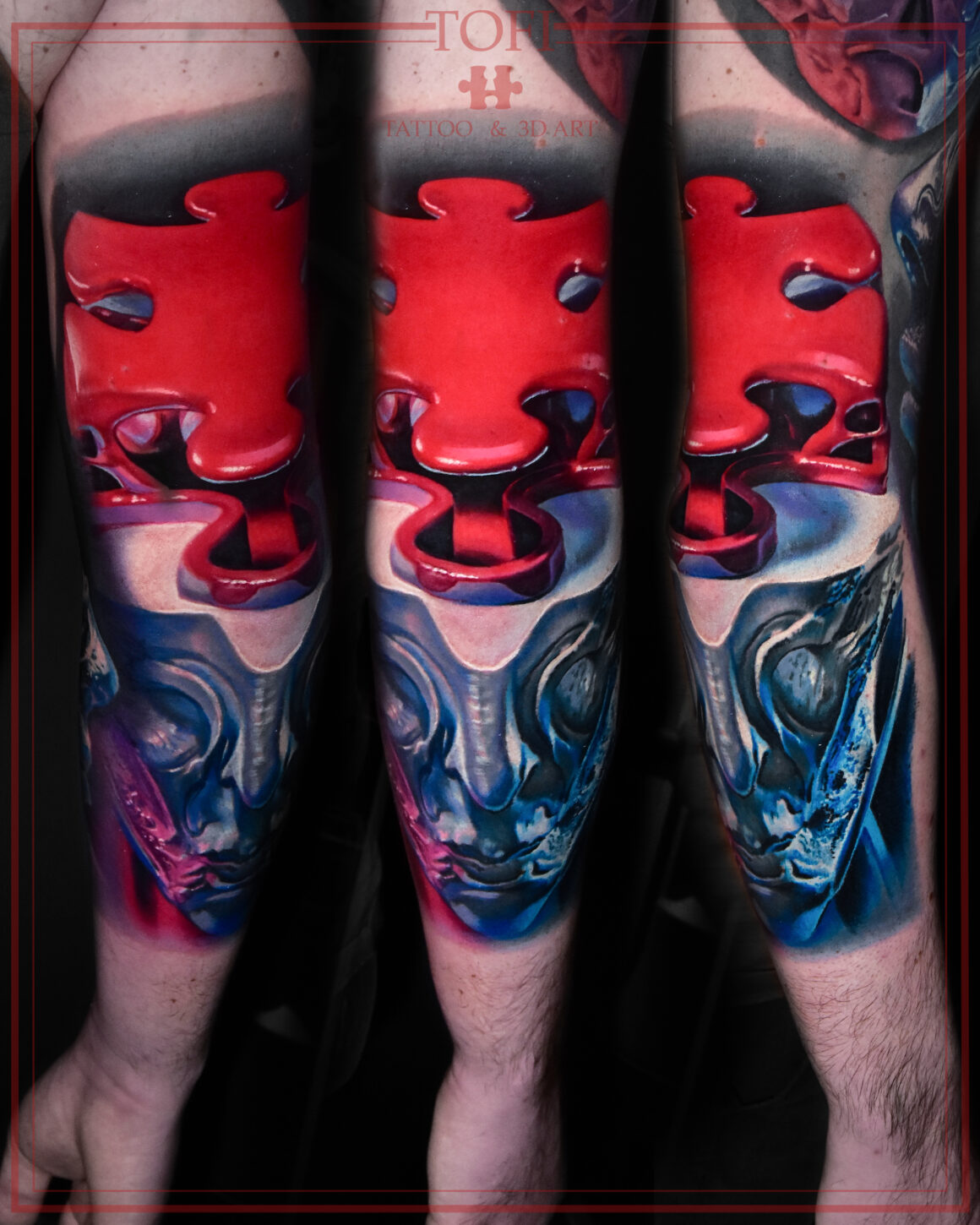 What do you do in your free time? Have you got any hobbies or interests?
I paint in oils a lot and that is the best bridge for me between skin and traditional art. I've also learned a lot of new stuff in the past 15 years. I explore obscure knowledge about design, making music, specifically drum and bass, snowboarding, seminar teaching and investments. And then there's my daughter – I want to share all of my knowledge and experience with her. It's so important in these times to raise the new generation as well as possible, just as it is to raise an upcoming generation of new artists in the tattoo industry.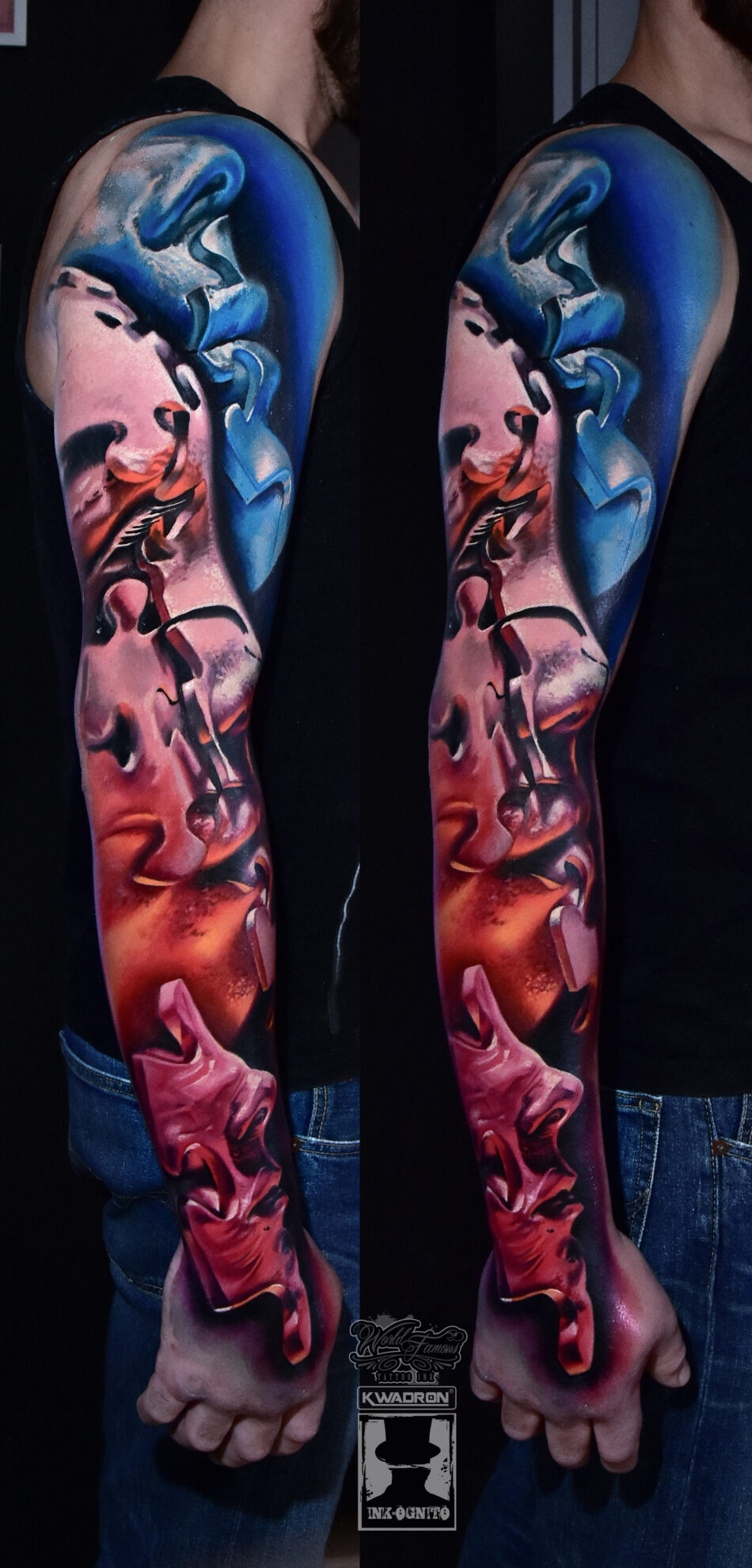 I know you love travelling and attending conventions, but last year was difficult (also) from this point of view: what did you focus on instead?
I devoted myself to all of the things mentioned above. I finally had as much time as I wanted to do all the things I felt like so I didn't even miss guest spots and conventions. In my opinion it's an old school habit that should be reorganized and rearranged.
So this is a shout out to convention organizers to target more modern aspects of promotion and commerce for attending artists, because we are sick and tired of attending the current kinds of conventions. We need a breath of fresh air and total reconstruction of conventions because I'm afraid it won't be as popular a method of advertising for us.
And new generations of artists won't be interested in attending them in the future.
But this is just my opinion and I can't say that I'm speaking for the majority out there. There's plenty of pandemic time to do it so I'll be waiting for news on this front.
What are your plans and hopes for the future?
My greatest dream is that the tattoo movement won't die out, and the same for each of the art forms like painting sculpture and graphic printing. And I hope that I will manage to keep my inner drive throughout my entire career.
What would you suggest to a young person who is starting out as a tattooist now?
I would suggest that they create as strong as possible an image of themselves in the tattoo business, create it first in theory and then get down to describing it. Once they have captured this image and implemented it in the media, to invest in gaining knowledge and achieving tools for expression. I'm full of hope that millennials will manage to rise the tattoo bar even higher!