Tattoos are the biggest part of her life together with her two cats with whom he lives in Stockholm, Sweden. Meet Tamara, tattoo artist and collector herself of Traditional black tattoos.
She is a very sensitive person deeply connected with herself, with lots of interests related to her more creative side, from tattoos, drawings and paintings to sewing and taking pictures. Let's have a chat with her!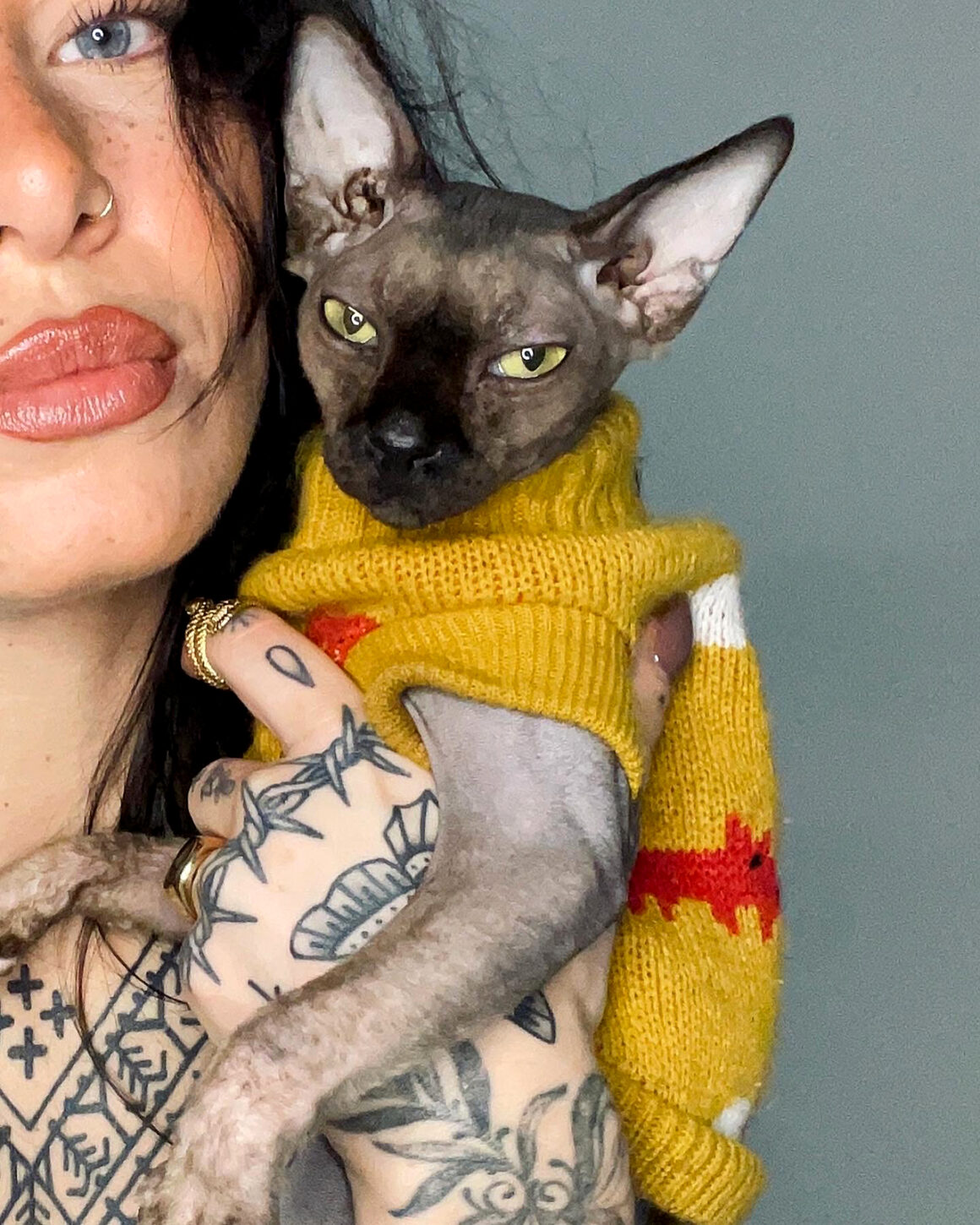 Hello Tamara, nice to meet you! Where are you from and what do you do for a living?
Hello, nice to meet you too! I am from Stockholm, Sweden, and I work as a tattoo artist for a living.
When did your passion for tattoos explode?
It started as a teenager, and the more I drew tattoos and got tattooed the more my passion has grown. There are so many aspects of it that I love. I'm sure you can all understand when I say it's addictive, and with the combination of being able to make them, tattooing has become the biggest part of my life since I started working with it. The passion grows every day!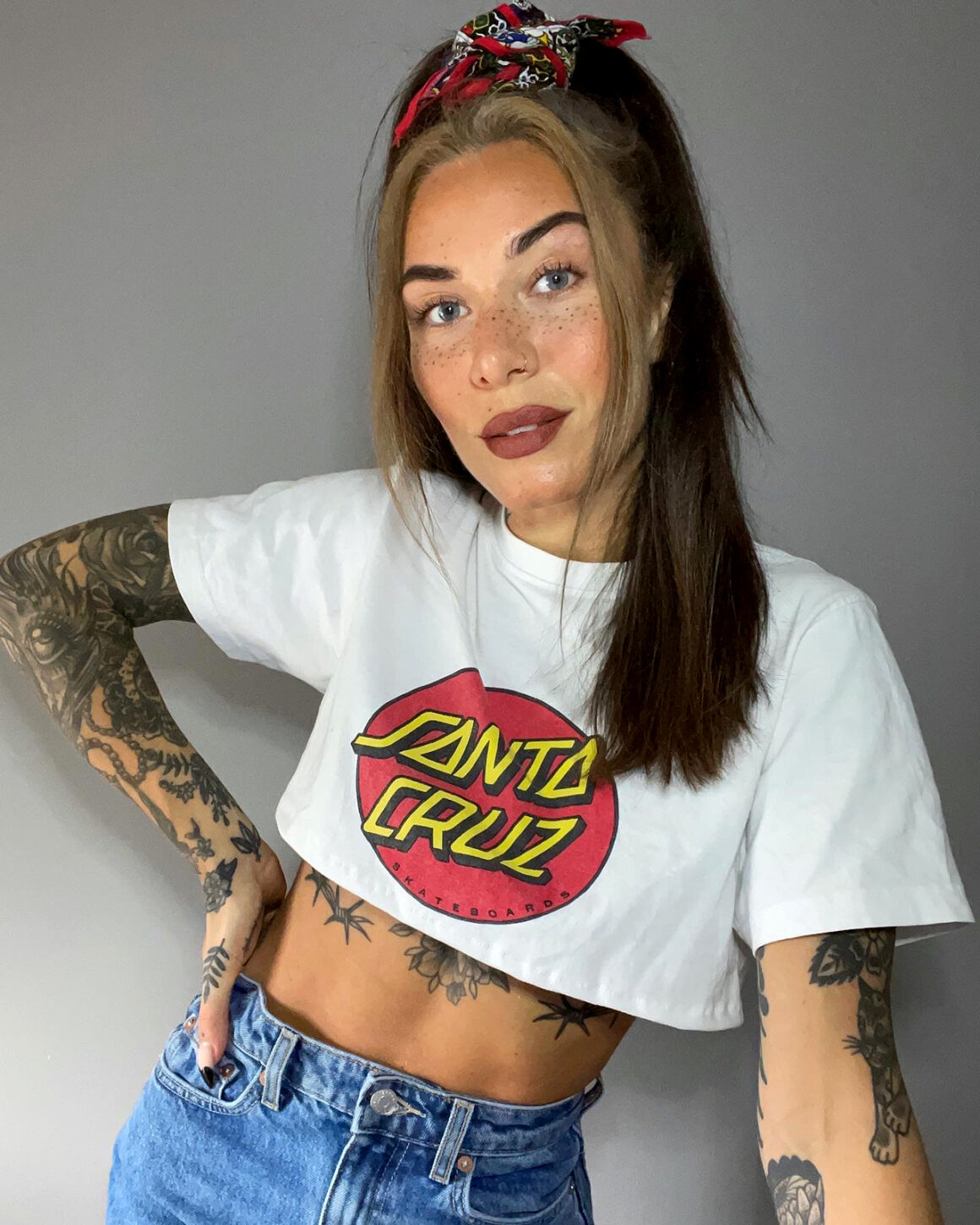 How would you describe your personality?
It's so hard to describe your own personality, I think! But I can say I'm very sensitive and very connected to my depth. I also have a very silly unserious side. This makes me very good at understanding and connecting with people and my customers but it's also a curse since I get drained so easily. When I'm drained I'm very emotionally reserved.
When I'm full of energy I'm extremely driven, I dream big and I'm such a hopeless romantic.
Even though I'm also very good at balancing this with a logic consequence minded side so it never makes me go too crazy with things! I'm creative in a lot of areas and get stubborn and grumpy if I don't get to live that out how I want too. A pretty typical Capricorn!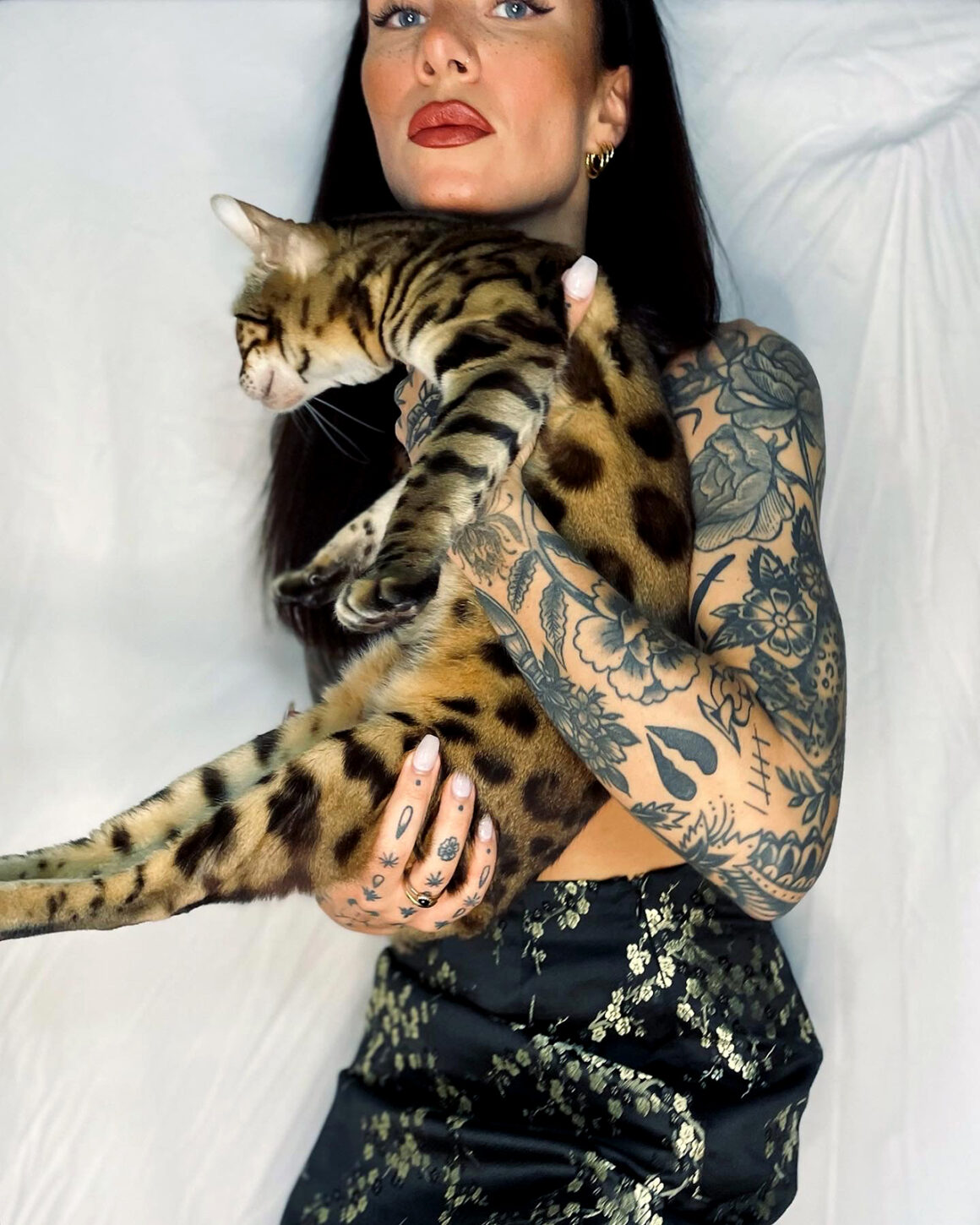 What are your main interests?
My main interests are tattooing (of course) travelling, fashion/streetwear, animals, being out in nature, taking pictures and editing, sewing, thrifting, interior design, drawing and painting.
Let's talk about your tattoo collection. First of all can you tell us the name of the tattooers?
Oh, wow there are so many! Most in Stockholm but also when I was travelling.
Some of them are Andréa Moore, Sebastian Mansnerus, Erik Veas, Oscar Strand, Maja Jönsson, AdinTattoo, Isak Isaksson, Anna Sandberg, Davide TC, Jack Ankersen, William "Pastilliam", HampaTattoo, TattoosByAnton, EbieTattooer, Cloditta, Walthertattooing, Lukas Holte, Tati Amiral, and some of them I made on myself!
You did a specific choice for the style, why and what do you like of black Traditional?
I have always preferred black only since I like it cleaner. And the Traditional style has always been the ultimate kind of clean design that just gives a vibe that I love.
Traditional tattoos are also a safe card, they will never go out of style and the style is also made for looking good in the long run. Bold will hold!
You have a special friend you love in your life… And we can see him/her often in your photos. Who is it?
I do have 2 cats! The one that looks like a little leopard, her name is Marion, and the other one is Giovanni, he is naked. They are my babies! As an introvert person I spend a lot of time with them at home and they are very social, especially Giovanni, he is like an extra body part. He always wants to be close to me!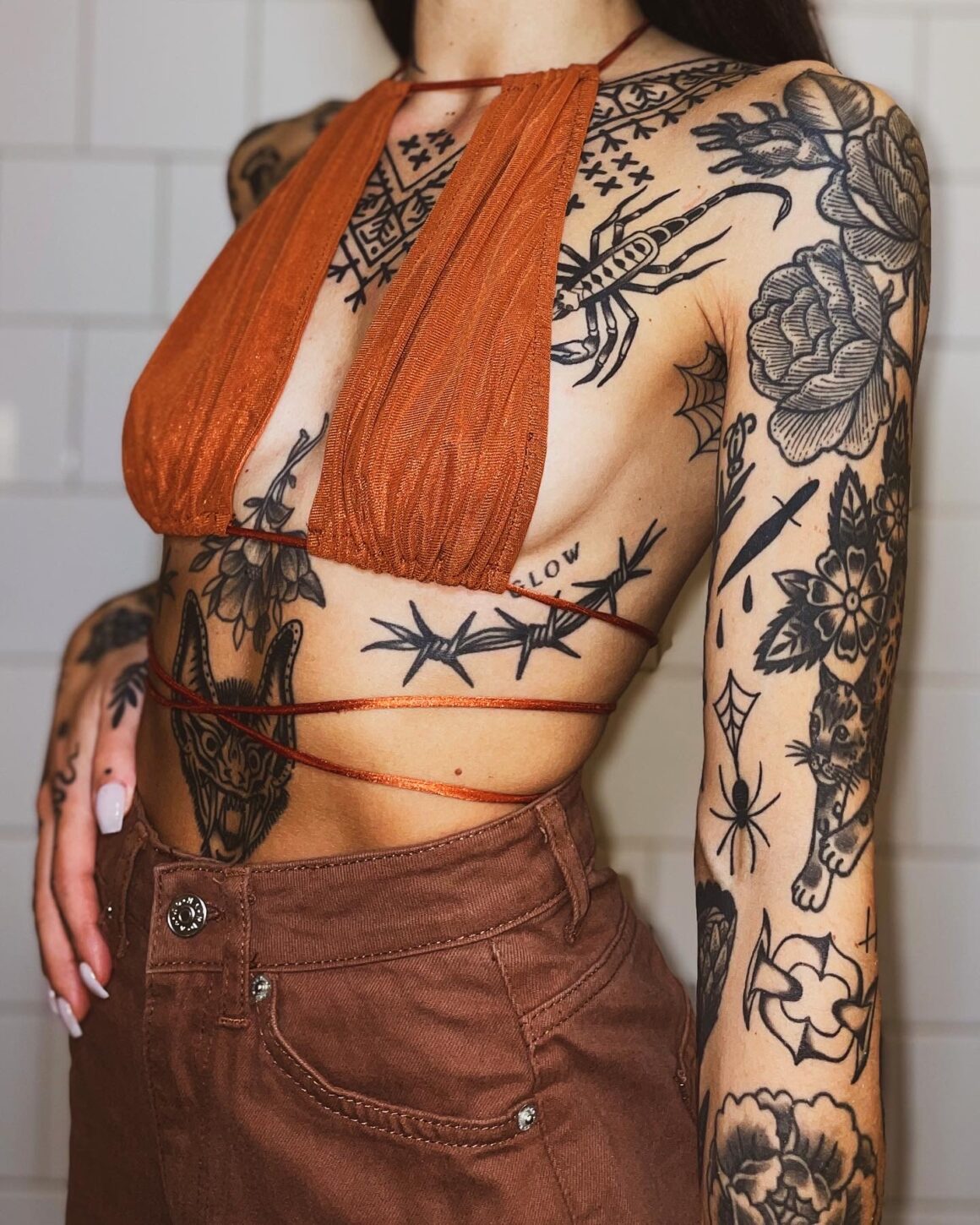 Do you also do modelling?
I don't do modelling professionally; I think I'm too short haha (163cm!)
I just really like combining different outfits and taking pictures, but maybe in the future it could be a part time job!
Do you use to travel for your job?
I have been travelling a lot for work, I've been guest working at shops in different countries. For example in Dublin, Prague, Bali and Mexico.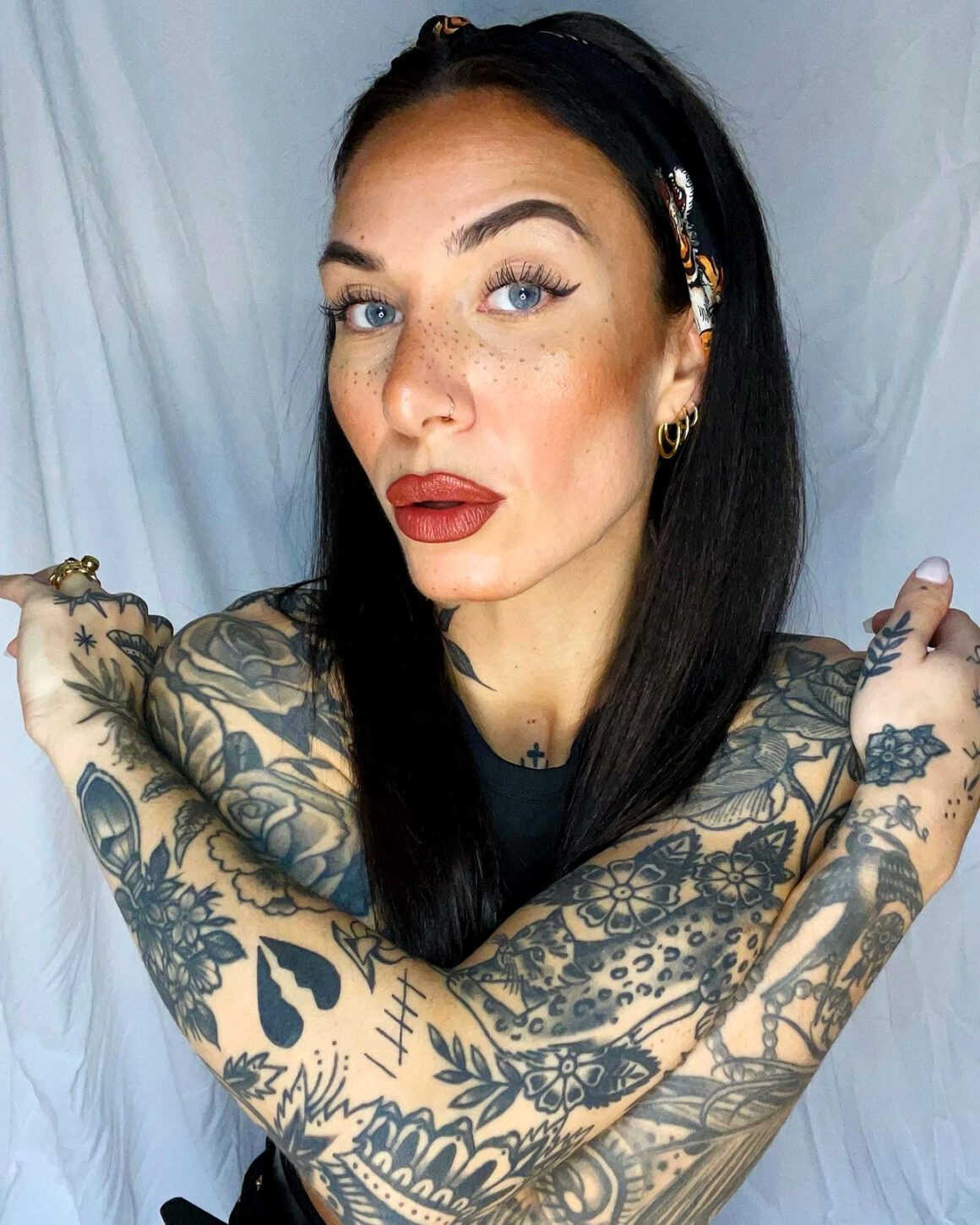 And your personal motto is?
One of my personal motto is a Swedish one and it is also the name of one of my favourite songs "Det löser sig" with the best Swedish artist Timbuktu.
I would translate it like "Everything will solve out".