A loved wife to share work with at 'Thorns and Spines' studio in Leipzig, two cats, and a passion for Neo Traditional tattoos: could one possibly want more?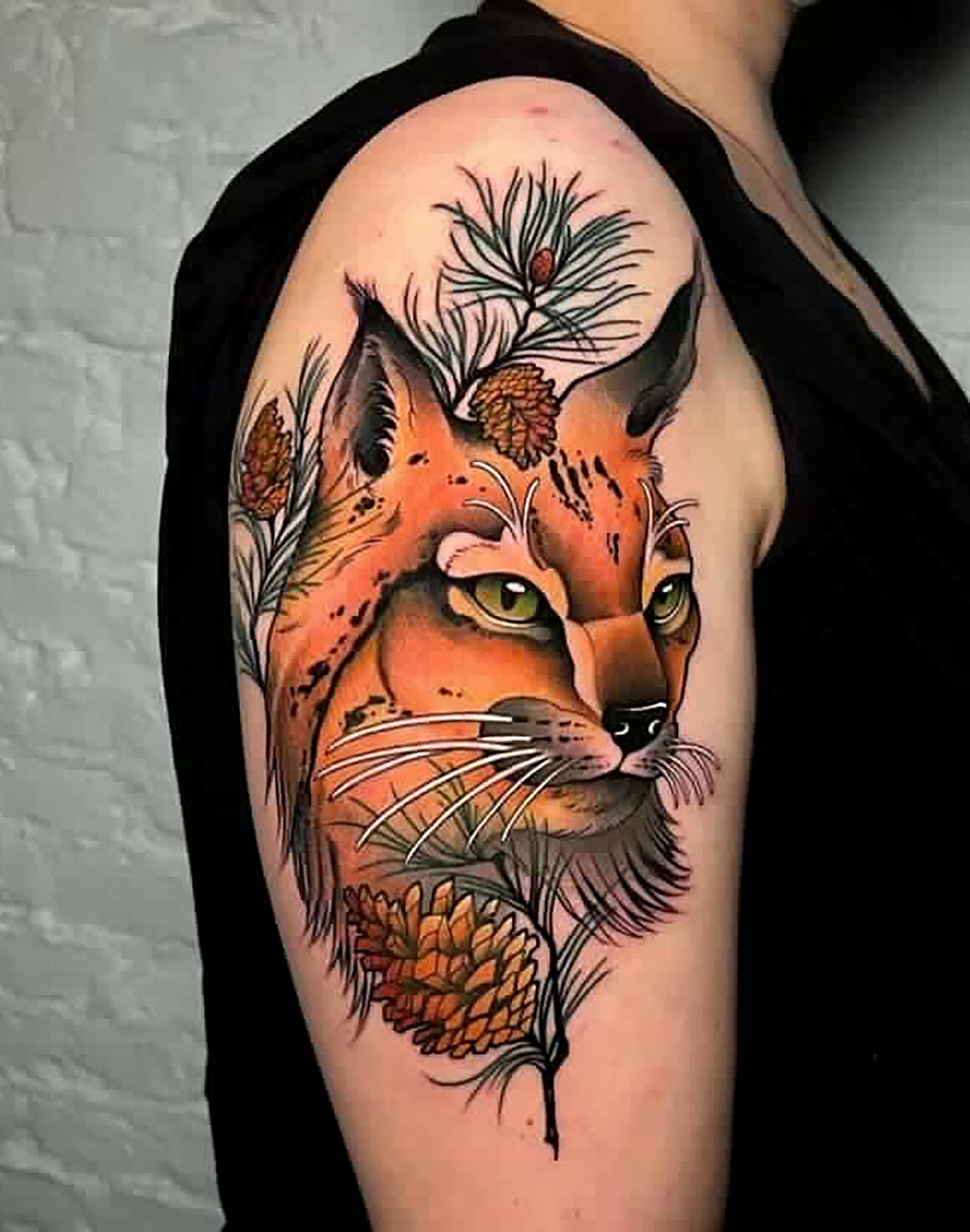 Tiago, can you tell me a little bit about yourself? What was your course of study to become a tattoo artist?
Well, I started tattooing in 2004 in Brazil where I was born and raised living by the nature and back in the days tattooing was still a lot of using flash books. I didn't get into tattooing for the artistic part but for the punk rock lifestyle/DIY and alternative scene which I was very connected with.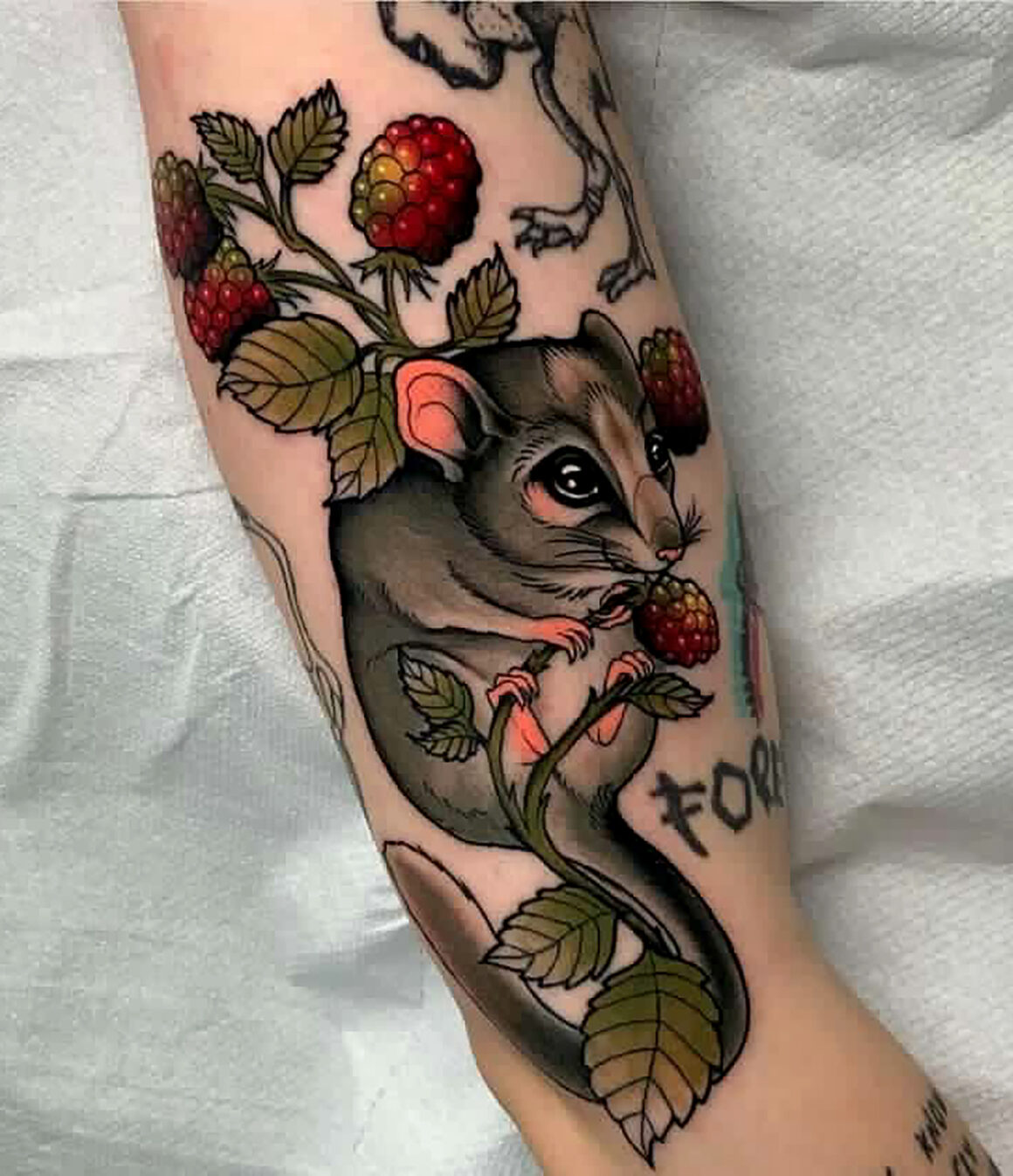 Just after some time I started to get more and more into drawing and painting trying to develop my own style and realizing which motives I wanted to focus on more.
When did you discover that Neo Traditional style could become one of your trademarks?
I started with the New School style and loved it, but I somehow always wanted to add more details and go more realistic as well.
So when I started seeing Neo Traditional tattoos it was just like a blast for me!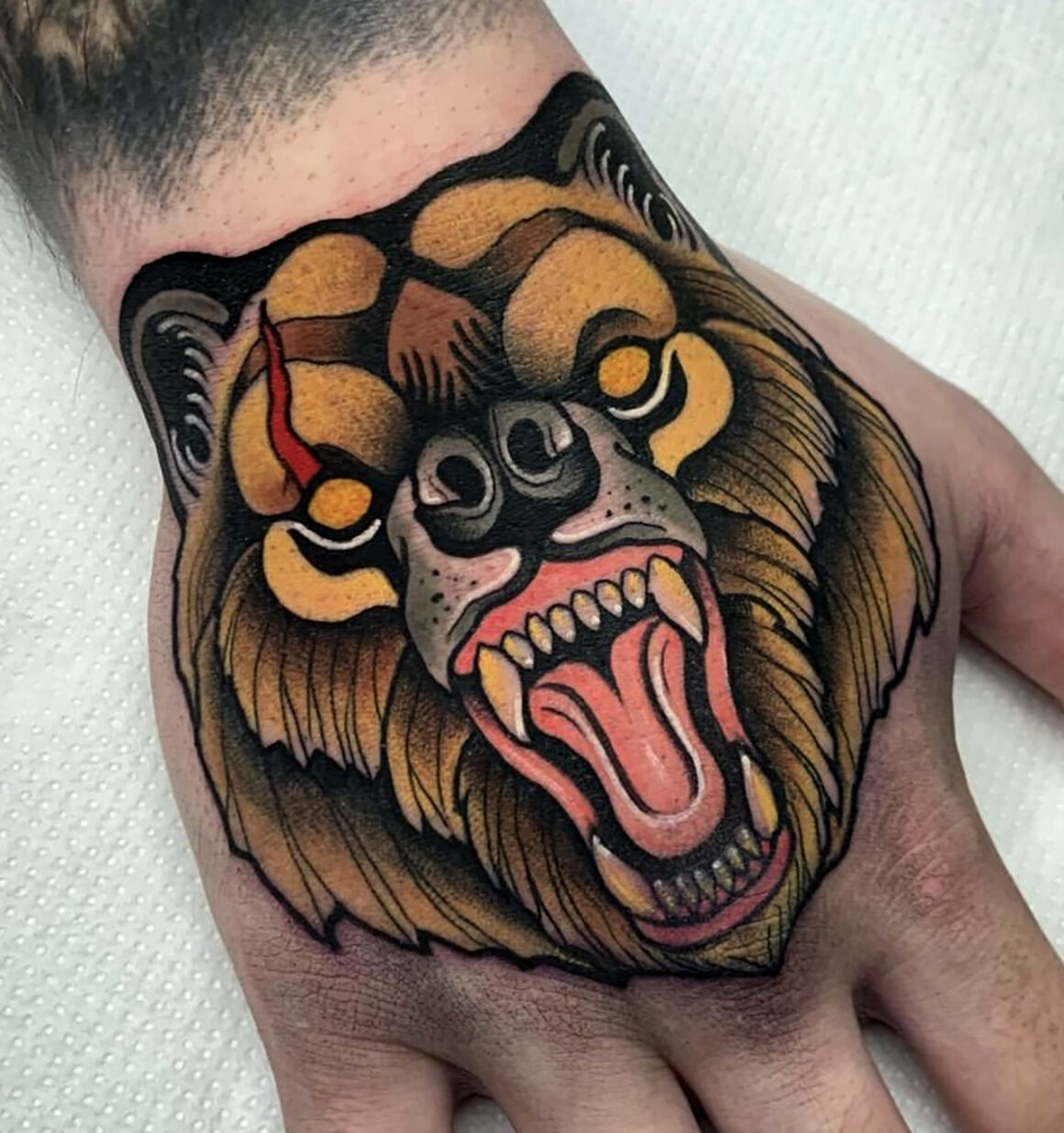 What do you find so fascinating about Neo Trad style?
It was such a great combination of what exactly was coming to my head, then I slowly started migrating into it.
How much color study is needed to become such a good a tattoo artist as you are?
Well understanding the psychological way of how colors influence us in our moods and trigger certain feelings it is very important to use them accordingly to what we want to express in the designs.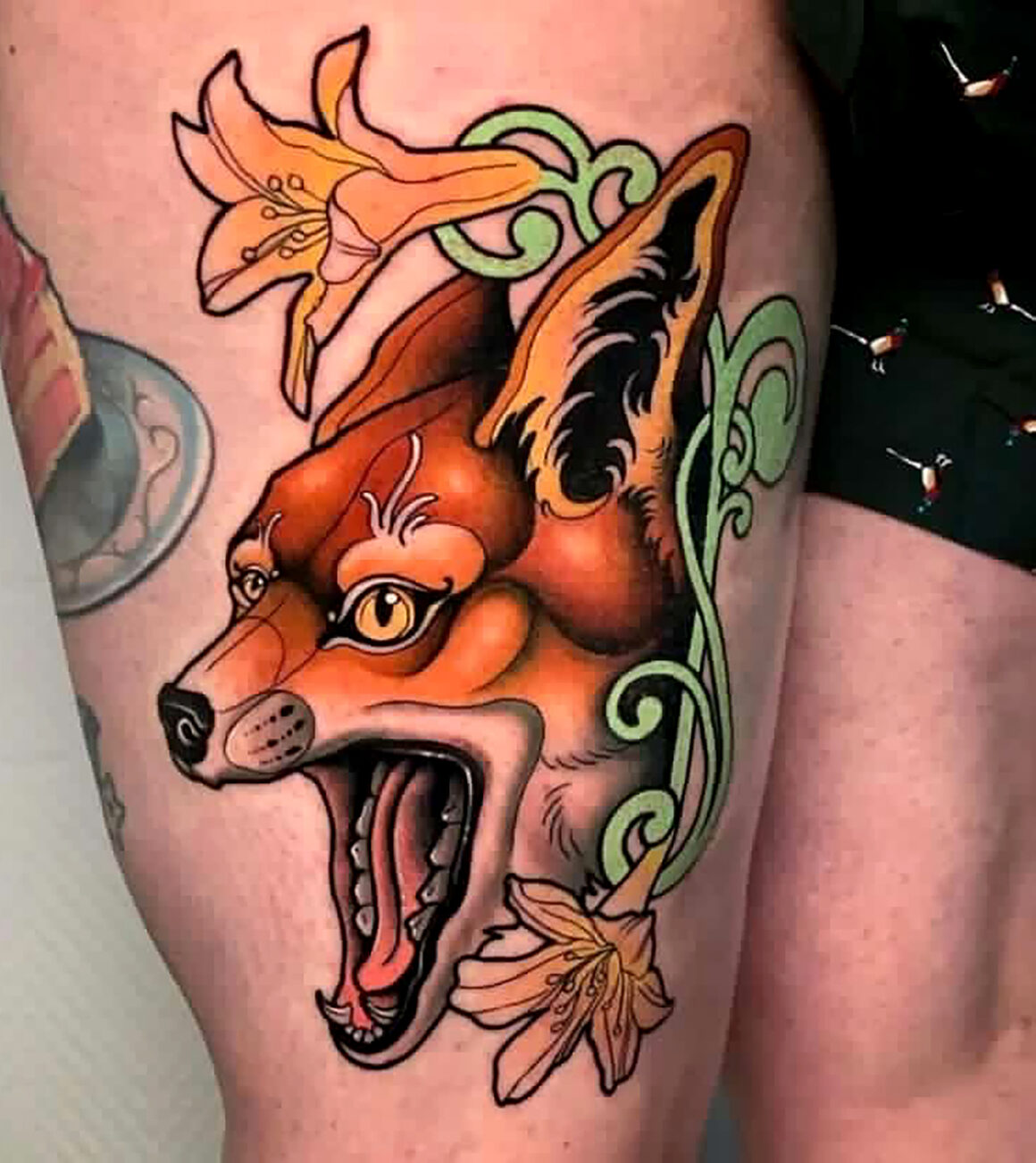 Do you have any favorite palettes when you tattoo?
I think that everyone feels attracted to different color pallets as well, depending on the personality as well as external influences. In my case I've been raised surrounded by Brazilian nature so I had the perfect combination of vibrant colors and strong earth tones which I now love to use in my tattoos. It's a universe of ideas and I have so many memories of yellow from earth, green from nature and vibrant color from the animals, and fruits.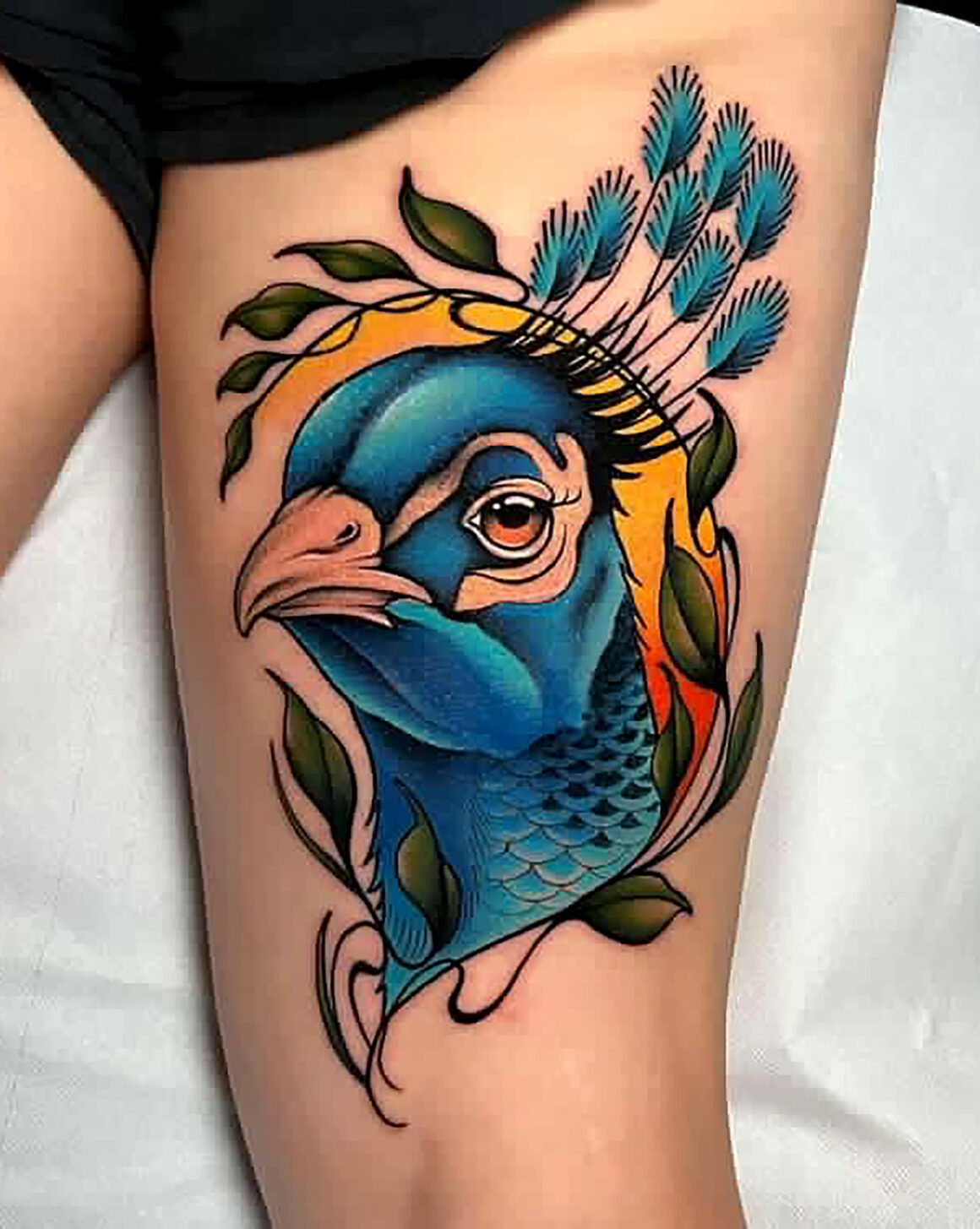 Can you reveal what was your major influence in forming your artistic DNA?
For many years I was asking to myself who I was as an artist and then one day I discovered Greg "Craola" Simkins (IG: @craola), and it felt so pleasant, so fascinating surfing trough his surrealism with animals! And as I always had contact with animals and nature it was just a click and everything started making sense about my work.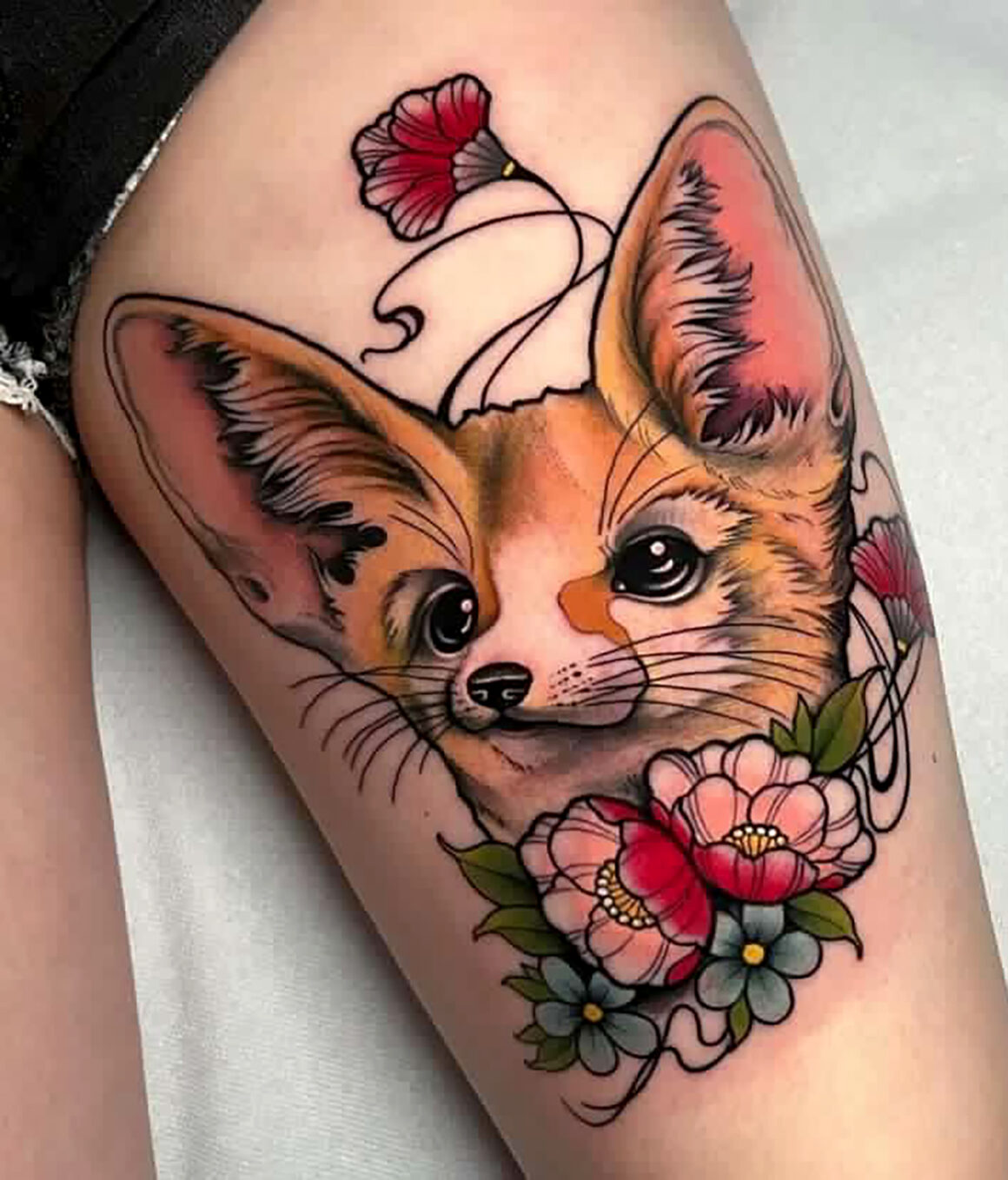 Tell us about 'Thorns and Spines' aka the Leipzig tattoo studio you co-own with your wife Daniela.
My wife Daniela Spielberger (IG: @danielaspielberger) and I are so much connected with organic designs – she is focusing on botanical tattoos – and we wanted the name to reflect that. 'Thorns and Spines' are like nature's needles so we felt like it's a perfect name for a tattoo shop without making it super obvious. Which is convenient since we are a private shop.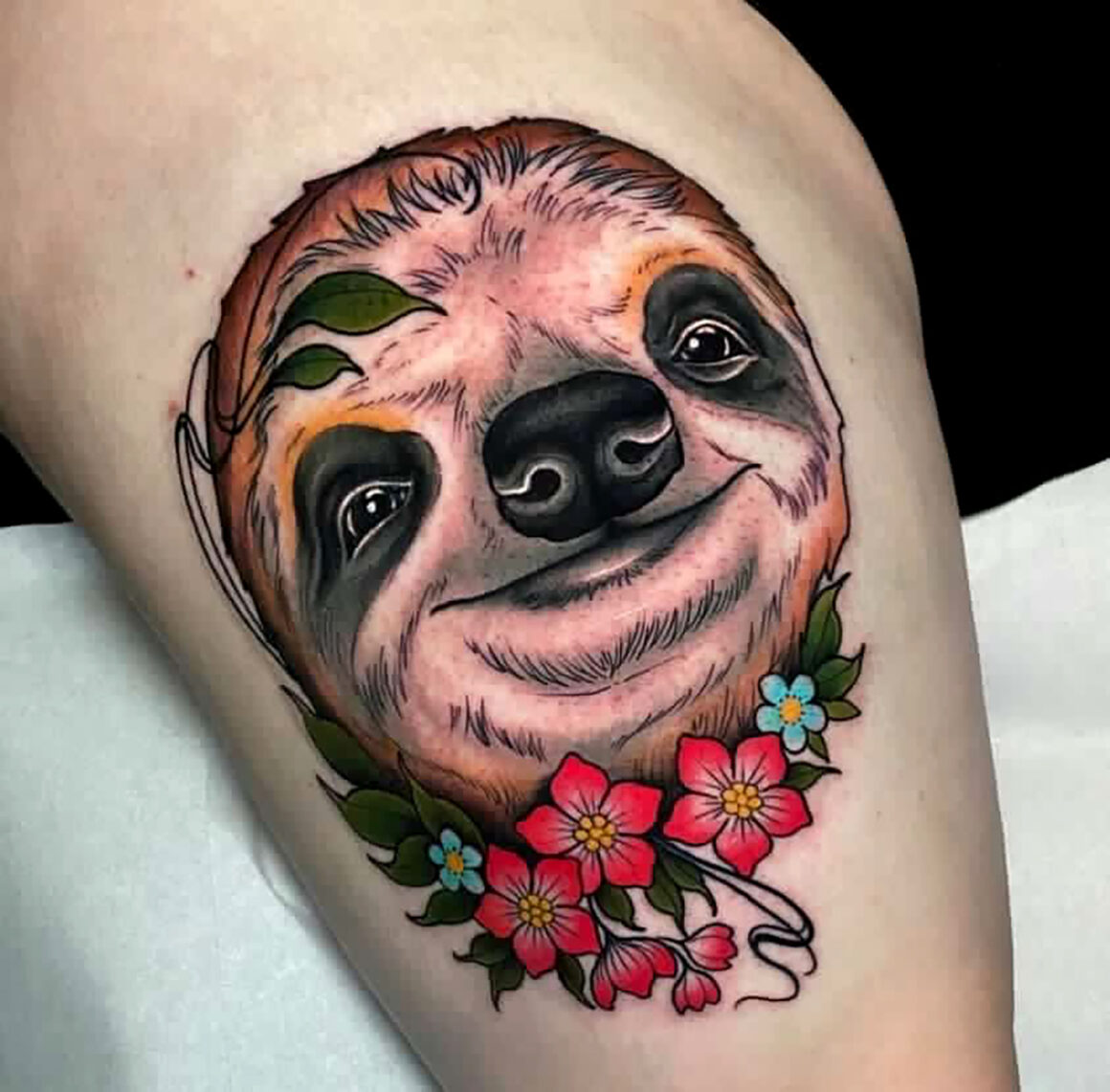 Do you like tattoo conventions and guest spots?
I'm absolutely fascinated about tattoo conventions and just been part of 'Gods of Ink' (IG: @godsofinktattooconvention) for example was a blast! That's so much going on…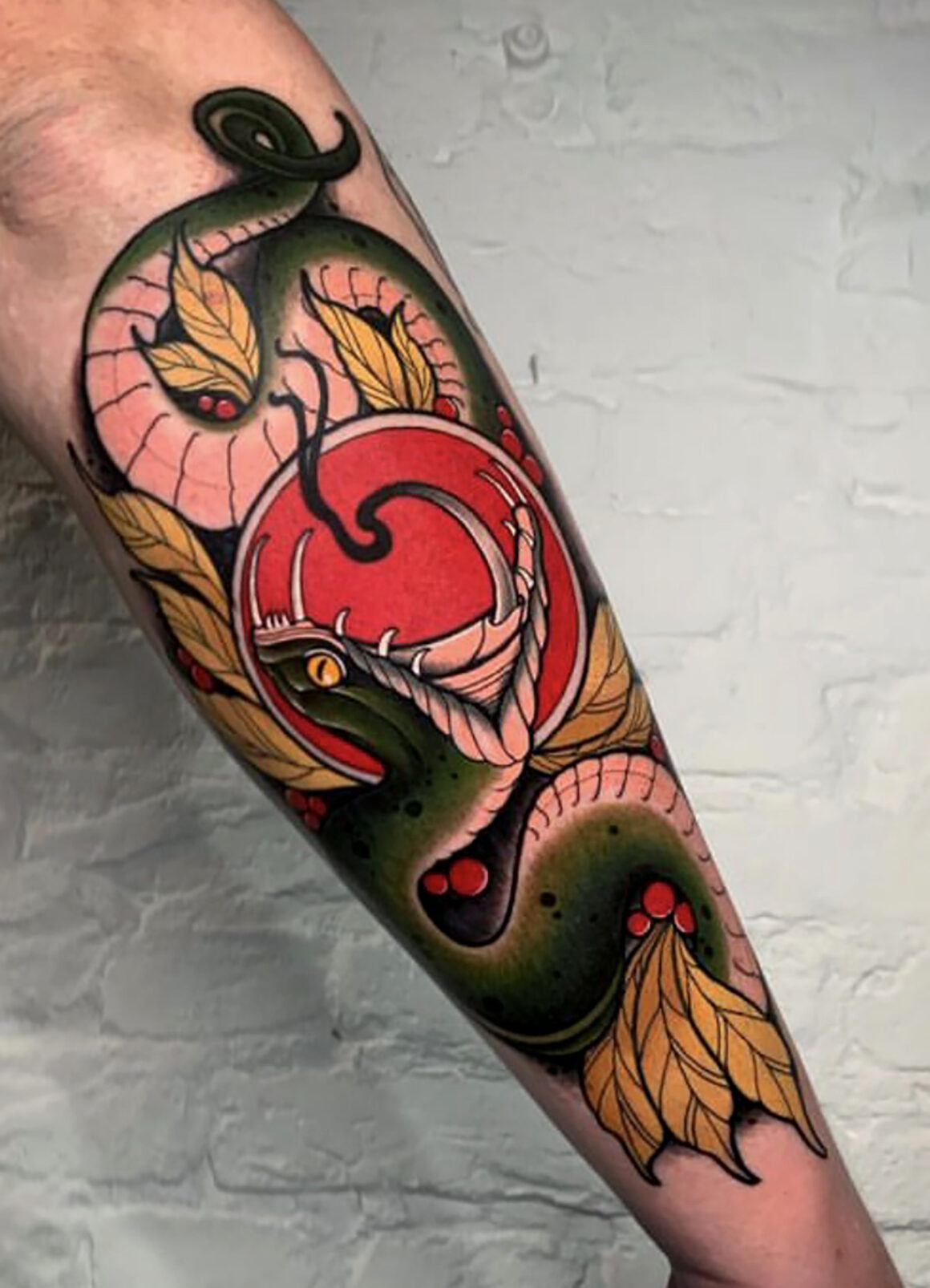 What do you particularly like about these events?
I love to interact with people passing by the booth and you can have a chance to talk face to face and have a chat with people who also like and admire your work.
You can share so much knowledge that even after weeks I'm still processing so much great energy that goes around!
Absolutely love it, I'm always on the road for guest spots as well. I normally give a preference to come to shops where I can spend some time with good friends and/or artists I admire the work as well. It's such a win..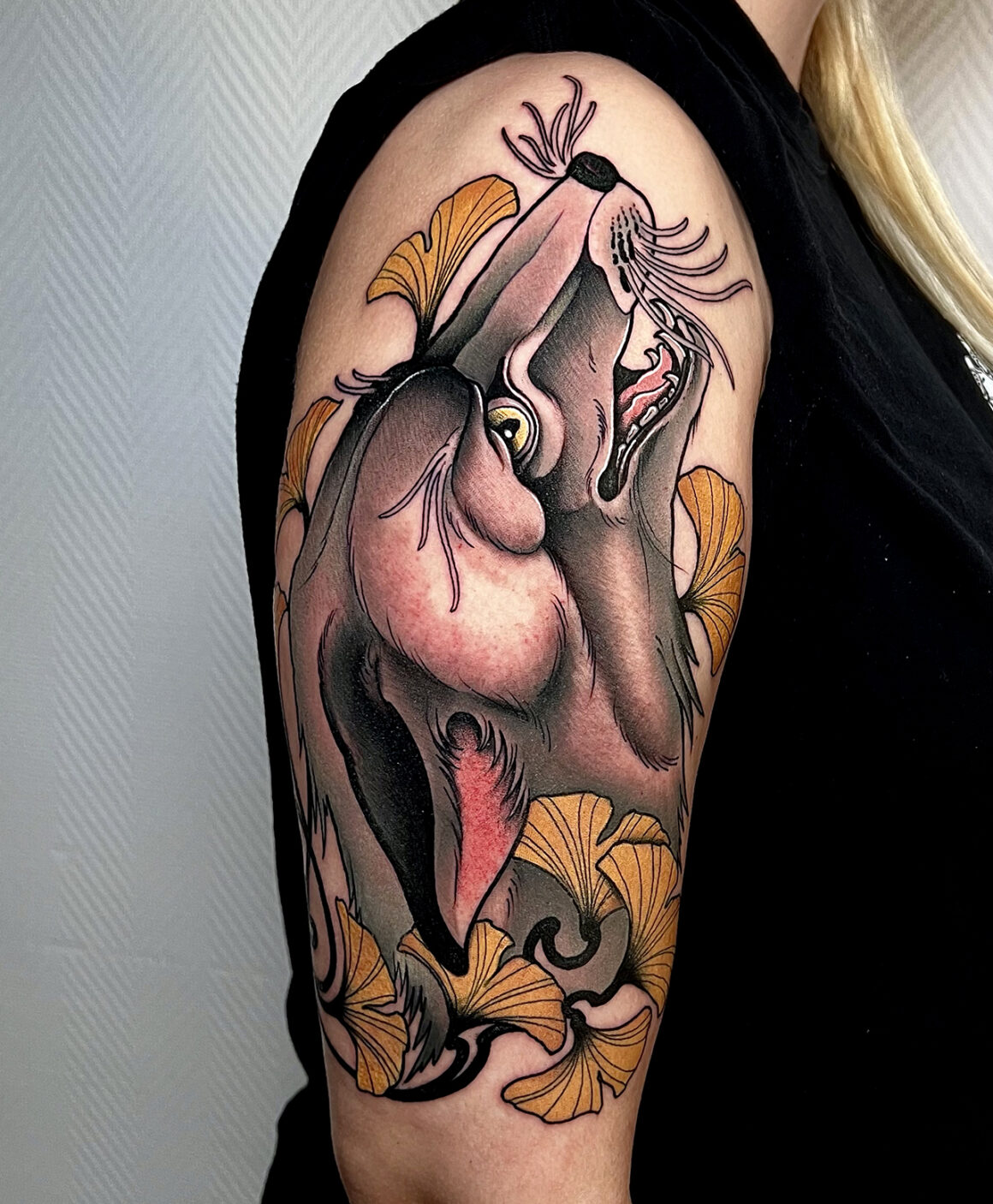 Do you have anything marked on your agenda for the coming months?
This spring and summer my wife Daniela and I will be doing guest spots in London, Baden-Württemberg, Salzburg, Porto and Dublin and for sure there will be plenty more that we haven't decided yet. We never really plan too much ahead actually.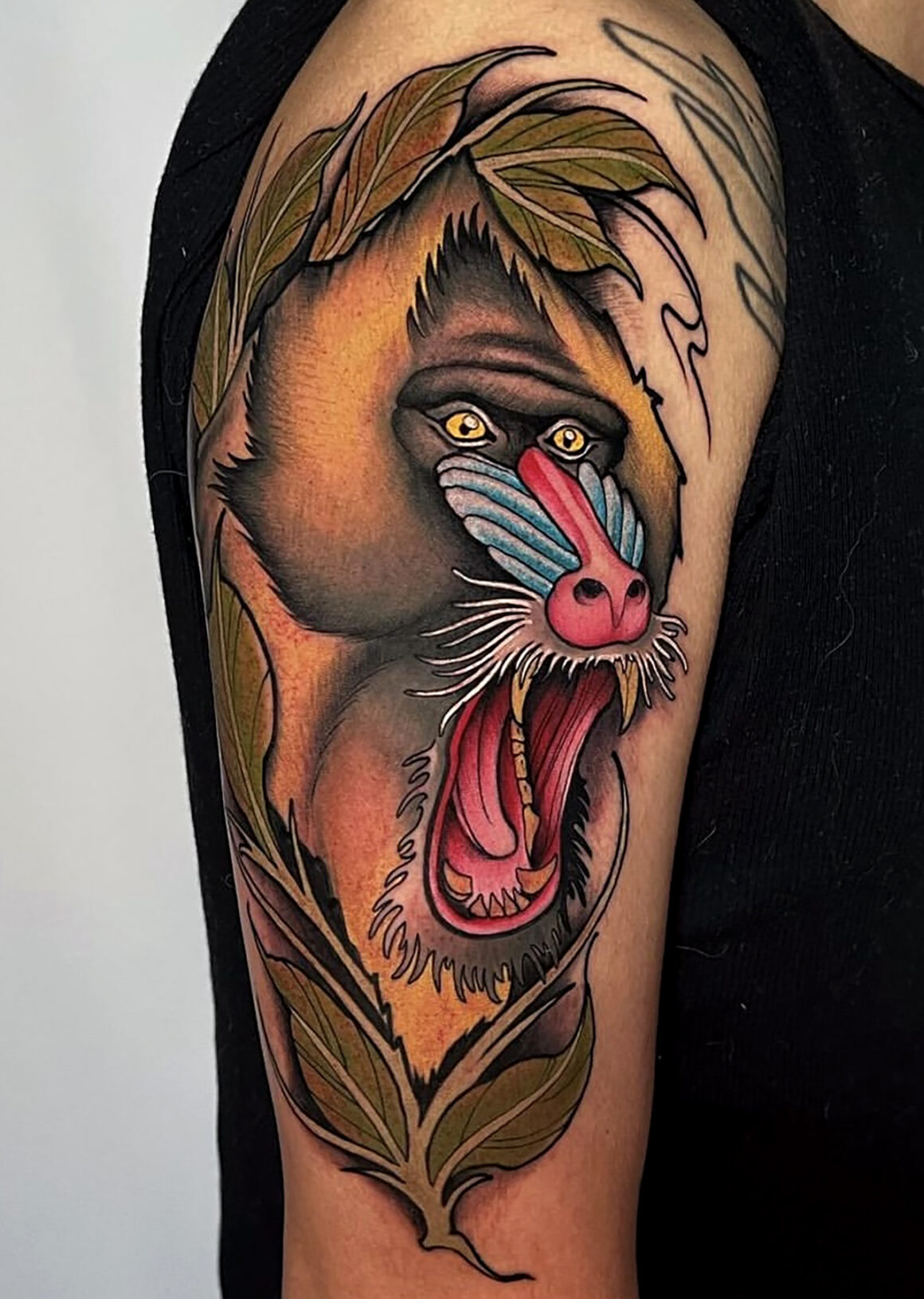 The cute Siamese cat I saw in your photo posted on Instagram is it your studio apprentice?
Hahaha we have two Siamese cats, actually! (laughs) I'd love to have them in the shop with me and for sure they would love that too, but that would be too much chaos.
I can say that having the genuine love for animals really helps me out to filter my energies and it helps me to keep spreading happiness and love.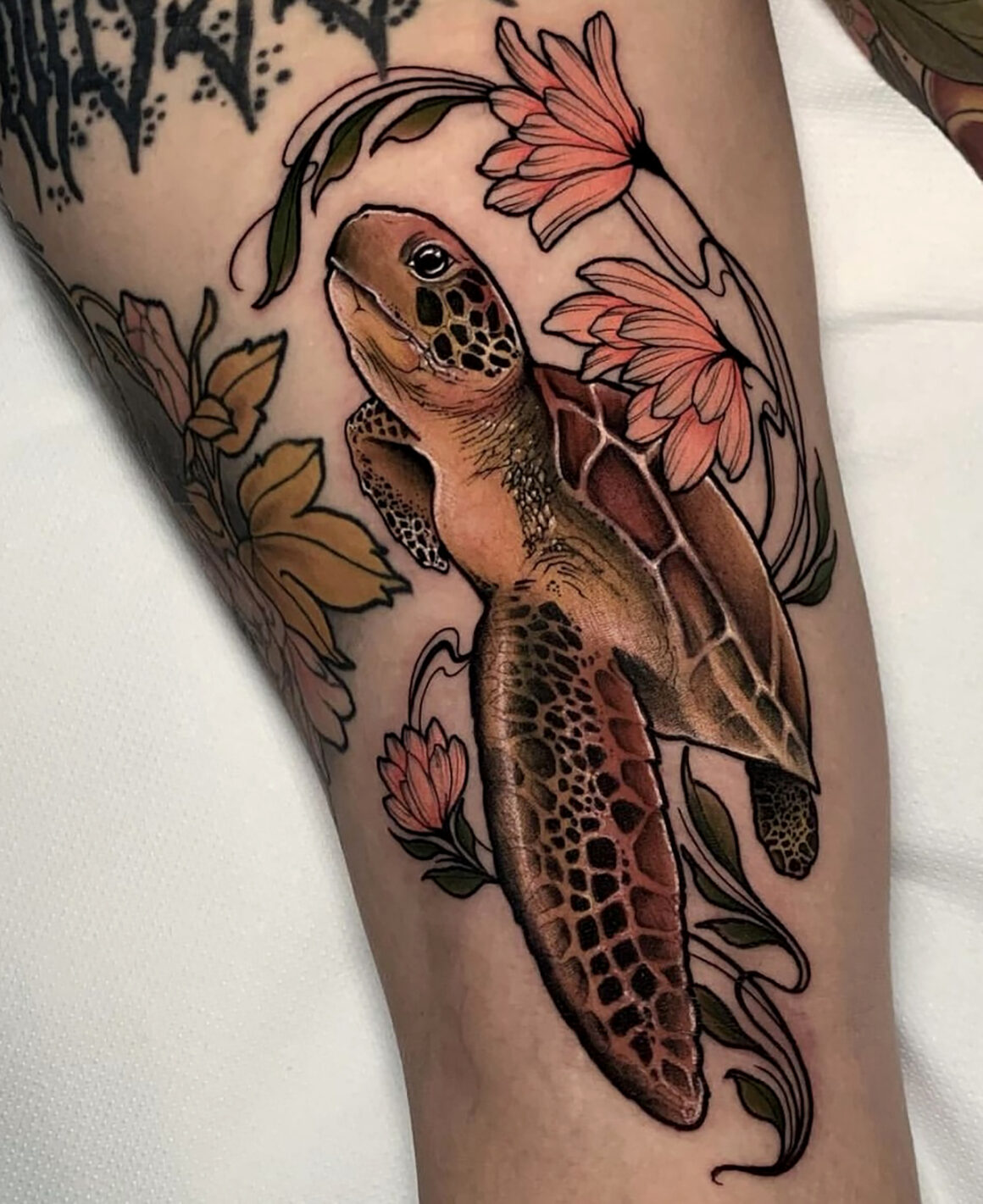 And your last famous words are… ?
Tattooing is a gift and I have the pleasure of spending my time and sharing all of this with everyone, I feel really lucky to have all of this magic feelings and amazing people around me. Thanks to the universe.