Mexican by origin and now living in Prague, Keaps, artist, writer and tattoo artist, has developed a style all his own, taking his background and influences as a writer first and as a tattoo artist later to emerge in his canvases.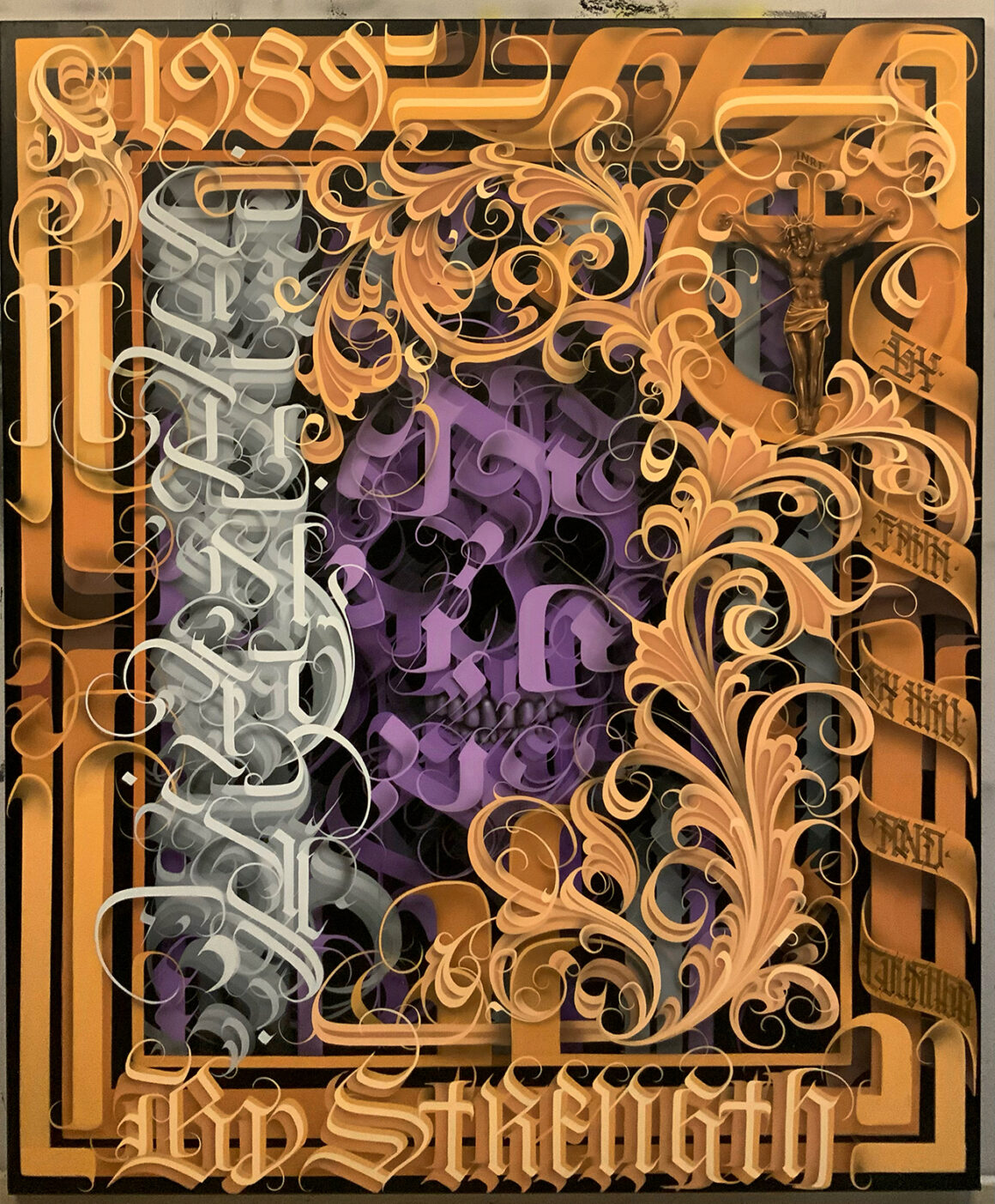 In his artworks, the lettering and calligraphic stroke combine with subjects linked to Chicano iconography, therefore often close to the Catholic religion, but also to Japanese. And more generally to tattoo iconographies that are closest to his heart.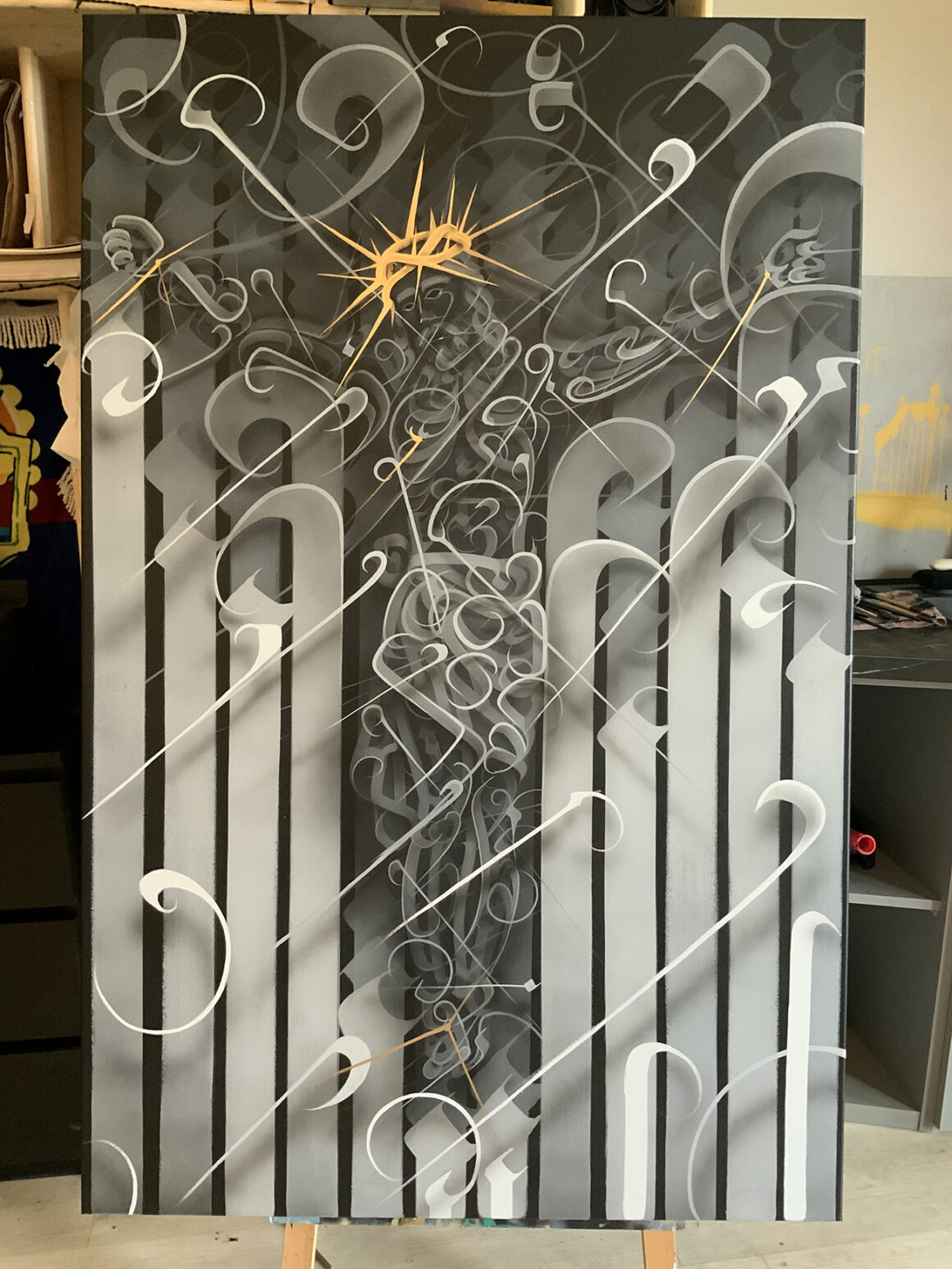 Keaps, your signature is very complicated visually, what does it mean and how did it come about?
It is my art name, made with calligraphic characters, a way to make my work recognisable and distinguishable. It is Keaps written in lettering style.
Have you been a graffiti writer in the past?
Yes I was a graffiti writer in Texas and Mexico and that's how I got into this style. Then I spent a short time in prison in Texas where I did quite a lot of tattoo designs. You know the Chicano style is very popular there, they use a lot of lettering.
All those images and graphics, that I used to see on the street and then in prison, were very popular, so I used to draw and tattoo. When I got out I started doing pure calligraphy, more related to lettering and then I developed this particular signature of mine with which I am recognised.
Are you self-taught or did you attend some courses?
For calligraphy yes I am absolutely self-taught, let's say I learnt in the field by looking at what was around me. On the other hand, I took two courses in classical painting which helped me in many ways but not in developing my own style. Also using my life experiences as inspiration to master my talent. I've done and learned to do art from some school classes/graffiti and also from sitting in jail cells over the years.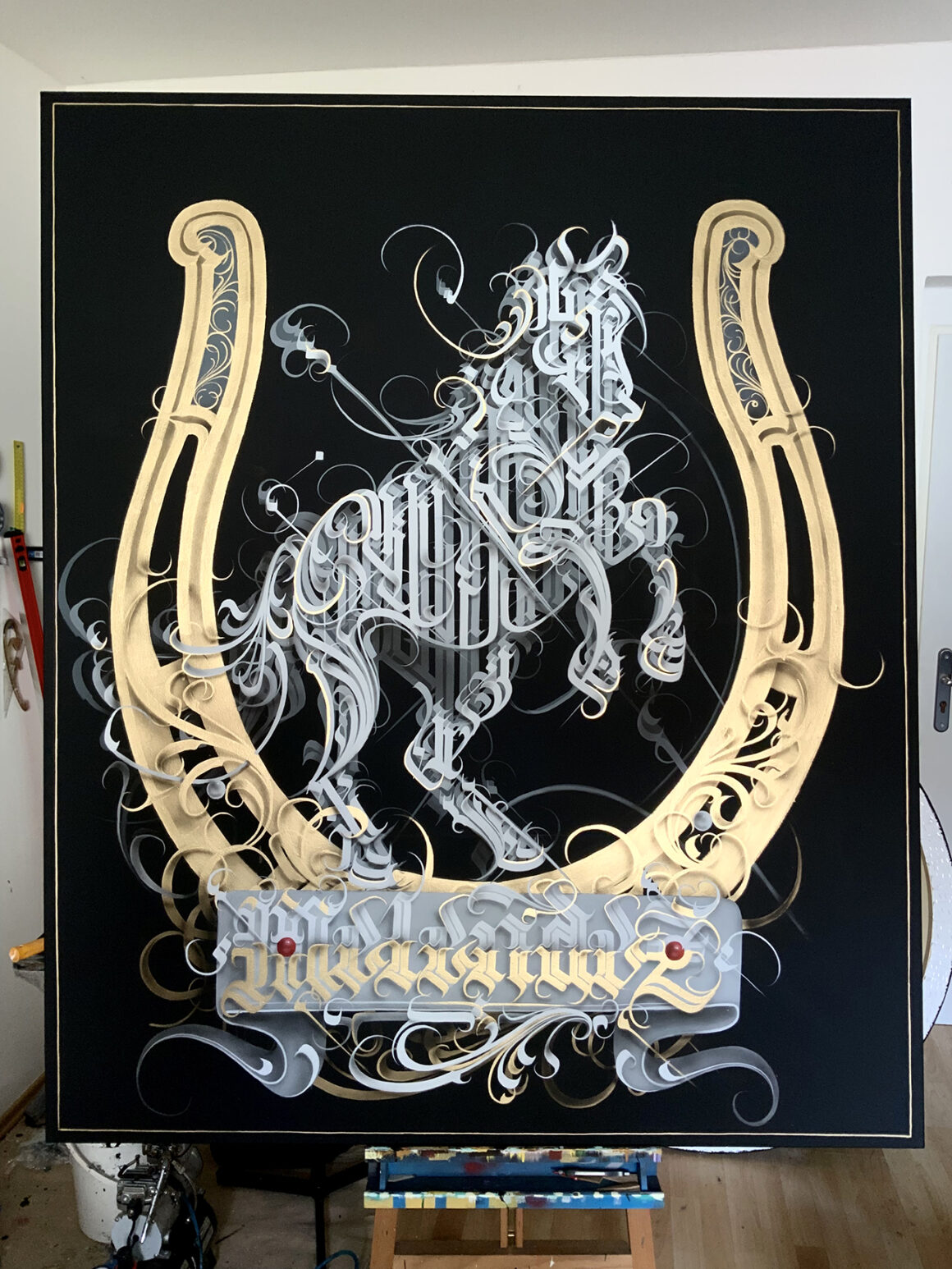 Can you describe your technique?
My technique is based on calligraphy stokes, it is based on multilayer work that goes from darker to lighter. My work is always acrylic on canvas, made with synthetic brushes.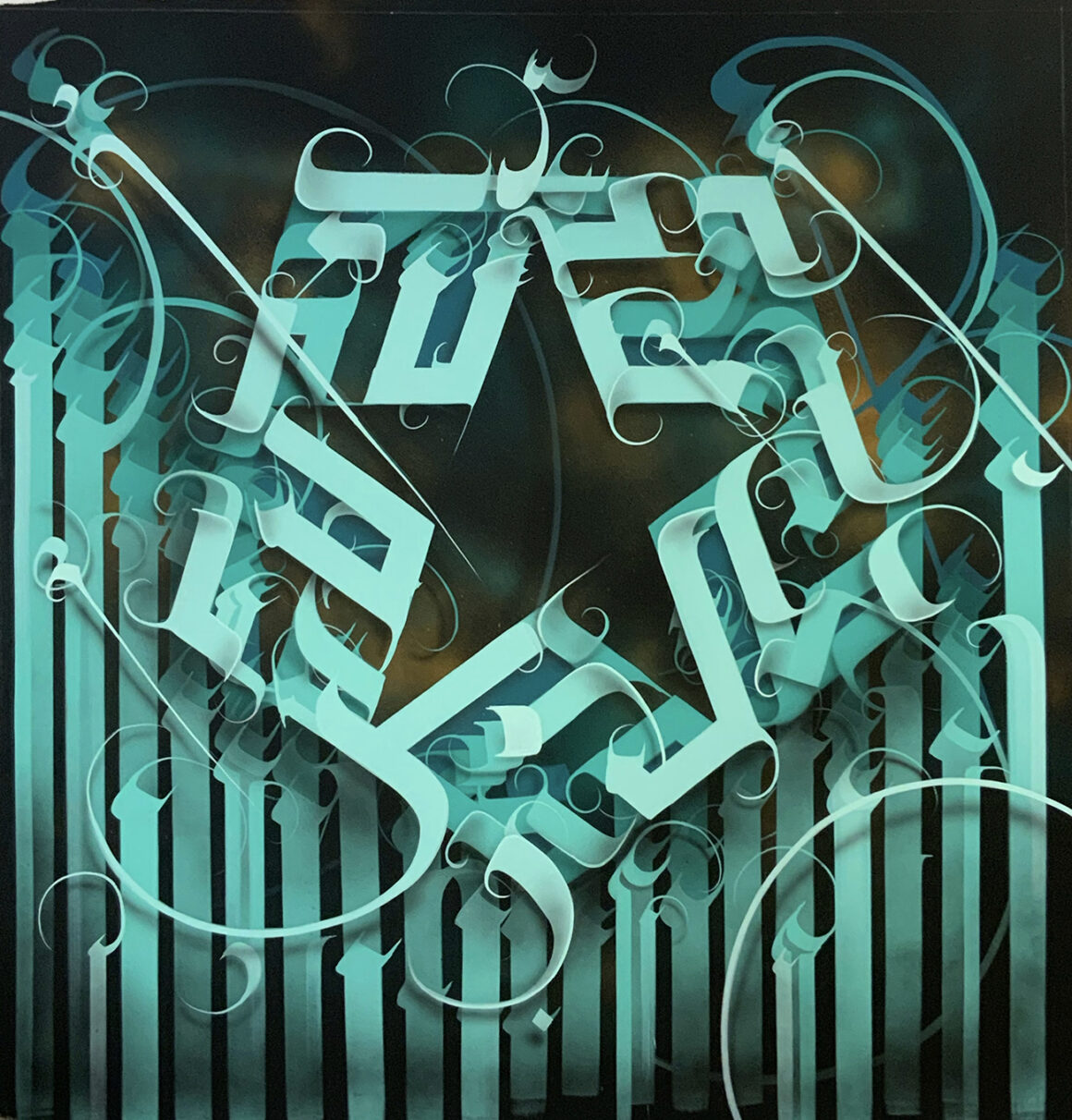 Sometimes you add realistic details, especially of Christian religious iconography is that so?
I like to add more realistic images I would say, which can be related to Japanese iconography, or Chicana iconography. In general, however, they are always related to tattoo images. As you know I am also a tattoo artist and my style is always this.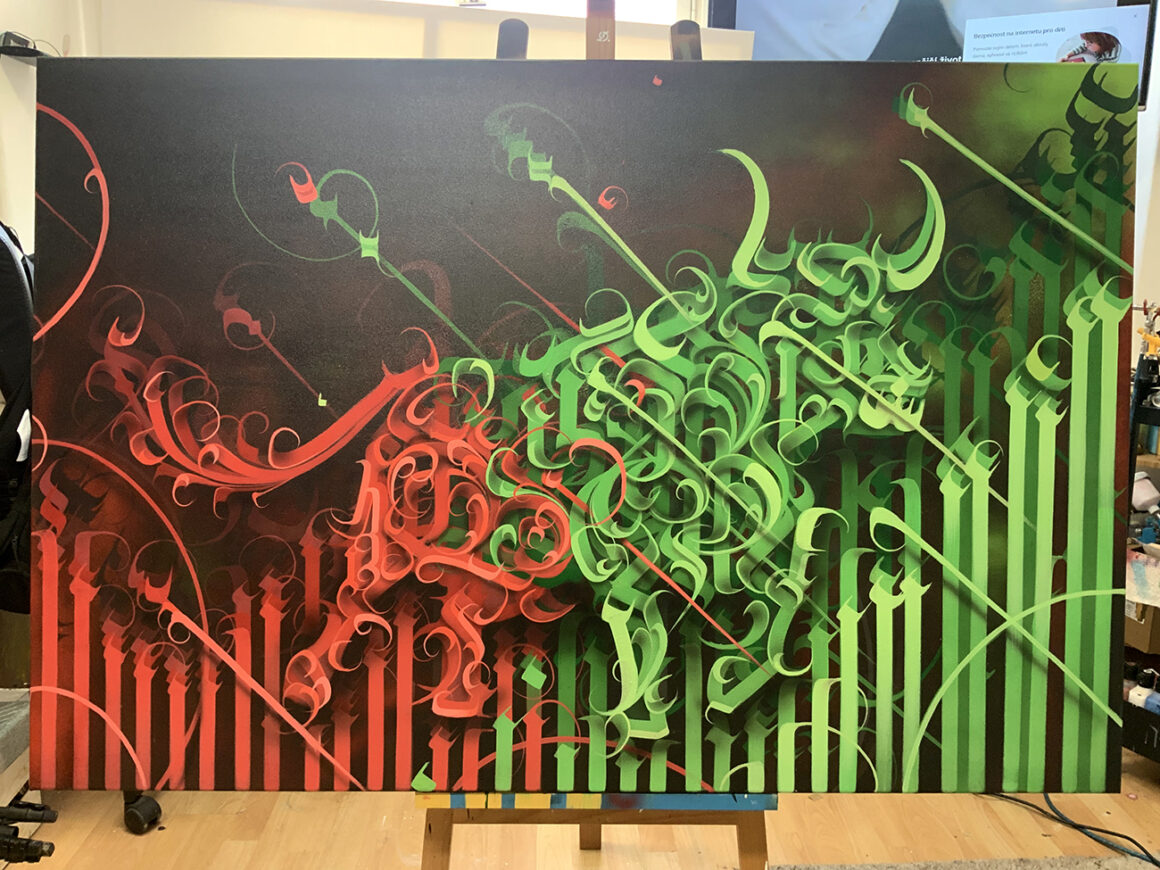 What kind of life do your works have?
For the most part I present them on Instagram which works very well for this kind of thing, I have also had several exhibitions, exhibiting several times in Prague and Switzerland.
You were born in Mexico, then you moved to Texas and now you live in the Czech Republic where you set up your base. Why here?
I moved here because I met my wife who was Czech, we got married and now we have a little girl. I live in a small village and I have my own small atelier where I work. If I have to tattoo instead I go to Prague to the studio of my friend, Igor Mitrenga and his studio is @yart.tattoo. I would say that my life now works very well here!