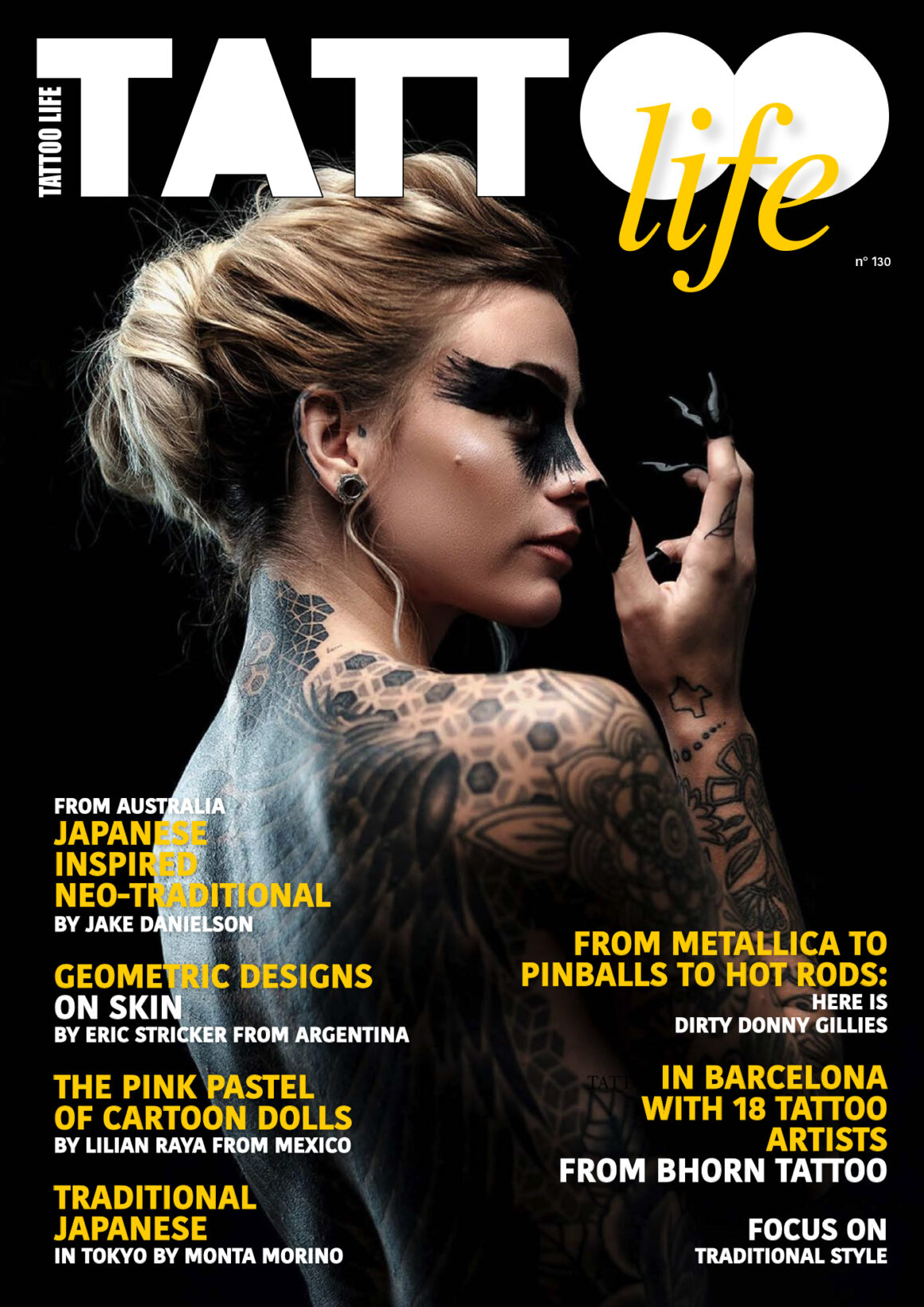 SHOP IT NOW!
Don't miss to have this amazing issue. Choose and shop now your version…
Cover Girl: Dom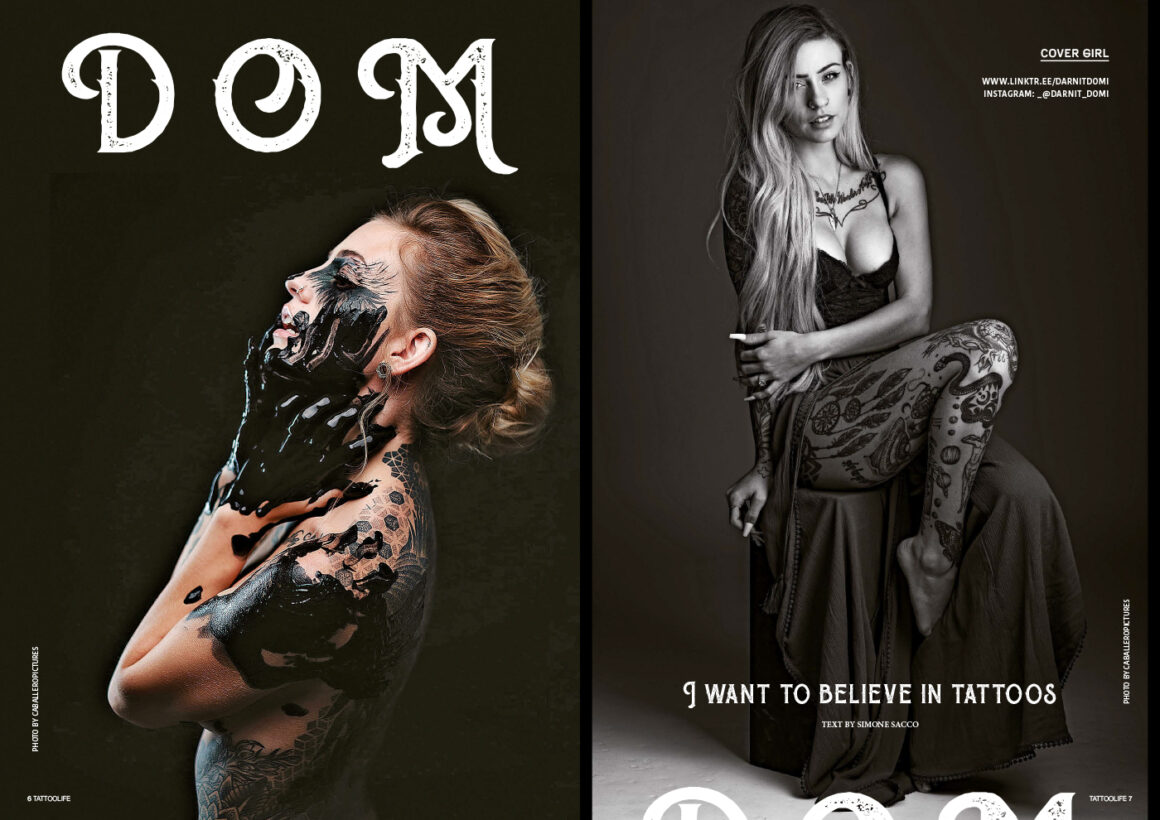 Don't call her Dominique. She prefers Dom, which is much more basic and appropriate to who she really is. She likes to pose, model, but also talk about the numerous tattoos adorning her body. Her image is that of a Texan blonde woman, who is empathetic and strangely fragile. These are tattoos that hide both some major pain, but also some well-deserved rebirths, with mandalas and important quotes. Let's listen to her tell us all about it…
Jake Danielson: Japanese inspired Neo-Traditional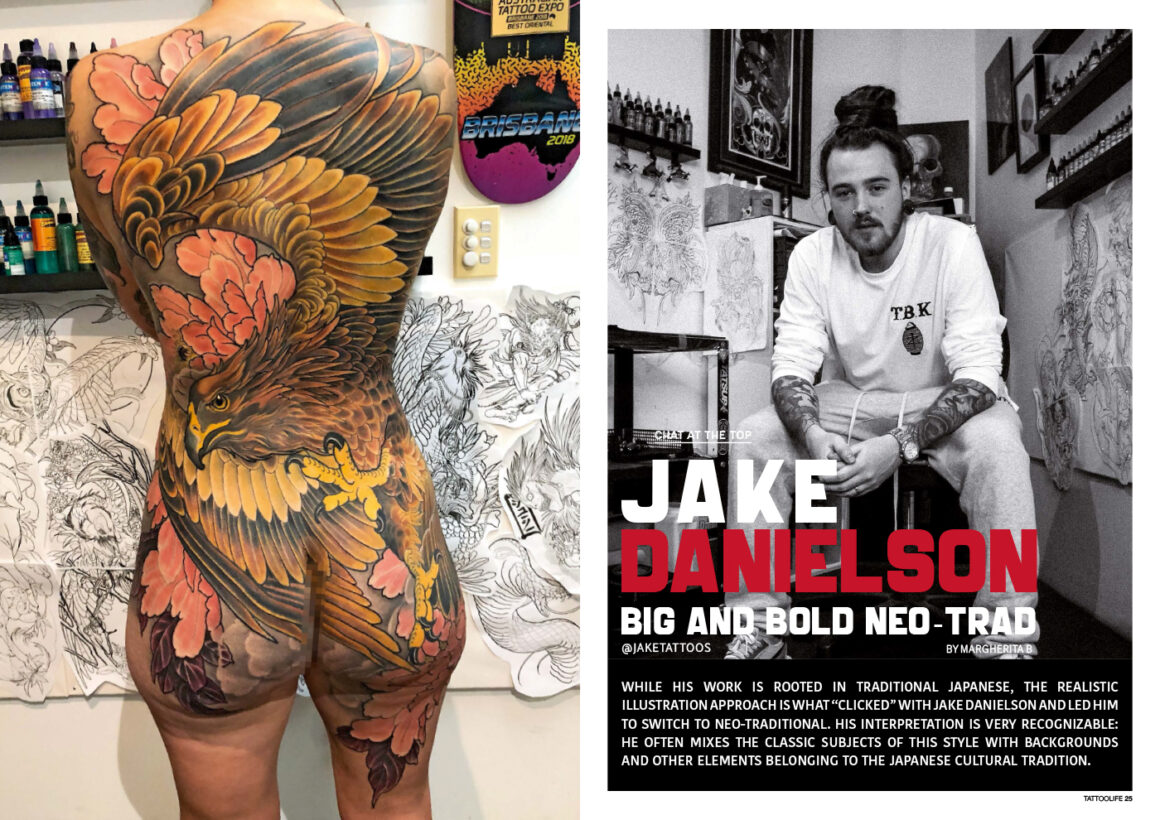 While his work is rooted in Traditional Japanese, the realistic illustration approach is what "clicked" with Jake Danielson and led him to switch to Neo-Traditional. His interpretation is very recognizable: he often mixes the classic subjects of this style with backgrounds and other elements belonging to the Japanese cultural tradition.
Eric Stricker: Limitless geometrical interpretations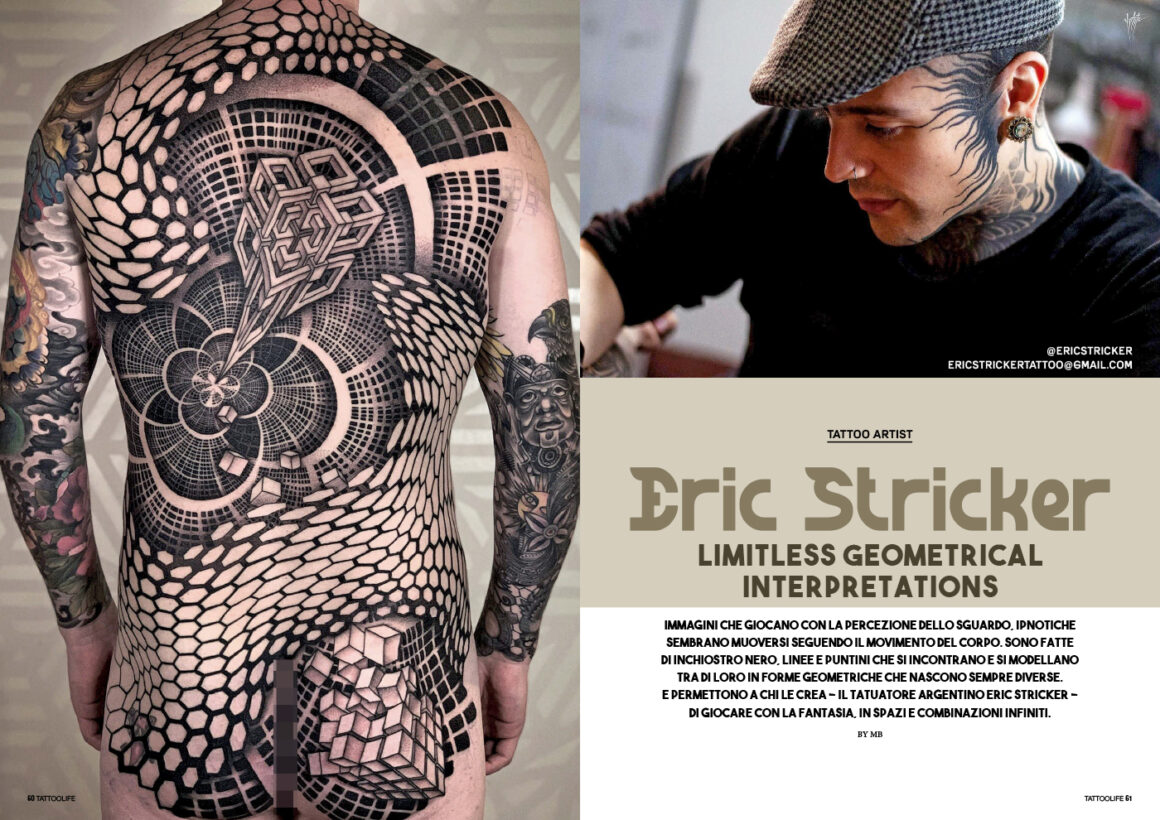 Hypnotic images that play with the viewer's perception seem to move in step with the body's movements. Made of black ink, lines and dots join and mould together into geometrical shapes, and are different every time, allowing the person who creates them – Argentinian tattooist Eric Stricker – to play with his imagination in infinite spaces and combinations.
Lilian Raya: Bad girls, dark and pink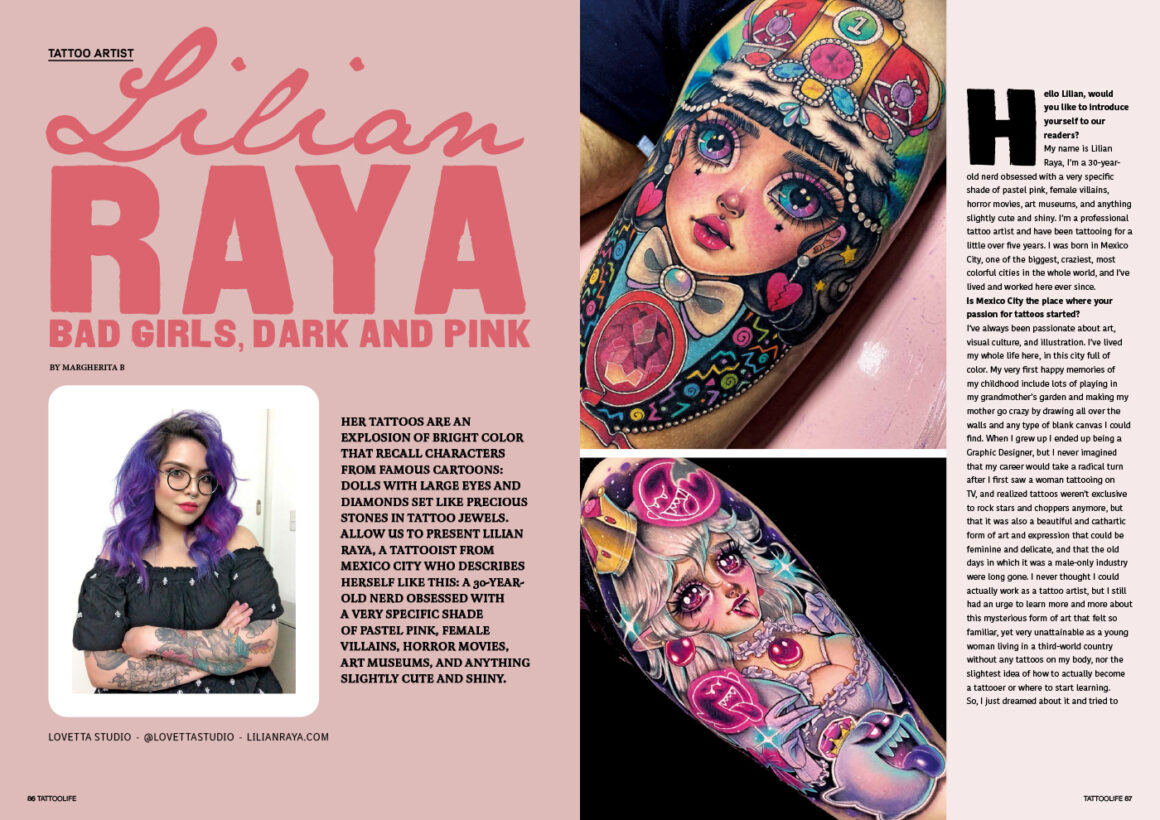 Her tattoos are an explosion of bright color that recall characters from famous cartoons: dolls with large eyes and diamonds set like precious stones in tattoo jewels. Allow us to present Lilian Raya, a tattooist from Mexico City who describes herself like this: a 30-year-old nerd obsessed with a very specific shade of pastel pink, female villains, horror movies, art museums, and anything slightly cute and shiny.
Monta Morino: Pure Traditional Japanese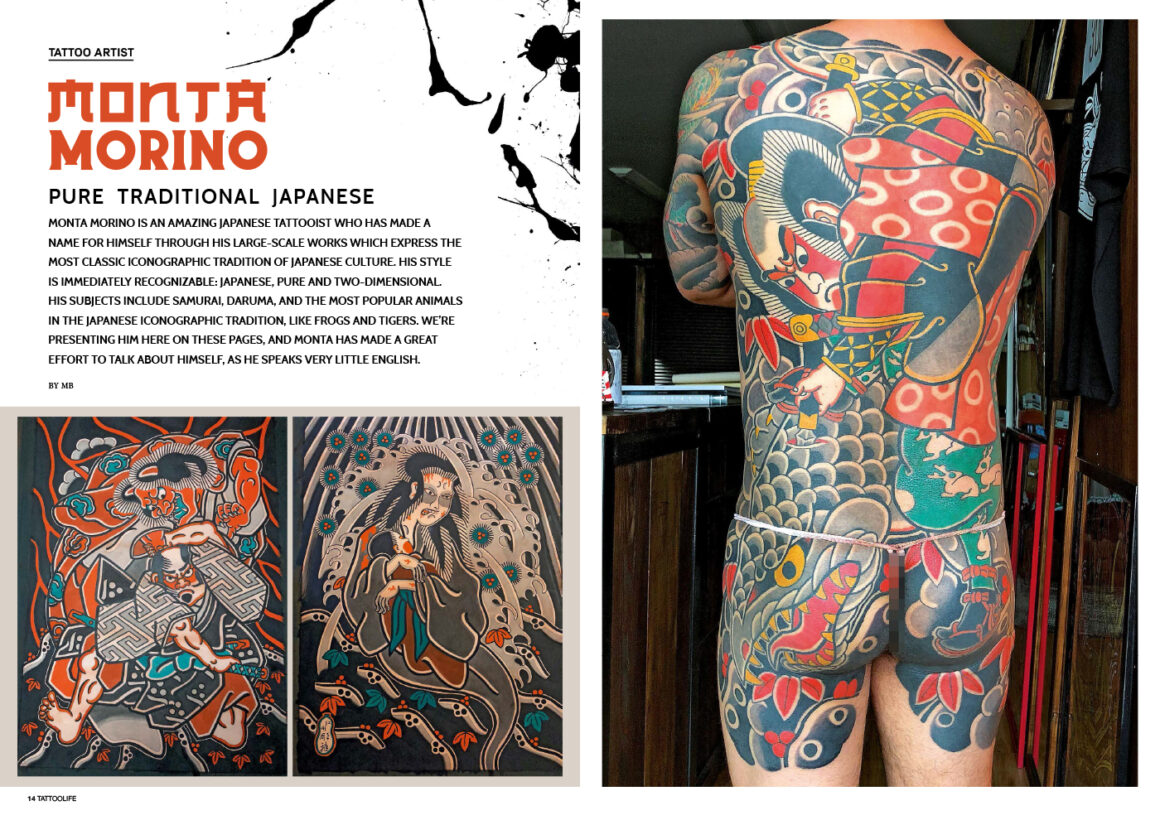 Monta Morino is an amazing Japanese tattooist who has made a name for himself through his large-scale works which express the most classic iconographic tradition of Japanese culture. His style is immediately recognizable: Japanese, pure and two-dimensional. His subjects include samurai, daruma, and the most popular animals in the Japanese iconographic tradition, like frogs and tigers.
Dirty Donny Gillies: Ruler of pop culture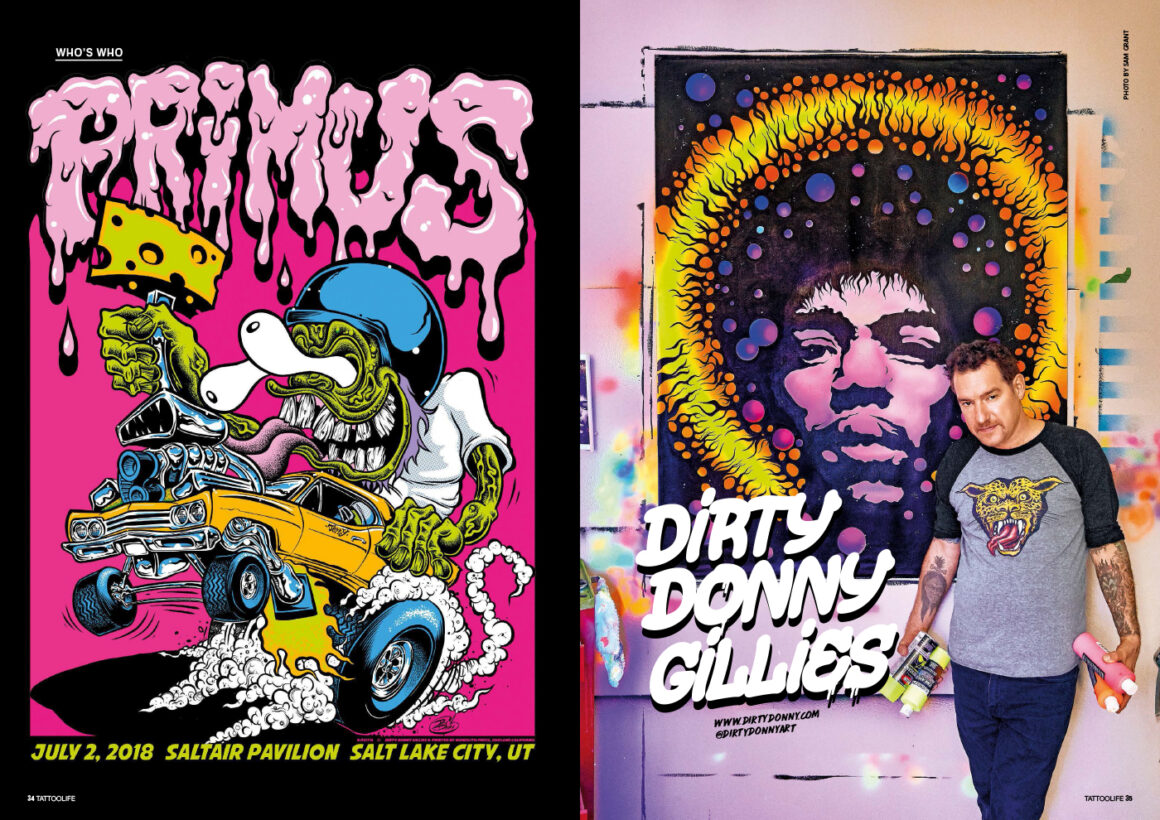 Donny Gillies is one of the most influential visual artists today in the pop, rock and heavy metal underground culture. His creativity knows no barriers and flows across every possible medium. His striking brand stands out, no matter what form it takes – whether it's a car, an album cover, a poster – like the ones he's created for Aerosmith or Metallica, one of his regular clients – or a guitar, a Stern pinball machine or some streetwear articles, like Vans. Originally from Ottawa, Gillies currently lives in San Francisco, a hotbed for that inevitable mix of psychedelic vibes, hot rod culture and music. We're proud to showcase him in this lovely chat we had awhile back about his art, music, links with tattooing, and so much more.
Bhorn Tattoo: In Diversity We Trust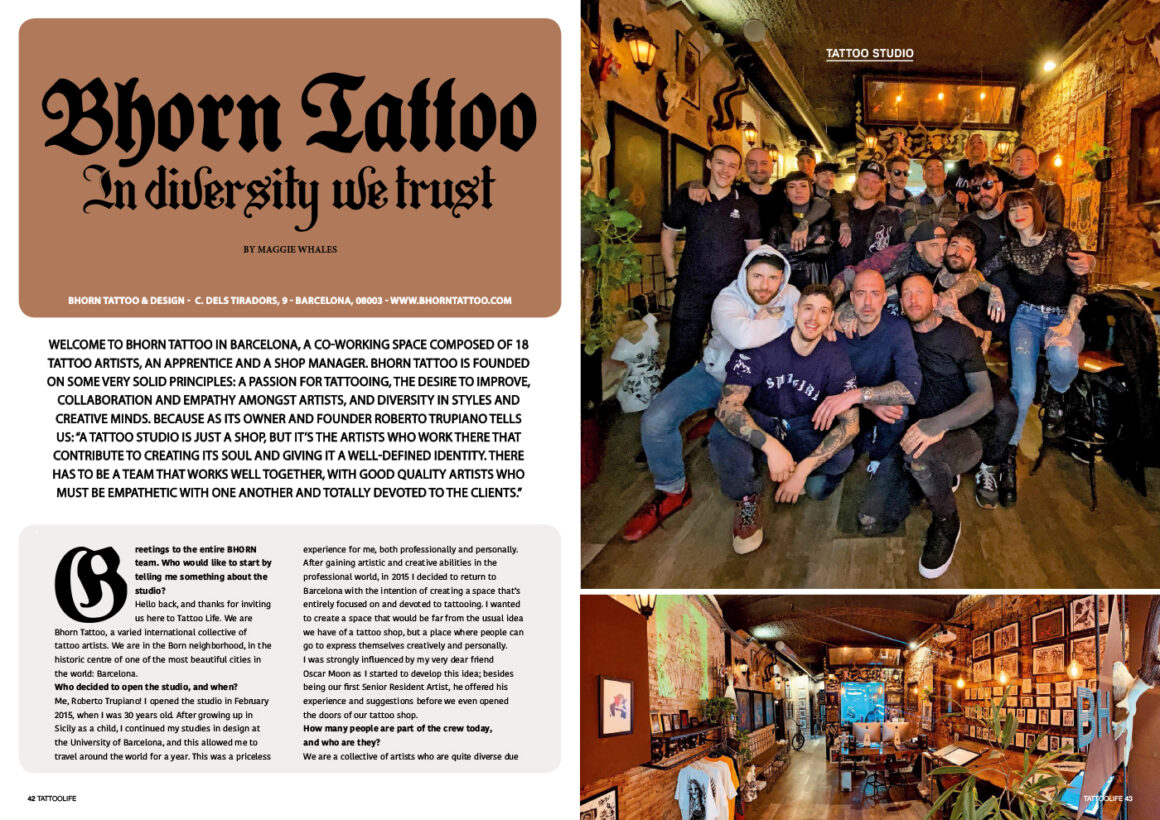 Welcome to Bhorn Tattoo in Barcelona, a co-working space composed of 18 tattoo artists, an apprentice and a shop manager. Bhorn Tattoo is founded on some very solid principles: a passion for tattooing, the desire to improve, collaboration and empathy amongst artists, and diversity in styles and creative minds. Because as its owner and founder Roberto Trupiano tells us: "A tattoo studio is just a shop, but it's the artists who work there that contribute to creating its soul and giving it a well-defined identity. There has to be a team that works well together, with good quality artists who must be empathetic with one another and totally devoted to the clients.
Focus on: Traditional Style
Tattoo Mix: The best tattoos of the moment
…and much more!
SHOP IT NOW!
Don't miss to have this amazing issue. Choose and shop now your version…