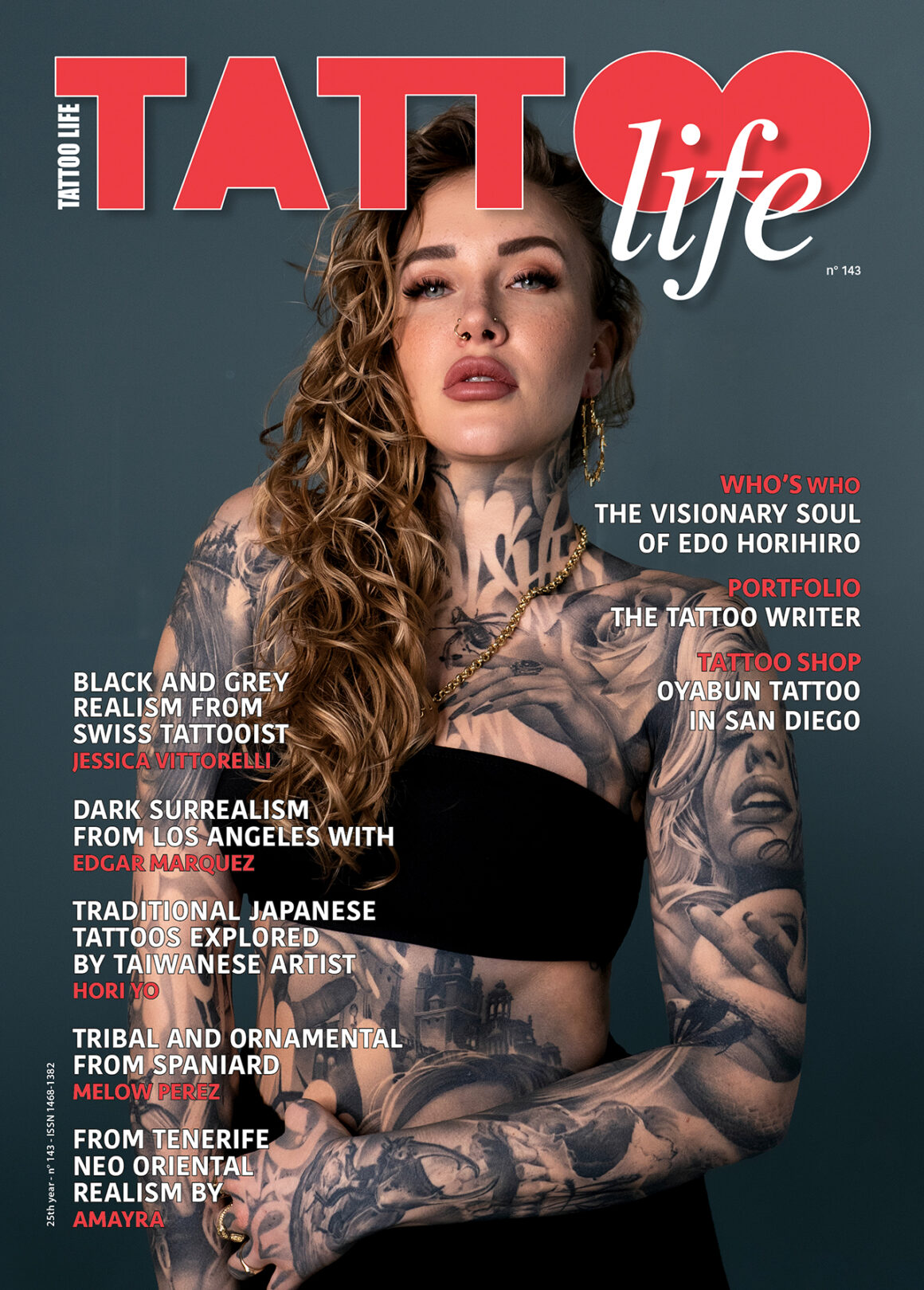 SHOP IT NOW!
Don't miss to have this amazing issue. Choose and shop now your version…
Cover girl: Jessica C. Vittorelli
Let's get to know Jessica C. Vittorelli, the cover girl of this issue as well as top tattoo artist who specialises in Black and Grey Realism. The charismatic Swiss tattooist takes us inside her world and reveals her love for ink, the tricks of the trade and her constant challenge to produce the perfect portrait.
Chat at the top with Edgar Marquez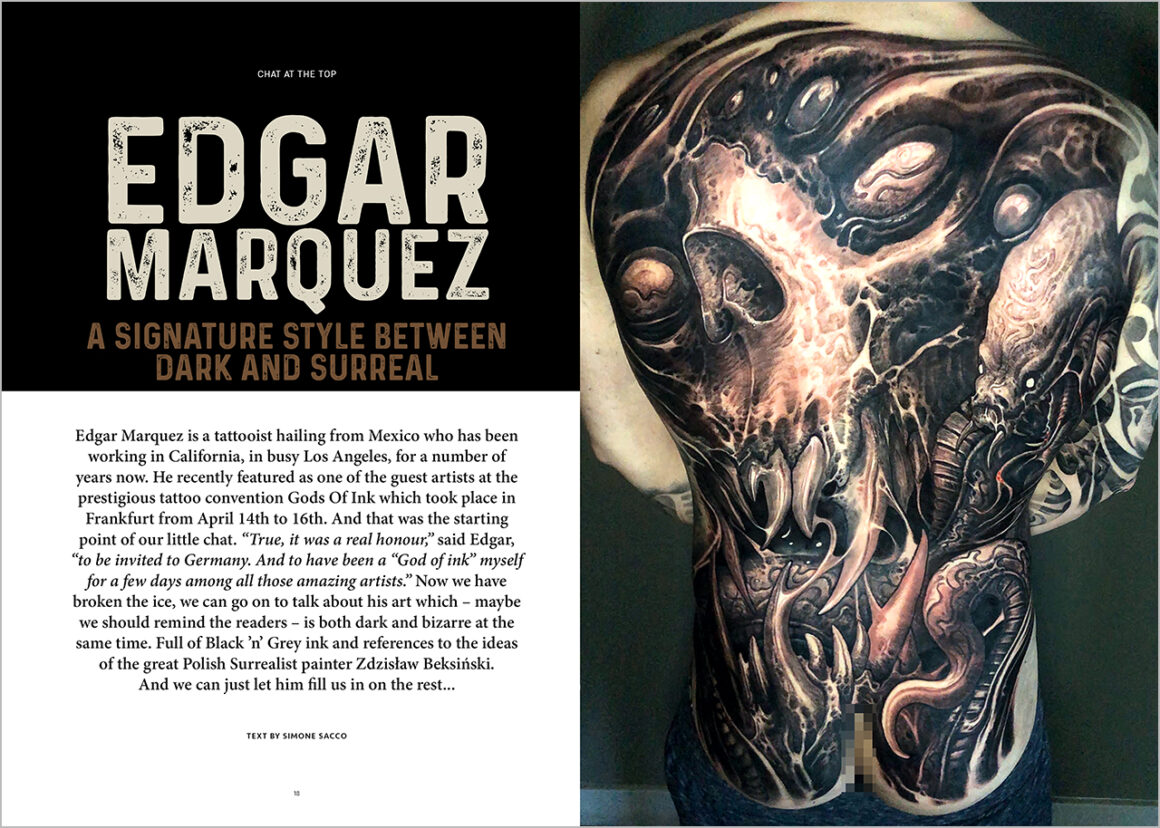 His art is both, dark and bizarre at the same time. Full of Black 'n' Grey ink and references to great Polish Surrealist painter Zdzisław Beksiński. We travel to Los Angeles to meet Edgard Marquez and see his dark-bio style.
Oyabun Tattoo Studio
We're in San Diego, California, to visit the tattoo shop and art gallery that Japanese tattooist Yushi (@yushitattoo) has chosen to open here after years of experience first in Japan and then in Korea. The name Oyabun might suggest a place devoted exclusively to Japanese tradition but actually, behind the name lies a philosophy deeply rooted in tattoo as a whole. As well as a mission which Yushi and the rest of the team have set themselves as he tells us here in this interview.
Hori Yo the traditional Japanese background in big size tattoos
Water, waves, rocks, wind, clouds and whirlpools are the elements that make up the style of Hori Yo rooted in the history and culture of Japanese traditional tattoo. Hori Yo lives and works in Taiwan and is the author of one of the latest titles of our digital library >>
Melow: All-round black Tribal and Ornamental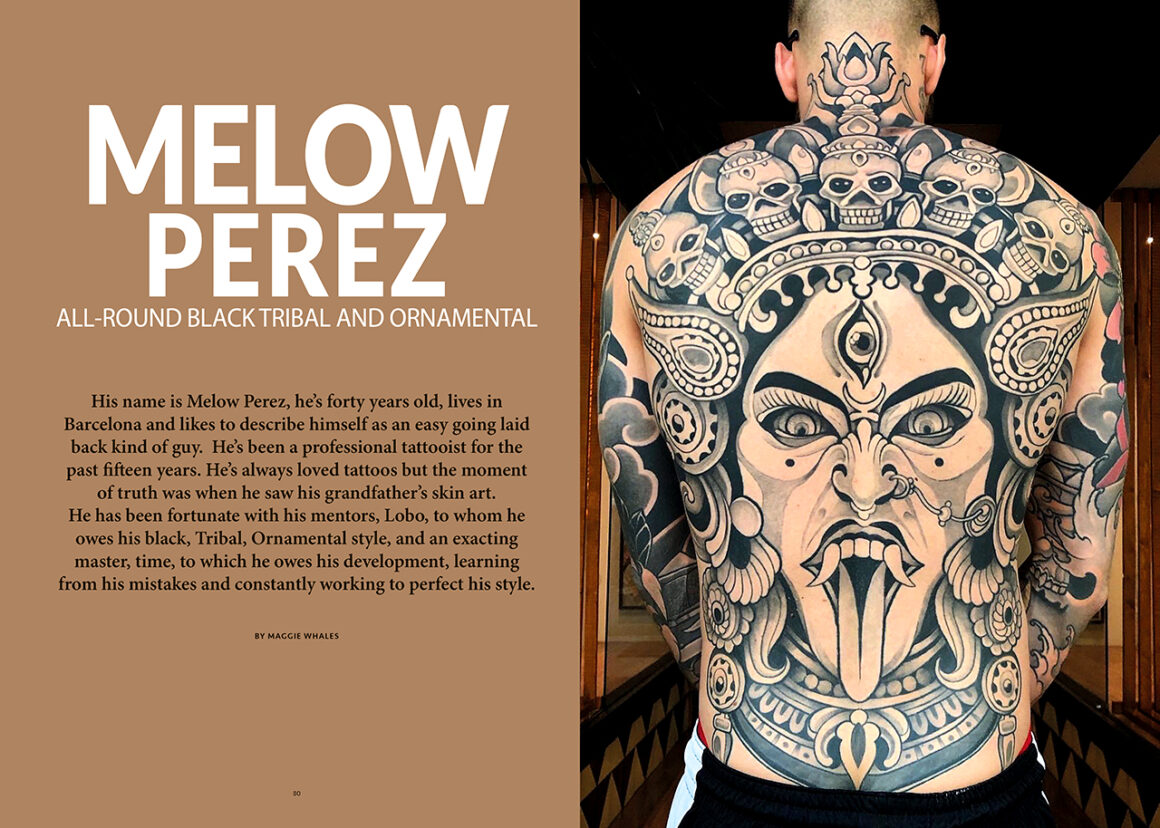 His name is Melow Perez, he's forty years old, lives in Barcelona and likes to describe himself as an easy going laid back kind of guy. He's been a professional tattooist for the past fifteen years. He's always loved tattoos but the moment of truth was when he saw his grandfather's skin art. He has been fortunate with his mentors, Lobo, to whom he owes his black, Tribal, Ornamental style, and an exacting master, time, to which he owes his development, learning from his mistakes and constantly working to perfect his style.
Amayra 3D Neo Oriental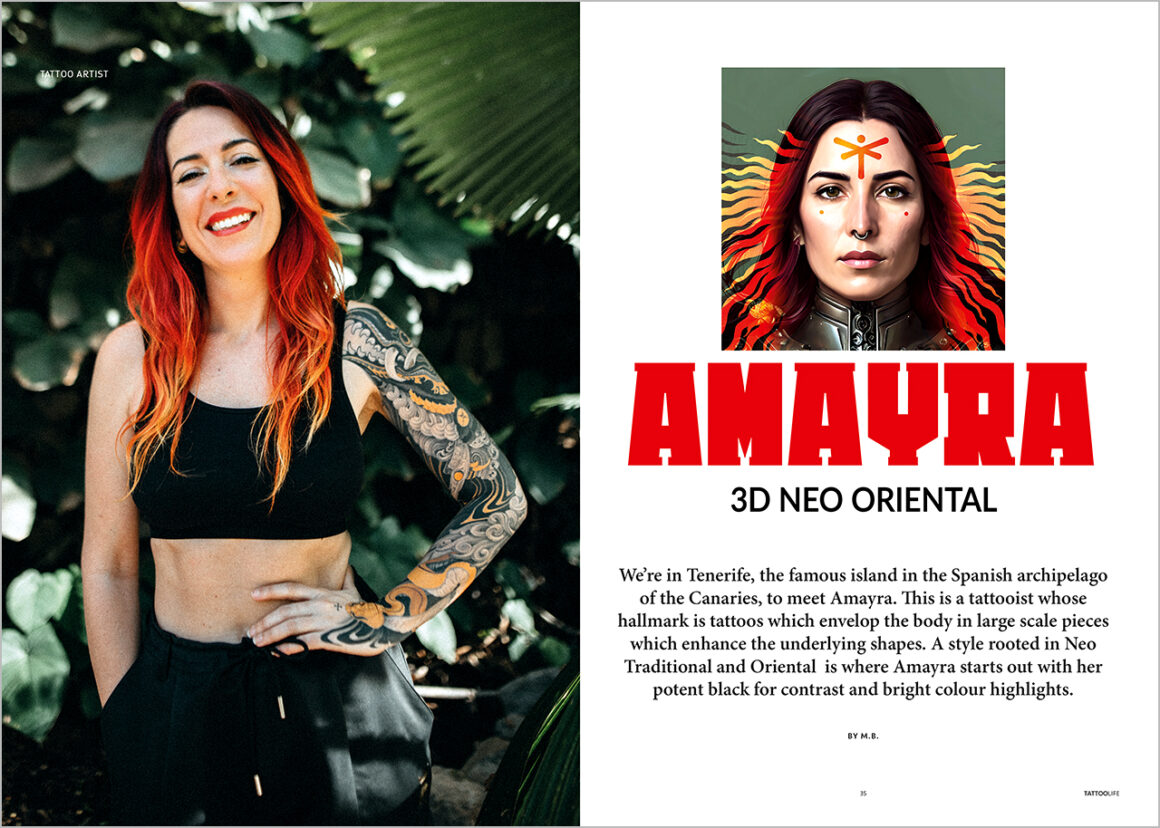 We're in Tenerife, the famous island in the Spanish archipelago of the Canaries, to meet Amayra. She is an artist whose tattoos envelop the body in large scale pieces which enhance the underlying shapes. A style rooted in Neo Traditional and Oriental is where Amayra starts out with her potent black for contrast and bright colour highlights.
Tattoo Mix: A selection of the best in every style… and much more!
SHOP IT NOW!
Don't miss to have this amazing issue. Choose and shop now your version…