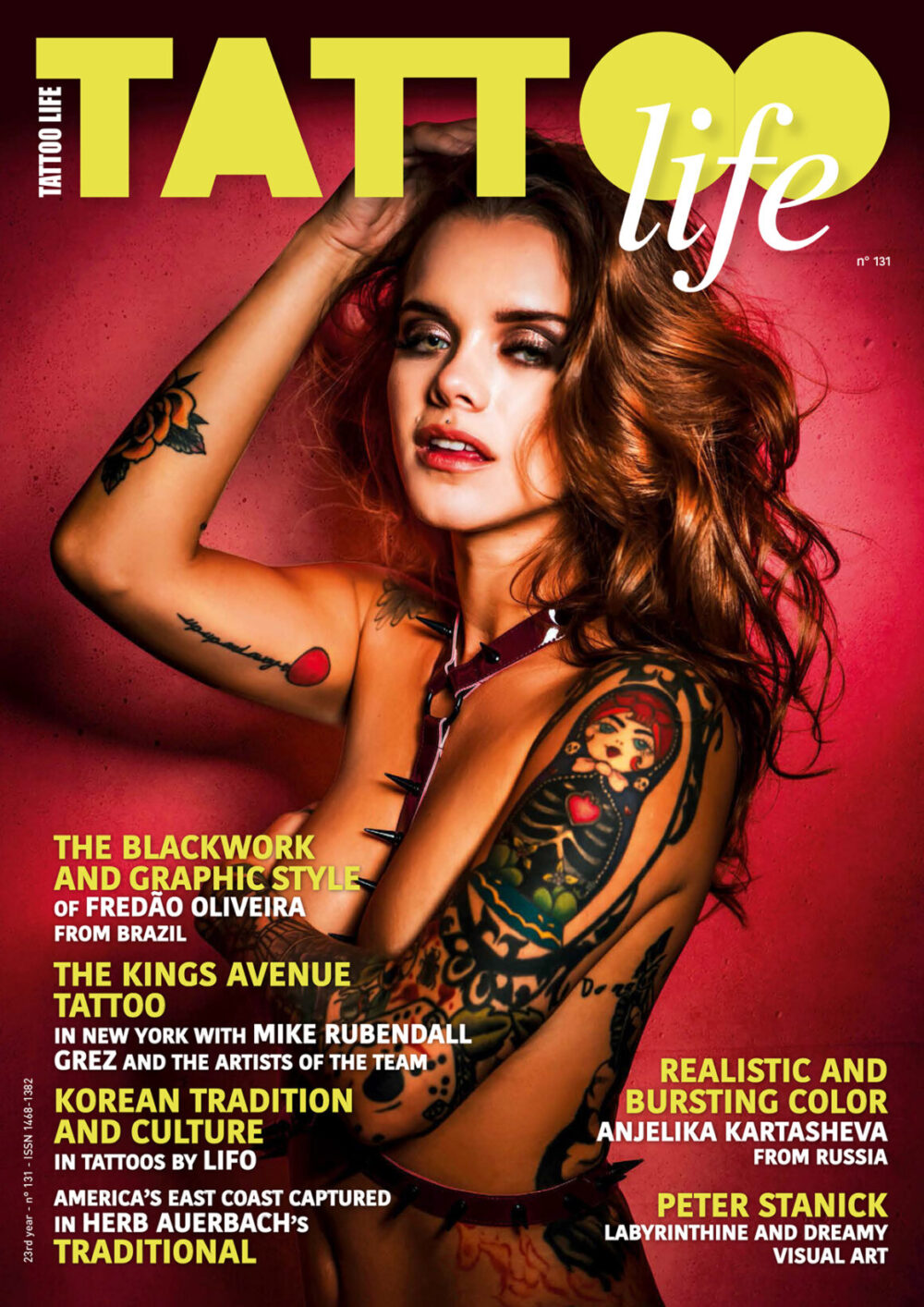 SHOP IT NOW!
Don't miss to have this amazing issue. Choose and shop now your version…
Cover Girl: Jess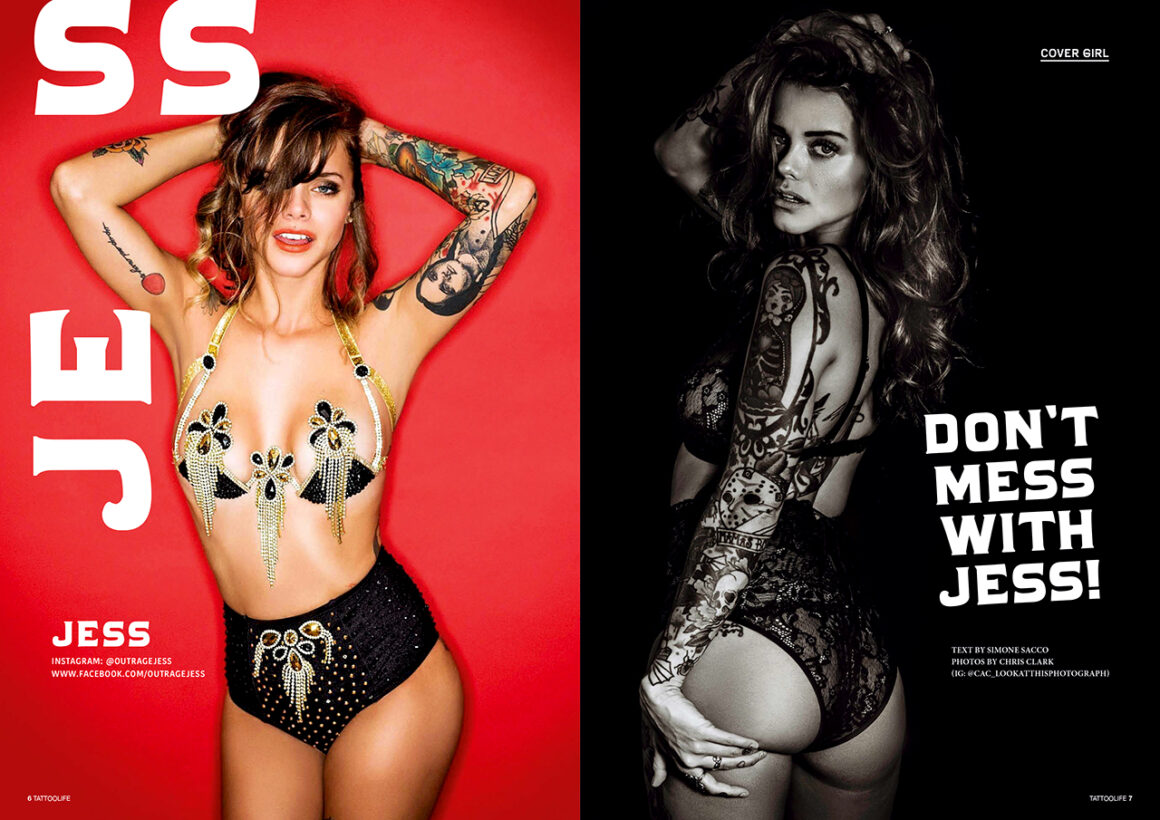 Her name is just Jess (though on the web you'll also find it associated with other nicknames) and she comes from Texas. She works in a time-honoured profession in the health care sector and at the same time delights us with all the ink she flaunts during her frequent modelling shoots. We had a little chat with her and we can sum it all up in just one word (or rather, two): feminine character.
The Kings Avenue Tattoo: The place where tattooing becomes culture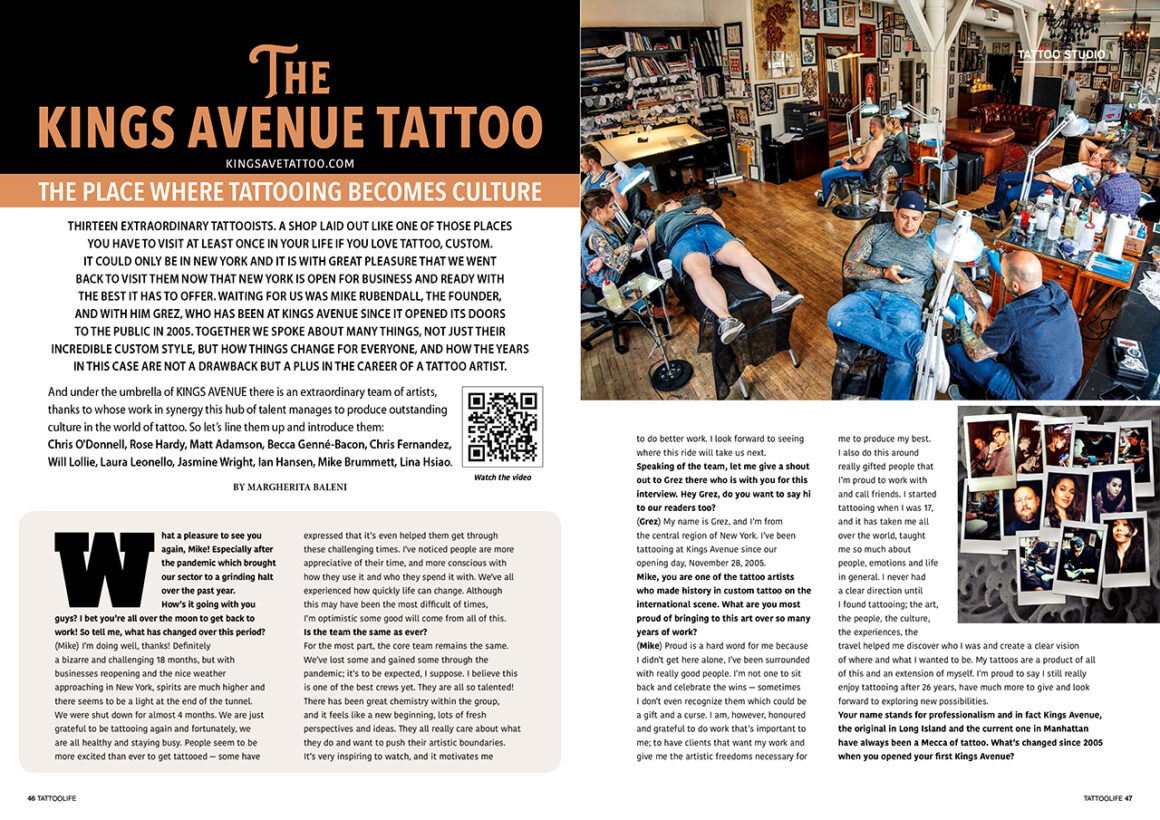 Thirteen extraordinary tattooists. A shop laid out like one of those places you have to visit at least once in your life if you love tattoo, custom. It could only be in New York and it is with great pleasure that we went back to visit them now that New York is open for business and ready with the best it has to offer. Waiting for us was Mike Rubendall, the founder, and with him Grez, who has been at Kings Avenue since it opened its doors to the public in 2005. Together we spoke about many things, not just their incredible custom style, but how things change for everyone, and how the years in this case are not a drawback but a plus in the career of a tattoo artist. 
Lifo: Korean tradition on the skin, like on a piece of jade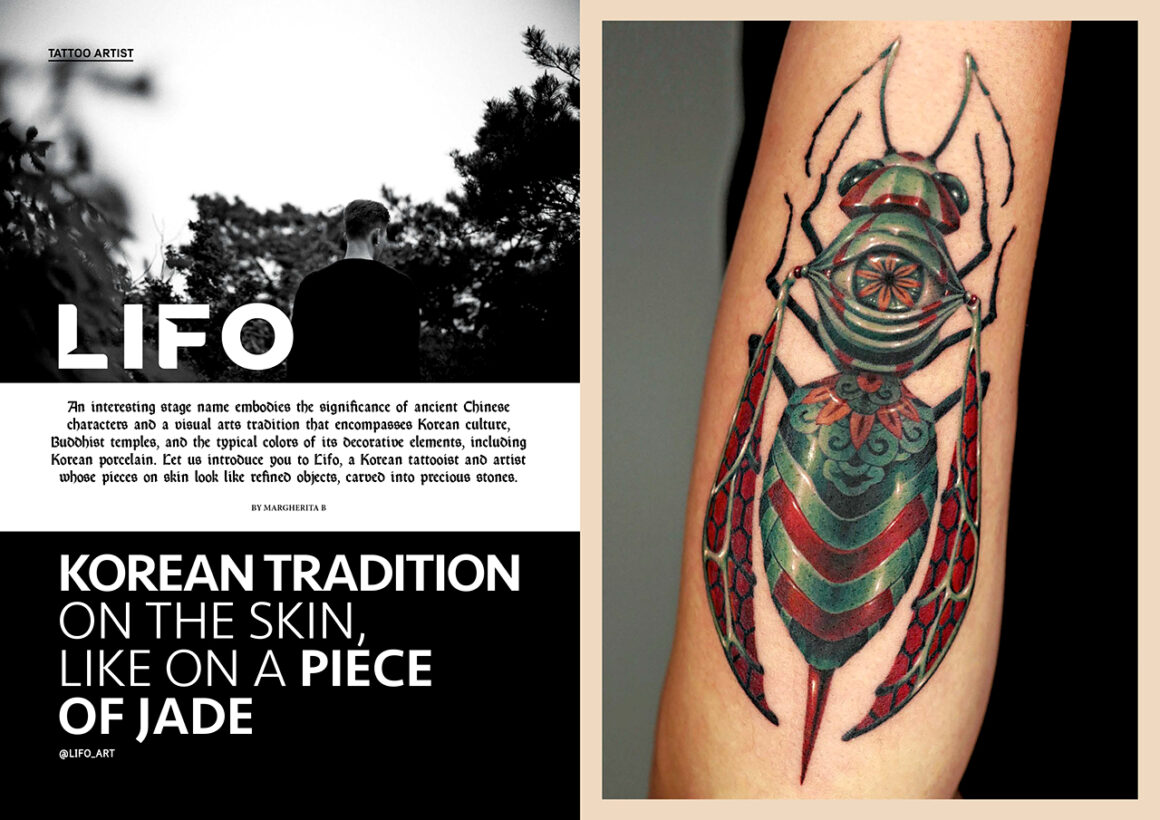 An interesting stage name embodies the significance of ancient Chinese characters and a visual arts tradition that encompasses Korean culture, Buddhist temples, and the typical colors of its decorative elements, including Korean porcelain. Let us introduce you to Lifo, a Korean tattooist and artist whose pieces on skin look like refined objects, carved into precious stones. 
Fredão Oliveira: "Dirty and evil" a mashup of Michelangelo and Gustave Doré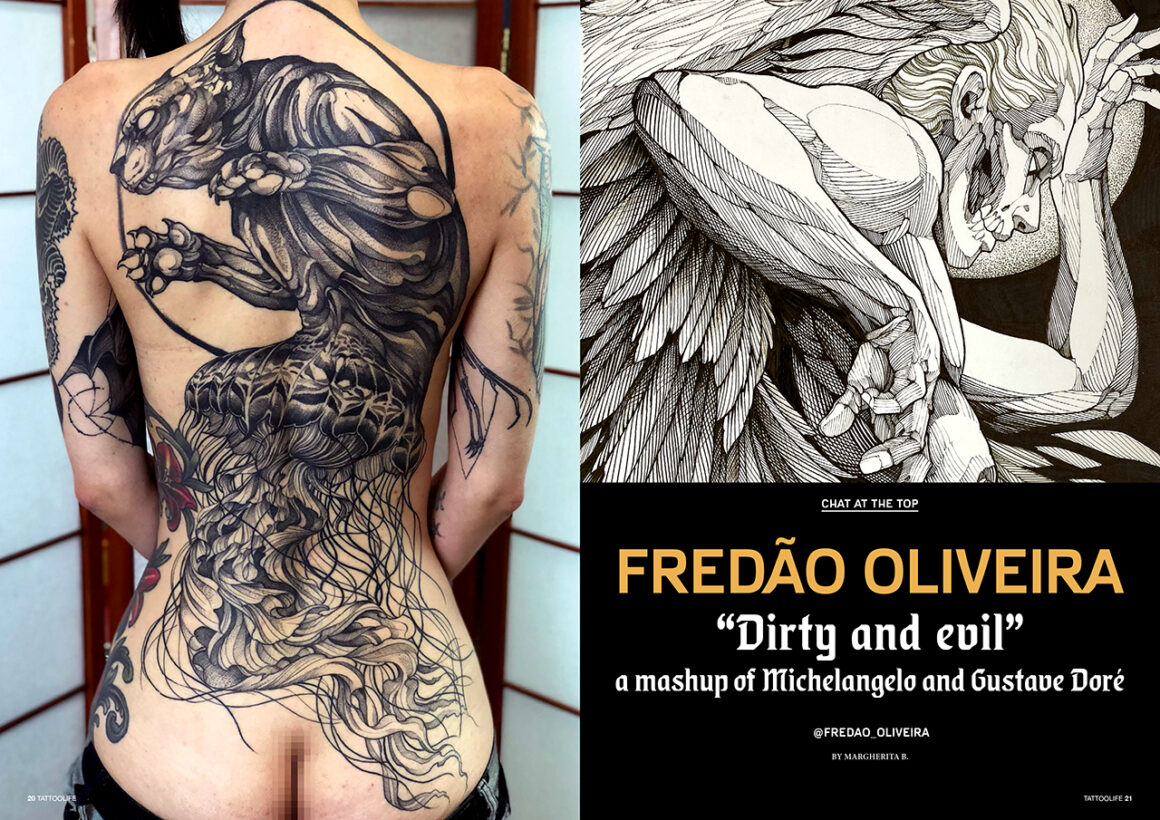 Even though Gustav Doré must come first in terms of stylistic inspiration for Fredão Oliveira, Michelangelo is undoubtedly the source of his tattoo, strictly Blackwork, but with a past since he started out in Traditional. 
Herb Auerbach: Traditional with black and strong colors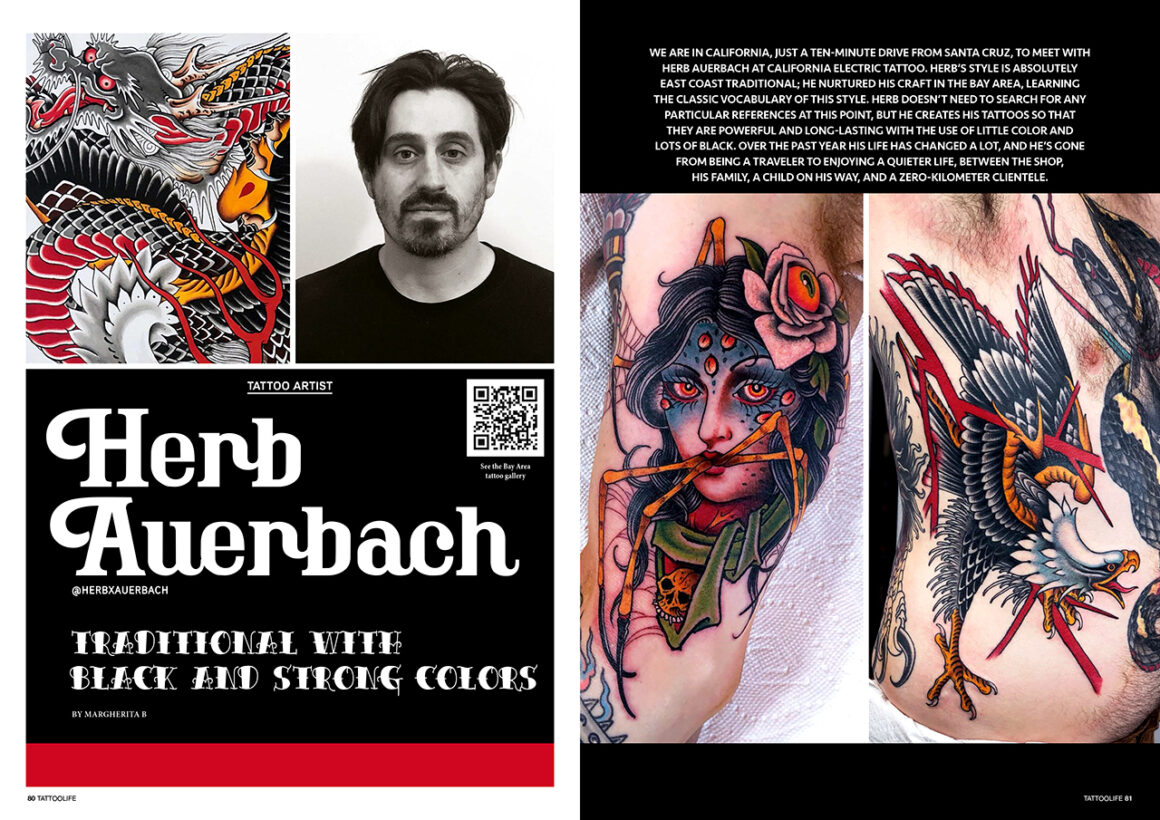 We are in California, just a ten-minute drive from Santa Cruz, to meet with Herb Auerbach at California Electric Tattoo. Herb's style is absolutely East Coast Traditional; he nurtured his craft in the Bay Area, learning the classic vocabulary of this style. Herb doesn't need to search for any particular references at this point, but he creates his tattoos so that they are powerful and long-lasting with the use of little color and lots of black. Over the past year his life has changed a lot, and he's gone from being a traveler to enjoying a quieter life, between the shop, his family, a child on his way, and a zero-kilometer clientele.
Anjelika Kartasheva: The colourful Fabrik 13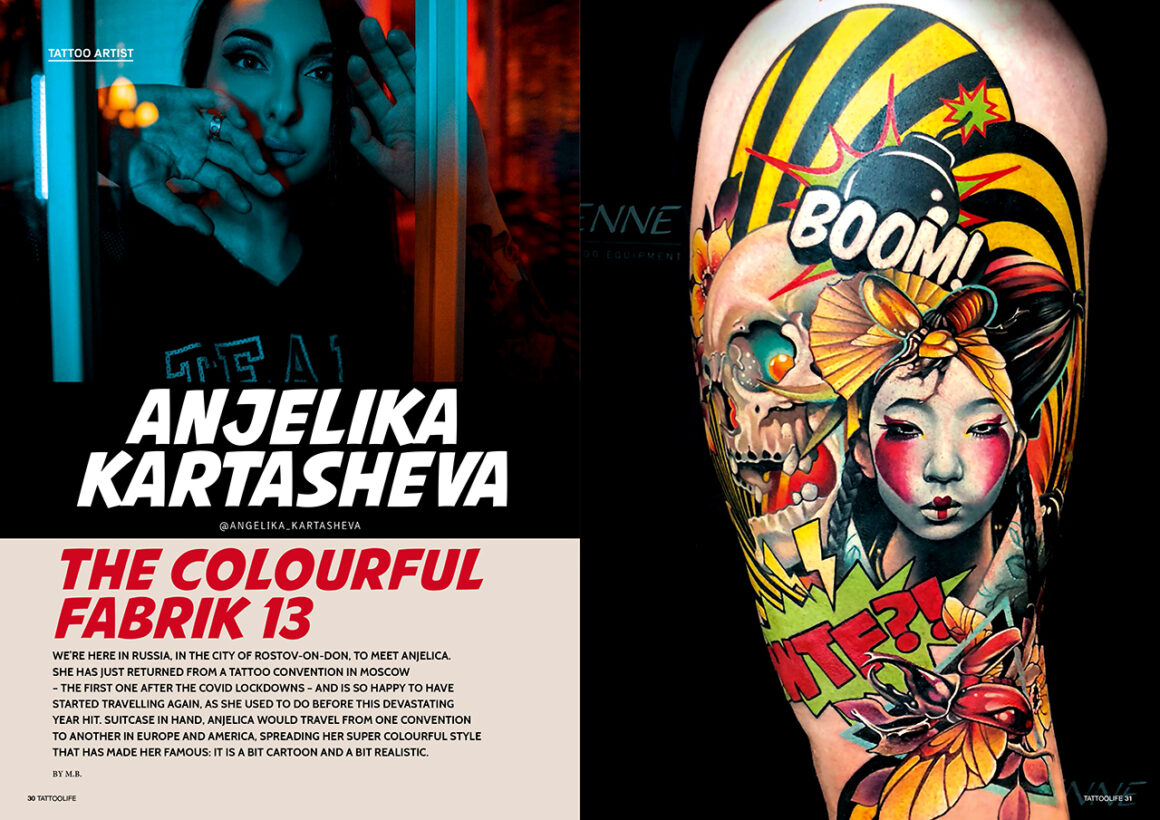 We're here in Russia, in the city of Rostov-on-Don, to meet Anjelica. She has just returned from a tattoo convention in Moscow – the first one after the Covid lockdowns – and is so happy to have started travelling again, as she used to do before this devastating year hit. Suitcase in hand, Anjelica would travel from one convention to another in Europe and America, spreading her super colourful style that has made her famous: it is a bit cartoon and a bit realistic.
Peter Stanick: The art of visual perception
We'd like to introduce you to Peter Stanick, a Pittsburgh-born American artist who gained our attention thanks to his works that look like visual mazes you could get lost in. Stanick has had numerous solo exhibits in New York, Chicago, Los Angeles, Miami, London, Stockholm, Cologne, Toyko and Osaka, and some of his works have joined the collections of such prestigious museums as the Metropolitan Museum of Art in New York, Carnegie Museum of Art in Pittsburgh, the Museum of Art in Osaka and AMMA in Mexico City. Stanick lives and works near Sarasota, Florida, and in this interview we asked him to tell us something about his works, especially about why the skull reigns supreme over all his creative, conceptual visions
Tattoo Mix: The best tattoos of the moment
…and much more!
SHOP IT NOW!
Don't miss to have this amazing issue. Choose and shop now your version…