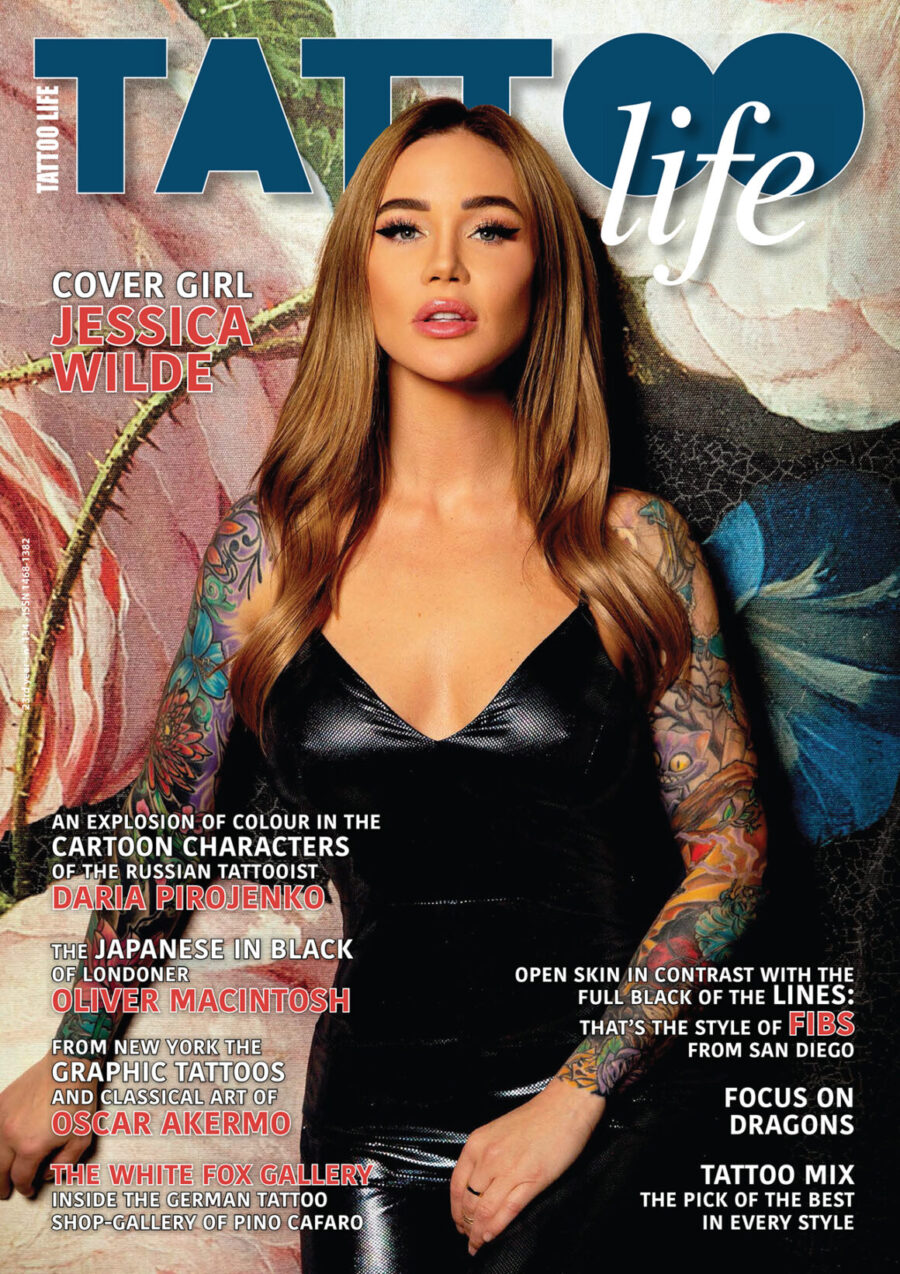 SHOP IT NOW!
Don't miss to have this amazing issue. Choose and shop now your version…
Cover Girl: Jessica Wilde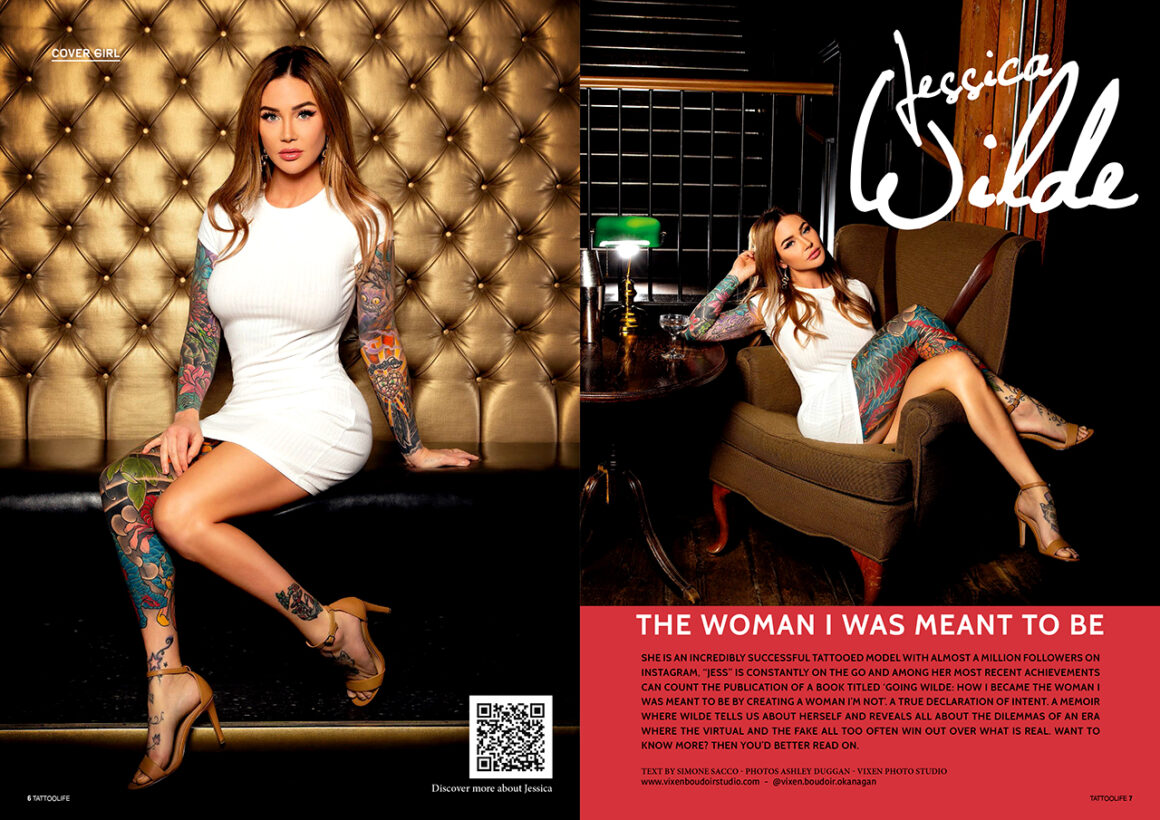 She is an incredibly successful tattooed model with almost a million followers on Instagram, "Jess" is constantly on the go and among her most recent achievements can count the publication of a book titled "Going Wilde…"
Chat at the top with FIBS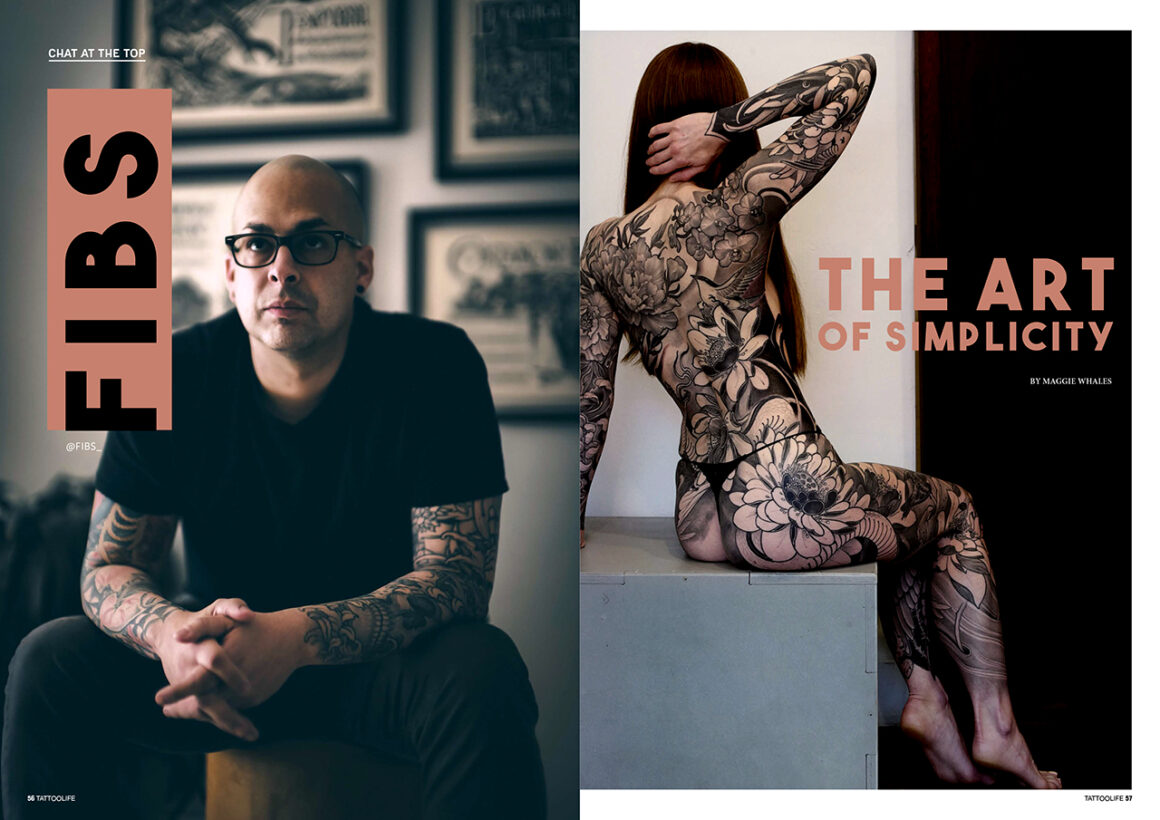 From fine line Black and Grey to powerful thick lines, colour or black, filled or open. The work of Fibs, Puerto Rican by birth but based in San Diego, California for some time now, is based on a cleanness, elimination of the superfluous and anything difficult or complicated in order to achieve that purity and simplicity which makes it great.
Oscar Akermo: from Leonardo da Vinci to NFT Art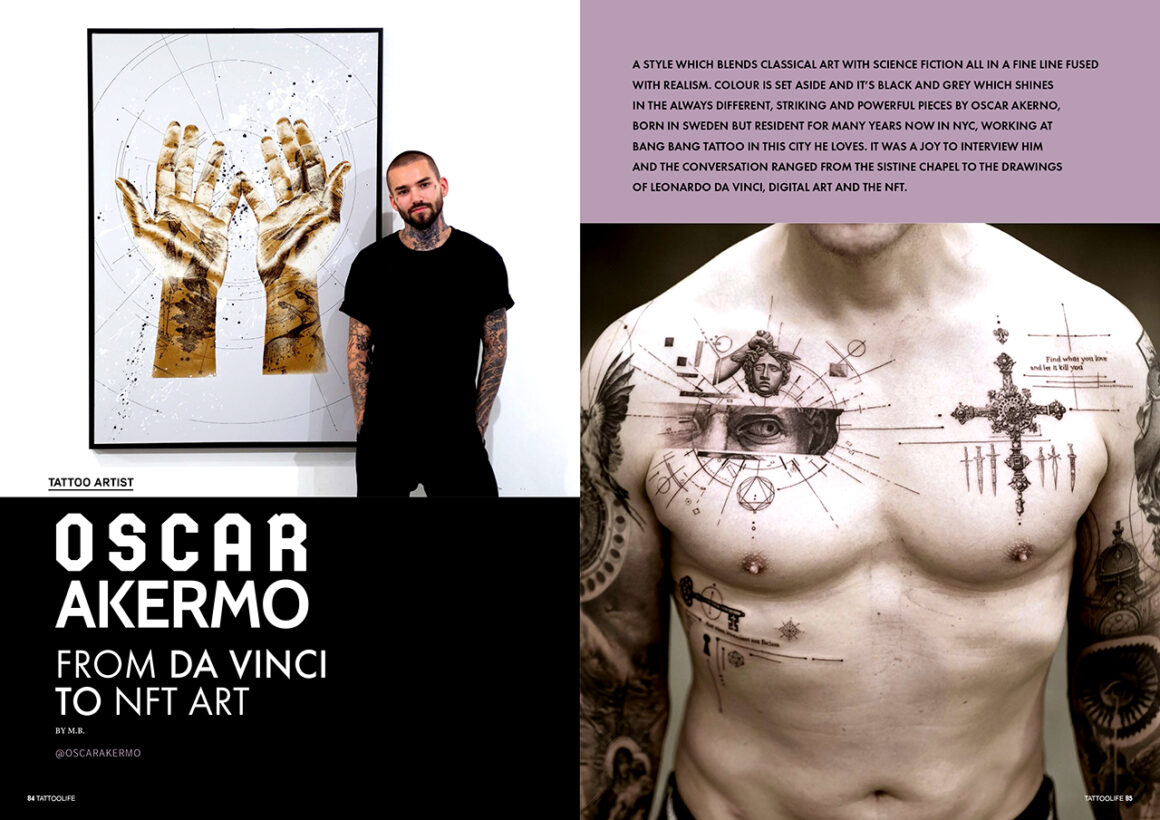 A style which blends classical art with Science Fiction all in a Fine Line fused with Realism. Colour is set aside and it's Black and Grey which shines in the always different, striking and powerful pieces by Oscar Akerno, born in Sweden but resident for many years now in NYC, working at Bang Bang Tattoo in this city he loves.
The White Fox Tattoo Gallery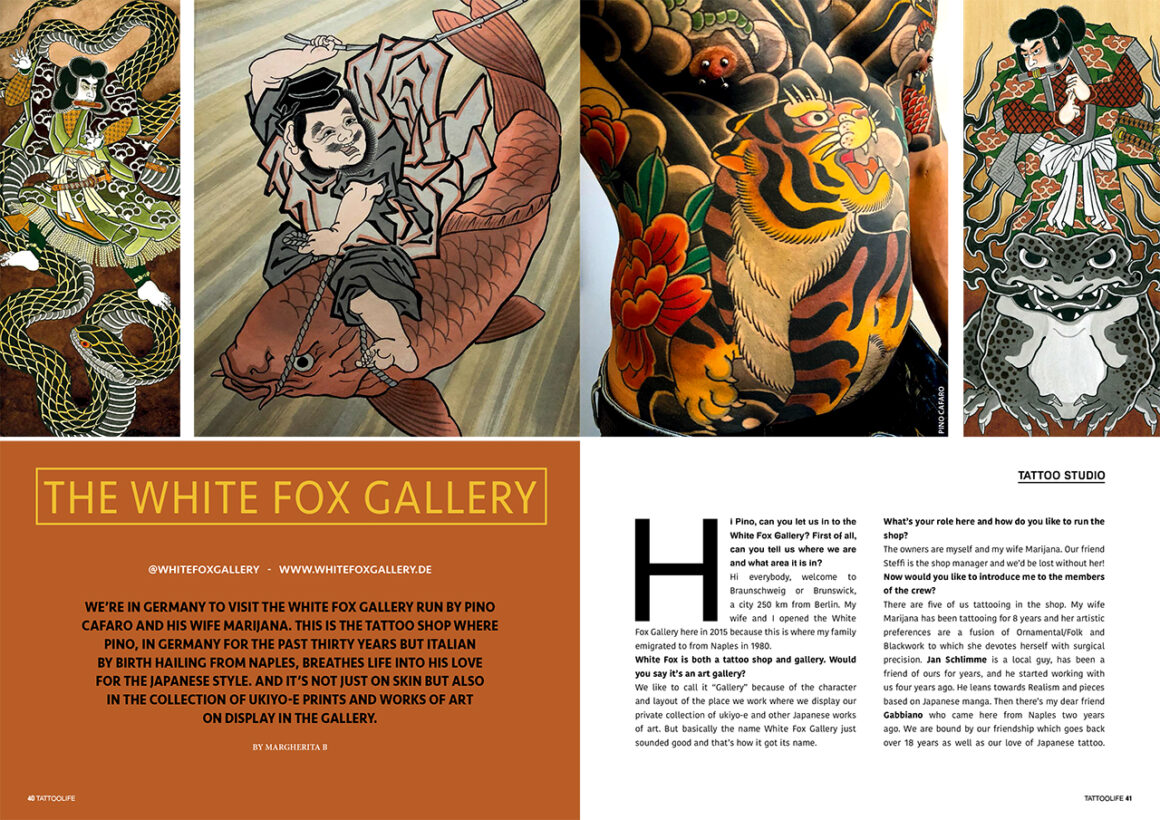 We're in Germany to visit the White Fox Gallery run by Pino Cafaro and his wife Marijana. This is the tattoo shop where Pino, in Germany for the past thirty years but Italian by birth hailing from Naples, breathes life into his love for the Japanese style. And it's not just on skin but also in the collection of ukiyo-e prints and works of art on display in the gallery.
Daria Pirojenko. Do what you love and do it well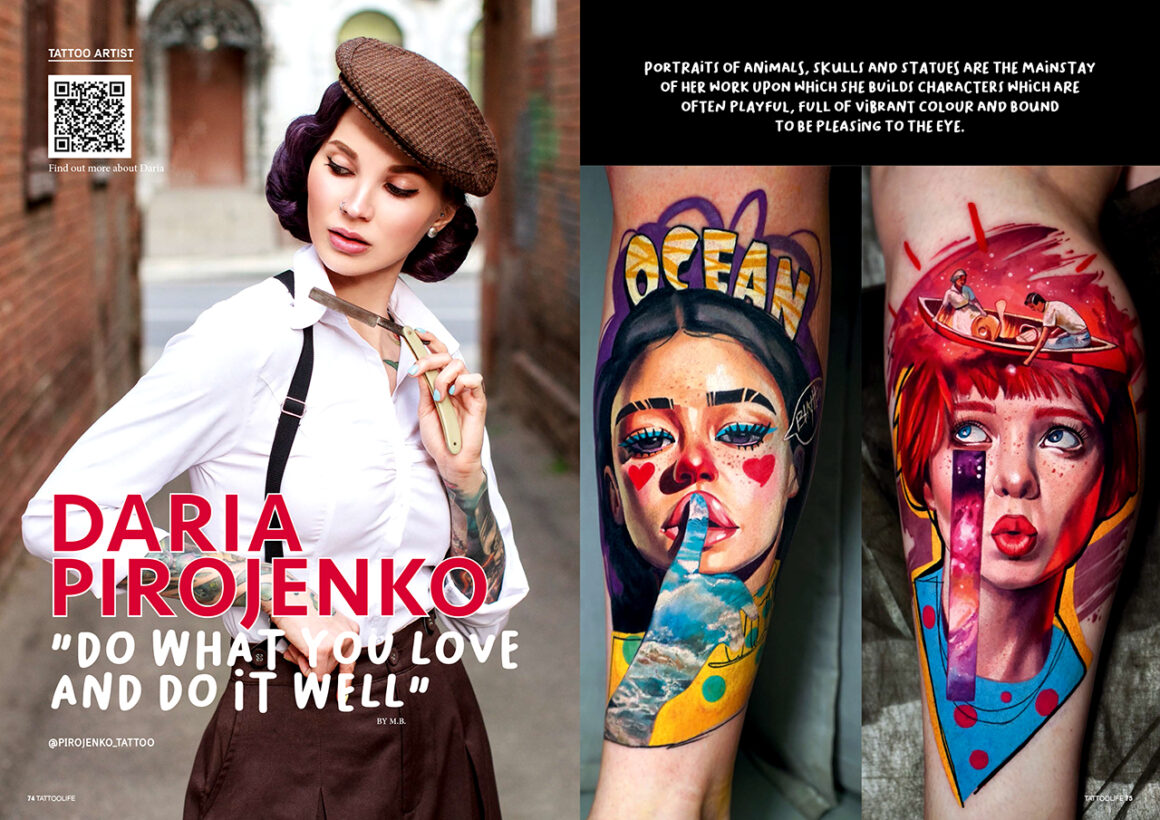 Portraits of animals, skulls and statues are the mainstay of her work upon which she builds characters which are often playful, full of vibrant colour and bound to be pleasing to the eye. "My style represents me and my taste. That's why, being joyful and positive by nature, I choose only bright, cheerful and charismatic characters to depict. I adore drawing pets, as each of them, apart from having a cute face, has a special history and significance for their owners. I like creating women's portraits as well".
SLASKY: Art is not to portray new things, but to present things in a new way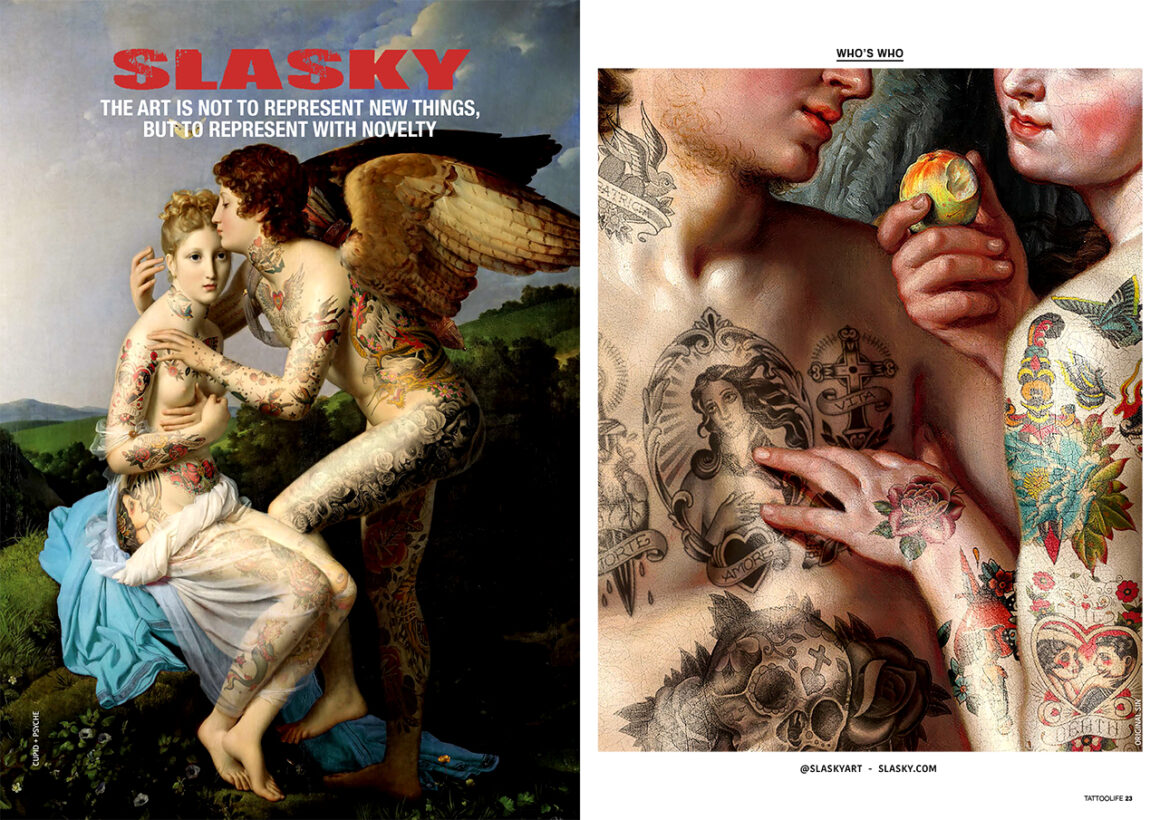 If you happen to seen them on display from a distance, the work of Italian artist Slavsky look like reproductions of the Great Masters. But if you get a bit closer you will see what is special about these paintings which are at the same time unconventional and contemporary, tattoos adorning the porcelain skin of young ladies straight out of a Boticeilli painting, cherubs, cupids and martyered saints, the protagonists of a creative flair where art is not intended to represent new things but to represent things in a new way."
Focus On: Dragons, Tattoo Mix: A selection of the best in every style… and much more!
SHOP IT NOW!
Don't miss to have this amazing issue. Choose and shop now your version…