Black Rainbow Tattoo Theatre
We are with Stefan and Mitch from the Black Rainbow Tattoo Theatre, one of the studios featured in the German Jahrbuch Tätowierer 2023.
Their tattoo shop is based in Zwickau and their favorite tattoo style is Realism. They are big fans of movies, series and gaming, which become subjects of their tattoos.
Hi Mitch and Stefan you are the owners of Black Rainbow Tattoo Theatre, would you like to tell us something about this studio? When did you open it, where is it located?
The Black Rainbow Tattoo Theater has now been in existence for over seven years. We opened the studio in October 2015 on the outskirts of Zwickau, a smaller town in East Germany.
Who works with you?
It's just the two of us working here in the studio, but we always have a spot available for guest artists.
What style do you two specialize in?
Our main tattoo style is Realism. Sometimes we like to try something different, but always adding our own touch.
What are the most welcome tattoo requests for you? It seems that Dark Black and Grey is your favorite style, is that right?
Tattoos in the dark realistic style are definitely our specialty. We are big fans of movies, series and gaming, and of course most happy about such inquiries. Due to the current ban here in Europe on many tattoo inks, our work has tended to be black and grey for some time. We have a lot of fun with that, but every now and then one color tattoo is not bad either.
What kind of atmosphere do you find when you open the doors of Black Rainbow?
As we said, we are passionate fans of cinema, movies and gaming. We especially like old classics and that's why we kept our studio in the style of an old classic movie theater. On every corner you will find small details that allow you to immerse in the magical world of the cinema. Our workspaces are like playrooms for our inner child. Here clients have the possibility to forget a bit about the pain, watching a good movie.
And the motto of your tattoo shop is?
We don't really have a motto, but we do have the philosophy that nothing is more important in our profession than the tattoo and who is going to wear it. We consider every customer as our friend and try to make every tattoo as if it were for ourselves. This is more important than any like on social media.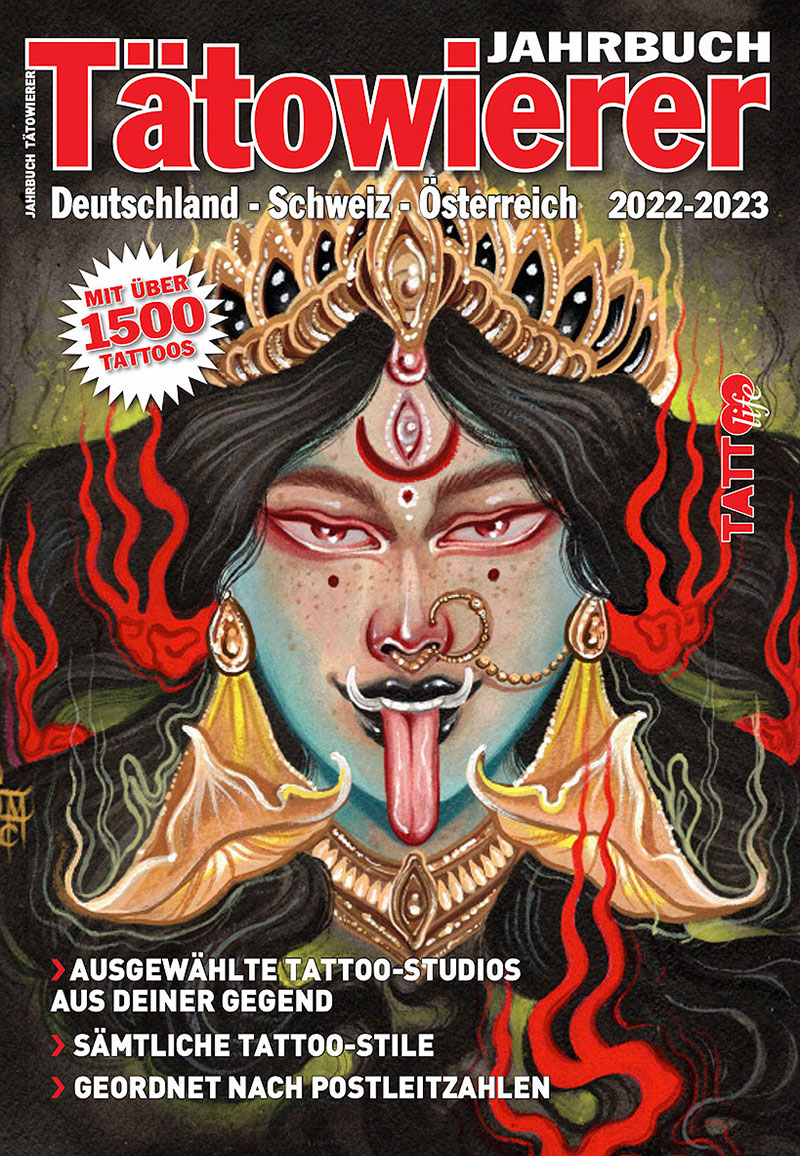 PUBLISHED IN GERMAN, ITALIAN, FRENCH, ENGLISH AND SPANISH EDITIONS. EVERY YEAR EACH VOLUME SHOWS HUNDREDS OF TATTOO IMAGES AND PRESENTS THE TATTOO SHOPS IN EACH COUNTRY WITH ALL THE INFORMATION YOU NEED.
THE PLACE TO BE IF YOU ARE A TATTOO ARTIST, A MUST HAVE IF YOU ARE A TATTOO LOVER.
DON'T MISS THE CHANCE! BOOK YOUR SPACE IN THE NEXT EDITION.