Golden Times Atelier
To witness tattooing surrounded by art, amidst the aroma of incense and pampered by the best chill-out music around. This means getting to know the "ethereal NeoTraditional" style made a reality by Lorena Morato and interacting with her in a private and magical space called 'Golden Times Atelier'.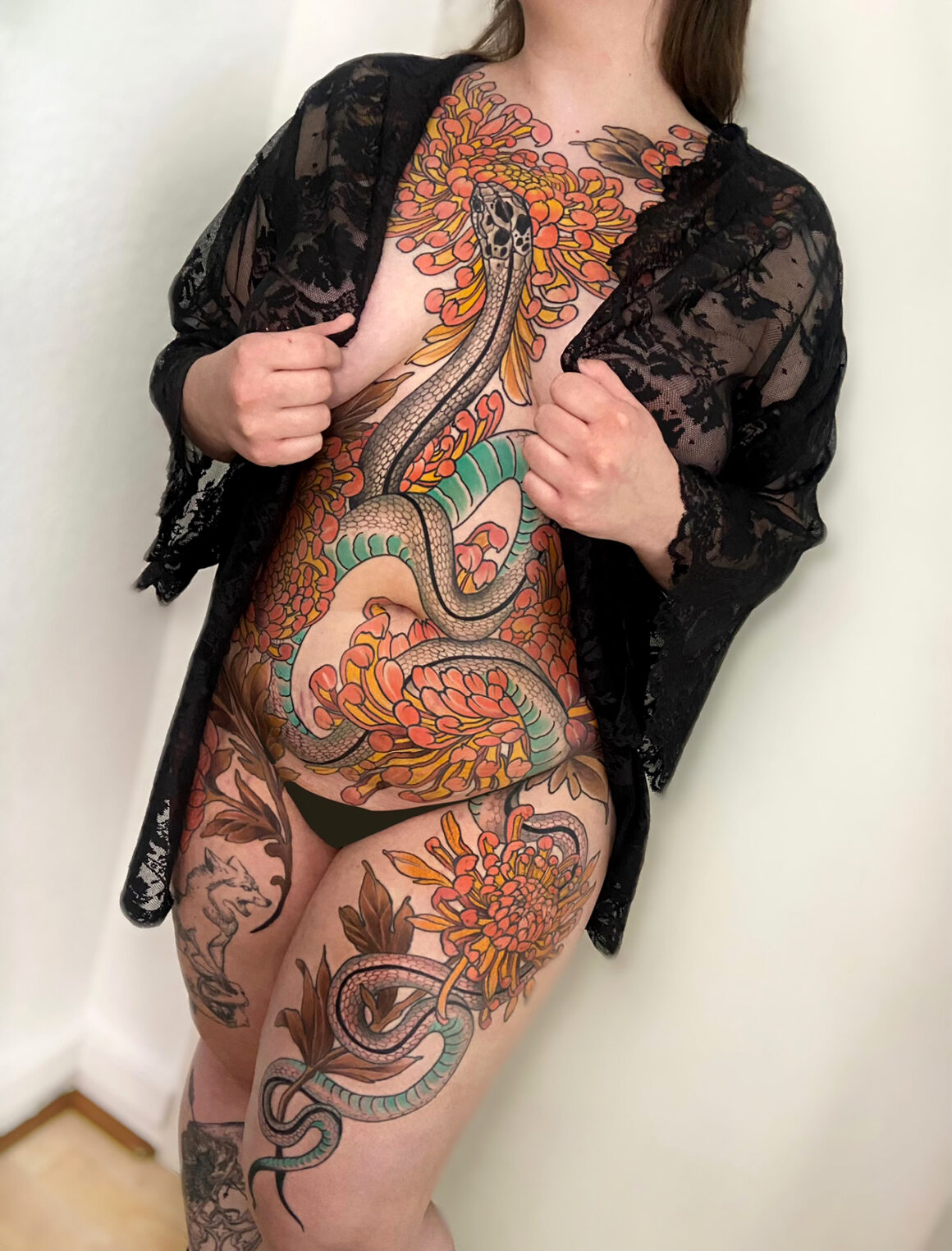 Lorena, you started tattooing in about 2007 after which you moved from Brazil (your homeland) to Germany. Why Germany and specifically Cologne?
Yeah, Cologne wasn't planed at all. Just happened after I met a boyfriend while I was living in Barcelona, when I first arrived in Europe. He was from Cologne, that's why I ended up here.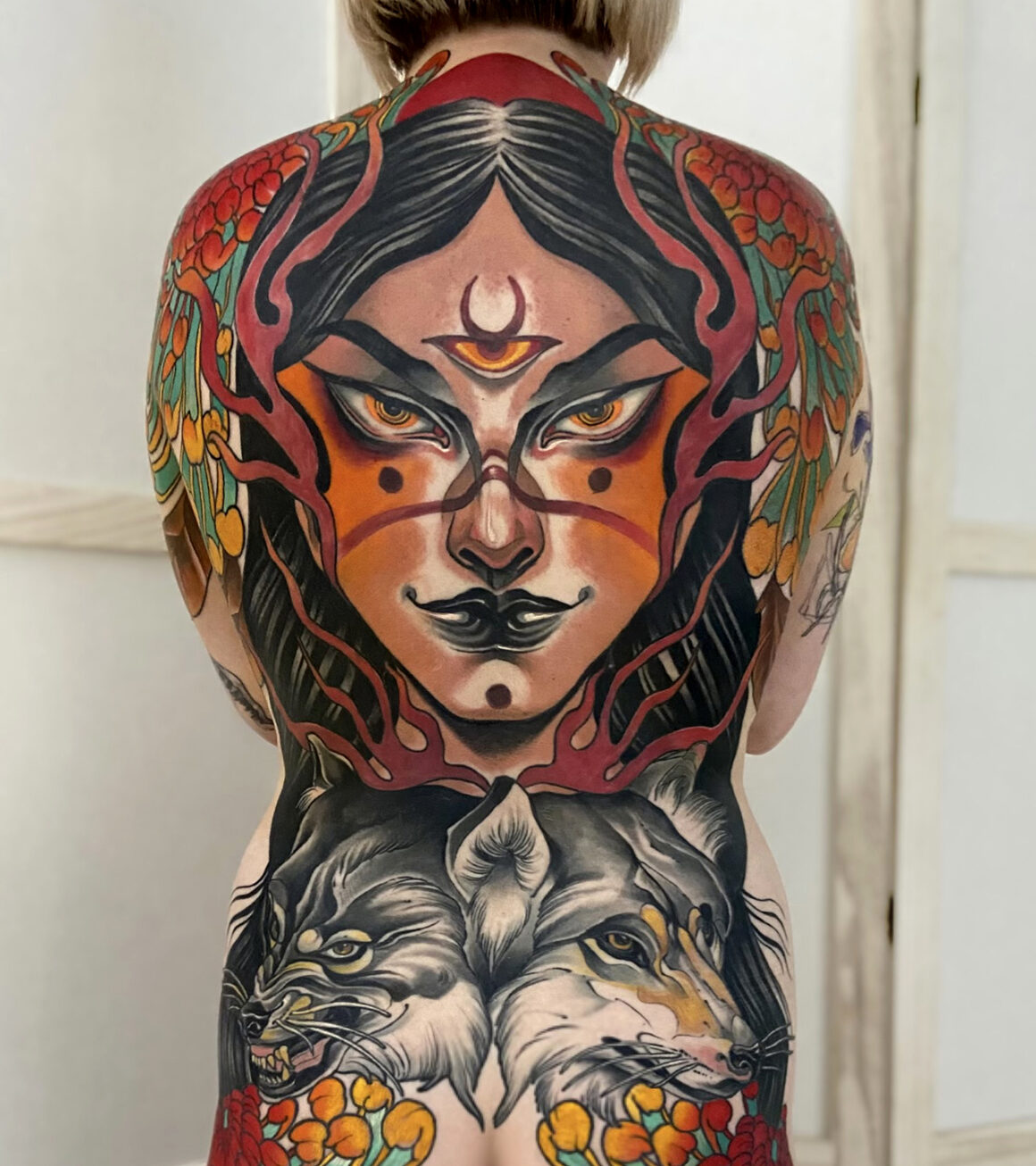 How did the decision arise in you to open a private tattoo studio and to name it in that very elegant way 'Golden Times Atelier'?
To have my own shop was my biggest dream after becoming a tattoo artist. Once I did a painting while searching for an apprenticeship and the woman who took me to work at her shop, Petra Kempka from 'Alpha Tattoo' in Hattingen, back in 2008 I guess, saw one of my paintings with a lady from the 20's which I wrote under "Golden times".
As she saw it, she said to me this would be a great name for a tattoo shop.
I never forgot that moment and I was so grateful this woman came into my life, so I promised to myself someday I would have a beautiful shop and this would be the name.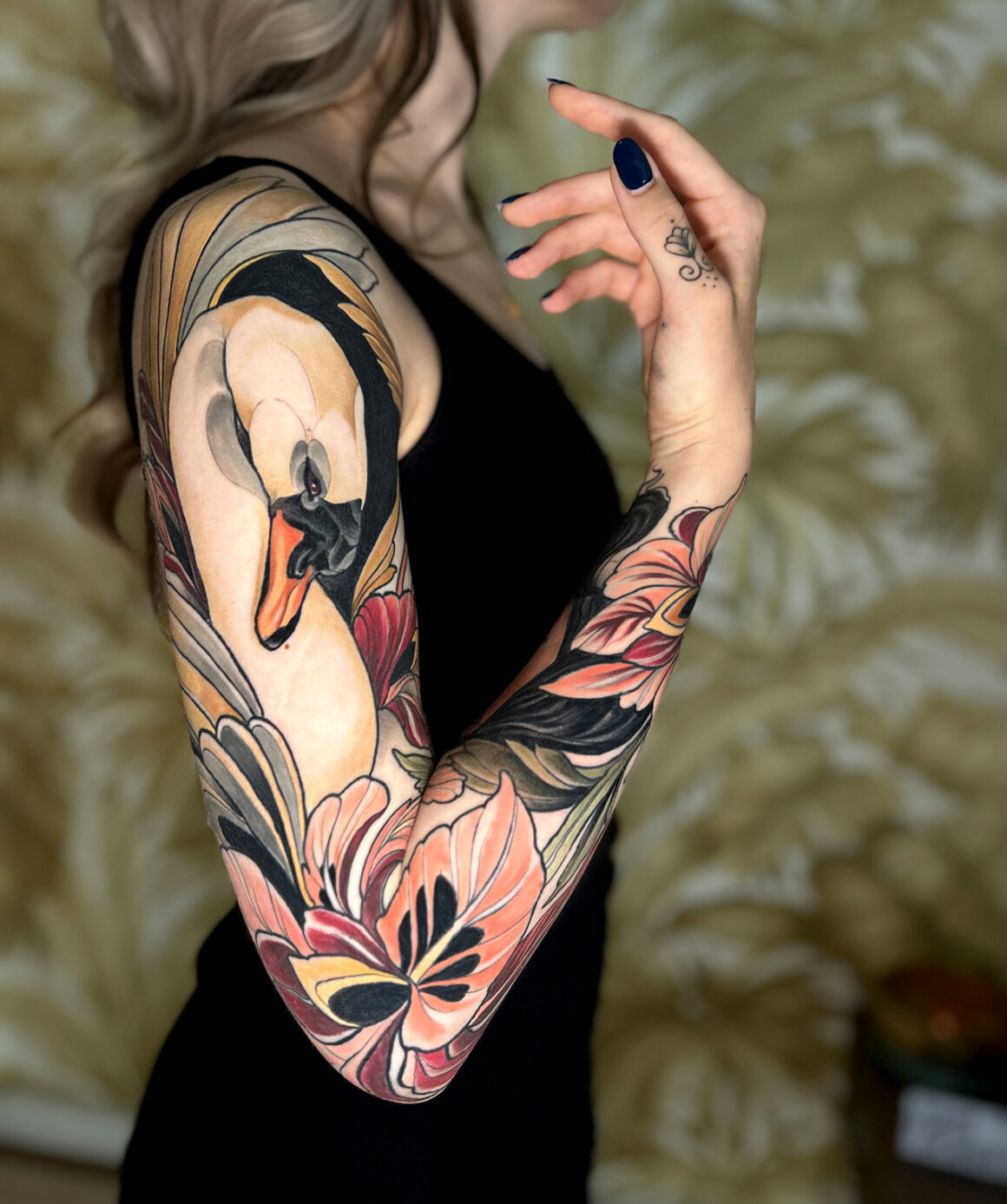 In what part of the city of Cologne is the 'Golden Times Atelier' located and how did you decide to furnish it? Your tattoos are very much influenced by the world of nature and the ancient traditions of Brazil so I imagine a place that radiates colors, scents and a hint of spirituality. Am I wrong?
The studio is located in Nippes, a district in the north of Cologne. You are right, the shop is my temple and reflects my personality and my art. Recently I renovated the decoration after my travel to the Amazon. It's light, full of plants, beautiful golden jungle wallpaper, lots of incense and calm electronic/ambient music.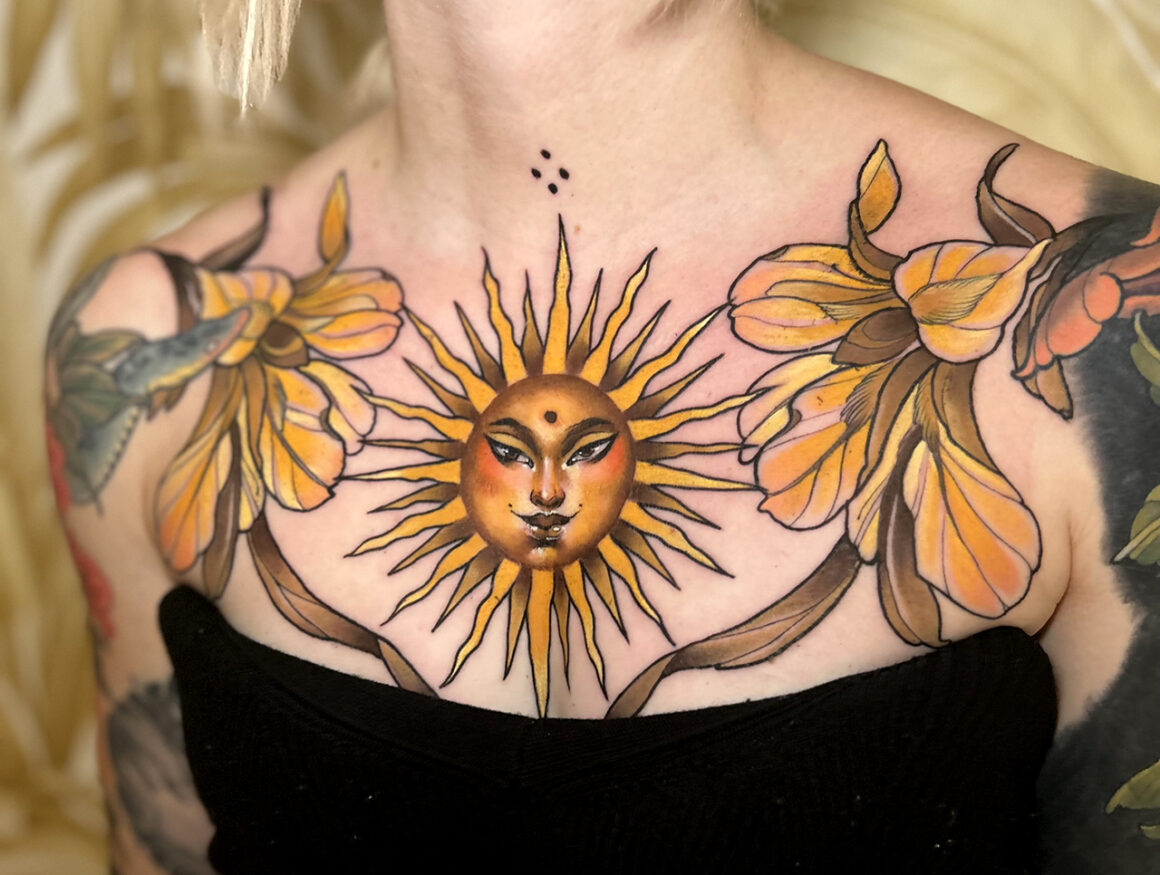 You love to call your style "ethereal neotraditional" and have always said that your inspiration comes from visionary and psychedelic art, with elements of art noveau, botanic/fairytale illustration books and oil painting elements. Do you think it is difficult to improve the perfection of such a well-defined style?
I'm trying to improve every day, and perfection is something I don't believe we can ever reach. But we can seek for knowledge, make the best we can every single day.
Our art will be the whole life on someone's skin, and for every client we should give always our best.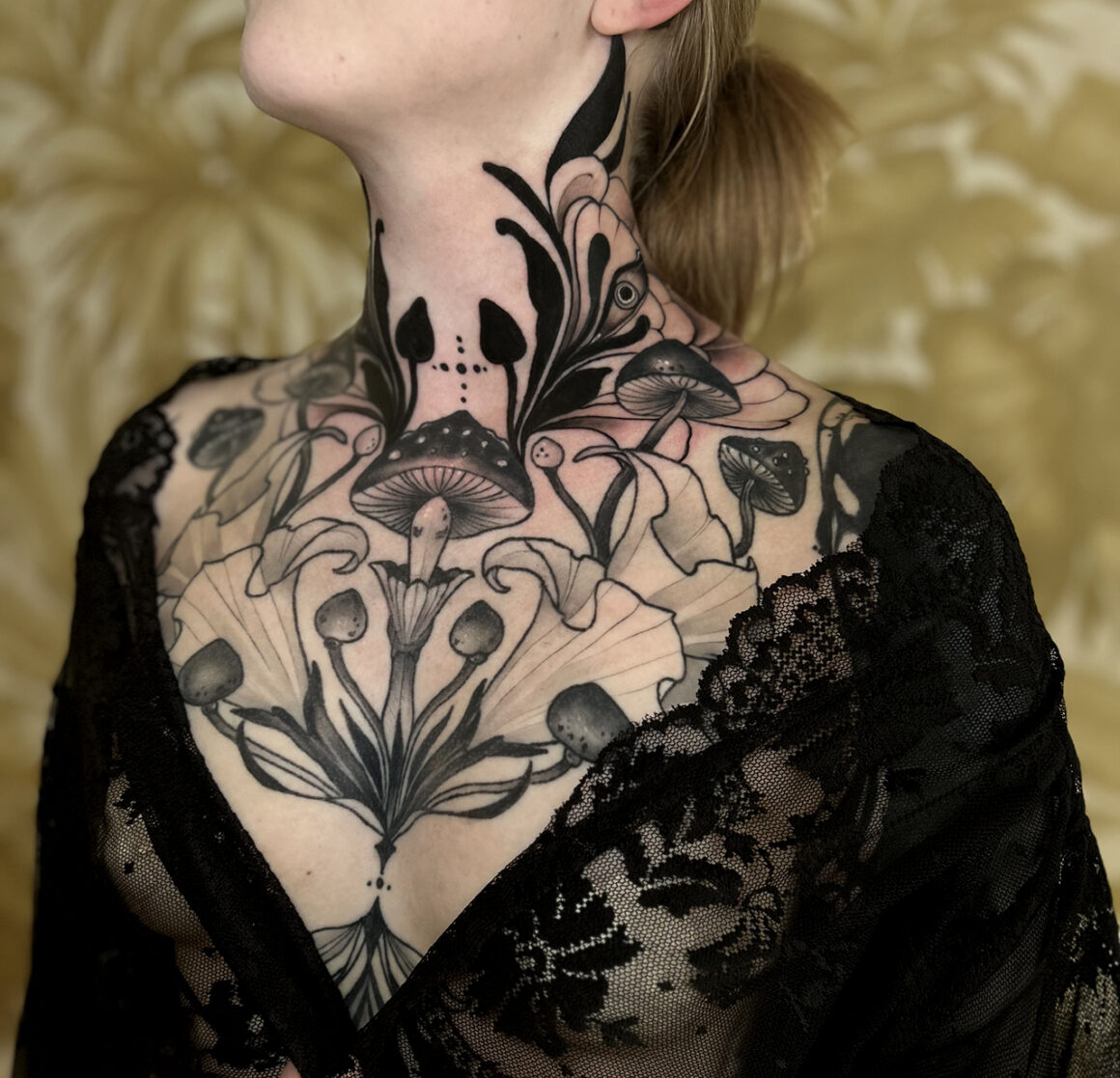 When you talk about "psychedelic art", I wonder if you also listen to psychedelic music in 'Golden Times Atelier'? I mean acid rock that comes from 1960s California or straight out of the Summer of Love?
Oh the Summer of love movement, I'm a fan, sometimes I listen to some 60s rock (I love Jimmy Hendrix) but most of the times the music at the shop is electronic, like down-tempo, organic, ambient, chill-out style. I'm a big fan of this kind of music and I can focus better when I work if the music is relaxed and my surroundings are calm.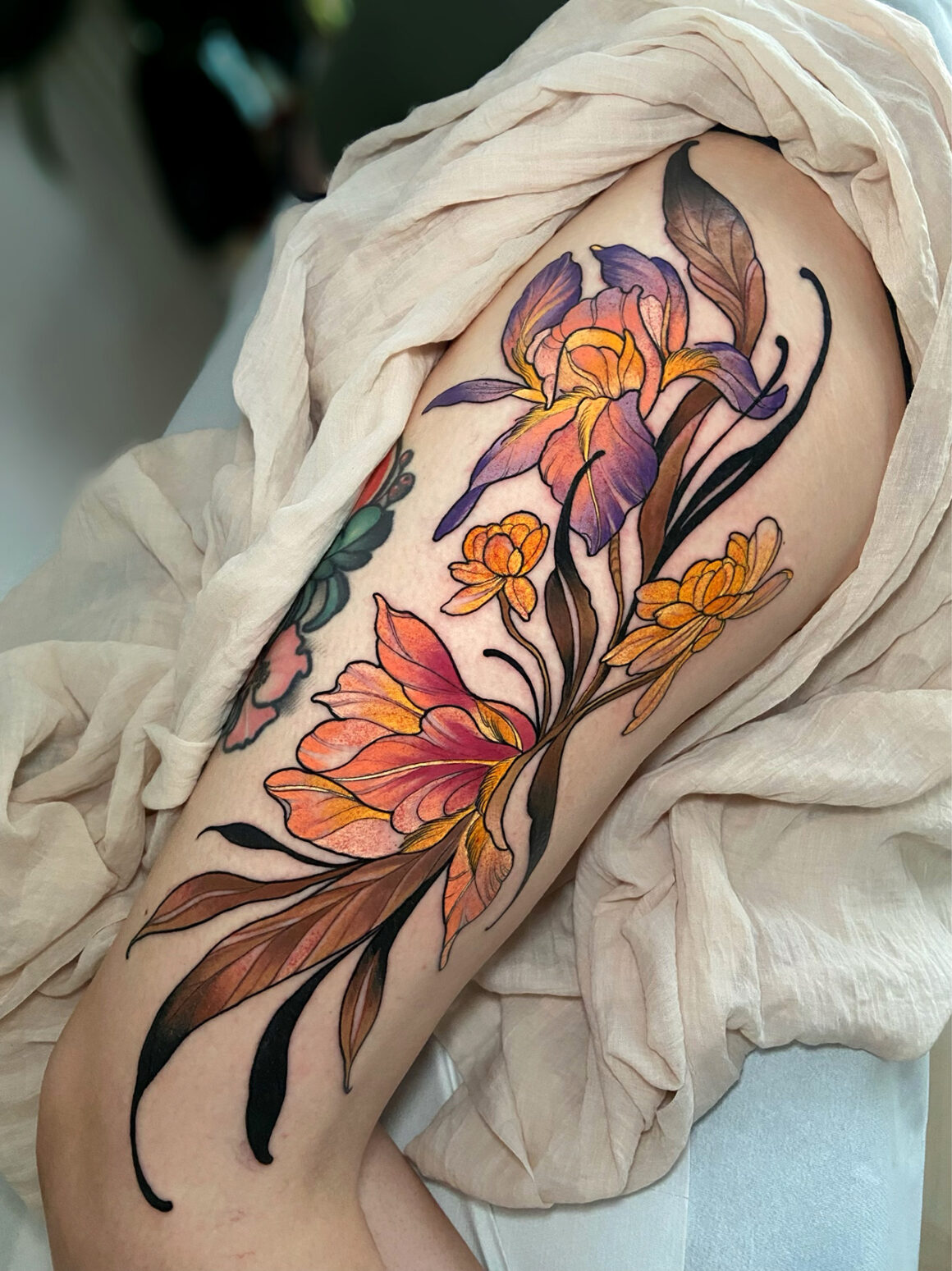 Yours, though a private studio, does not fail to host guests from all over the world, does it? Are you the one who contacts them as a fan of their art, or has the word now spread and it is these artists who come forward to you?
It's crazy because I wasn't expecting so many requests from amazing artists! Sometimes I invite artists I admire because I like to learn and exchange. Most of the times we receive requests. Makes me really happy all these requests and guests returning.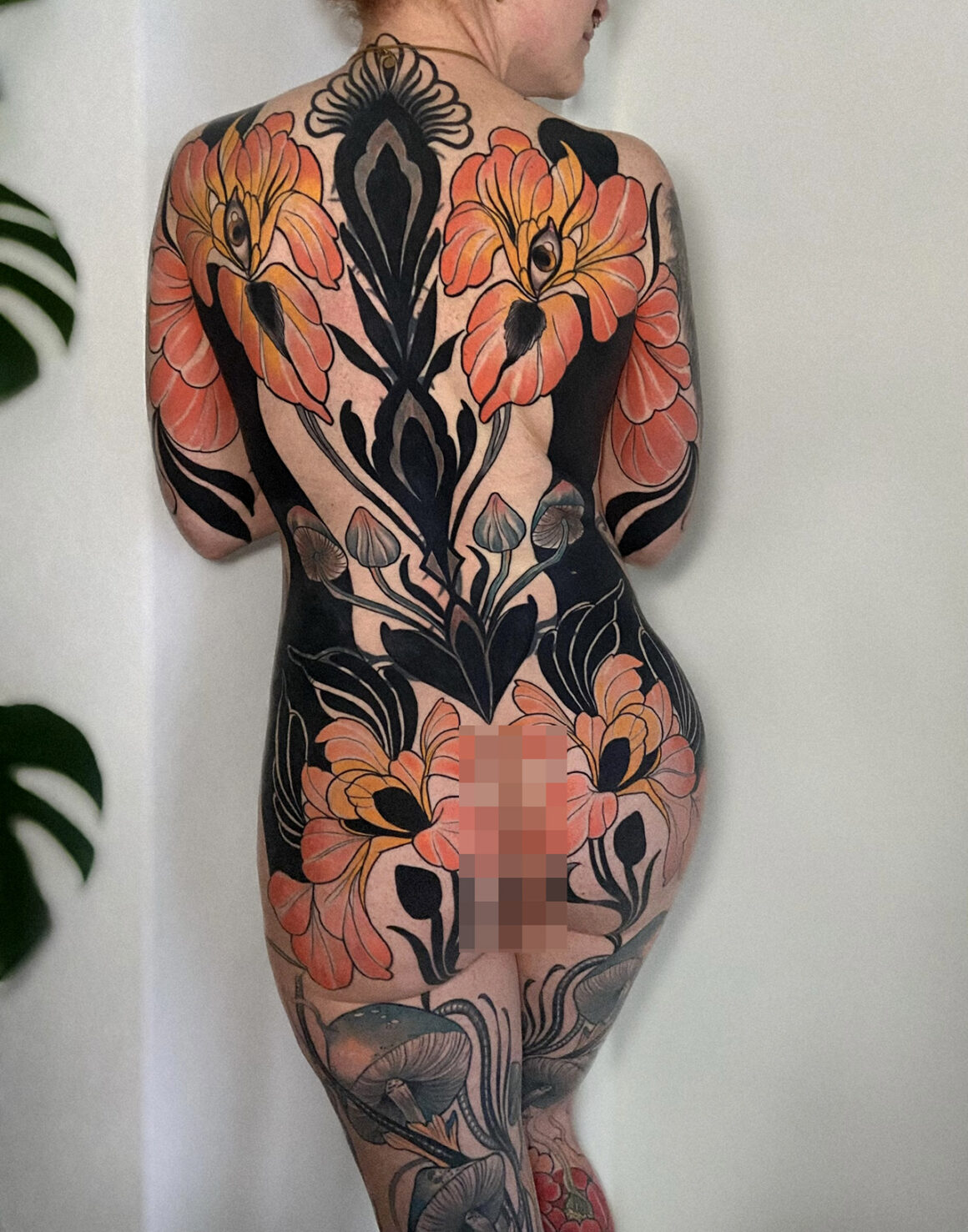 Can you name any prestigious guests who have dropped by to tattoo at the 'Golden Times Atelier'?
I could name so many amazing artists that came here, I think it's fair to name the two artists who I did collaborations with, which are my friends Debora Cherrys (IG: @deboracherrys) and Junior Goussain (IG: @juniorgoussain) we did a painting together while he was visiting the shop. It was so inspiring to work with both. Konstanze K (IG: @konstanze__k) from Austria came already a few times.
I hope someday to do a collaboration with Konstanze K, she is one of my favorite artists.
If you could choose, who would you immediately invite to join you within these four walls?
Well, it could be definitely Brian Gomes (IG: @briangomes) from Brazil.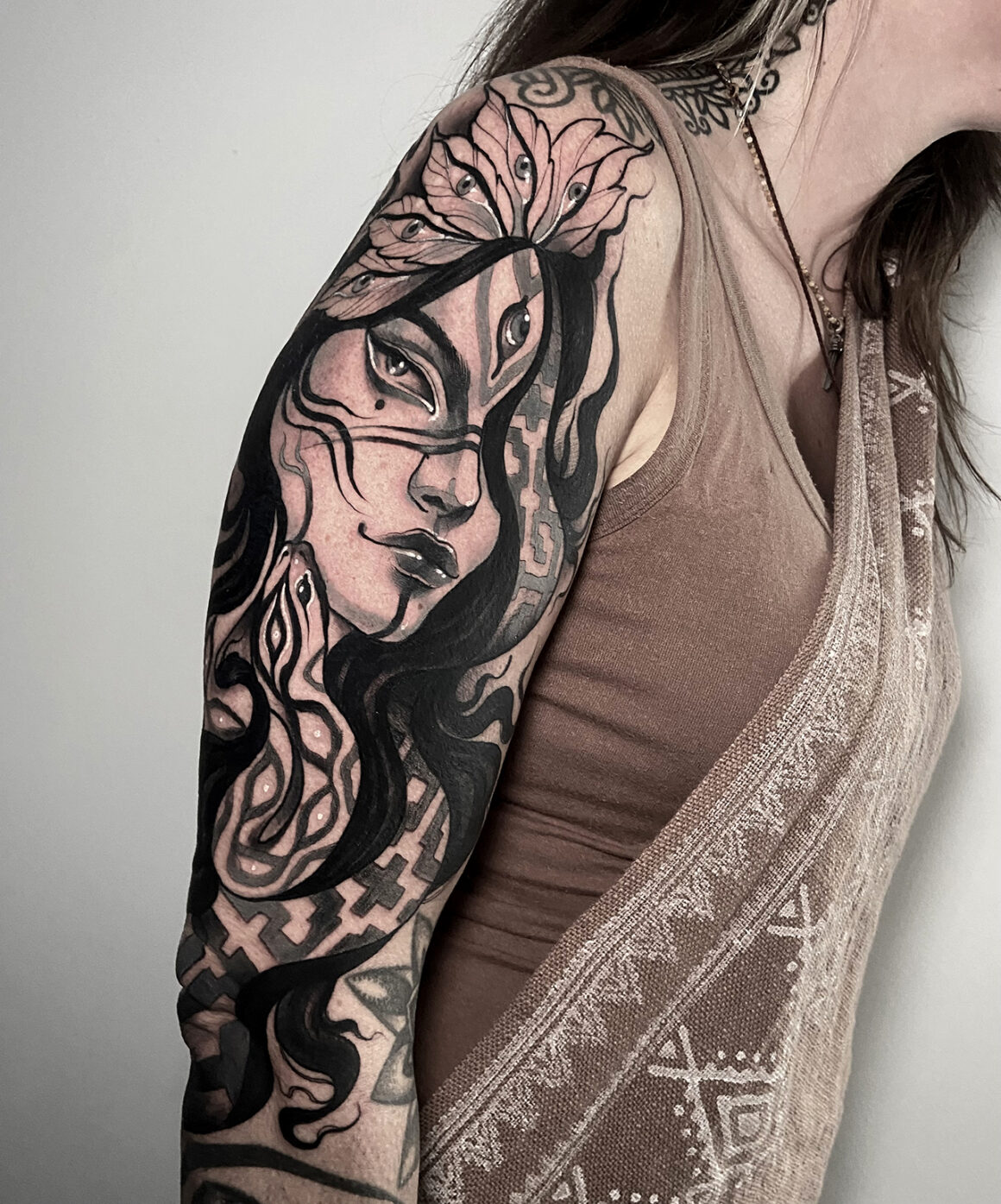 Do you have close collaborators working together with you?
I'm working alone and receiving guests, my boyfriend René is managing the shop and my bookings.
What's your ideal comfort zone for tattooing in the best possible way?
My ideal comfort zone will be always my shop, calm music, incense, some breaks for tea and interesting conversations with my clients about adventures, travels, spirituality.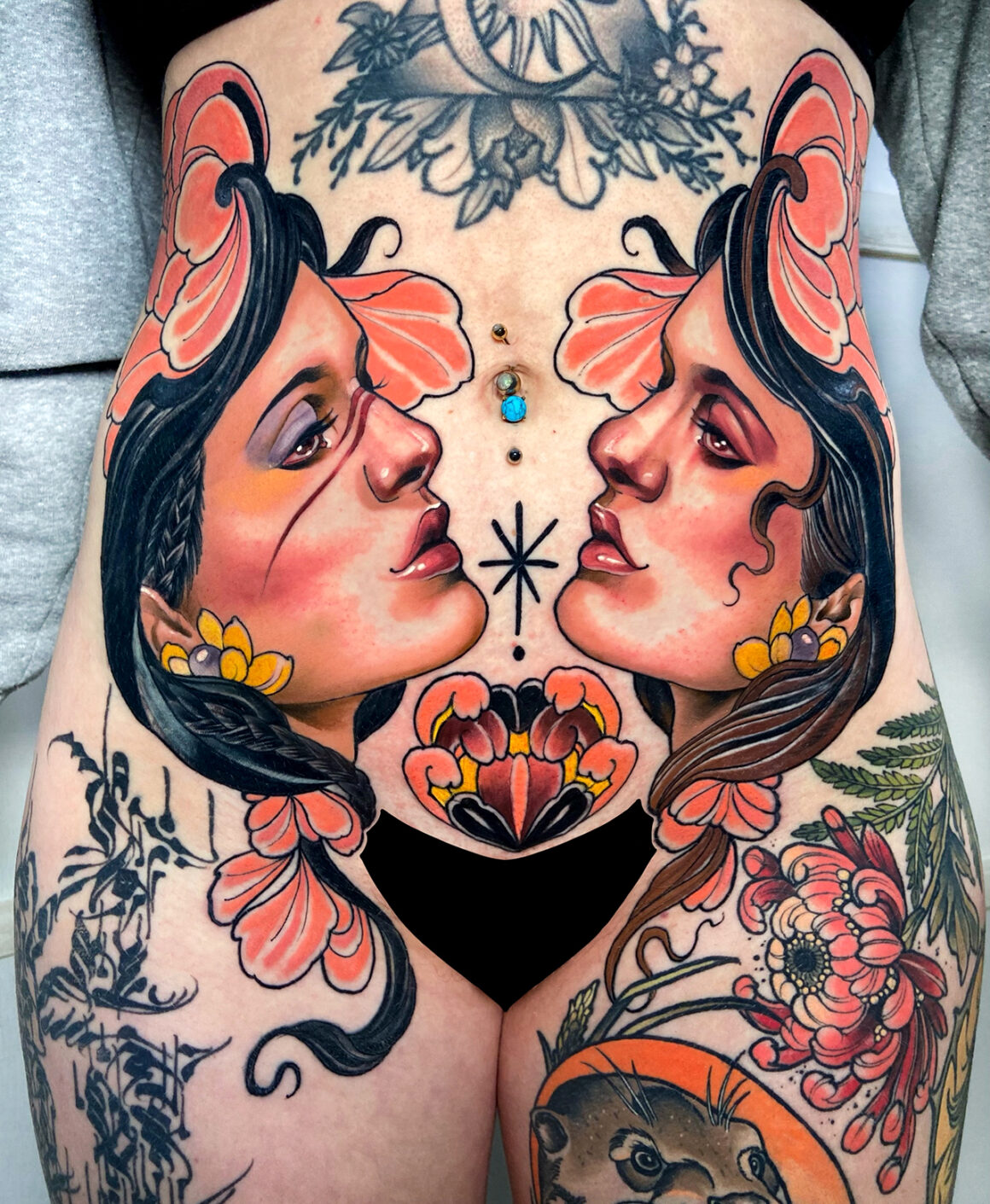 Before we say goodbye, can you tell me an aphorism that perfectly matches the spirit of the 'Golden Times Atelier'?
It's so simple: "Follow the sun".