Blackwork, classic art in the holy place of the Dubliner Sanctorum Tattoo
We are in Dublin to visit the Sanctorum Tattoo featured in the current issue of the Tattoo Artists UK & Ireland Yearbook 2023. Sanctorum means Santos, which is the surname of the owner Bruno Santos in Latin.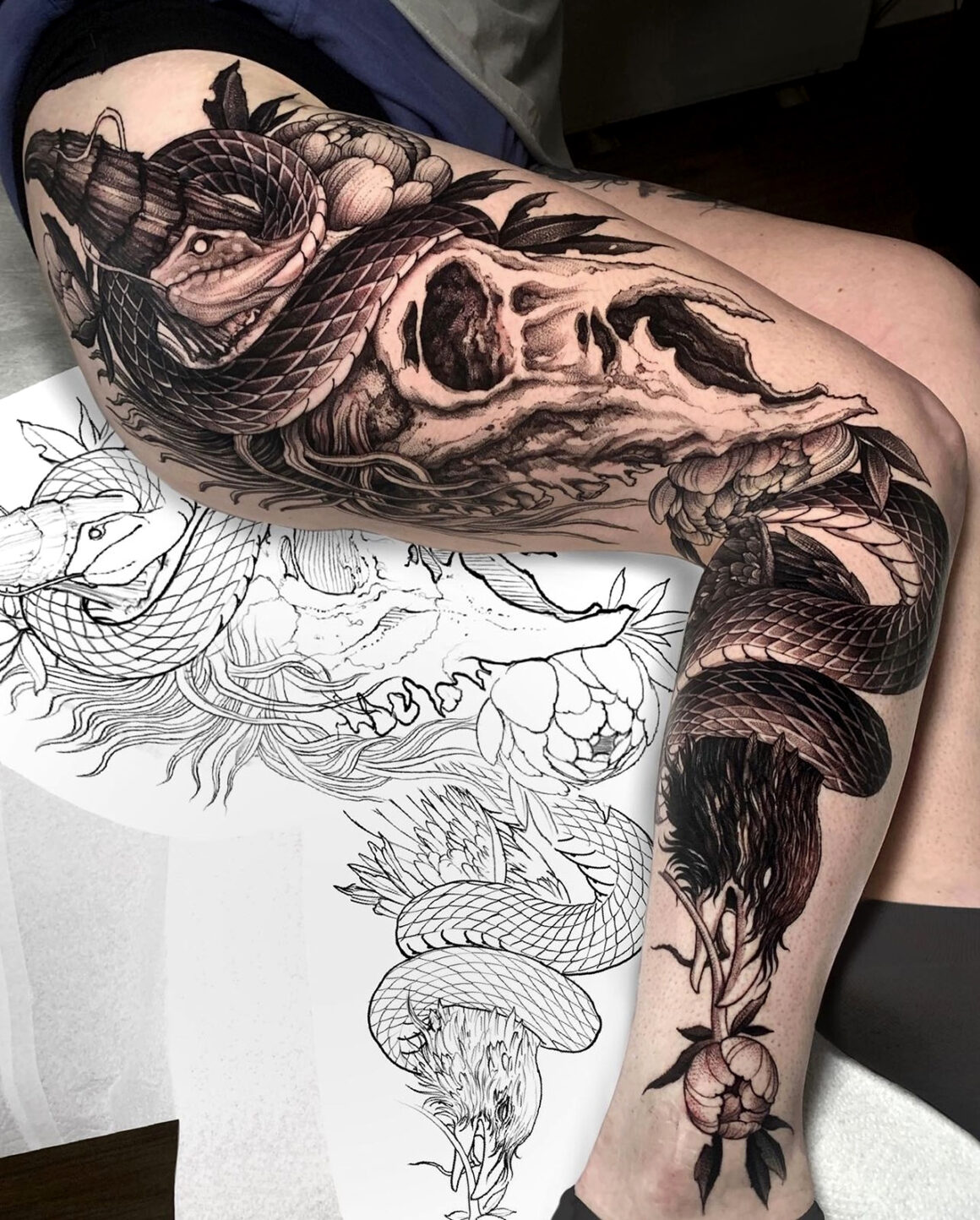 It comes from the word Sanctum that may be used in English, for "holy place", or a Sanctuary. This was also Bruno's thinking: every customer who enters the shop to get a tattoo or simply to visit it, is like entering a sanctuary for a unique experience.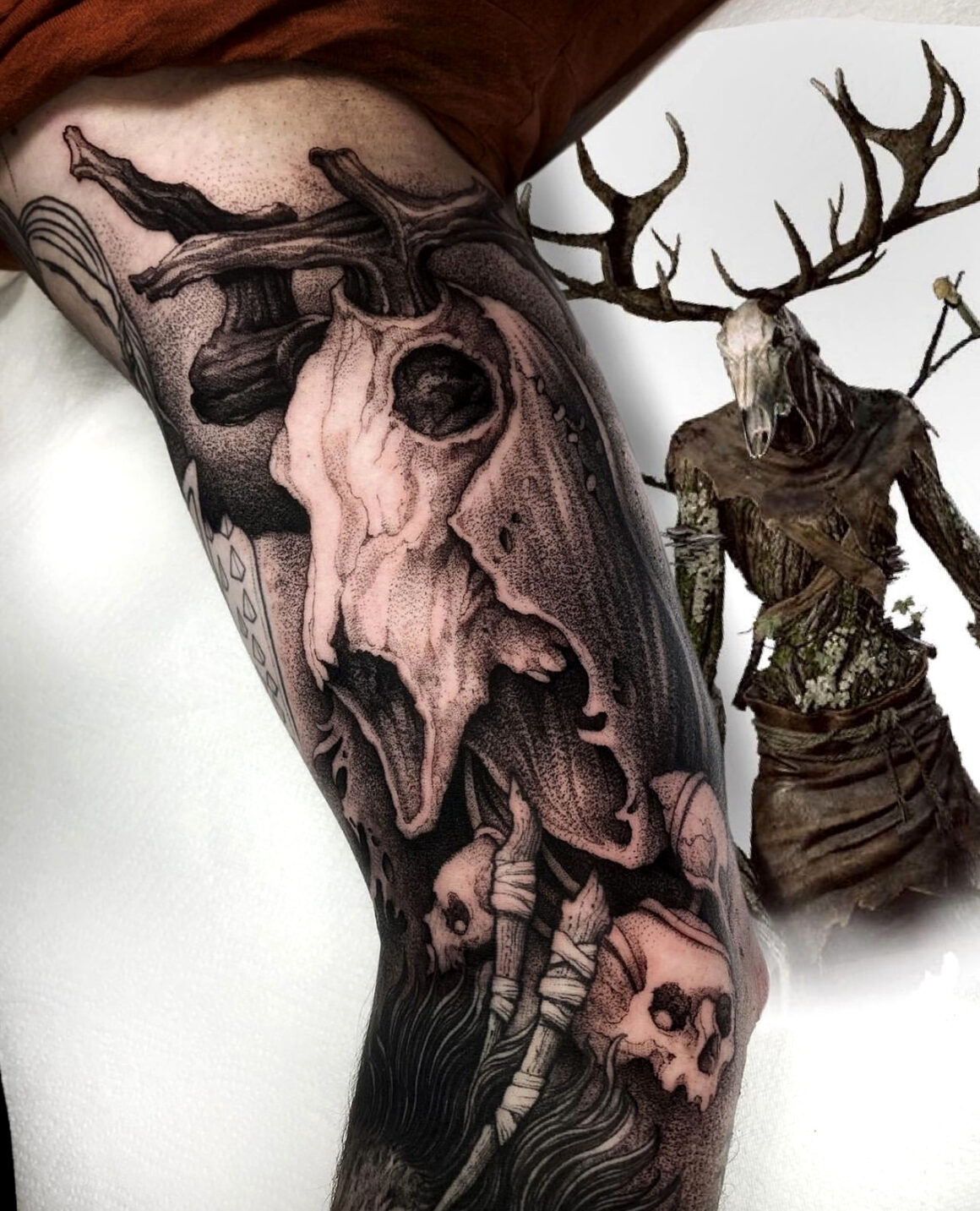 Hi Bruno you are the owner of Sanctorum Tattoo in Dublin. Would you like to tell us something about this studio? When did you open it, where is it located?
Hi guys! Since I've moved to Ireland I dreamed of one day having my own private studio. I've always wanted to decorate it showing all my passion about art. And after 7 years living in Dublin, in May 2021, I was finally able to make my dream come true opening Sanctorum Tattoo.
The idea when we enter the studio is to feel inspired, motivated and immersing ourselves in an art gallery instead of a regular tattoo studio.
The decoration makes people impressed which leads us through a journey replicating the Renaissance art period.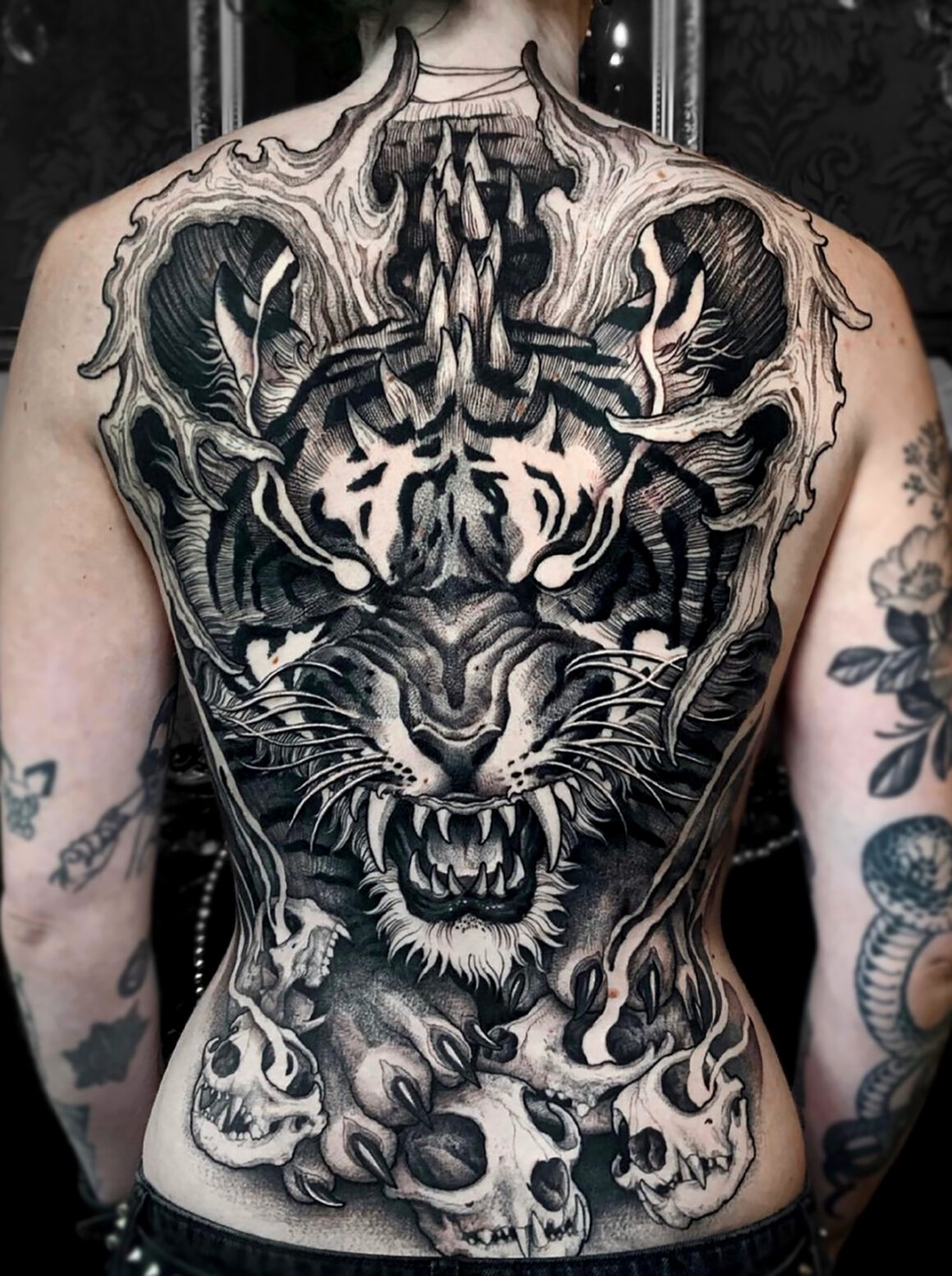 The walls show us a bit of the classic art history with many references from museums I've visited in Europe. Sanctorum means Santos (which is my surname) in Latin.
It comes from the word Sanctum that may be used in English, for "holy place", or a Sanctuary. That was my thought about every client who comes into to get tattooed or just to visit, would be coming into a sanctuary for a unique experience.
Who works with you?
I feel blessed to be working alongside my friends and amazing artists @fantinitattoo and @leo_black_13 . We have such a bond together and they're the ones responsible to make me keep going trying to improve myself everyday to maintain the art level of the studio at the top. Check their awesome work guys!!!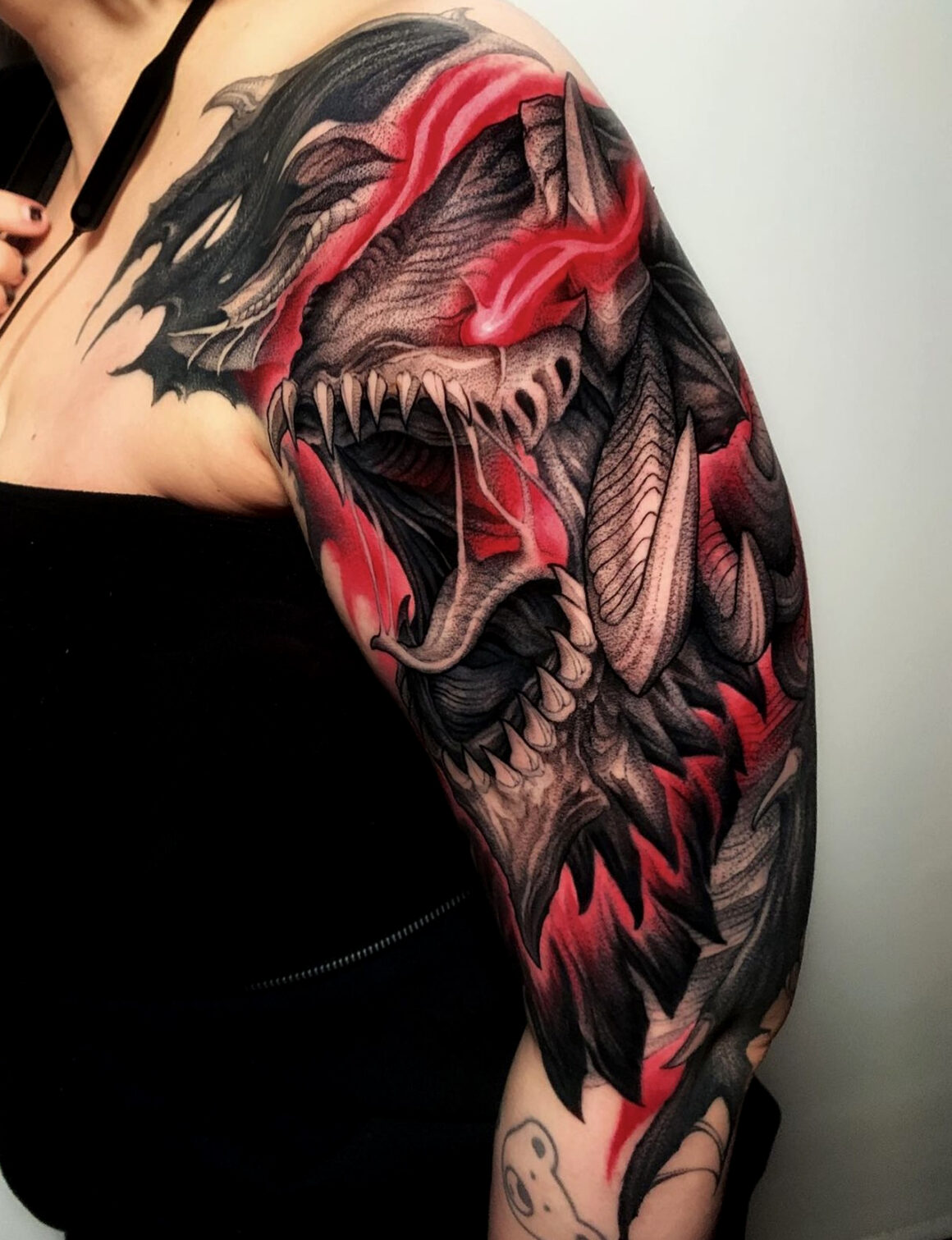 What style do you specialize in? Can you tell us more about it?
I think that the dark blackwork style best describes my work. The high contrast of the skin and the use of a lot of black are the main aspects I aim for when I'm drawing and then tattooing.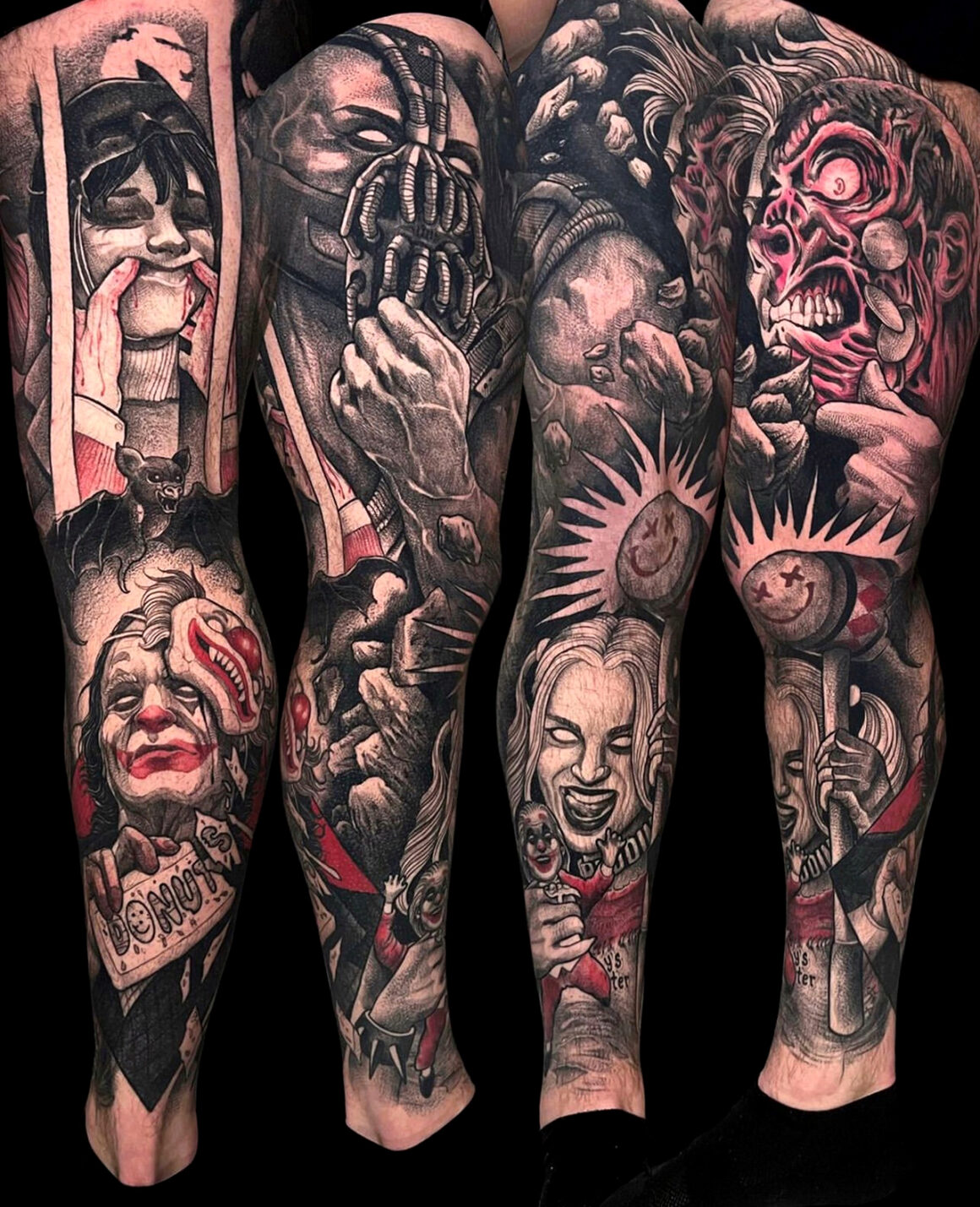 In my opinion a long lasting tattoo is what matters with heavy consistency and readable composition instead of doing something that would look temporarily nice just for the picture.
Everything involving dark themes, such as creatures, animals, skulls, games, characters with strong expressions are my favourite subjects.
I find those themes so organic and rich that it's always possible to do something different and unique to every client.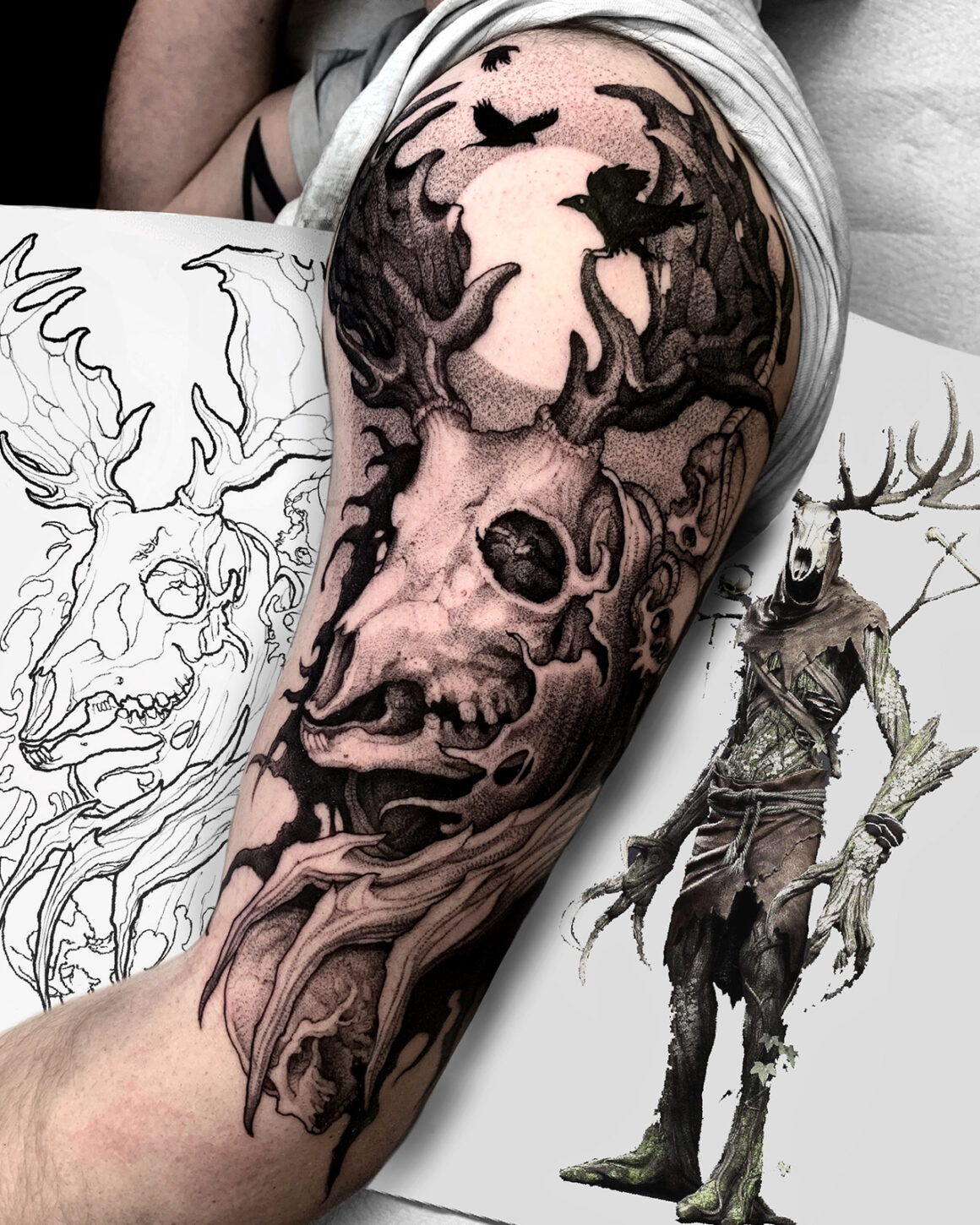 What are the most welcome tattoo requests for you?
As my clients already know what I do, the requests are along those lines of dark theme I've mentioned. Even when a request differs a bit from what I usually do, but I feel like I can put my own twist on it I'd be happy enough to accept it also. Trusting your artist is the key. Clients will always get the best tattoos if they allow us to create what we think suits them best based on their ideas.
What kind of atmosphere do you find when you open the doors of Sanctorum Tattoo?
That is a really important subject for me. The last thing I wanted was to work in a heavy atmosphere. I believe that it really impacts the way that Sanctorum Tattoo operates. It is by far one of our strongest aspects.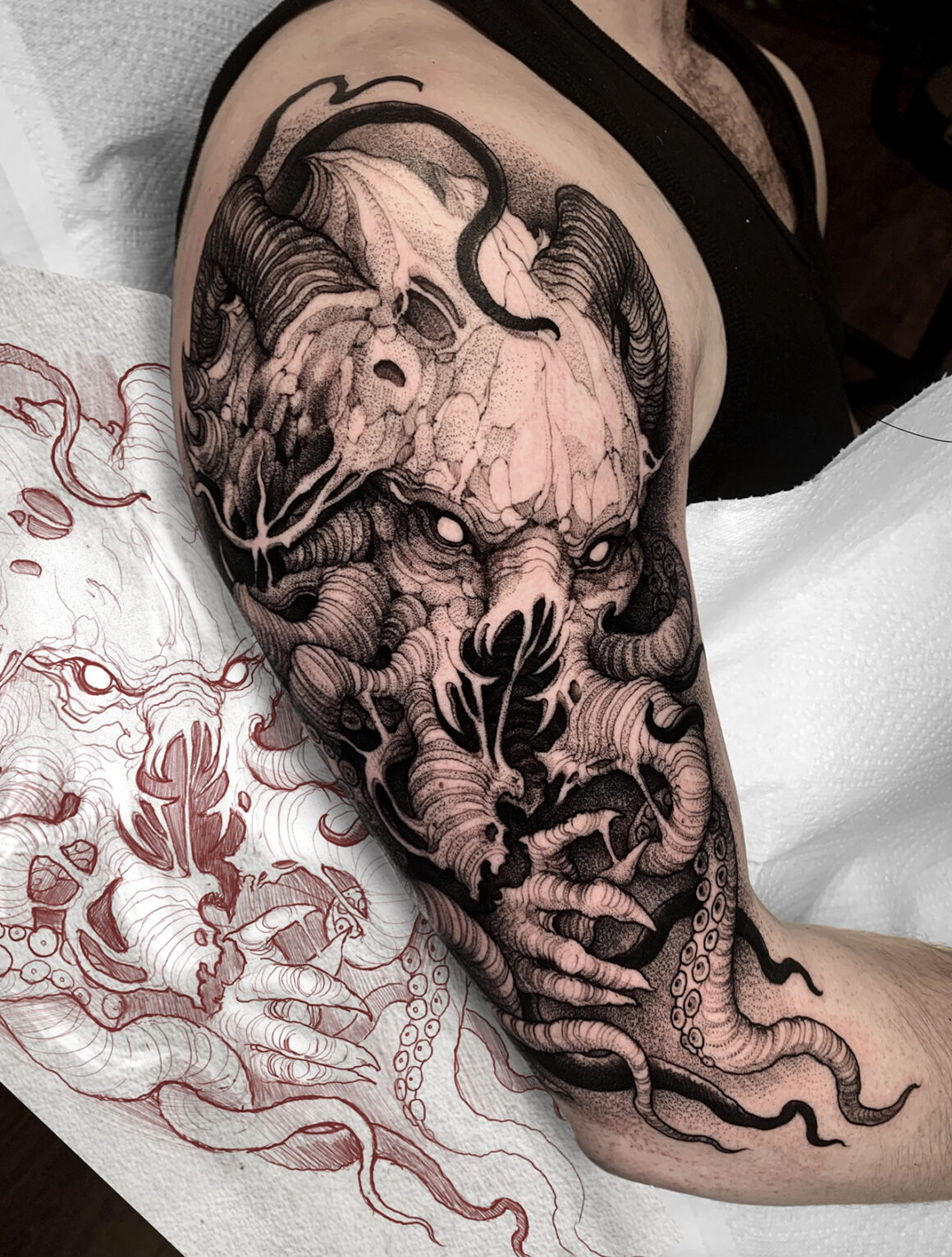 My idea of having a private studio is that didn't want walk-ins coming in all the time as each of us work with 1 appointment a day.
I wanted the clients to have more privacy because they're always spending the whole day with us.
We try to provide them a nice experience spending a great time together. Nobody comes into the studio other than the artists and the clients.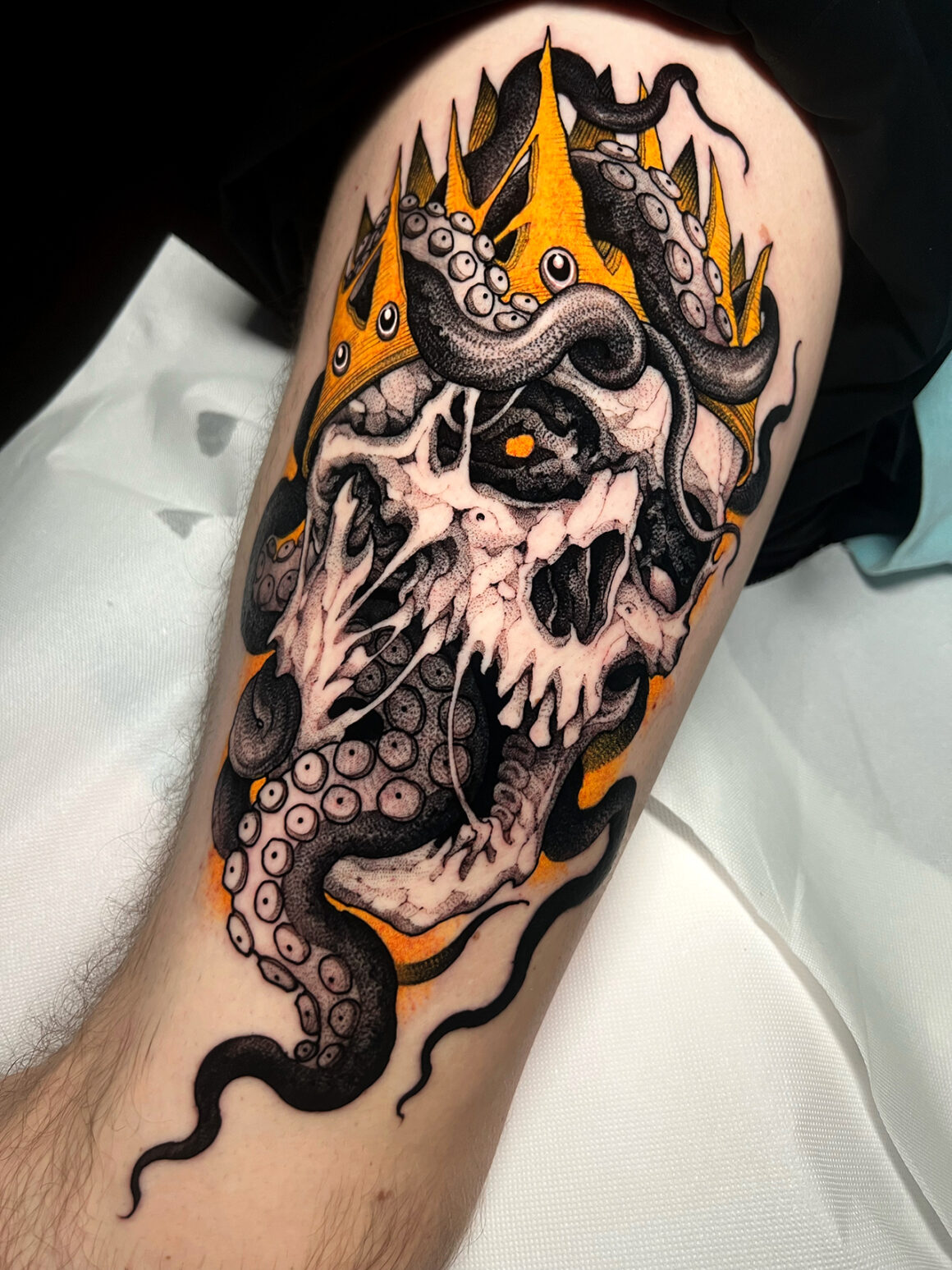 Leo, Fantini and myself are very easy going and we have a laugh throughout the day when we are working. I believe that the studio decoration helps also. When you see yourself surrounded by art in a chilled environment it just feels great and wouldn't really match with a bad vibe. The studio is the best "craic" as we say in Ireland.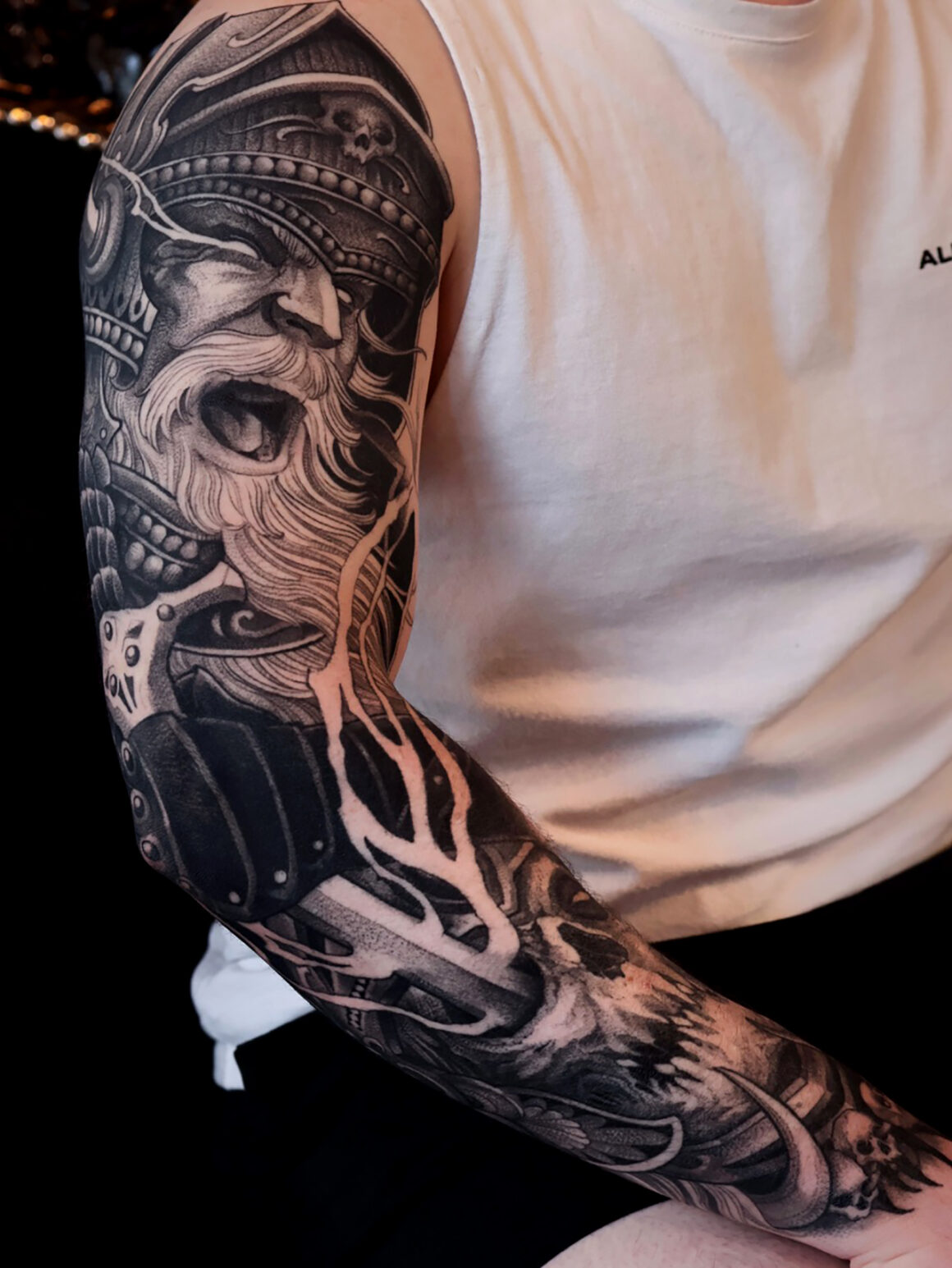 And the motto of your tattoo shop is?
"Locum sanctum intras ubi historia artis adest. Quaeso observa et fruere die tuo." You are entering a holy place where the history of art is present. Please respect it and enjoy your day. (I have this sentence hung above the entrance door of the studio).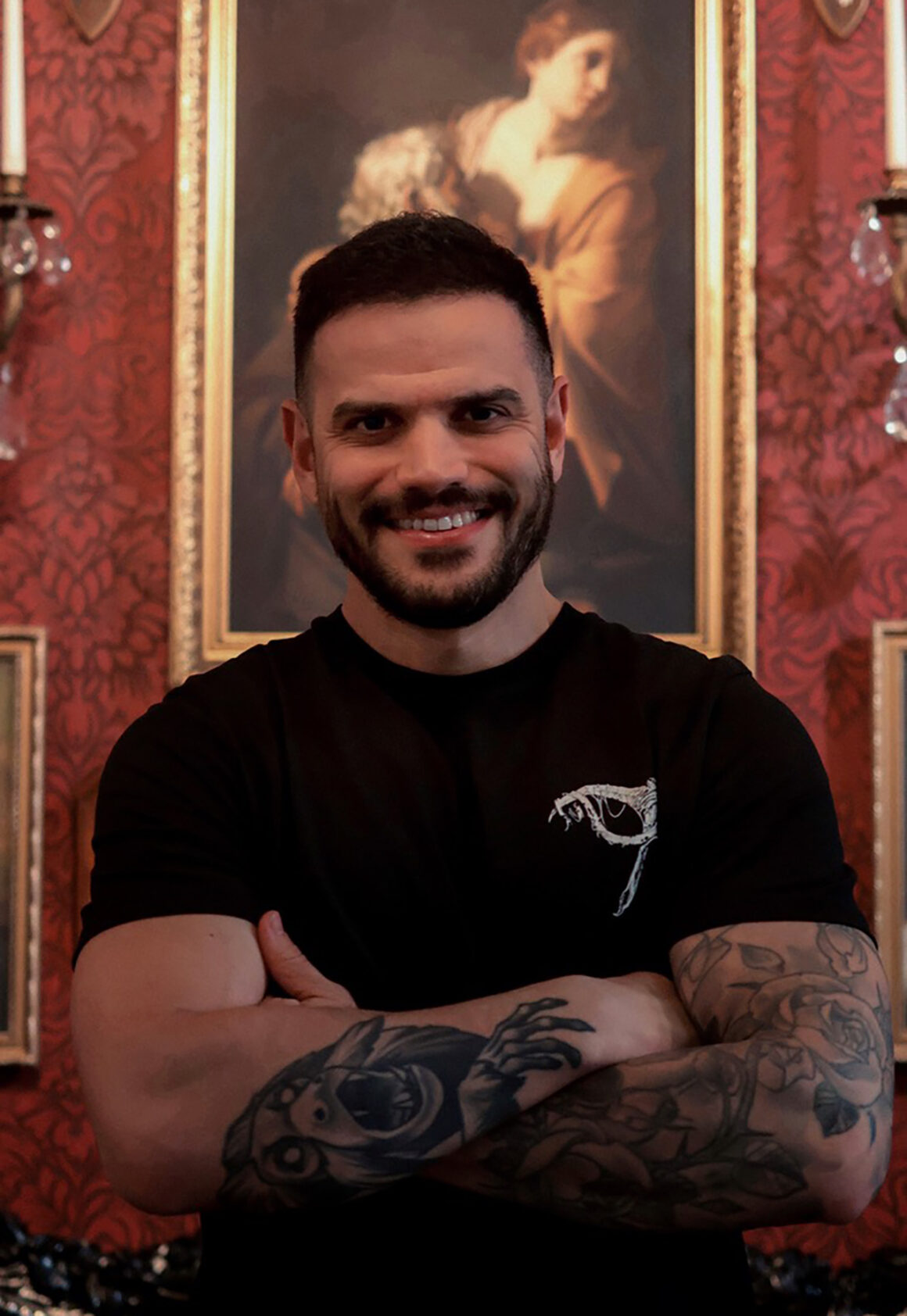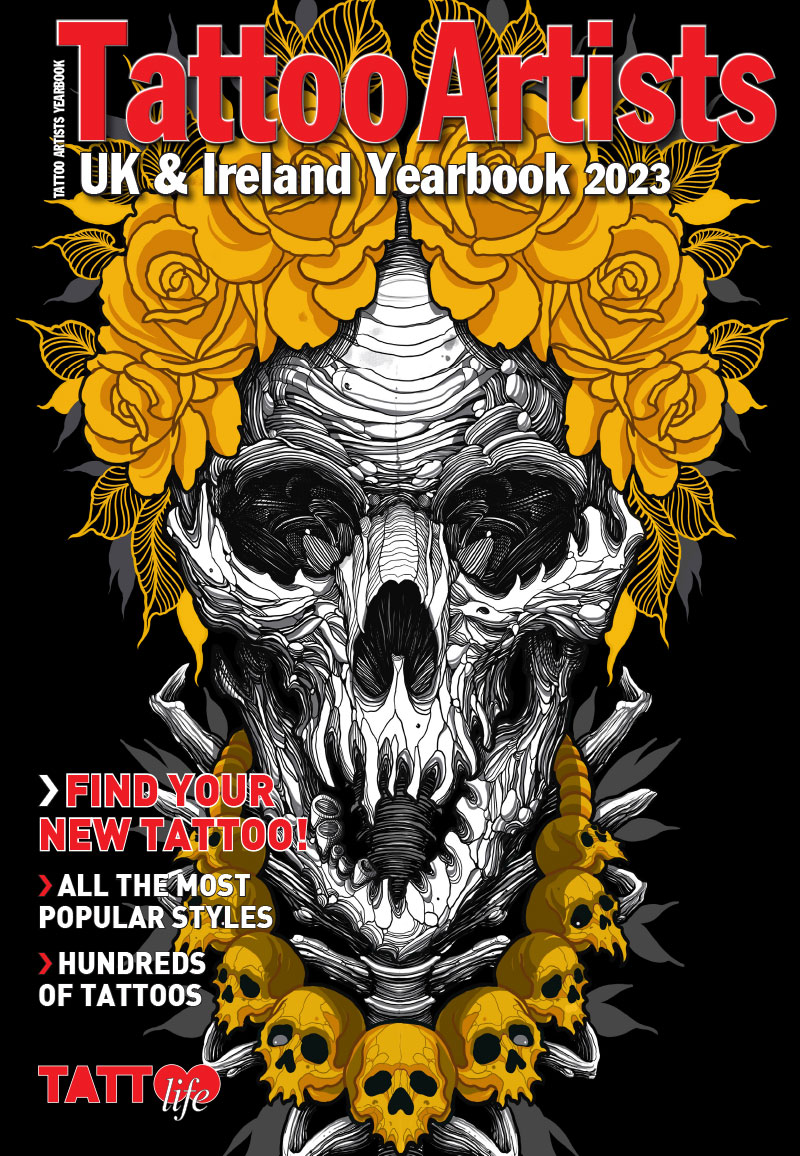 PUBLISHED IN GERMAN, ITALIAN, FRENCH, ENGLISH AND SPANISH EDITIONS. EVERY YEAR EACH VOLUME SHOWS HUNDREDS OF TATTOO IMAGES AND PRESENTS THE TATTOO SHOPS IN EACH COUNTRY WITH ALL THE INFORMATION YOU NEED.
THE PLACE TO BE IF YOU ARE A TATTOO ARTIST, A MUST HAVE IF YOU ARE A TATTOO LOVER.
DON'T MISS THE CHANCE! BOOK YOUR SPACE IN THE NEXT EDITION.