Born and raised in London, Matthew Houston is currently living in Vancouver (Canada). He works in a private studio (that he defines as a "quiet sanctuary") where he makes "old-timely, classic, narrative, romantic" tattoos… Let's get to know him better!
Hi Matthew, thank you for this interview! The first thing I'd like to ask is to introduce yourself to our readers and tell us a little bit more about yourself: who is Matthew Houston – professionally and personally?
My name is Matthew Houston, born and raised in South London, England, in a mixed English Italian background. Both my parents are very creative, my mum works with predominantly glass and mosaics as well as dipping her hand in baking and sugar craft and my dad is a talented artist/painter. I currently live in Vancouver, Canada, with my wife Renée and two children: Myla-Rose and Jude-Thorne. I enjoy spending time with my family. We are a tight crew that enjoys adventuring and visiting historic buildings, getting outdoors and cultural exposure.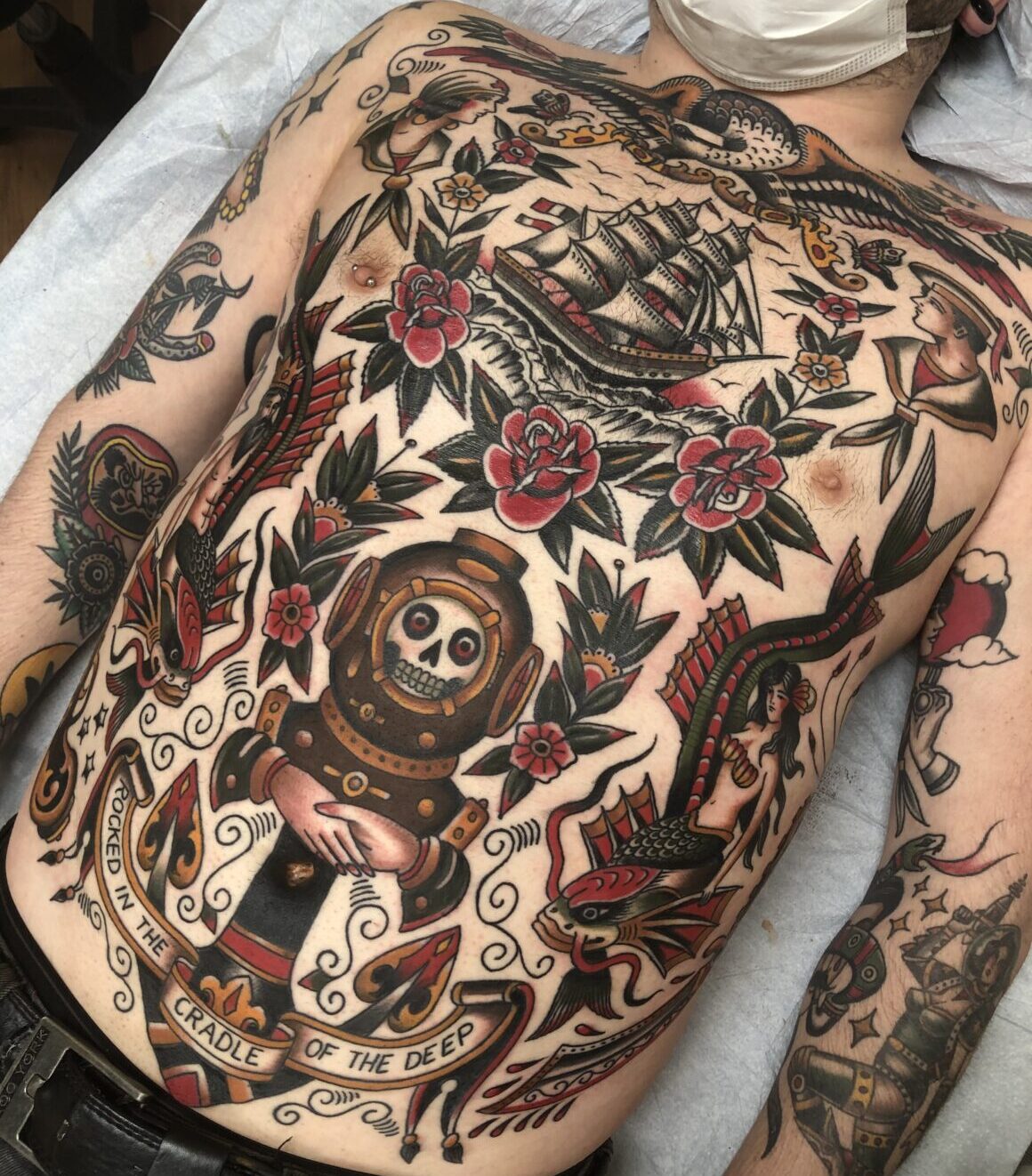 What was your first encounter with tattoos?
I distinctly remember my grandfather had some old wartime classic tattoos, I can still envision the anchor and eagle he had on his arm – he got them while serving in WW2. He was a traditional Italian man who always regretted them a little, but in past times, tattoos carried a stronger stigma. I often wonder what his opinion would be of it now, with its widespread acceptance.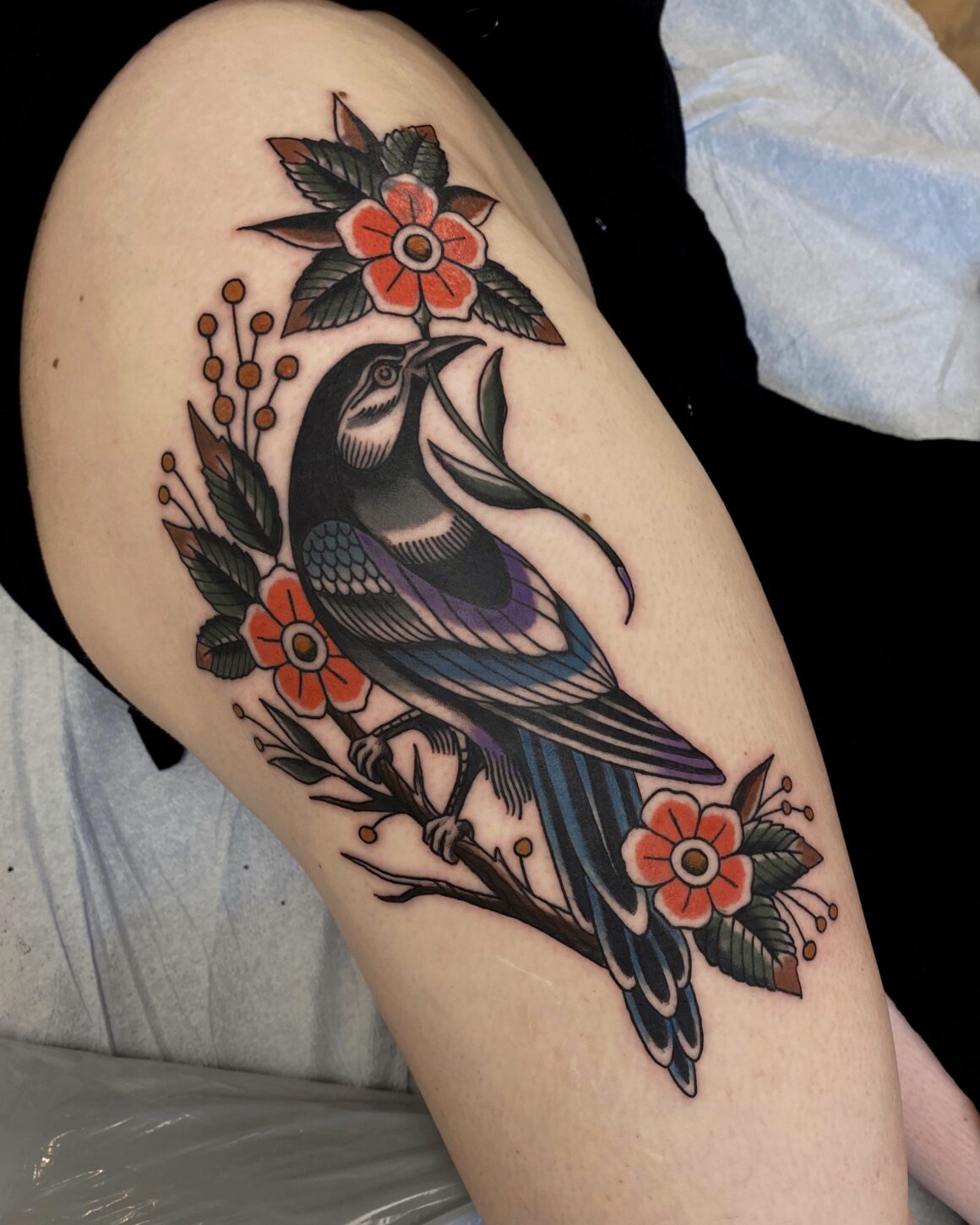 How long have you been doing this job and what is your background?
I have been tattooing for 15 years and am extremely grateful for having found it in such unforeseen circumstances. A long story short, I was supposed to go to enroll into Italian school but wandered into the tattoo shop to get a quote on an image I had designed. I came out with two swallows on my stomach and an apprenticeship!
It was a rollercoaster for the two years that I was apprenticed but it was an amazing experience.
It was a busy walk-in shop and I was learning so much in such a short space of time every week. I was juggling a job working in graphic design work, while apprenticing but the tattoo obsession had taken grip and eventually after 3 years of learning took the leap into tattooing fulltime!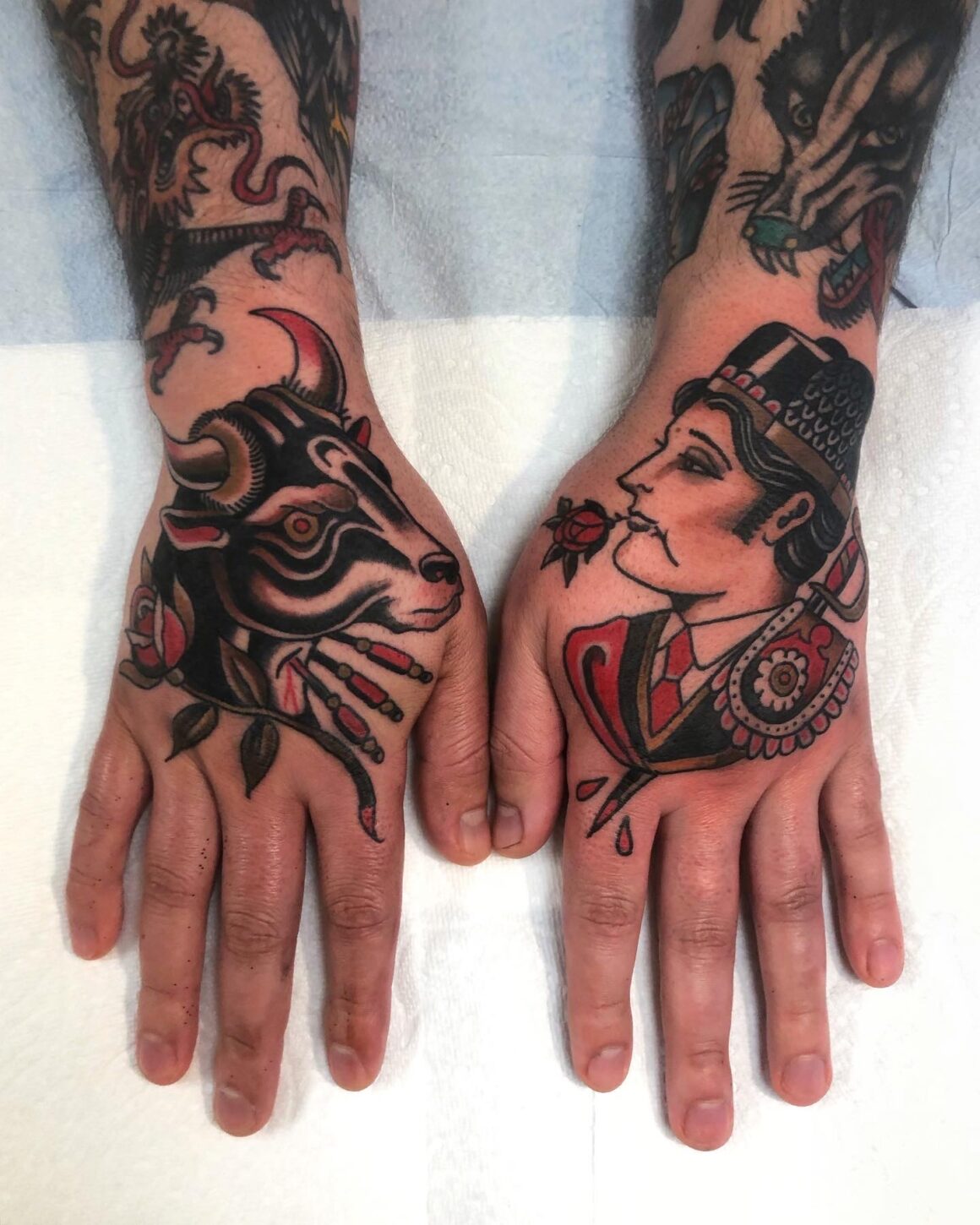 What adjectives would you use to describe your tattoos?
Old-timely, classic, narrative, romantic.
Who were your teachers and your references?
A gentleman called Tony Palmer apprenticed me. He gave me a thorough apprenticeship and gave the teenage me the kick up the backside I needed. He pushed me to respect and understand the dynamics of drawing. While giving me an education on a variety of subjects and styles. We started with just drawing then he took me through all the key styles to understand what captures the essence of Tribal, Black and Grey, Biomechanical through to more disciplined subjects such as Traditional and Japanese. He also ensured I had a historical understanding of the art forms lineage as well as the technical aspects of the craft.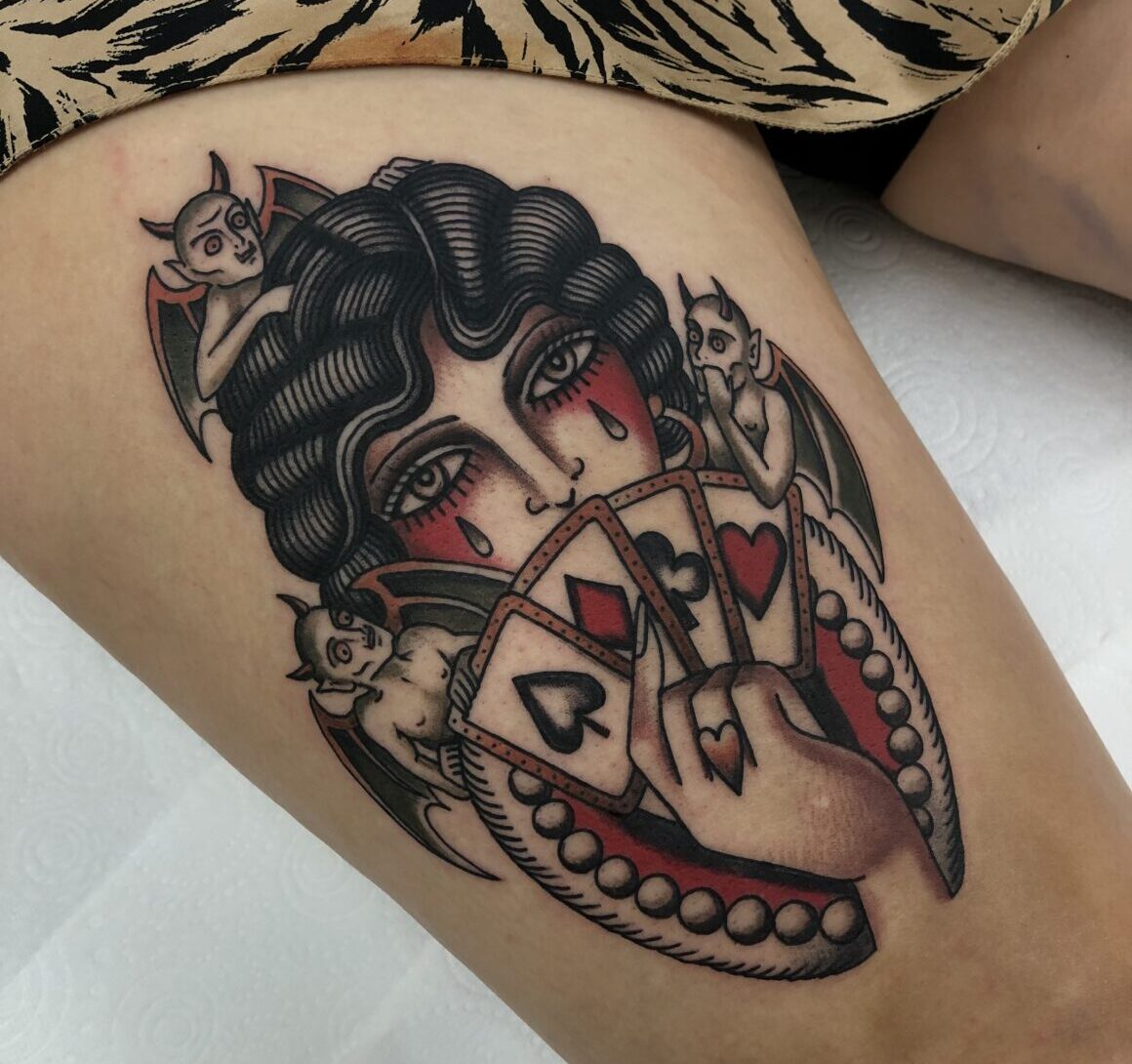 I would spend days taking machines apart and rebuilding them, making needles and constant pranks and laughs! It was the most exhilarating time, all walks of life would come through the studio doors from doors, drunks, doctors, police and thieves! You had to learn how to control and hold your own in confrontational situations. It was the discipline that I needed at that time in my life. I remember one time my mentor had a disagreement with a fellow artist and removed EVERYTHING from the studio including the copier, the flash, the stencil machine all that remained were bare walls and an autoclave – nothing to be seen.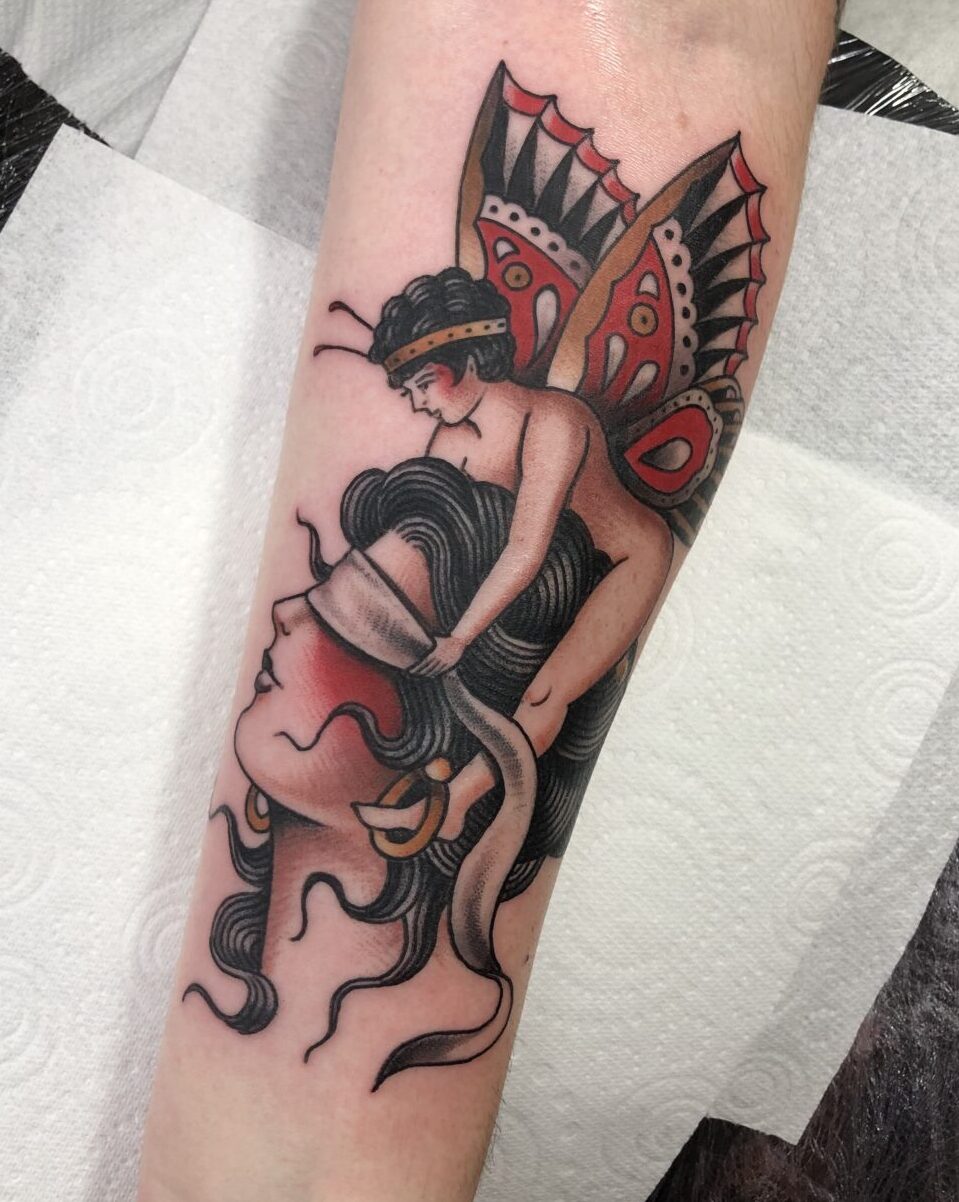 For that month I would have to make all my stencils by hand and if the customer wanted to make changes we would have to walk four blocks to the library to reduce or enlarge designs. I distinctly remember this one girl getting a cupcake design and changing the size at least four times my legs got a good work out that day!
Some of my biggest inspirations I can now call friends, which is such a humbling feeling.
Some of those credited from having some influence on my output and ideas are as follows: Bara, Xam the Spaniard, Claudia de Sabe, Marie Sena, Eckel, Rafa Decraneo, Kim Anh Nguyen Dinh, Mike Fite, Gordon Combes, Andrea Giulimondi, Andrea Furci, Teide, Chris David, Ryan Gangne, Ryan Cooper Thompson, all make amazing work and make me think about how to approach tattooing artistically and mentally!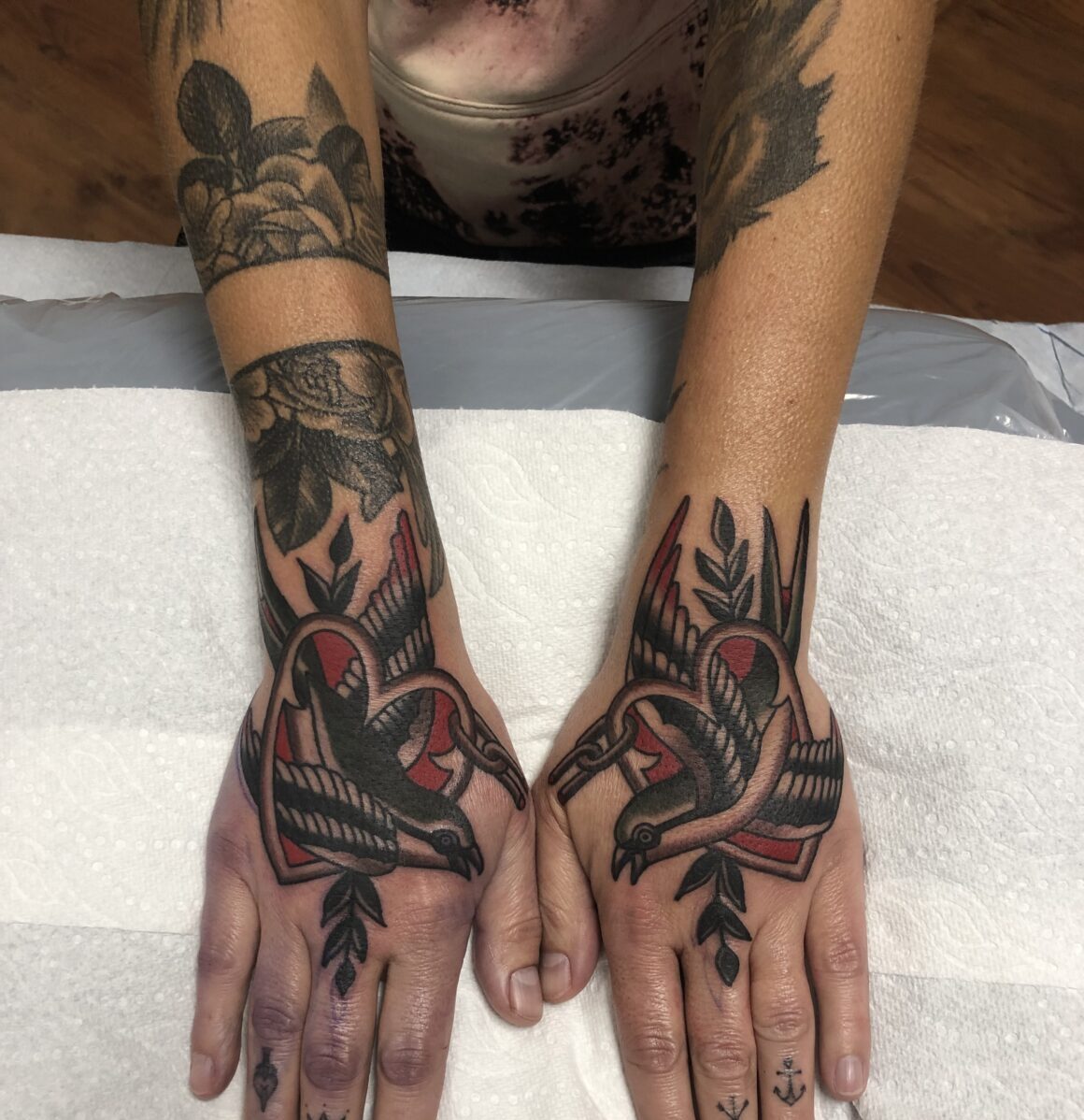 What are your favorite subjects? The ones that you will never get tired of making and that allow you to unleash your creativity?
That's an easy one for me. I never get bored of lady heads and human form. I tend to enjoy images with a twist of storytelling and surrealism.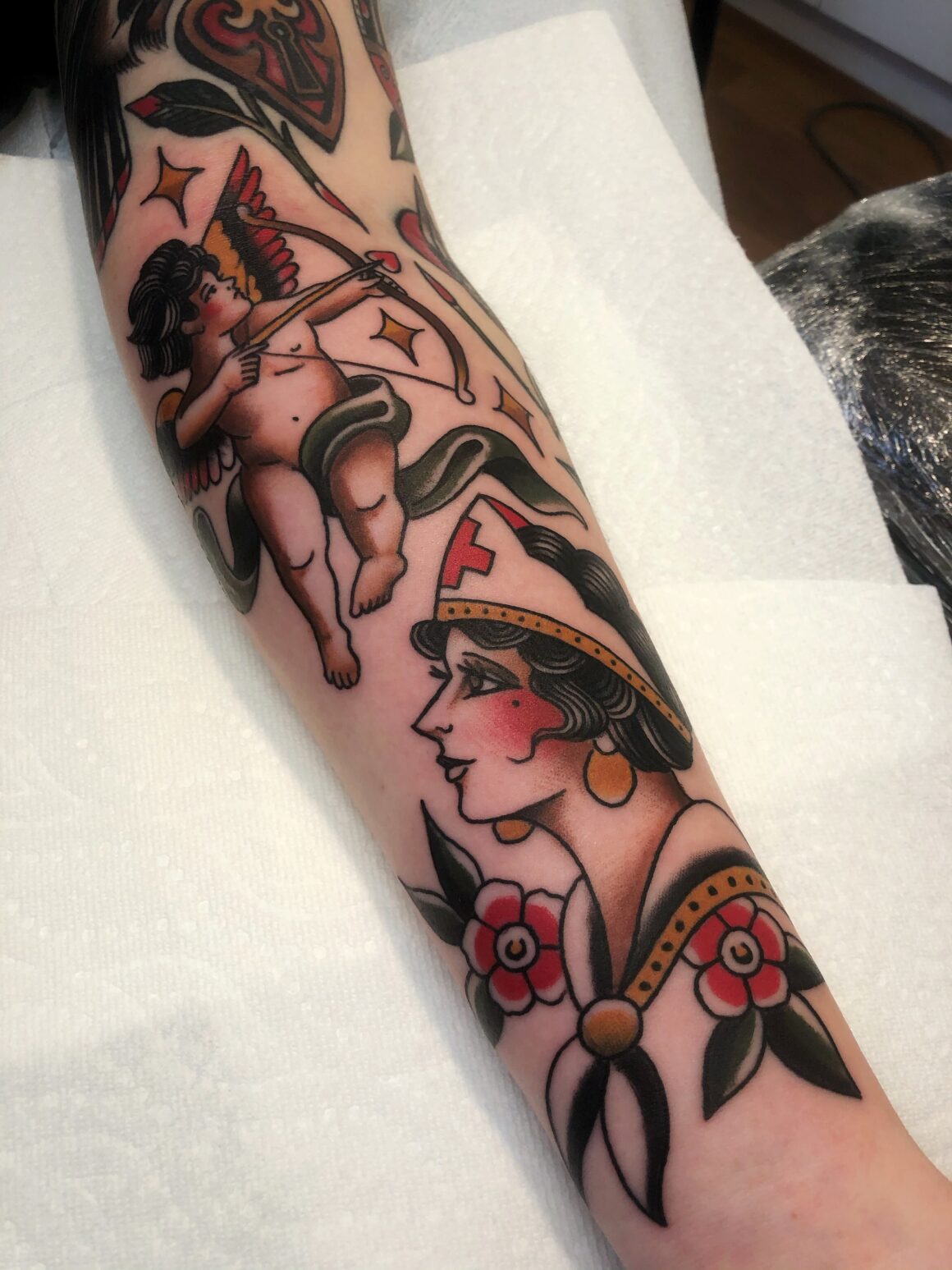 Have you ever refused to get a tattoo? Why?
Hahaha at first I thought no but then a story jumps to mind! Fuck I have so many stories about tattooing and my experiences over the years! It was pride weekend and this legit 70-year-old grandpa with no tattoos and his grandson walked in and wanted a quote for a gay pride flag in the middle of his forehead. When I reiterated he didn't have any tattoos and was against the shops policy to tattoo hands or faces without substantial tattoo coverage, the kid started kicking off at me! This kid couldn't have been any older than eight but wanted to draw gloves over my decision to decline till his grandfather had more artwork and suggested maybe his arm.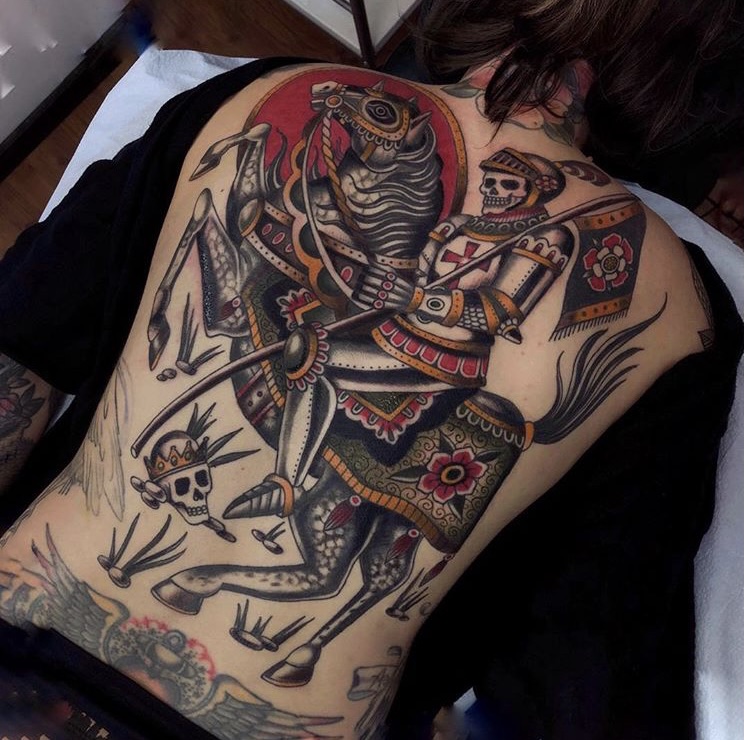 What's the tattoo scene like in Vancouver?
It's got a strong back bone of history and heritage here being a port town. Its roots were established early with the likes of Doc Forbes, Ed Hardy Curly Allen and The Dutchman, as well as many other iconic names passing through. But it's still young here and full of enthusiasm and the scene is growing fast.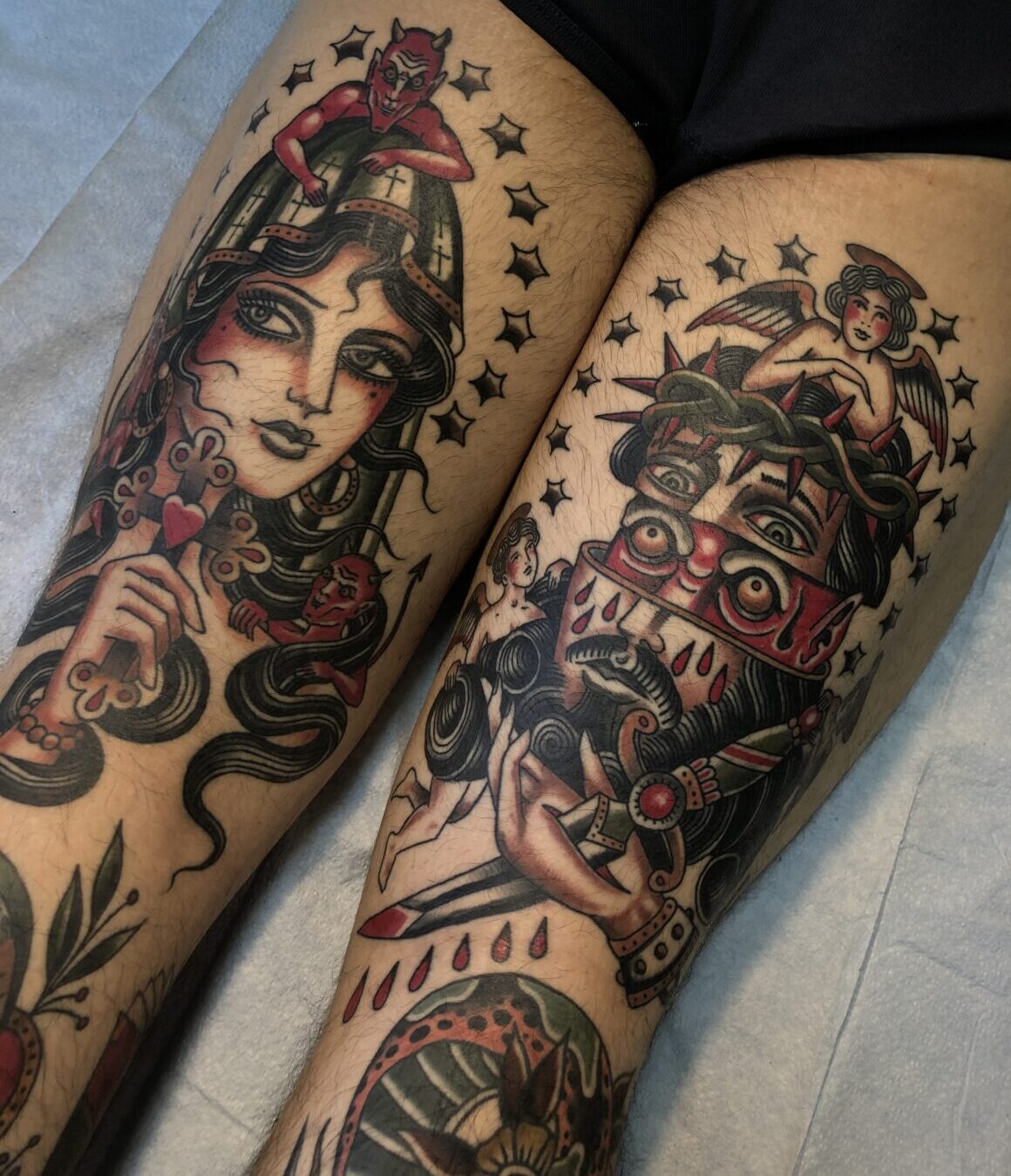 Do you want to tell us about your studio?
I currently work from a private studio in one of the oldest buildings in the city of Vancouver. It's actually rumored to be haunted and outside the studio itself is an inaccessible staircase which is where it's said the architect of the building fell and died on the grand opening back in the 1920s. I inherited the space from a former friend/colleague Eckel (@_eckel) moved away from the city. Now I work with two other talented tattooers: Stace (@waterstreetphantom) and Jordan Frank (@jordanfranktattoo) who just joined our intimate crew. Both do surrealistic takes on Japanese inspired subjects… It's trippy stuff! It's a quiet sanctuary of a space; life with two kids is hectic enough so I'm grateful to have such a space of Zen to balance that part of my life.
What do you like to do in your free time?
I've become a big kid! I like to set up these crazy play zones with my two. We convert the bunk beds into camper vans or setting up all my Playmobil they have from my childhood and just immerse myself with them. I just want them to understand the power of imagination and be part of that -nurturing and forging early relationships.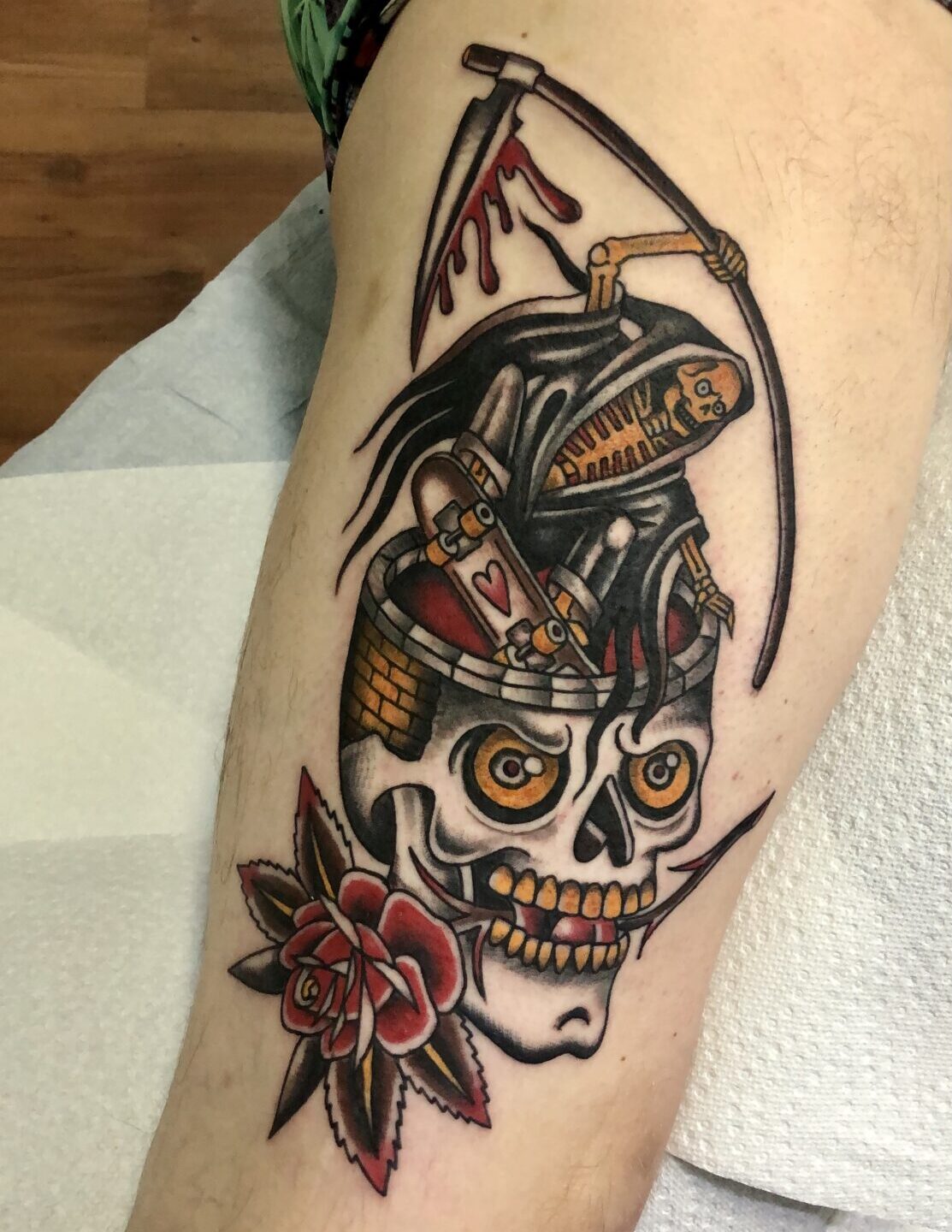 My wife and kids are my world, but life outside of that "full on world" gave me a greater appreciation for solo time. I usually love to lose myself in a good movie, although I feel immense guilt over claiming that time and just sitting around. I constantly crave creation, so switching off is a hard thing for me personally, it's been a long-slow battle, but I've learnt that's just me! So I guess honestly my favorite thing to do in my free time is to SLEEP!!!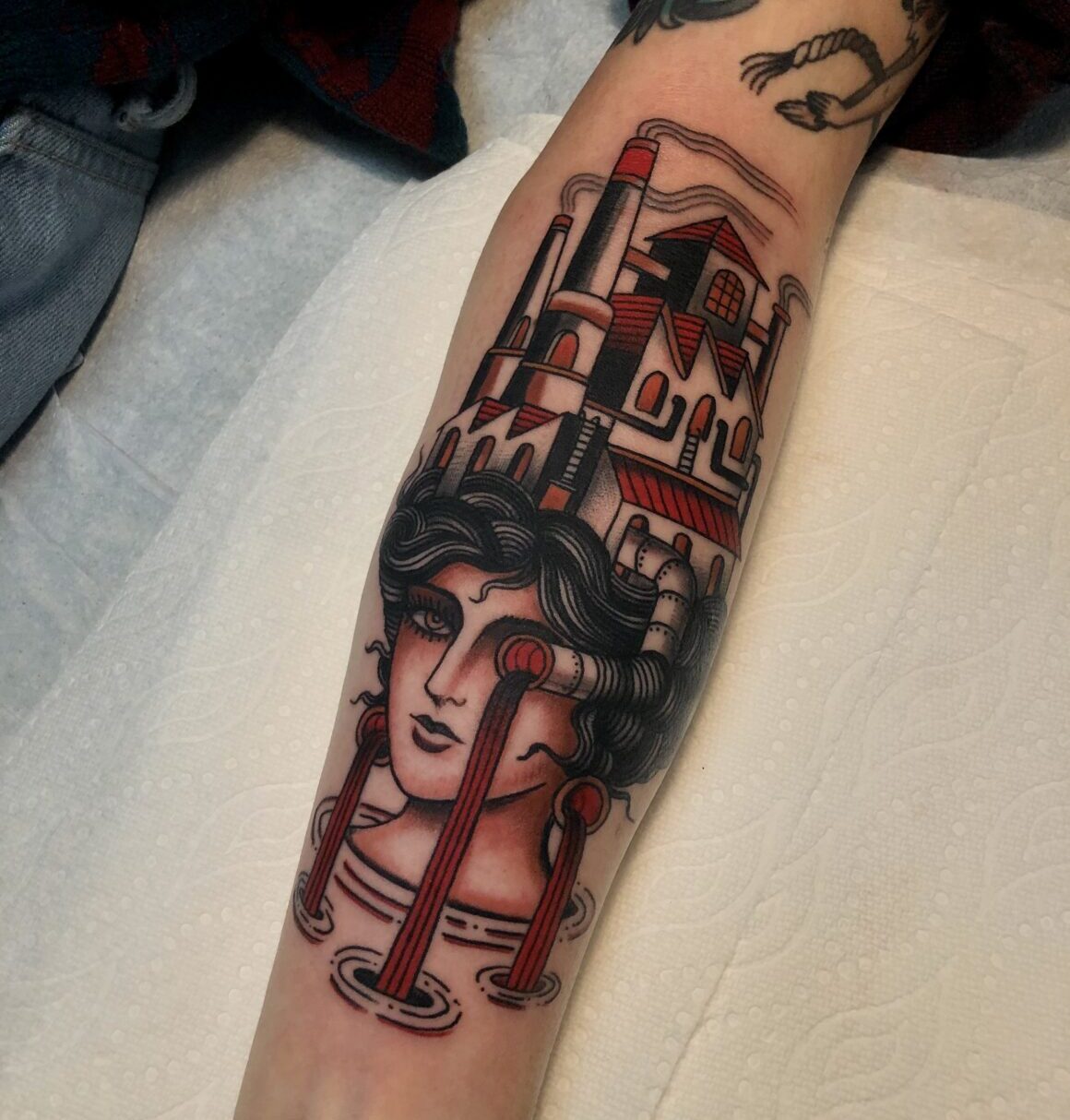 Is there anything you want to add before saying goodbye?
Just do what "you do" really well. That was the best advice I have. Be fully immersive in the things you love and bring you joy and disregard any negativity in your life, it's not worth harboring that energy.