The LA-based bassist who played with some of the best American bands between the '90s and the new millennium (Kyuss, Dwarves, Queens Of The Stone Age, Mondo Generator, etc.) is back with Stöner. And he talks about tattoos and adventures on the road without mincing his words…
Your name "Nick" – if you want to work with fantasy – is a kind of anagram of "Ink". So I'd say that from the beginning you were destined to deal with the subject of tattoos…
(Oliveri chuckles) Yeah probably since I've always loved tattoos since I was just a kid. As a kid I got a small tattoo on my hand just to get a taste of – let's call it – "danger". And even now that I'm playing in Stöner, having collected a myriad of experiences and having come up against every aspect of life, I think I've remained that certain kind of person.
Why did you become interested in ink in your life?
It came about because of my uncle, a badass biker who was chock full of tattoos himself. And while I respected him beyond measure, I was still a kid going to school. It wasn't easy back then, you know?
If you liked ink, well, you were immediately branded as a punk.
A real bad boy for the rest of the classroom! At the end of the day, I'd say I haven't had it so bad all these years. While I don't have full sleeves or bodysuits, I'd say I'm holding my own with all the ink I've collected so far.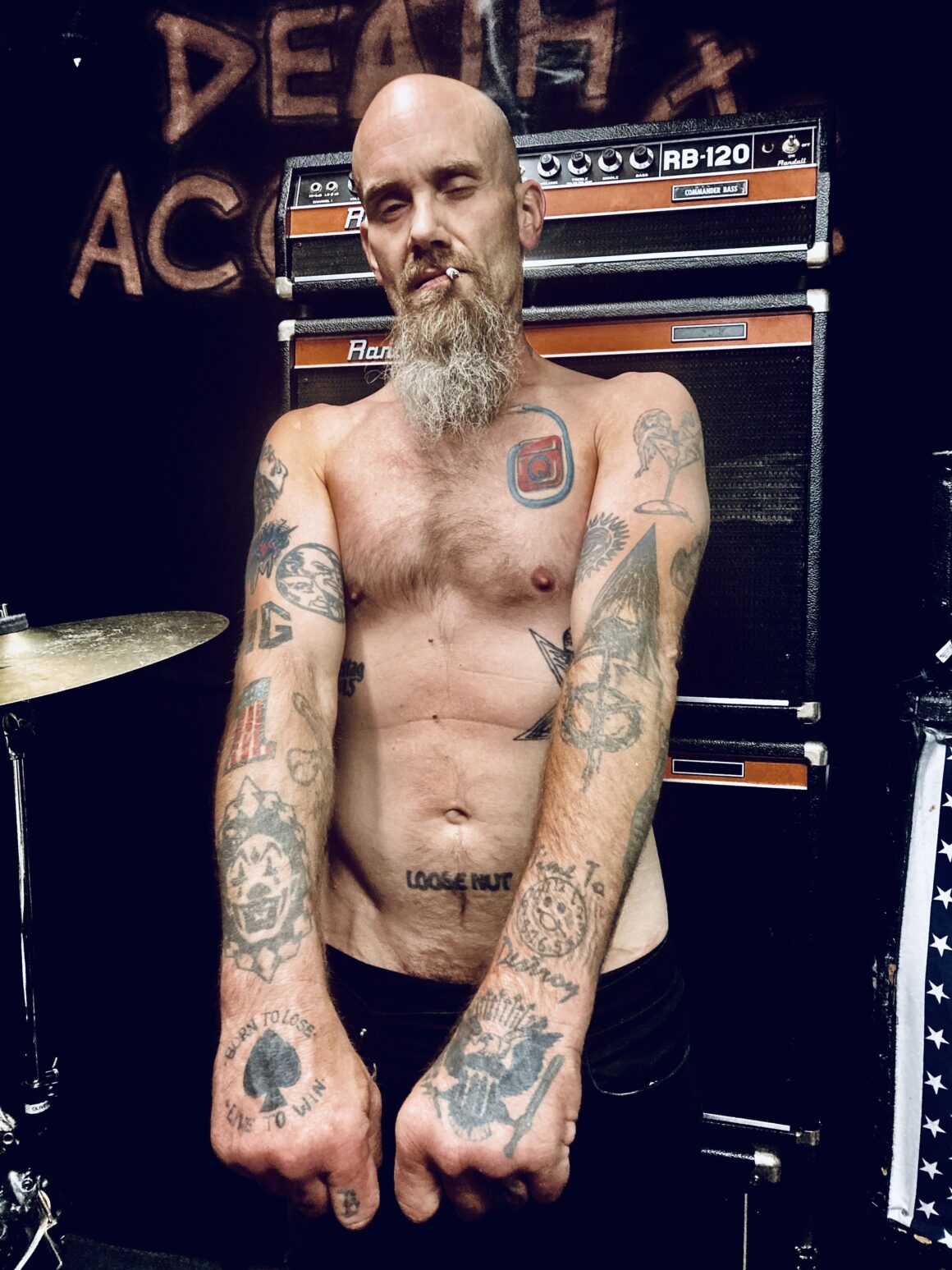 First time in touch with ink…where and when?
It was 1993, somewhere in Georgia (USA). I was on tour with Dwarves (an experimental hardcore/punk band from Illinois where Oliveri still plays under the name "Rex Everything". Editor's note) and this fan/tattoo artist of ours, after a wild gig, offered me a tattoo for free. It's about that somewhat demonic clown that I have on my left forearm. That weird figure that seems almost inspired by the figure of actor Robin Williams (RIP).
My adventure began that night and I haven't stopped since.
Speaking of Dwarves: that full back lettering that reads "Everything" I guess is dedicated both to them and to your pseudonym by which you've always been known in the group. Right?
Yeah, affirmative. I love Dwarves to death: I must have been no more than 20 years old when I got in touch with the band of my dear friend Blag Dahlia (aka Paul Cafaro, singer, leader of Dwarves and living legend of stars and stripes independent music universe. Ed) and today I am still part of it. Going by memory I can tell you that so far I have played on at least 7 Dwarves' records; maybe only with Mondo Generator I have recorded more music in my life…
That tattoo was my second ever and it was done by another guy I was in contact with at the time.
It was something so easy that it seems almost trivial to tell about it. He simply said, «Hey Nick, can I tattoo a certain word on your back?». He didn't say which one. And I said, «Sure, go ahead!». That's exactly how it went.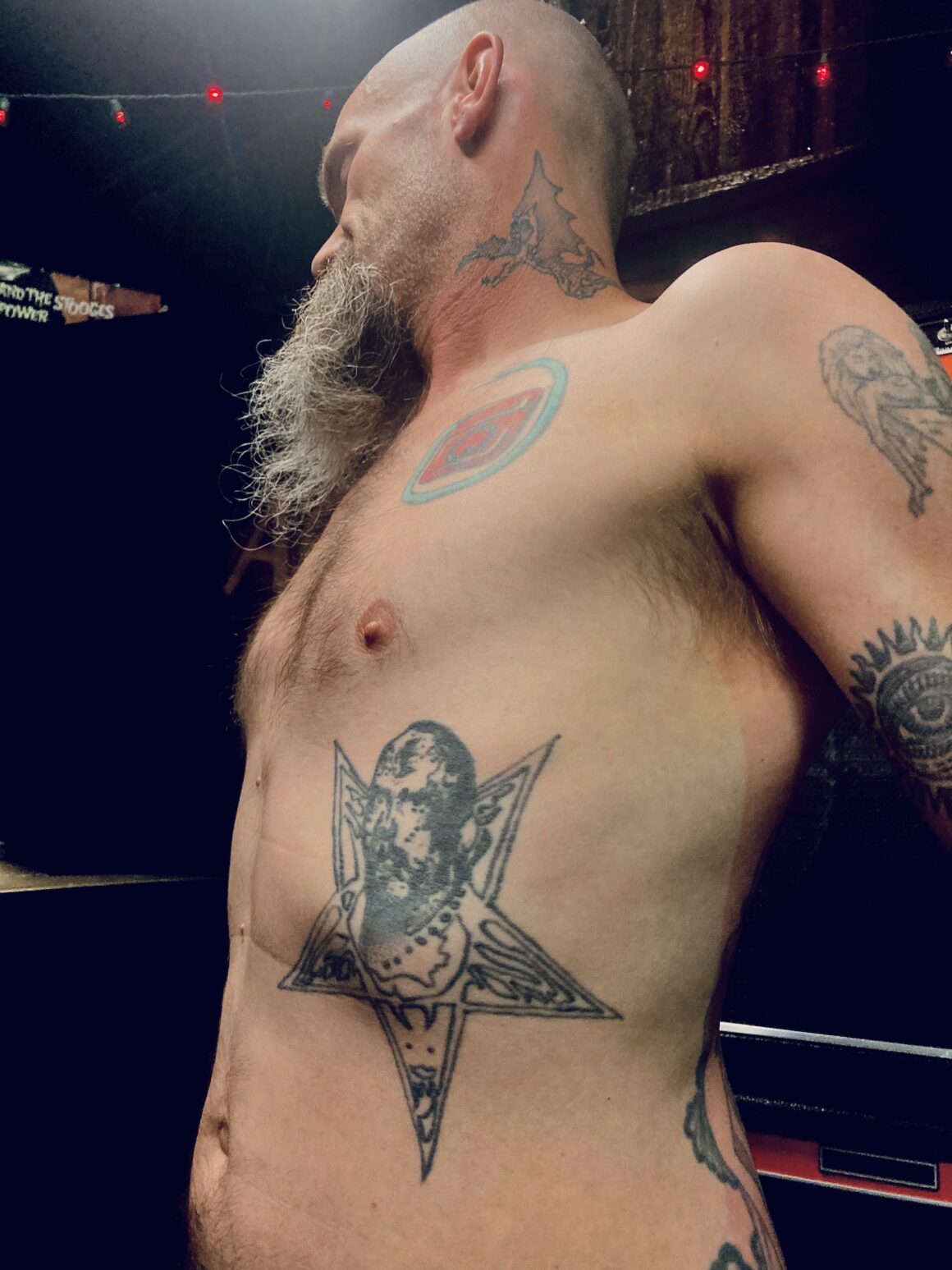 Am I wrong or do you have a Black Sabbath tribute on one side of your neck?
I have several tributes to my musical heroes: Black Flag (logo tattooed at the base of my neck), Ramones (logo on my left hand), Motörhead (ace of spades on my right hand), a portrait of Johnny Cash down one leg, Turbonegro logo on my left calf, an old Roky Erickson album artwork (the phenomenal "Roky Erickson and the Aliens" released by CBS in 1980. Ed.) on the inside of my left arm, etc. And yeah, the fallen angel of Black Sabbath on the side of my neck, of course! You know, if it wasn't for a deity like Geezer Butler, I doubt I'd be playing bass today.
I owe everything to Black Sabbath in the 70's.
If I could, I would tattoo them on my eye corneas!
What is that lettering – "Freitag 4:15" – that you have near your ribs?
It's a long and strange story. It all happened in 2001, in Germany, when I was touring with Queens Of The Stone Age for the support tour of our second album "Rated R"…
Tell me about it, if you like…
Okay. We were at a famous German festival, Rock Am Ring, and the organizers told us that we had to go on stage on Friday at 4:15 in the afternoon. Friday is "Freitag" in German, hence the meaning of that lettering-tattoo: it's basically our show-time. The moment when we went on stage.
And it even deserved the honor of a tattoo?
Yes, because that day everything really went wrong! (laughs) Believe me, one misfortune after another: Josh (Homme. Ed.) hurt his ankle going on stage, Mark (Lanegan. Ed.) had a microphone explode under his nose, I had some major technical problems with my bass, the whole sound sucked, our stage technicians literally freaked out! It was a pity because we were on tour with our friends Tool, who were playing right after us, and so far everything had gone great.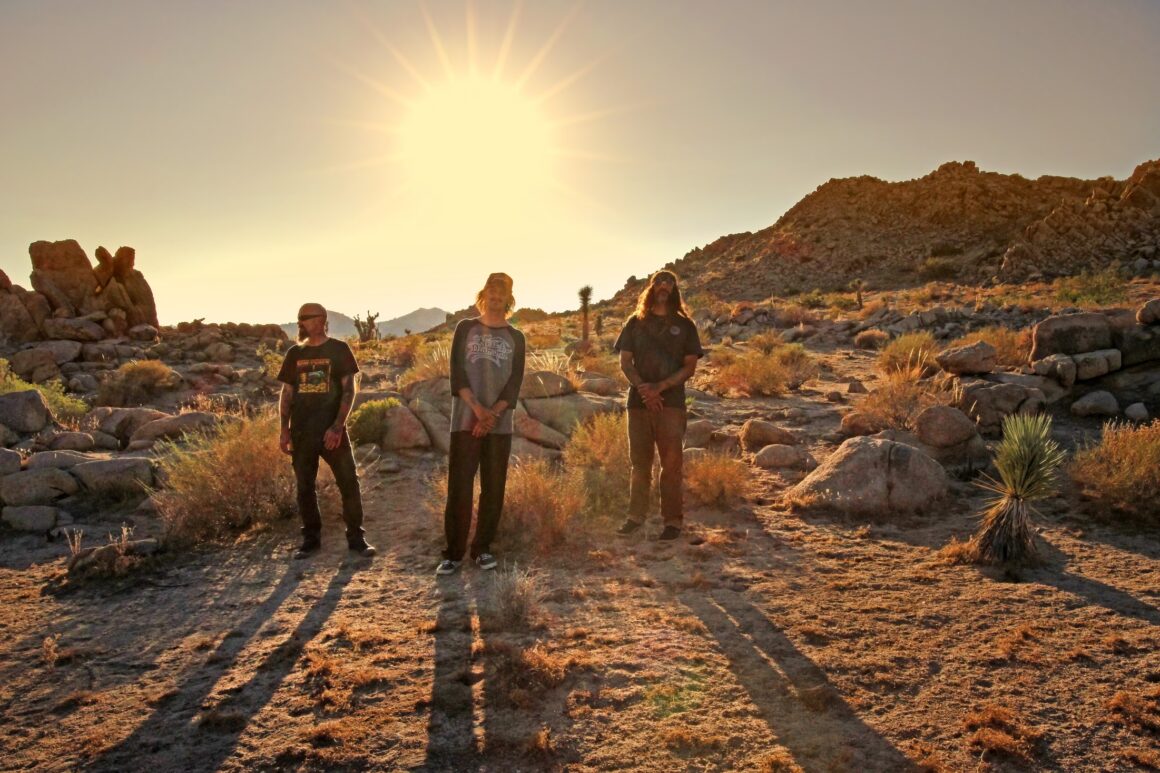 So both Mark Lanegan and I (plus another member of our crew) got that tattoo near our ribs – exactly where it hurt the most – to remind us of all the curses we had to deal with that infamous summer day. Can I give you one piece of advice? Never mess with afternoon concerts. Especially if they're at 4:15 and on German soil to boot! (laughter)
Who did that seductive dancer at the base of your back?
A good tattoo artist from Chicago: her name was Kim, but don't try to ask me the last name at this point in my life! (snickers) All I remember about that tattoo is that it burned like hell! At one point I even thought she was burning me with a cigarette; instead it was just the needle carved on my skin.
I'd say you held up great though….
Sure. I swear, it hurt like hell (imagine the pain of all my tattoos summed up in one!) but I couldn't do otherwise. Because that's exactly how it goes with tattoos: they're a moment of pain in exchange for a lifelong pleasure.
This aphorism sounds good!
Yeah, too bad it's not mine. (chuckles) It was once said – out of nowhere – by a good friend of mine with whom I was discussing tattoo art. But you can use it to title this beautiful interview. It's not bad at all, is it?
It's just perfect, Nick. Coming to music are you proud to be back making records with Brant Bjork thanks to the recent release of "Stoners Rule" by Stöner? I'd say it's a fitting follow-up to other memorable experiences with Kyuss and Vista Chino, right?
Well, I'm also very proud to have been in Kyuss since 1987! (smiles) And proud of every single note I've contributed to in my life.
You know, makin' music again with Brant Bjork was like getting back into sex for the first time.
With Kyuss, on the other hand, it was exactly like that: an overwhelming jam in our rehearsal room and then – bang! – suddenly it was all over! (laughs) I was 16 at the time and I was completely overwhelmed. The same feeling you had a short time ago with Stöner when we recorded "Stoners Rule". Can I add one more important thing?
Sure!
Well, there would be so many things to tell about Kyuss, good and not so good, but I'll just say that I've always enjoyed playing and living Rock 'n' Roll to the fullest. Hopefully this new band, Stöner, will last as long as possible to repay the anticipation and trust of all those fans around the world who have always followed our moves. I can't wait to get back on tour and thank them one by one.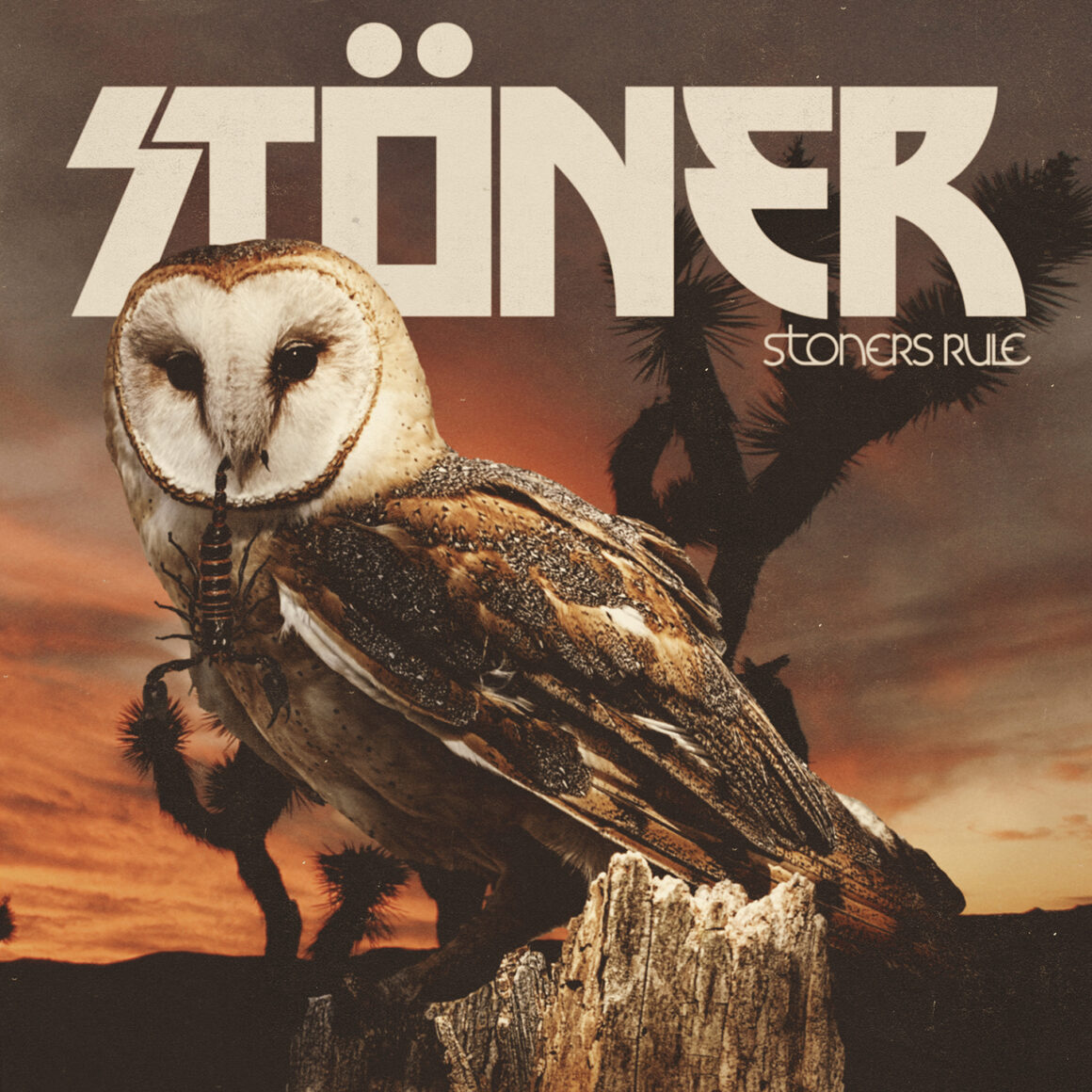 And your famous last words are…?
Enjoy Life. A 100% Tattoo Life, of course!
Thanks a lot, Nick.
Thanks to you, guys. I can tell you that I already have new music in my head, an unreleased Mondo Generator album that I'll be releasing sooner or later and other tattoos that I'm going to get. Who will live… will see!