The boxset of one of the most historic live album ever is coming in June 25, 2021. And it will contain all the 3 concerts recorded in the glorious March of 1981…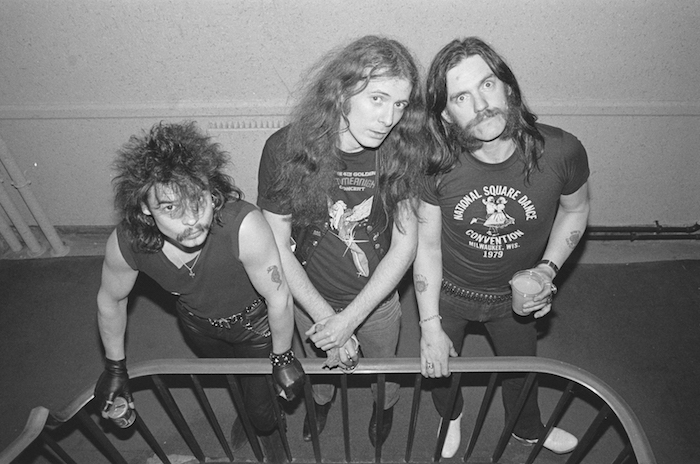 Following the 2020 celebrations of the iconic album "Ace Of Spades" now it's time to praise one of the best live albums ever, "No Sleep 'Til Hammersmith" by Motörhead.
For the 40th anniversary of its original release, the disc will be reissued in different deluxe formats (2CD or 3LP containing the remaster of the original album, bonus tracks and the unreleased concert at Newcastle City Hall on March 30, 1981).
Additionally, the album will be released as a 4CD boxset with all three concerts recorded for the album (two nights in Newcastle and one in Leeds – see the whole tracklist below), released in their entirety for the first time.
Watch here the video of the unreleased live version of "The Hammer":
A comment from Lemmy following the release of the album on June 27, 1981 and its entry to number 1 in the UK Chart: «I knew the live album would be better than the record, because we are a live band. You can't listen to a record and understand what we're talking about. You have to see us live.»
Motörhead in 1981 was a band of extremes; a flammable mix of non-stop partying and riding the wave of its success. After reaching position number 4 with "Ace Of Spades", the climax was reached with the recording of this sensational live album.
"No Sleep 'Til Hammersmith" got its name from an inscription painted on one of the tour trucks referring to the 32 concerts they were playing with just two days off.
The tracklist consists of three tracks from "Ace Of Spades", five from "Overkill", the "Bomber" titletrack and two from their self-titled debut.
Enjoy our tattoo gallery!
"No Sleep 'Til Hammersmith" tracklist:
1 – Ace of Spades
2 – Stay Clean
3 – Metropolis
4 – The Hammer
5 – Iron Horse
6 – No Class
7 – Overkill
8 – (We Are) The Roadcrew
9 – Capricorn
10 – Bomber
11 – Motorhead
12 – Over The Top
13 – Train Kept A Rollin'
14 – Stay Clean (soundcheck)
15 – Limb From Limb (soundcheck)
16 – Iron Horse (Soundcheck)
"Live at Newcastle City Hall 30/3/1981" tracklist:
1 – Ace Of Spades
2 – Stay Clean
3 – Over The Top
4 – Metropolis
5 – Shoot You In The Back
6 – The Hammer
7 – Jailbait
8 – Leaving Here
9 – Iron Horse
10 – Fire Fire
11 – Capricorn
12 – Too Late Too Late
13 – No Class
14 – (We Are) The Road Crew
15 – Bite The Bullet
16 – The Chase Is Better Than The Catch
17 – Overkill
18 – Bomber
19 – Motorhead
"Live at Newcastle City Hall 29/3/1981" tracklist:
1 – Ace Of Spades
2 – Stay Clean
3 – Over The Top
4 – Metropolis
5 – Shoot You In The Back
6 – The Hammer
7 – Jailbait
8 – Leaving Here
9 – Fire Fire
10 – Capricorn
11 – Too Late Too Late
12 – No Class
13 – (We Are) The Road Crew
14 – Bite The Bullet
15 – The Chase Is Better Than The Catch
16 – Overkill
17 – Bomber
18 – Motorhead
"Live at Leeds Queen Hall 28/3/1981" tracklist:
1 – Ace Of Spades
2 – Stay Clean
3 – Over The Top
4 – Metropolis
5 – Shoot You In The Back
6 – The Hammer
7 – Jailbait
8 – Leaving Here
9 – Fire Fire
10 – Capricorn
11 – Too Late Too Late
12 – No Class
13 – (We Are) The Road Crew
14 – Bite The Bullet
15 – The Chase Is Better Than The Catch
16 – Overkill
17 – Bomber
18 – Motorhead