Sensual women's faces are wrapped in coloured velvet veils with warm shades of orange, ocher yellow and peach pink; they are defined by bold black lines of great impact.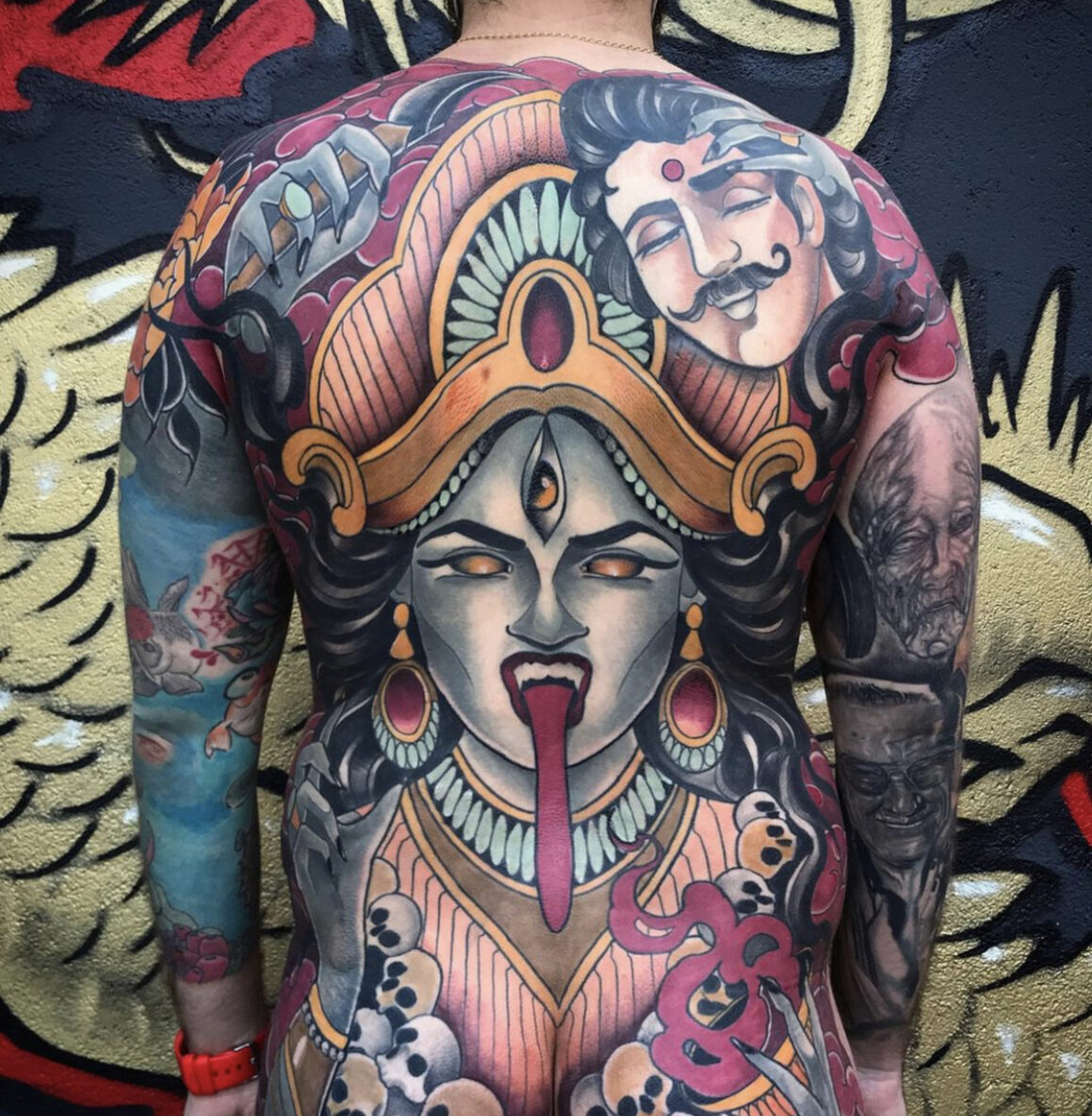 Flowers, animals and insects enrich the visual world of Monique Peres, a Brazilian tattoo artist currently in Madrid with soon a very big change of life.
We met her during a visit to the Human Fly by Jee Sayalero (read the article dedicated to the studio here) and we were impressed by the elegance and delicacy of the design, certainly influenced by the traditional Japanese trait and Art Nouveau.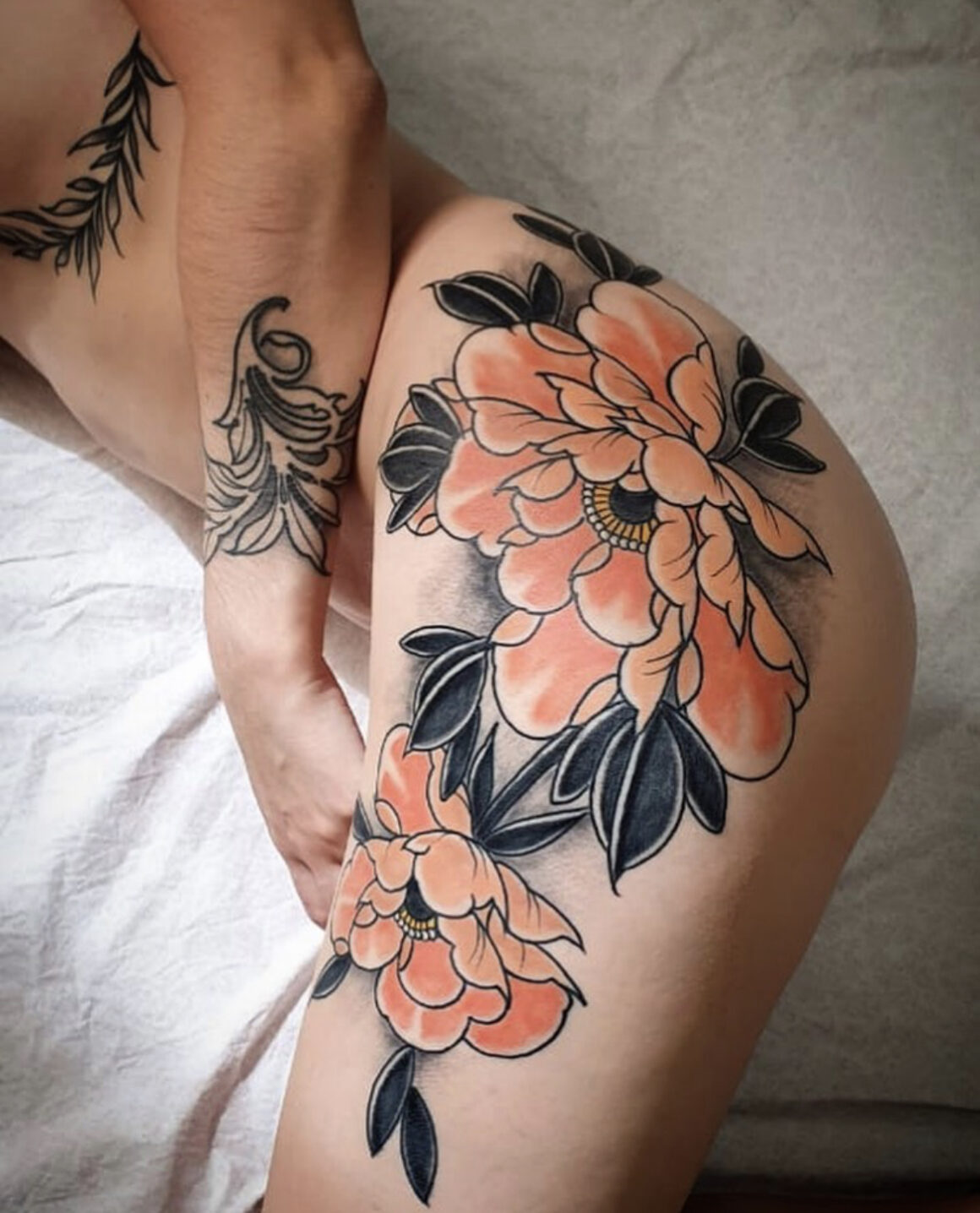 "I love Art Nouveau, it is an artistic movement to which I feel very attached and from which I draw great inspiration for the movement and delicacy of drawing. At the beginning I got great influence from the Japanese style but over the years – (Monique has been tattooing for 16 years) – I realized that my work was closer to the Neo-traditional.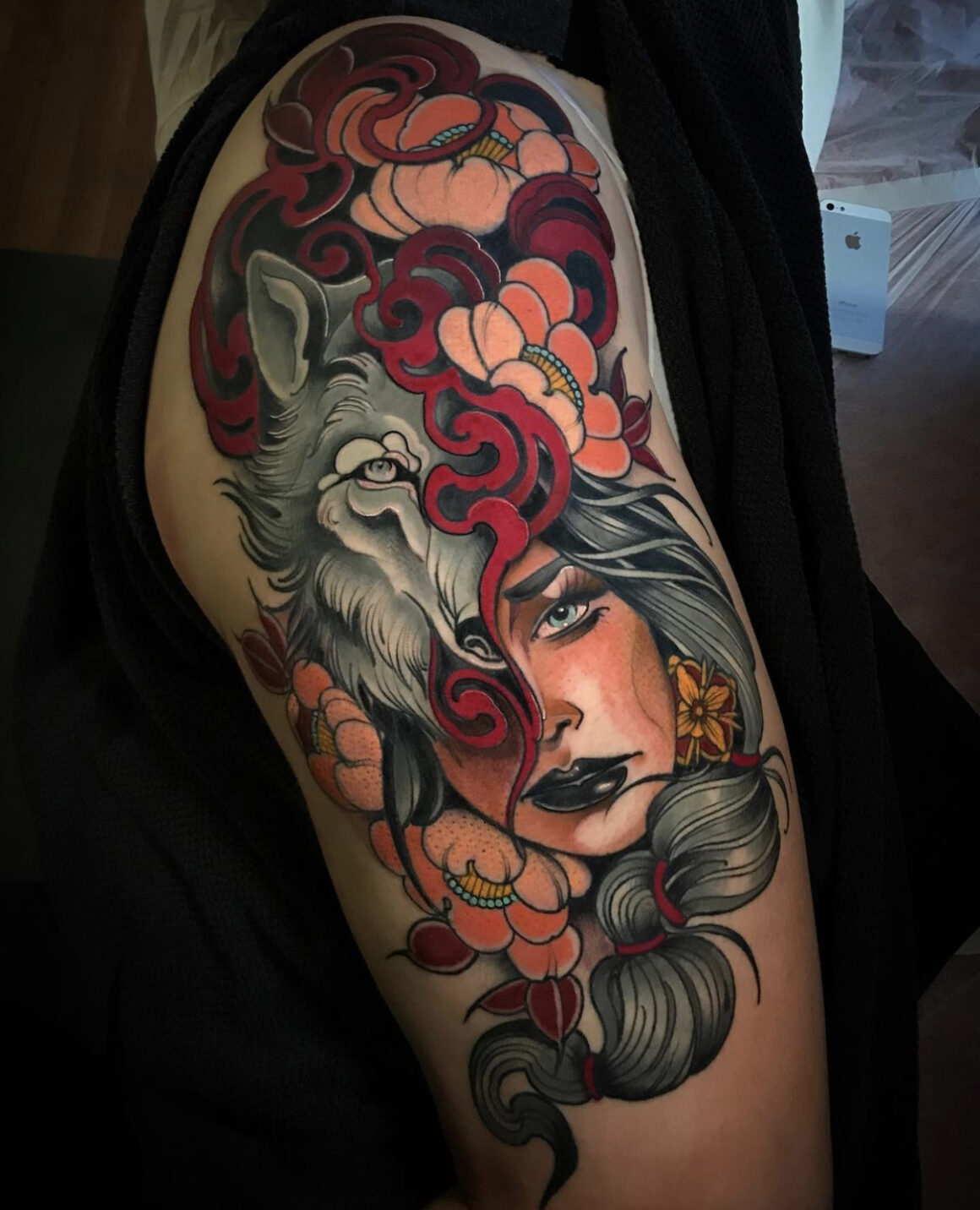 Lately a lot of people had been influenced by Art Nouveau, but for me it's something that makes me feel very touched, my eyes fill with tears when I see a gate at Park Guell in Barcelona designed by Gaudi. When I visited Praga and saw Mucha exhibition, when I walk around some cities and find architectural elements that are characteristic of this movement. Also when I visit a vineyard and I observe the format of the grape leaves, I think the secret of creation and drawing is all there in nature, we just have to observe and of course have passion. Life has to be inspiring.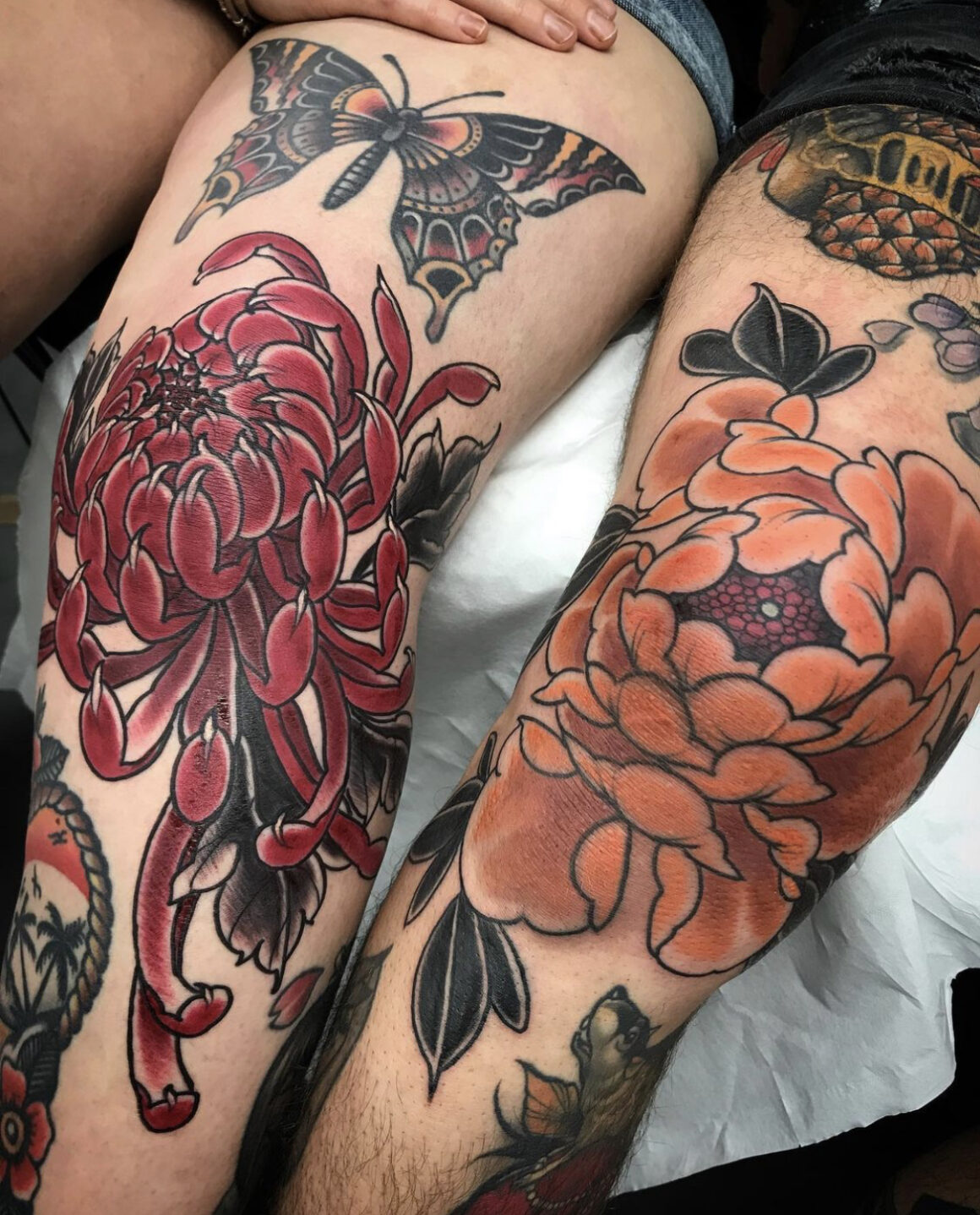 That's why after years of tattooing in Sao Paulo and travelling I decided to move to Europe, and I chose Spain for some particular reasons. I got in love with Madrid, it's such a beautiful city, full of museums, libraries, and amazing architecture. I love Art, music and literature. Reading is for sure my number one hobby, the historic romances I read give me such an inspiration when I imagine for example the women with beautiful dresses at the Belle Epoque.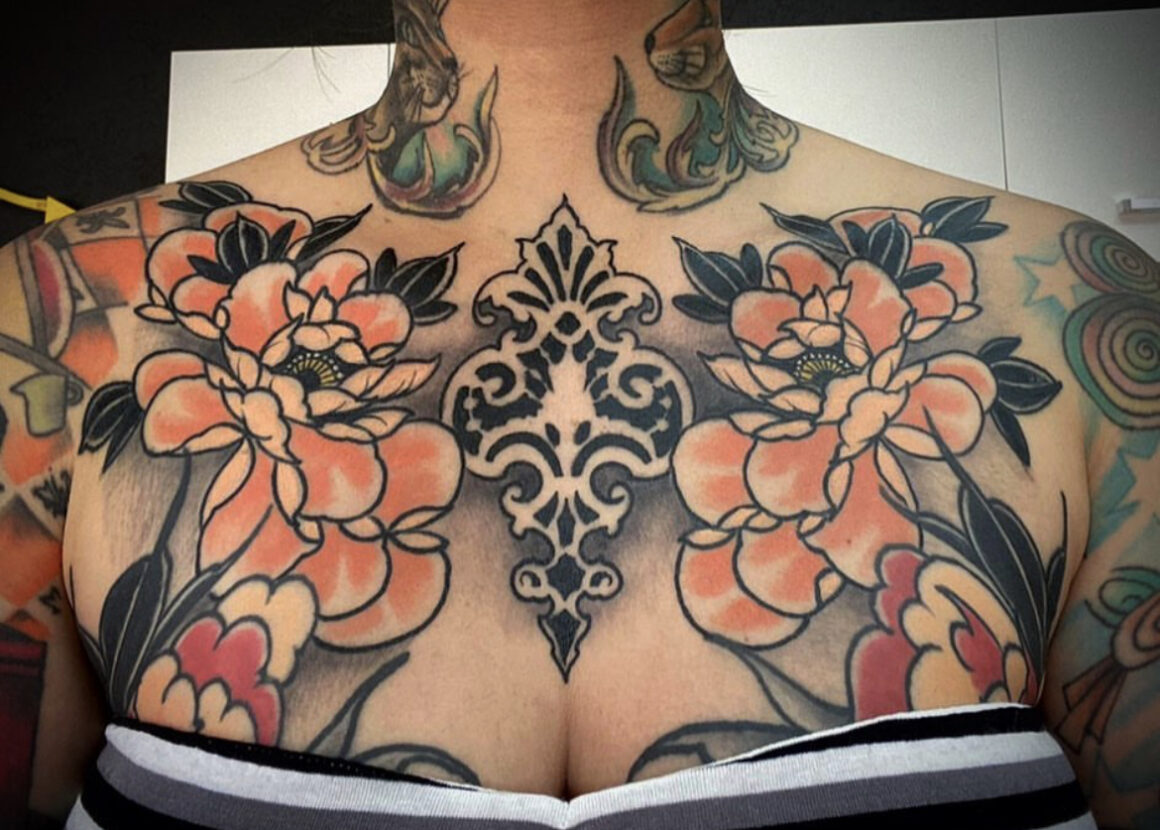 And in Madrid I couldn't be working in a better place then Humanfly, the shop of my old friend Jee Sayalero, it was exactly what I was looking for, an artistic shop, where the tattooers were painting all the time, looking for references in books, also a very friendly environment. And been there made me go again to the roots of my own work that was the Japanese. So my work, its full of peonies, chrysanthemums, clouds, sumi backgrounds.
For me, Art Nouveau and Ukyio-e give me all I need to create my own work. I'm always studying and trying to make it better.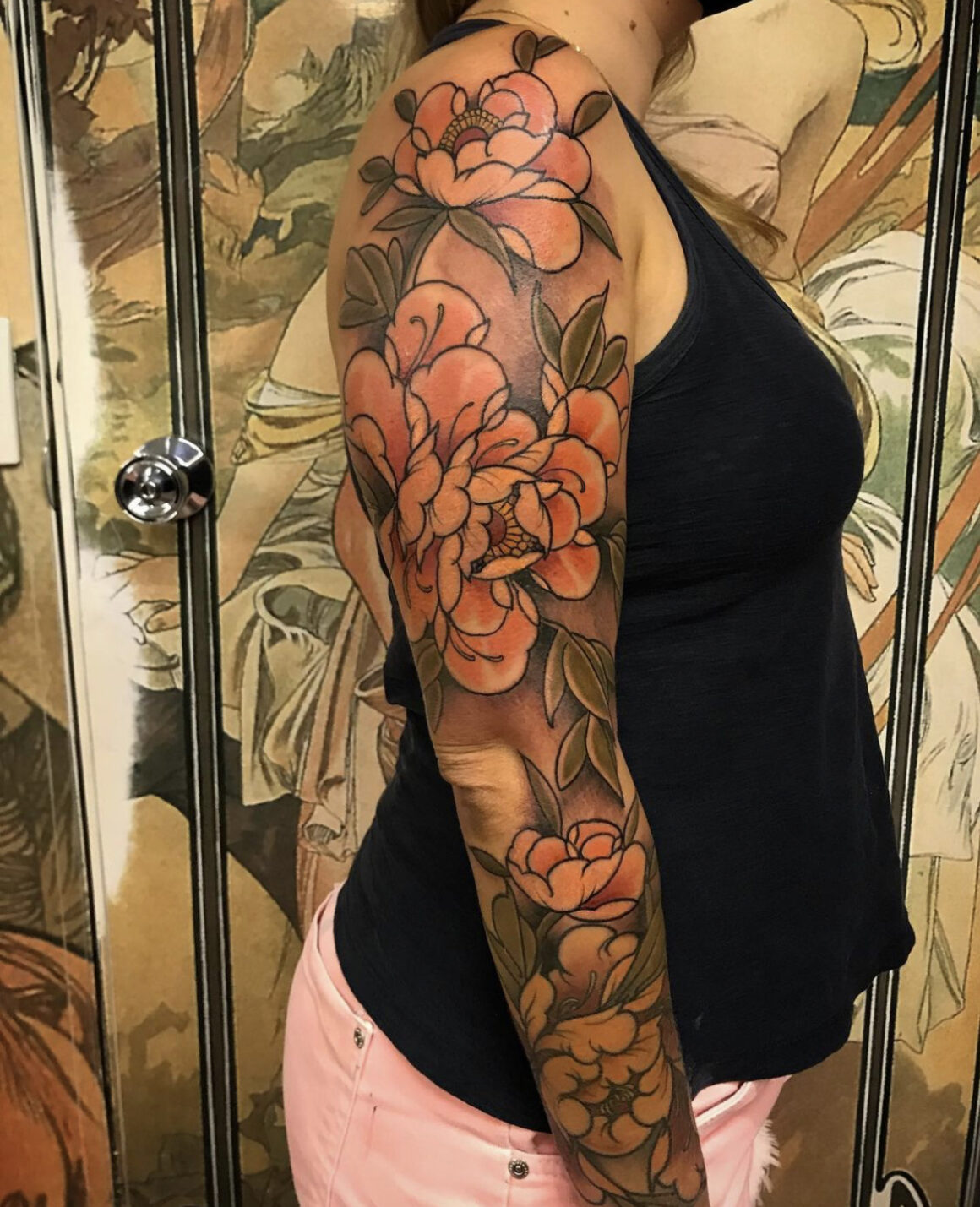 And one more time my life is changing: this autumn I'm moving to France. I'll practice my french, that I really love speaking. I'll be living between mountains, surrounded by lavender fields and provencal houses with small wooden windows, coloured with light shades of green, or dark red. My idea is to be focused on my own work, painting a lot, with watercolour and oil…  I'll have my own private place. And about tattooing I'll be guesting all over France, coming back regularly to Humanfly in Madrid, I'll go often to Switzerland and Brazil.
Monique, how can our readers contact you?
To find me the best is to contact me by instagram, and I'll be delightful to create amazing tattoo projects, or to make paintings for those who like my work.