Melisa is a Canadian tattoo artist based in Detroit. Her style is Neo Traditional with a deep Art Nouveau influence that echoes in female faces, bouquets of flowers and all the delicate elegance she brings to her works.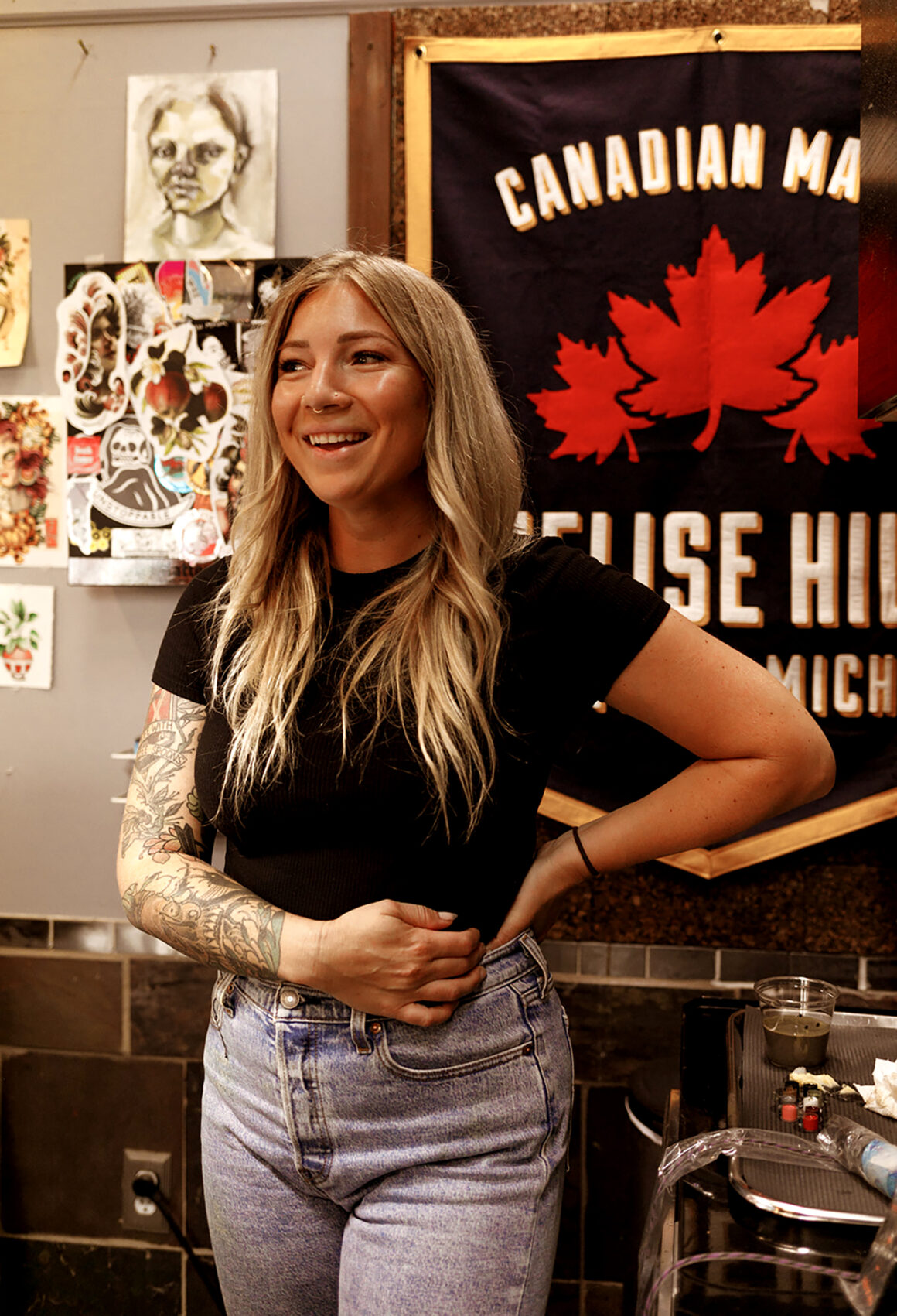 Hi Melise would you like to introduce yourself to our readers?
Hey!  My name is Melise Hill.  I'm a Canadian tattoo artist based out of Detroit, Michigan.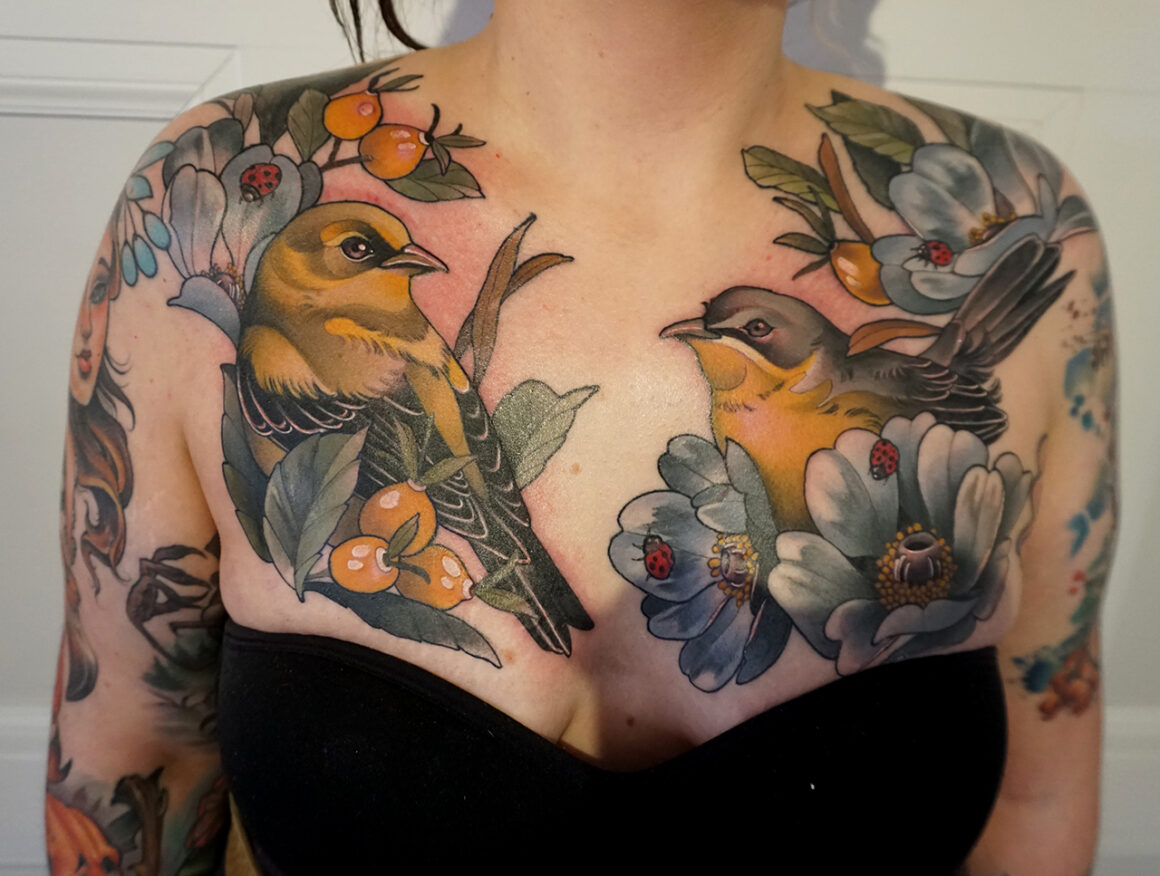 Where did the idea of tattooing as a profession come from, what kind of circles did you live in?
I studied Fine Arts after high school, but tattooing was something I sort of fell into a few years later.  I hadn't seriously considered it as a career until I started seeing other artists specialize in a specific style, which was something that appealed to me.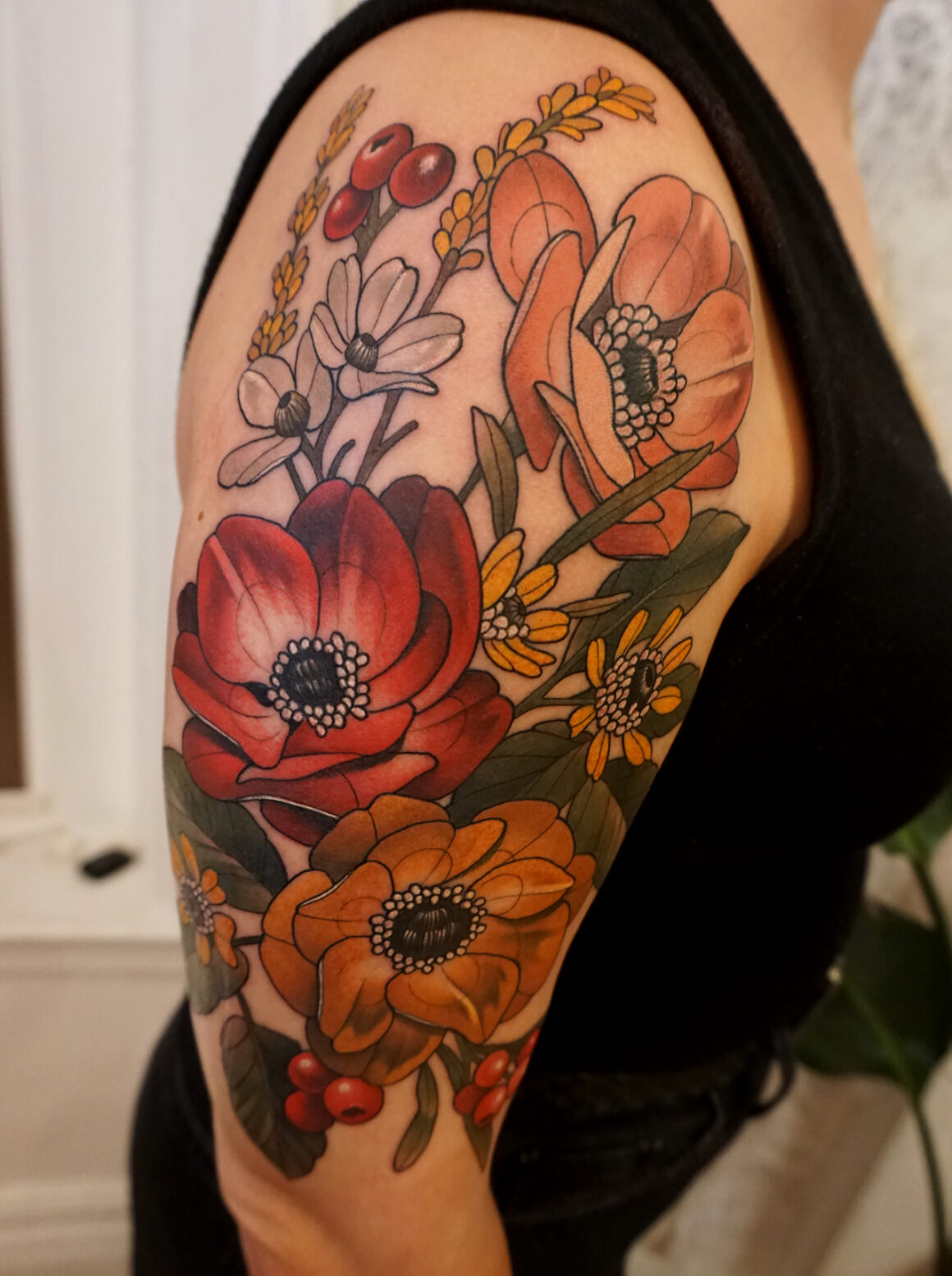 It was a way to make a living producing my own art work.  I hang out with some artists, which is great to stay motivated, but I surround myself with a variety of people.  It's all about being able to balance work and life!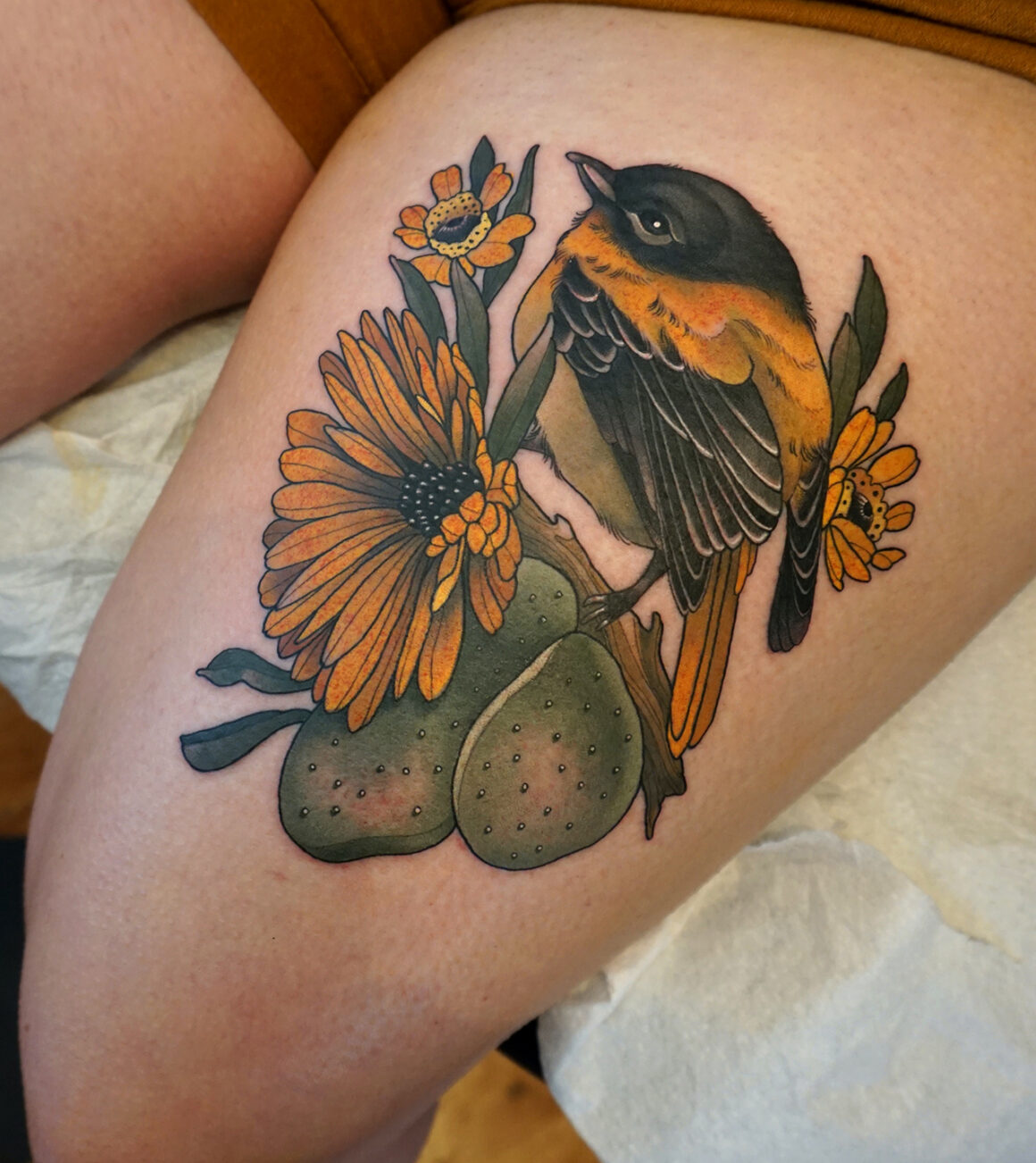 What did you study at Art School?
I studied Fine Arts in College and focused on painting and drawing. I also did a post-grad program in Special Effects Makeup, but that was not for me!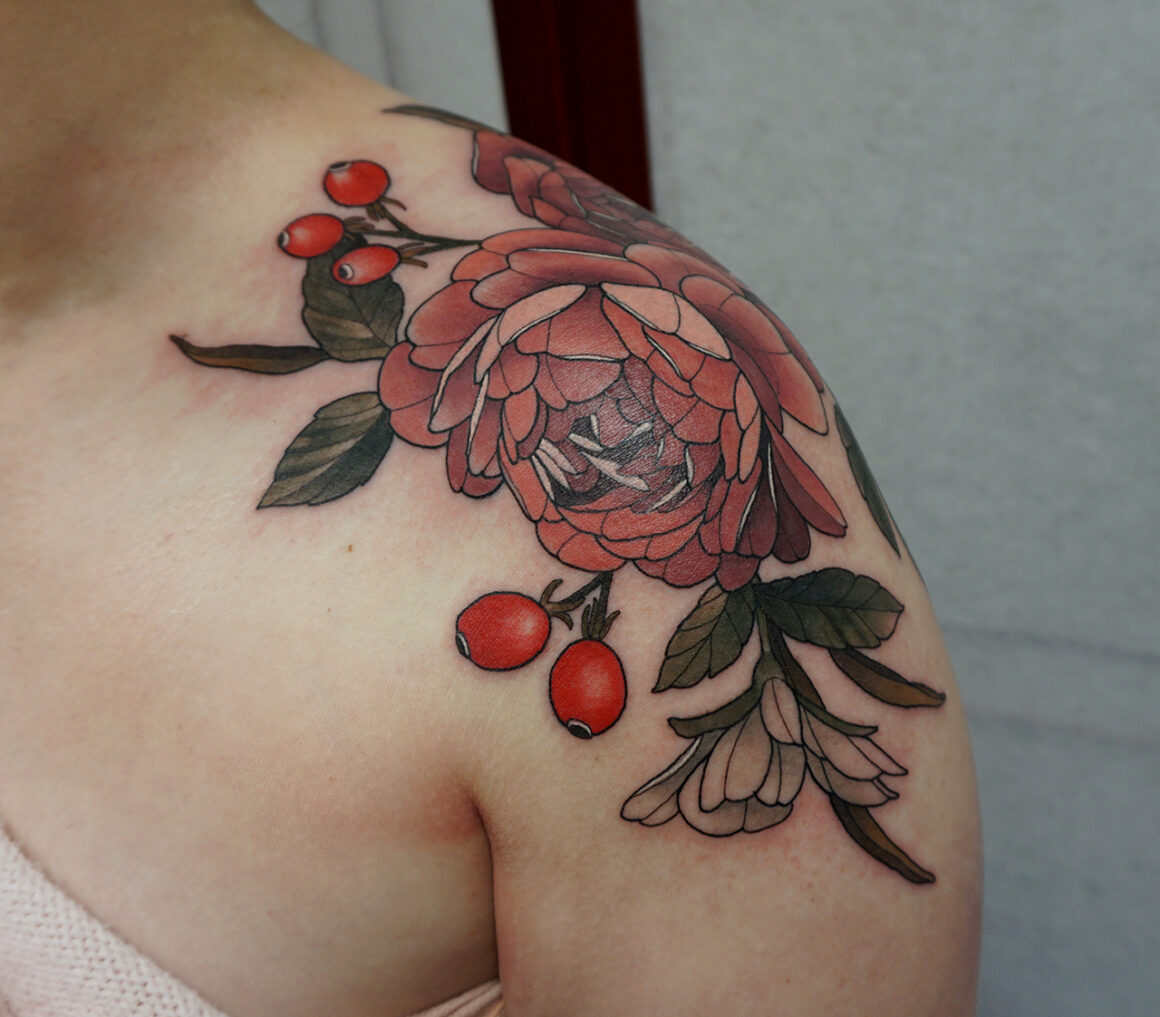 Your style is very feminine, definitely related to neo traditional and a little surrealistic. Would you like to describe it by telling us a bit more about what you like to do?
Thank you! It's hard to say exactly which artistic styles I'm inspired by, because it can change, but there's definitely some heavy Art Nouveau references in there because it's a style that lends itself well to tattooing.  Most importantly, I love faces. I have always been drawn to human faces in art.
I feel that no matter how you portray it, the viewer will always find some sort of connection because as humans, we can always relate to each other on some level.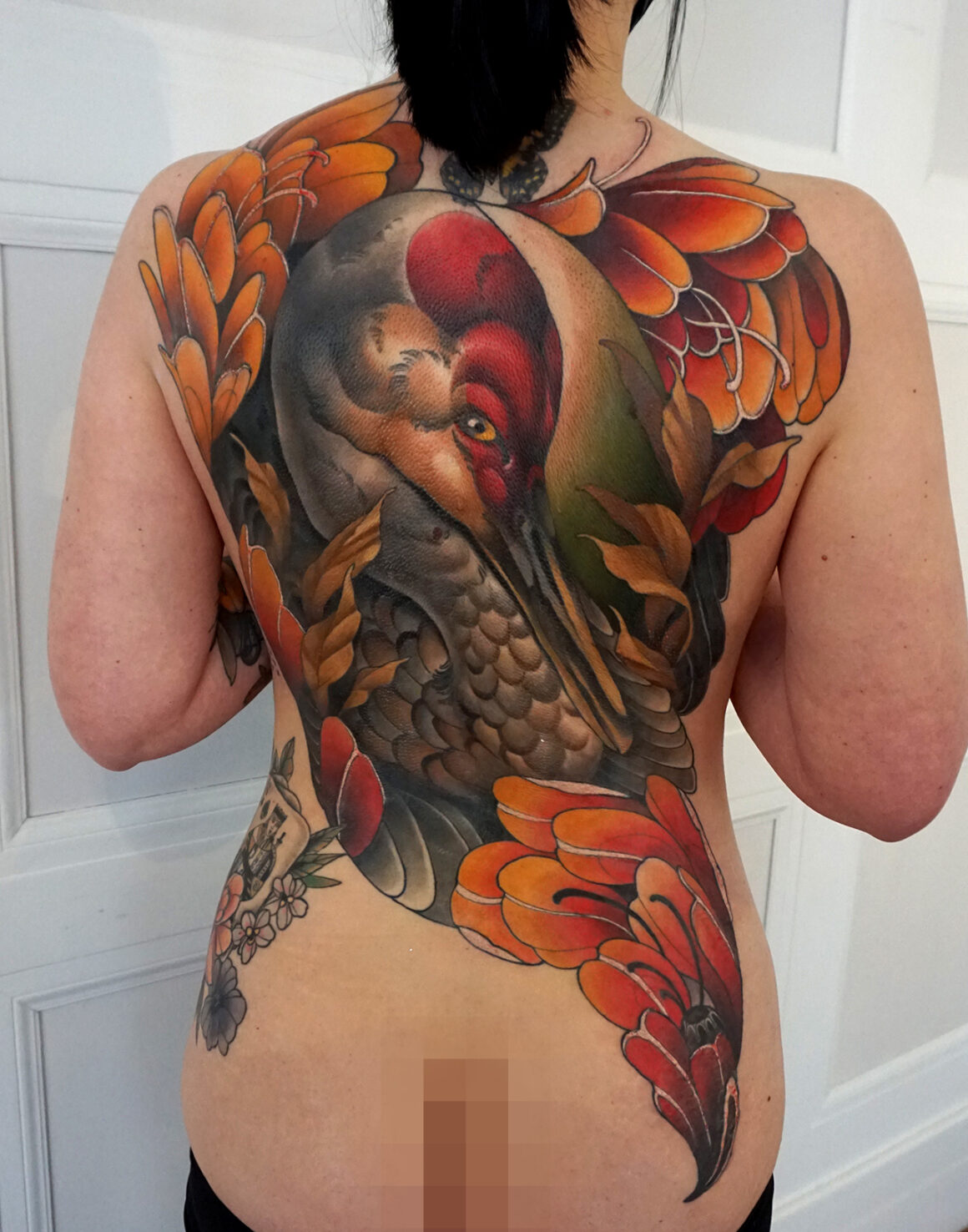 Coming out of art school, there was a lot of emphasis on the conceptual aspect of the artistic process, but I think with tattooing, there is less pressure in that regard, and more importance is placed on the composition of the design itself and how it lays on the body.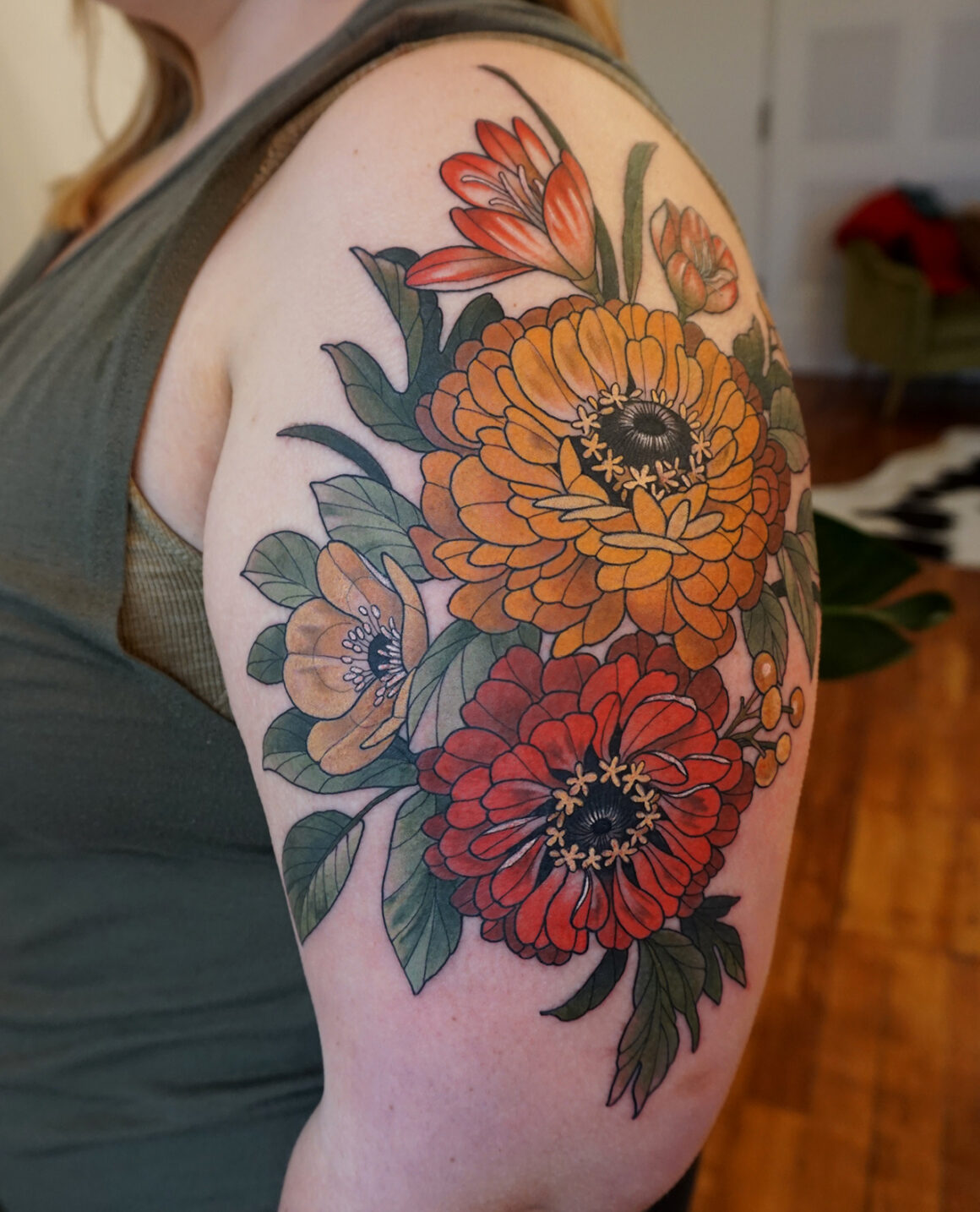 When I painted, I would paint faces and bodies, so although my style was forced to change when learning the medium of tattooing, I still feel like I am able to use the human body as part of the art piece, if not in subject matter.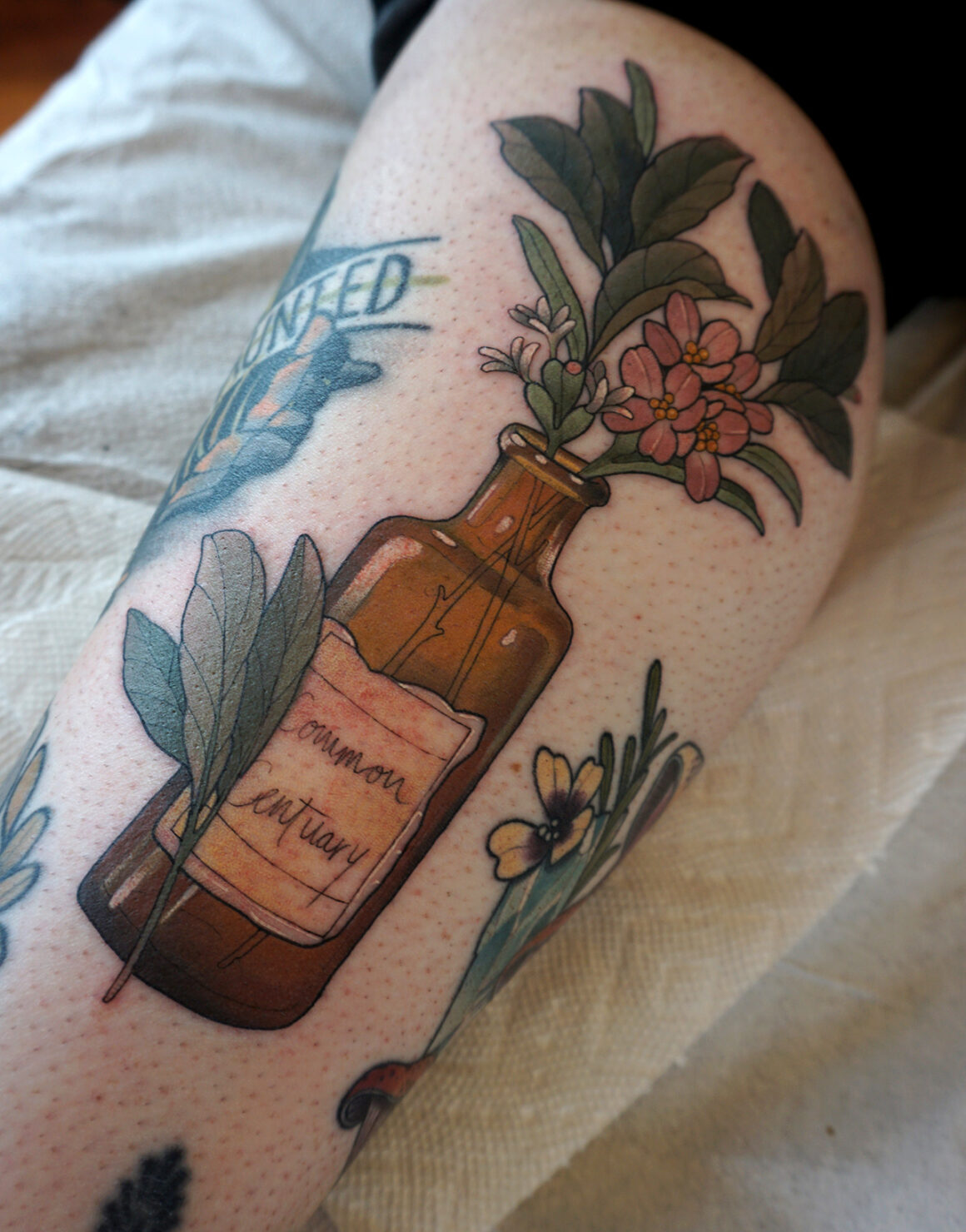 I really like the colour palette you choose. How did you come up with it and why?
I personally really like the feeling that comes from a warm palette, so that was what I always leaned towards.  At one point, I narrowed down the number of inks that I would keep in stock in order to create a more uniform look for my portfolio.  I often use a more limited palette for a tattoo and just mix within those inks if I want to have some variation, but I feel that helps a piece to look organized and unified.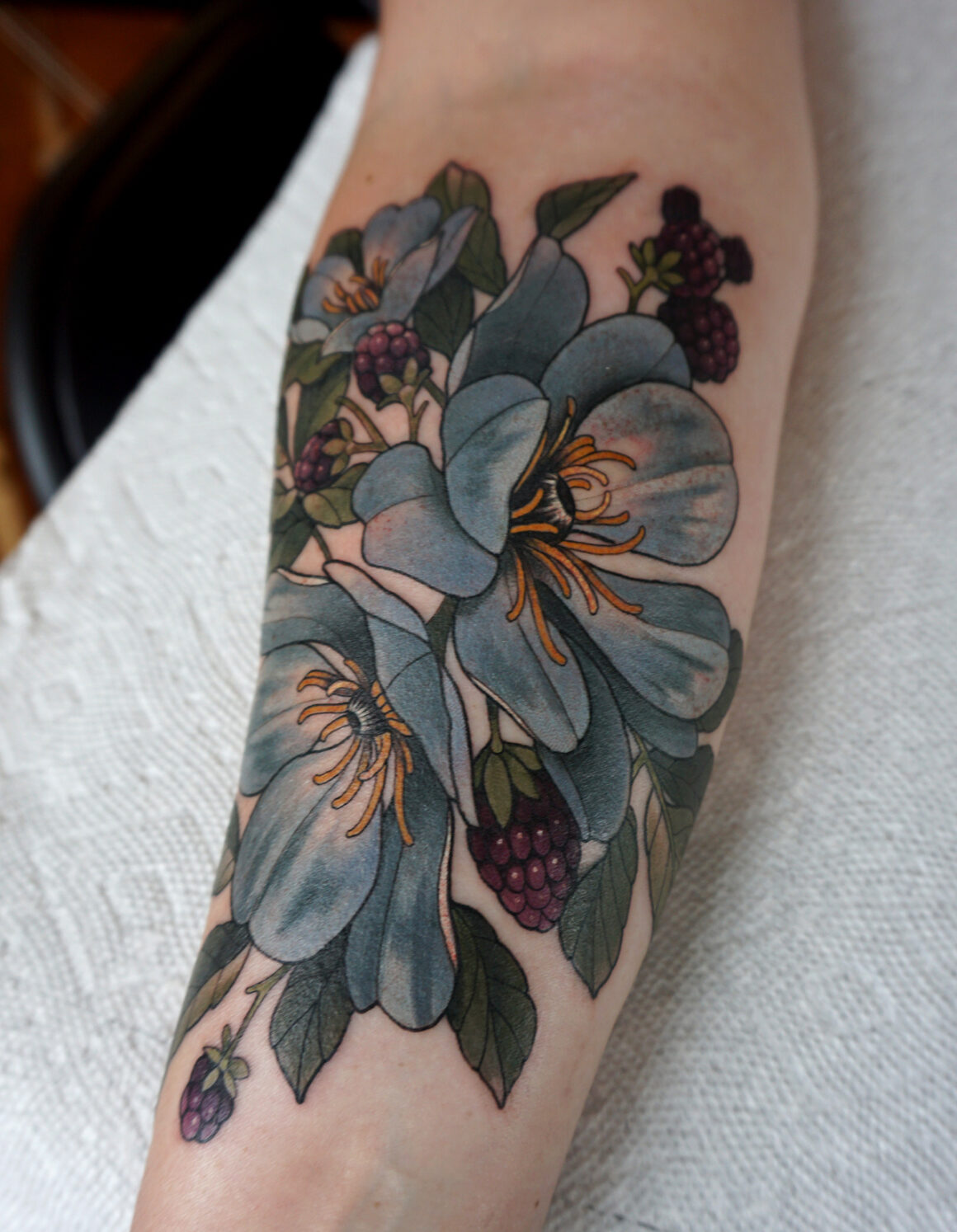 What's the Detroit tattoo scene like? Is there a part of the city that is more alternative with many tattoo shops?
It seems to have become more saturated in the last handful of years, but probably not as much so as a larger city.  I think we're lucky in the midwest because there is less competition and cost of living is low, so we're able to create and maintain a lifestyle that may not be possible somewhere else.
Detroit itself is a unique city!  It's very large, geographically, so the different neighbourhoods are spread out.
There aren't many tattoo artists working within the city limits; most shops that I know of are in the suburbs, but there are a few in the city, closer to downtown (but definitely not walkable between them!).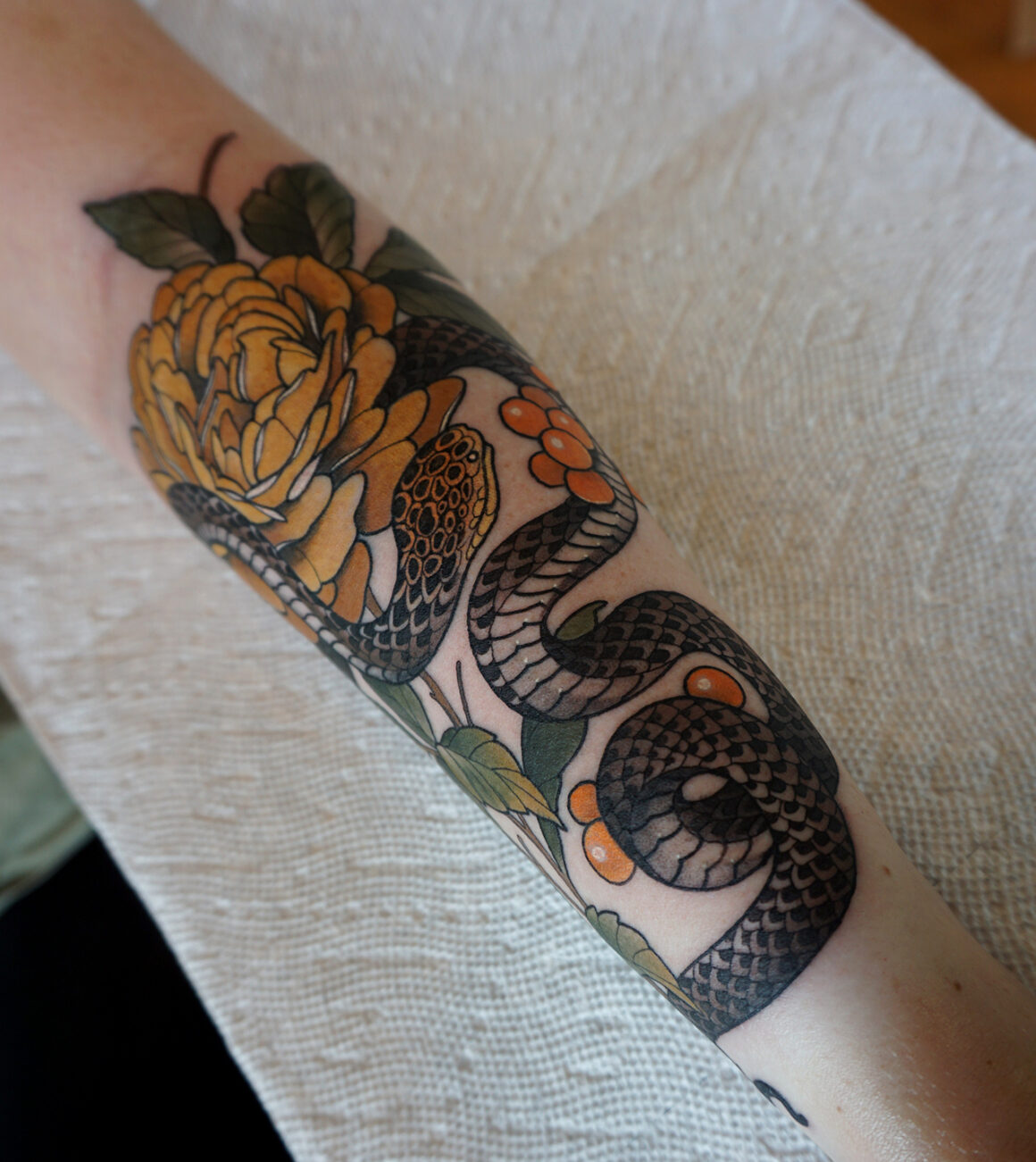 Has the Detroit convention started up again?
Yes!  The convention was just this past weekend. I have never worked at the Detroit one though, just go to visit.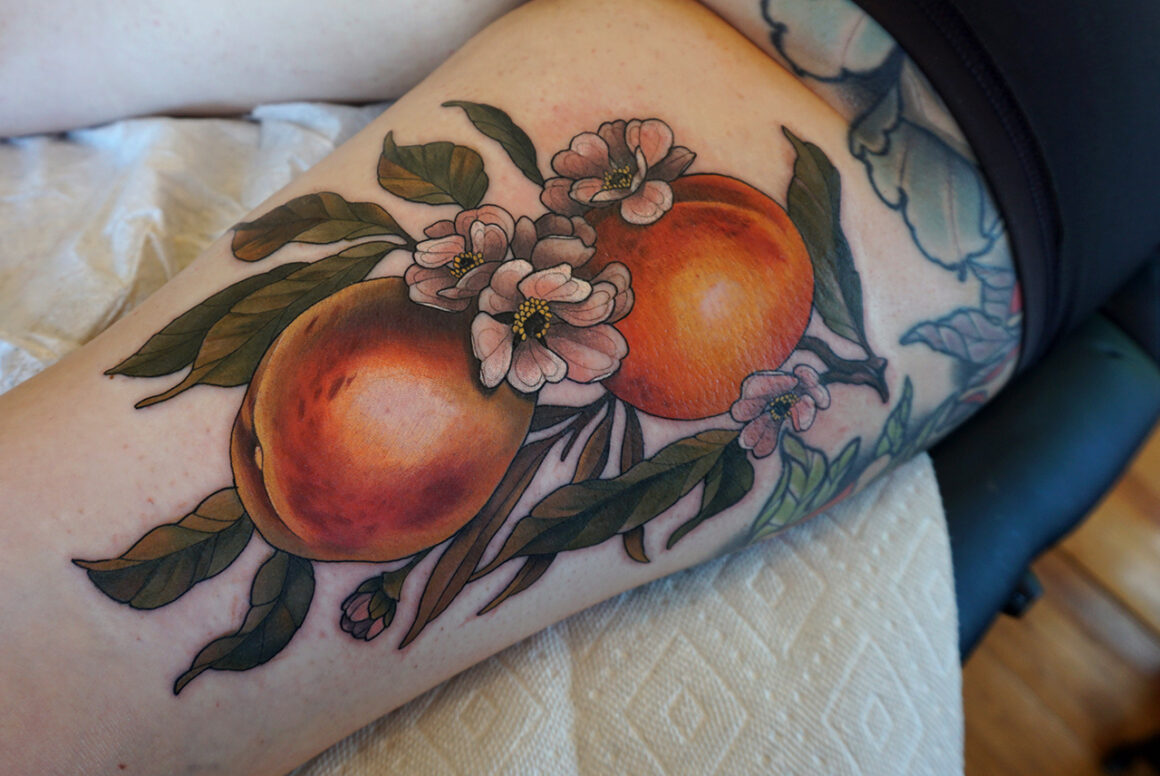 Are you planning any guests?
I have a guest spot planned in June to work with Kelsey Ellis near Kingston, Ontario.  Nothing else is planned for the year, but I would love to do some more travelling!