Internationally renowned tattoo artist Mayonaize makes his mark on the all-new Indian Motorcycle Chief. The first of three headline artists work to be revealed in CGI as part of the 'No Regrets X Indian Motorcycle' collaboration.
No Regrets unveil the first of three unique designs, created by three iconic featured tattoo artists in their signature styles – Mayonaize, Shige and Carlos Torres – whose Indian Motorcycle Chief based works of art will each be revealed in high-resolution computer-generated imagery over the next three months.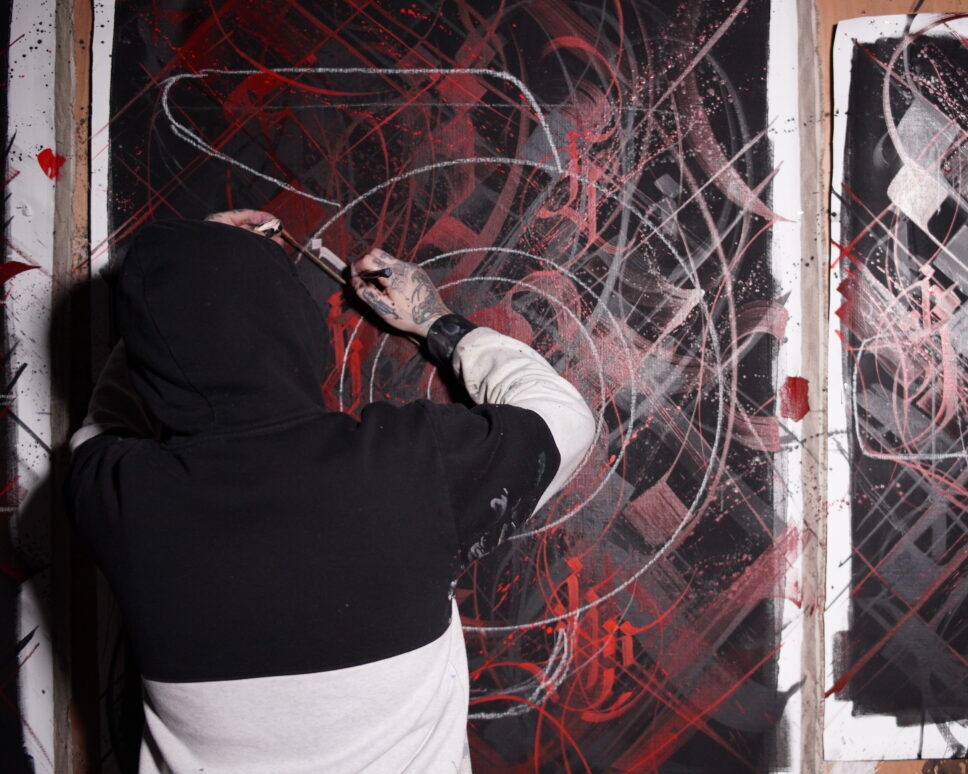 Mayonaize, or Mayo, is a New Zealand born artist living and working in Melbourne, Australia, who is known for bold, calligraphic script designs with a unique visual style. Mayo's work is highly sought-after, not only as a tattooist, but also as a notable painter, his portfolio of exhibited artworks ranging from street art to interior canvases and large-scale murals.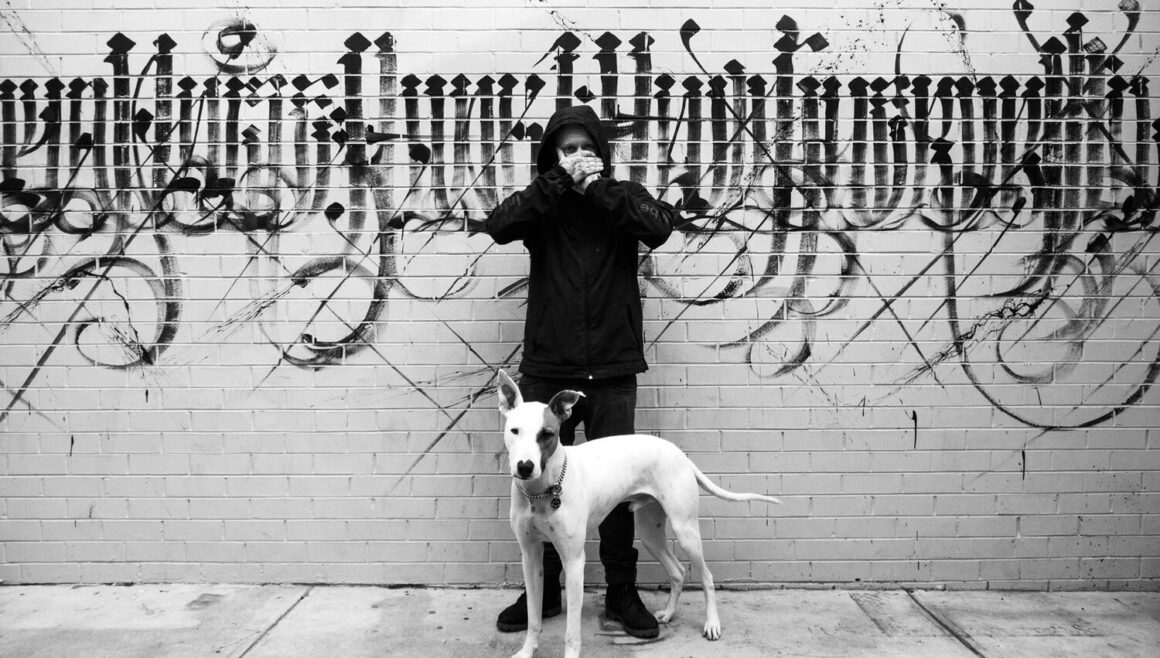 Mayo hand painted his Chief design onto large scale templates before being photographed and rendered onto the tank and fenders to his exact specifications.
Mayonaize's design will be applied to a real Indian Motorcycle Chief later this year and revealed in the metal at a VIP event in London in Spring 2022, alongside designs from artists Shige and Carlos Torres. Forty more of the world's leading tattoo artists will all compete to have their Indian Motorcycle Chief designs made a reality in steel and paint later this Autumn by public vote.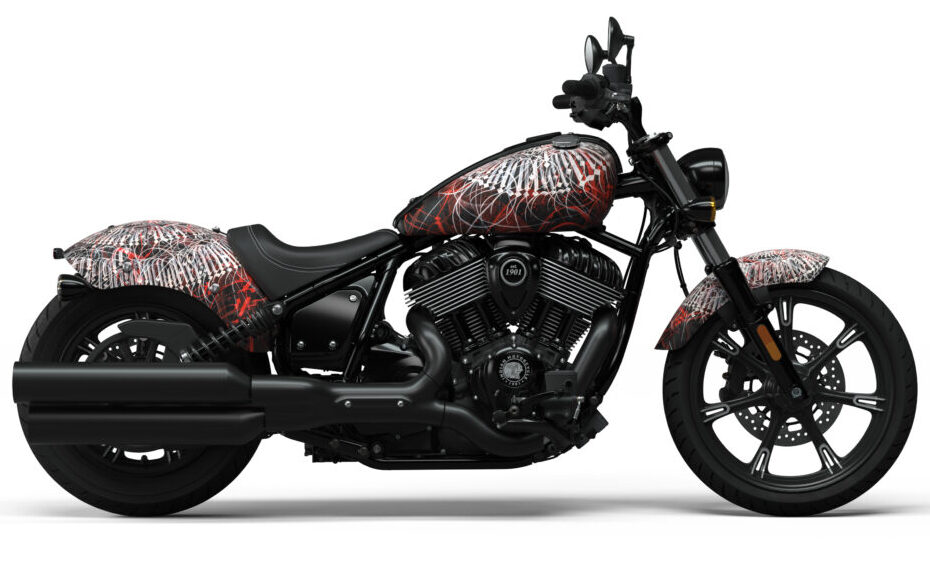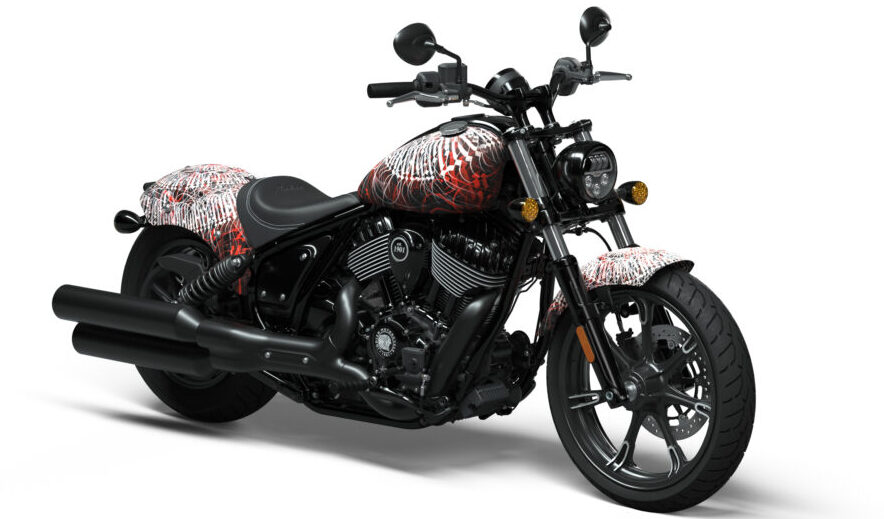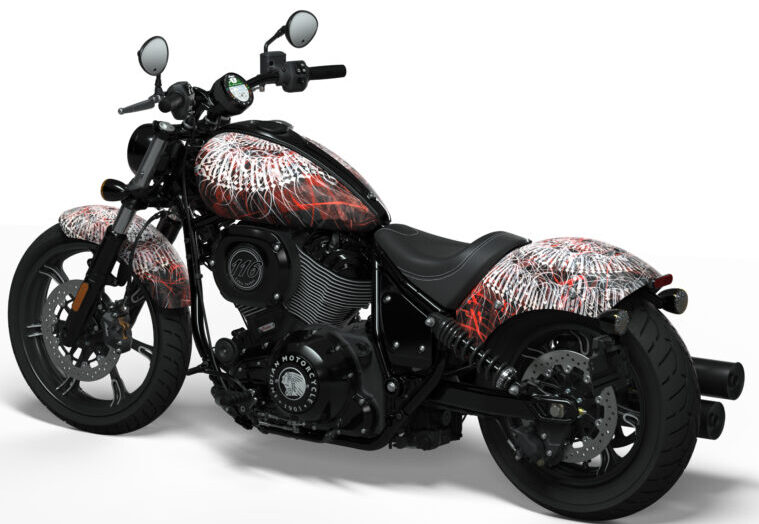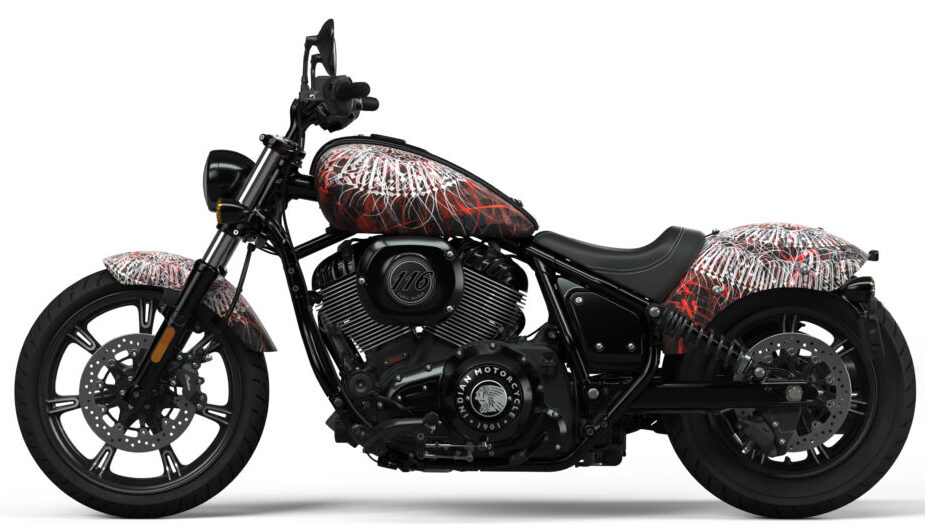 For more information about
Indian Motorcycle's Test Ride and Win tattoo competition
visit
indianmoto.it
This prize draw is open to individuals who are resident in the following countries: Austria, Denmark, France, Finland, Germany, Norway, Poland, Spain, Sweden, and Switzerland.
Read the interview with Mayonaize here!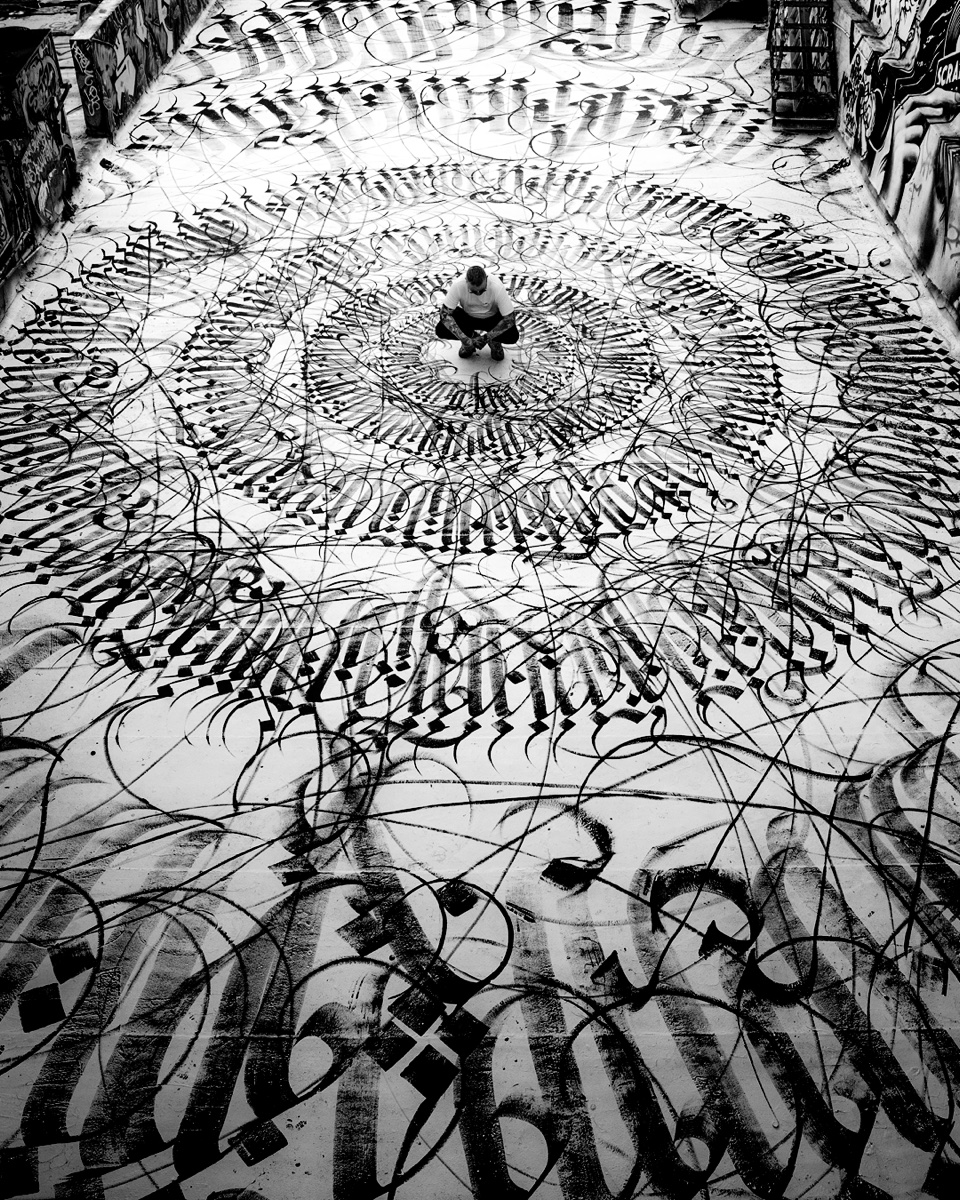 Mayo, can you tell us a little bit about yourself?
Hi my name is Mayonaize, or Mayo. I'm a New Zealand born artist living in Melbourne, Australia. I specialise in a type of calligraphic script. I tattoo most of the time and I paint as well. I dovetail those two practices together to push the same kind of aesthetic across whatever mediums that I'm painting on. I own my own shop here, Capital Tattoo, specialising in lettering specifically.
I've done all sorts of different styles over the years, but I've wound up just doing my own visual style of lettering.
I travel around the world painting and tattooing, doing large scale murals, big tattoos or canvas and I've had a few exhibitions.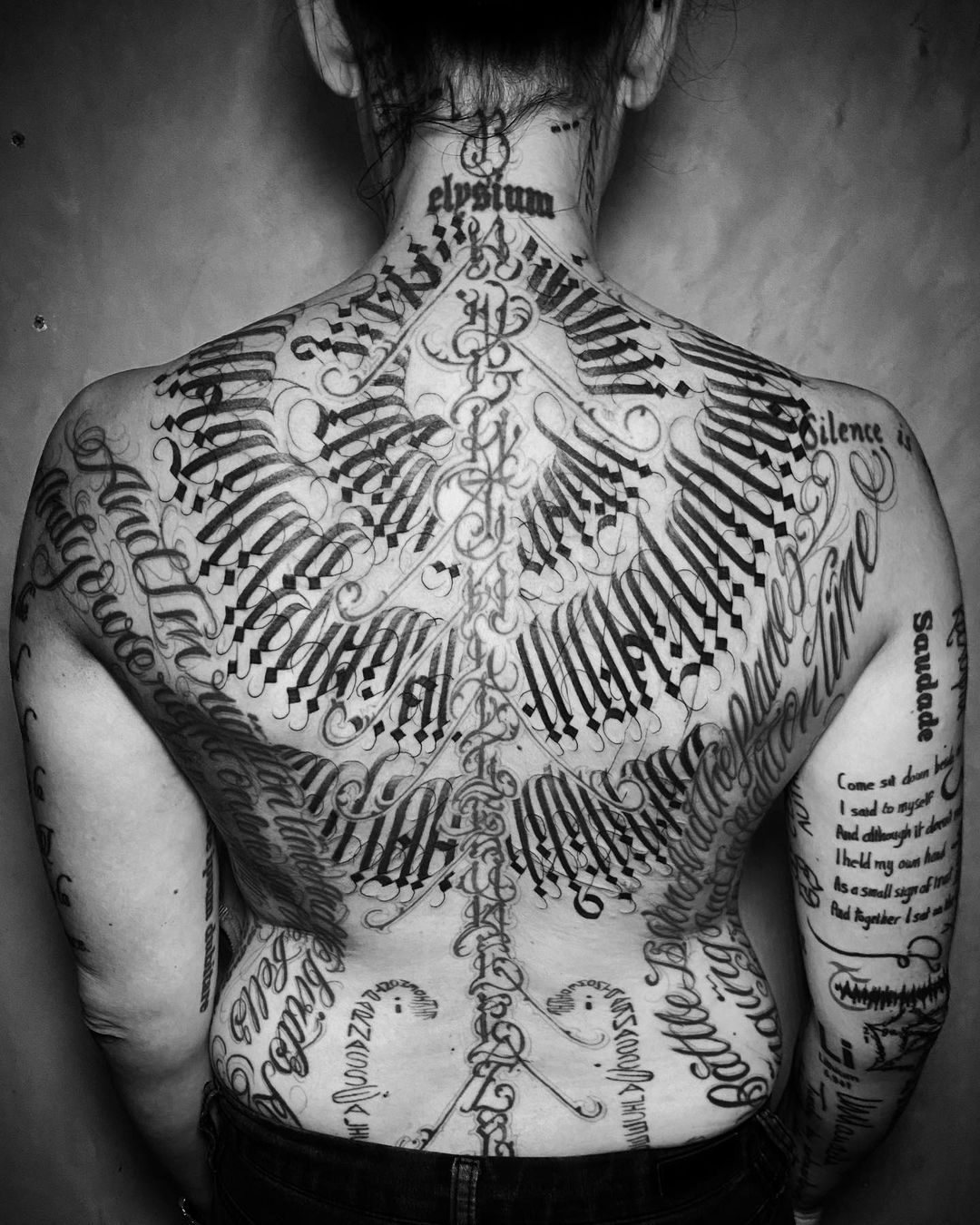 How did you get into tattooing?
I used to draw tattoos on my friends at school when I was really young. I've always been interested in tattooing. I remember my mate got a tattoo of the Alien from Ridley Scott's movie, and I thought it was super cool and always wanted to get a tattoo. So I'd draw them on my friends and then I started drawing them on myself and then ended up going into the local shop and getting a tribal tattoo on my left delt. And that's when the love affair started.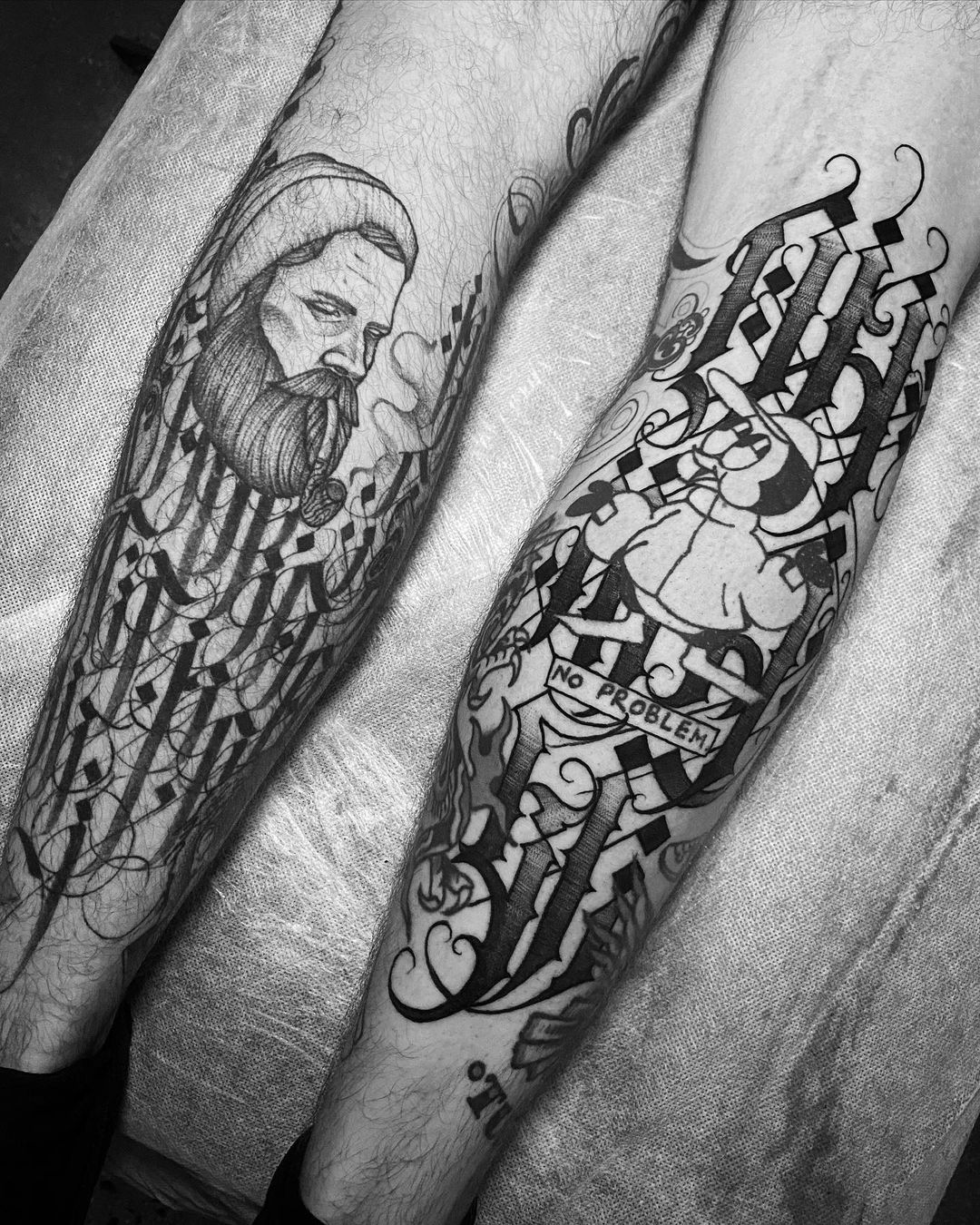 What motivated you to pursue a creative career?
I don't think I was motivated per se to pursue a creative career. I was a qualified house painter. I had a passion for tattooing and painting. Just through getting tattooed and seeing it happen, it made me want to be a tattooist, not looking at that like it was a creative career.
That was just all I wanted to do, was do tattoos.
Later on down the track, I guess I had the realisation that I've got a creative career and then I started directing that towards what I thought was better for me, which would have been the script style of lettering, and then I started to realise that, you know, not everything is infinite, everything's finite.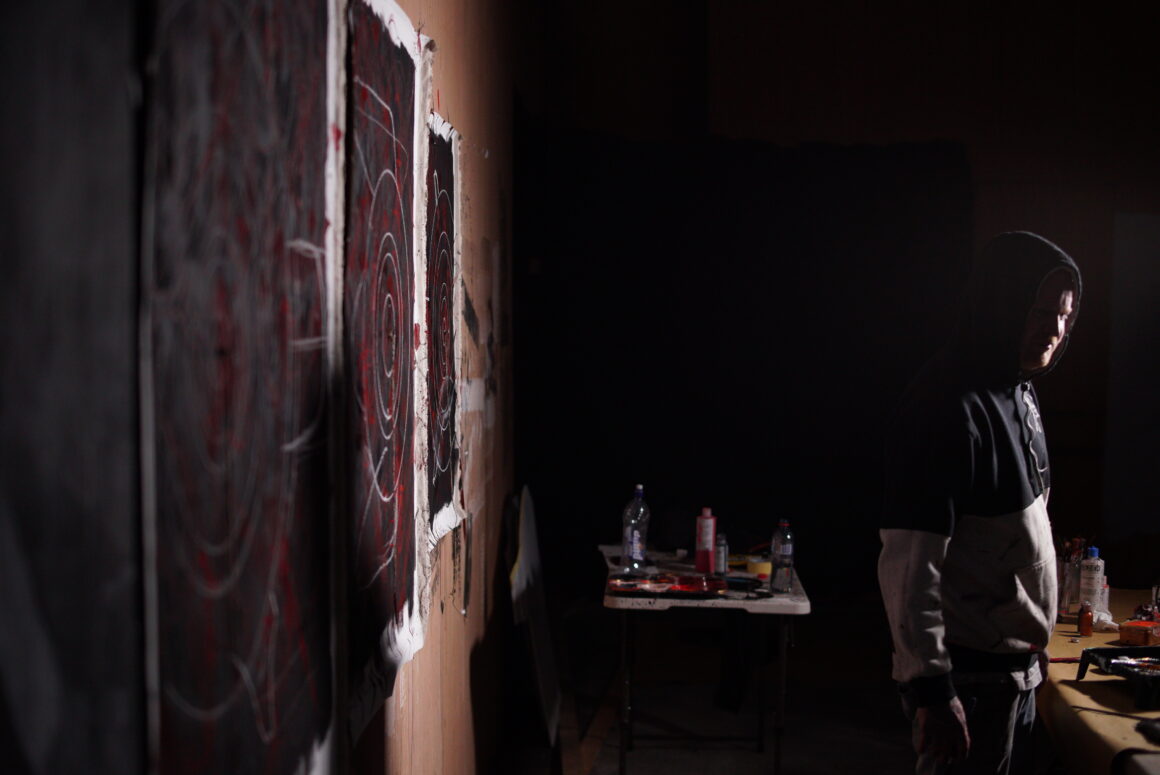 So even your style of tattooing, or the job itself, can run out. I wanted to have something that was closely related to what I do but have a slightly different avenue to pursue so that if things did take a downhill slide, I can transition into the painting side of things. So I did a lot of murals, exhibitions, commissioned canvases and artwork, so that was something that I could dovetail into the tattooing to make my overall career stronger.
The house painting really helped my process, because you have to be very meticulous and methodical with the way you go about painting a house. You don't get paint on things; everything's organised; you know where it all is and you have to do it all in order. I think it definitely speaks to what I do now.
Everything I do is very much process based and in an order, so I think it helped me organise myself in a professional manner, especially when I went on to jobs for murals and people's houses or beautiful, expensive homes, making them feel confident that you're not just going to spill paint all over their floor is pretty important. I definitely still have the same kind of relationship with paint as I did when I was house painting, except now I'm just painting stuff that's fun.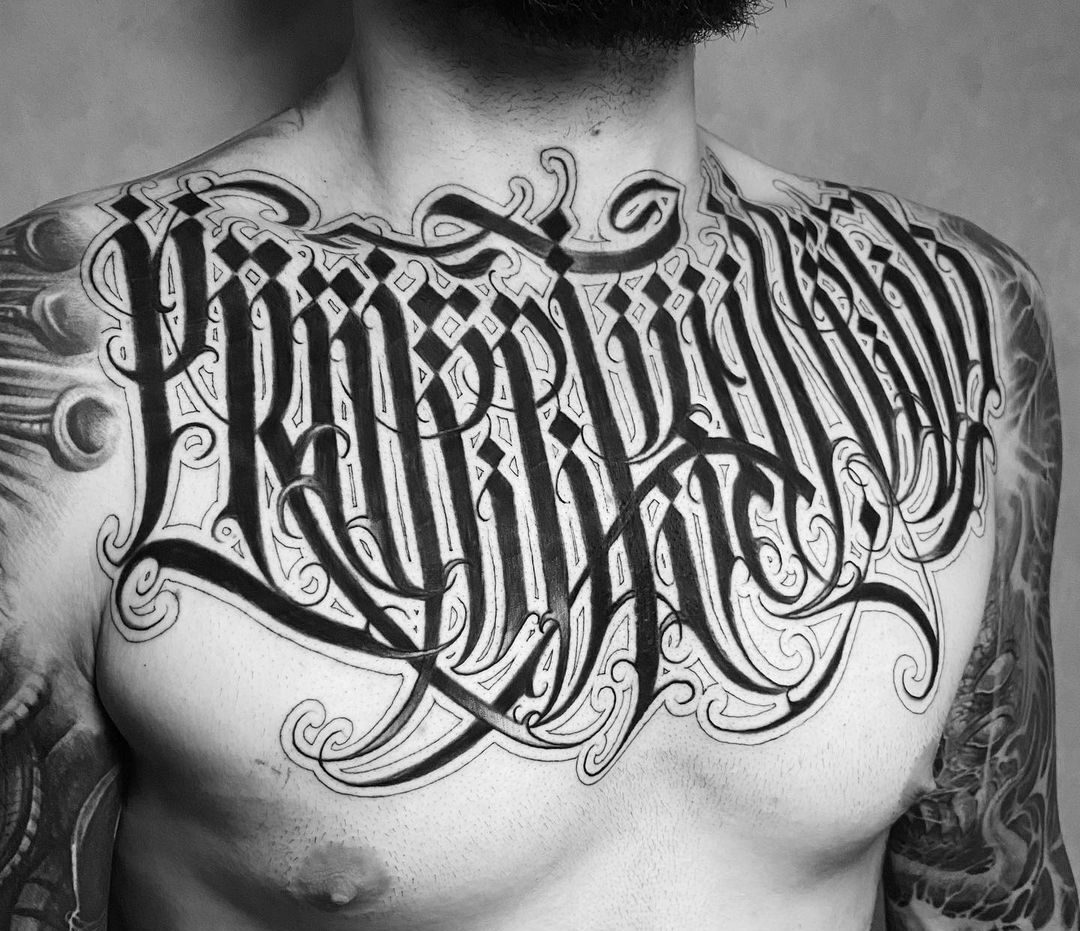 What has been the most interesting or challenging part of the No Regrets x Indian Motorcycle project?
I think the most interesting part is the way that all the panels fit together on the bike. I love the machining of the bike as well. So I was really interested in hero-ing that. Indian was the first American motorcycle company founded in like 1900, so that's pretty amazing. You don't want to just do something that's not related to the flow of the bike.
So I found that very interesting. There's a flow, there's lines to a bike like there's lines and flow to a body or a wall.
I found it interesting having the motorcycle create the composition for the pace rather than just trying to put a flat image on each panel I wanted it to look like it was one piece over the whole bike.
Has it been different designing across the Indian chief compared to the large-scale work on the body? Are there similarities you can draw from?
Yes, there's definitely similarities with the bike as to a body – the focal point of the bike would be the tank and the engine beneath, so you want to hero the parts of the body that's the most interesting. There's a lot of similarities with all design across all boards and I try to take the same approach with everything that I'm doing whether it's a wall, a body or a bike.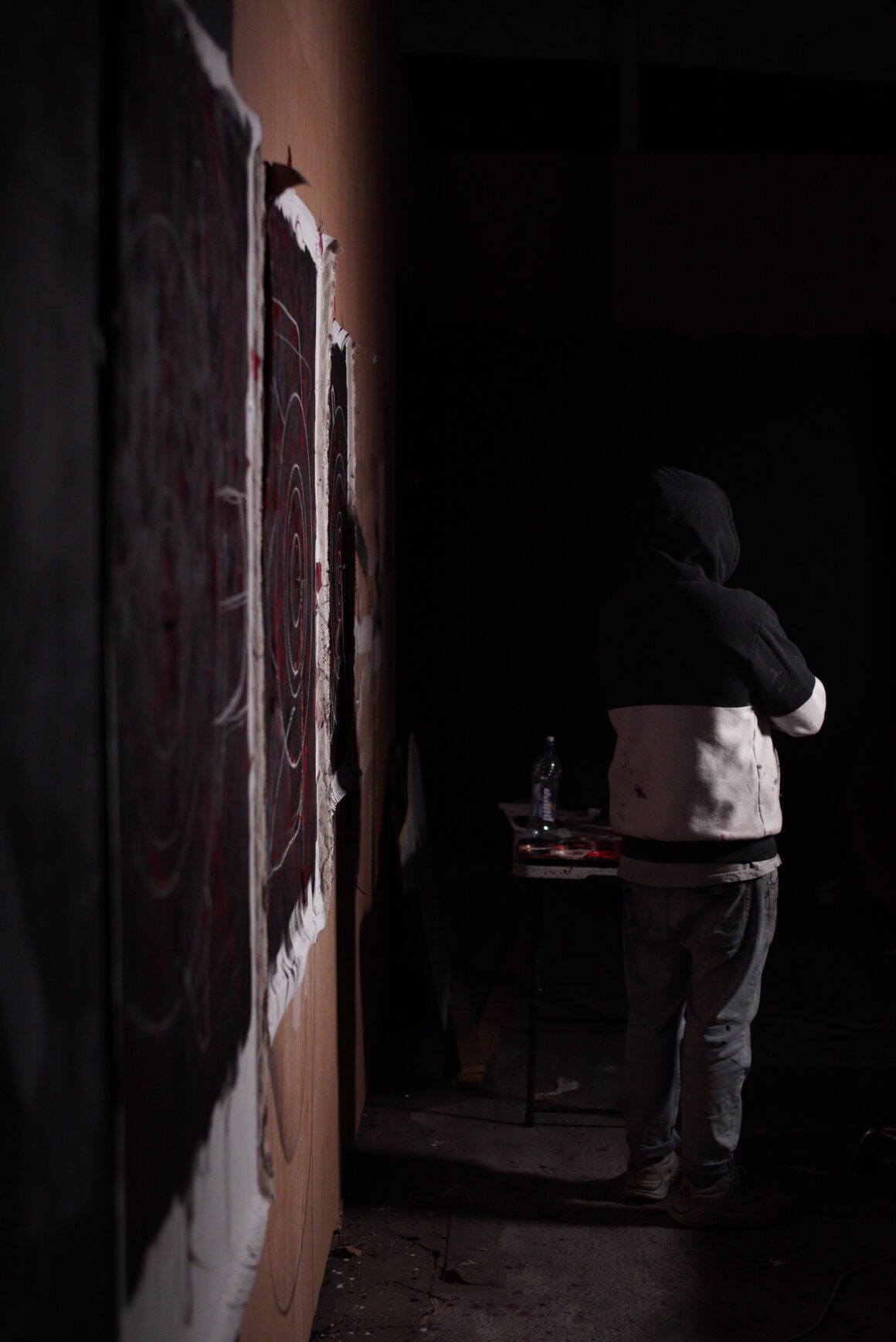 Is this the kind of bike you would drive?
I wouldn't call myself a biker, but I'm definitely a motorcycle enthusiast. I have three bikes and they're more street bikes. I have a Yamaha XS 700 scrambler and then I have a GS XR 600, that's a super-fast, crazy bike. And then I have my pride and joy which is the MV Agusta Dragster RC, an Italian sports bike. So they're pretty different to the Indians, but I definitely appreciate bikes across the board. And I think the Indian Chief is a really nice-looking bike.
All the profits will be going to the Mastectomy Tattooing Alliance to fund areola tattoos for breast cancer survivors. Is this a cause close to your heart? Has anyone you know been affected by breast cancer?
Cancer in general is something that's close to, I think all of our hearts. Luckily enough, I can't say that some close family members or any of my immediate friends have suffered from breast cancer, but I do have friends that have suffered from other types of cancer and obviously being a tattooist and having the skill to tattoo a nipple back onto a breast to give a woman her confidence, I think is a great cause and is definitely close to my heart. You know, tattooing, we deal with all sorts of people with body issues, and we help them feel confident in their bodies. So if we can do just a little thing to help out people that are going through that battle, I think it's really important.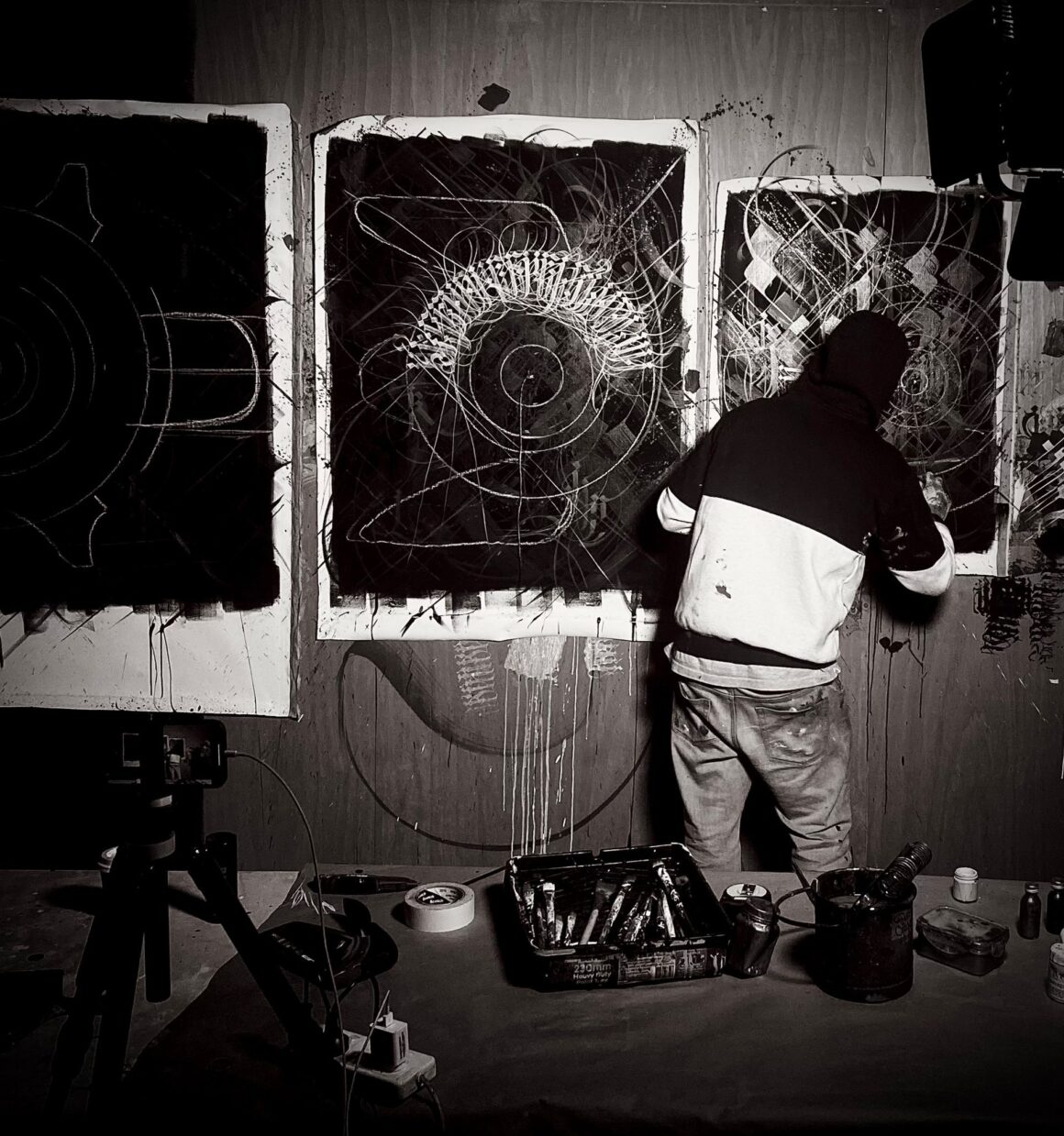 What do you think about bigger brands inviting tattoo artists into the creative design process on their products? Have you done anything before with a brand?
I think it's really good. Obviously, we try to expand our brands as much as possible and there's nothing better than to be piggybacked by a huge brand to push your stuff into their market. That's a win-win for everybody. I've done some big projects over the years, for example designing and branding with Nike, but one that's probably more in line with this project is I painted a G-Wagon for Mercedes Benz in conjunction with my first solo art show. That was that was an amazing project painting a super expensive car like that, it was a great experience.
Your bike will be raffled off, why should people buy a ticket for your bike?
I think it's so original. And it shows that you have an artistic eye. It's not a recognisable image, it's a harmonious pattern across a bike and the pattern's there to hero the parts of the bike. So I think it shows that you appreciate not just the paint work, but you appreciate the hard work that Indian has put into making their bikes look beautiful.
When I design anything or paint anything, I want it to work harmoniously with its environment.
I want the design to show how beautiful the bike is, but I also want the bike to speak about the design. And then obviously the design is meant to be about unison or harmony with the parts of the bike. I can see the tank and everything is so nicely flowing together. I wanted the design to have that that unison feeling as well. And I think that speaks to the way you should feel when you ride the bike as well. You should feel like you're in unison with the machine.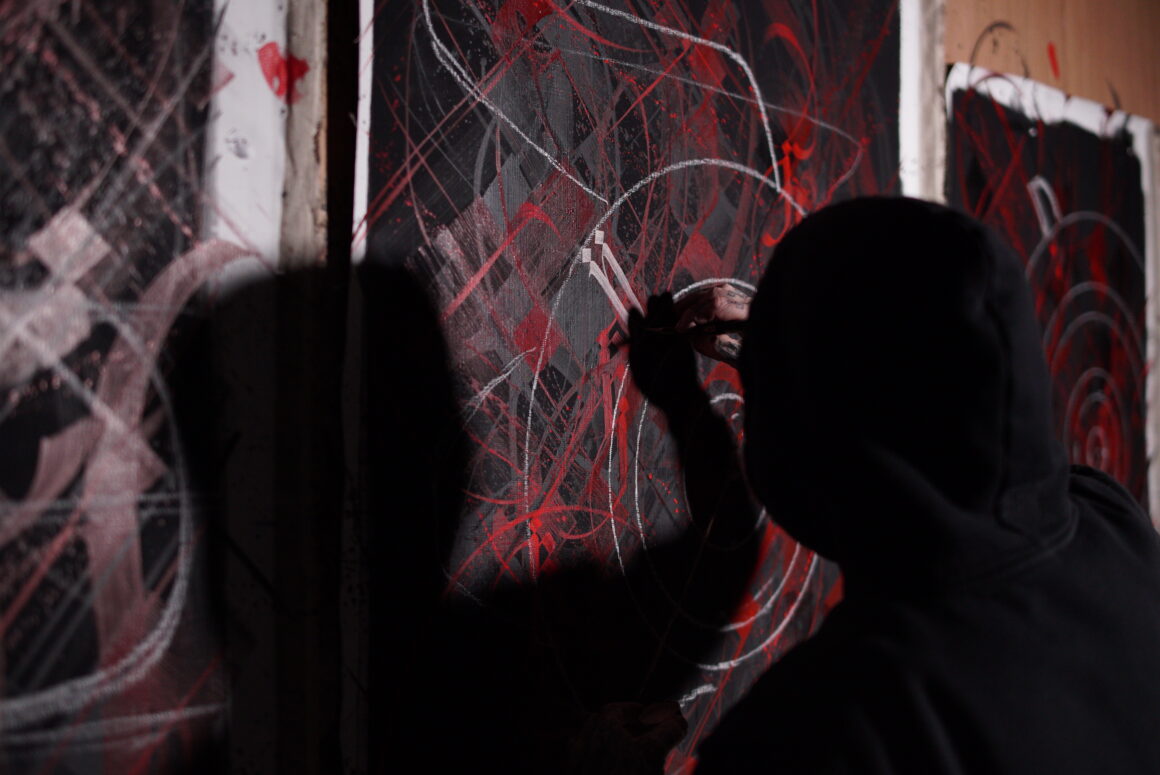 About No Regrets: 
No Regrets is a global leader in the tattoo industry having established a group of luxury studios based in the UK. Since opening their first Cheltenham studio in 2008, owner Ben Lakin has launched multiple successful studios in London, Bristol and Exeter. Over the last decade, No Regrets has carved out a reputation for pushing boundaries and challenging stereotypes within the industry. Their studio spaces are brimming with thought provoking artwork and high-end décor. As well as attracting guest artists from around the world, No Regrets is home to award-winning resident artists who are constantly expanding their styles and expanding a network of clients who covet their work.
About Indian Motorcycle®:
Indian Motorcycle is America's first motorcycle company. Founded in 1901, Indian Motorcycle has won the hearts of motorcyclists around the world and earned distinction as one of America's most legendary and iconic brands through unrivalled racing dominance, engineering prowess and countless innovations and industry firsts. Today that heritage and passion are reignited under new brand stewardship. To learn more, please visit. To learn more, please visit
www.indianmotorcycle.eu!