He is part of a US based group called The Walldogs and every year, they go to a different town in the States and paint about 15 murals in 4 days, commemorating and celebrating the history of the town.
This year the town was in Iowa, and his mural is located in Millerton, which is the birth place of tattoo legend Lyle Tuttle. We talked to Dan on this occasion and we discovered a multifaceted artist whose work moves between lettering, graphics, murals and various artworks, all marked by Traditional lettering and a very strong link with the tattoo art, as Mr Dan (paintedbydan.com) himself tells us in this interview.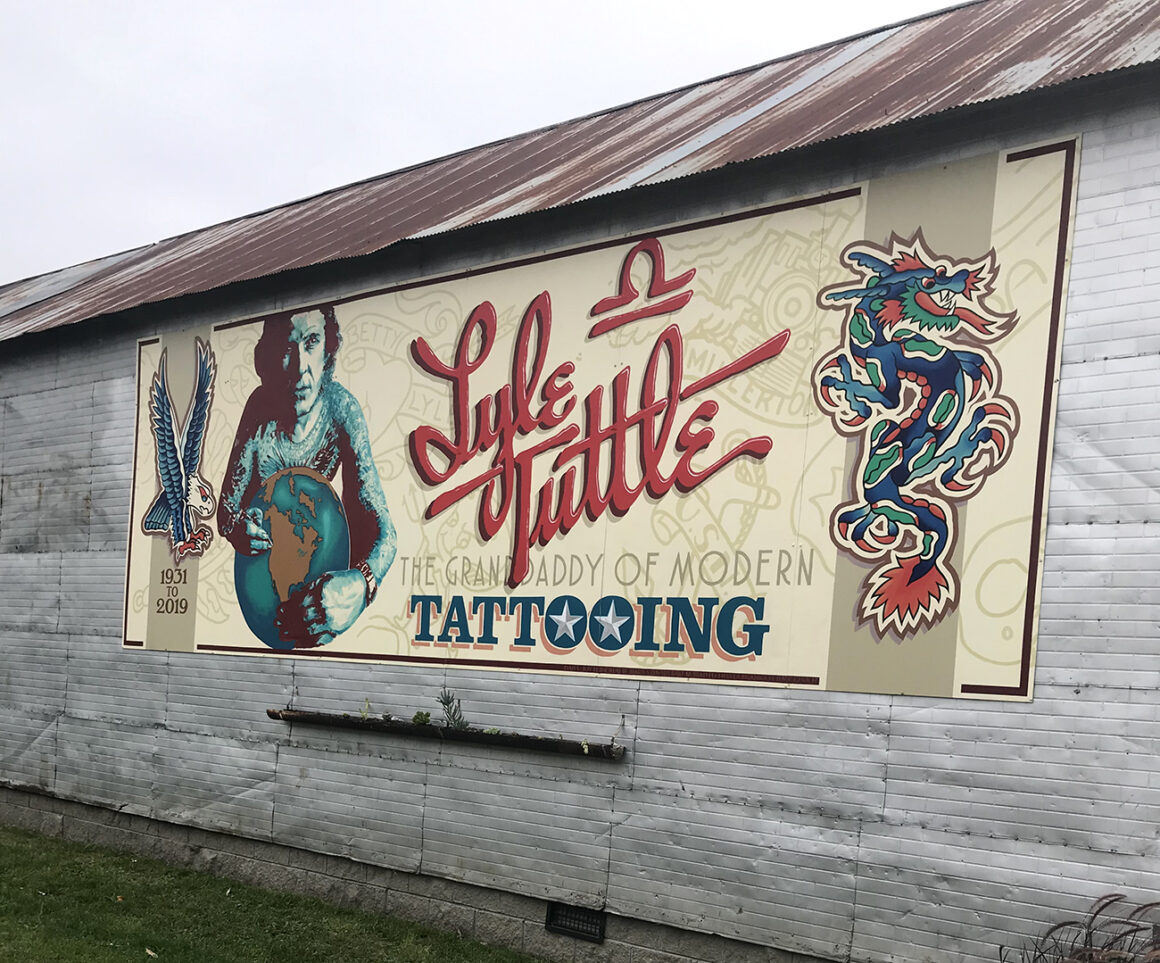 Hi Dan welcome to Tattoo Life. You are an all-round artist, ranging from paintings to murals. But most of all you are famous for your lettering. What is your background and how did you develop this artistic side of art?
My interest in Lettering (traditional signwriting) comes from a mixture of my first job as a teenager which was working in typography for book publishing, and my lifelong obsession with Art, and painting of all kinds. I've done a lot of Art related stuff, but traditional signwriting, or hand lettering is so varied and interesting that I can't see myself doing anything else for a while yet. I learned from the great Signwriters that I have met, there are so many out there, people like Mike Meyer, David Kynaston, Pierre Tardif and Mick Pollard.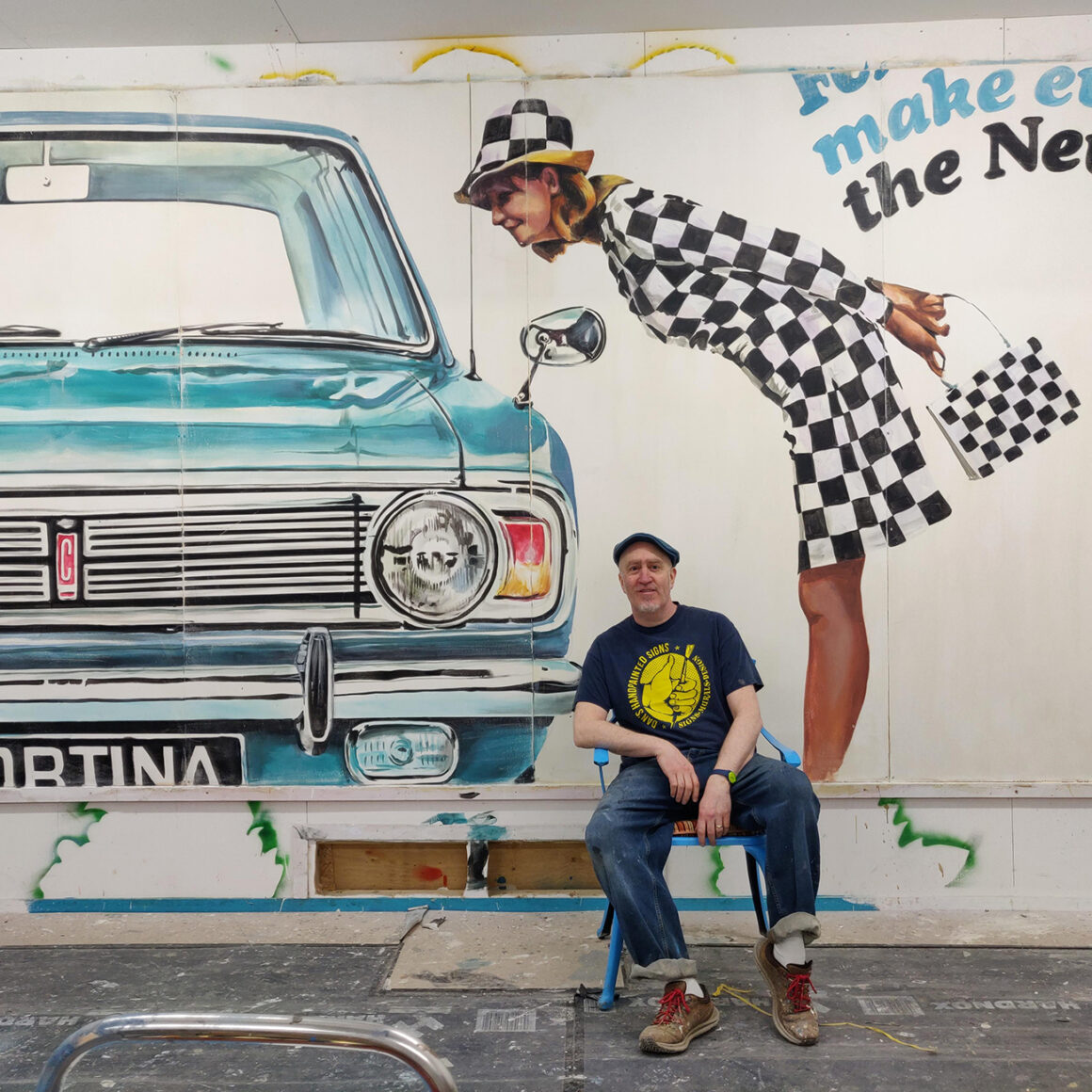 Your work is very closely linked to the tattoo industry, you have done several tattoo shop signs is that right?
I've done a handful of tattoo shops, but I'd always like to do more. It just happened that I have had a run of tattoo stuff lately. Having travelled to Australia in December to paint a mural, and Florida in February to paint another, I thought I would get another tattoo, of a swallow with a paintbrush in its mouth. So I contacted Alex Bach and he sorted me out.
A few days later, I got a call from my friend Nancy who organises our mural festivals in the US telling me I was the lead artist for a tattoo mural.
Then, on the week before leaving for the U.S I was contacted by a local tattoo shop, Who Me Tattoo Parlour about doing their shop. So I started before, and finished after my trip, everything tattoo.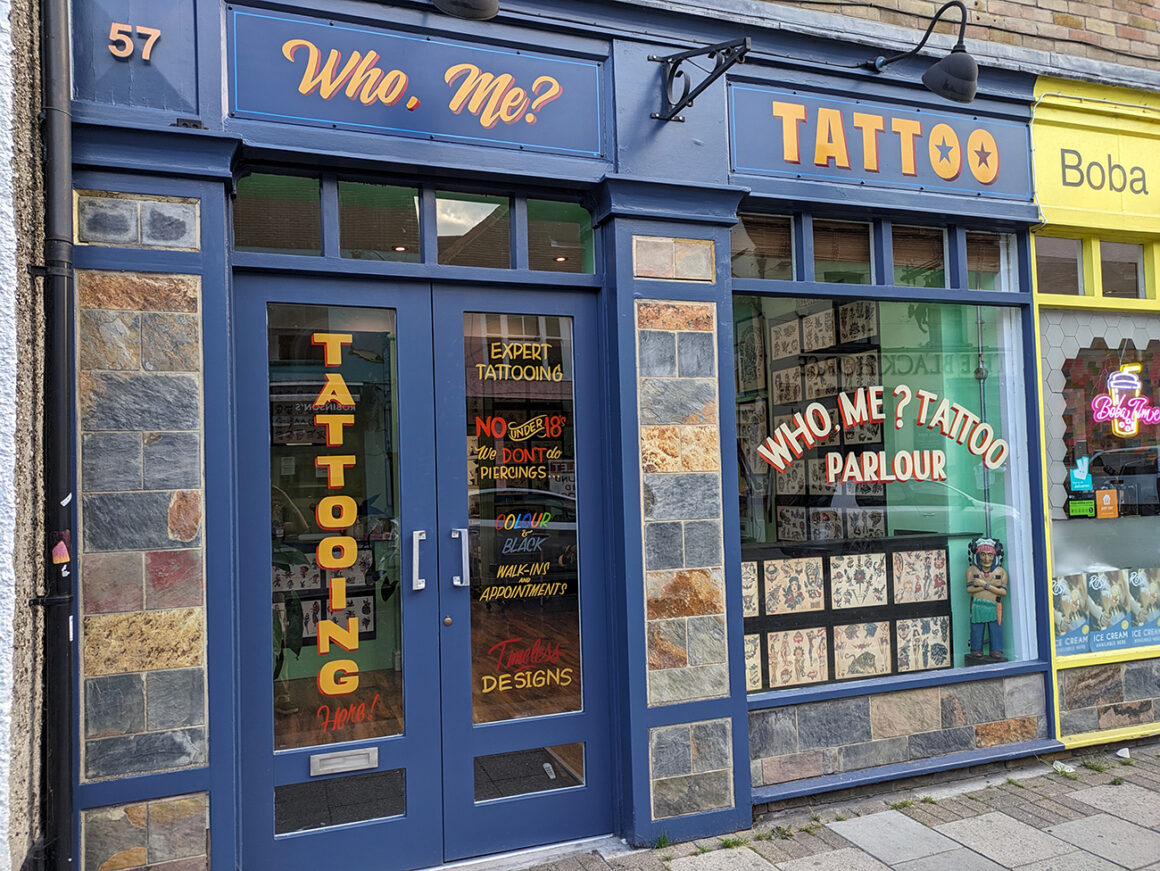 And talking of tattoos, you recently did a huge project dedicated to Lal Hardy: would you like to tell us about it?
Well, I am part of a US based group called The Walldogs. Every year, we go to a different town in the States and paint about 15 murals in 4 days, commemorating and celebrating the history of the town. We work for free, and we stay with local people, eating our meals together and having a lot of fun. This year the town was in Iowa, and my mural is located in Millerton, which is the birth place of tattoo legend Lyle Tuttle. He is credited as being one of the people who brought tattooing into the mainstream.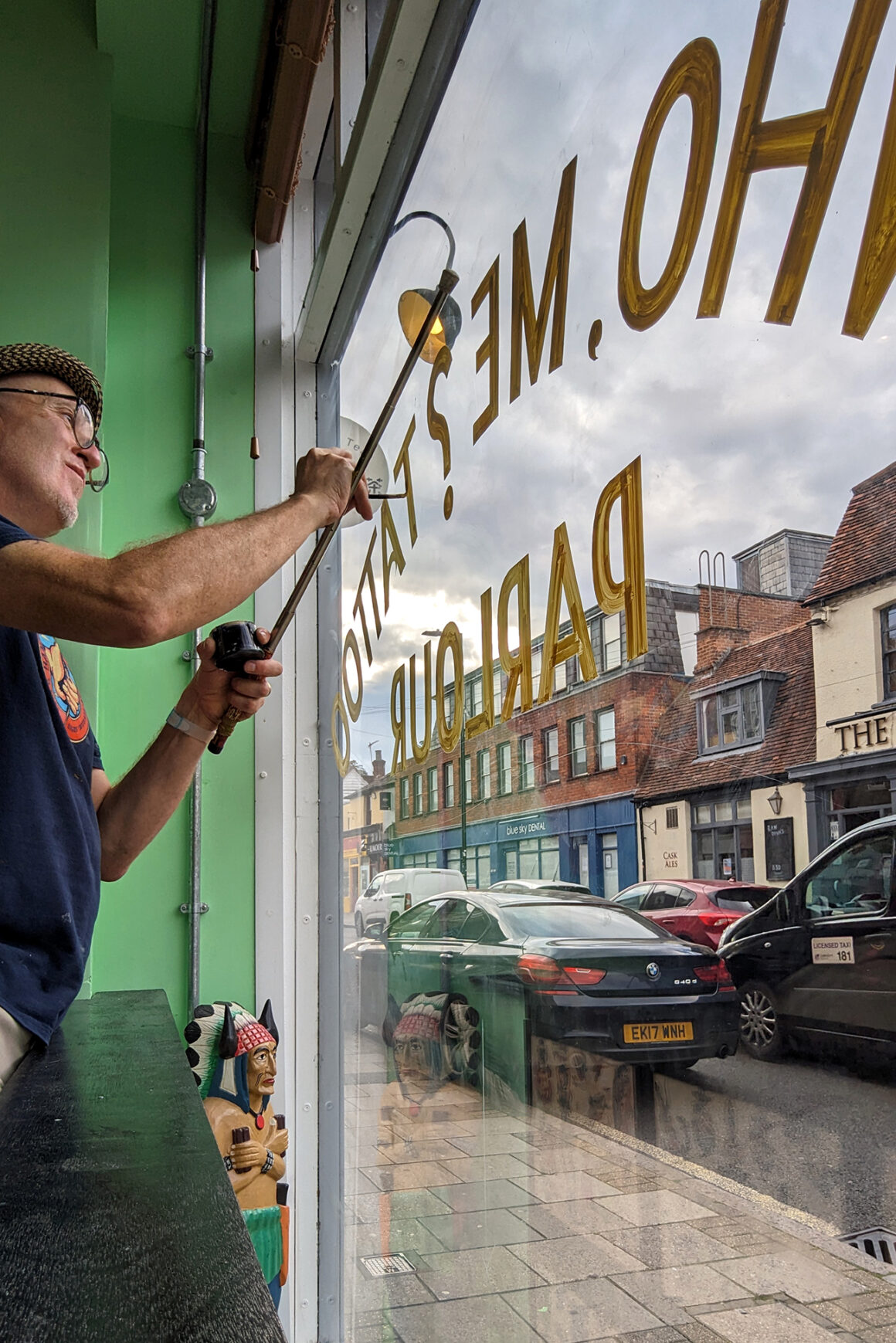 He moved to California, and that was where he became famous. He worked on rock stars like Cher and Janis Joplin was quite ground breaking and he made the cover of Rolling Stone magazine in 1970. Apparently he said this:
"One hundred percent women's liberation! That put tattooing back on the map. With women getting a new found freedom, they could get tattooed if they so desired. It increased and opened the market by 50% of the population – half of the human race! For three years, I tattooed almost nothing but women…The women made tattooing a softer and kinder art form."
How did the idea come about?
Well, when we heard that Lyle was born in the area, we knew he had to be included and have a mural of his own. The owner of the building is a lovely lady who was very supportive, and keen to bring artwork to their little village. So, I started the design by looking at Lyle's tattoos and flash artwork.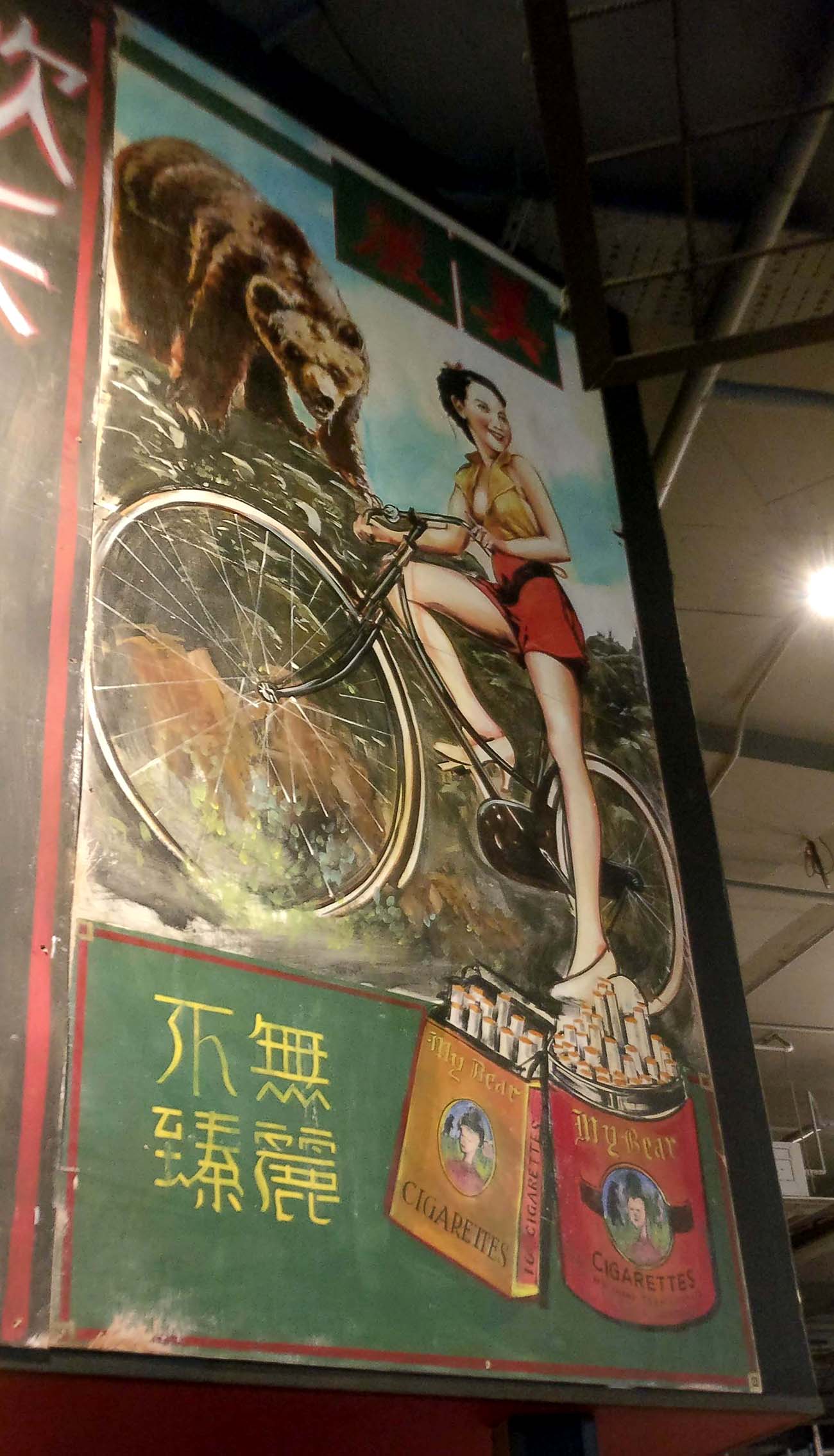 The colour palette comes from his flash mainly, extended here and there where necessary. The shape of the design is quite long and thin, so I broke it up with the vertical panels at each end containing a nice tattoo design. The 2 main parts are the portrait and his signature.
The portrait is based on the iconic Rolling Stone cover, but instead of a woman's bottom, he is holding the globe in his hands.
This is because he claimed to have tattooed on every continent. I painted it in 2 colours to tie it in with the rest of the design, but also to give it a look and feel of the kind or Rock Star image which was popular in those days. The signature is as he did it, but with a little special treatment to make it pop and work with the composition. In the background are examples of his flash, with an added train design, because the place would not have been there without the railway.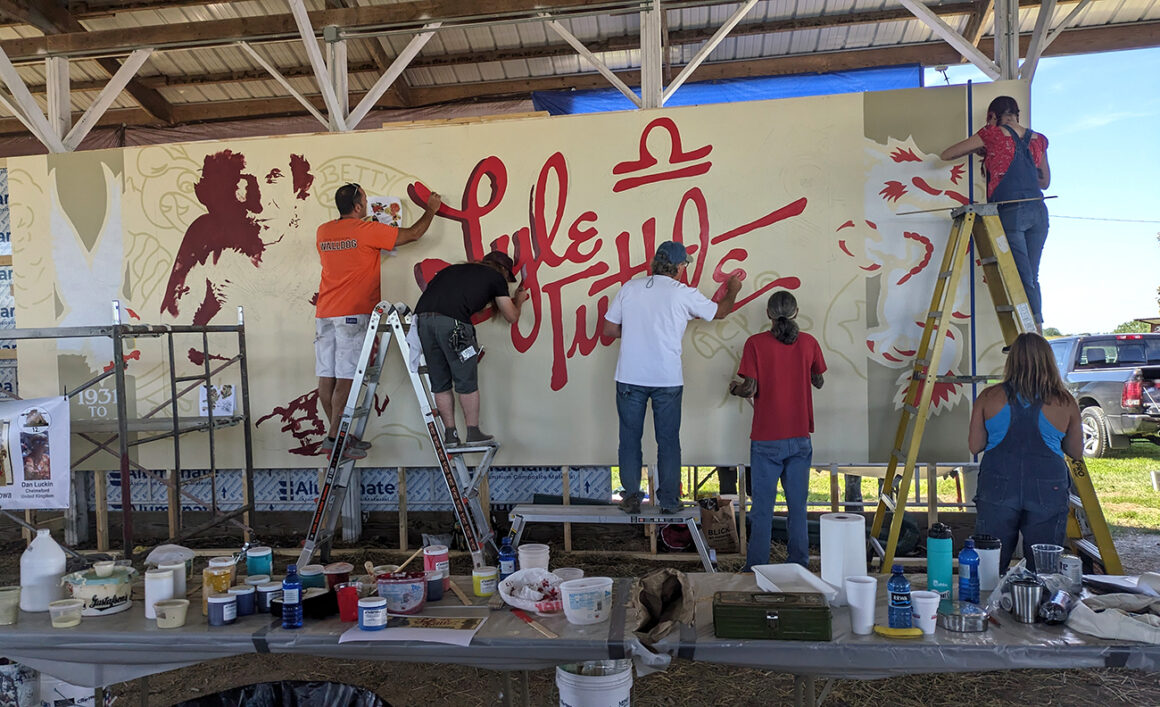 When you make murals do you work with a particular crew?
Kind of. Within the Walldogs, people tend to find themselves in smaller groups, kind of like 'Birds of a feather flock together' … We come from all over, so sometimes it's hard for people to make the journey. This time we had Bart a signpainter and custom car/bike guy from Denver who is a close friend and road trip buddy and his girlfriend Brianna who's a photographer and a welder.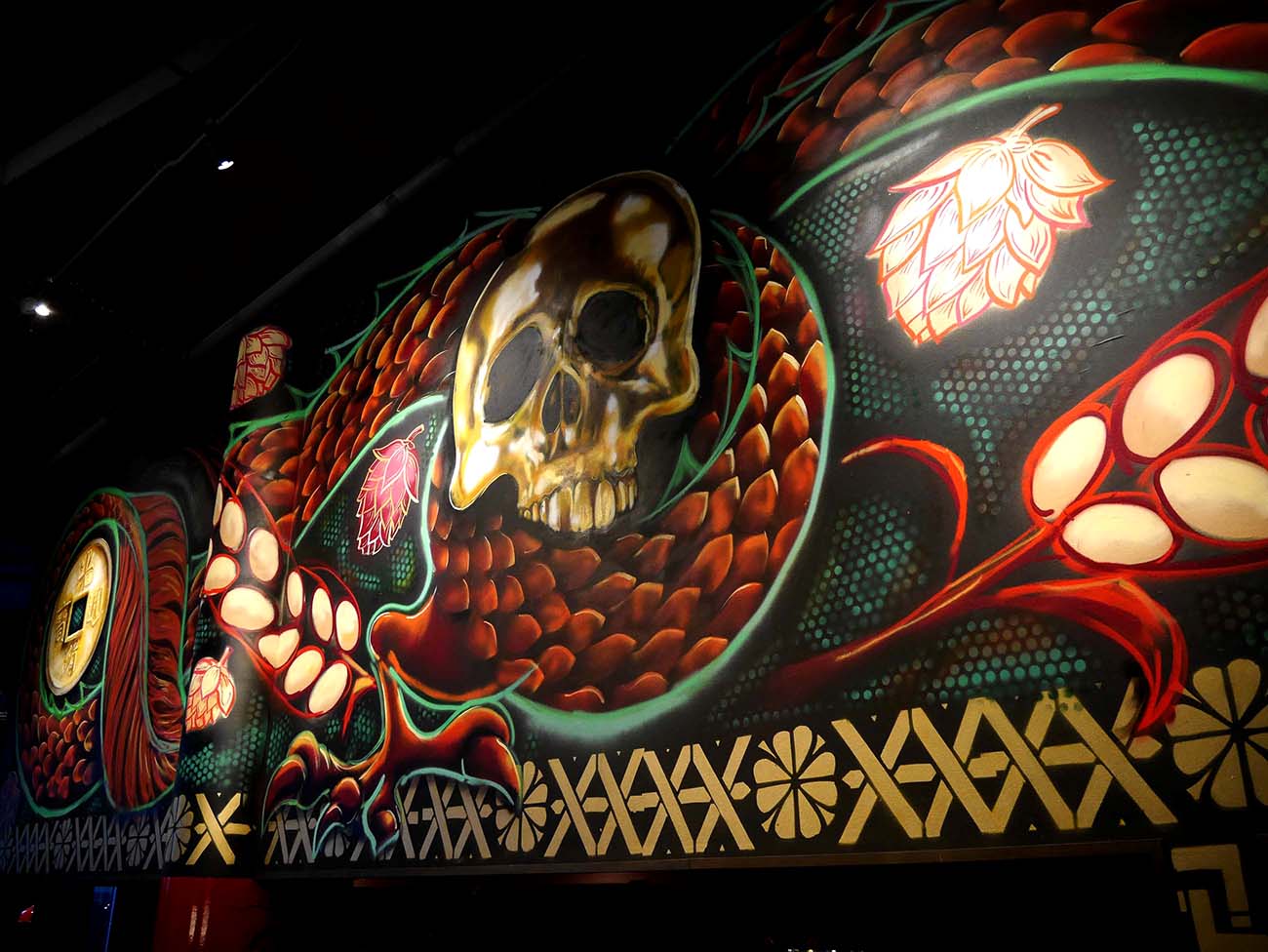 We had Hot Rod Jen, who is an amazing pinstripe artist from Pensylvania and her old school friend Cheryl who makes stained glass stuff. We also had Brad who is a tattooist from St Louis that I met a few years ago and have been waiting to catch up with again. We also had a Maris and Dave, who were Original Walldogs, starting the group 30 years ago. Oh, and Joy, an artist from Indianapolis who was making a movie about the event.
The style in which you create your lettering is very Traditional American, where do you get your inspiration from?
I collect old sign and lettering books, and follow people on social media. Also, I take hundreds of photos when I am travelling in the States. Recently spent some time in Chicago which was fantastic, so much great stuff to see. I visited a collector who has a warehouse crammed full of old signs, posters and stuff like that. Just driving down the road there is so much stuff that I go home really inspired!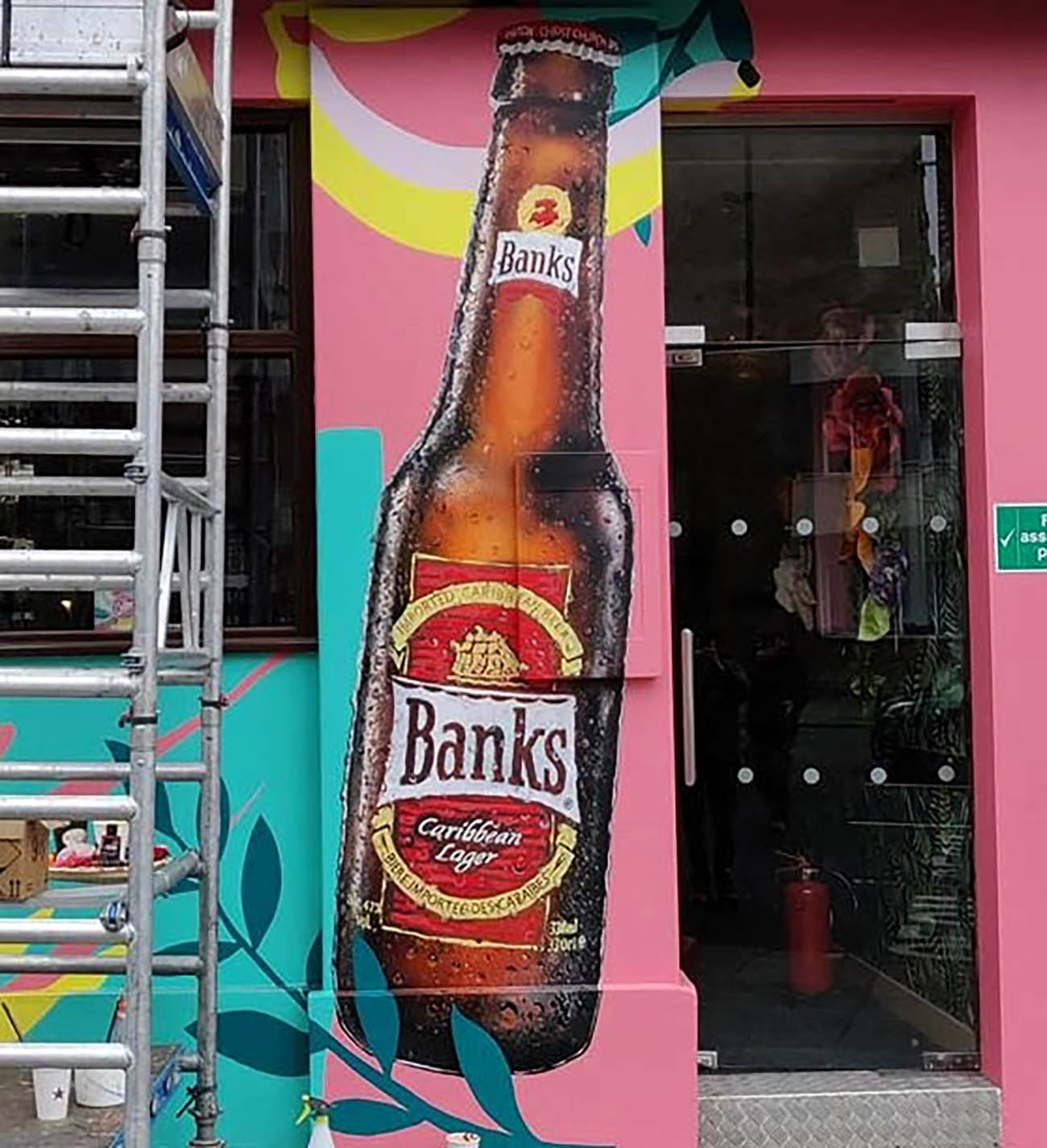 What is the difference in your creative approach when you create a mural compared to when you create lettering for example?
When I am working on lettering, there are rules to follow which you have to follow in order to make work which has good quality and is working for the customer. With murals, there is more room for creativity.
The design has to work, of course, there are priorities, things which are more important that you want to include.
But there is so much freedom, and I love working on a big scale. When I grew up, there was hardly any street art or murals in England. The first murals I saw were in an exhibition when I was 18. It was the work of Diego Rivera, and it inspired me for life. His work is still amazing to me, and one day I would like travel and to see more of it in person.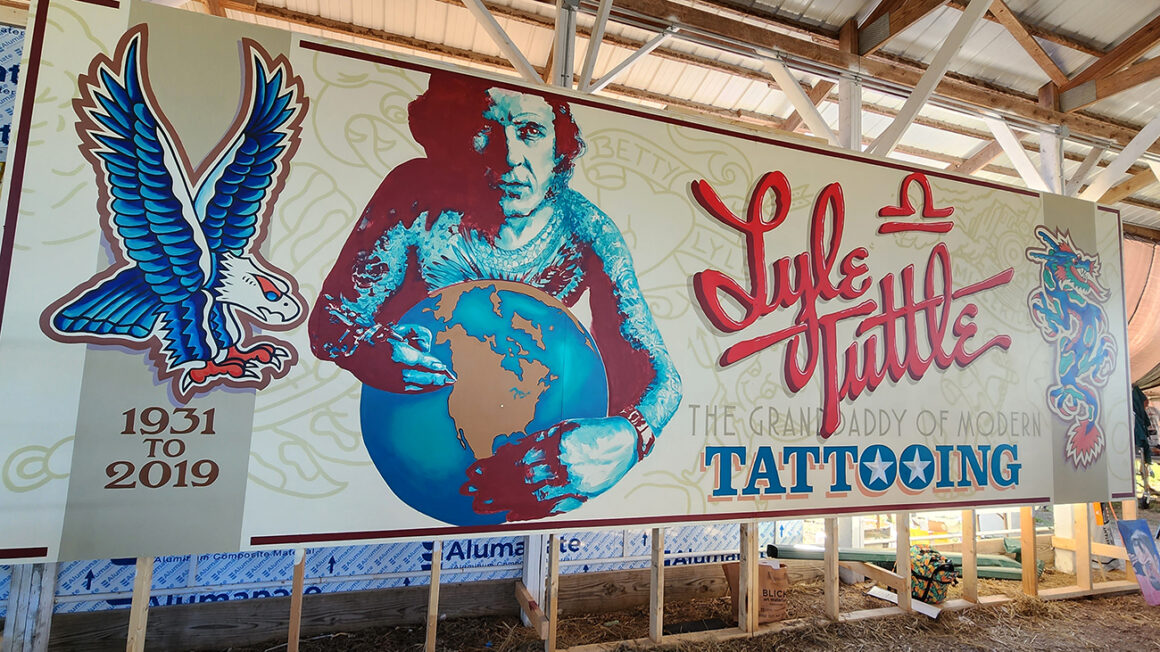 To conclude, is there a project you hope one day to be able to do?
I would like to do something more towards tattoo imagery, taking this idea further, maybe looking at the work of modern tattoo artists like Grime, crossing over with skateboard stuff like Jimbo Phillipps.