While waiting for his brand new 'Cartelhood Tattoo Gallery' to open next May, we met this Peruvian artist who likes not to impose one style on himself to embrace the whole tattoo art.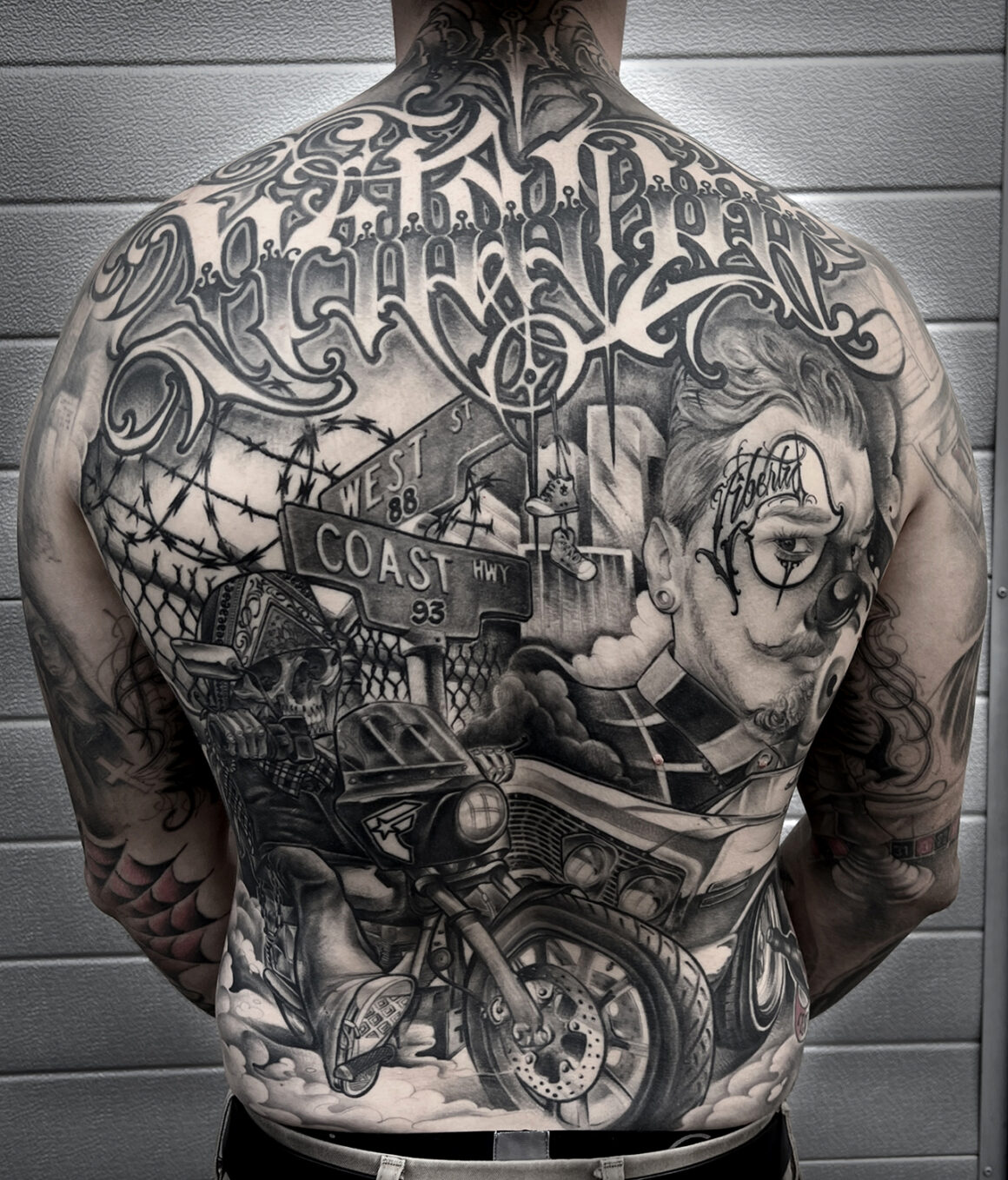 Hello Lucho, you recently turned 41 years old. How has been your adventure in the tattoo art community so far?
Personally I still feel like a teenager! (laughs) In any case my brain still has 1000 ideas. I have two hands and I dream of always using them to create, to tattoo, draw and realize many crazy projects.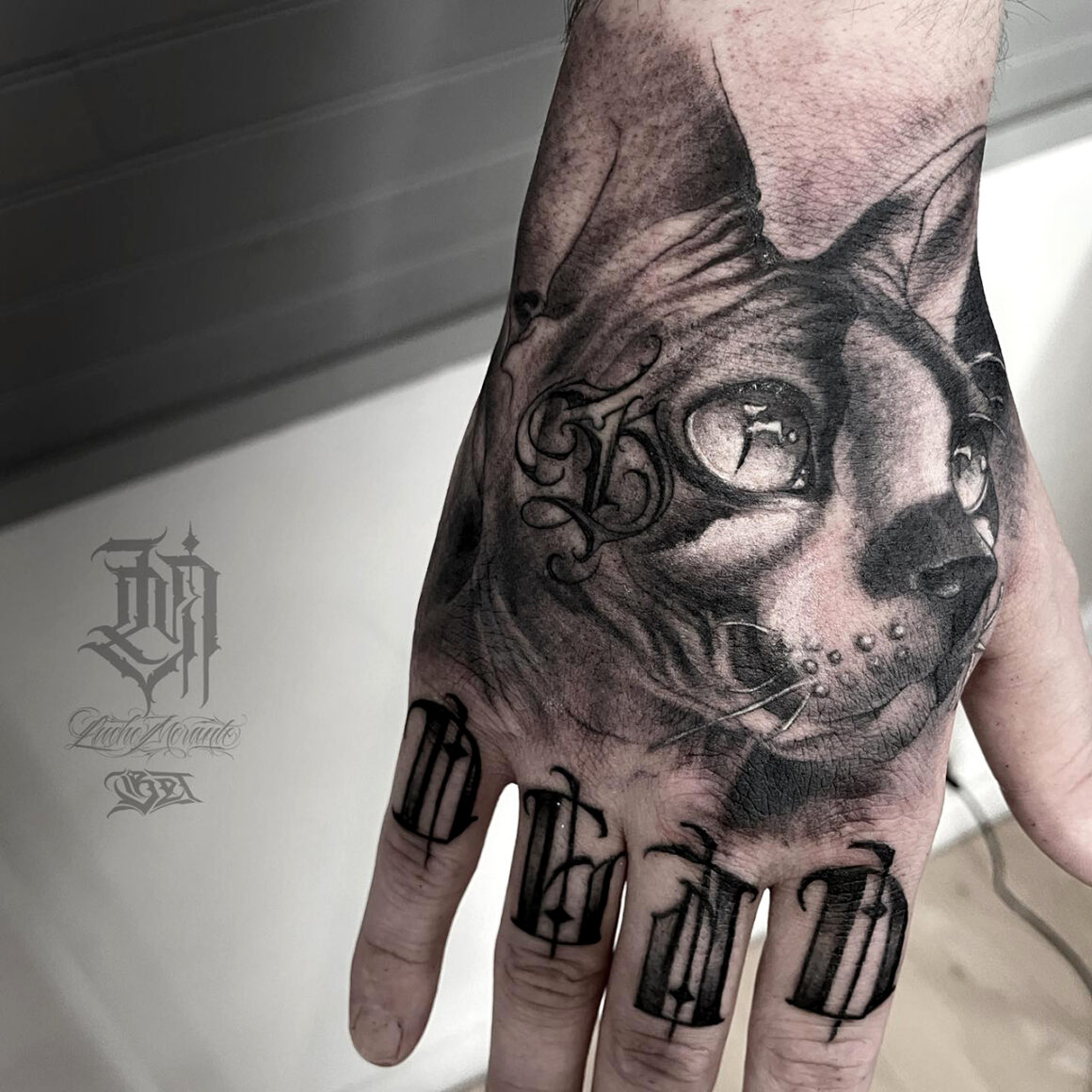 Already 23 years in the tattoo business, I can say that I worked hard and met so many beautiful people, I gained a lot of artistic and personal experiences and I even learnt French! (laughs) I touched my first machine in Peru, then moved to Spain and had a real opening to Europe and for several years now I have been in France.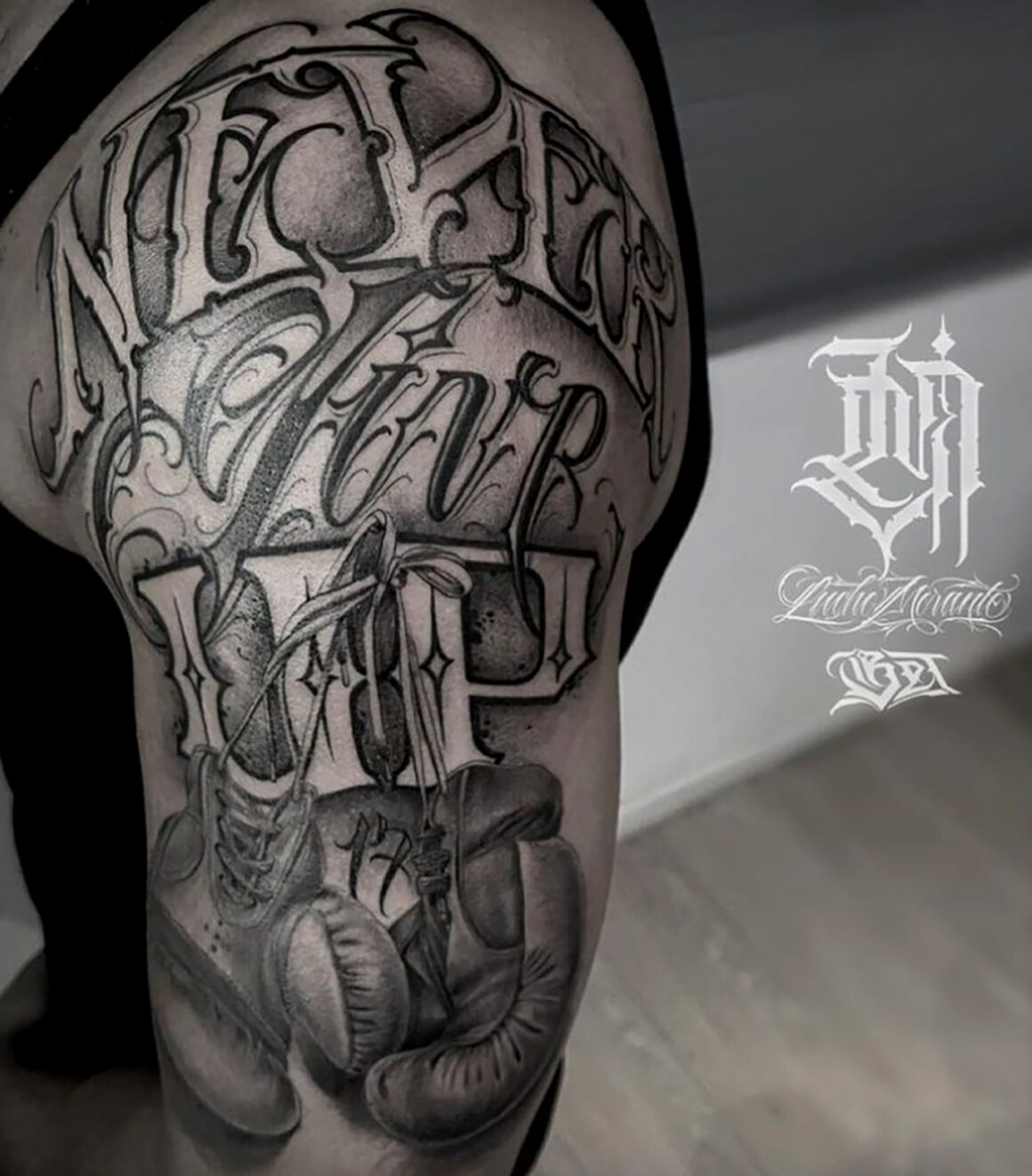 Did the Chicano Black 'n' Grey style and Lettering in general, strike you early on or was there some sort of path through other tattoo genres to get to master them so well? I notice, for example, that you also master very well back-pieces, religious tattoos, and portraits…
I started to work with Horror/Black and Grey then New School passing by Japanese to finally be seduced by the Chicano and the Lettering. I knew the Chicano style very well and it stuck to my skin, but this style of tattoo is also a lifestyle and I was looking to move away from it to separate my personal life and tattooing.
Has experience helped you in this case?
Yeah, time passed and I was able to find the balance between my past, my origins and precisely put them in favor of my tattoo creations. I like to mix genres, the street side with the more classical religious and work on depths. New School helped me a lot for all this work of composition and perspective.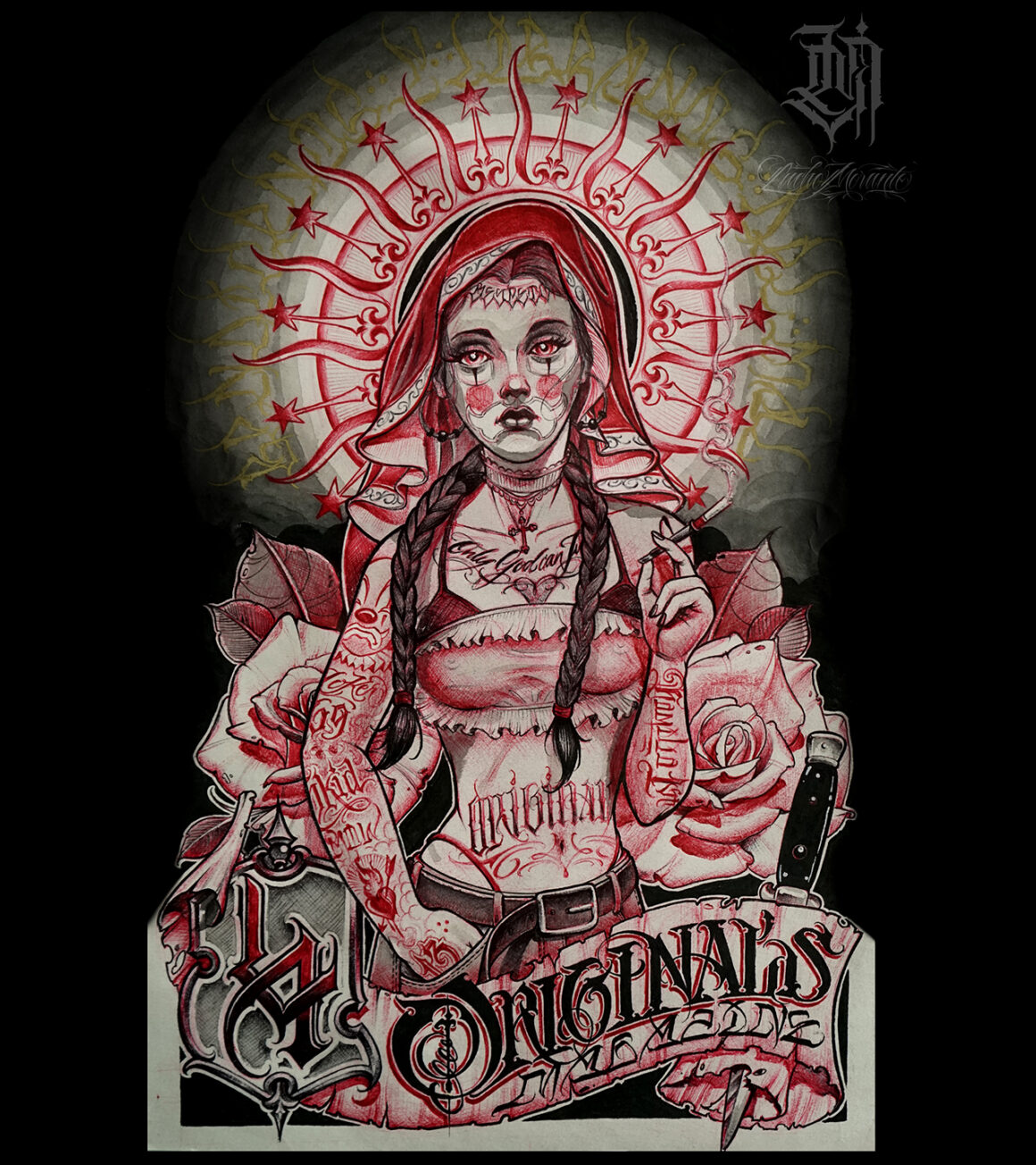 I have always forbidden myself to choose only one style, I love to work on Lettering, compositions, but I also like to work on color sometimes. I have fun doing different projects and compo and that's also artistic freedom I think.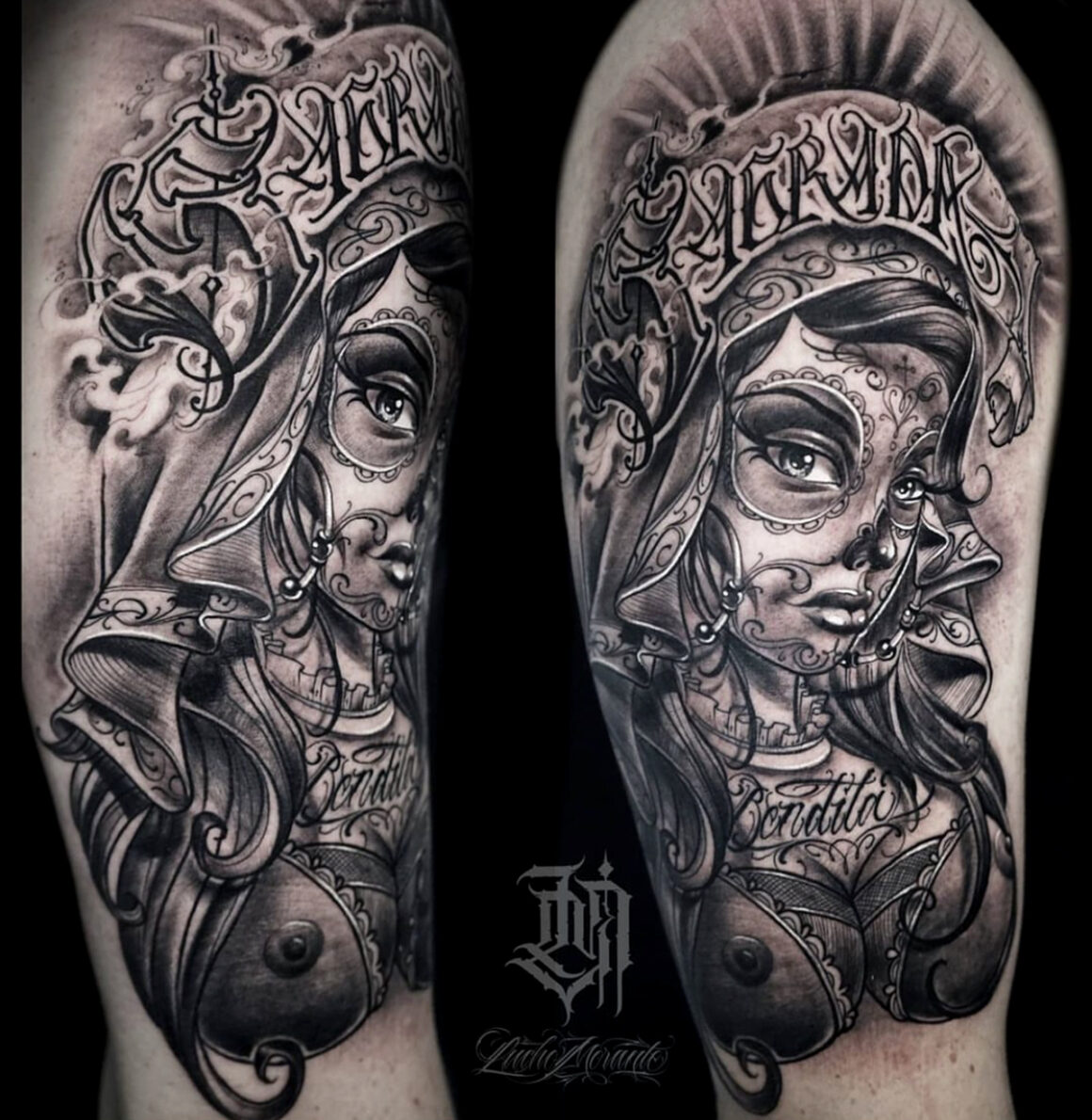 Do you think you have had fundamental teachers in your life or do you consider yourself a DIY artist?
Self-taught but not by choice! (laughs) Where I come from in Peru I had neither the means nor the material nor the mentors at my reach, nor even internet.
I bought some old tattoo magazines in an old kiosk when I was a kid and I built my first machine with my hands thanks to a radio cassette engine!
That's when I tell myself that yes I am 41 years old and that I am far from the generation of today that buys its tattoo kit on the internet pretending to be a professional tattooist…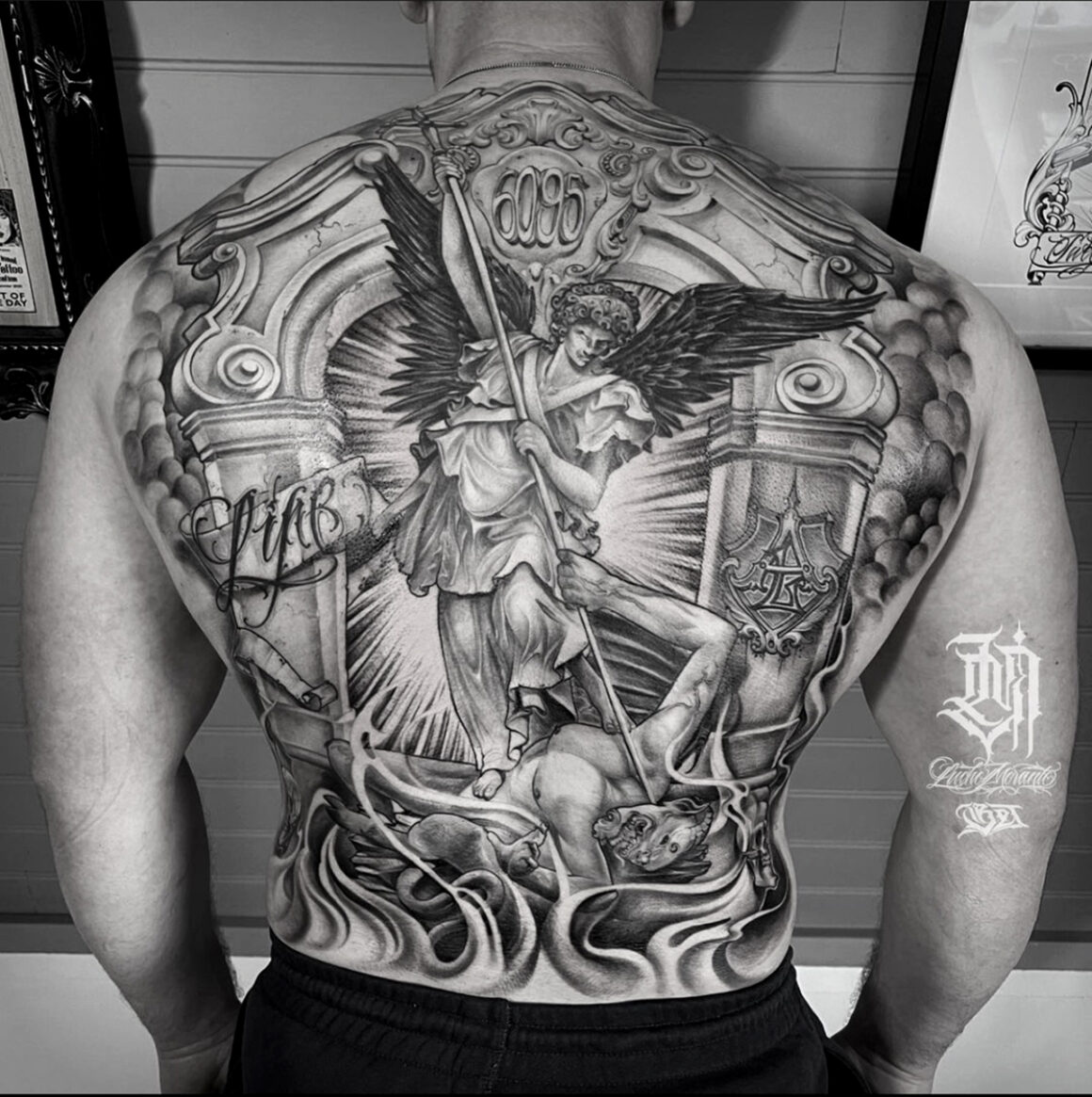 Who did you meet first once you arrived in France?
I met Dimitri HK who is now a great friend and who taught me a lot. Obviously, I will name: Jee Sayalero, James Tex who were references in the New School for me and Big Meas, Sam Tailor for the Lettering style but also Paco Sanchez, Eugene Attic in the Chicanos Cartoon…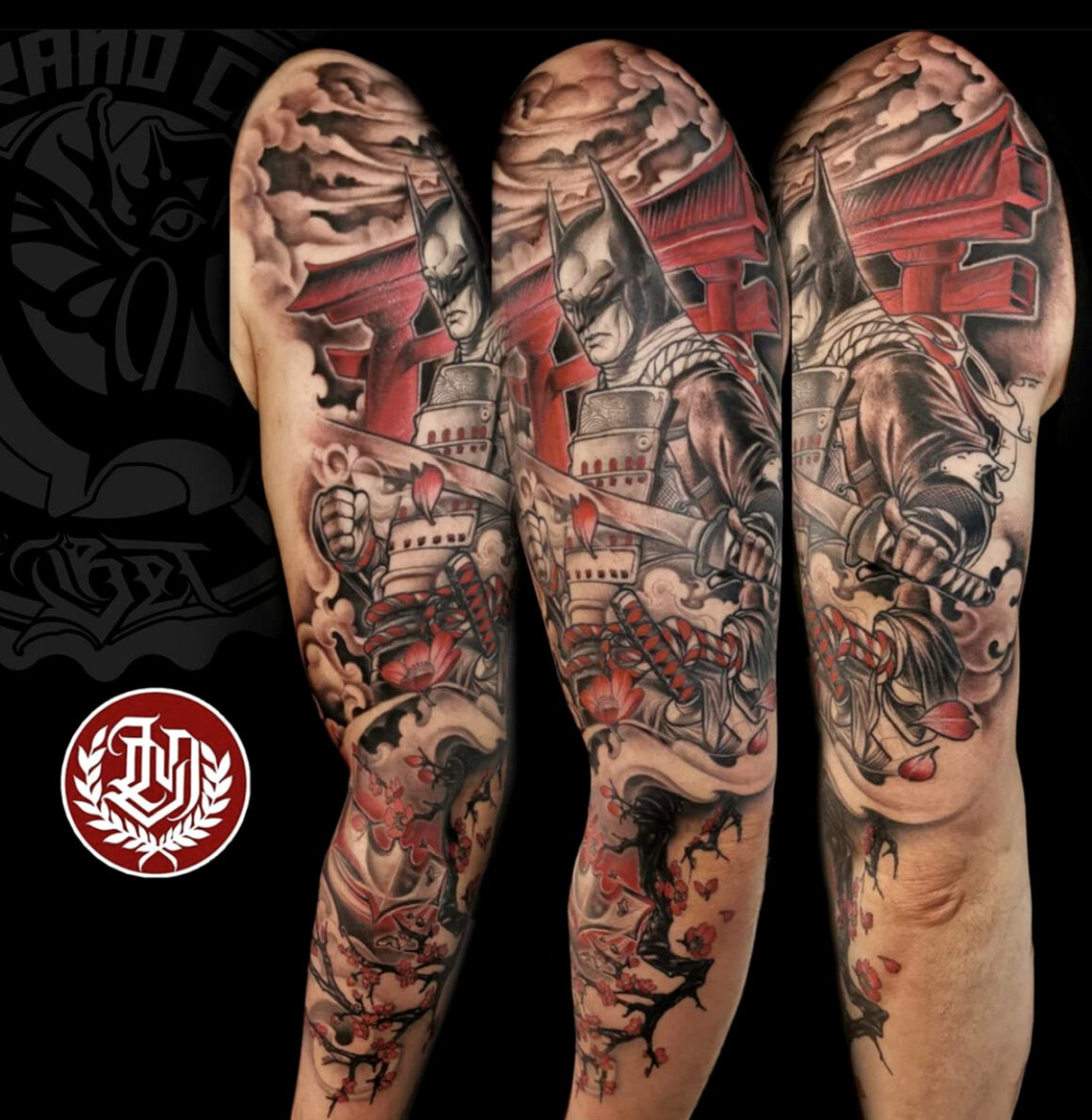 Is there a difference between creating a lettering and a logo? I ask this question because – beyond the Chicano style and its rules – your lettering looks very artistic and curated…
Even if dark lettering works very well in tattooing, I prefer calligraphy, more organized and more detailed.
I like this classic side with arabesques or acanthus leaves that I like to add which give elegance to the projects.
I work a lot in freehand, the customers who come to me for Lettering have confidence and allow themselves to be guided, I really thank them for that by the way, that's why we have the best result and that I don't just serve as a printer to copy Dafont on the skins of the tattooed.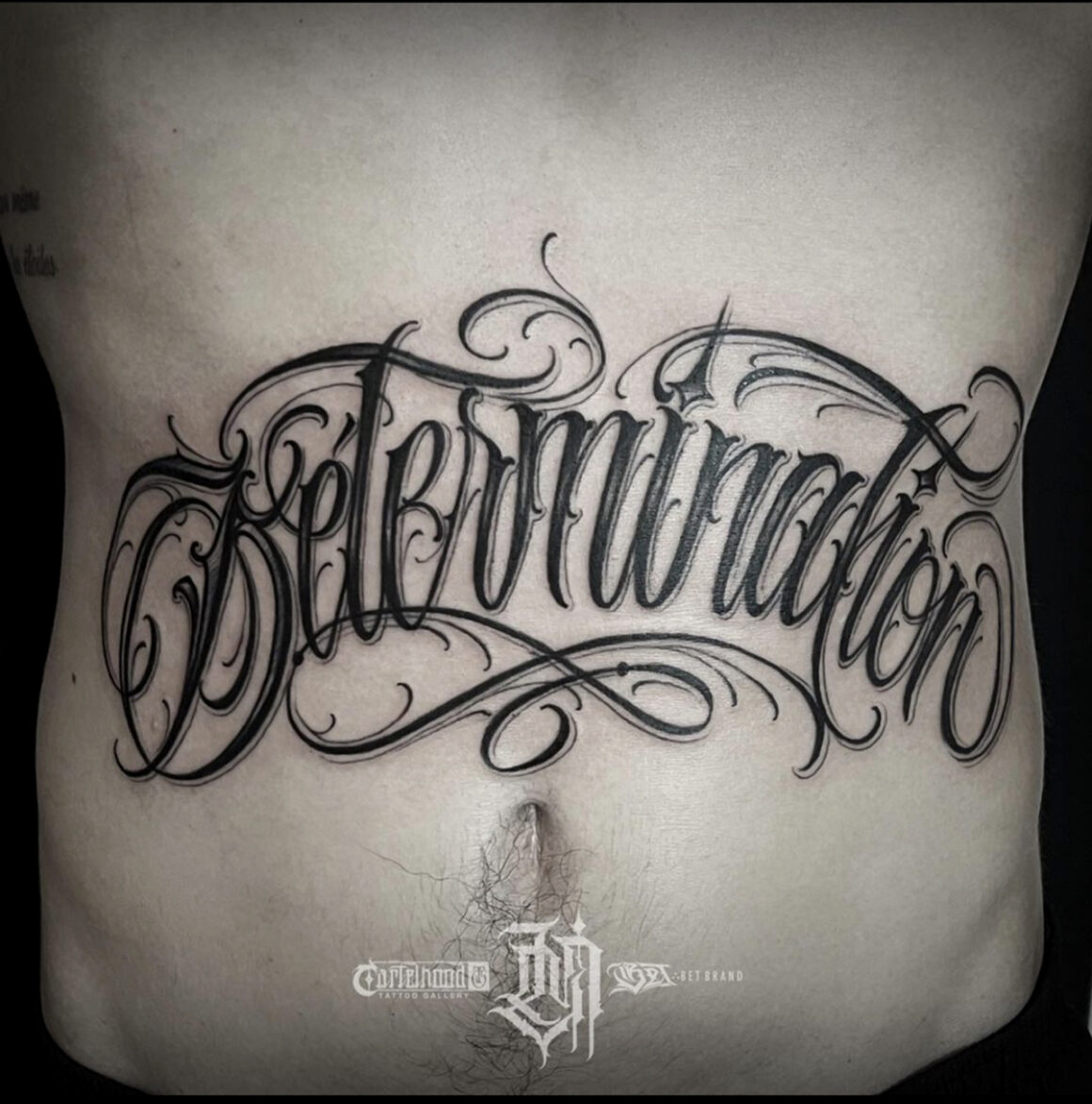 And about logos…?
The time to make a logo is longer for me because I'm not a graphic designer and I rarely make one, I prefer the support of the skin which is alive and more fluid. The logos are frozen and must be really precise.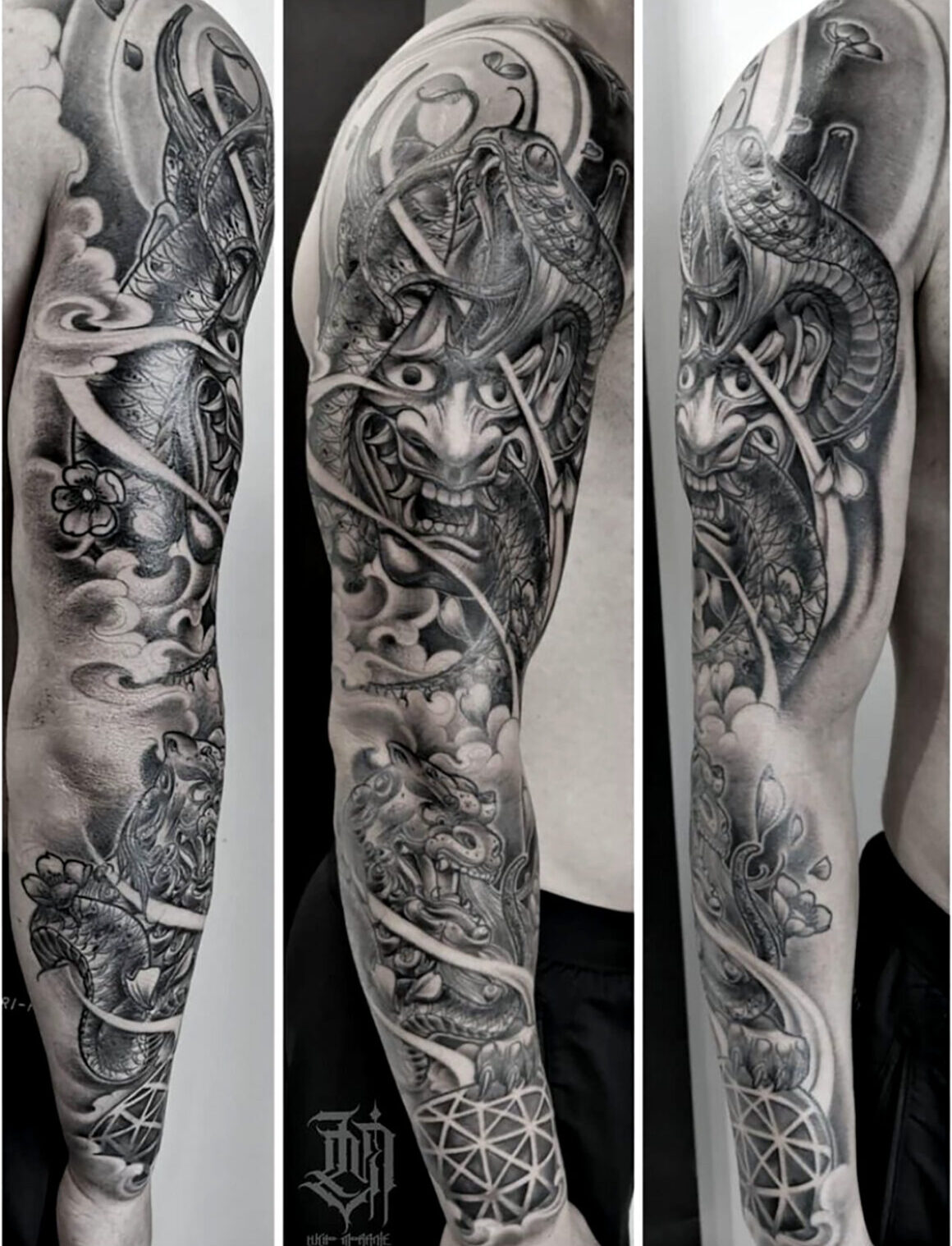 Describe your place of work, the 'Cartelhood Tattoo Gallery' in Vannes (opening next May 2023). I was very impressed that you are located not in a metropolis full of chaos, but in a delightful little town in Brittany…
Yeah, it's a small town that I love and my wife is from Brittany so it's a bit like my adopted land. I'm looking for a comfortable life and what could be better than going to drink a beer on the terrace on the port and enjoy some oysters with your client after a tattoo session?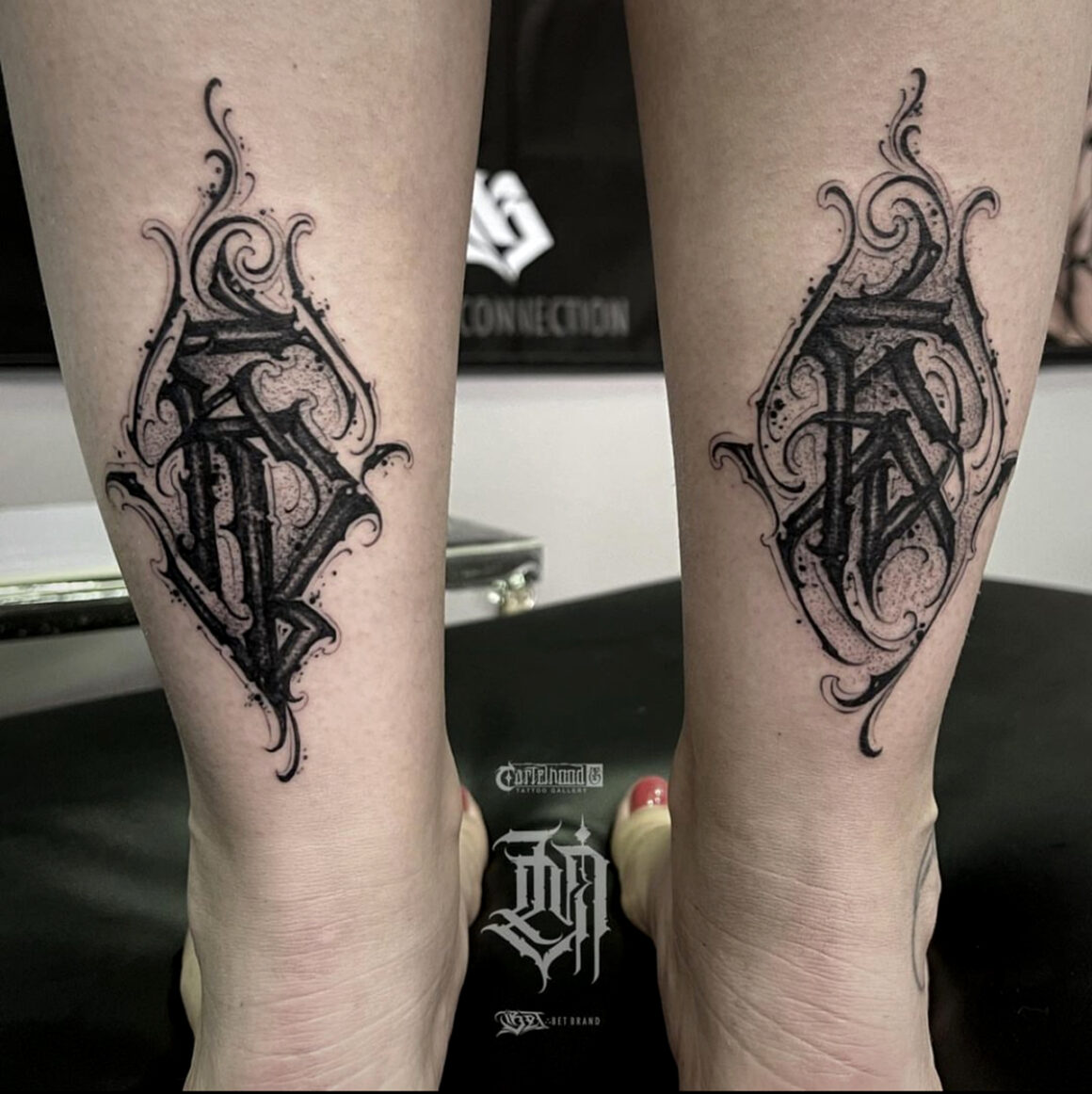 'Cartelhood Tattoo Gallery' (IG: @cartelhoodtattoo) will open its doors in May, we are currently under construction, I am so excited to let you discover this new place. I really want this shop to sweat the tattoo culture and there will be an art gallery part to exhibit works… full of surprises!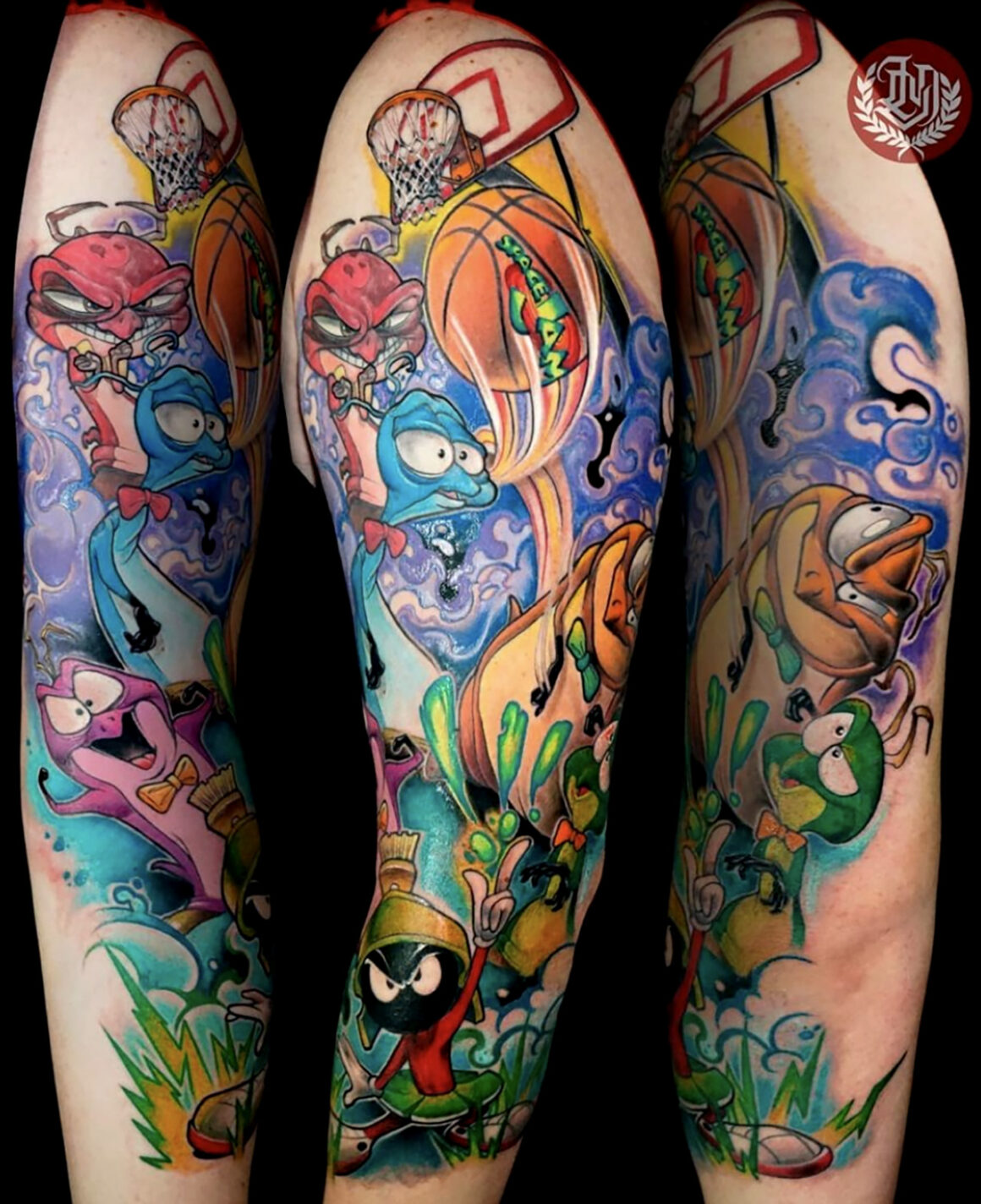 You are very tattooed yourself. Do you want to list me your fellow artists of the ink you sport?
Even if I have a Chicano style, I have a lot of other styles on me – Koan, Ben Banzai, Zhimpa Moreno, Lea HT2, Noka, Gabri Lahaine, Darkma etc.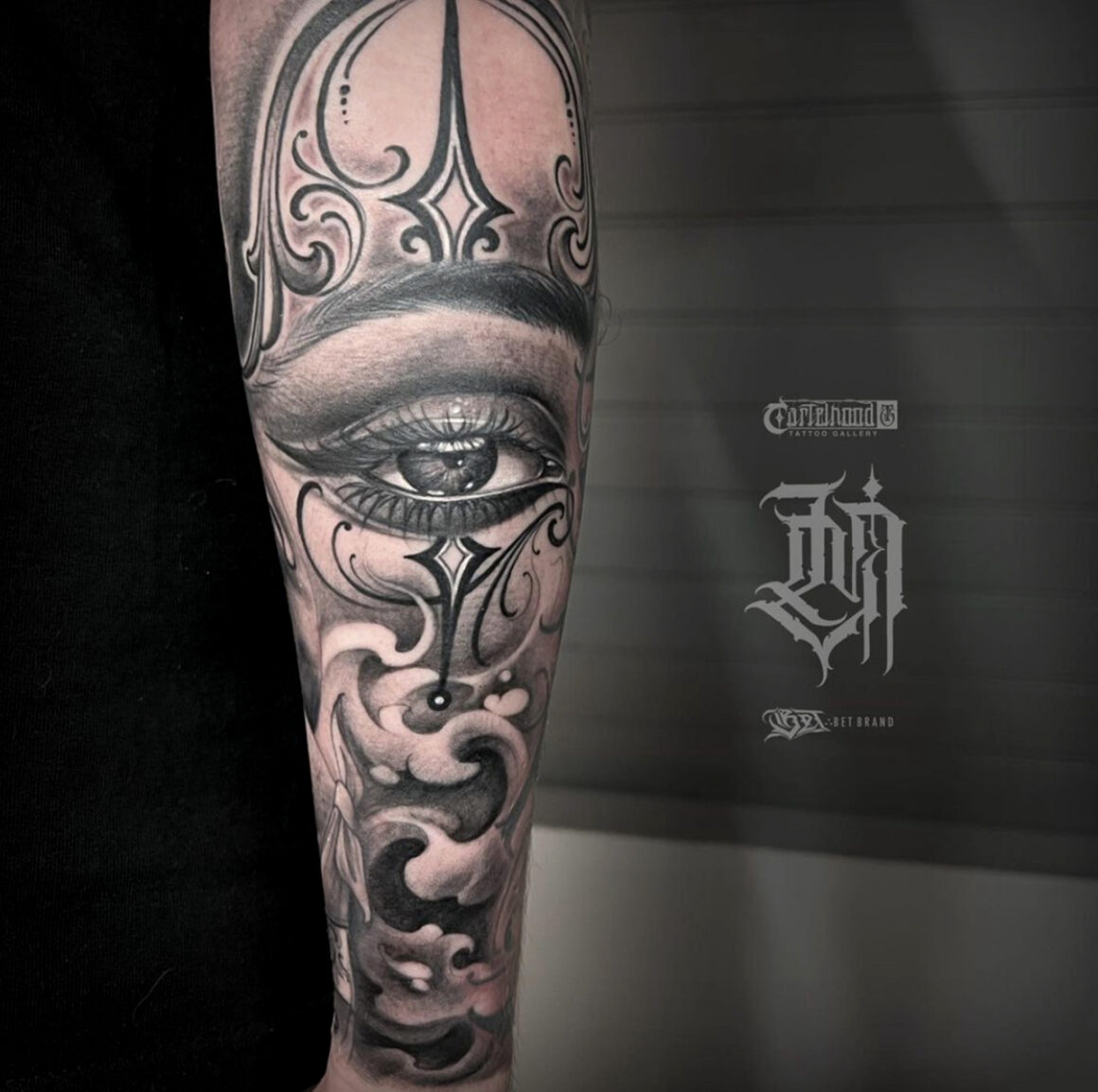 What kind of 2023 do you envision?
2023 will be a busy year for the opening of 'Cartelhood Tattoo Gallery' scheduled for May. I will be guesting in Switzerland at 'West Side Tattoo' and in Belgium near Liège at 'Neo Tokyo' for the spring. Conventions: I will be at Vannes /Quimper/Nantes/Lyon /Liège etc.
And your last famous words are… ?
Que viva el tatouaje! See you at 'Cartelhood Tattoo Gallery' next May!