Nice and always willing to improve Lisa welcomes us in her 'Opus Magnum' tattoo studio in Vienna and shows us the present and future of her beloved job.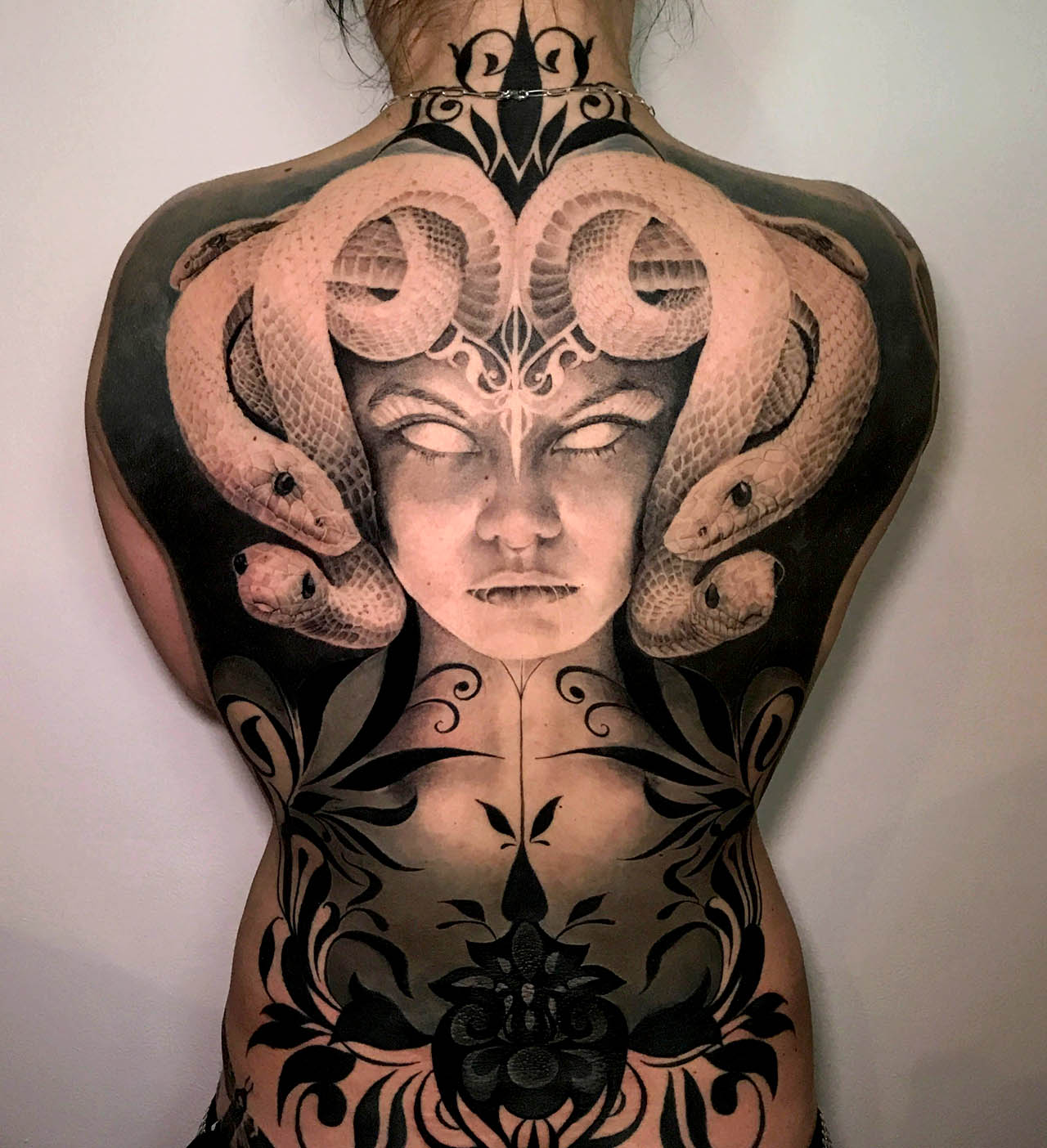 Hi Lisa, I know you've been tattooing professionally since 2011 and in the last 10/11 years your art has progressed so much. Let's focus on the last period though: how do you think Lisa Ammer has improved over the last 12 to 24 months?
Thank you so much! I really appreciate when someone recognises the progression in my work, especially over the last two years. Due to all the Corona lockdowns here in Austria I had plenty of time to focus on improving.
In general I've always been drawn to the concepts of light and shadow.
I always aim to add as much depth and level graduation in my work as possible and I've really been pushing forward in this direction, concentrating on getting large shadings cleaner and smoother.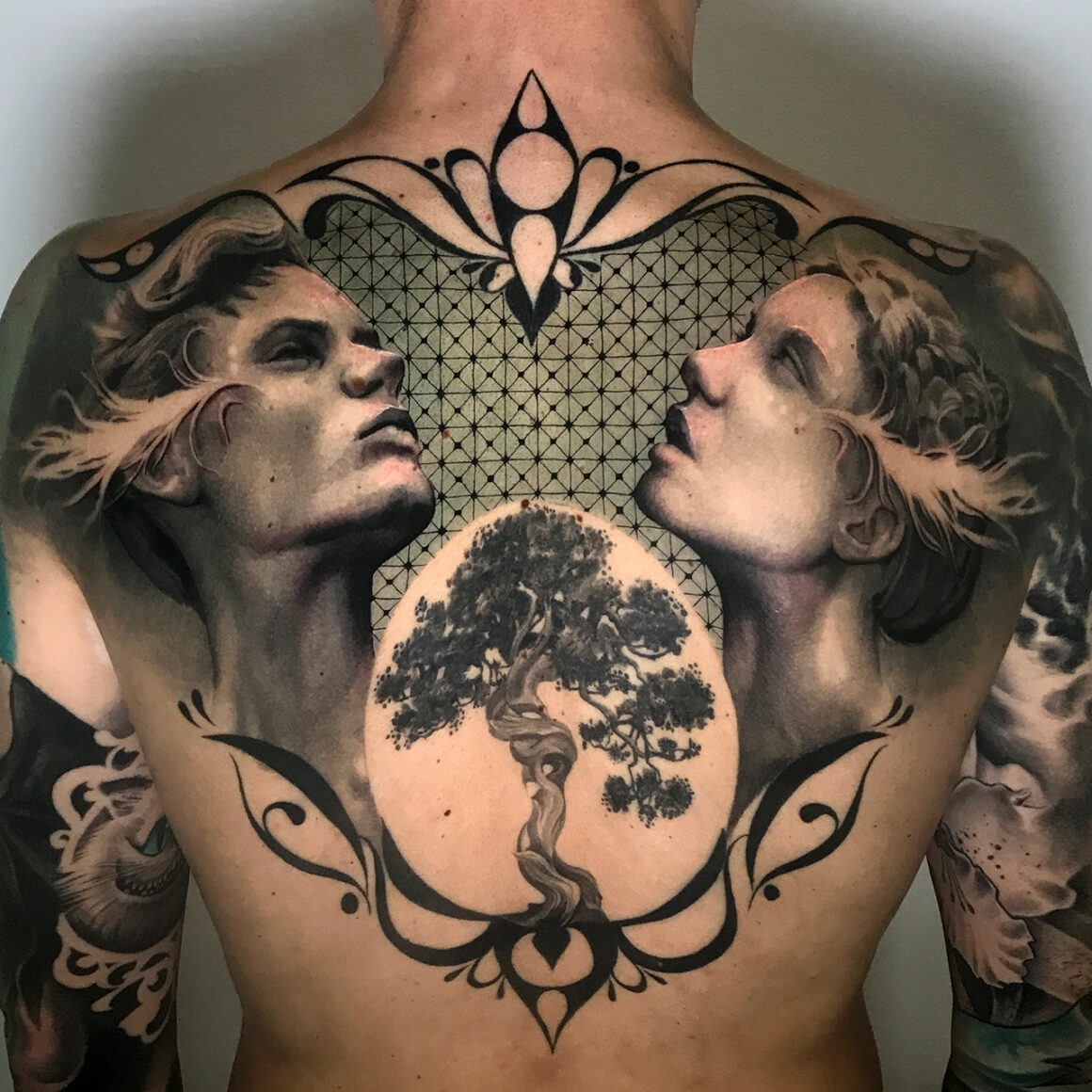 Tough question. How and when did you realize that Black & Grey Realism (with a little bit of color) could become your predominant style?
It isn't a tough question at all, due to the fact I had a key moment regarding this topic. For nearly 6 years I struggled to really define my way or own style. Looking back I absolutely don't know why I concentrated on color packing first.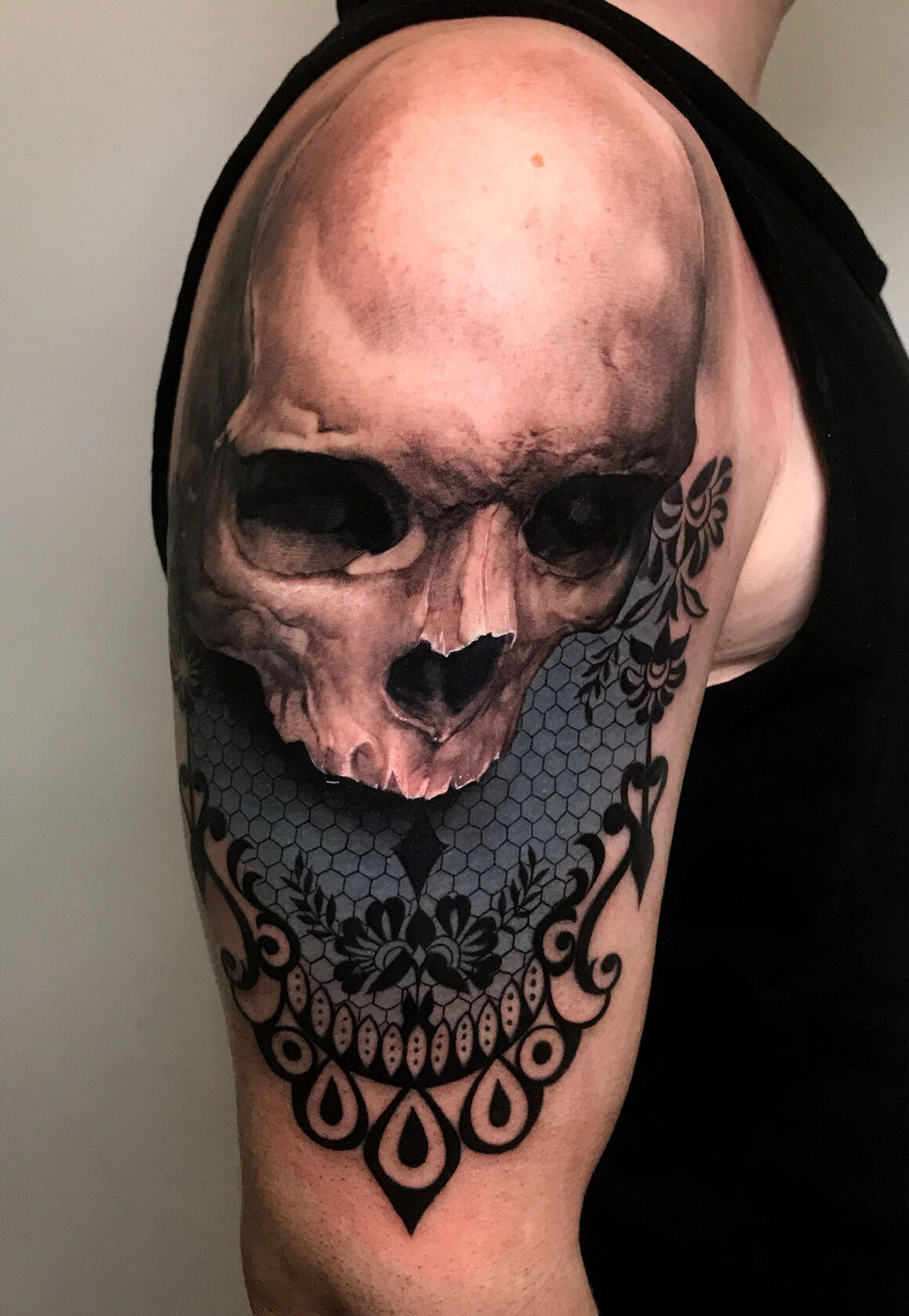 Randomly my boyfriend asked why I wasn't focusing more on Black & Grey Realism when it was clear the shading results were greater than the colour realism parts. At that time I think I was the only one not realizing this obvious fact until that particular question. So, I came to a decision.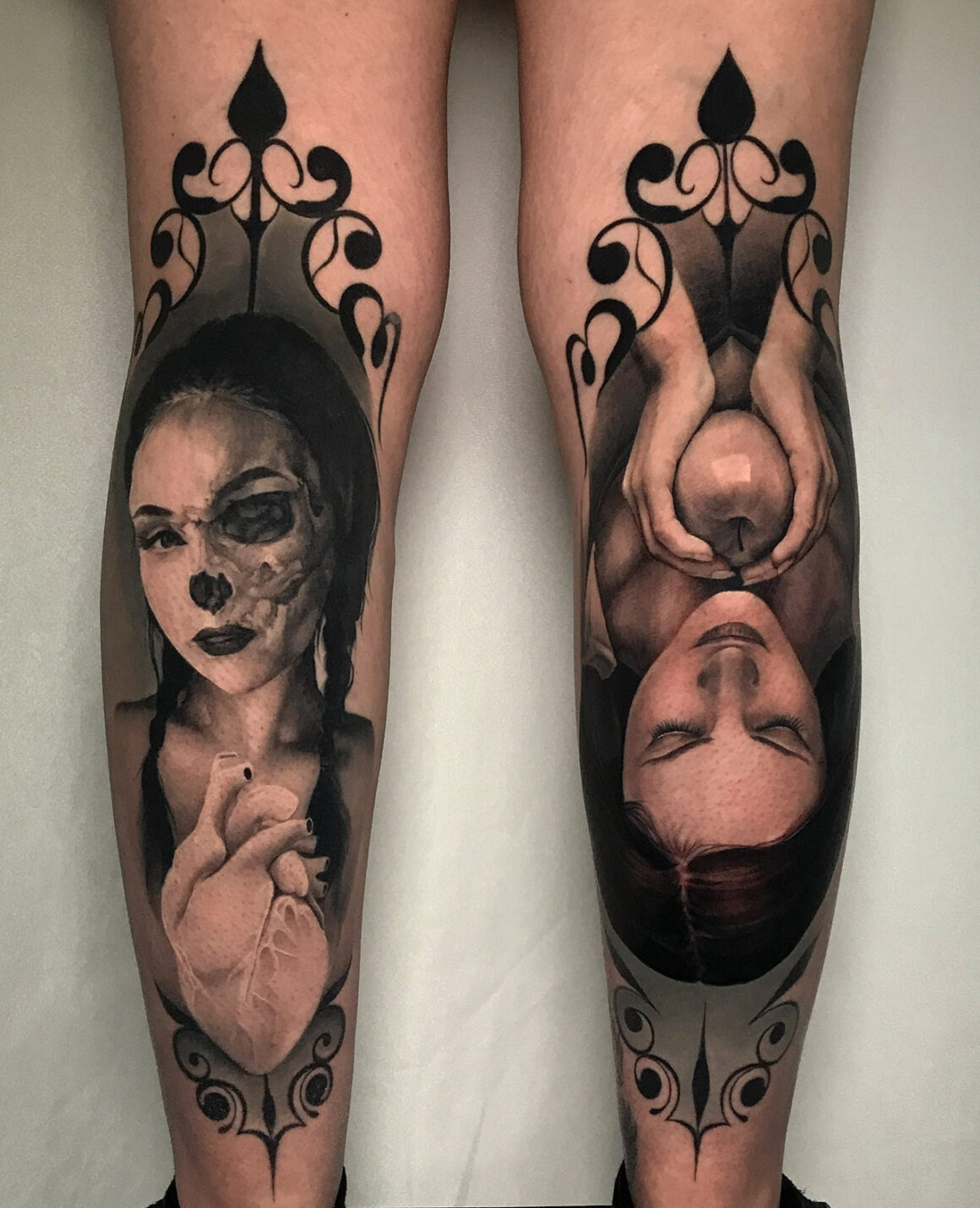 Tell us about that important decision.
First I focused on my strengths working in Black & Grey. Afterwards I started developing my personal style, which was simply a result of the fact I didn't want to quit color tattooing completely. Now the colour presents itself in my work with subtle coloured shades in the background. And that's the story of "my" style.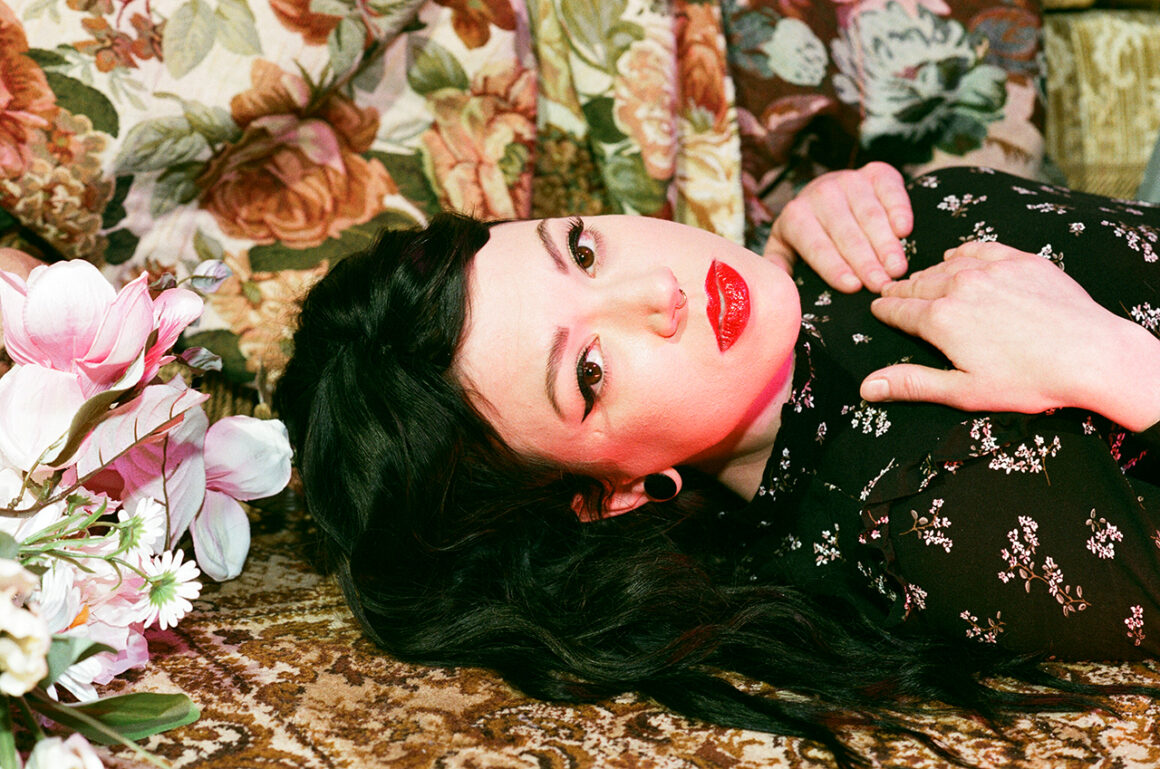 Before I spoke of Realism, but if one of your works starts from the vision of a simple photo, then I must admit that everything is transferred on a dreamlike and 100% artistic level. What do you think about it?
Since the very beginning I would always get bored by copying a given picture 1:1. The most exciting requests for me are the ones where my imagination is given free rein during implementation.
That's why it always takes me an absurd amount of time to create the tattoo template… and I tell you this in a positive way!
It's a process I really do enjoy – from the beginning till the end of the design, nearly as much as the tattooing itself.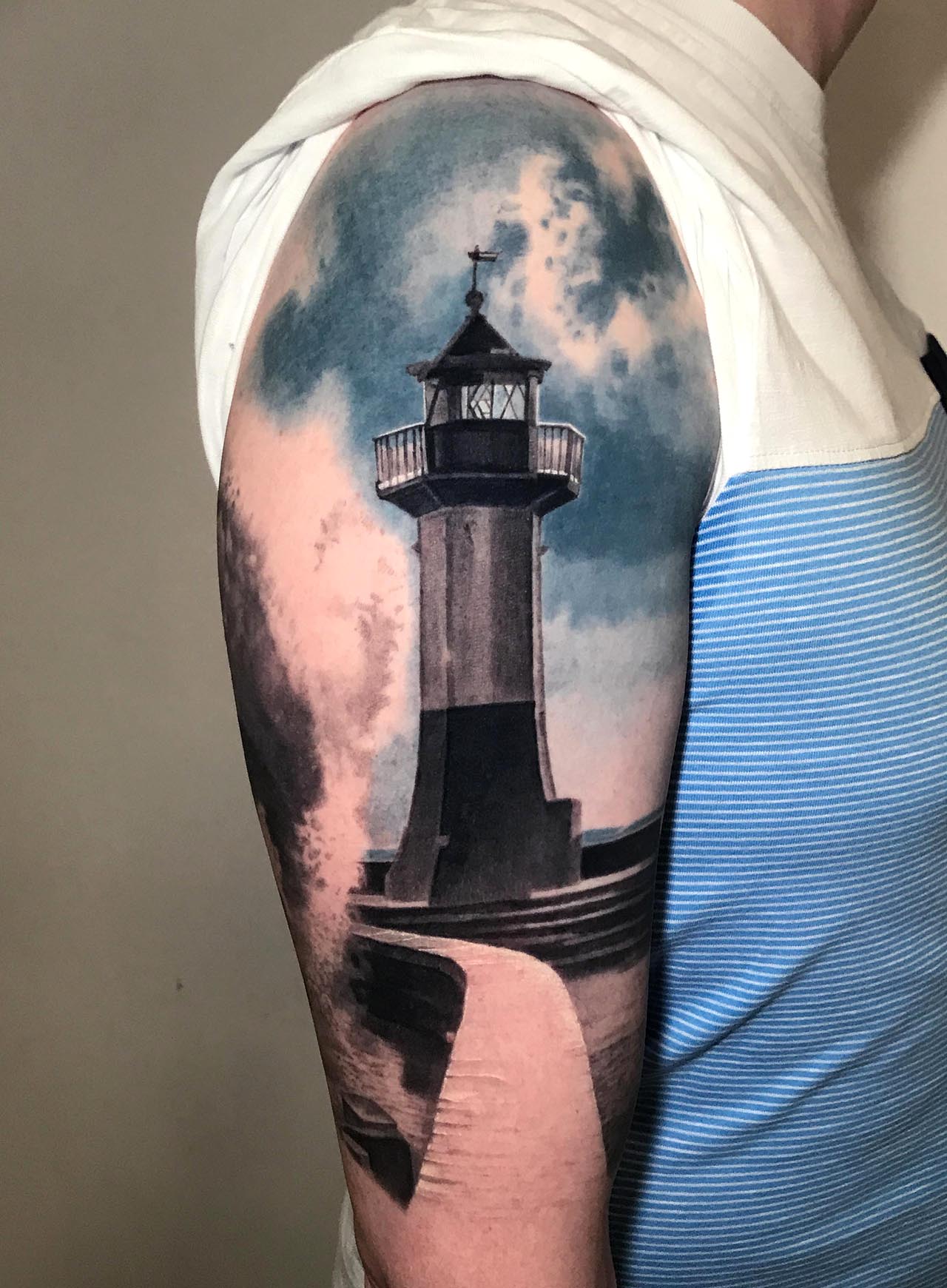 I really enjoyed your cyberpunk experiment on the back of one of your clients. Do you think you will find more and more people to follow you in this artistic path?
It was an affair of the heart to bring this one to realization. I can't say if people will follow the artistic path but I hope people will gain more interest in that style, so I can do related tattoo projects more frequently. A huge amount of trust is needed from the client's side. They have to be capable of giving up control and to just allow me to work without limitations.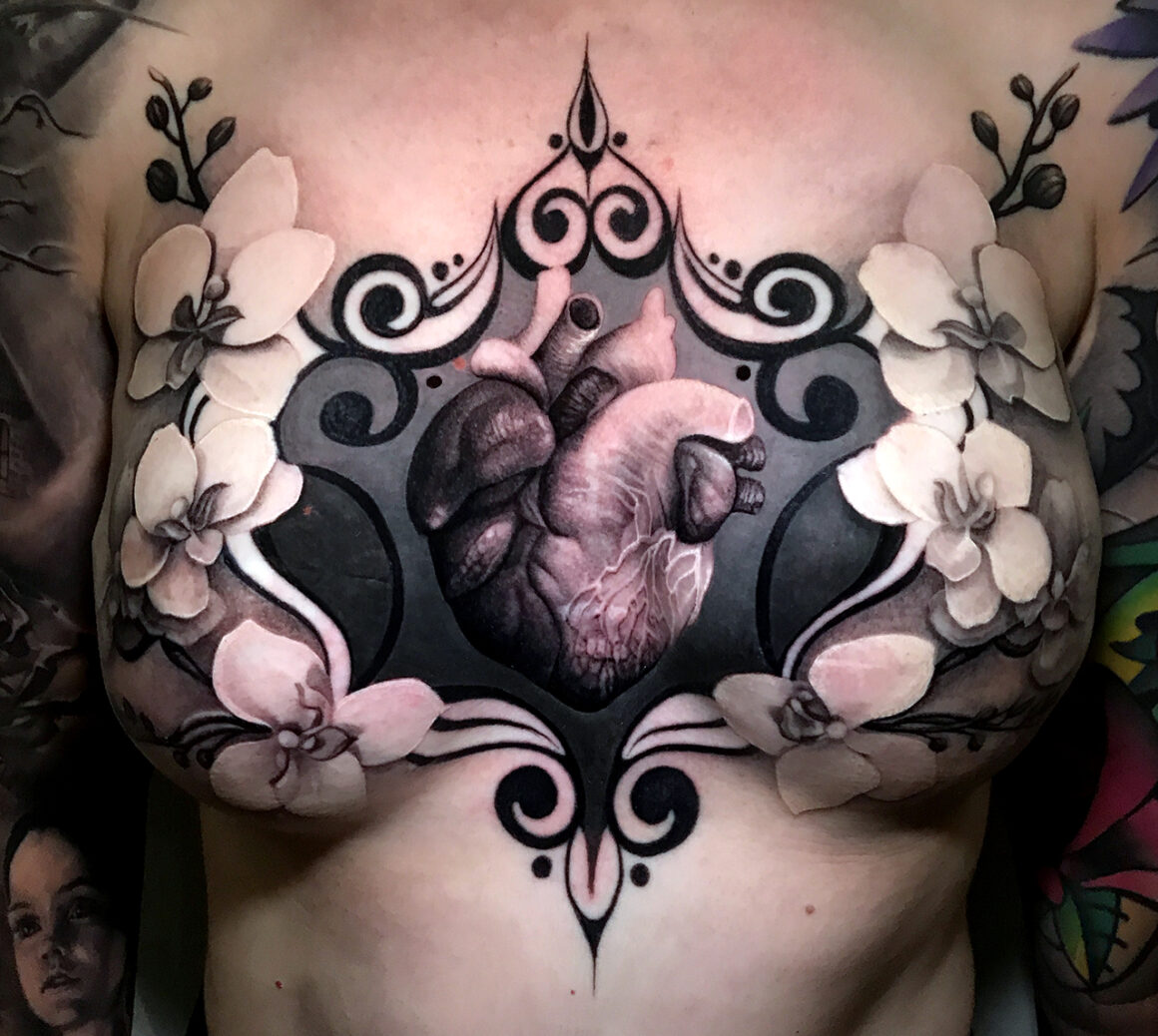 Unfortunately, most of the time it's too much to ask for. I think that's the main reason why it is kind of difficult to find clients for these types of projects. What I'm going to do moving forward is to post more "Wannados" that I want to do and I'm sure that'll draw out the right type of people who want to get on board.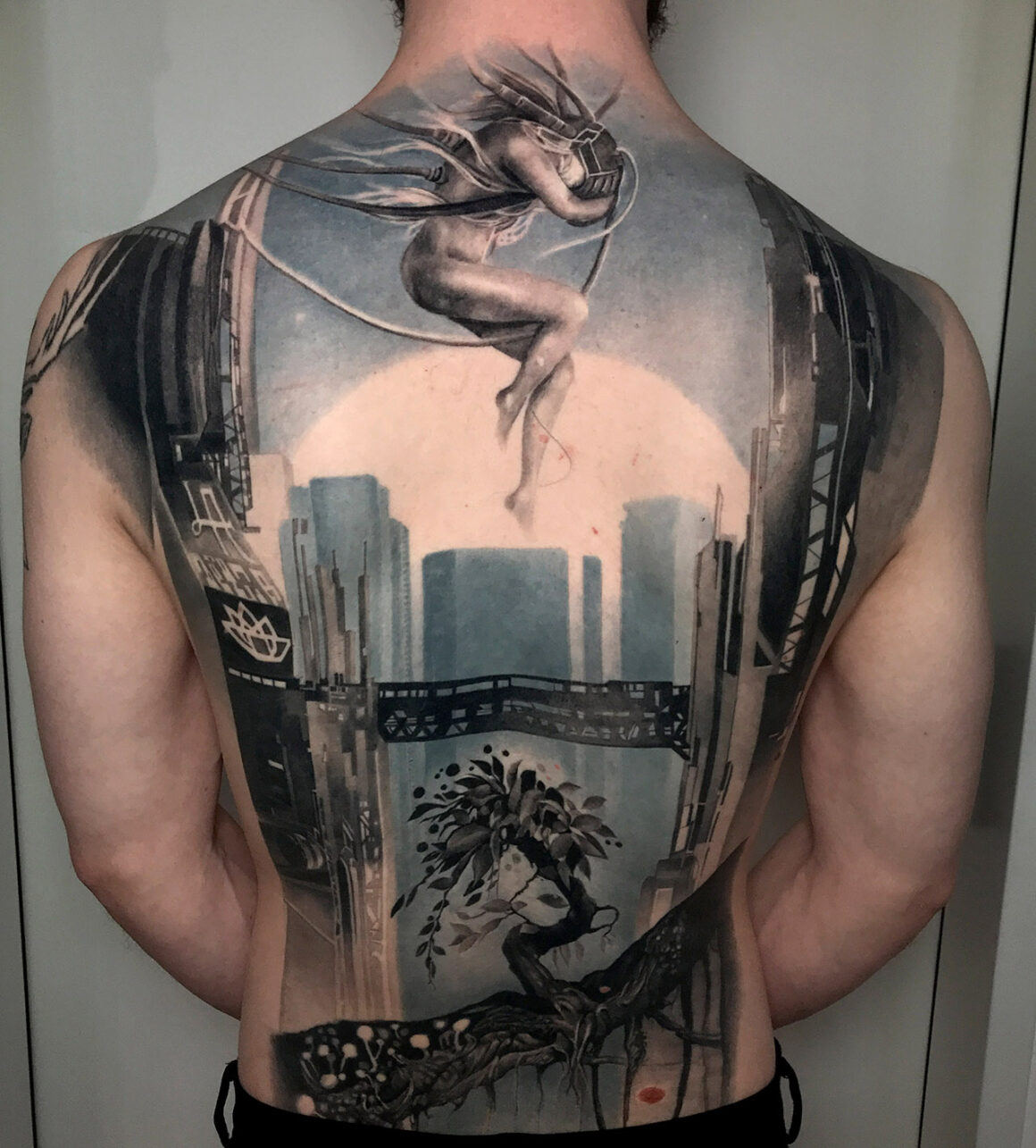 Can you describe your realm, aka 'Opus Magnum Tattoo Studio' in Vienna?
First of all and luckily I don't work alone. I like to feel creative energy from my working colleagues. We are quite a big studio – 7 artists, 7 working places and as soon as one of us is on holiday, we are welcoming guest artists. So, if you're someone out there who's tattooing as well, wanting to travel to Vienna and meet a bunch of cool guys, hit me up! (smiles)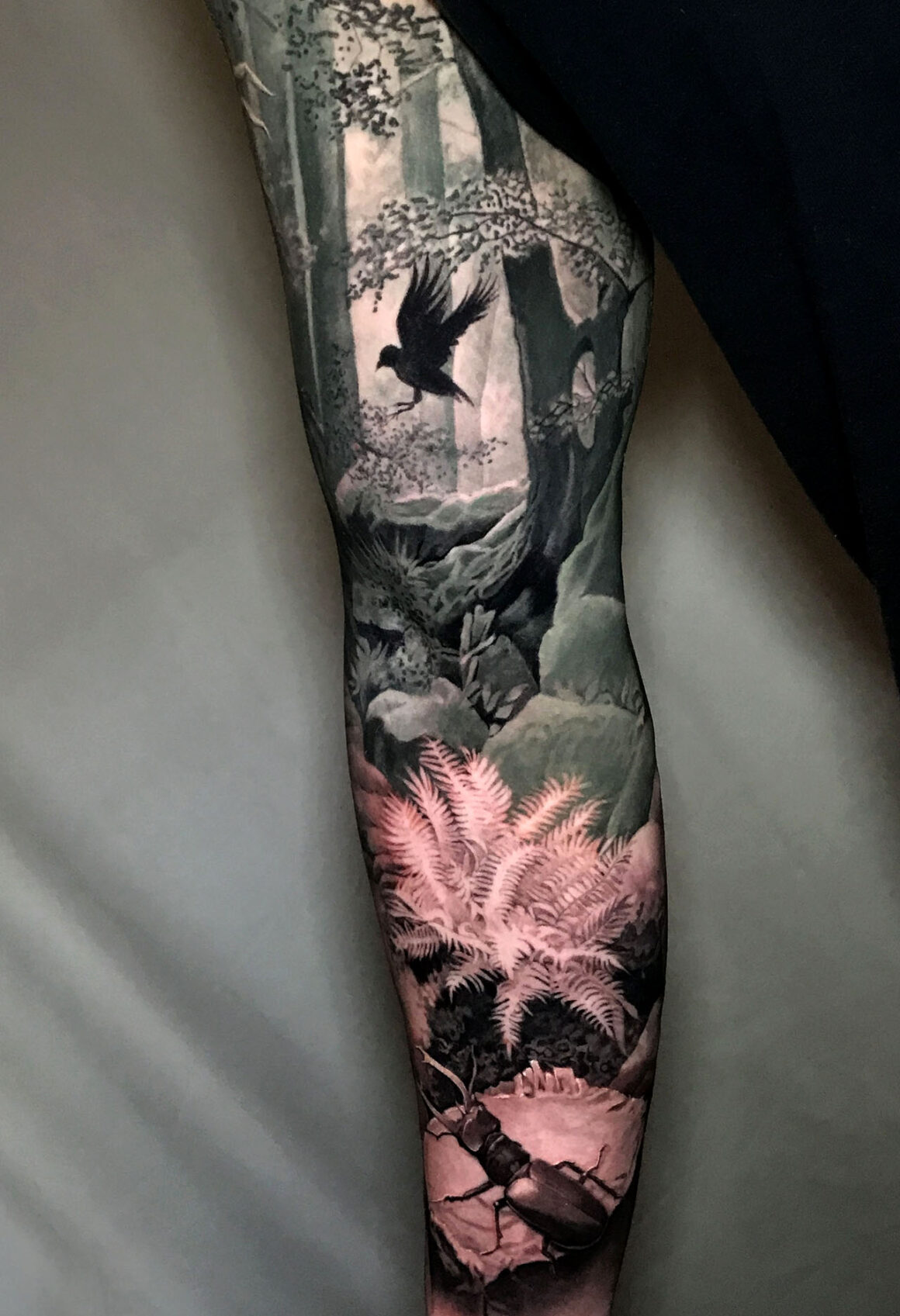 About international tattoo conventions are you going to be back on the road anytime soon, or do we have to come and visit you in the Austrian capital?
Of course I love to get visitors from everywhere around the world here in Vienna but I'm also regularly doing guest spots in Berlin at "Neon Judas" tattoostudio (IG: @neonjudas).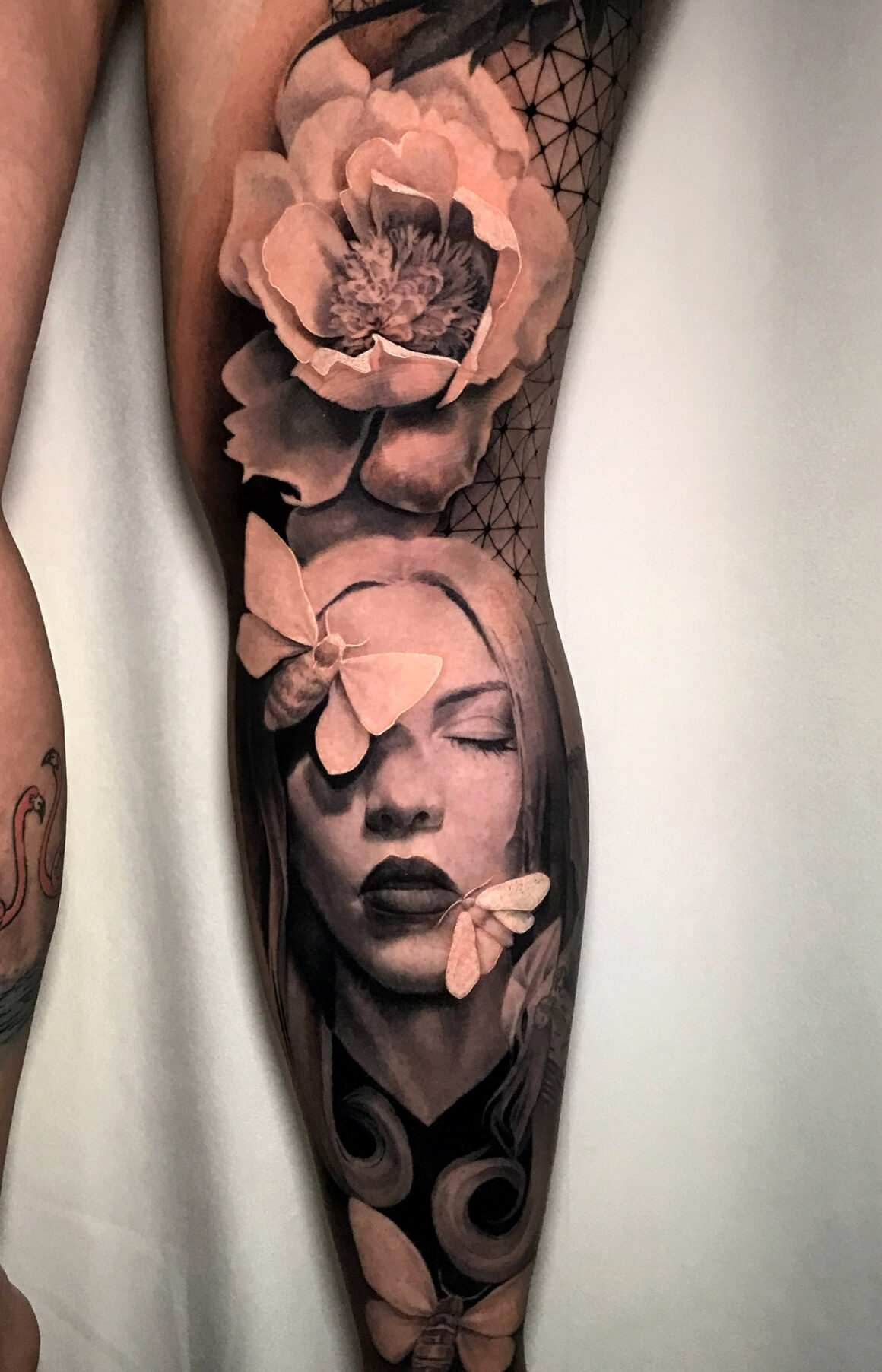 I'm going to be back on the road later this year, hopefully, as long as the Covid restrictions don't get tightened up again. I'll be doing the Stockholm convention in August as well as The New York Tattoo Convention including a one week guest spot in New York.
There's currently still some time open in my diary whilst I'm there, so if someone reading this is from New York, get in touch!
And your last famous words are… ?
Well, I have two sentences like this. Famous last words to all clients: give your artists more creative freedom. Famous last words to all tattoo artists: take more time for the designing process.