Botanical works and spooky gothic themed tattoos fit the personality of Kellsey, the nice girl from Scotland who tells us about her Love and Deth tattoos and much more about herself as a tattoo collector and testimonial of a lingerie brand.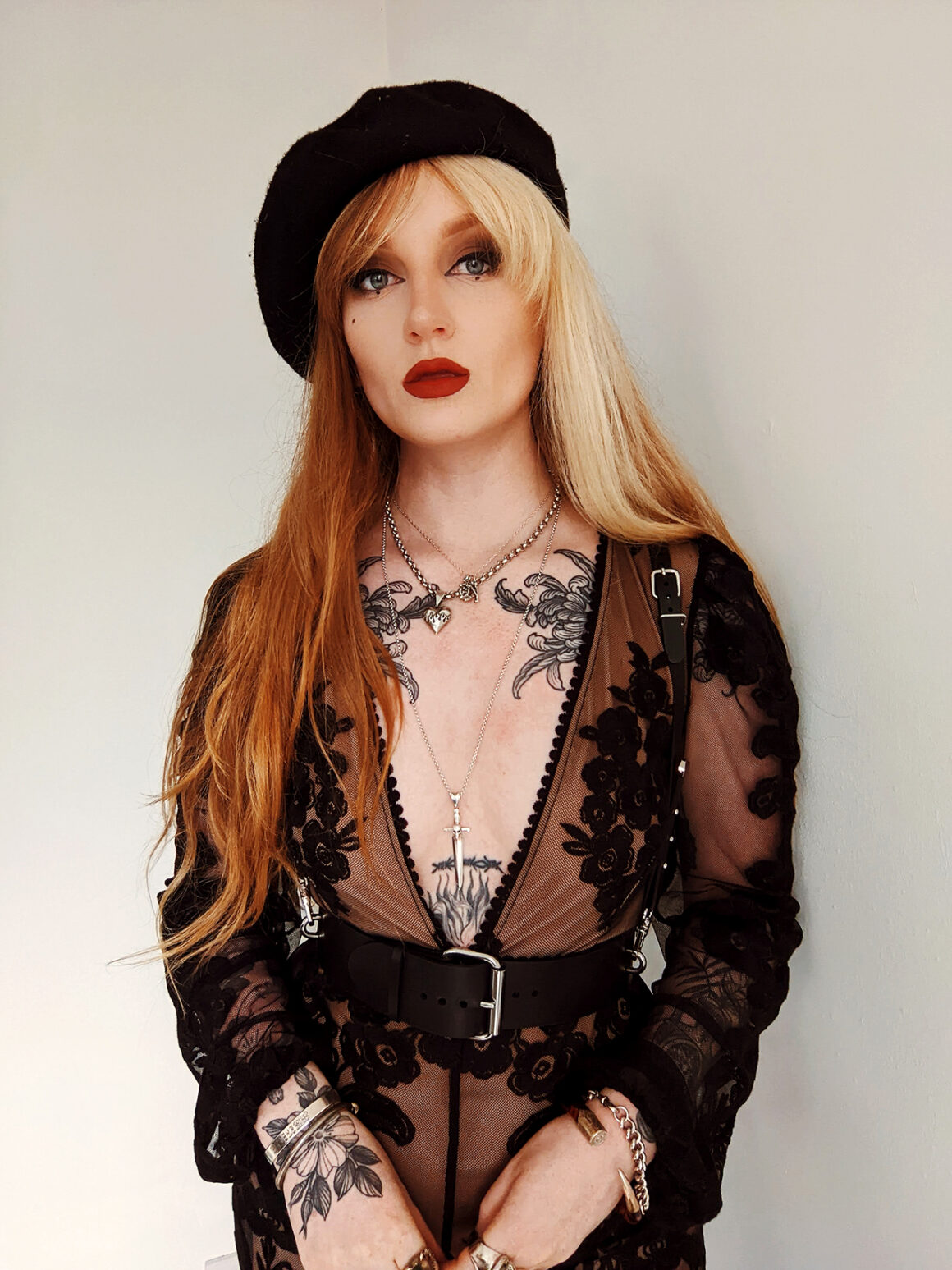 Hello Kellsey where are you from and where do you live?
Hello! I am from the UK! I'm originally from North East Scotland but now I live closer to the central belt, just outside of Edinburgh!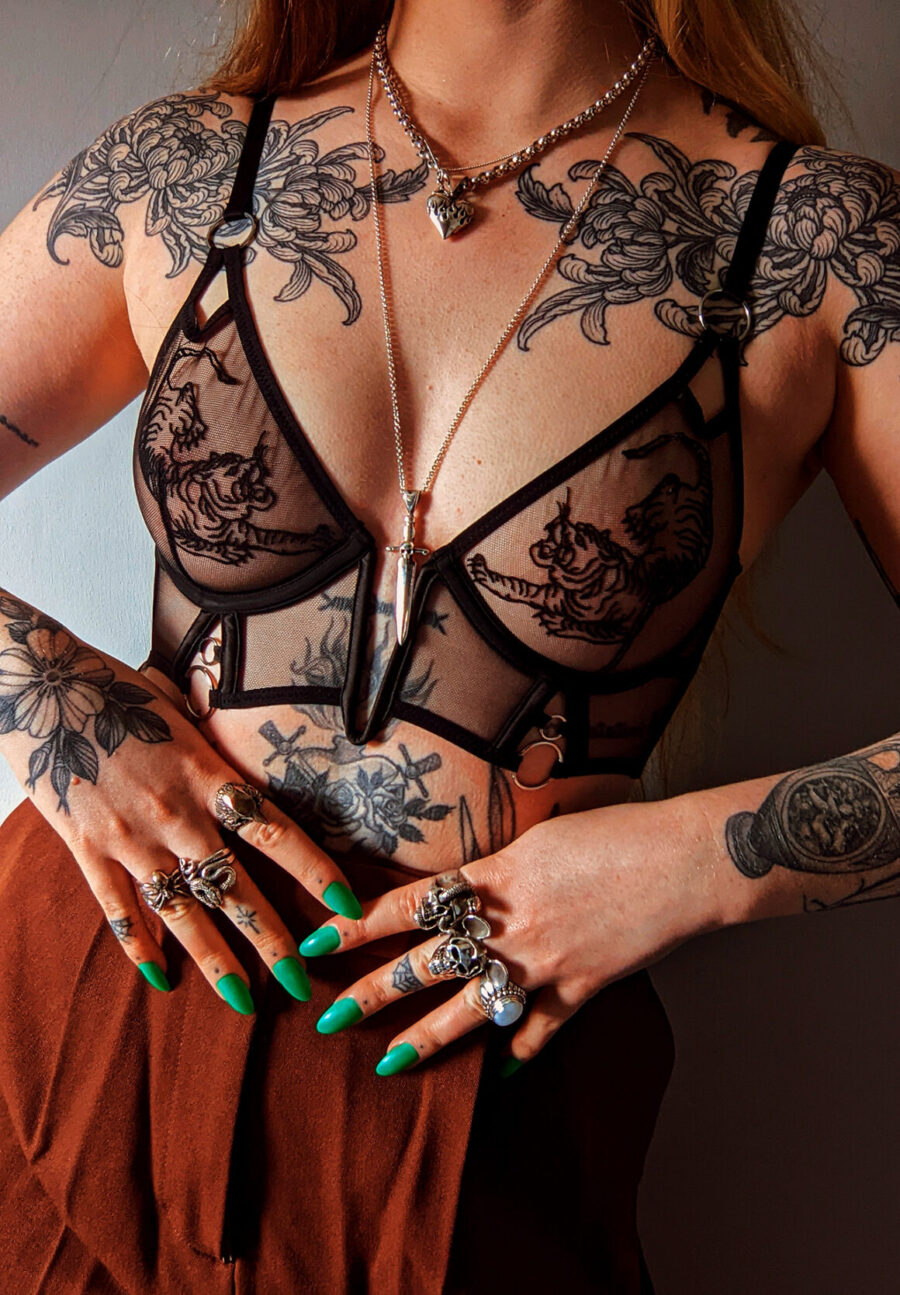 You are a big fan of tattooing. How did this passion come about?
I've always been creative and interested in anything artistic, tattooing was just the area that I was most interested in. I guess instead of collecting prints or paintings I prefer collecting art in the form of tattoos. It's a passion that's grown as I've gotten older and discovered more artists. People are so talented and all have their own unique styles so why not have them with you forever. I've even got some of my favourite embroidery artists work tattooed on me.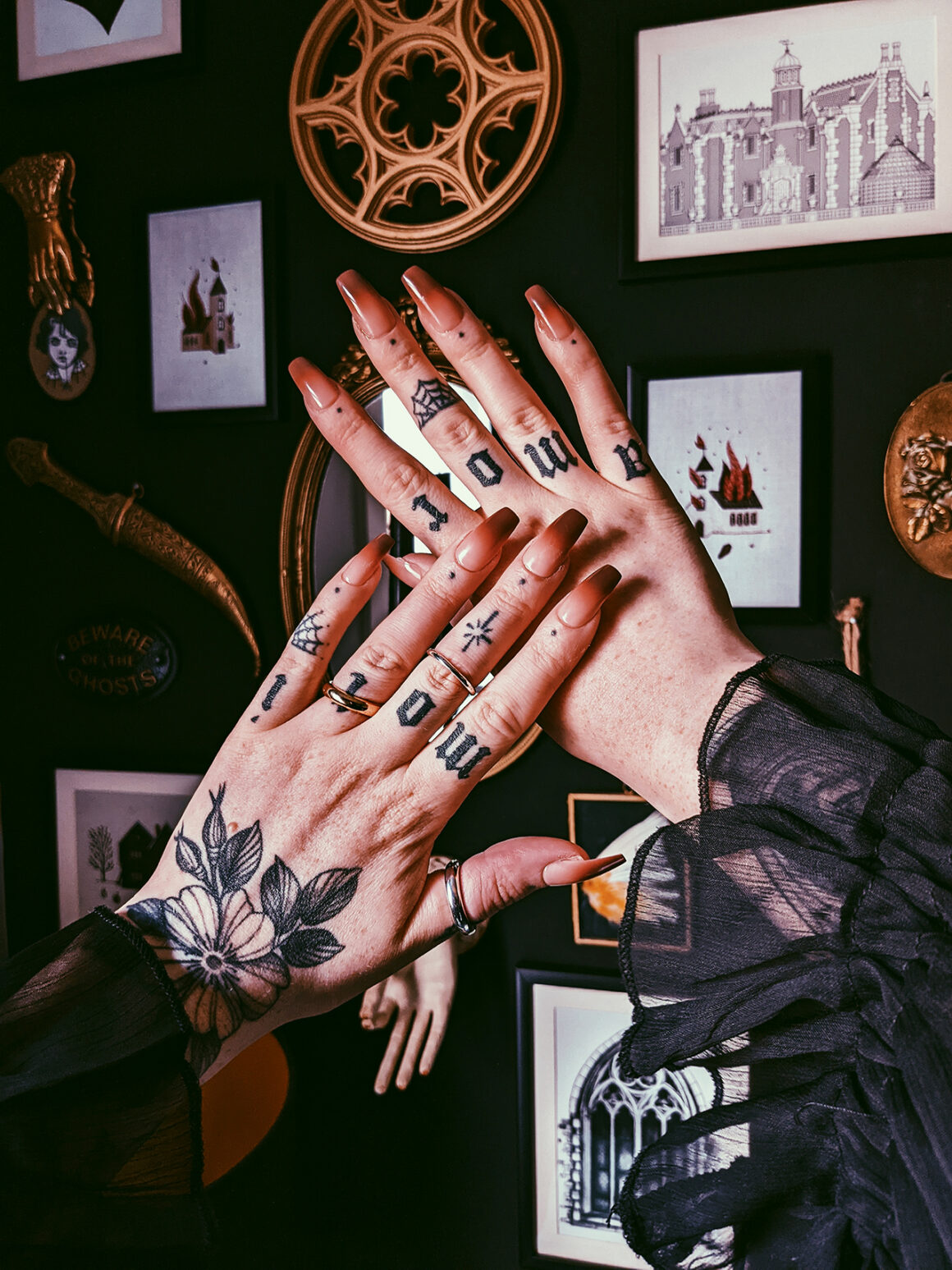 What does tattooing mean to you: is it a body embellishment or do your tattoos have specific meanings?
It's a bit of both I would say. Mainly they are all body embellishments that represent my interests and personality. I have a lot of botanical work because I love plants and the floral elements can flow really well with your body shape. I've also got a lot of spooky gothic themed tattoos which I think fit my personality. My most meaningful tattoo is a portrait of my dog who passed a few years back, it's a lovely memory for me to have of him, on me and by my side forever.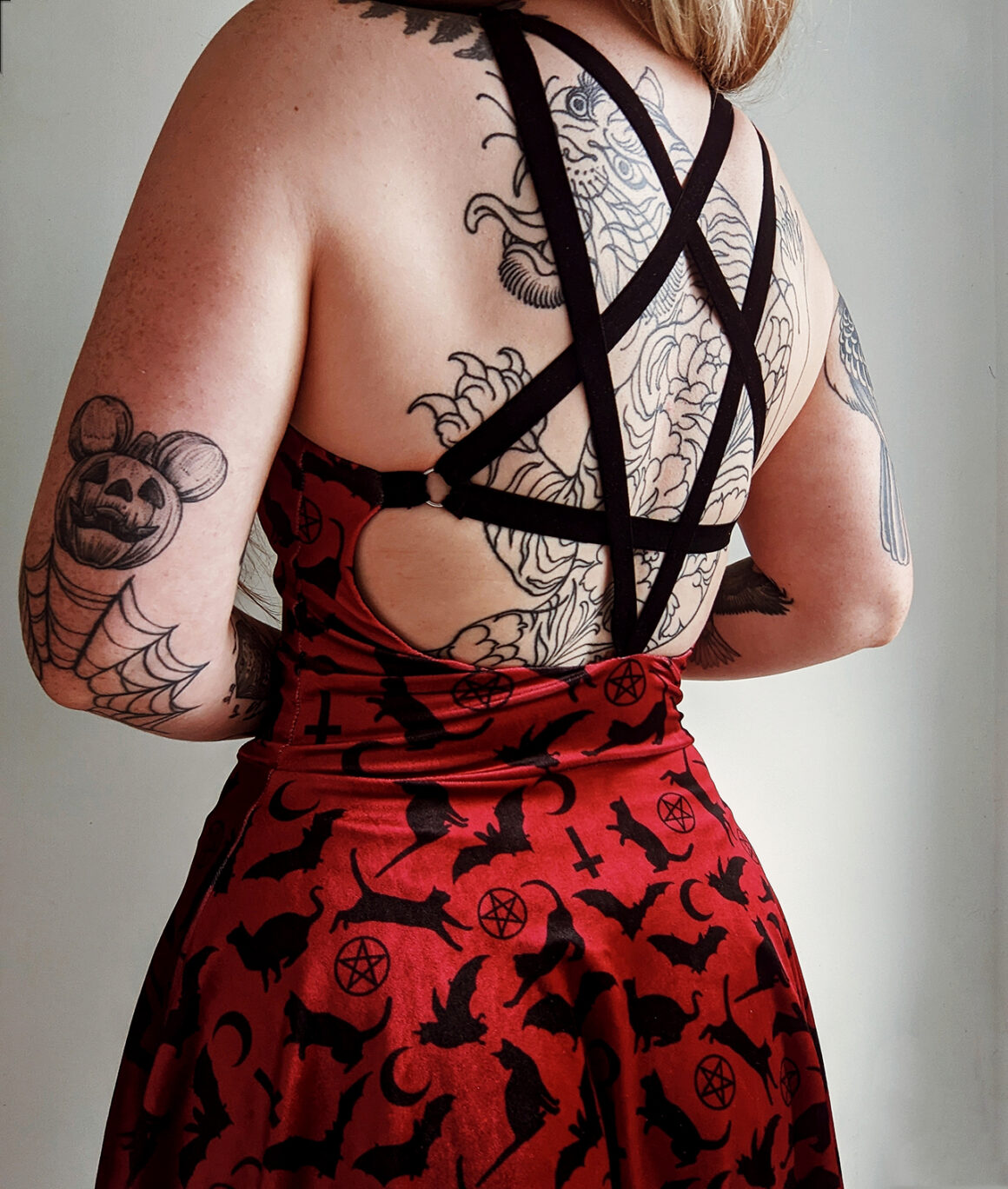 What does the writing on your fingers mean?
I really wanted my knuckles tattooed and knew I wanted something in old English font. The lovely @sooztattoo did my previous finger tattoos which healed amazingly so I got her to do the writing as well. I've always loved "Memento Mori" so I decided to just get MORI on one hand which is Latin for death and then to balance it out on the other hand I went for AMOR to stand for love. People try to look into the meanings more but essentially for me they just mean Love and Death.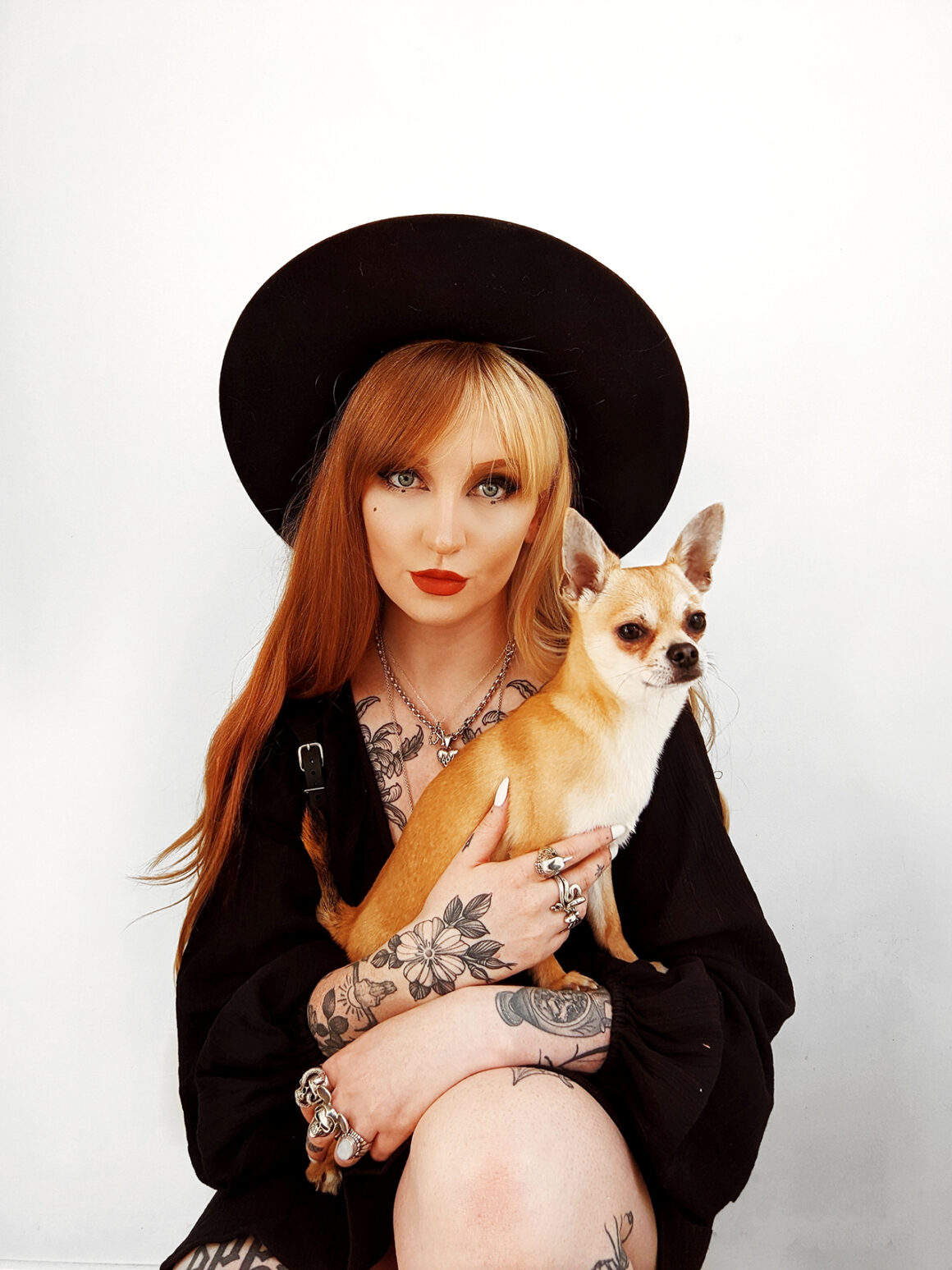 What about the style of your tattoos? Who are the tattoo artists and how do you choose them?
All of my tattoos are black work, I do love colour tattoos as well but for me I feel blackwork looks best with my pale skin. I've got a mixture of styles, some realism, single needle and more recently woodcut/engraved style. I've been tattooed by so many different artists, I love collecting different pieces but also there's so many artists I love and want to be tattooed by so I would never limit myself to just stick to the same person.
I mainly choose them because I love their style and they tattoo similar imagery to what I am after so I know they'll produce an amazing piece.
I also keep an eye out for guest spots. I personally feel that Scotland gets missed out a lot when people come to guest in the UK but I'll often get tattooed in Edinburgh if there is an artist I like guesting in a studio.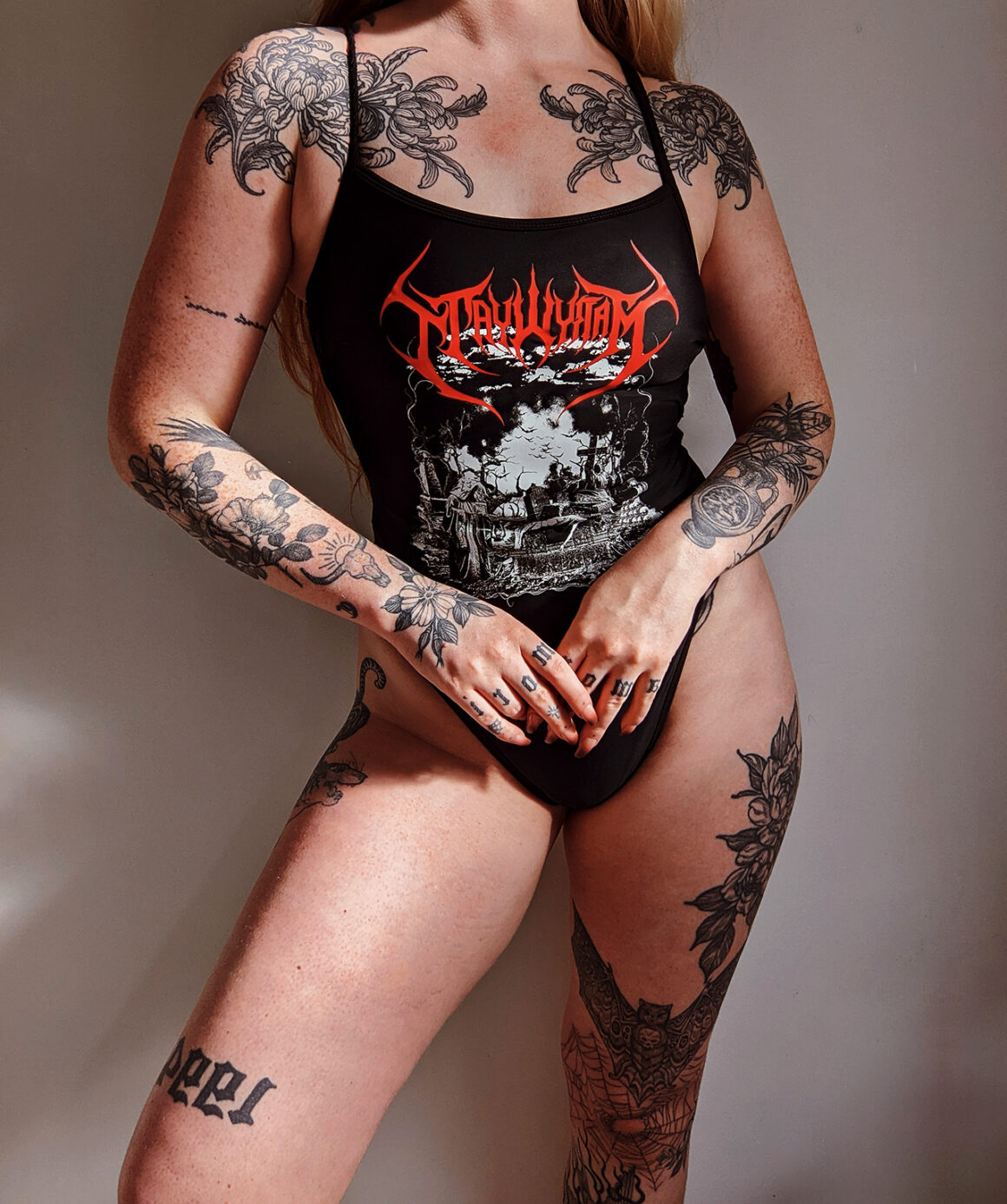 My chest and my back piece, which is currently in progress, are by @laceyolivialaw. I have collected her woodcut prints for ages and it's an honour to be working on such a big project with her. I've also got a few pieces by @kerrygentletattoo and hopefully a few more to come, her floral work is stunning and the attention to detail is unreal. Then of course there's my best friend @melgracietattoo who's linework is just amazing. She's done many pieces for me but my favourites have to be the matching ferns on my shoulders and palm leaves on my stomach. There are also a few pieces of work by @j_nooodle @paige_tattoos @silvertattooer @smick_tattooer @edtaemets @paingardens.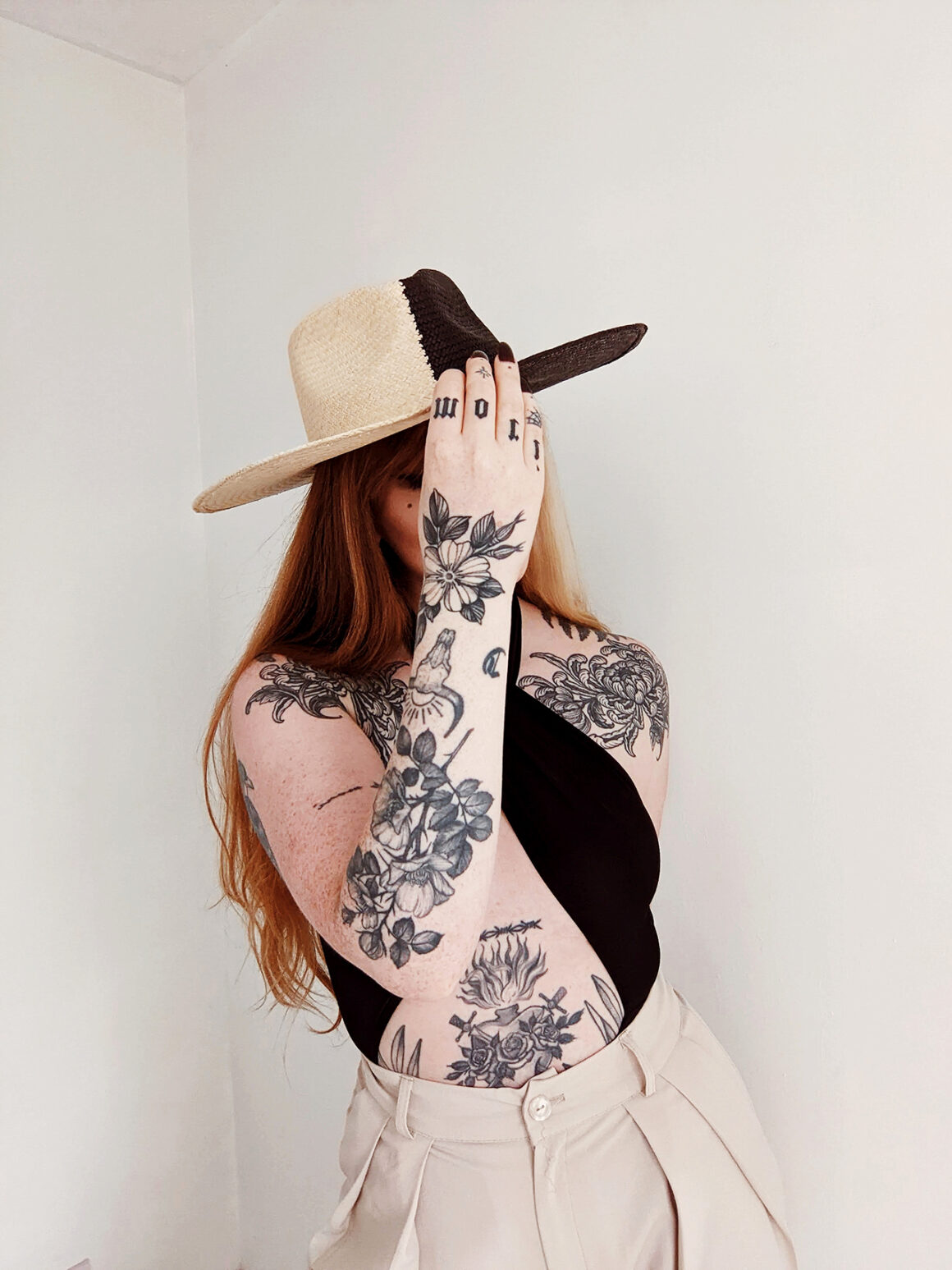 Since you are a testimonial for a lingerie brand, tell us what kind of lingerie do you prefer on you?
Anything with some sort of embroidery or lace I absolutely love! Thistle and Spire is definitely a favourite of mine, in a way some of their pieces remind me of tattoos. I once posted the set with the tigers on it and someone genuinely thought they were my tattoos which I thought was funny.
I think their style of mesh and embroidery really work well with my body and tattoos, plus I love seeing my tattoos still showing under the mesh.
I definitely prefer it when the top half is more of a bodice/ bustier because then it's easier to style with an every day look. Lingerie and tattoos almost go hand in hand for me, they both give me body confidence.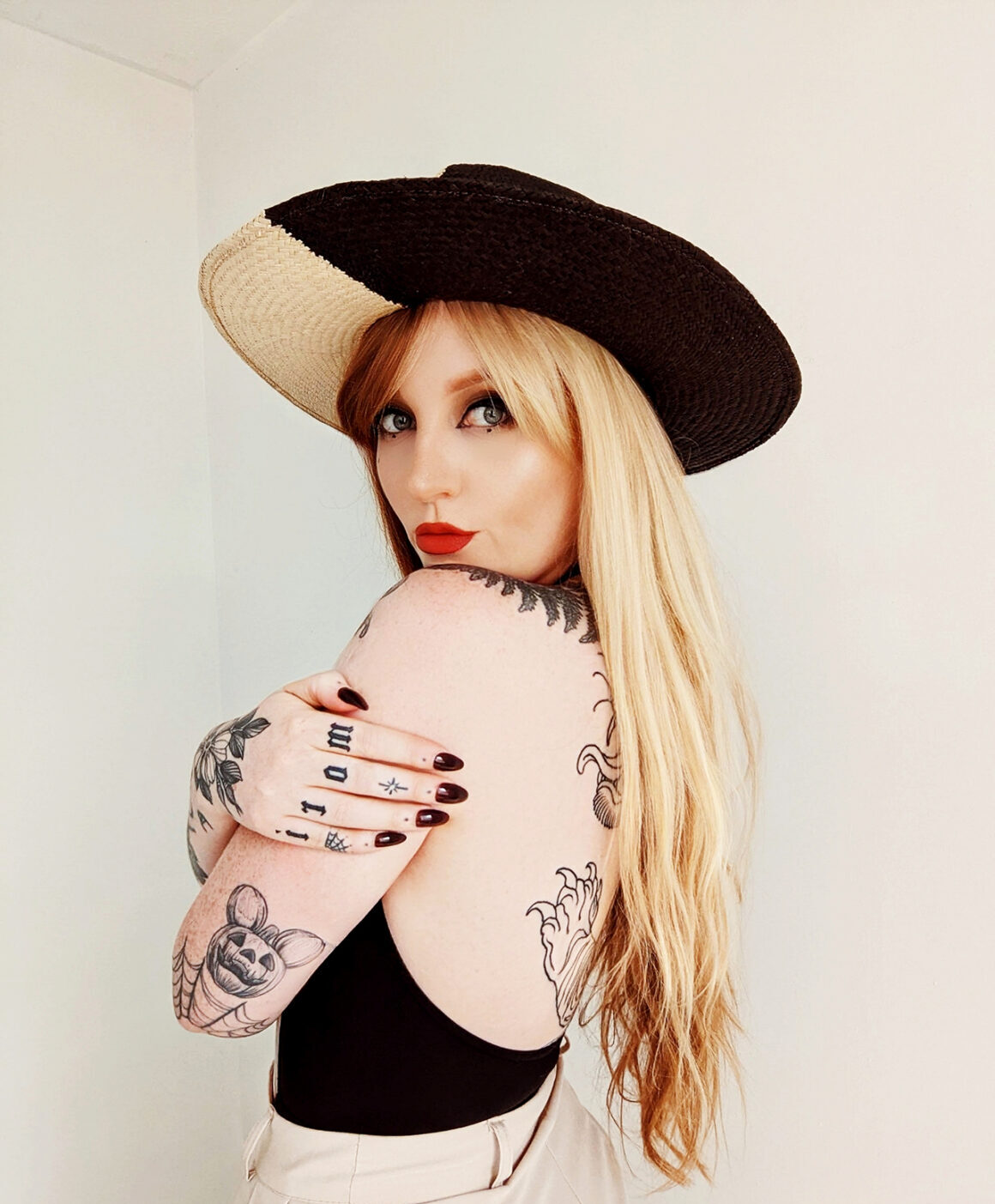 Are the drawings you publish your own?
Yes! I am also an artist. I graduated from art school a while back and would consider myself more of an illustrator. My style is quite a mix as I love doing a bit of everything from simple graphic illustrations to pattern making or pet portraiture. My art Instagram is @madeinkellsey where I post recent work occasionally. I recently entered The Great Frog Creative Competition and came third which was amazing!
And to wind up this chat with you, what is your favourite look?
My favourite look would have to be all black, maybe a midi or long black dress with a side split, or for a more casual look a blouse with big sleeves and some tailored trousers. Of course adding a harness in and a whole load of jewellery because it just wouldn't be an outfit for me without them. I love giving off a sort of tailored/smart goth look with witchy victorian vibes. Anything that shows off my tattoos is just a bonus.