This charming artist specialized in solid black areas and bold lines got tired of the freezing winters of Northern Europe and moved to the other side of the globe.
Hi Kate, can you tell us a little about yourself?
Hi, my name is Kate, I am 27 and I was born and raised in Latvia, a very small country of less than 2 million people in northern Europe. Art has always been there with me from the beginning, I started attending art school when I was 6. And once you are in such an environment, there is rarely a way out! (laughs).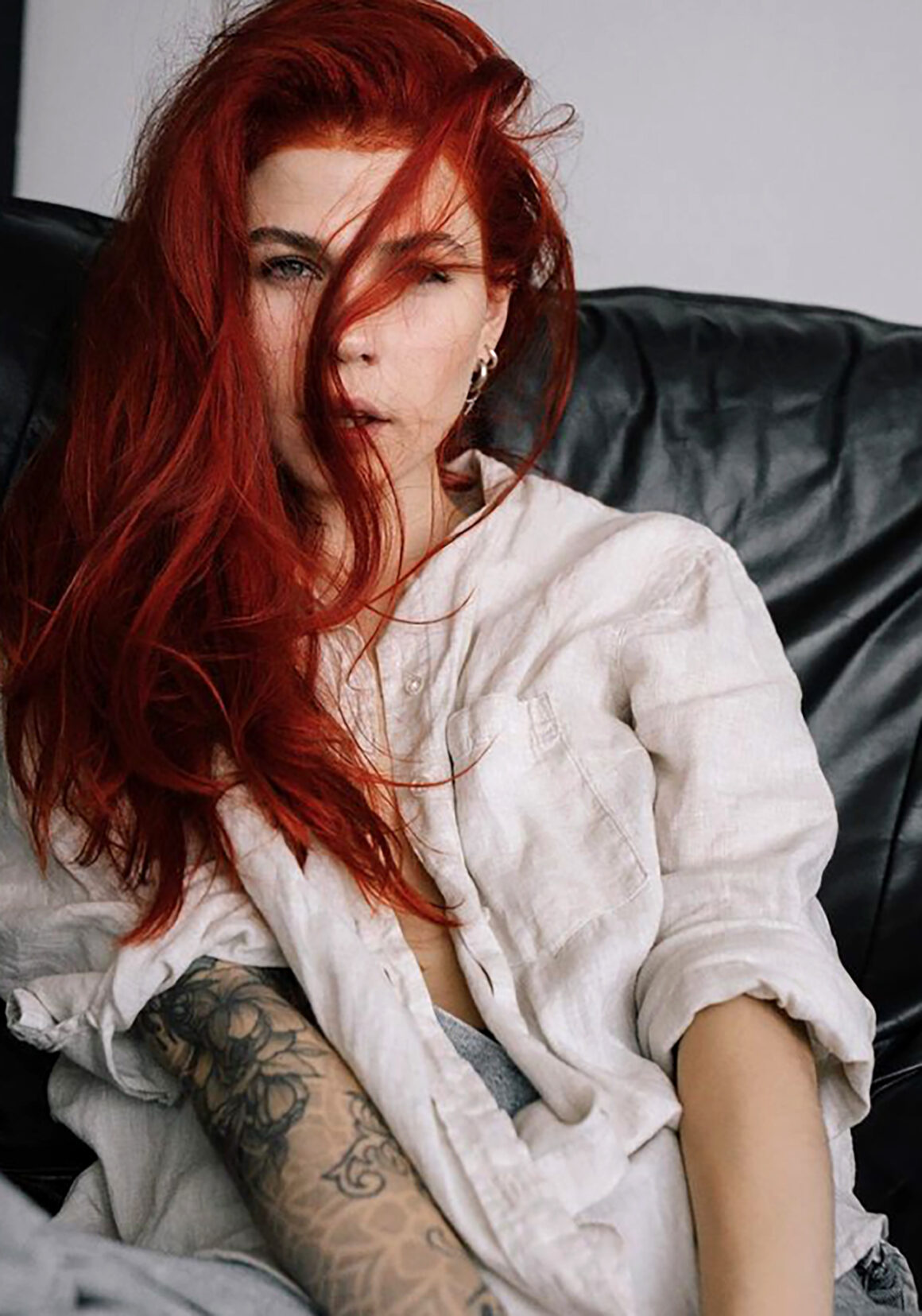 How did you discover the world of tattoo art and what were the major events that led you to be a tattoo artist?
When it comes to tattooing, the culture itself got my attention when I was a teenager – at the time I was going through phases being an alternative kid, being a goth girl, emo, hanging in skateparks… I tried it all! (laughs) Naturally tattoos have always been a huge part of alternative culture. Around that time I was watching and captivated by shows like 'Ink Master', 'LA Ink' etc. However, I couldn't even allow an idea of tattooing being a real job at that time.
Tattooing seemed a dreamy close to impossible yet very exciting lifestyle.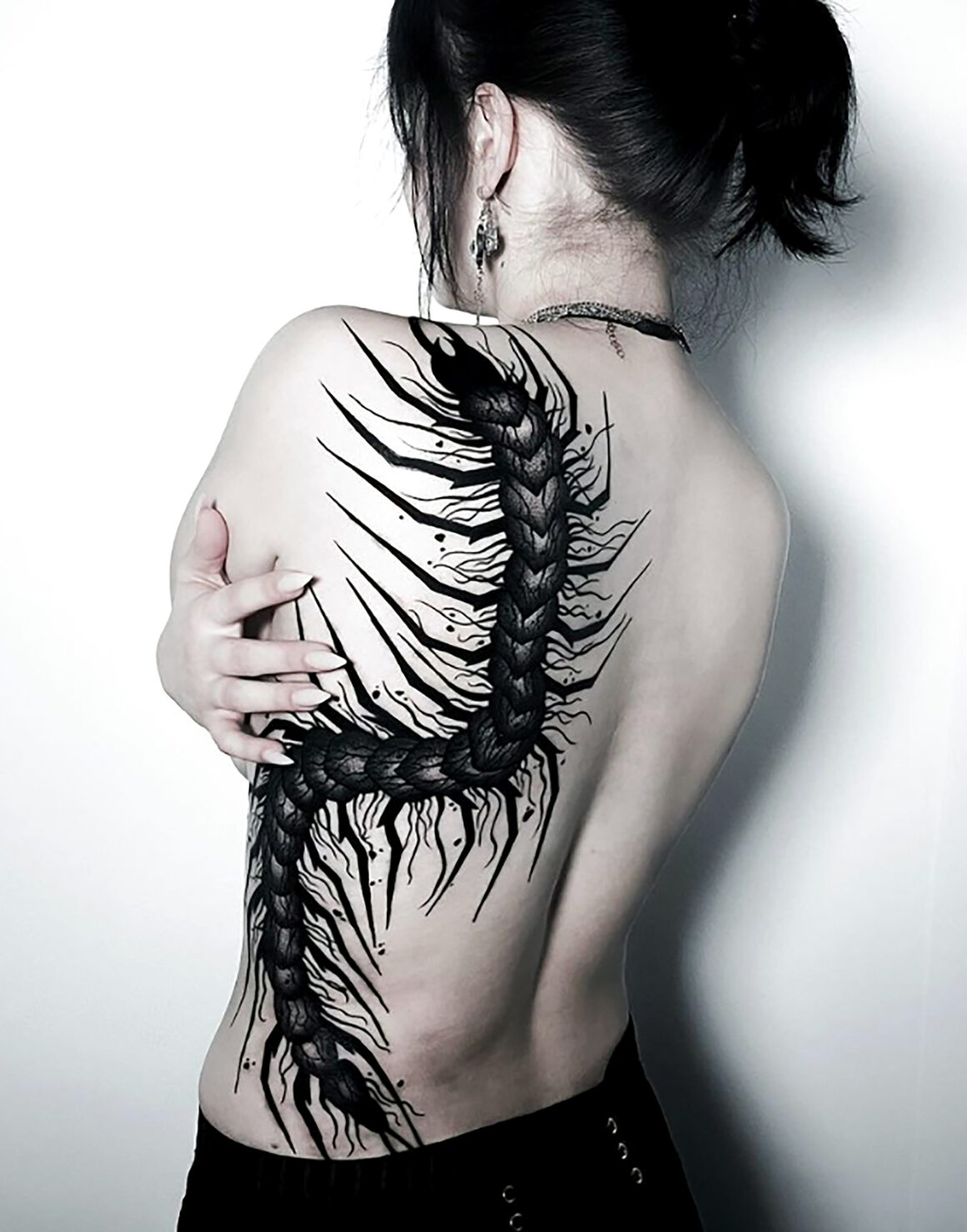 One thing that struck me about you is that your style is Blackwork & Dark while you have colorful floral tattoos on you. How do you explain this dichotomy between what you tattoo and your personal tastes?
I would say this is a common thing among artists – when their style does not fully match art they create. Many tattoo artists do not even have tattoos, let's start with that! (laughs) I would say, my style, especially the darkish touch of it, was highly impacted by earlier age – mixing styles, aesthetics, moods, techniques, colors to create my own.
Now I found the perfect blend as I love working with bold lines, solid black parts and simplified shapes.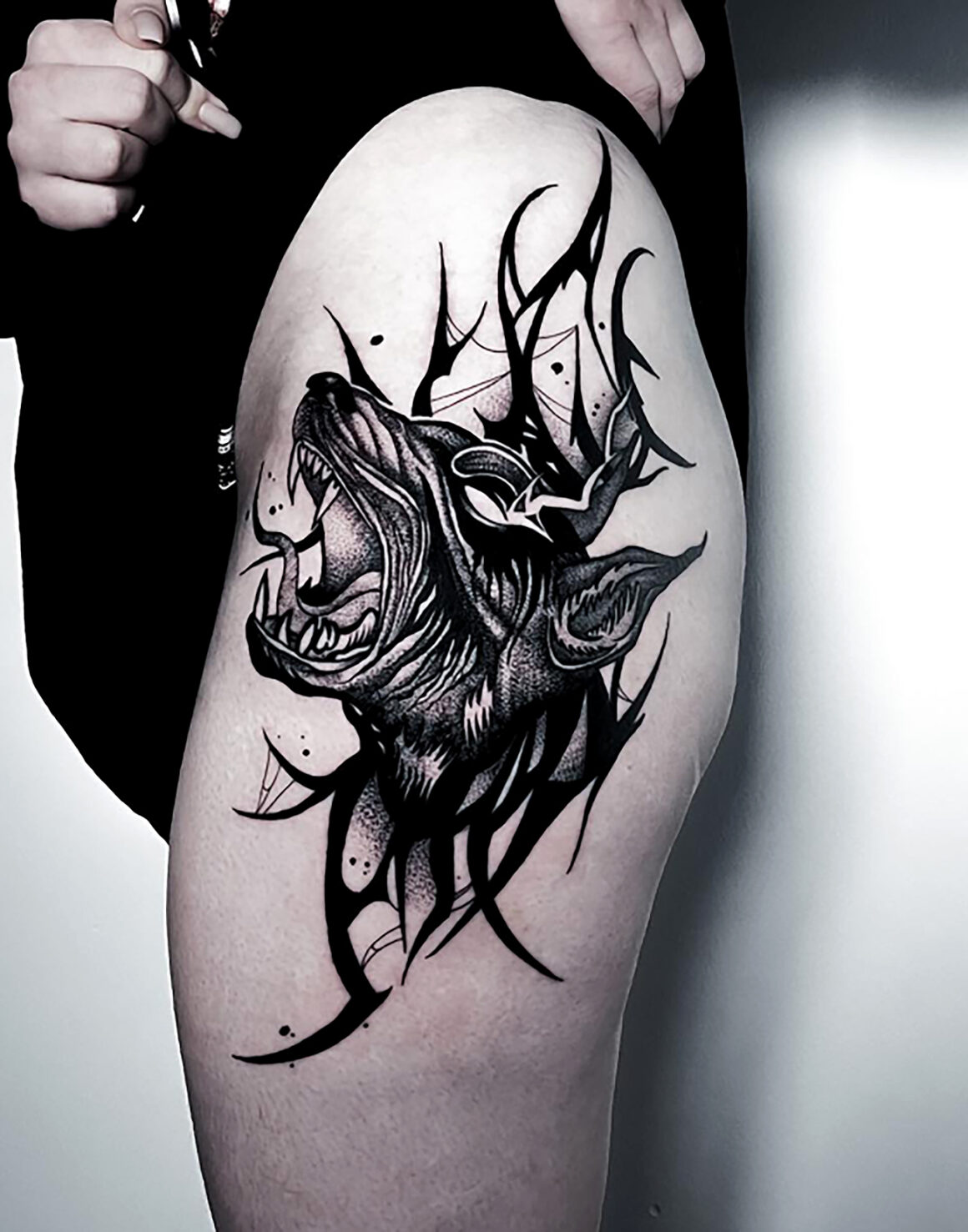 Do you prefer to separate the two? Your person from your style?
Yeah, I do divide my style and professional work from other aspects of my personality, it has been growing and evolving a lot over time, so at this point I cannot fully identify myself with the style I am representing. We are all growing and changing to different directions which is a great thing and I am more than sure the art I create will keep changing. So naturally, the tattoos I own and have on myself, are part of a story.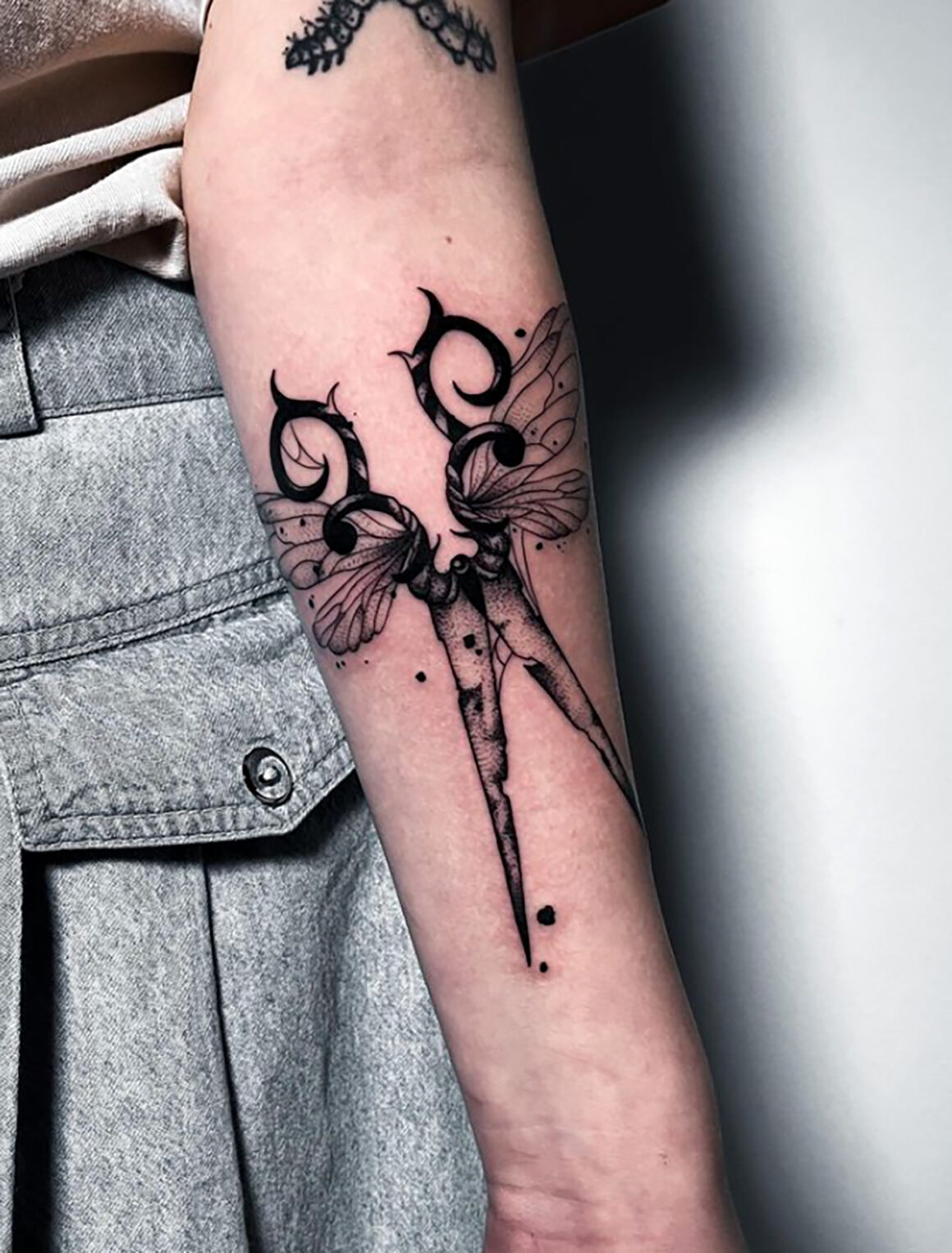 Am I wrong or does a "goth" view of life sometimes prevail in you? Do you like that kind of cinematography or music?
That is a funny question, because I am totally the opposite. I have bubbly, cheerful, sunny personality, and I am genuinely open to the world and happy with my life. I do love heavy music, and I am a metalhead since early teenage years, although this whole culture is not taking over me. I do take inspiration from the metal music, gothic art and aesthetic, same as I do from other sources. I take what I find interesting from different influences and play around with it.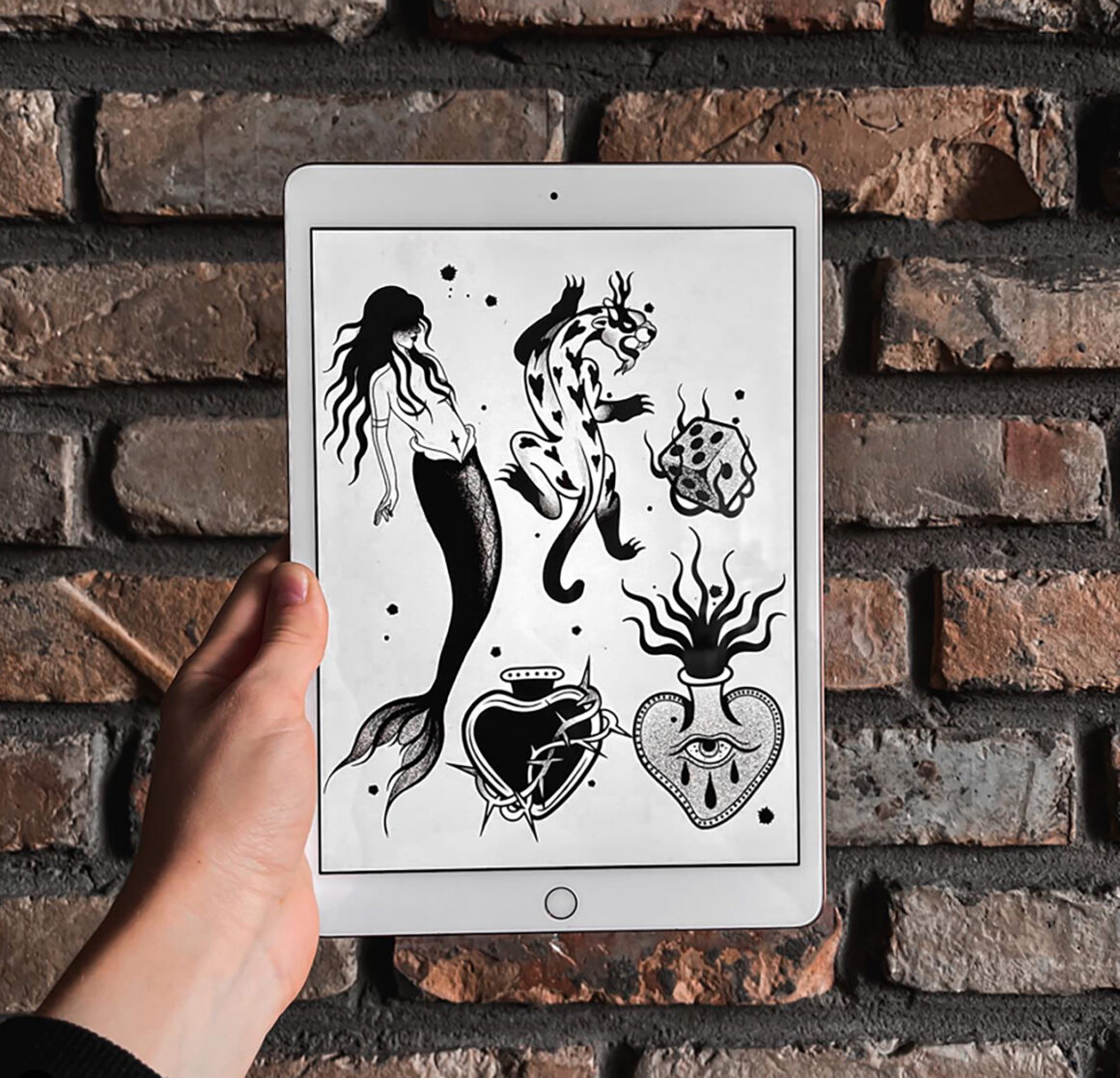 Can you tell me about the "ideal day" for you? Does tattooing or getting tattooed fit into these 24 hours?
Working and tattooing is definitely an important part of the day for me! Basically, every day is my ideal day because of the way I built my routine and it's very simple. I am not a morning person, so that is the time I dedicate to myself – slow start, nice breakfast at home or at a nice location, working out at the gym etc.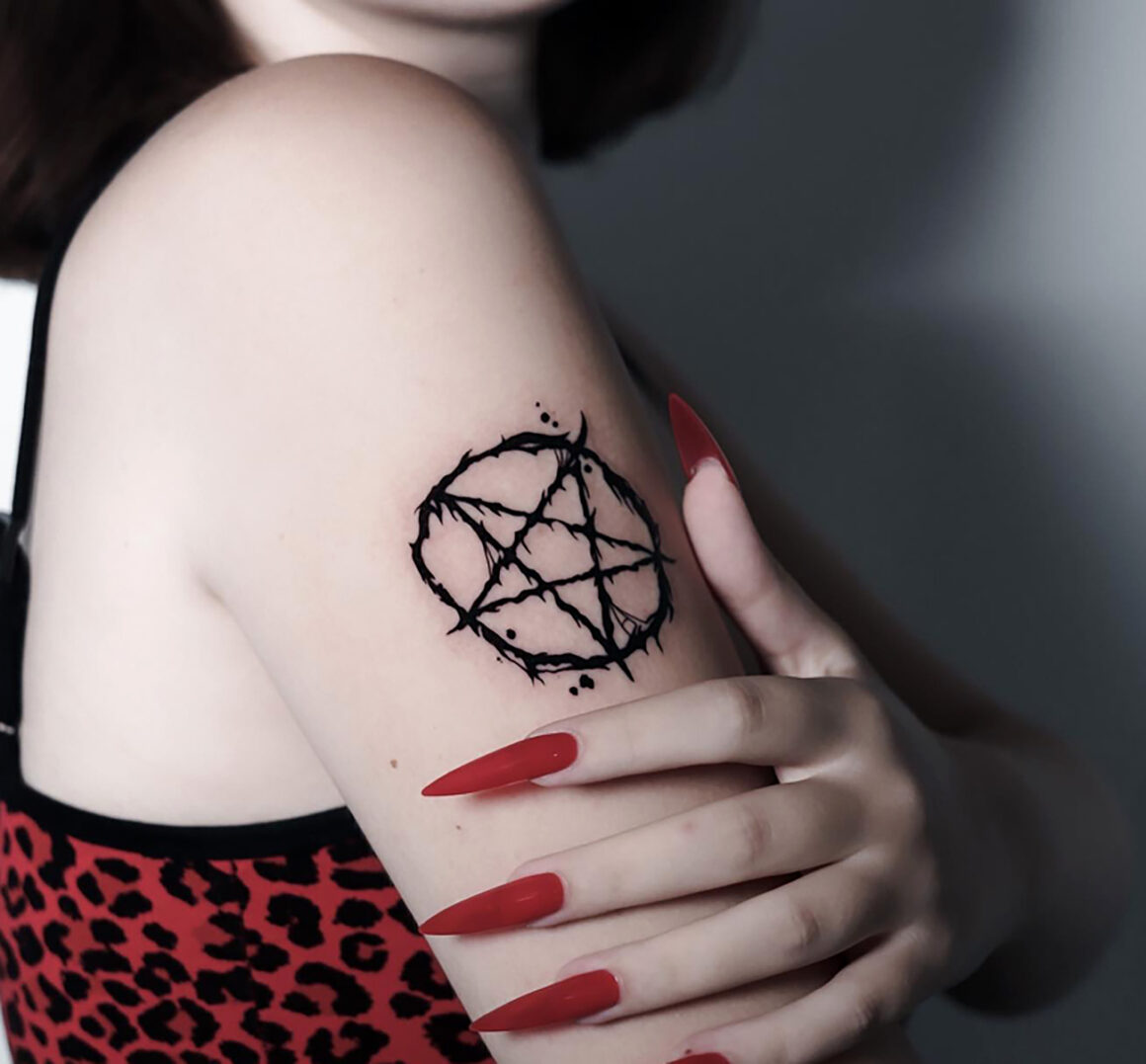 I usually start working around noon one way or another – either I am physically at the studio tattooing or drawing, replying to messages, making content for Instagram etc. Usually it takes me the whole day, and afterwards – evening are made for catching up with friends – watching a sunset, attending a gig, having dinner or I love to stay in by myself often as well to recharge the batteries.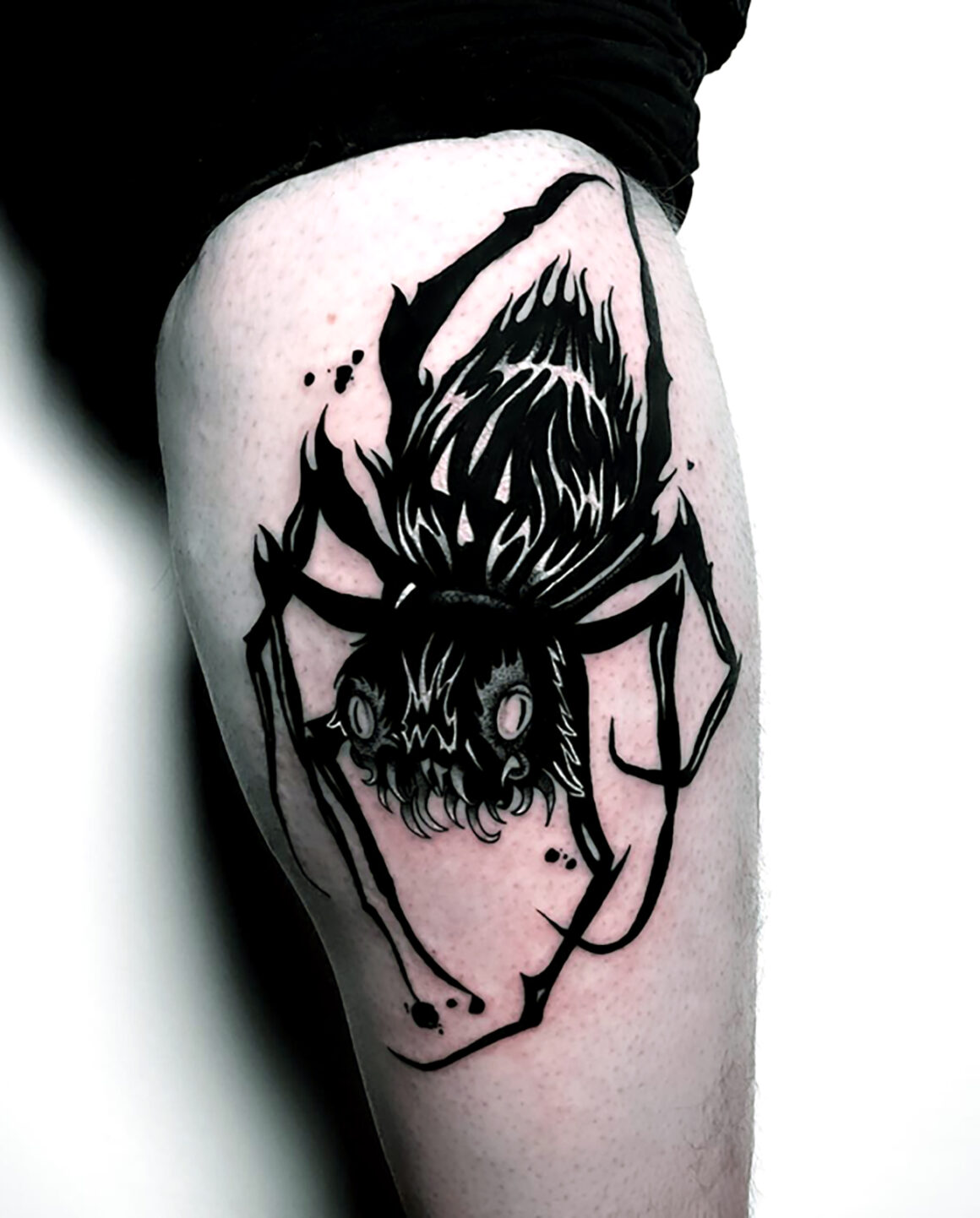 Will you still get tattoos in the future, maybe on your back or other parts of your body still clean?
I perceive tattoos as an accessory, but accessory that stays that's why I am not impulsive with my decisions. At this point I don't see anything else on myself except maybe a few smaller things, but I am still giving it a thought as I am not in a rush.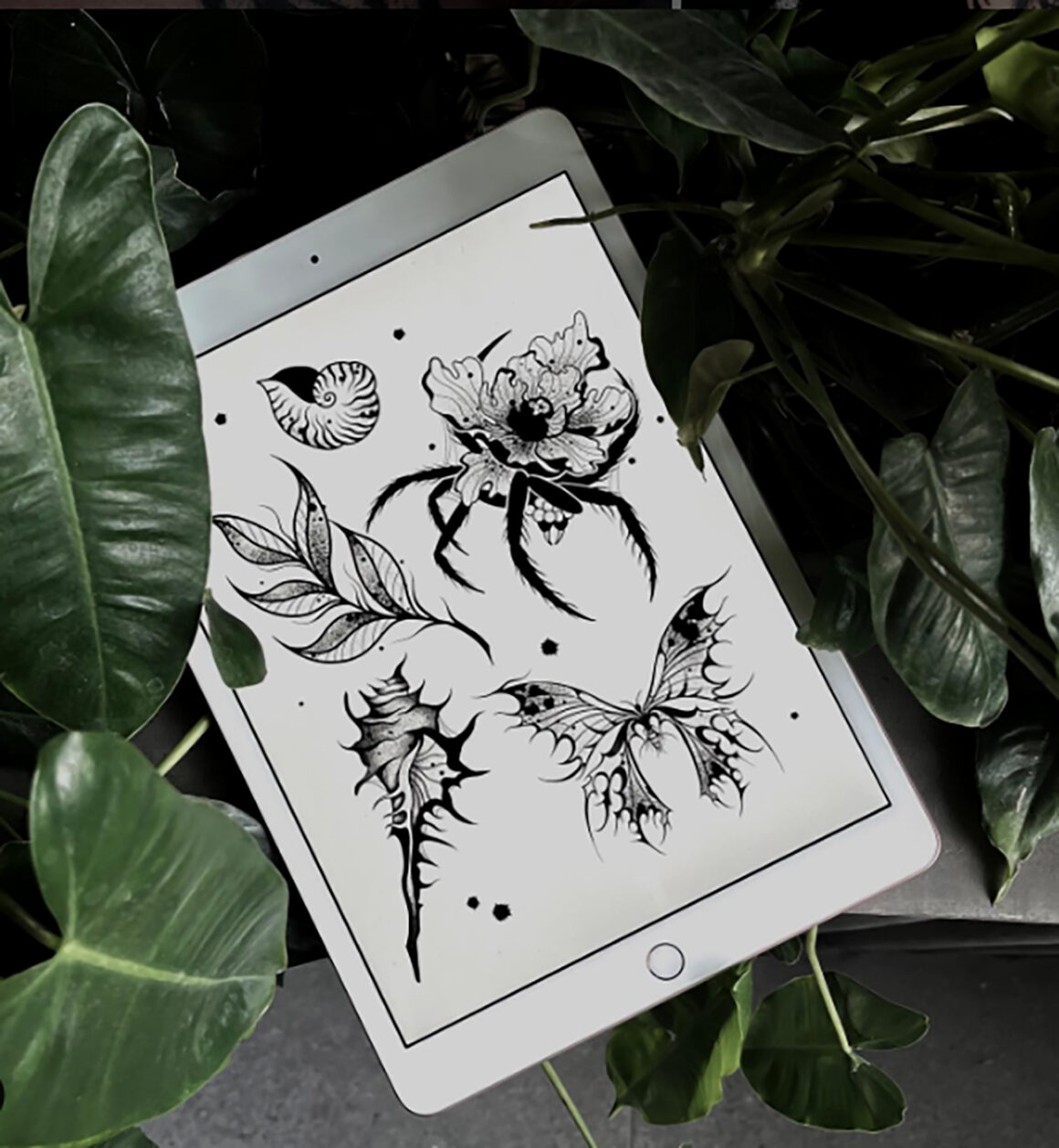 I guessed from your Instagram page that you will soon be moving for work from Riga to Bali. Can you tell me more about that?
By the time this interview is published, I will probably be already drinking a coconut somewhere at the beach in Bali! (laughs) Regards this decision – for the past few years I have been traveling Europe with an idea of finding a perfect place to move and live long term. I hate winters and got enough of the city life, so when I first came to Bali, this place felt like home and is able to offer me everything I am looking for at this point in my life. It has been a very lifechanging decision but totally worth it, so feel free to follow my adventure on Instagram @noita.tattoo. (smiles)
And your last famous words are… ?
Don't take life too seriously.