We spoke with the resident artist at 'Abrakadavra Tattoo Art Club' in Ipswich, and asked her about everything, including tattoos and her funny cat named Luna.
When did Kat Abdy realize she had an artist's soul?
I don't think there was a particular moment when I realized I love art – I grew up in a creative environment, my mum always provided everything imaginable to create with, it was very much just part of what I always did and loved. I couldn't imagine a life that I wasn't drawing or creating in some sense! (laughs)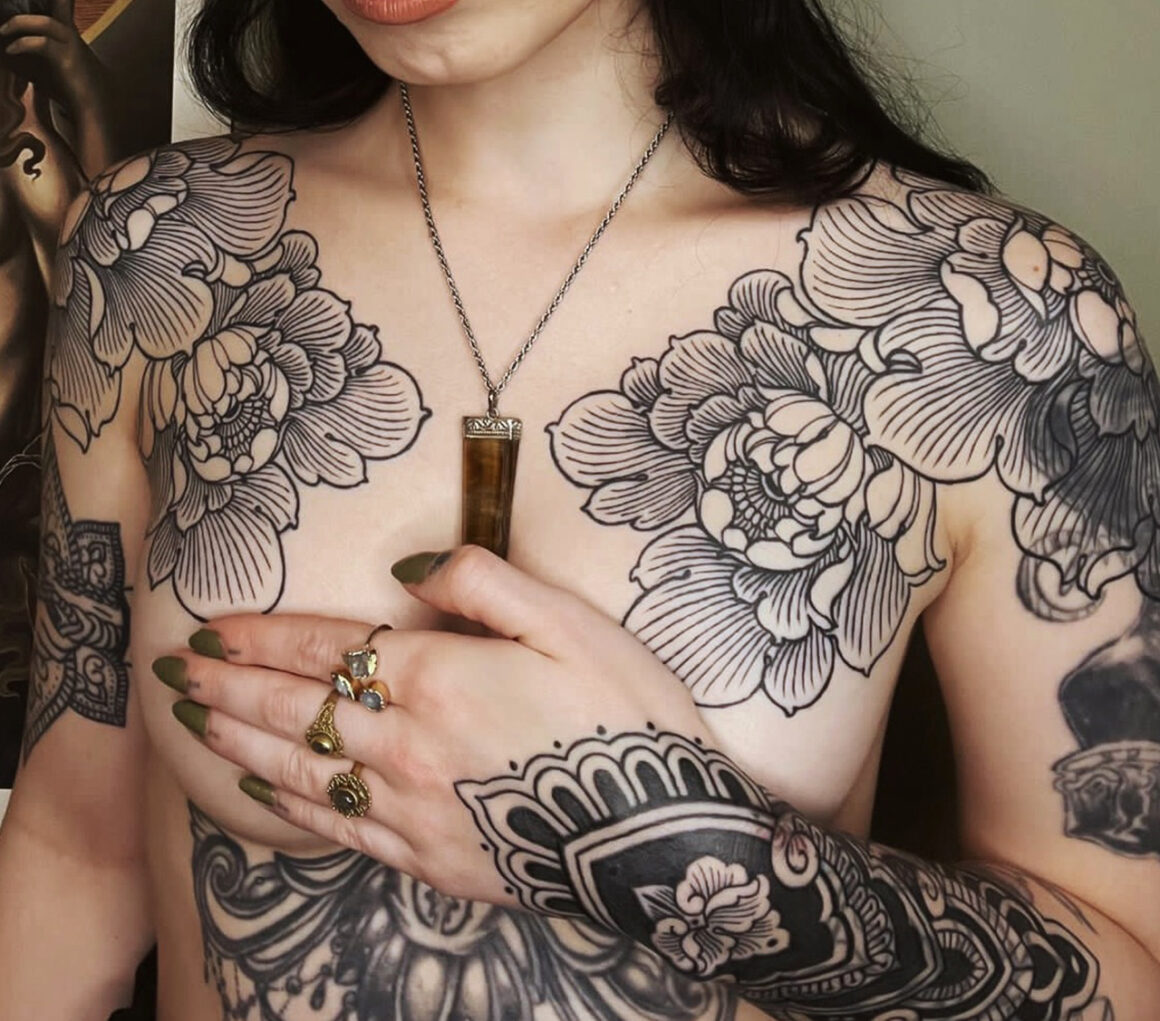 When did it all begin?
I started tattooing a good 14 years ago, things were very different, no social media, no tattoo tv shows, the industry was even more male dominated than today… I was one of a handful of young girls who actually managed to get an apprenticeship tattooing at the time.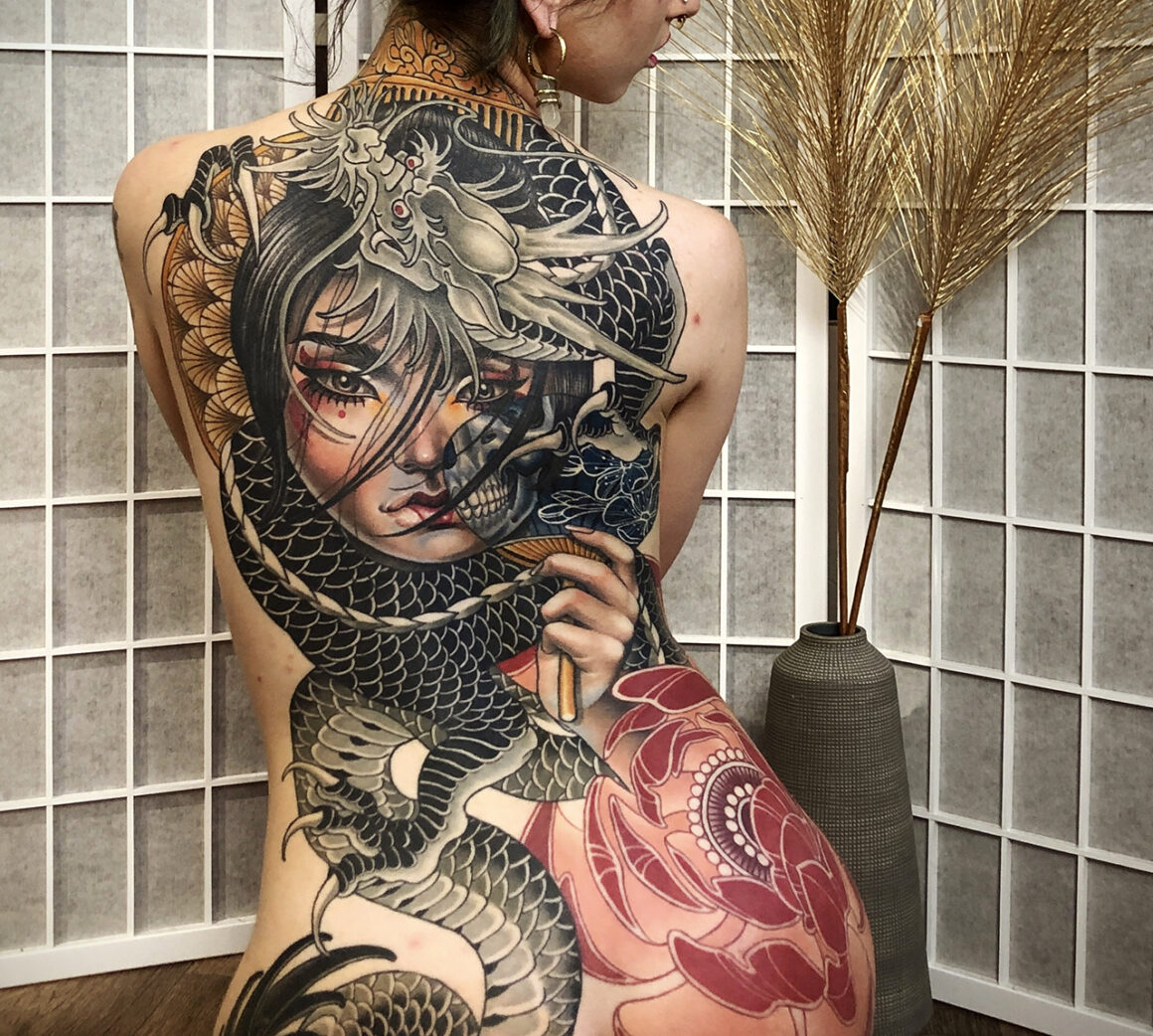 Was it hard to establish yourself in the often male-dominated world of tattoo art?
I wouldn't say I had any difficulties in regard to gender when I started out. Back then I acted very much like one of the boys anyway! I'd like to think when it comes to establishing yourself, that art speaks for itself.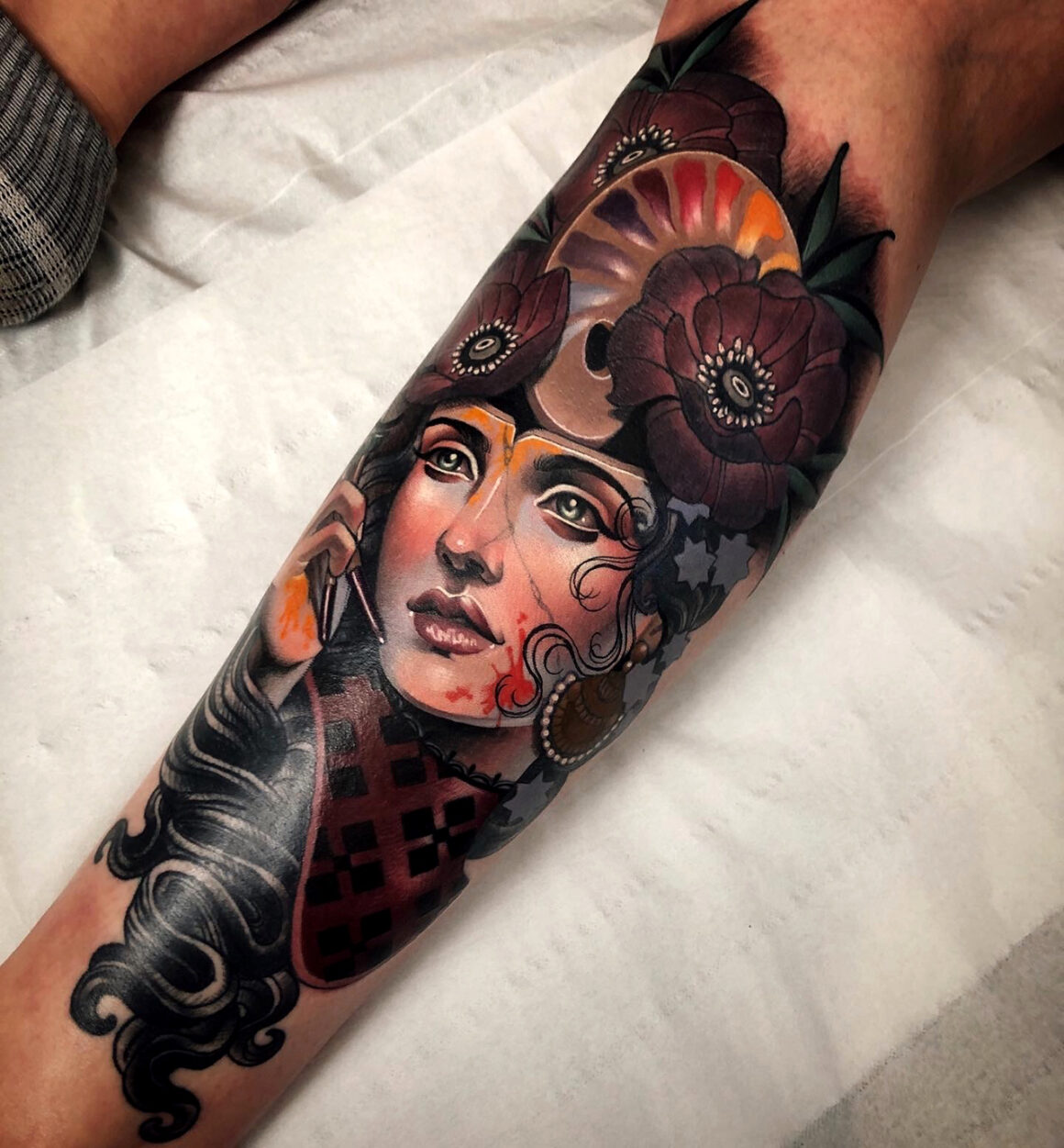 Your tattoos are real works of art that start from the female face and become something powerful. Ok, it's always difficult to ask an artist to describe her creations, but do you have a name or a simple word to describe the style of your tattoos?
Well, it's a difficult thing to label! I think labels are limiting but I guess necessary to a degree to communicate the basics. I would say I fall into the vast category of Neo Traditional.
I like to work with colour, preferably a deep rich impactful pallette, I also adore black work and patterns, I'd love to do more of this.
When I'm asked what style I do I often just refer people to my social media account (aka my portfolio) so they can make their own mind up about it!
I guess that clients always leave you complete freedom to act, create and design. Or do you also accept to tattoo on request?
Clients usually come to me with a concept, a placement and maybe a few designs of mine that they like. I am happy to have free reign and people do ask for this – but I like to have some input from the client in regard to a general theme. It's important to me that a client gets something that is significant to them and represents what they like.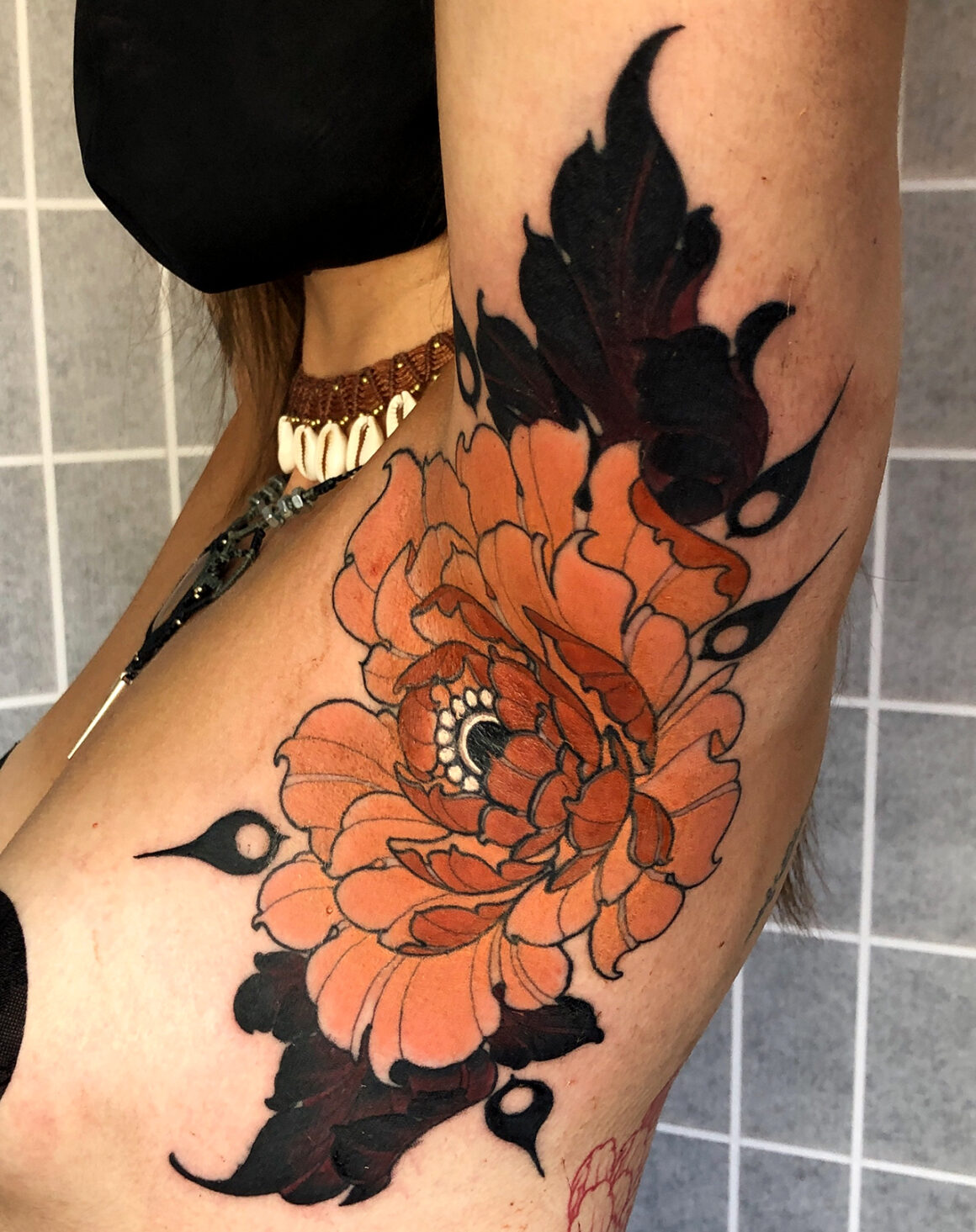 If someone requests something that I like the sound of, then of course I'll do it! (smiles) These days it's rare that anyone comes to me asking for something I don't want to do. I'm very grateful for the clients I get!
I want to know more about your influences so if you can tell me one of your favorite books, the movie director you love the most (and also some movie titles) and the music you like to listen to in order to hit the right mood?
Hum that's a tricky one – I don't usually have clear cut favourites. It depends on my mood and also what phase of my life I'm in! I rarely watch anything these days, we don't even have a tv in our flat – just our iPads for when the mood strikes to numb my mind with a movie/series. I find it difficult to sit through more than half an hour of watching anything! (laughs)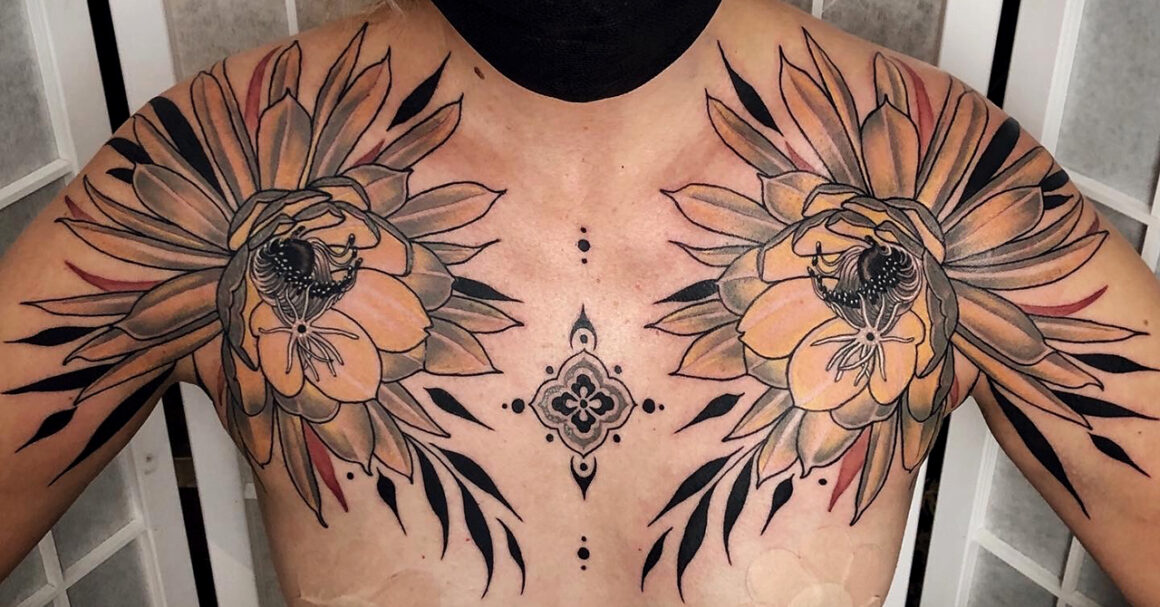 Come on…
Well, some of my recent favourite film directors would be Lars Von Trier (titles like 'House that Jack Built' or 'Nymphamaniac') Bong Joon-Ho ('Parasite' and 'Snowpiercer') Ari Aster ('Midsommar' and 'Hereditary') Guillermo Del Toro ('Pans Labyrinth') Music – in my teens and early 20's I listened to Tool, Deftones, Korn, Karnivool, Massive Attack, System Of A Down, A Perfect Circle, Disturbed, Prodigy, Mudvayne.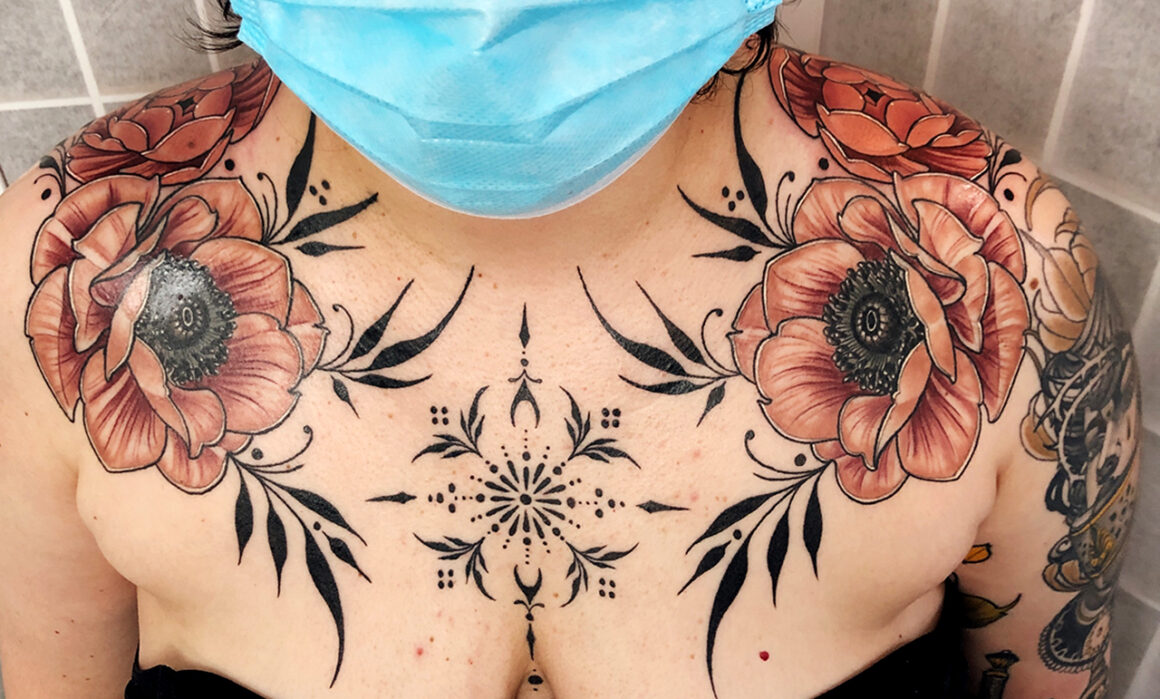 I still love listening to these for the nostalgic vibes. I also like electronic music- Ic3peak, Clann, Nuages, Alt J, Flume, other music I really vibe is Fever Ray, FKA Twigs, Sevdalisa, Lamb, Sia, Bjork…
I oscillate between all these depending on the mood I'm in, and definitely always listen to music while designing.
I listen to a lot of ted talks, audio books and podcasts while doing line drawings or shading mock-ups, but I can't do this while designing because I can't focus on what's being said. I hardly ever sit and read but as I said I listen to audio books. They take me forever to finish because I'm so inconsistent with them! I like anything to do with psychology, psychopaths, or spirituality.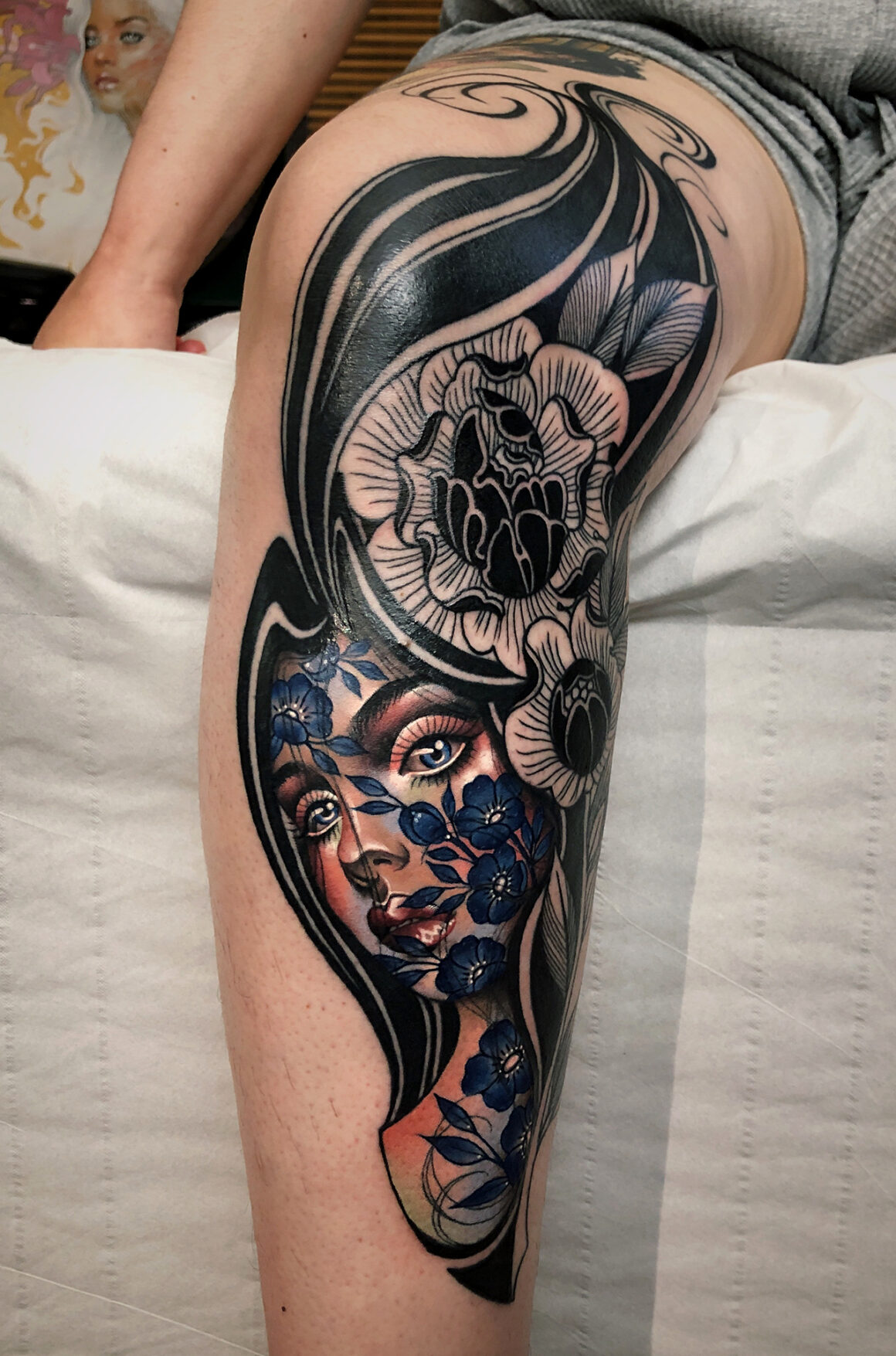 Where exactly do you work in Ipswich? Do you own a private studio where you receive by appointment or do you guest at local tattoo shops?
I work in my husband's shop, 'Abrakadavra Tattoo Art Club' (IG: @abrakadavratattoo). I do take my own bookings though. I don't usually do guest spots these days, unless I'm in Australia.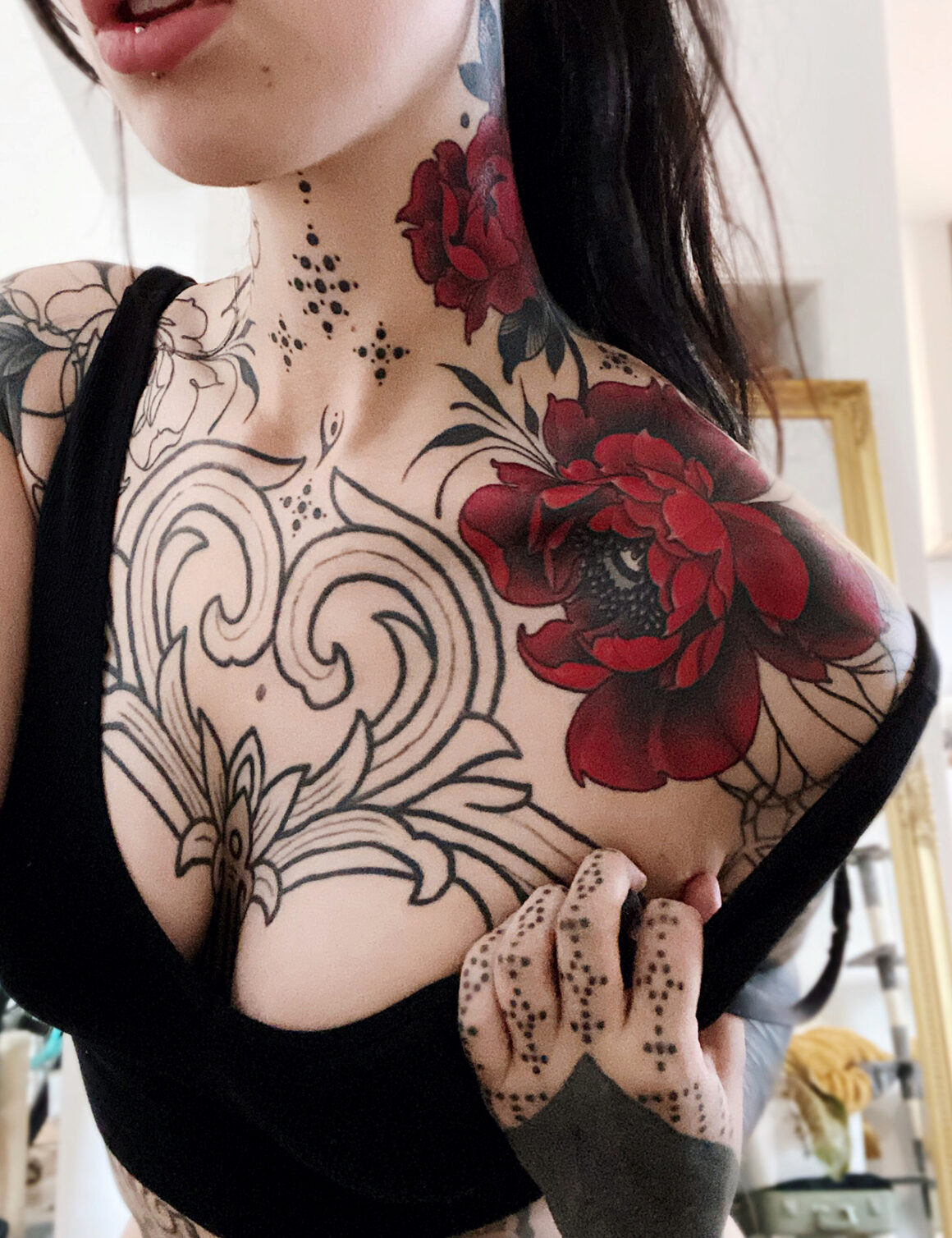 Last question. Let's talk about Luna, your beautiful cat. Is she present with you when you tattoo?
Luna is the fur child of my little family. She certainly doesn't come anywhere near me when I tattoo as that would be quite unhygienic and breaking the health regulations! She does like to come and pester me while I'm drawing, in true cat style she always wants attention specifically when I'm busy! She's a delight to come home to, she always greets me at the door, I often do running commentary on her behalf. (smiles) She makes me laugh!