Once again we have had the pleasure of chatting with a Japanese tattoo legend: Jess Yen, aka HoriYen. This great tattoo artist was born in Taiwan, but lives and works in Alhambra (California) where he has opened his own shop My Tattoo.
In this interview he reveals secrets he never spoke about before and tells us all about the technique and tools he uses to produce work that is impeccable whatever way you look at it.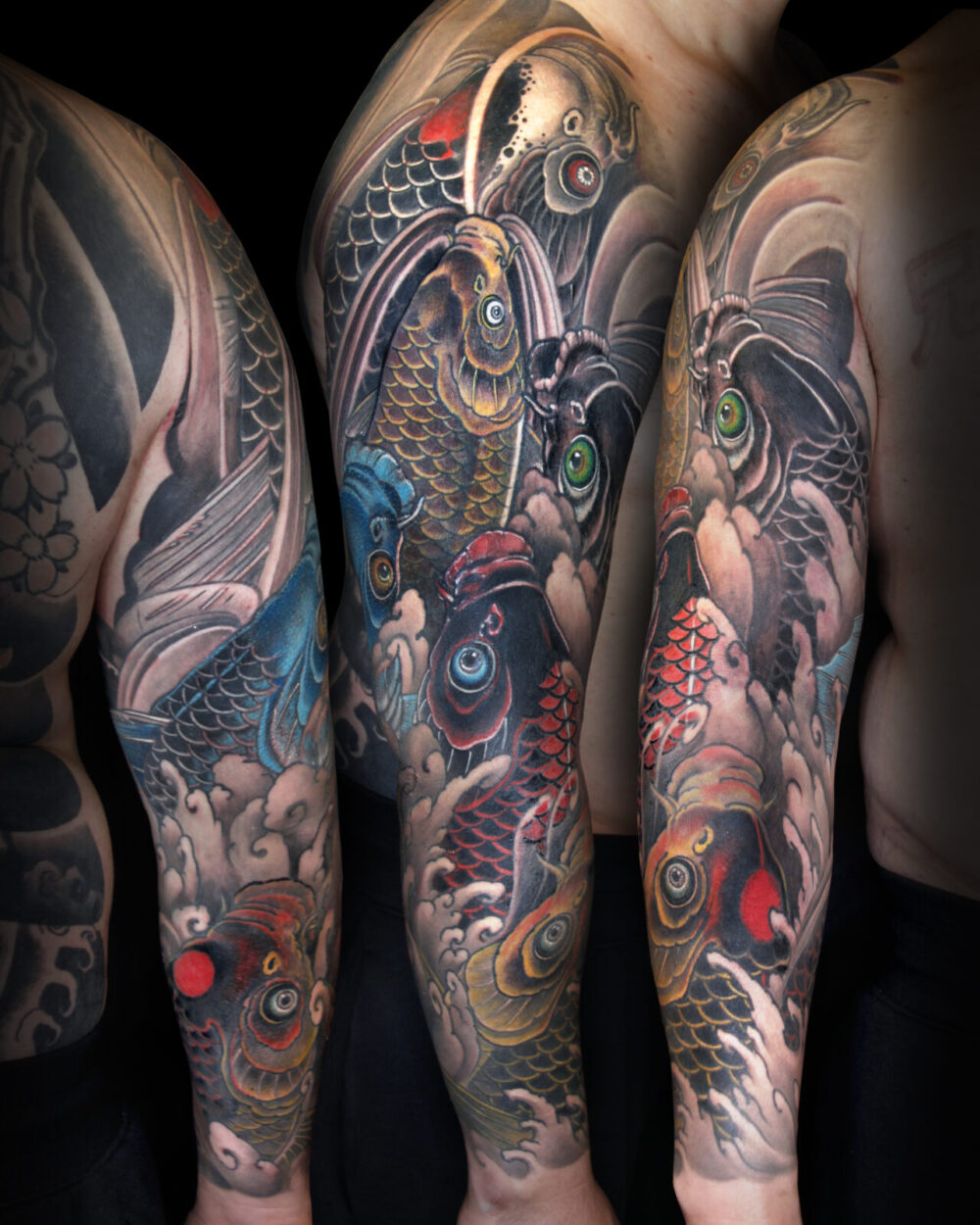 Hi Jess, here at Tattoo Life neither you nor your work need any introduction. Your style is unmistakable and your tattoos are a source of inspiration for many lovers of the Oriental style. What are you working on at the moment?
I have been working on my paintings for the Korouten Art Exhibition which is held every year in Shibuya, Tokyo, Japan in November. The Korouten Art Exhibition was started by legendary Sensei Horiyoshi III from Yokohama, Japan, in 2013 and I have been co-hosting with Sensei for the past three years. Because of that, my client list has been growing. Now, besides my paintings, I continue to work on tattoos and try to finish more clients.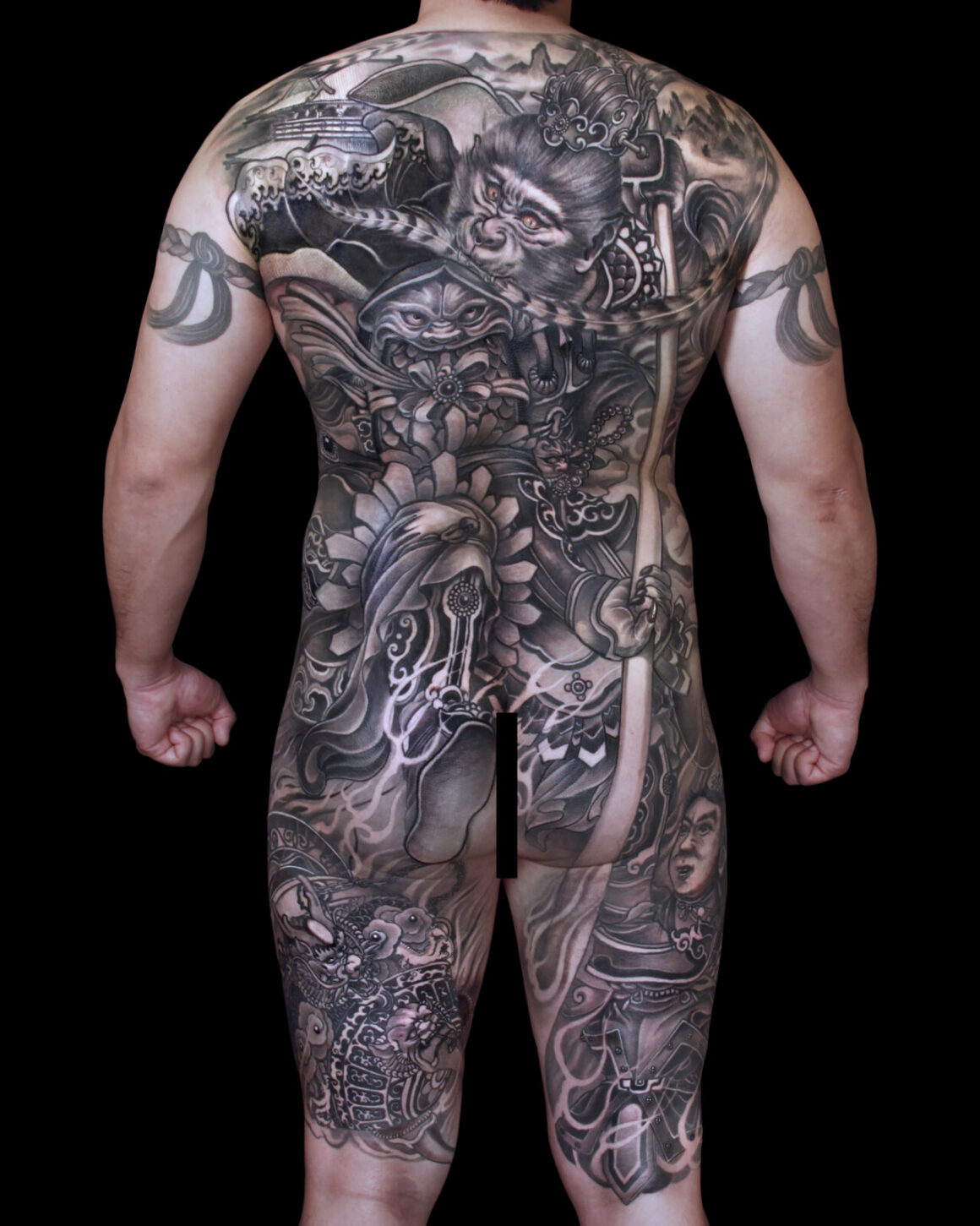 Let's talk about technique: how has it changed over the years?
I began as a Tebori artist (traditional Japanese hand-poked style). After moving to the US, I had my first encounter with the coil machine and was amazed by its speed and capabilities which the Tebori method was not able to achieve. In addition to western culture influence, I started to add elements of realism, materialism and textures into my work. Realism or illustrative style as it is called, involves many techniques and multiple types of shading needles.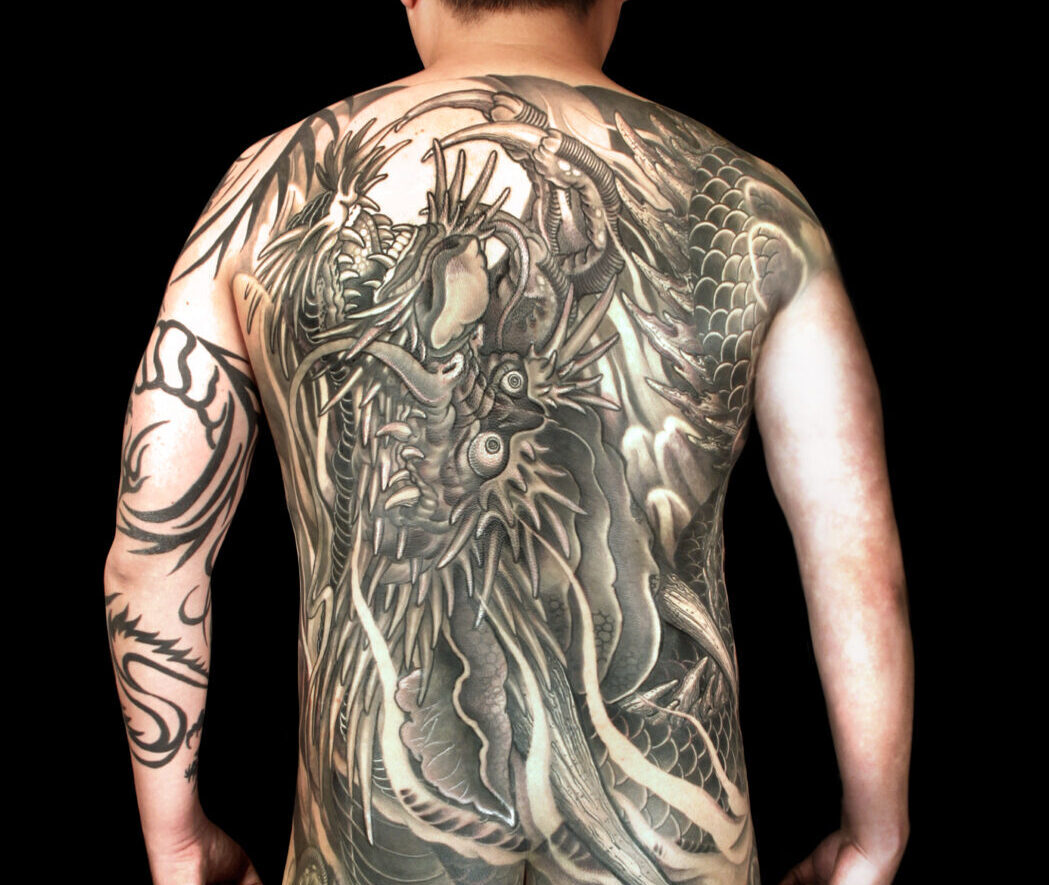 Therefore, I studied a lot about using different types of needles to accomplish the result I want. Nowadays, the rotary machines or "pens" are popular because of how easy it is to change needle cartridges and I use them as well. After over 10 years focusing on Realism in Oriental tattoo works, I am now starting to go back to traditional Oriental style which involves more line work. I utilize various types of line needles along with different methods(such as brush line, bold line, dotted line, curve line…etc.) to present my work. I believe simple is powerful.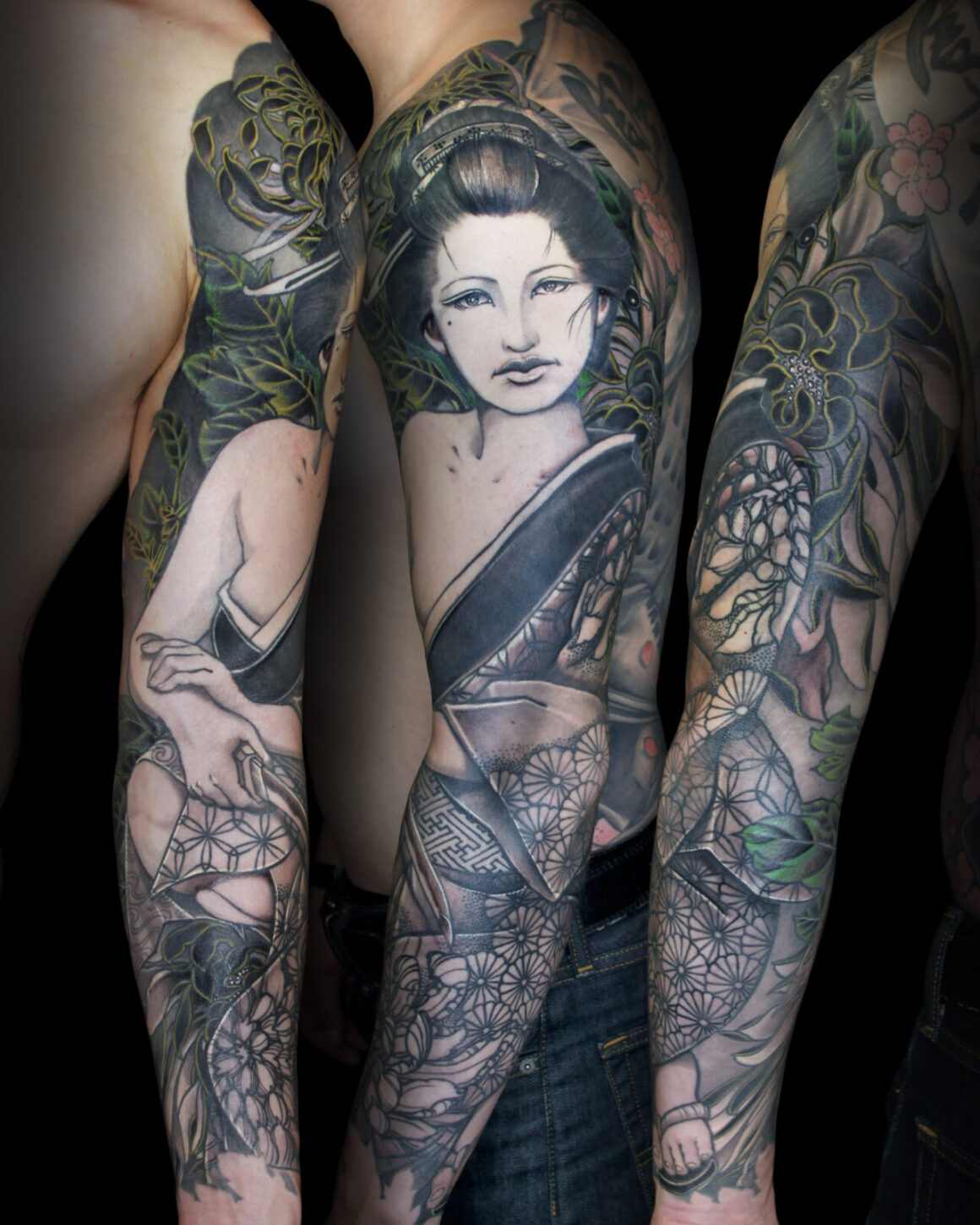 What tricks have you learned and what's your secret for the perfect tattoo? Speaking of which: when would you say that a tattoo can be said to be perfect?
I will answer the above two questions together. First, a tattoo should be easy to understand. Second, a tattoo should be powerful and have shocking effects. Third, a tattoo should have great composition and flow. With those three, people who see it from far away would be attracted to come closer and be blown away by the details, dedication and diligence of the tattoo artist. To me, this is a perfect tattoo.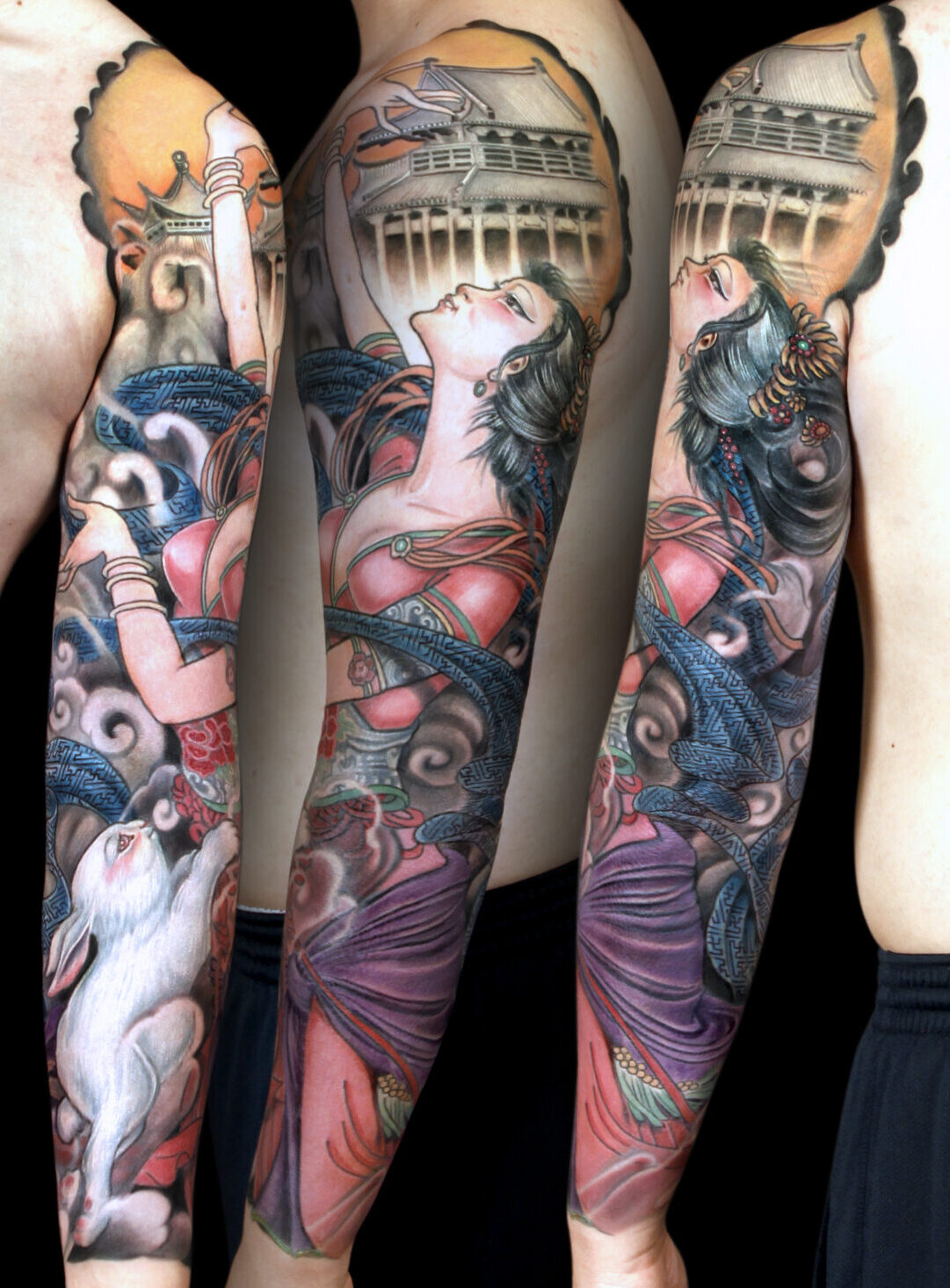 Talking about the tools of the trade: can you tell us why you chose Cam Supply?
I recently signed up with CAM Supply to represent its Legend Cartridge needle and I gave him my quote, "There is no best, but only better."
For business reason, I understand that every supplier says that they are the best.
However, being a sponsored artist, one thing is important, and I care a lot more about the relationship and communication between the company and the artist. CAM is a company that is humble, listens to artists' needs and wishes, and executes it right.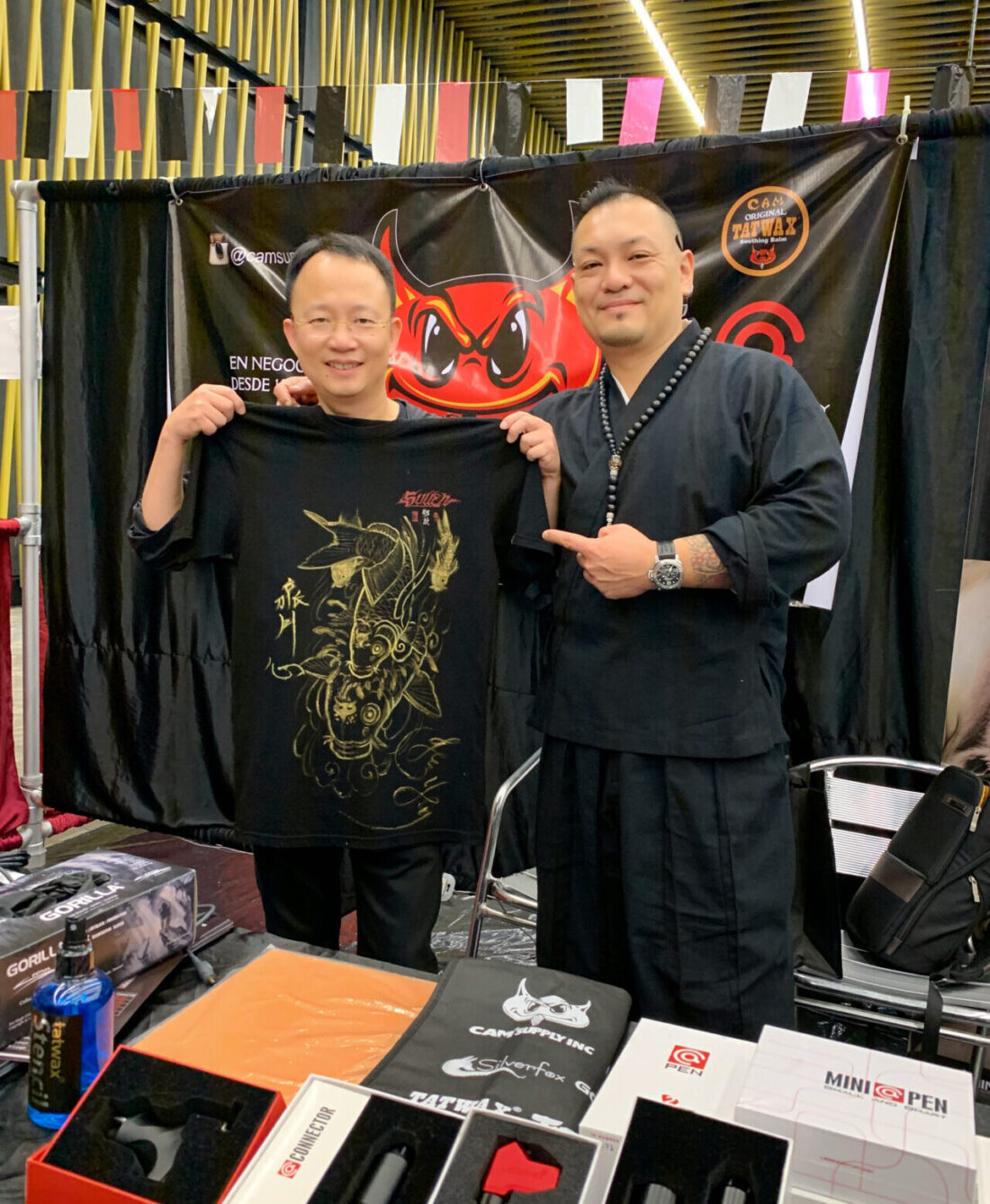 CAM may not be the best supplier, but they always improve along with new technology and the demands of artists. I don't think there is one single best product out there, but there is always a better product that fully satisfies the needs of tattoo artists.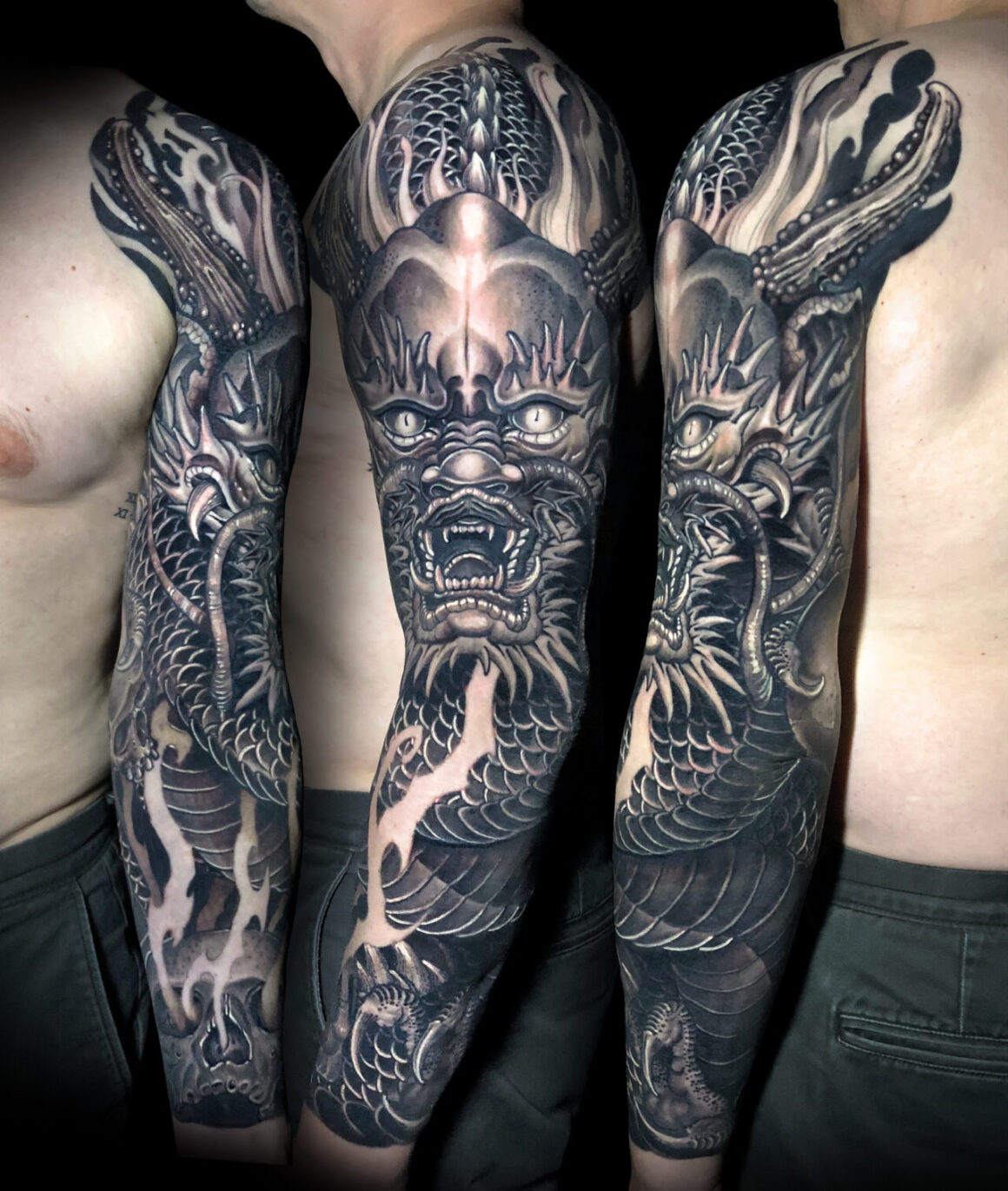 What do you expect of the inks and machines you use?
For machines, I do like powerful machines mainly because of what large line work involves. For inks, I prefer them stay in good saturation even after years, and that white color does not turn yellowish. In addition to the above, I am also concerned about the quality of needles and whether they will do the job right.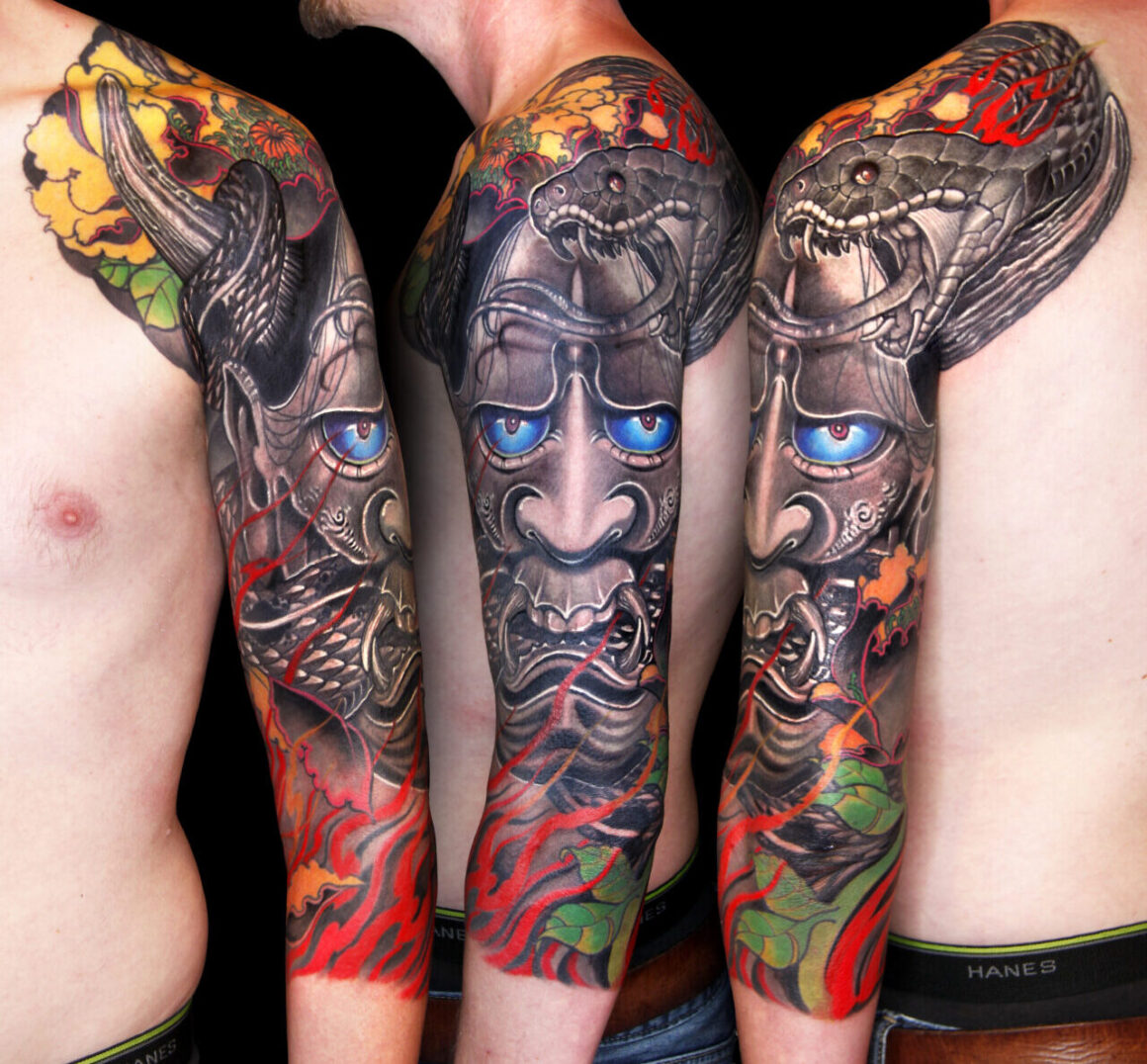 Do you want to tell us in particular about the machines that bear your name?
I currently do not have any other company or supplier making machines bearing my name, but I do have my own coil liners – Jess Yen Big liner and Small liner, which are handmade by a Spanish machine maker. Those liners are specially made for great line work as I mentioned in the above answers. They are made with a cast-iron frame for its steadiness, 8 wraps coil to run perfectly at low 6-8 volts, and 180 grams of light weight for easy manoeuvering.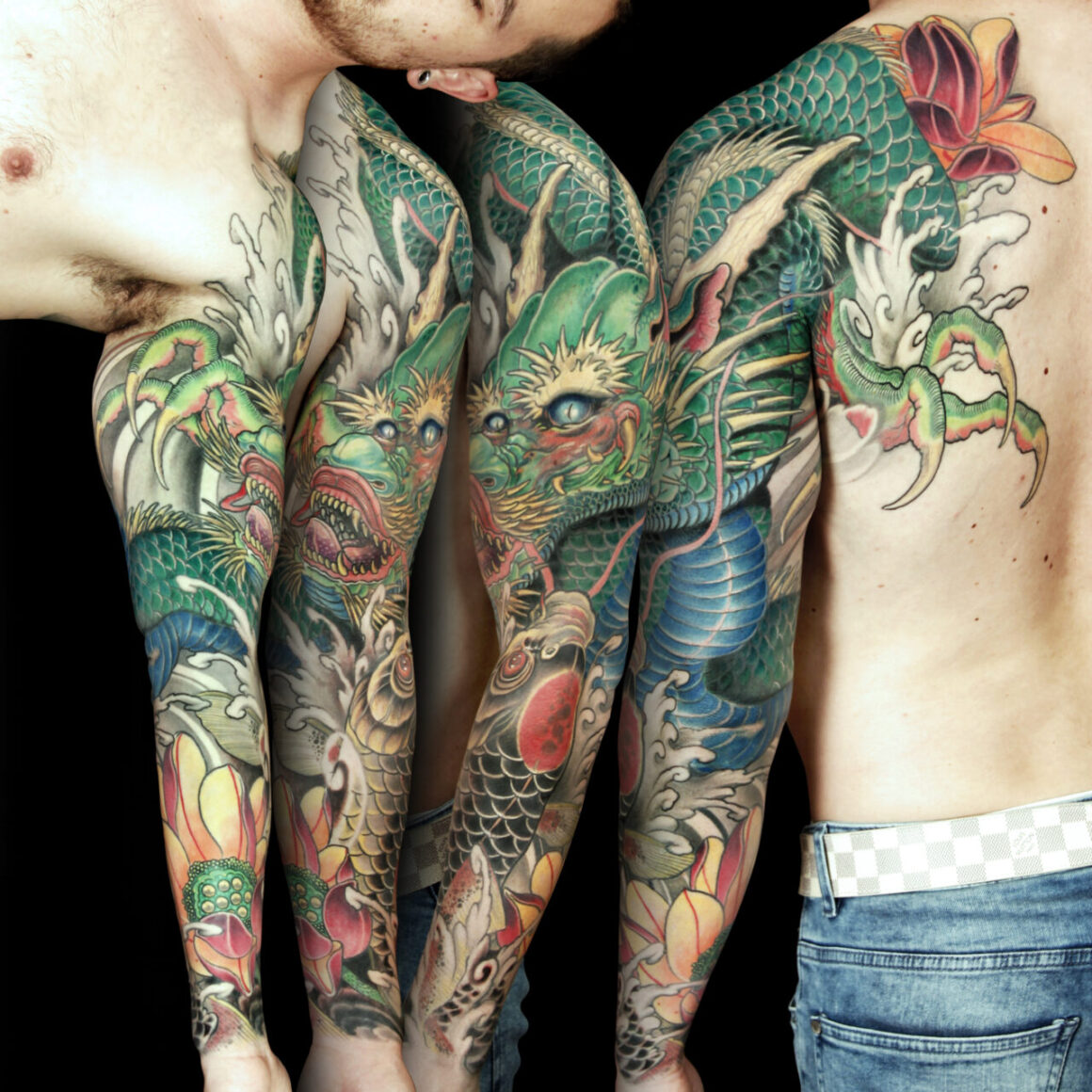 Let's talk for a moment about the subjects you tattoo: where do you get your inspiration from? Do you study and do research from books or are you inspired by the great masters of tattoo?
Traveling is very inspirational. I have traveled in about 30 countries. When I wake up every morning, taking my first breath in different parts of the world, I have different ideas. A famous artist once said that ideas are God's whisper and he would only say it once. Therefore, I always carry a small notebook to write them down. Reading books (with or without pictures) is also important in order to learn and find ideas.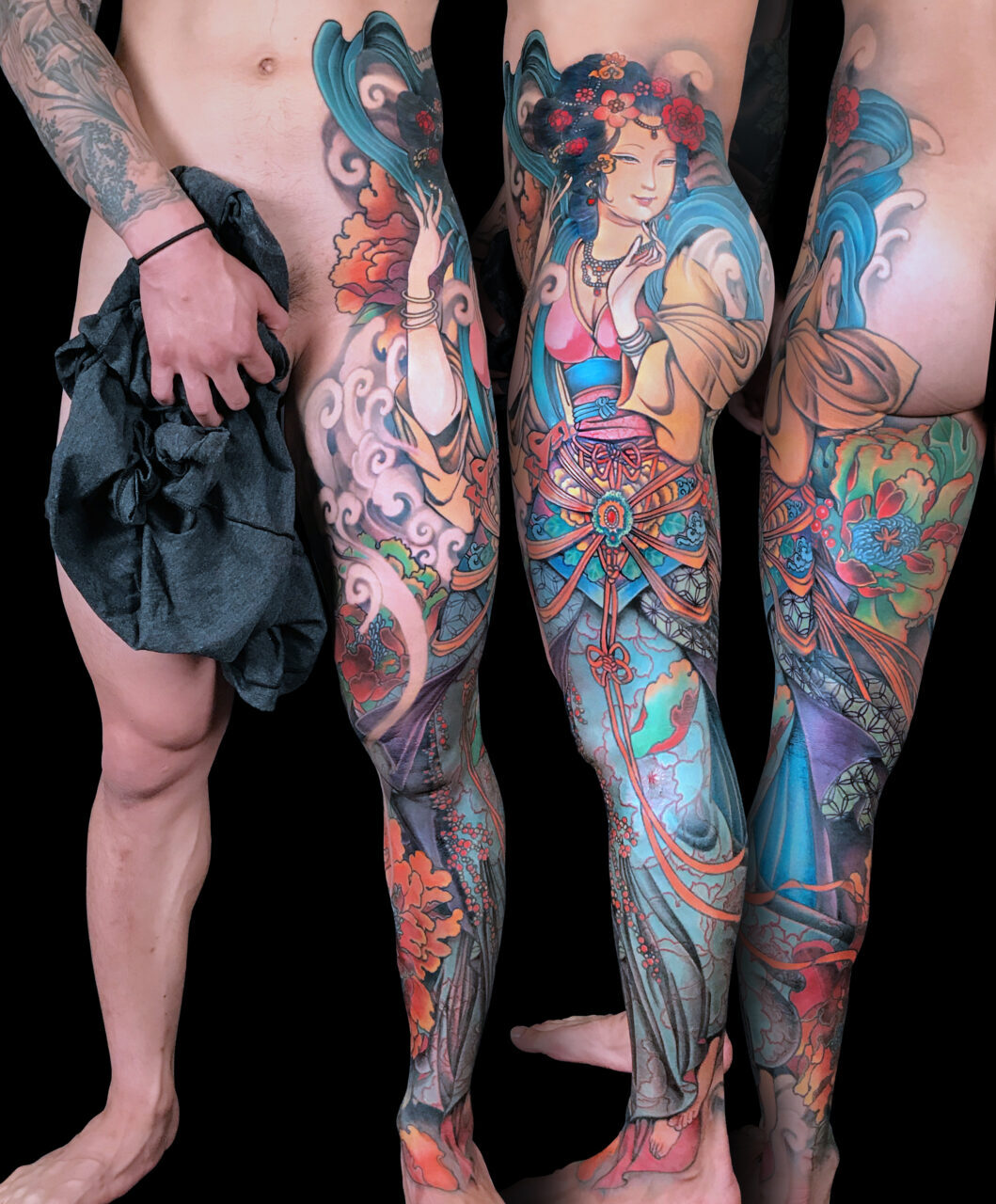 Attending tattoo conventions and learning from other tattoo artists is a great way to exchange different cultures, thoughts, and techniques. I like Hiroshi Hirata Sensei's comic and art books. I have known him personally and have visited him in Japan. Visiting him at his house and seeing how he does his artwork in the drawing studio is very inspirational. I also attend Paris fashion week every year to visit fashion designers and jewelry designers. I carry my own jewelry brand, Ossis silver, and I can learn a lot from different fields of industry.
Who do you particularly admire on the tattoo scene?
I have utmost respect to our senior tattoo artists. Some of them are in our memory and some of them are living legends. They have paved the road so we could have a wider way in our tattoo industry today. They all had or have different styles of tattoo (Black & Gray, Japanese, portrait, or Americana) and their contributions to their styles are extraordinary and unforgettable.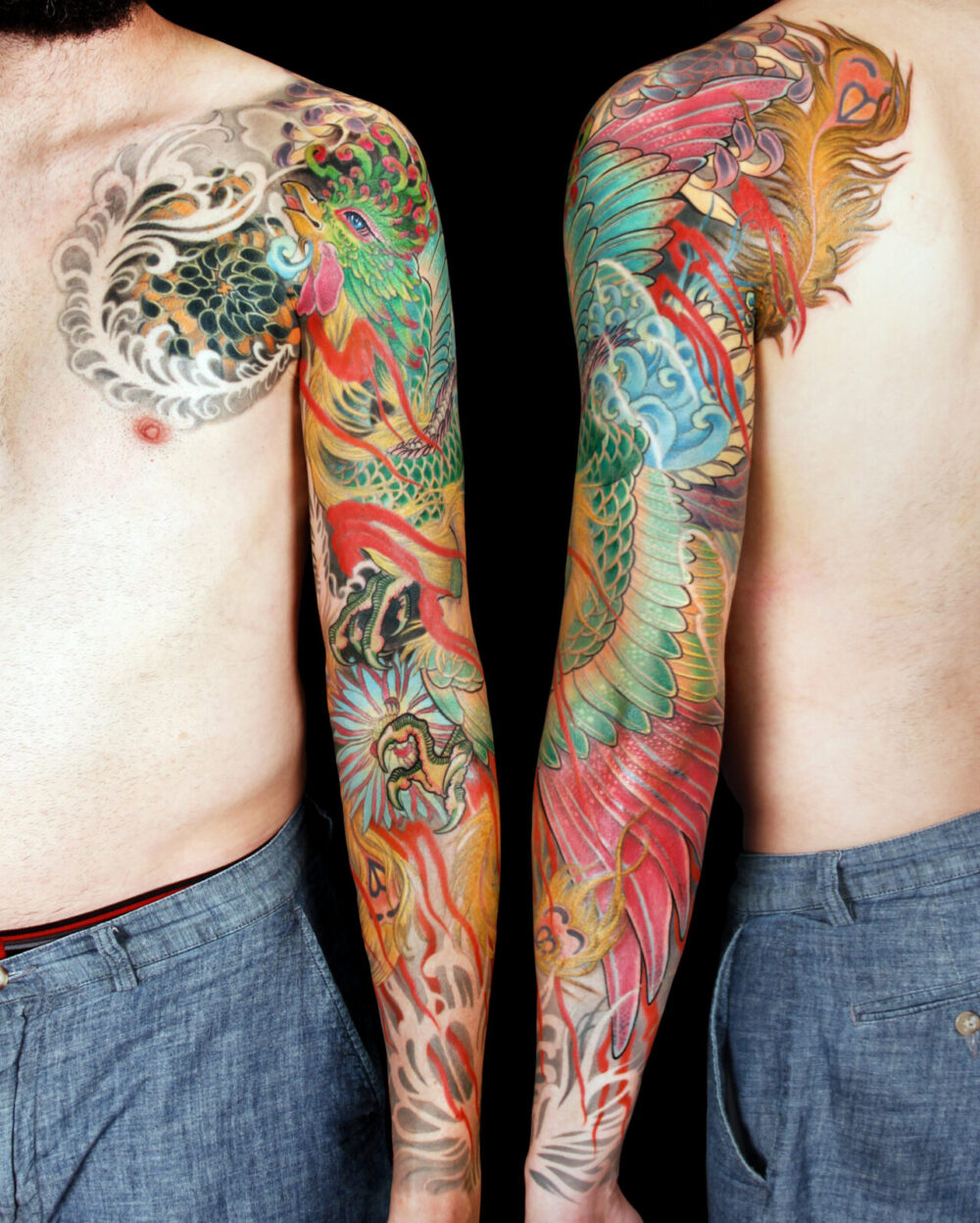 What are your plans for the future?
In the future, I would like to host an art exhibition in my hometown, Los Angeles, California to showcase artworks from Horiyenichimon (Jess Yen Tattoo Family), friend artists and myself. Also, I would like to open tattoo shops in different parts/cities of the Greater Los Angeles area for each of my students (members of Horiyenichimon). I would like to help them to build a great future and carry on the Horiyenichimon family name.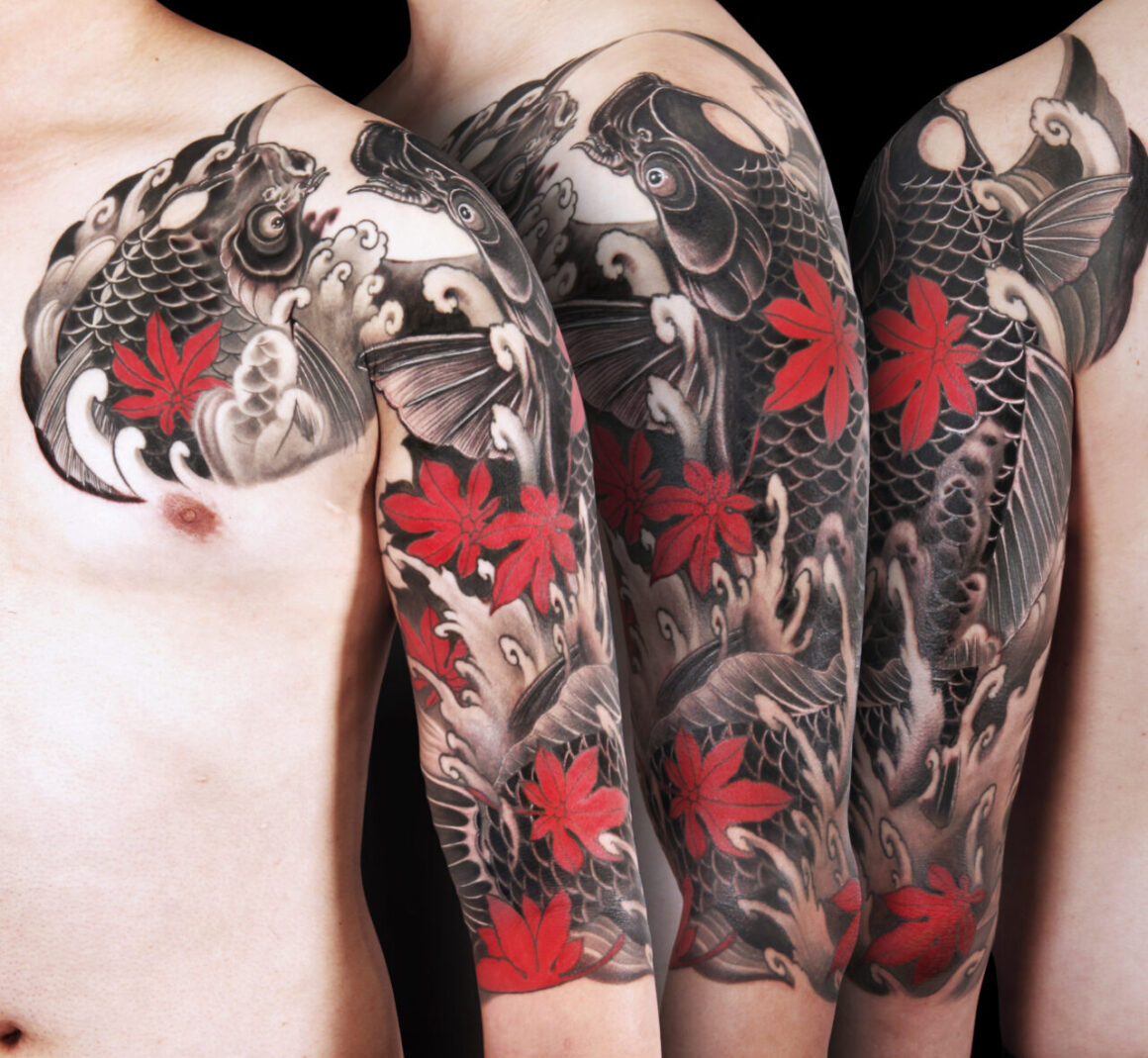 Would you like to add anything else before we wind up?
I would like thank Tattoo Life Magazine and CAM Supply for this opportunity and I hope to see our tattoo industry grow better and stronger. Everyone will enjoy and appreciate seeing more beautiful tattoos.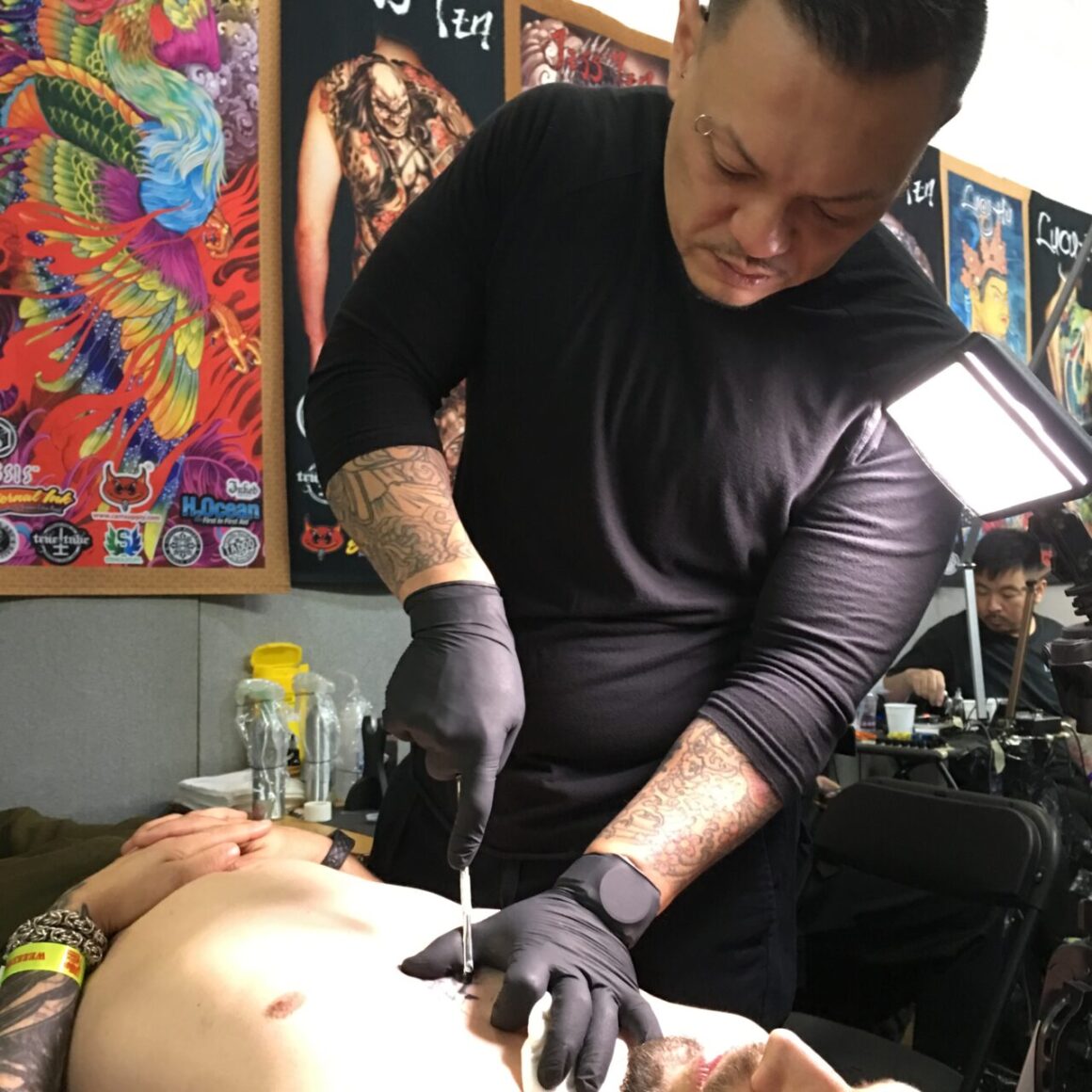 Jess Yen aka HoriYen
Instagram:
@jessyentattoo
Shop:
My Tattoo
1230 S. Garfield Ave., Alhambra, CA 91801 USA