We talked a lot (and with a lot of passion) about anime and manga with one of the top artists and owner of "Gotham Tattoo Madrid". Read our full interview!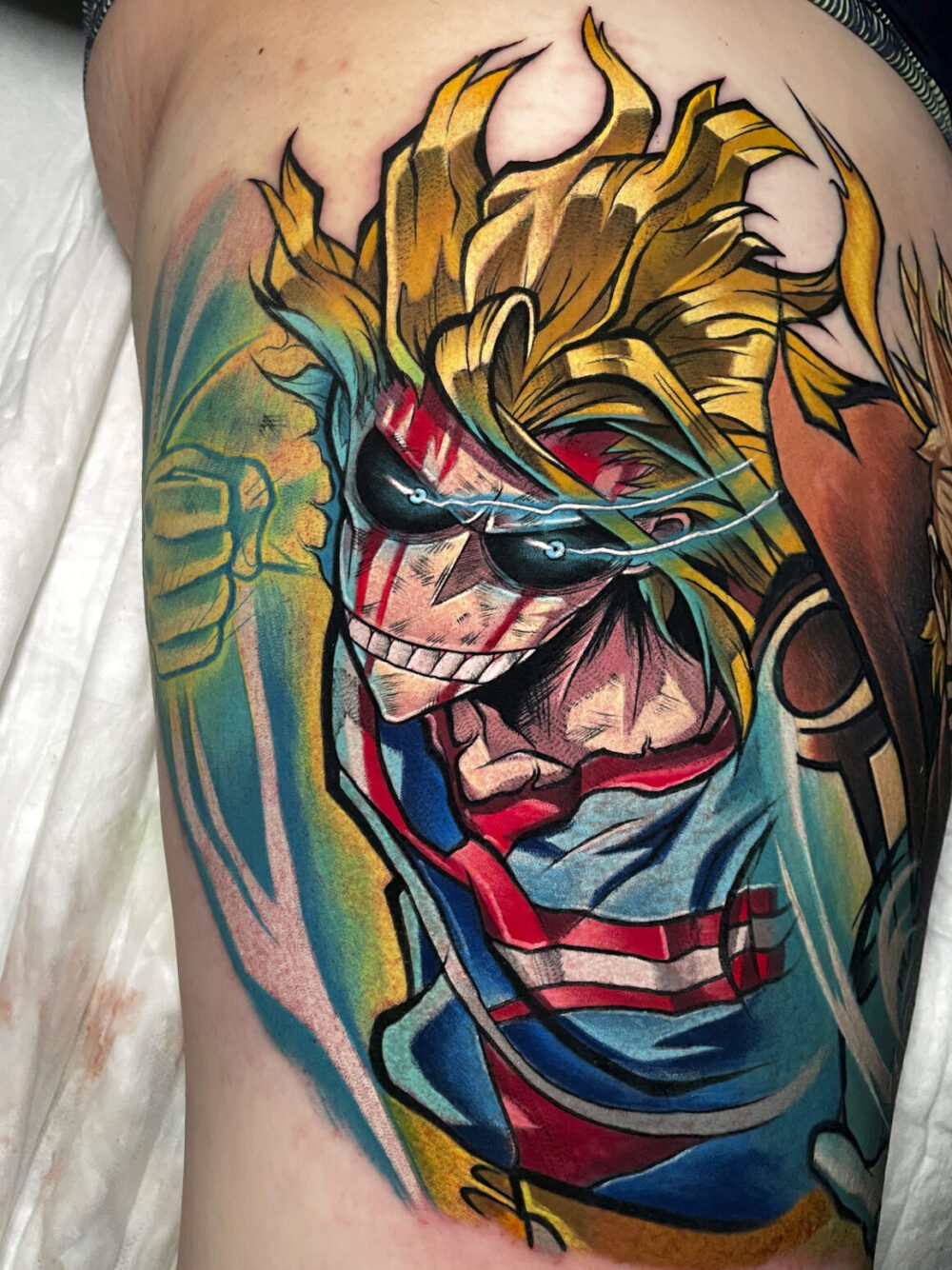 Hi Iván, would you like to introduce yourself to our readers by telling us how long you have been tattooing – as a professional artist – and what have been the fundamental steps of your career so far?
Hi to everybody, my friends! My name is Iván Pelegrín and it's a pleasure for me to answer this interview. For 9 years now, I have been working as a professional tattoo artist. During my first years, I tried different techniques and styles until choosing Realistic Blackwork, which I explored for 5 years.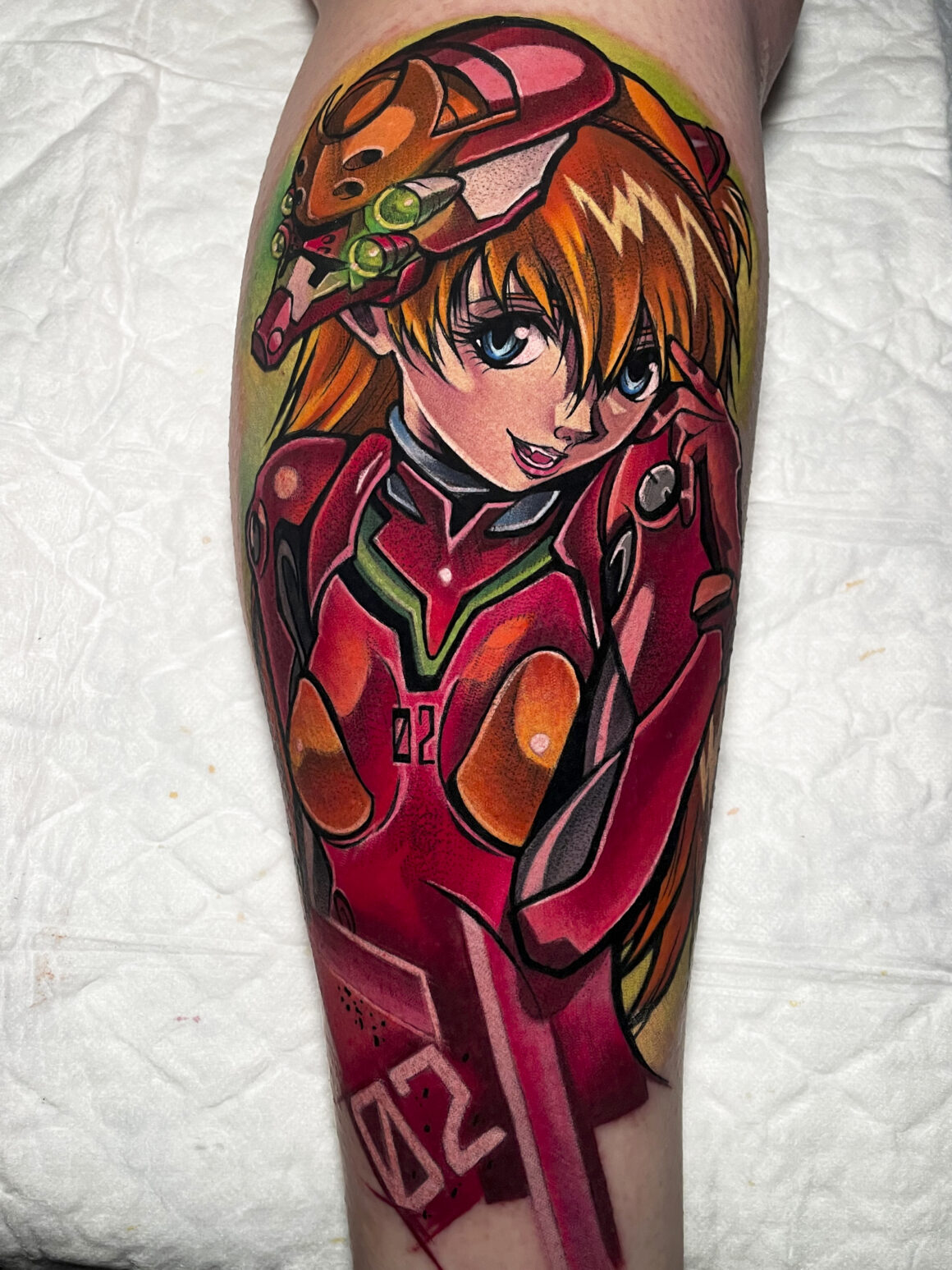 And later on what happened?
Well, I really enjoyed this moment of my career, but one day, I started seeing some anime tattoo with lots of colors, and as I always had been a huge fan of anime culture, I decided to try that style as well, even though it was completely the opposite of what I had been tattooing. I never thought that I would be able to tattoo only in that style, but bit by bit and step by step, I realized that tattooing anime was what I was enjoying the most, and in addition, that it was very well received by the public, and more and more people would want this kind of tattoo. Until reaching the point of being able to only work in that tattoo style today, which I love and pushes me to improve constantly.
It's amazing to tattoo anime and at the same time to share the passion for this culture with each of my customers.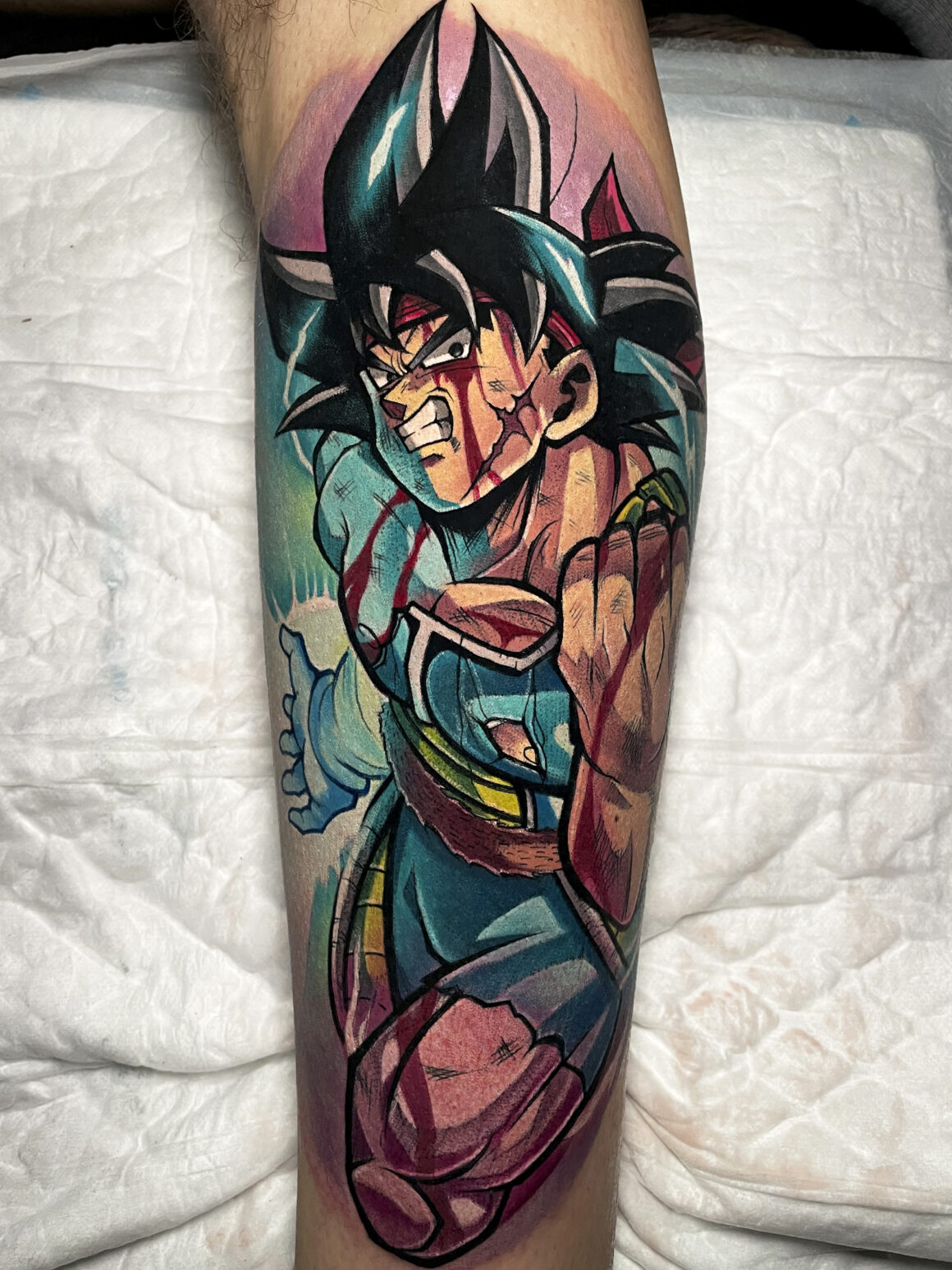 You define yourself as an "otaku tattoo artist" which in Japanese culture means "a young person who is obsessed with computers or particular aspects of popular culture to the detriment of their social skills". Is there any truth in all this or is it a kind of exaggeration?
I think maybe the interpretation of the word "otaku" might depend on how each person understands it. From my point of view, "otaku" is the definition of a person that is passionate about anime and manga's world and culture, as well as Japanese culture in general.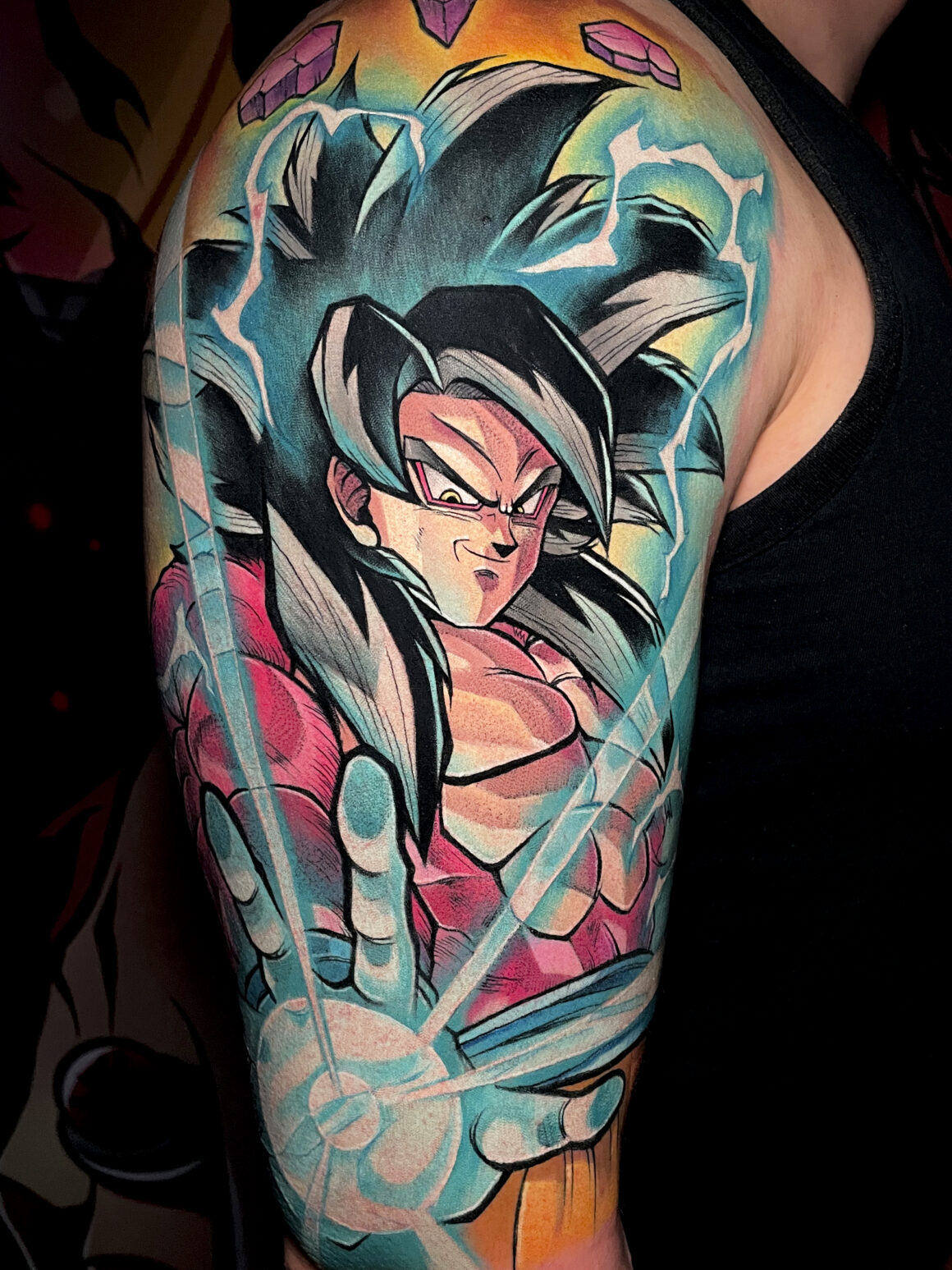 On one side, I don't think that it's necessary to be addicted to computers or videogames to call yourself an "otaku" (even though it's only my own perception of the word), and I believe that otakus are usually attracted to anime and manga culture. I also strongly believe that this passion doesn't affect social interactions and that on the contrary, otaku people love to share and talk about the different aspects of anime and manga. Which is why I think that thanks to this hobby, relationships such as friendships can be created!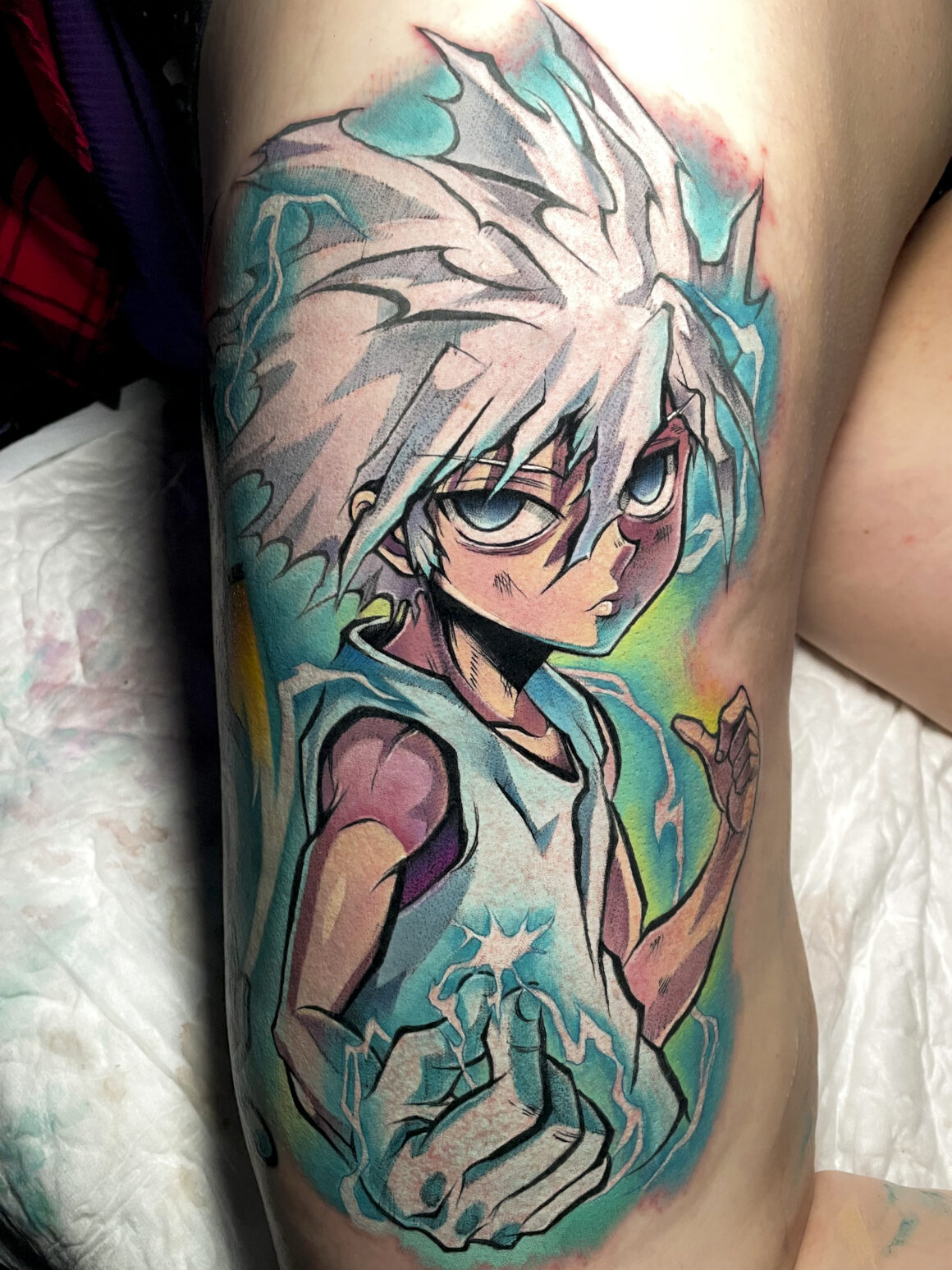 You are a sort of master concerning anime subjects tattooed on skin. In your opinion, over the years "Anime" has become a style just like Japanese, Traditional, Ornamental or Biomechanical?
Without a doubt, I think that anime tattoo deserves its own place and recognition within the tattoo world, especially these last few years, as there are more and more people travelling in order to get their favourite anime character tattooed by their favourite artist. I believe it has reached a point in which there's no difference between anime tattoo and the rest of different styles, with regard to the amount of customers willing to get this kind of tattoo.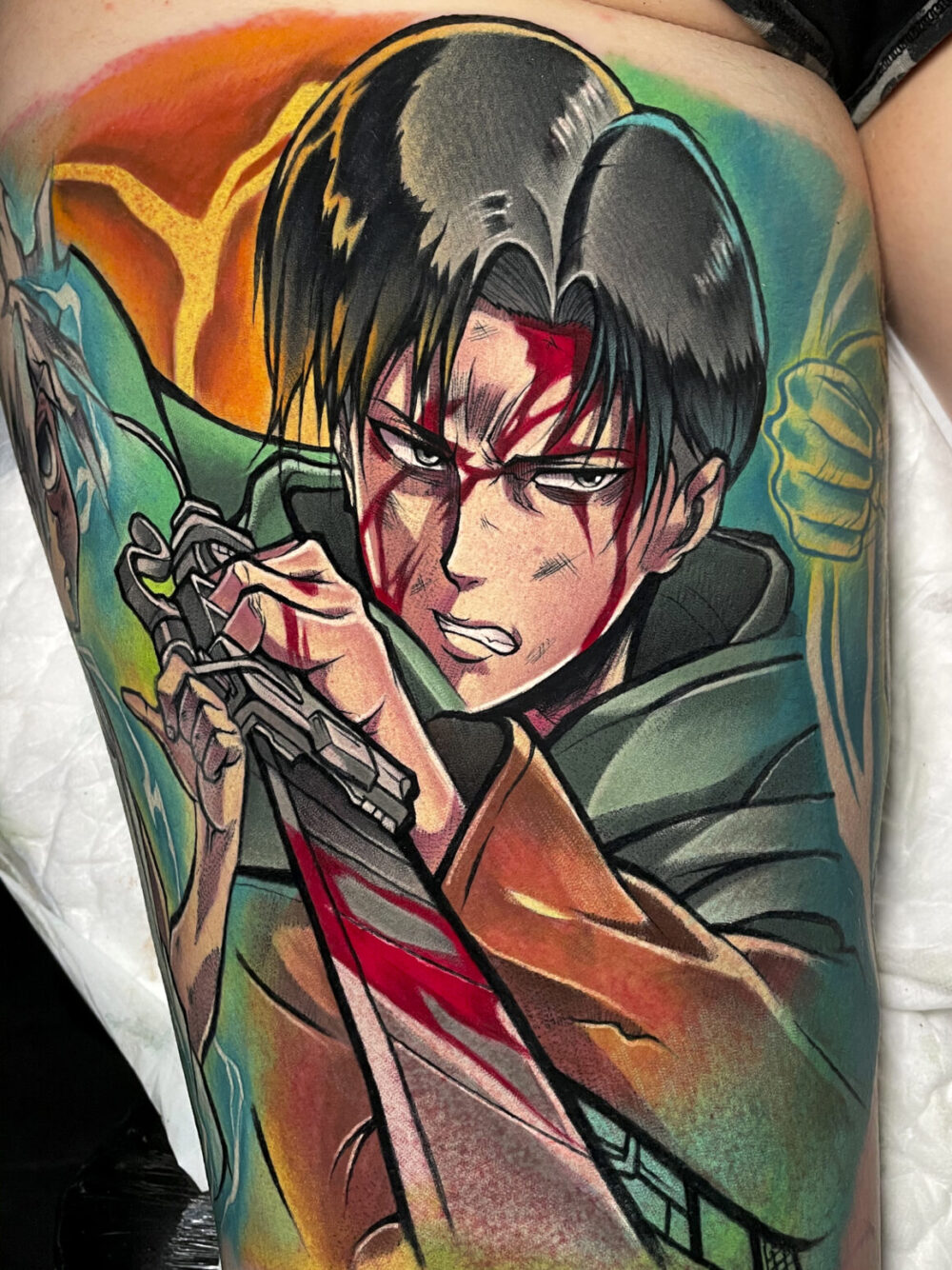 Do you only tattoo anime subjects or do you have some other artistic inclinations?
Indeed, right now, I only tattoo anime and – as I explained previously – during my first years as a tattoo artist, I practiced and explored different styles until choosing anime itself. Which is when I discovered the perfect balance between my work and my hobby.
That allows me to enjoy each tattoo as if it was my first.
To me, anime has defined a huge part of my life, starting with my personality and my values: I strongly consider that anime and manga teach us many lessons, such as the value of friendship, the importance of chasing your dreams, and that the most important thing is not your natural talent but persistence and hard work and wanting to get better at what you love.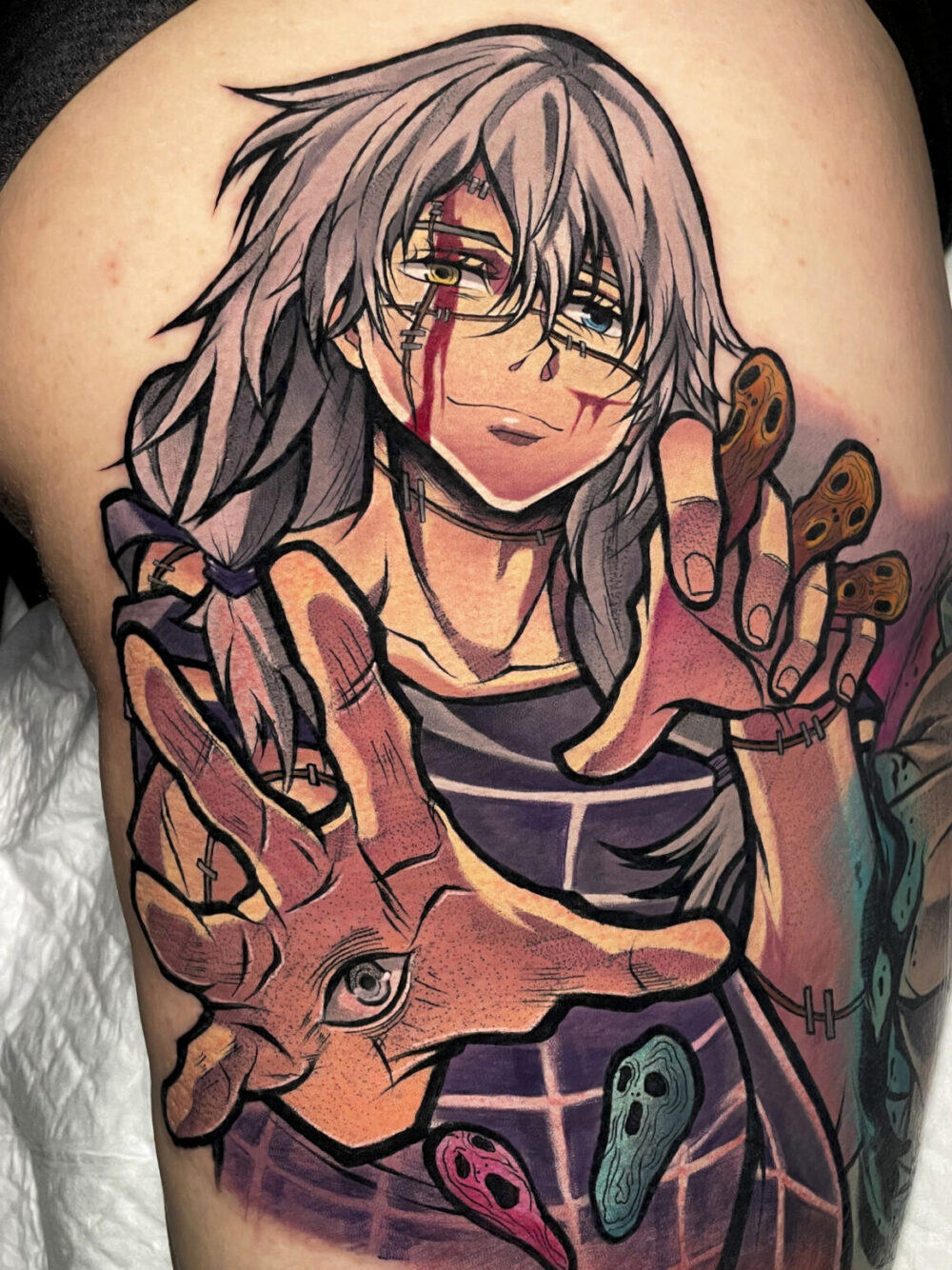 I have noticed that you mainly tattoo arms, thighs and calves to make your anime creations stand out. Would you also like to tattoo full backs or bodysuits?
Yeah, it's true that until now I have focused on tattooing legs and arms, above all because that allows me to avoid bad postures. But lately I'm considering tattooing full back or bodysuit pieces, provided that the project would be interesting to me and would be done in a short amount of time.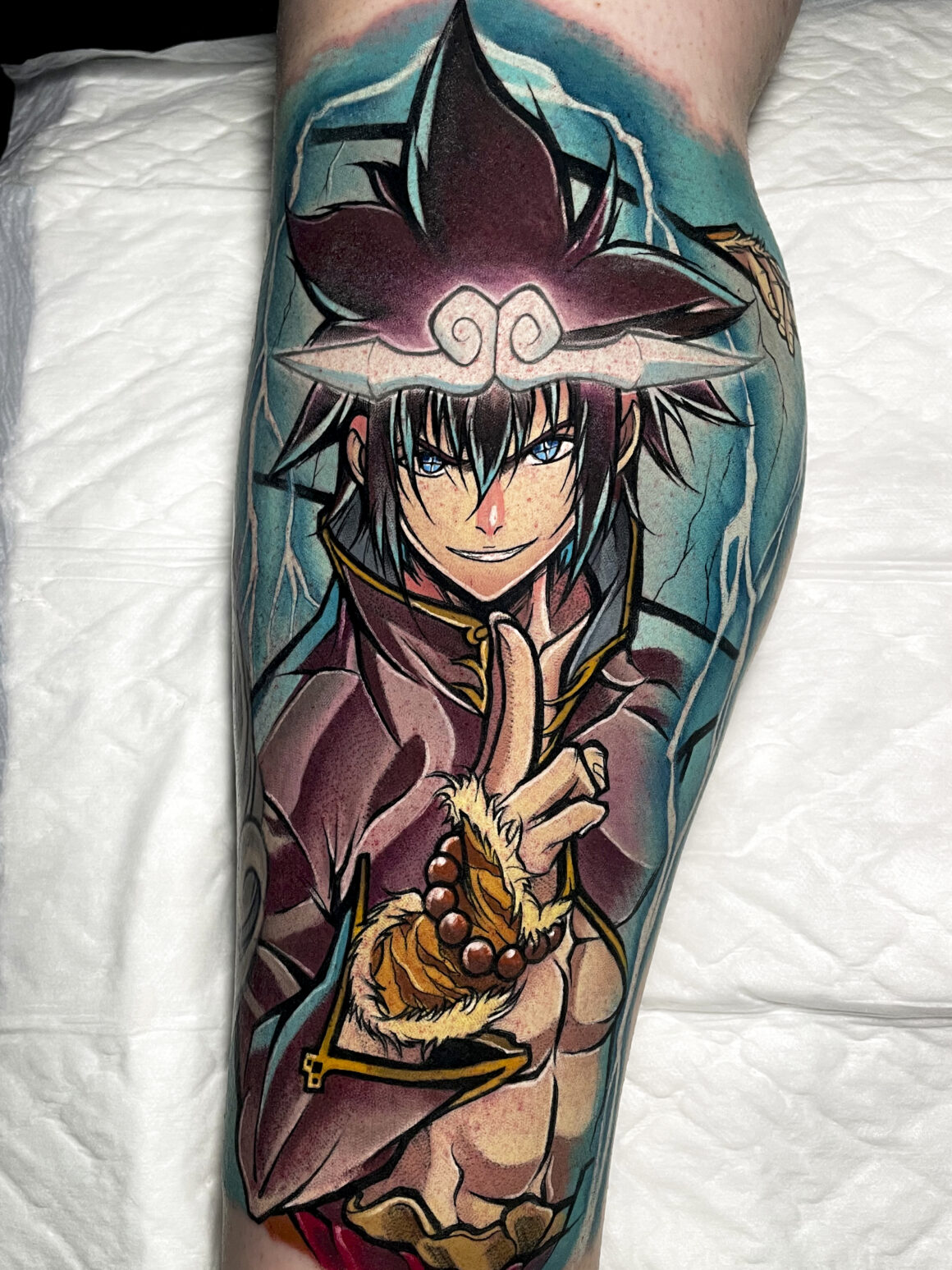 I know you are from Madrid but do you tattoo in a private studio or even in some tattoo shop in the city?
I've been tattooing at my own shop, since 2016: "Gotham Tattoo Madrid" (IG: @gothamtattoomadrid), where I share my day to day with great professionals and friends from this artistic field.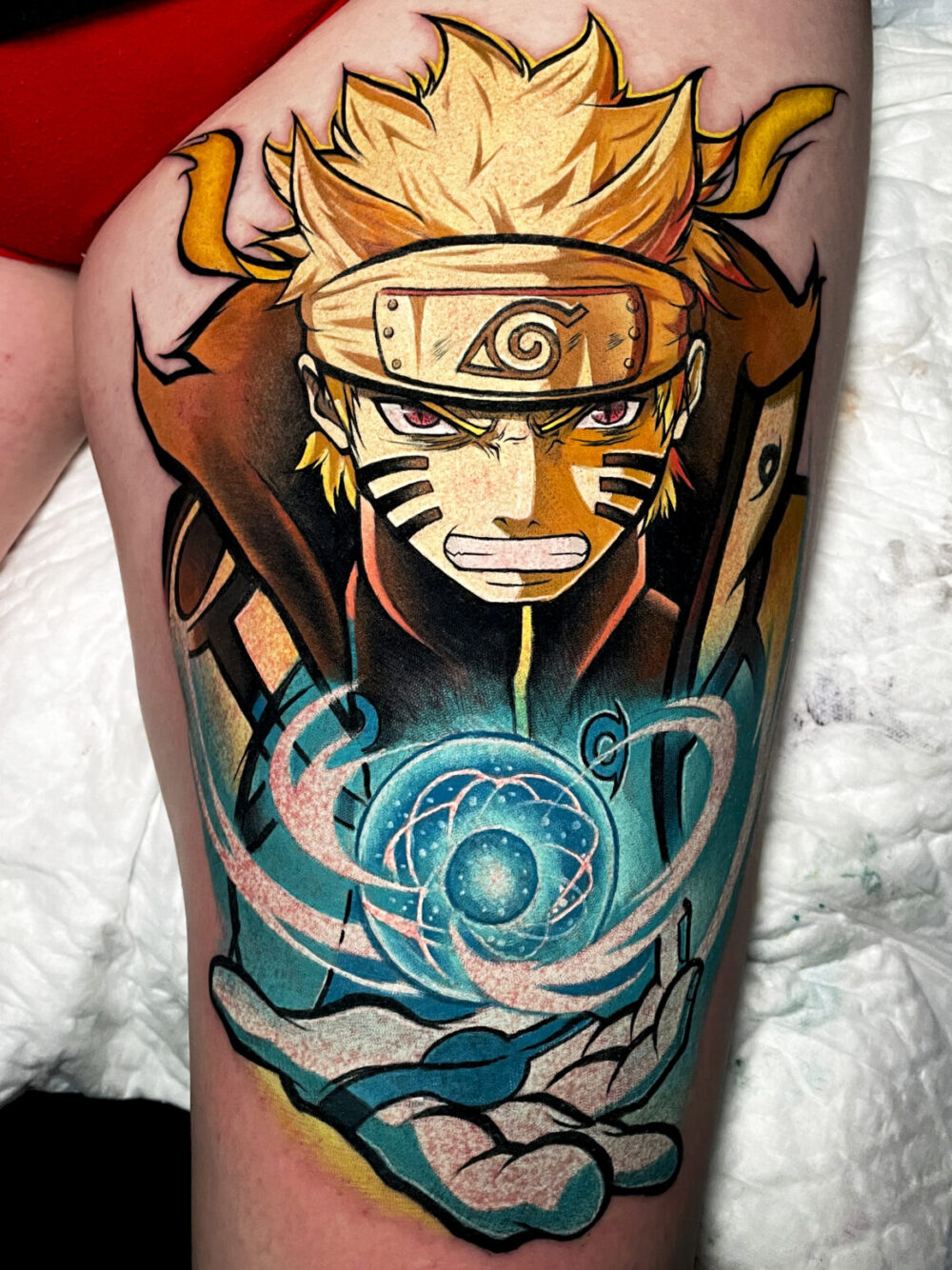 The best tattoo convention you've worked in your life?
I have a very good memory of past Barcelona tattoo convention as it was my first one as a spectator. And I was amazed by the large amount of people and professionals attending the convention. When at last I was able to participate as a tattoo artist for the first time, I enjoyed it so much that today it's the only convention I go to without exception.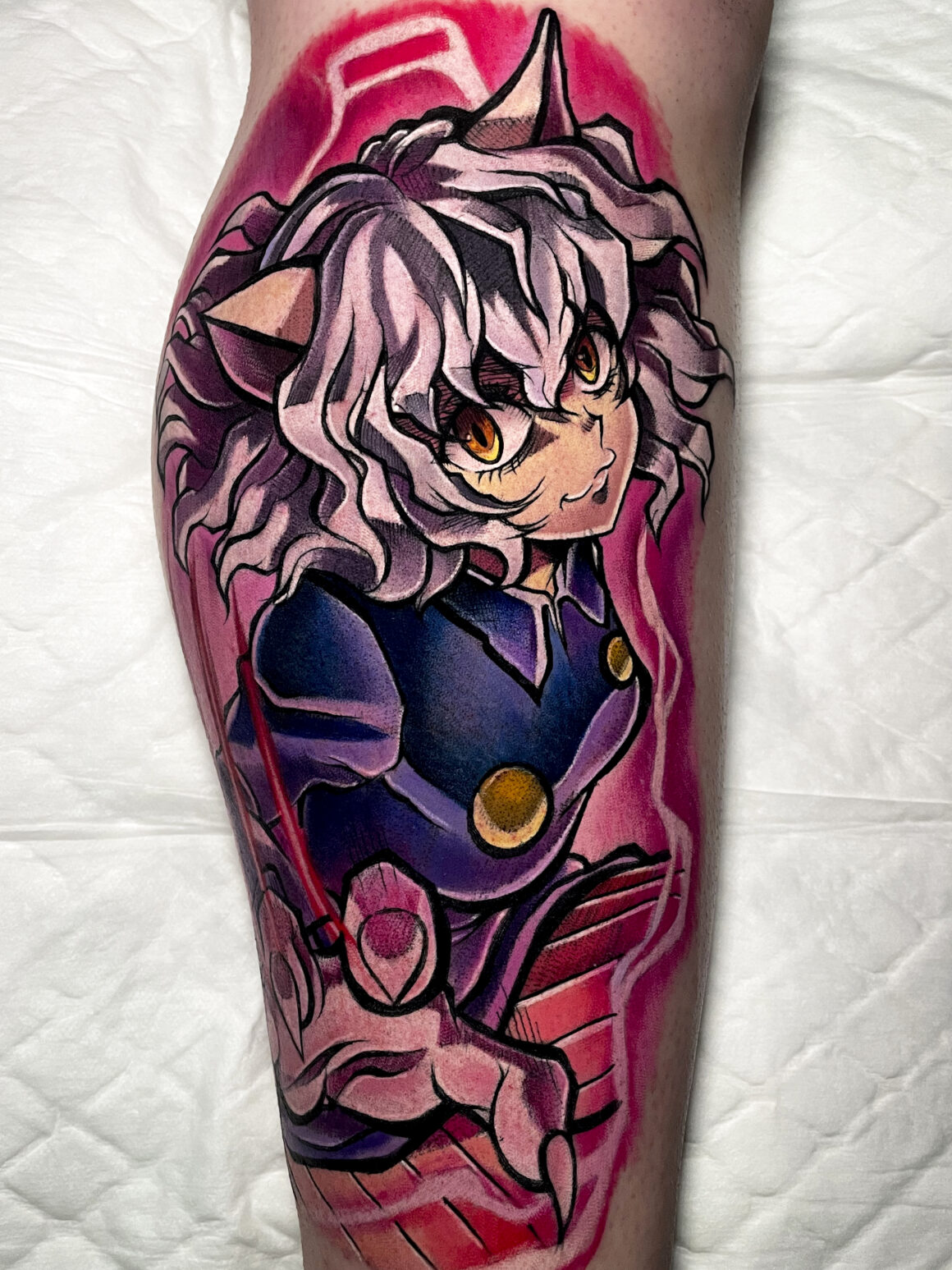 Will we see you again in those artistic circles soon?
Of course, I really missed tattoo conventions and this is why I'm happy to be able to go to the Barcelona one this year, as it's my favourite!