Her passion for tattoos was born from watching Kat Von D in the Miami / La Ink series. The first tattoo arrived at the age of 18 and today, at 23, she has a very clear idea about what she wants: black work.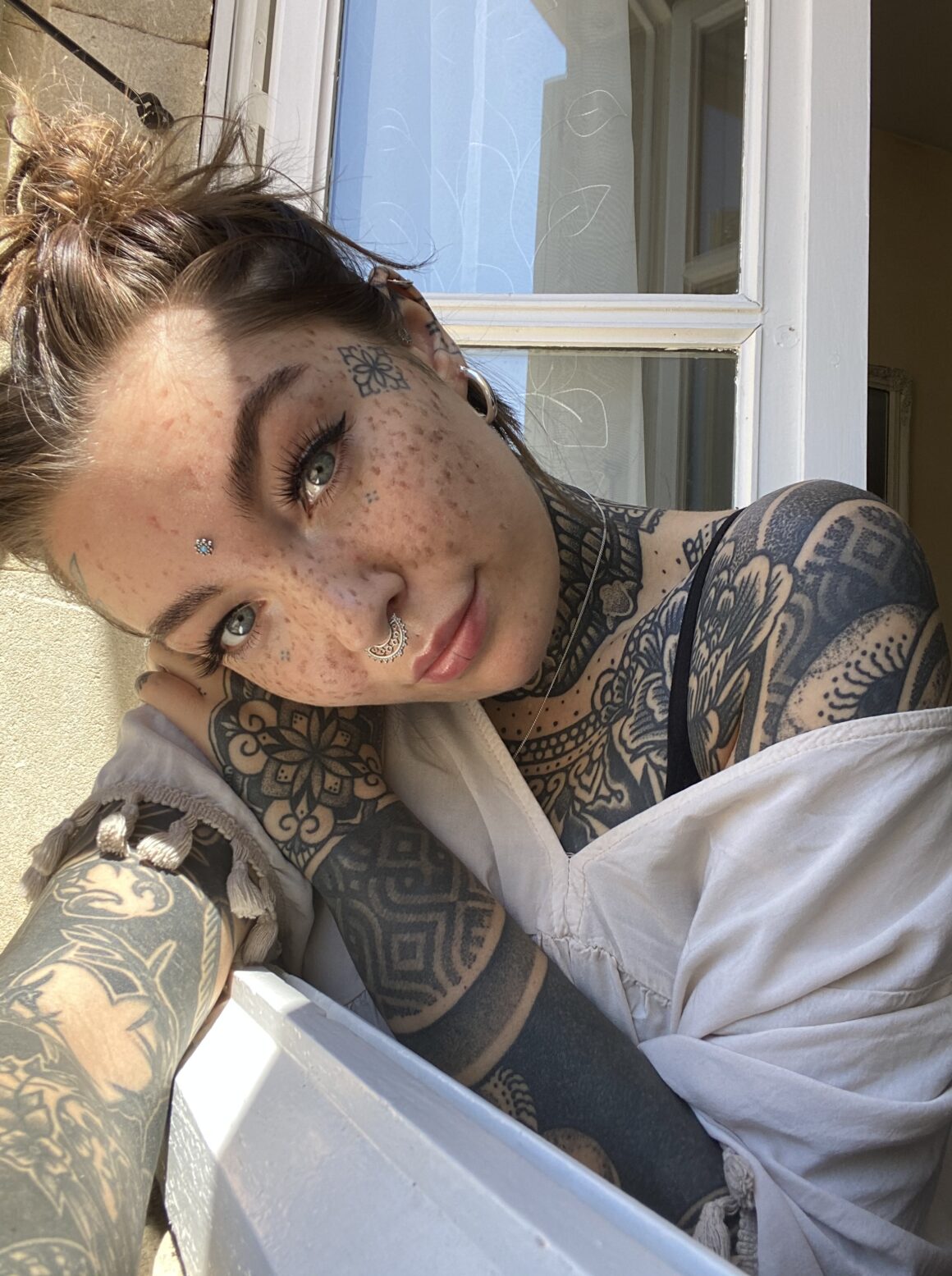 Tattooing is for her a very personal and unique way to decorate her body. We introduce you to Georgia 'G' 'poke', a bubbly English girl who is a true tattoo collector who has chosen to make tattooing her job.
Hello Georgia nice to meet you on Tattoo Life! Would you like to tell us something about yourself?
Hi, my name is Georgia but people either call me 'G', or 'pokes' as I am a hand poke tattoo artist (Slow Pokes). I am 23 years young and I got my first tattoo when I turned 18. Aside from adoring my job, I also have a passion for getting tattooed. In my opinion our bodies are a blank canvas, and tattooing is a great way to decorate our vessels in a unique way. Getting tattooed is self expression at its finest.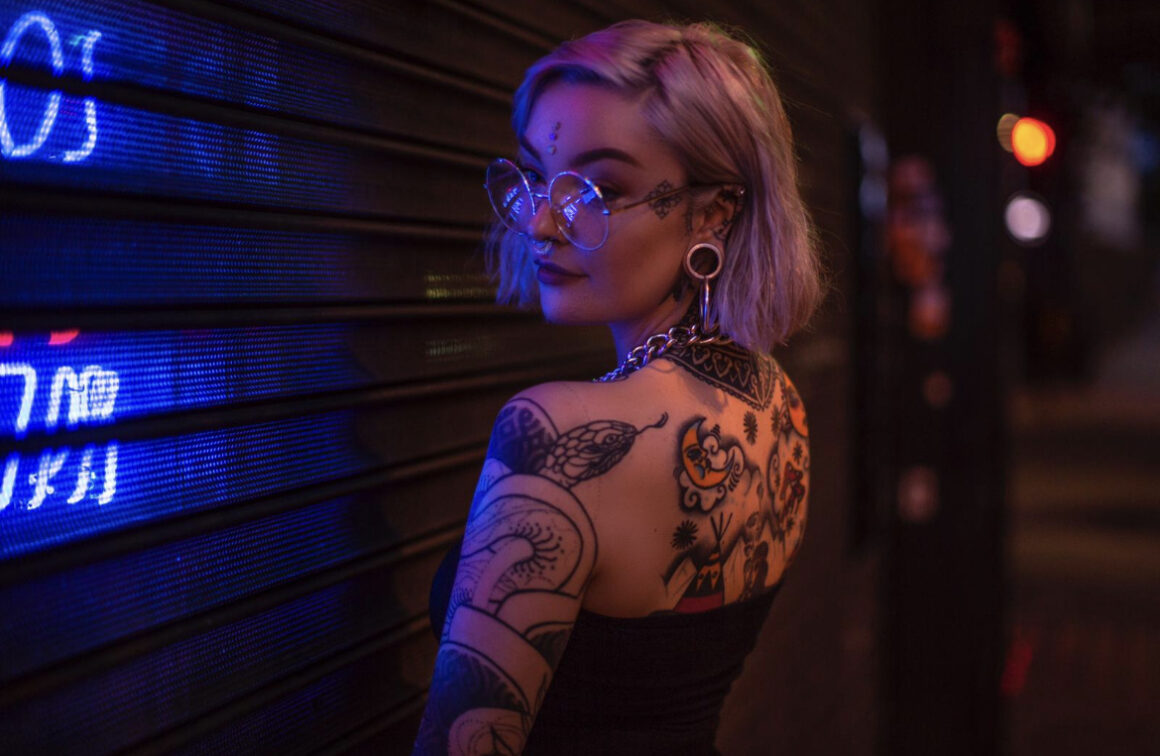 You are a collector but also a tattoo artist yourself. Is that correct?
Yes that's right! I have been a tattoo artist for roughly 3 years now (I'm still very new & learning everyday), I am also a professional body piercer and an avid tattoo collector. As soon as I got the first tattoo, I guess an addiction began, I get tattooed pretty regularly and it's at least a monthly occurrence.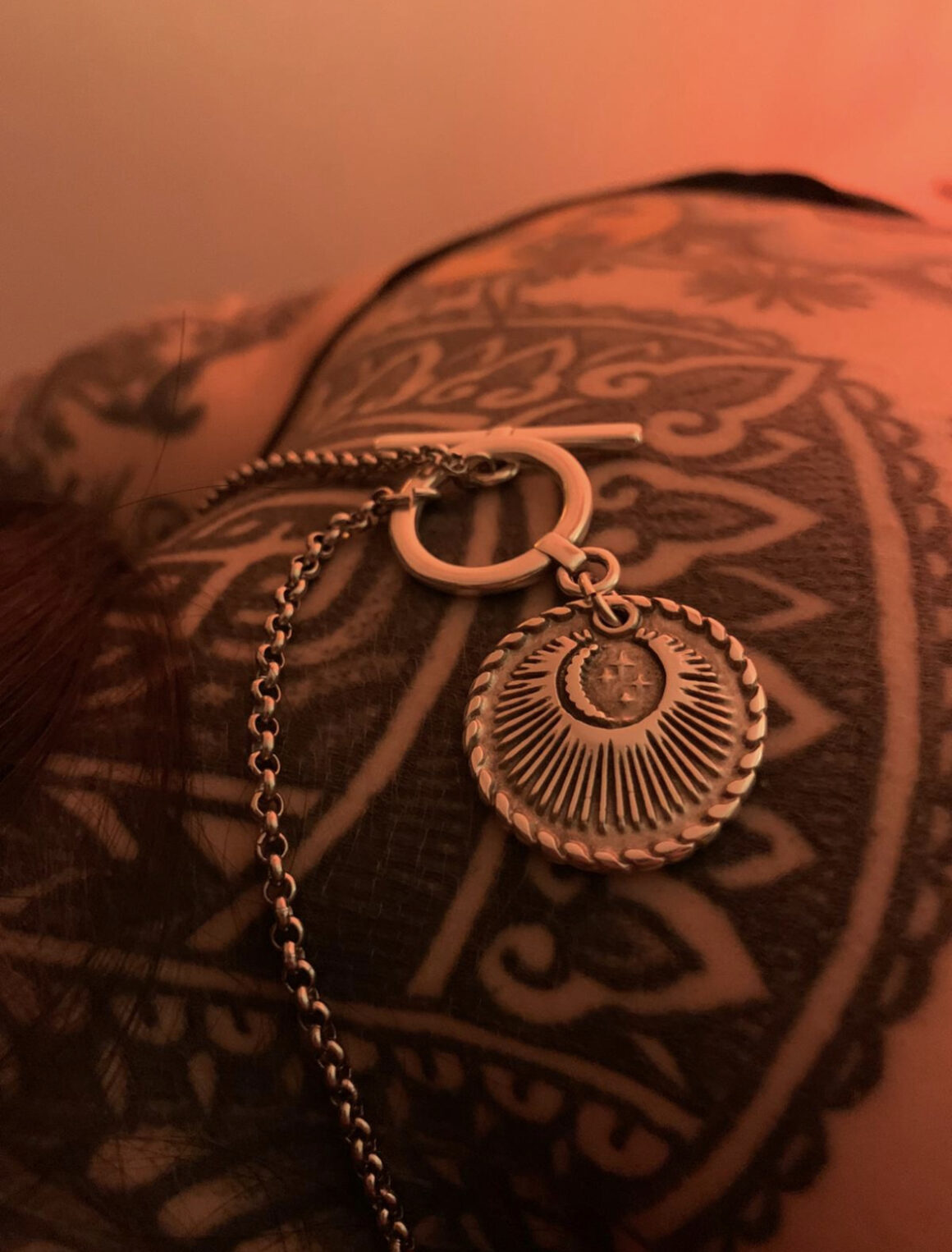 How did your passion for tattoos start?
I was 100% influenced by Kat Von D!! I grew up watching her show 'Miami / La ink' and I just thought she was the coolest woman ever. From the age of 13 I wanted to work in a tattoo shop, I didn't care what it was that I did I just wanted to be in the industry.
However I never considered myself to be a good enough artist to one day tattoo for a living.
But I feel now that I have found my niche and honed my skills to a high quality, which people seem to love. So I am stoked!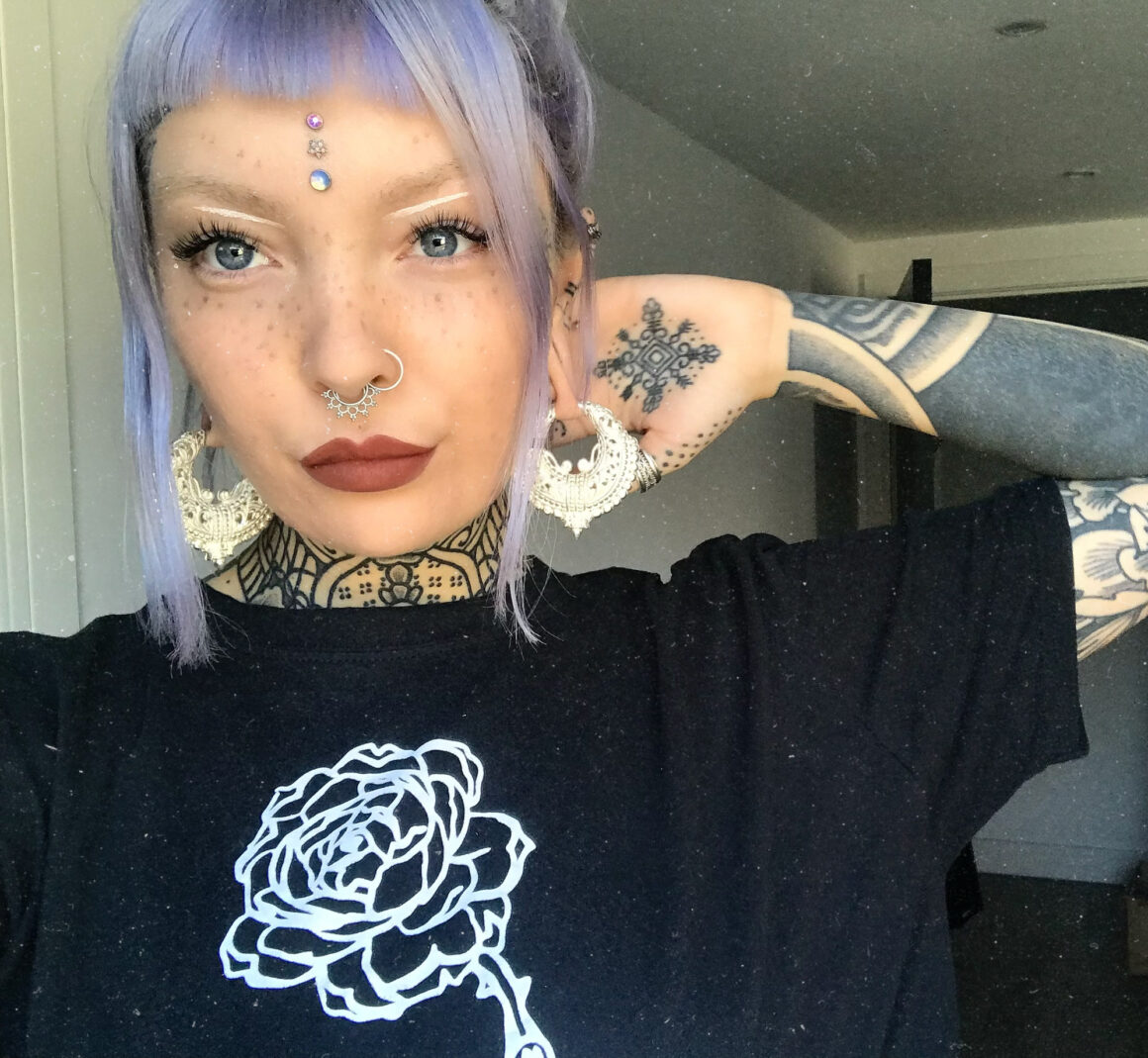 You have chosen a very specific style for you body. Does it reflect your personality in some way?
I can't say I have planned out my tattoo collection or chosen one specific style. When I first got tattooed I preferred traditional art and had significant meanings to the tattoos I collected. Then as I got older my style and knowledge of styles changed. I now only collect black work, mostly ornamental, dot work & Japanese. My tattoos no longer have meaning however I feel like they reflect my personality; bold, unique, and expressive. My aim now is to have a full flowing body suit that aesthetically flows with my body (I am in the process of many 'cover ups' and 'blast-overs'.)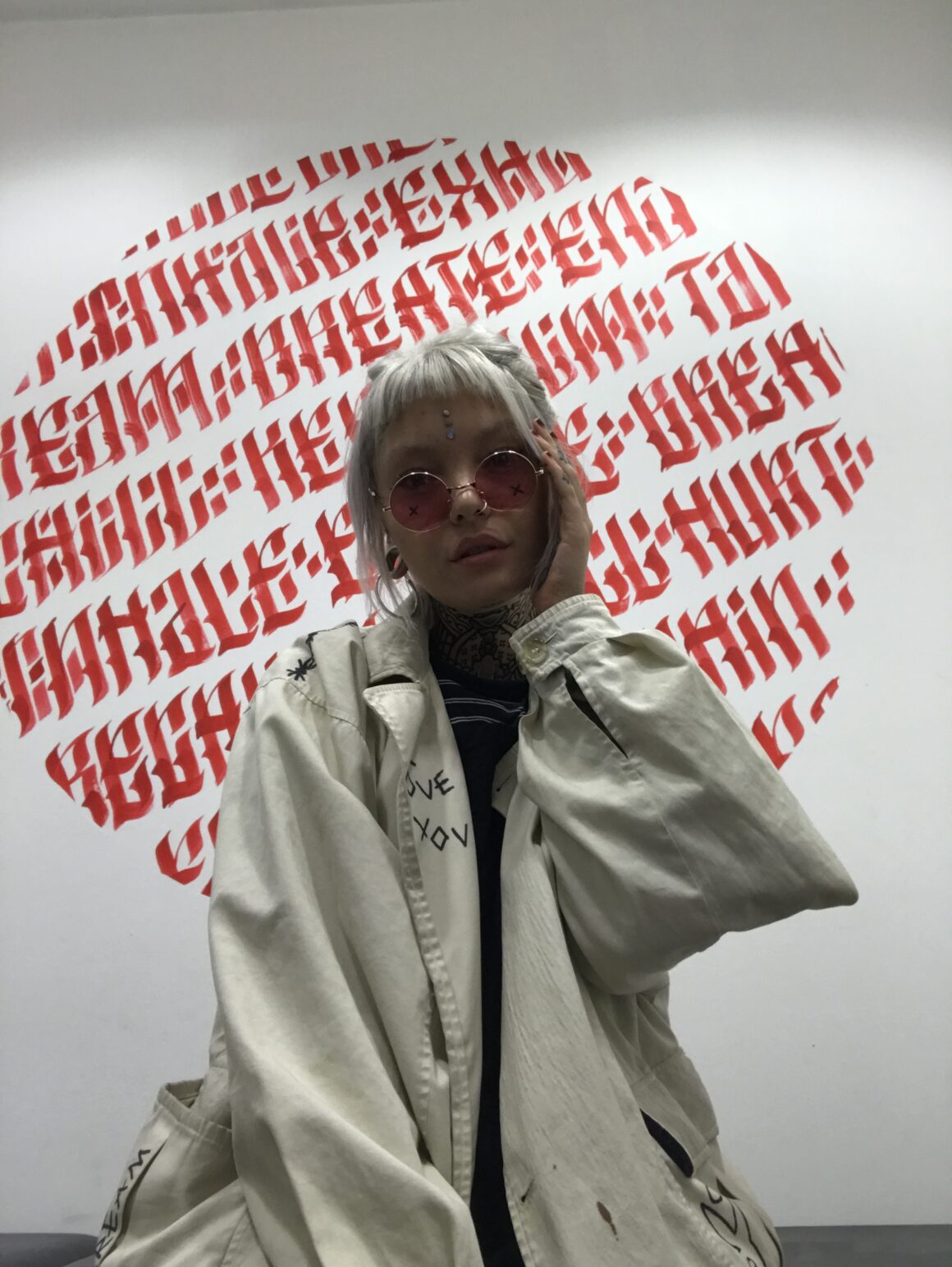 How did you choose your tattoo artists and do you want to tell me their names?
I have been tattooed by many tattooists, most of which are my good friends who are all amazing artists.
My favourite and most trusted tattoo artists are:
Cal Jenx @caljenx
Maria Amat Artigas @lamat_tattoo
Marta Amat Artigas @darkmaa_tattooer
Jimi (Zeph) Green @zephgreentattoo
Aaron Gordon @blonde.bastard 
What do you do for a living?
I am a hand poke tattoo artist and professional body piercer.
And how did you become a tattoo artist?
I became friends with tattoo artists! They put in a good word for me with the owner of the local studio. I started working in a tattoo shop from 17 years old as a cleaner. From there I worked my way up to become a professional body piercer and manager. Then decided to teach myself how to hand poke and it was the best decision I ever made.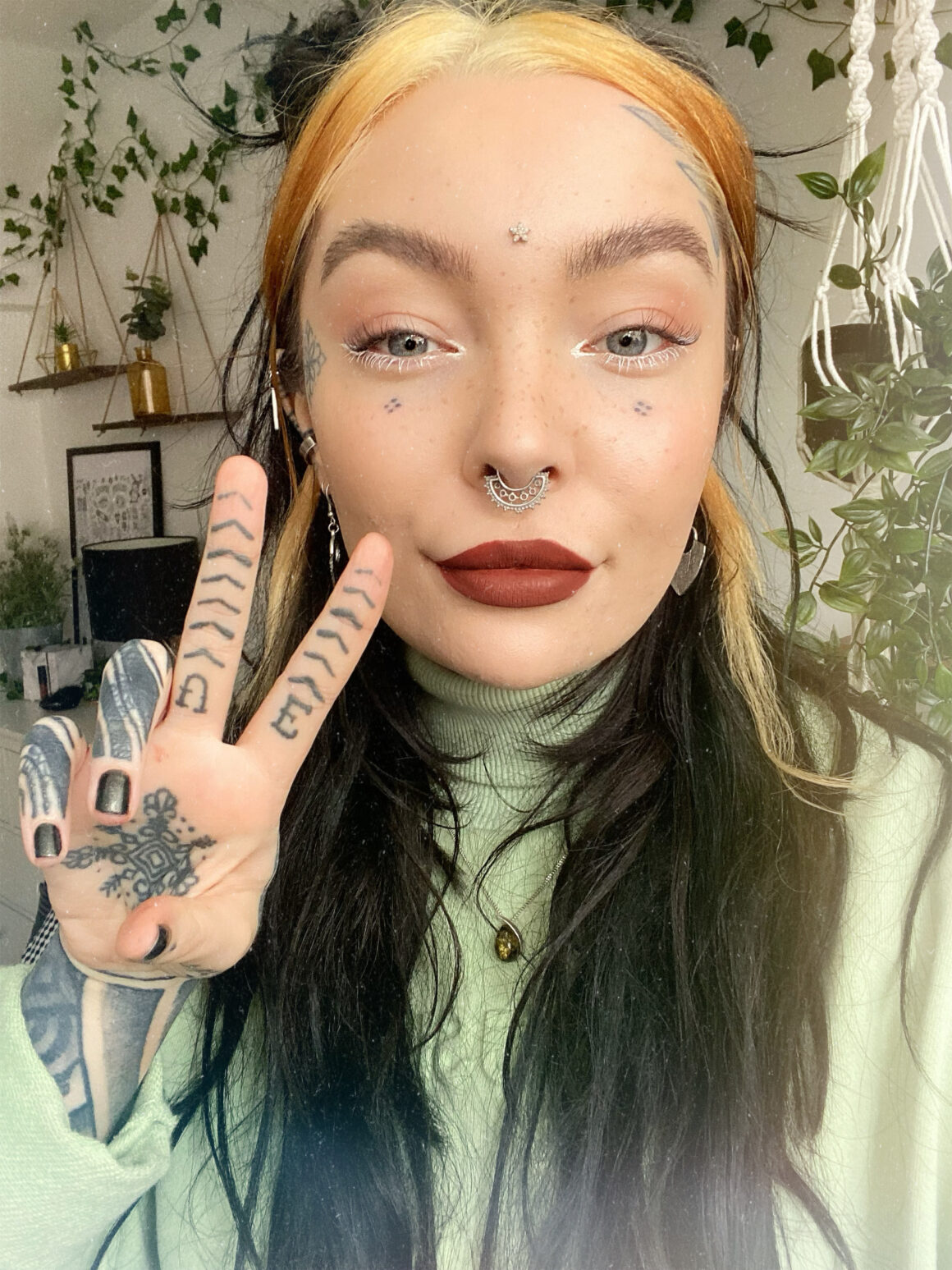 Where do you work at the moment?
I have recently moved from London to Sheffield. You can now find me as a resident artist at The Work House (@theworkhousetattoo). I also still regularly tattoo in London and have various guest spots lined up in the uk and abroad.
What do you like to do in your free time?
What free time haha? I tend to live and breathe all things tattooing / creative. On the rare occasion I take some time off, I like to be surrounded in nature, walking, camping and travelling to different countries.
What is your favorite image of yourself and how would you describe yourself?
I like the neon photo shoot I did with photographer @jamesstreetphotography – however I am forever changing my physical appearance so I think my favourite always changes.
I think I'm an open minded, creative always improving and growing, and my motto is 'do it will love'.
Last question: Would you like to tell me a dream of yours?
A dream of mine is to one day own and run my own tattoo studio. Imagine tattooing on a big pirate ship, part tattoo studio part vegan cafe floating on a canal somewhere!!!