The Spanish tattooer is ready for his new adventure: the '10KF Hollywood' where he can keep to experiment with his sensual female faces inspired by Art Noveau.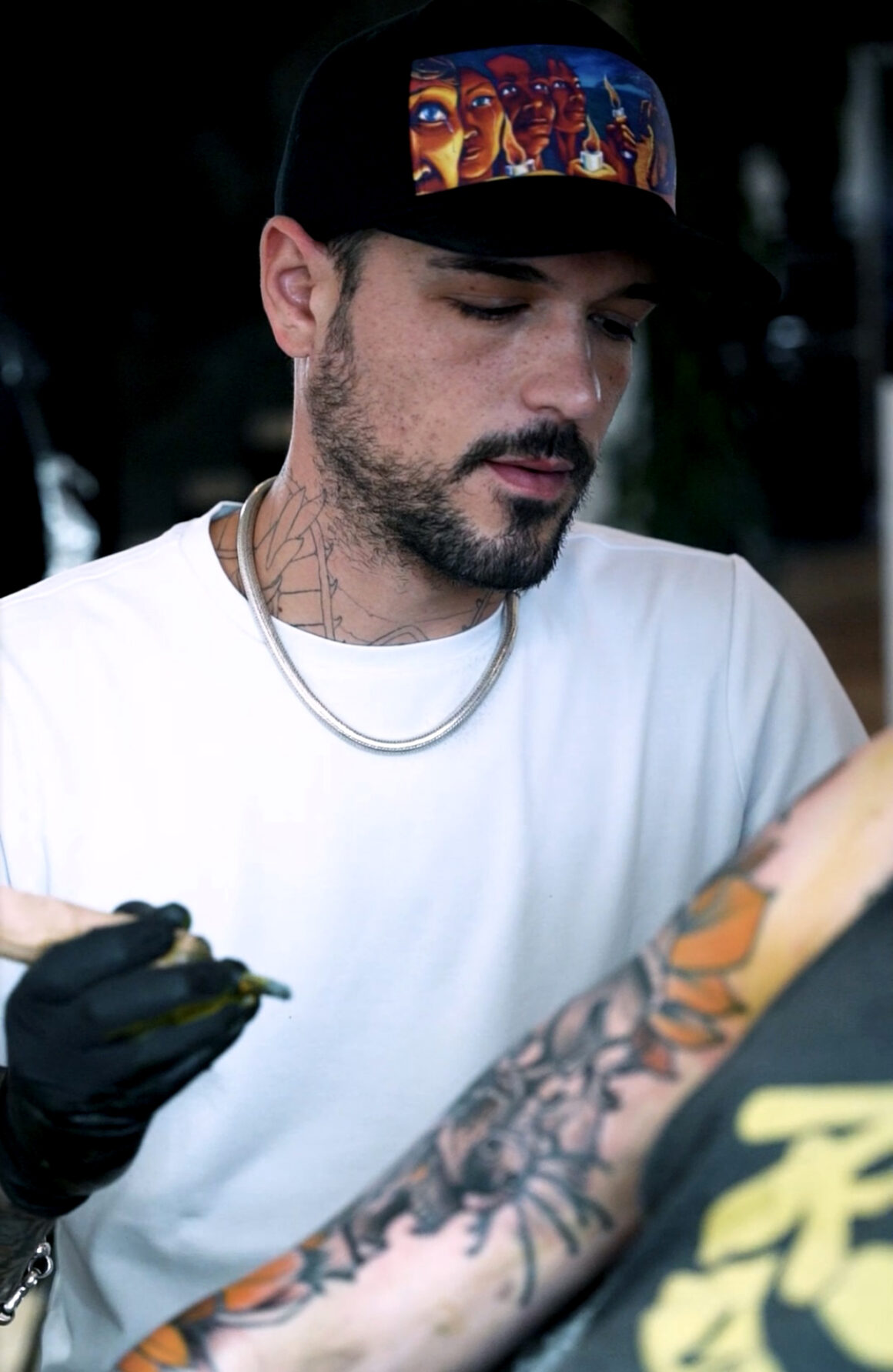 Easy question just to start: how did Fede Almanzor get started as a tattoo artist?
Well, it all started about 7 years ago. I used to draw a lot during my childhood. I spent a lot of time drawing dragons, animals and some portraits. In all my memories I see myself with a pen in my hand. I was never accepted in an art degree class because in all the tests I failed and they never wanted me, I guess.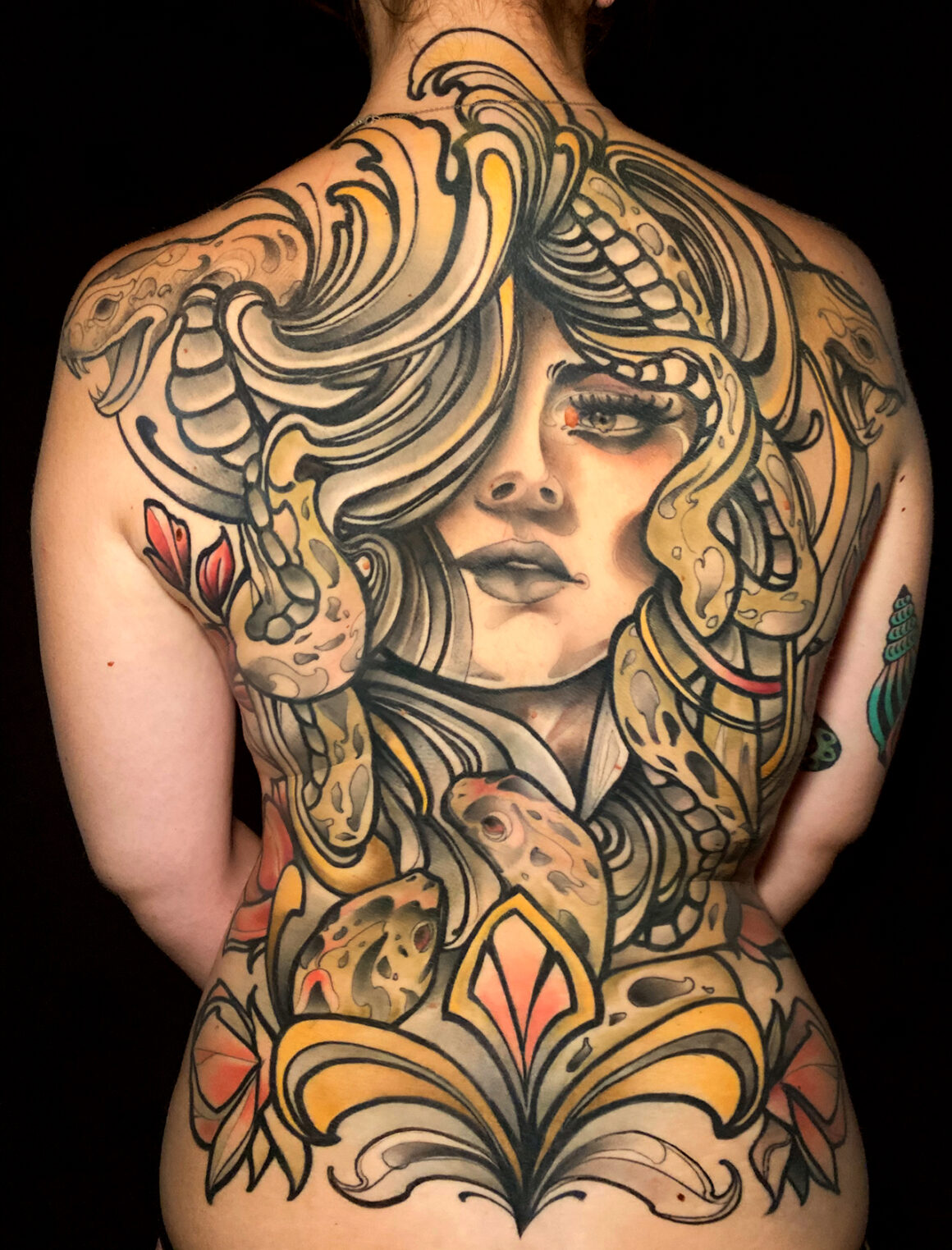 What happened later?
I worked selling my drawings and meeting the requests of all my friends in the hood. They knew that I liked to draw some designs more oriented to tattoo style but had no idea that was going to be my path. With time, these friends convinced me to try and do some tattoos with my designs.
So I ordered a starter pack set and that's how I got into this amazing form of art.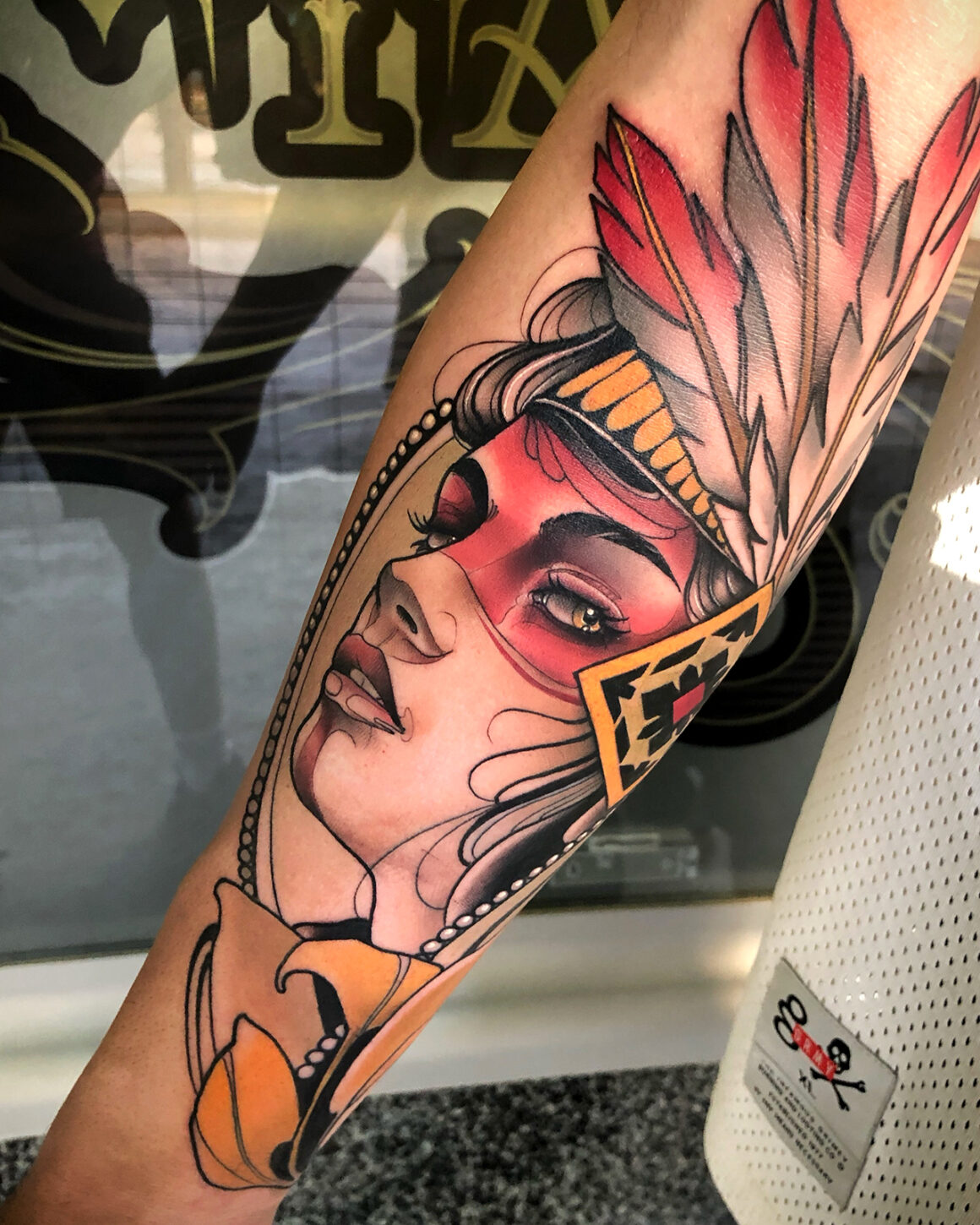 Was the idea of immersing all those sensual female faces in a floral atmosphere always clear in your thoughts? Or did you get there by experimenting?
At the beginning I tried to create animal and object designs. I was more comfortable doing that kind of things with no facial expressions like family portraits.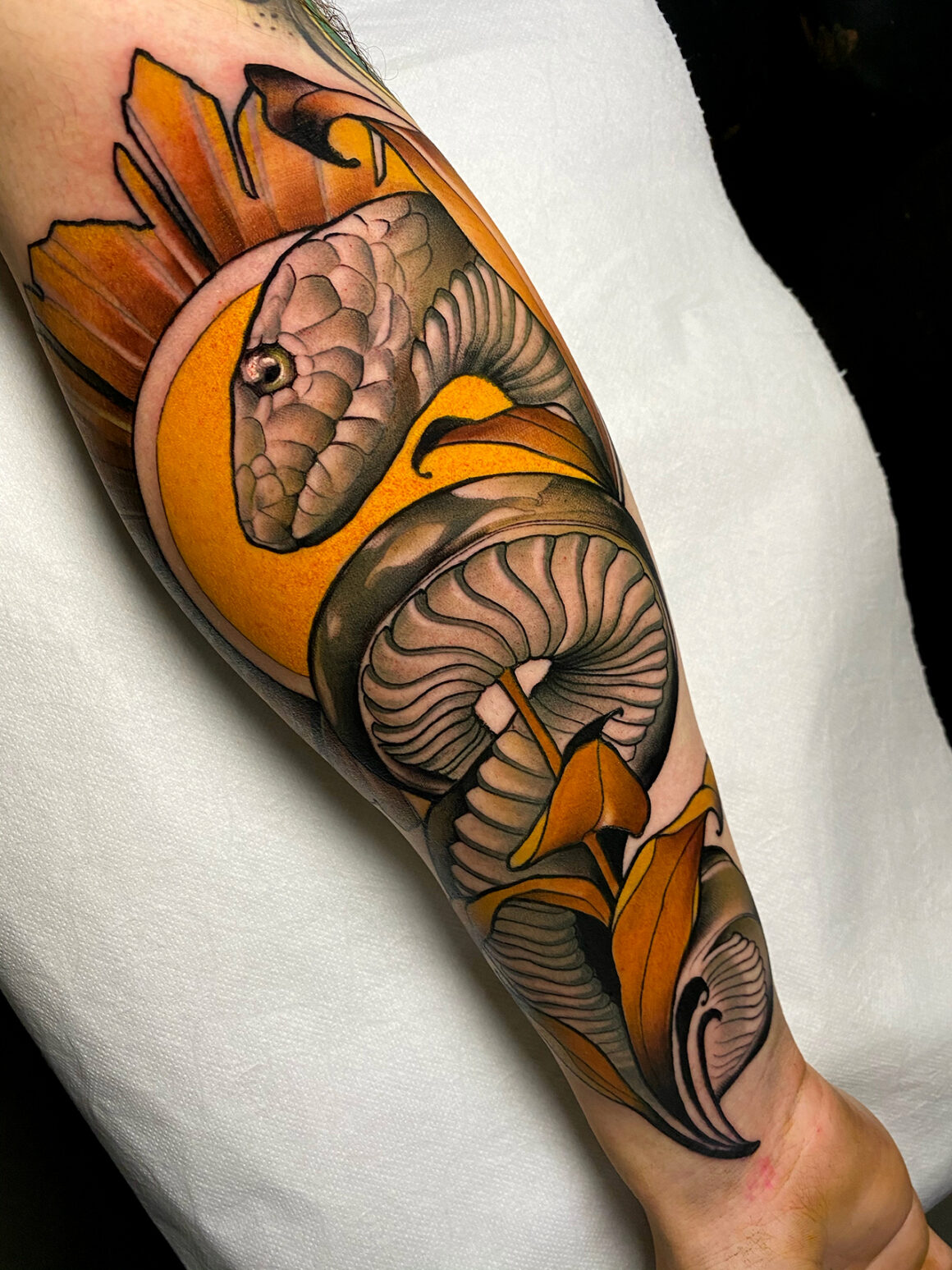 When I got a little bit more comfortable with the technique of tattooing then I dared to experiment more and more with challenging poses.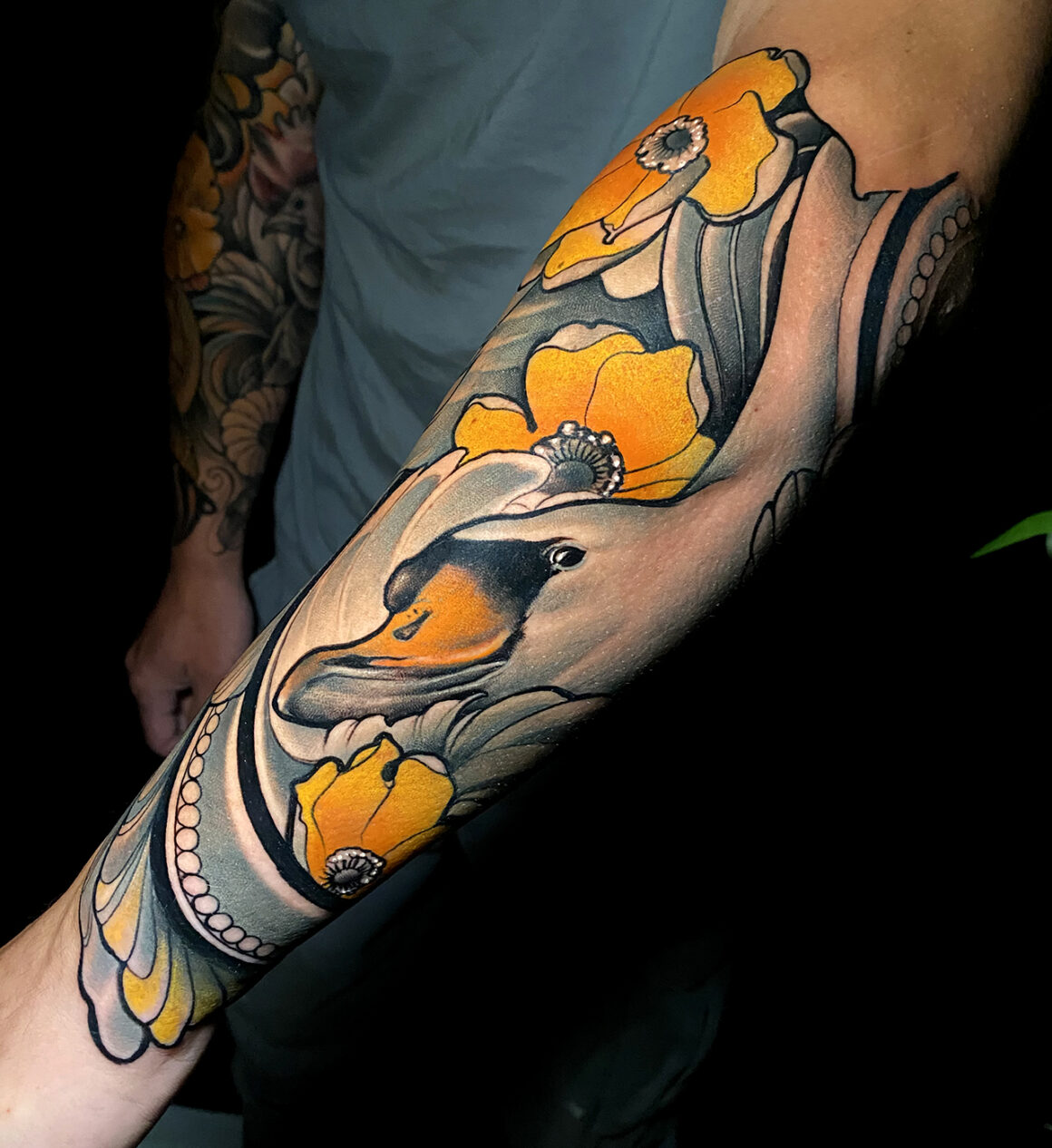 Did you have any mentors?
I was inspired by several artists from the tattoo world, and also by old painters. Then I learned about Alphonse Mucha, one of my favorite artists ever. I think he gave me the inspiration I needed to start developing my style.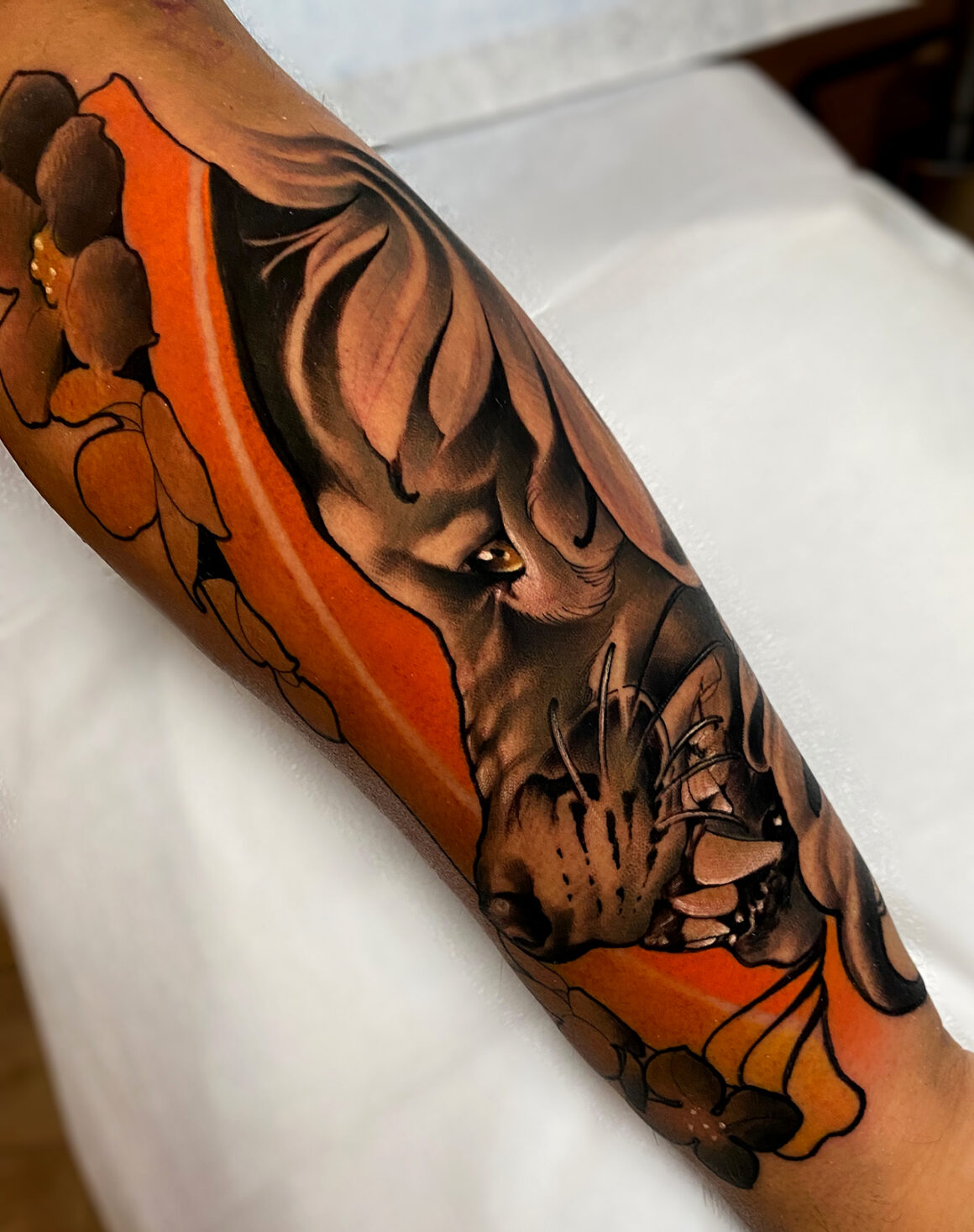 Dense and pregnant colors, but also a long and meticulous work on contrasts and shadows: is that the secret of your art?
I think one of the most recurrent element of my tattoos is the orange color! Yes, I'm obsessed with orange, and I always look for the contrast between the black ink, the rest of the color palette and the skin.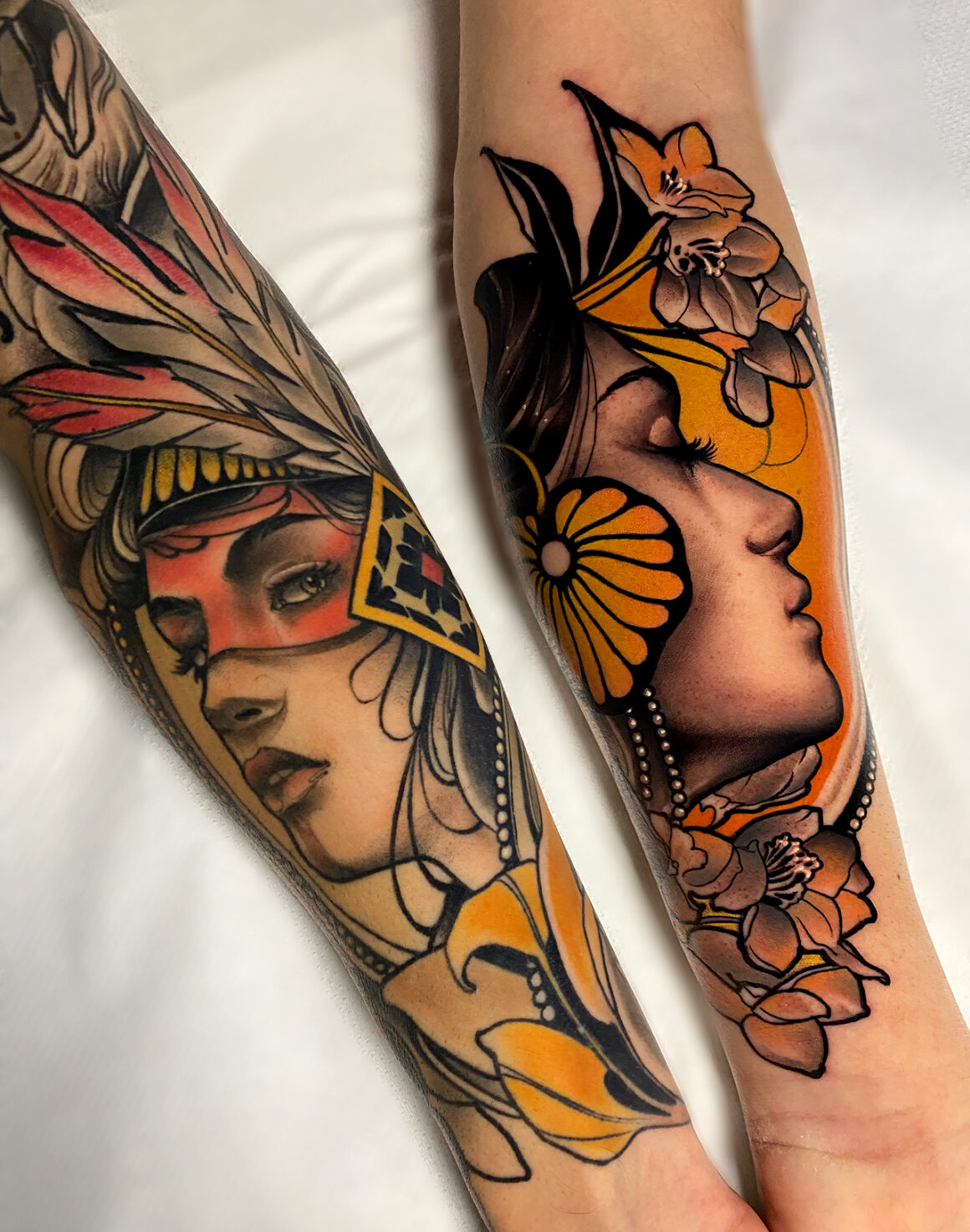 Recently I've been looking for a smoother gradation and more realistic expressions on faces. I like to mix the draw and a strong line with flat colors with something more realistic and detailed.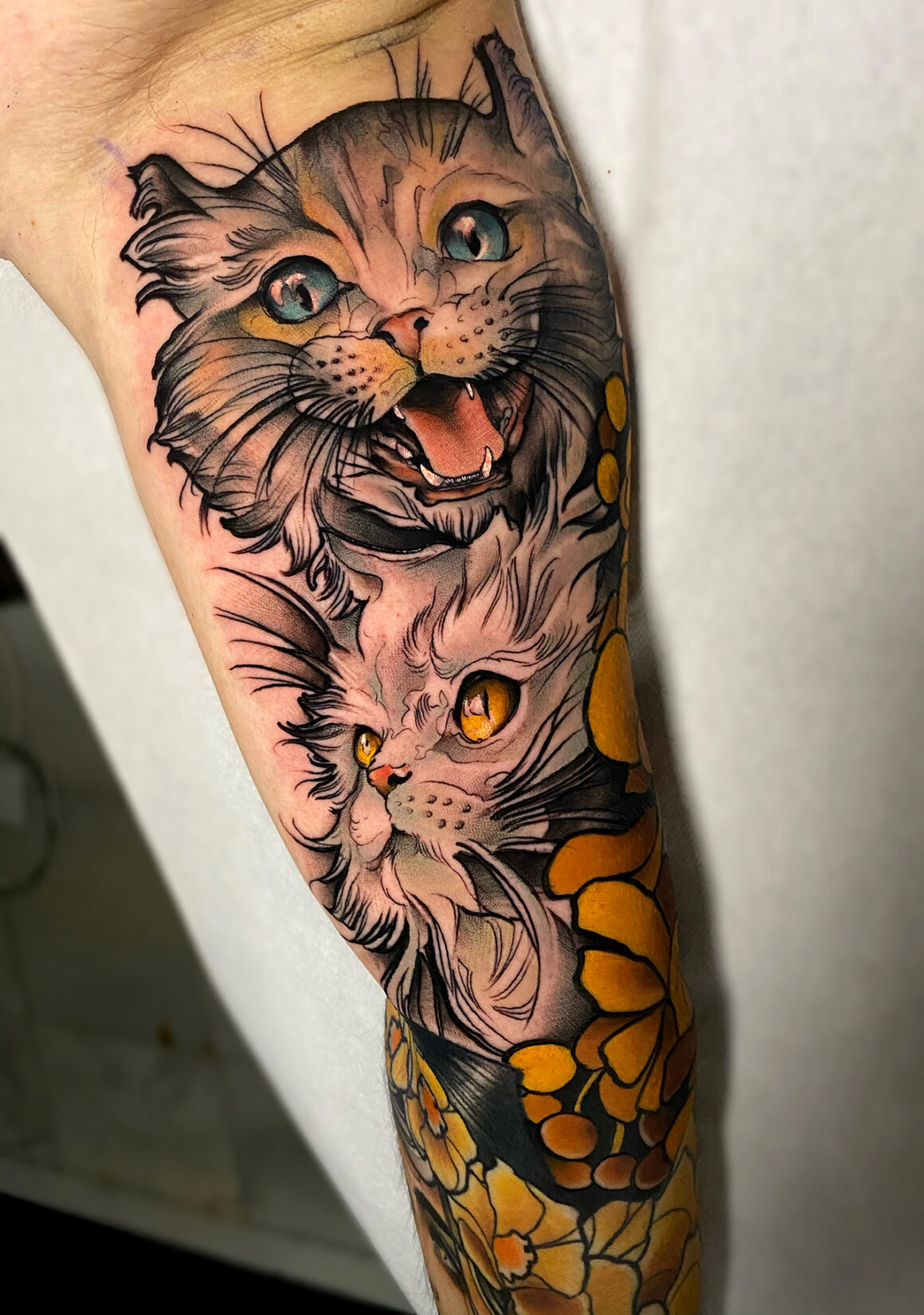 The hair on your "goddesses" also characterizes you a lot as an artist, don't you think?
I think I'm very influenced about the Art Nouveau. I particularly love the flow in its designs, so long and delicate. Also I'm looking to improve my technique to do it but I really appreciate you see it that way!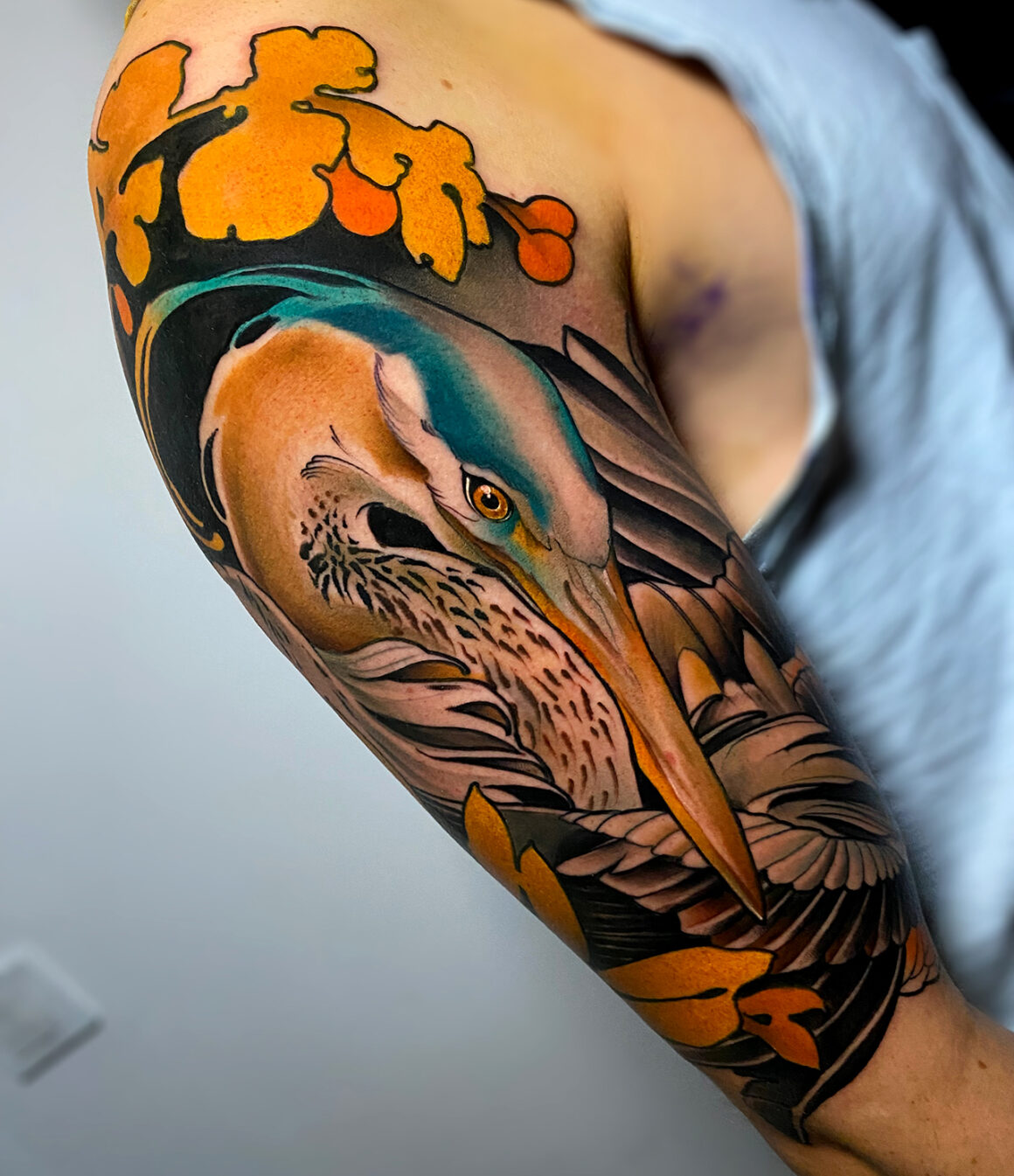 What do you think are the challenges for your 2022? Maybe to try adding new subjects to your work besides women and animals?
Yeah, there's a lot of exciting things coming up. I'm moving to Los Angeles to work as a resident at '10KF Hollywood' (IG: @10kf_hollywood) for some years and that is going to be one the biggest challenge but also I want to work more on growing like a person, an artist and a tattooer.
Just to focus more on the realistic portraits and maybe try out other techniques of art like oil paintings or something that feeds back each other.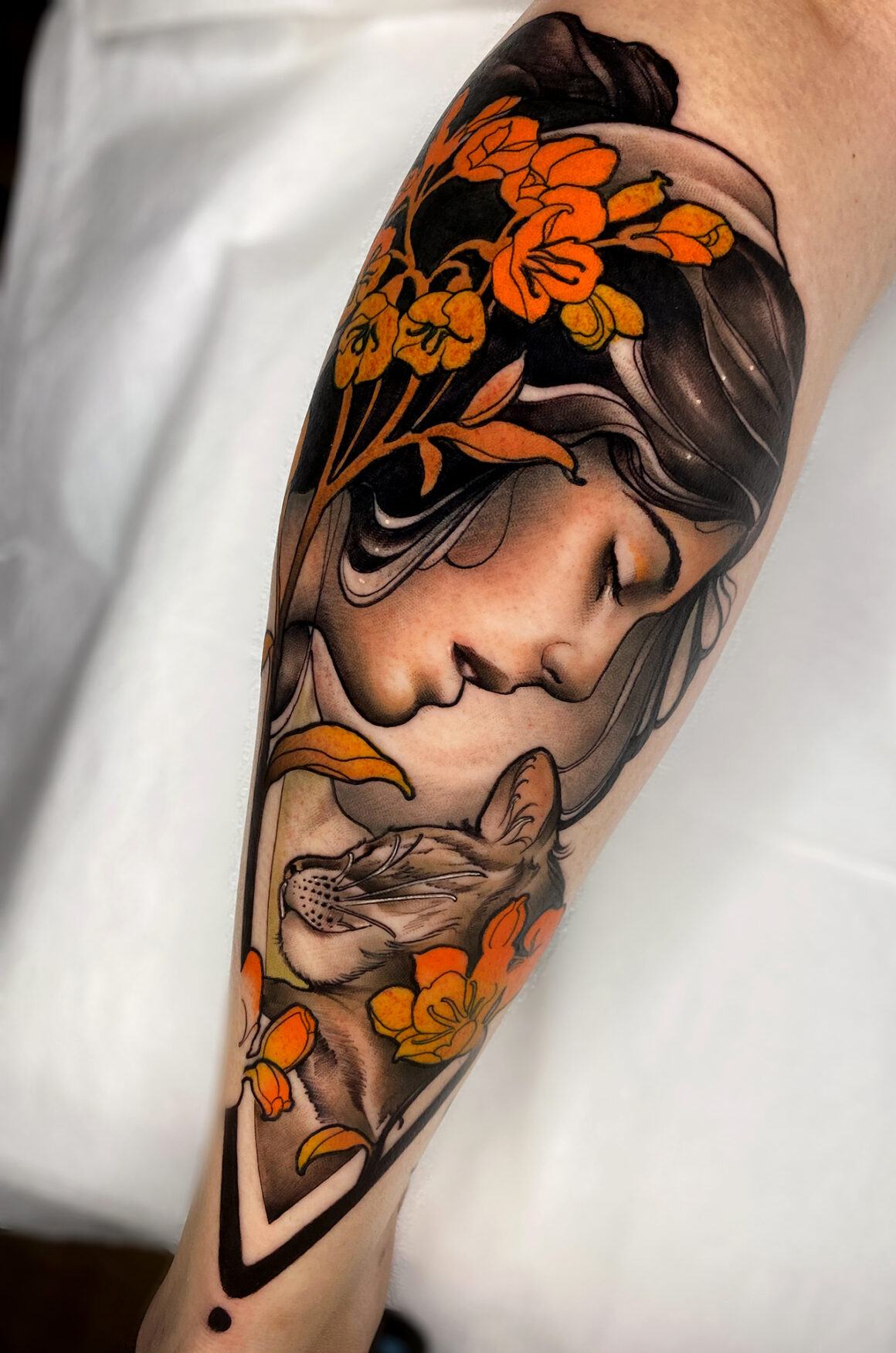 As a tattoo artist you're very on the road, aren't you? You work at 'Lagrimas Negras Tattoo' in Sevilla but your suitcase is always ready since you do guests in Berlin, London, New York, Los Angeles and most of Spain…
Absolutely! I traveled a lot for a few years in Madrid, Barcelona, Switzerland, France, Germany, Tenerife, New York, Los Angeles etc.
I think all this "on the road" has created how is Fede Almanzor nowadays. And I hope I will do it for several years more because, well, I guess that open your mind across the board!