She loves the figure of the geisha, an elegant woman who uses her allure to drive men wild. And black tattoos which cover the body.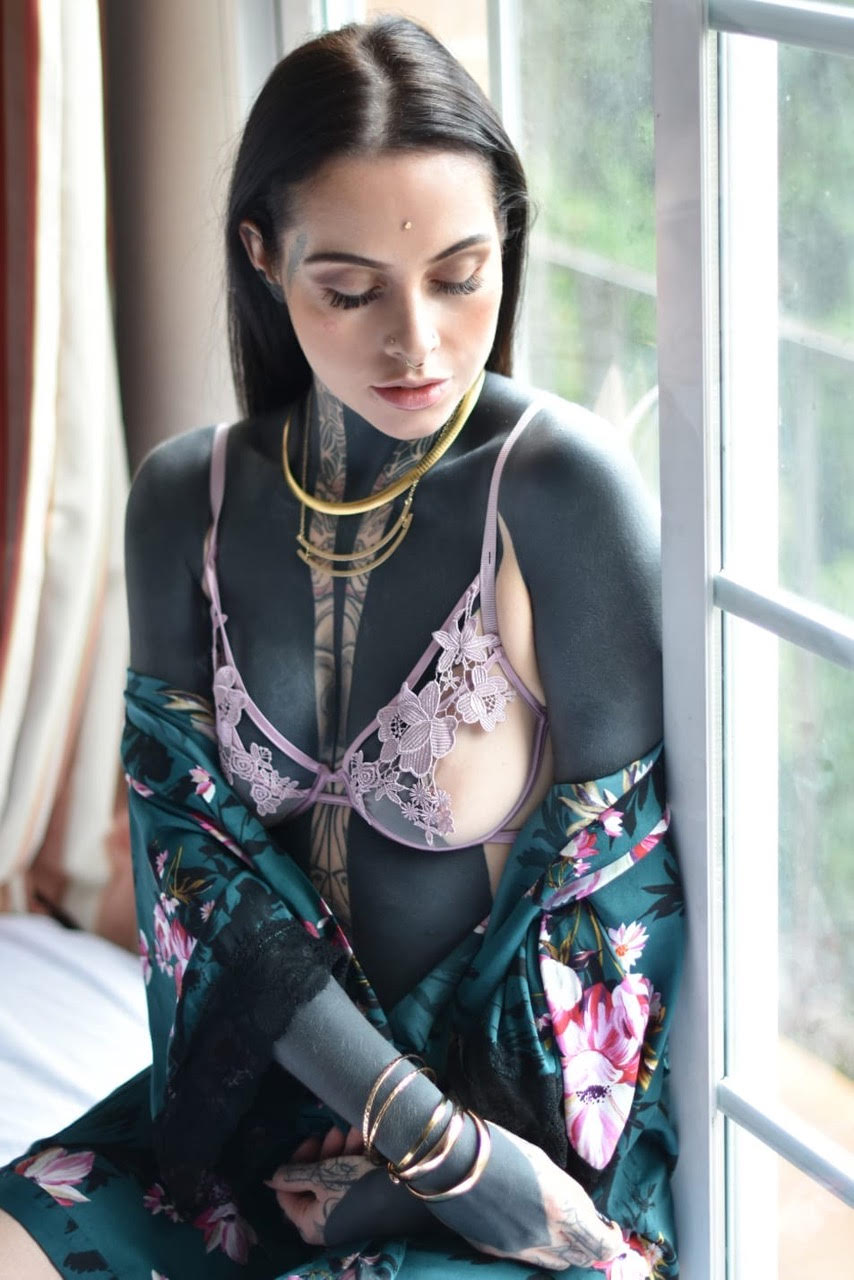 But she also describes herself as "cute and hardcore", because as she tells us in this interview: "I am sensitive, romantic and hardcore because I refer to another facet of my life perhaps, more oriented to submission and pain, such as Shibari suspension sessions".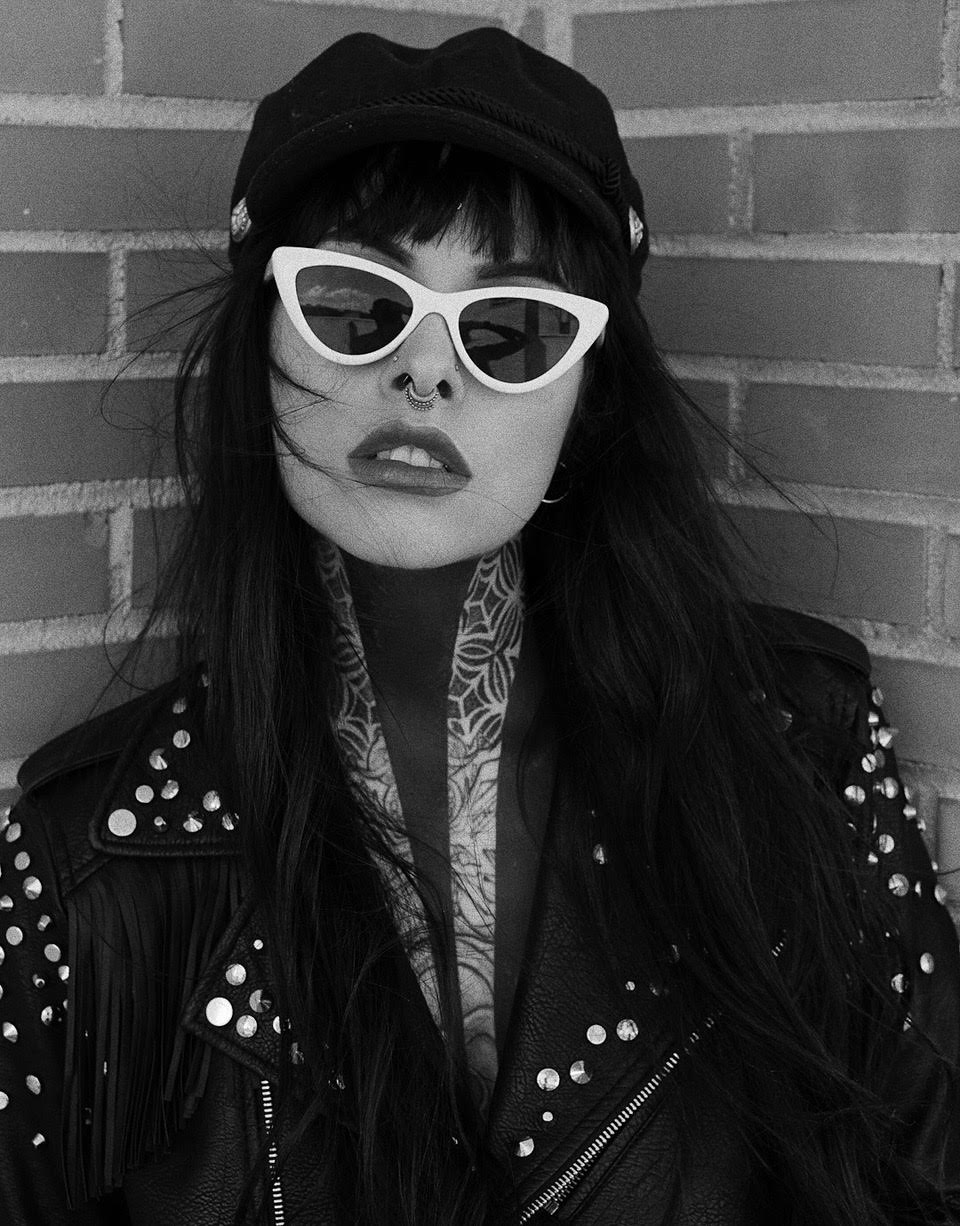 Hello Esther! Would you like to introduce yourself to our readers?
My name is Ester, although I am better known as B Cherry. I am Spanish, I currently live in Madrid and I am 29 years old. Despite my somewhat aggressive image I am a fairly simple person and somewhat shy even, although I try to make up for that with an outgoing person's facade.
I am very sensitive and family oriented and I love reading, theatre and cinema.
When did you first get into tattoos?
I got my first tattoo when I was 16 years old, a small one and did iit without letting my parents know., I was very nervous, I forged the over agey permit and it was very exciting for me. At that time it was a shock for everyone since we lived in a small town and no one had tattoos. I was hiding it from my parents for more than half a year.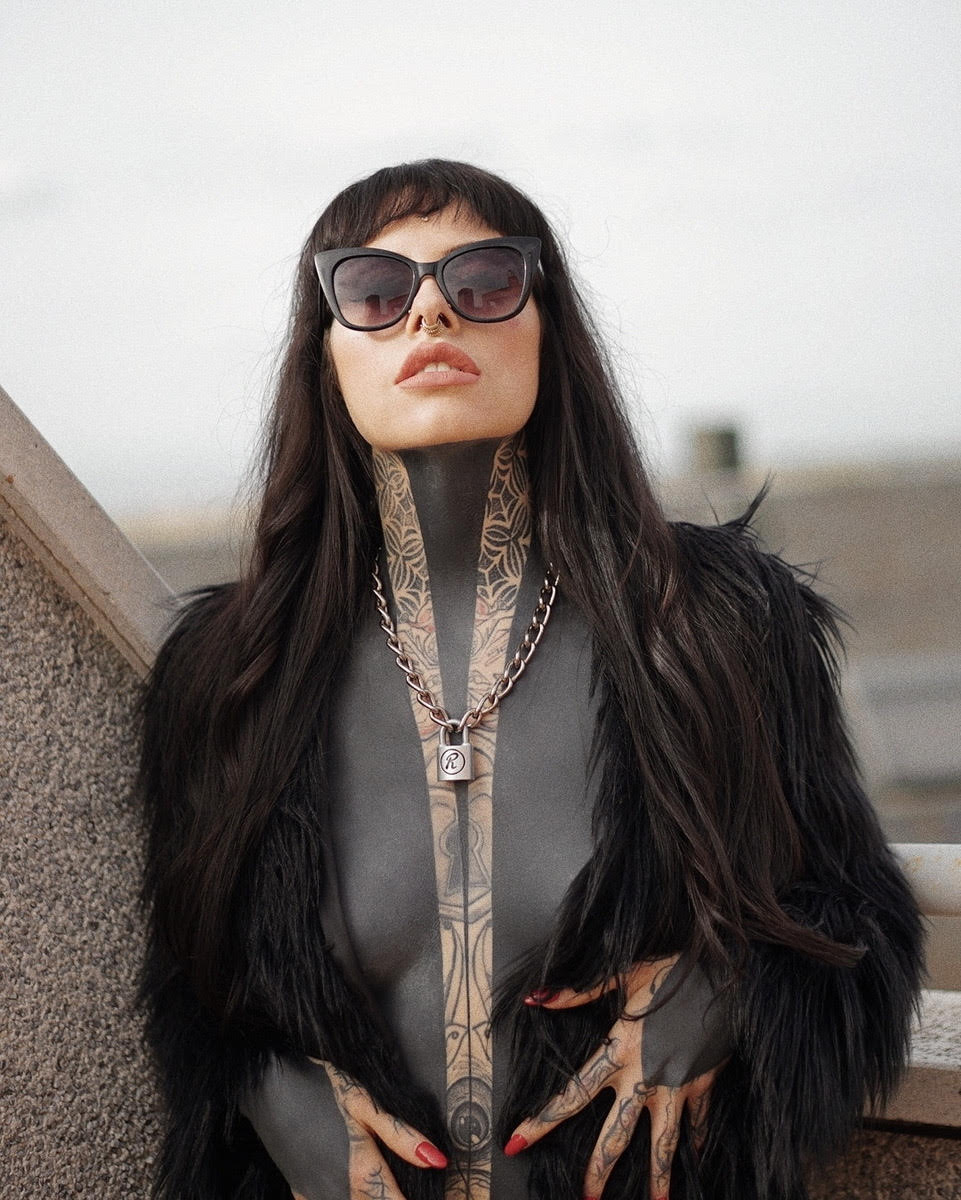 Who has tattooed you and why your choice of total black tattoos?
A year ago I started on this adventure of blackwork, I already had tattoos but nothing to do with that but then, one day I met the teacher BLACKPRADA, one of the great blackwork tattooists in this country, and he proposed the idea of ​​doing me a whole bodysuit in Neotribal, I immediately identified with the idea, the minimalism and the elegance that black brings to you. I know that it is the aesthetic that identifies me and makes me unique, so it is with BLACKPRADA together with MUCHACHONAVAJA that we are gradually building this entire project. I left everything up to them.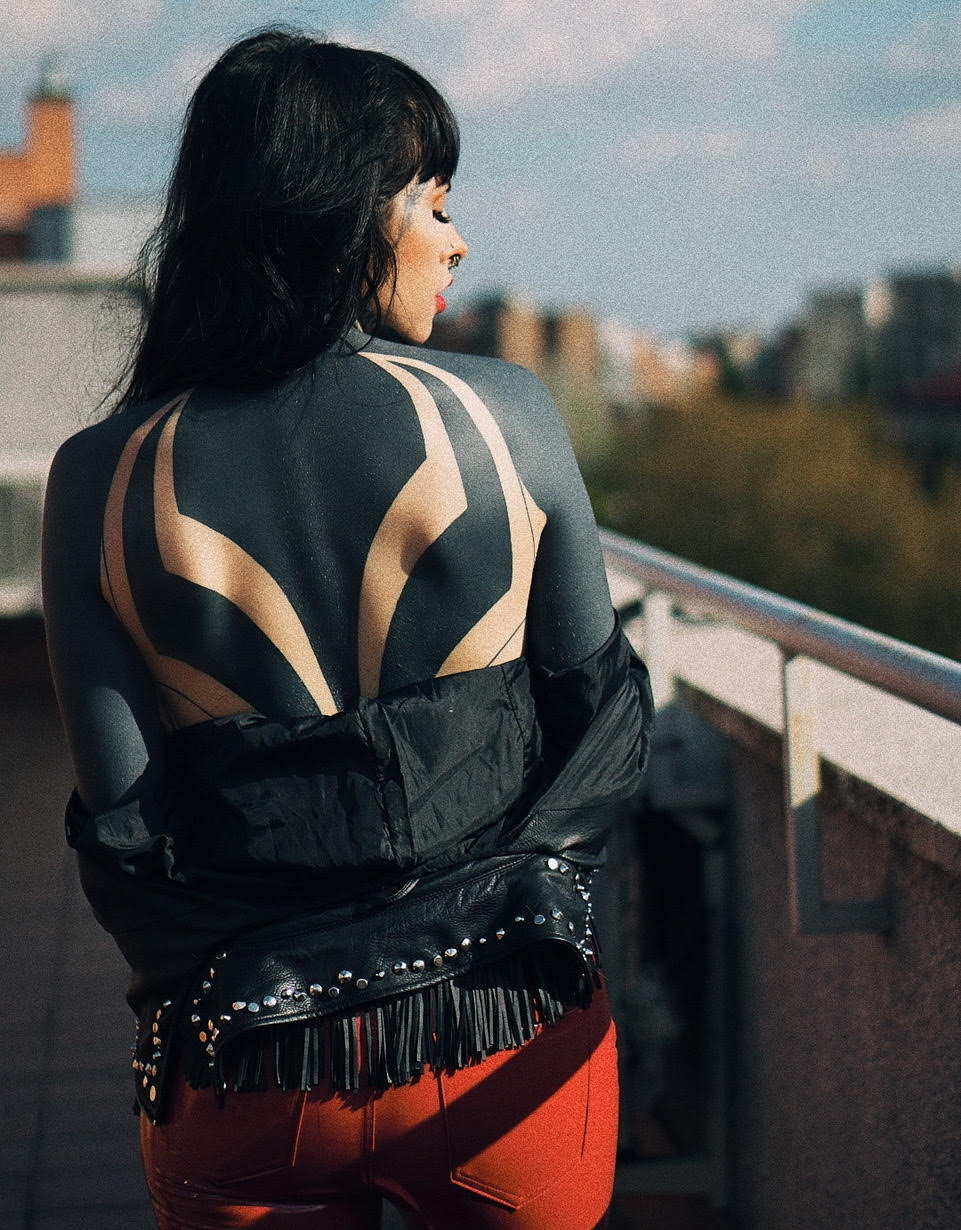 What do you do for living?
As I mentioned before, my life is quite simple. I am in charge of a store and basically make my living from that, even though I do some photographic projects, I like my work, dealing with people every day and of course, leaving them fascinated with my image.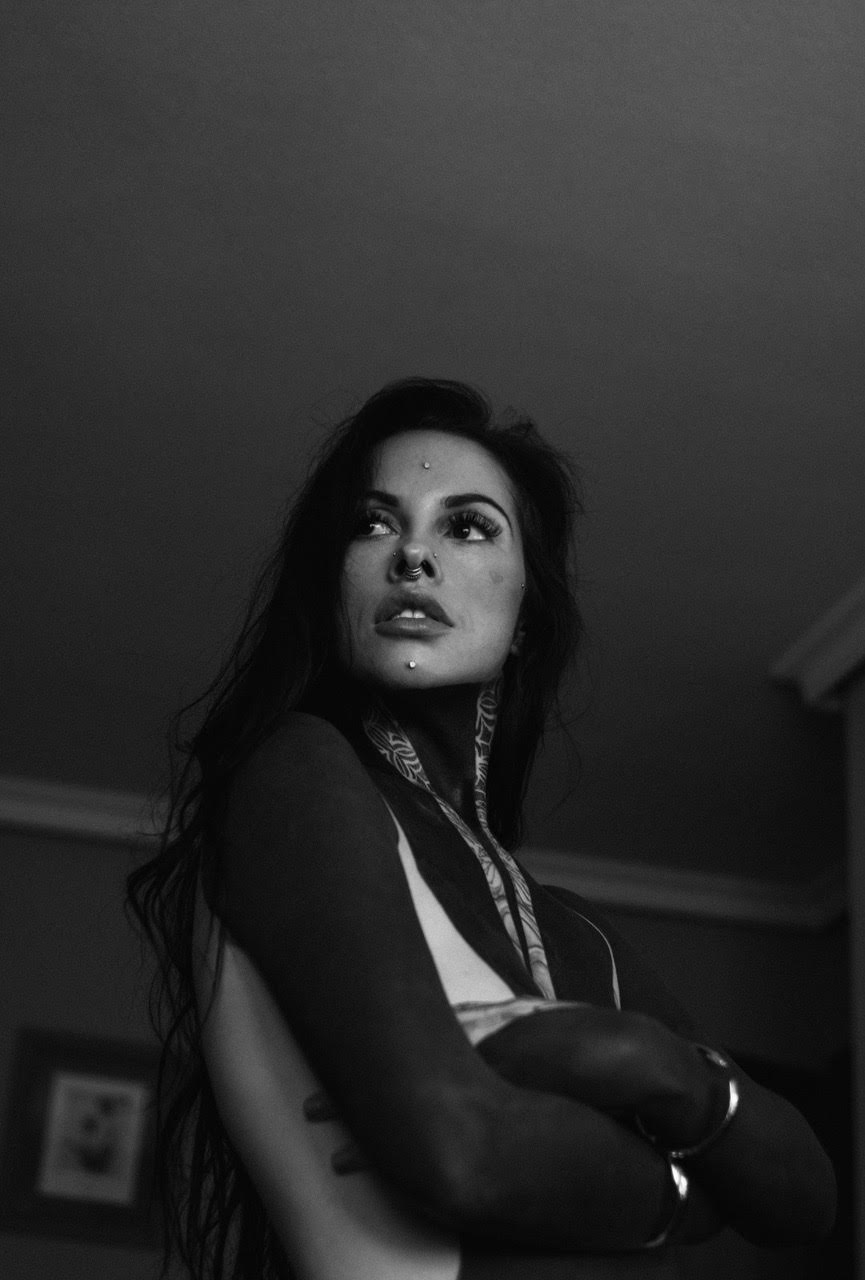 On Instagram you describe yourself as black geisha cute and hardcore. Can you tell us what you mean by that?
In the bio of my Instagram I refer to "black geisha", I adore the figure of the geisha, an elegant woman, who takes care of her image, educated, protocol and that all men go crazy about them. That's why geisha and with black I'm referring to my tattoos of course. "Cute and hardcore": cute because I am sensitive, romantic… it is one facet of my personality. And hardcore is a reference to another facet of my life perhaps, more oriented towards submission and pain, such as Shibari suspension sessions.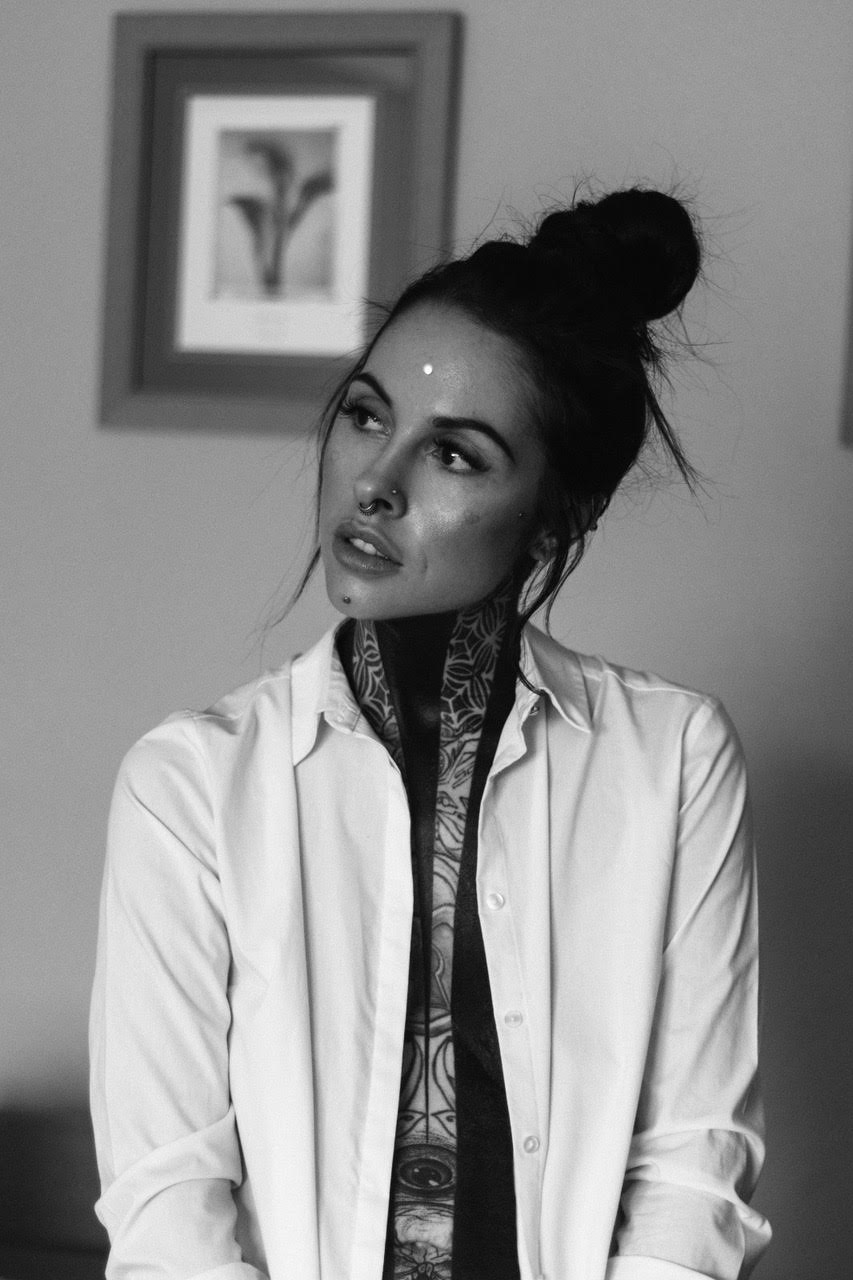 What are your interests? You're really into cats, aren't you? What else?
I love cats, very much. I have two and if I could I would have 10! I identify a lot with the feline character. As far as my interests are concerned, I love art and seeing artists, tattoo artists, paintings…by tattoo artists and artists that I admire and being able to live and further admire the work that this image requires.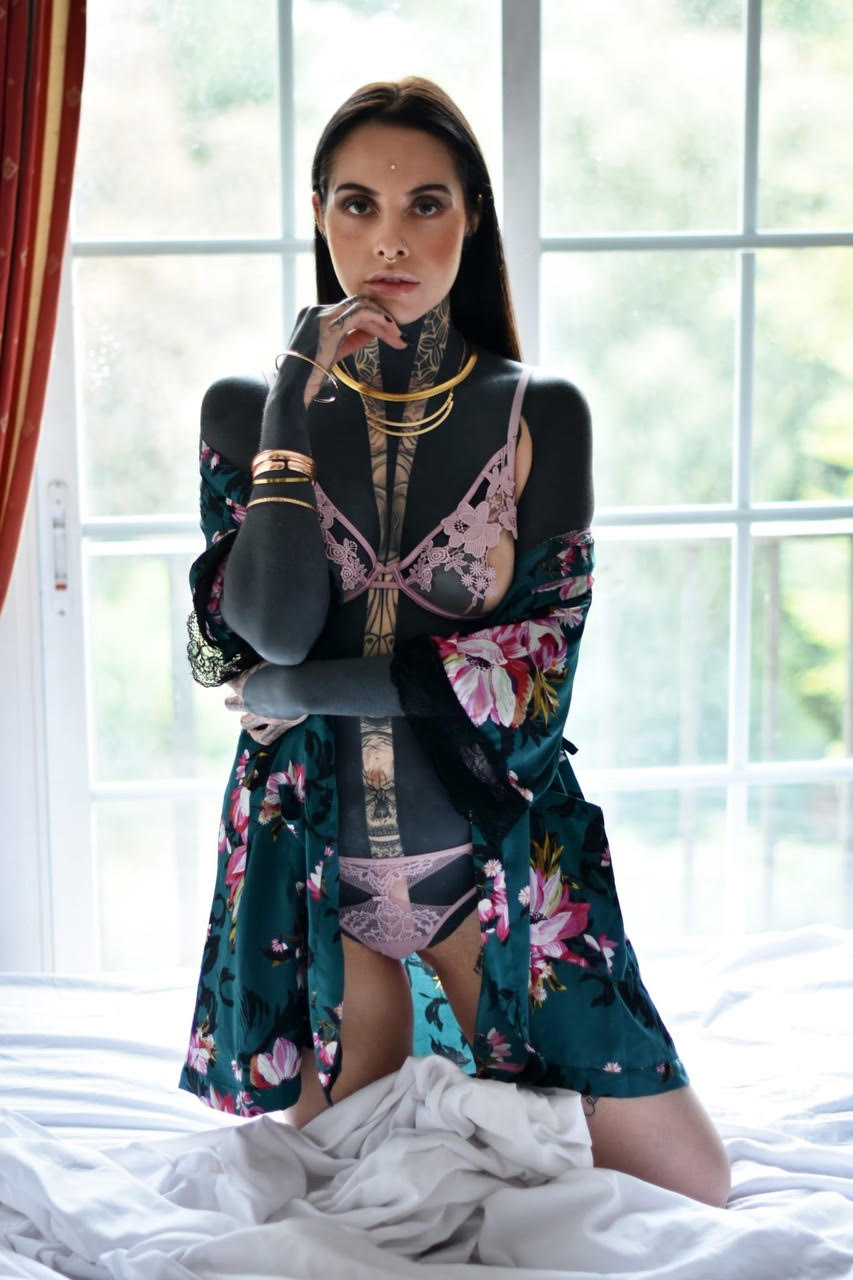 What do you like to do in your free time?
In my free time I like to travel, read, walk in the fields, go to the theatre, play video games or just cook and stay at home.
Would you like to say hello to our readers and tell them something about what you are doing in this period of lockdown and what your motto is?
I would like to send a lot of kisses and hugs to all the people who, like me, are locked up at home. My advice and how I am coping with it is to create a routine, exercise, cook, keep creating visual content even if they are photos on your terrace, but stay creative, active and positive.