The ebook author of 'From Mexico with love Vol. 2' confides on contamination between her homeland and the USA has improved her contribution to tattoo art.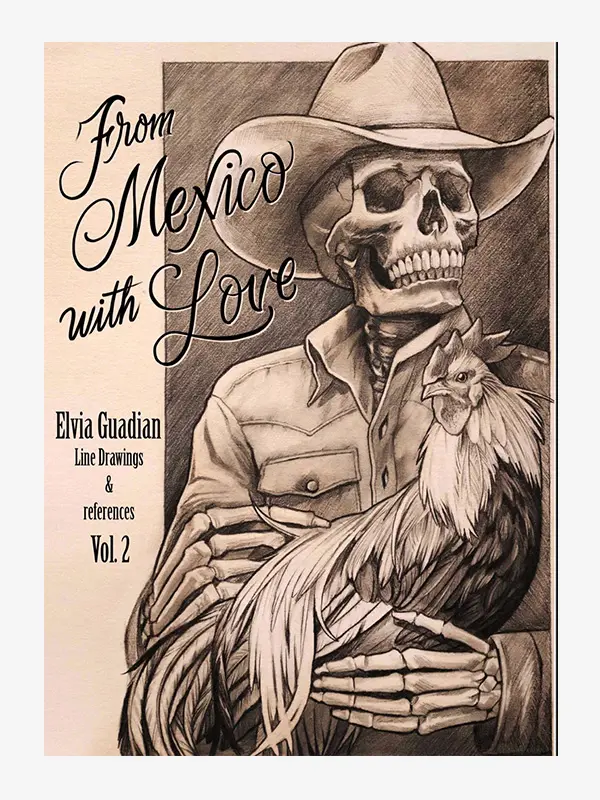 FROM MEXICO WITH LOVE VOL2 BY ELVIA GUARDIAN
From Mexico with love Vol2 presents over 50 sheets by tattooist Elvia Guardian inspired by Mexican culture and the West Coast of California.
Elvia, would you like to explain how a girl from Guadalajara decided to become a tattoo artist so connected to traditions but also brought to the contaminations between California and Mexico?
I really believe that my tattoos are very much defined by the place and circumstances of my childhood. I was growing up in Guadalajara within a very traditional Mexican culture and religion. There are artists in my family and I knew from a very early age that art would be a way of living for me too, and I decided tattoos will be my medium.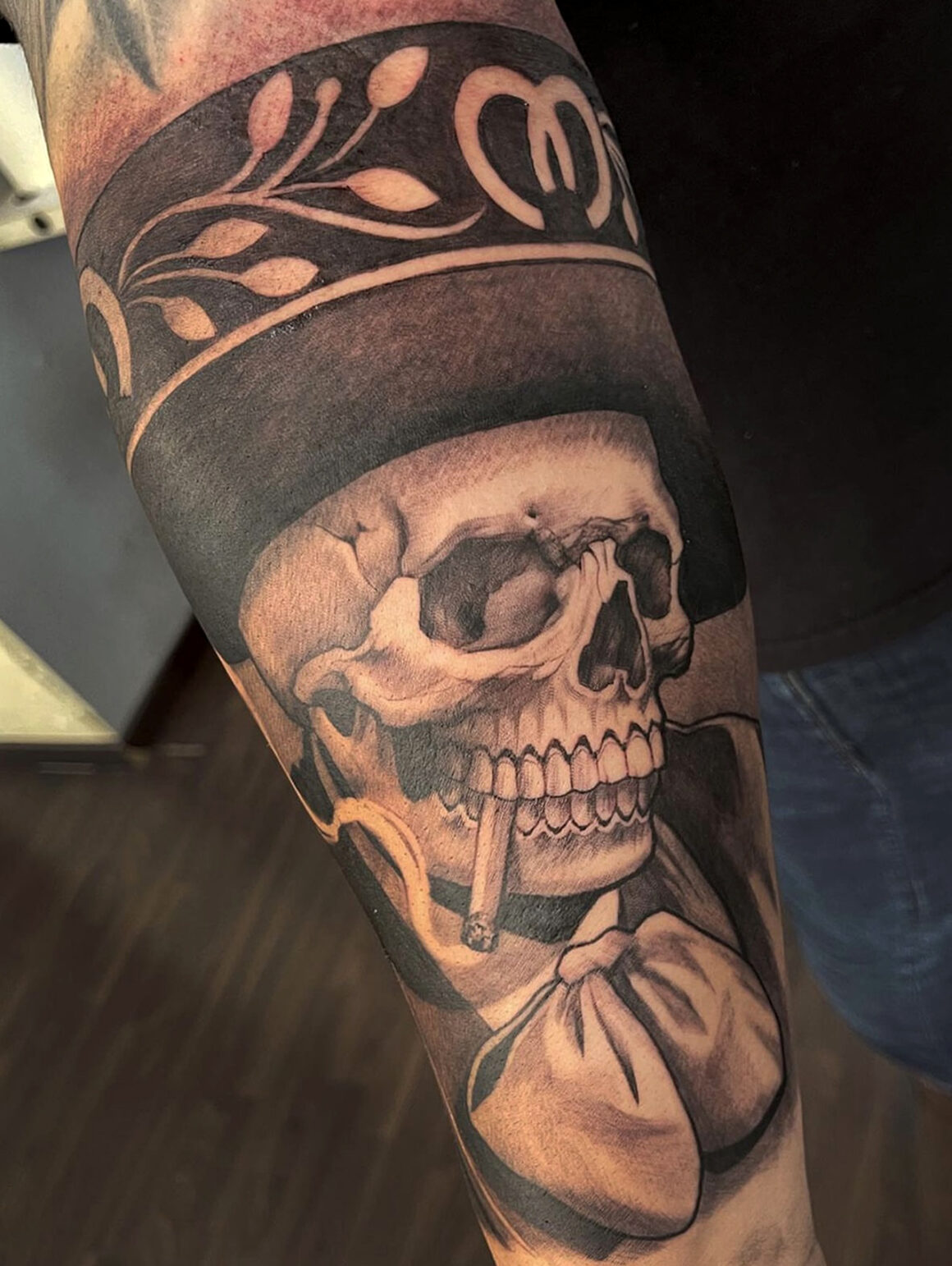 But it wasn't until I got serious on my career, I knew that If I wanted to get an authentic understanding of the historical roots of Black and Grey/Chicano style I needed to move to California. It made me be more proud of my heritage and comprehend the intricacies of Mexican-American life.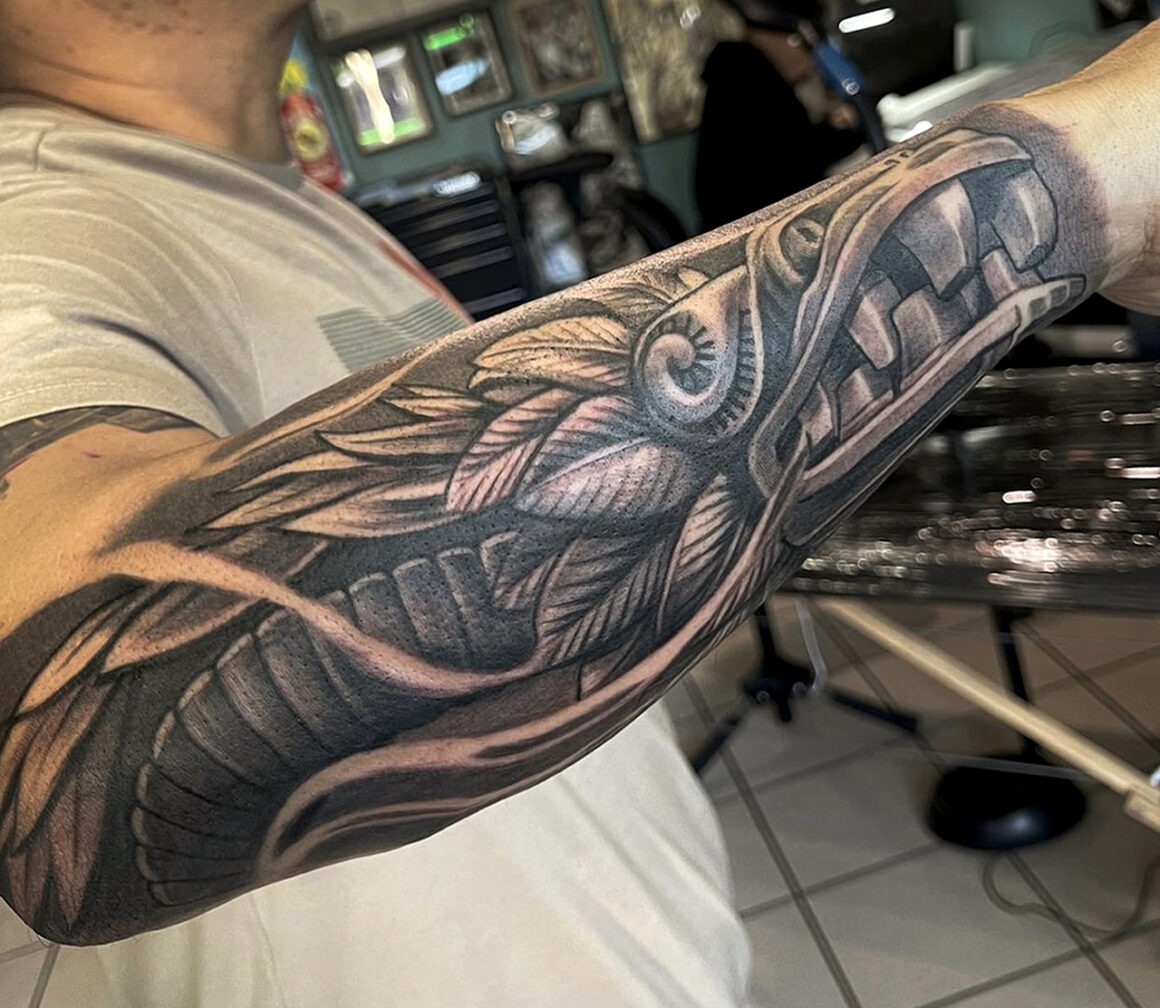 Do you think you had any mentors in your life? Or the Black and Grey tattoos (inspired by the Mexican and Californian tradition, lettering, Chicano style etc) do not need mentors but only dedication and application on the part of those who create them?
I had a mentor while doing my apprenticeship for 2 years.
I'm convinced that having a mentor is essential to provide knowledge and develop a problem-solving skill on the technical side.
However, If you are focusing particularly in Chicano/Mexican imagery as a tattoo style I do think it's important to have some sort of understanding of the cultural and historical references of it.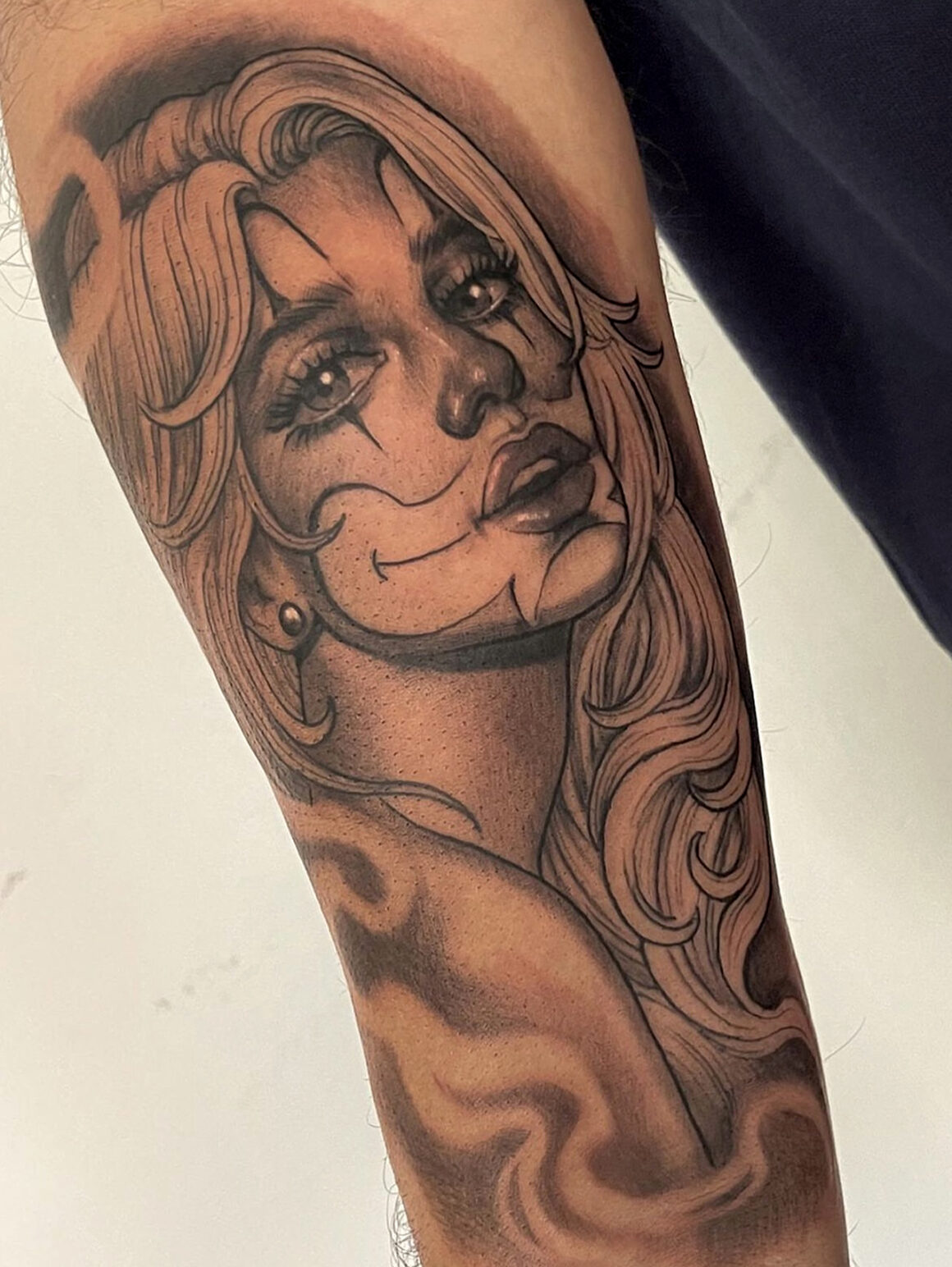 What do you think of the Realistic style? I've noticed that you already adopt it within some of your work so I wanted to know if you're going to approach it more and more in the future?
I think getting a realistic tattoo is a great choice if you want a very intricate and detailed design. I'm not striving for a photographic Realism style, but more for a mix of illustrative style with a spice of… Realism!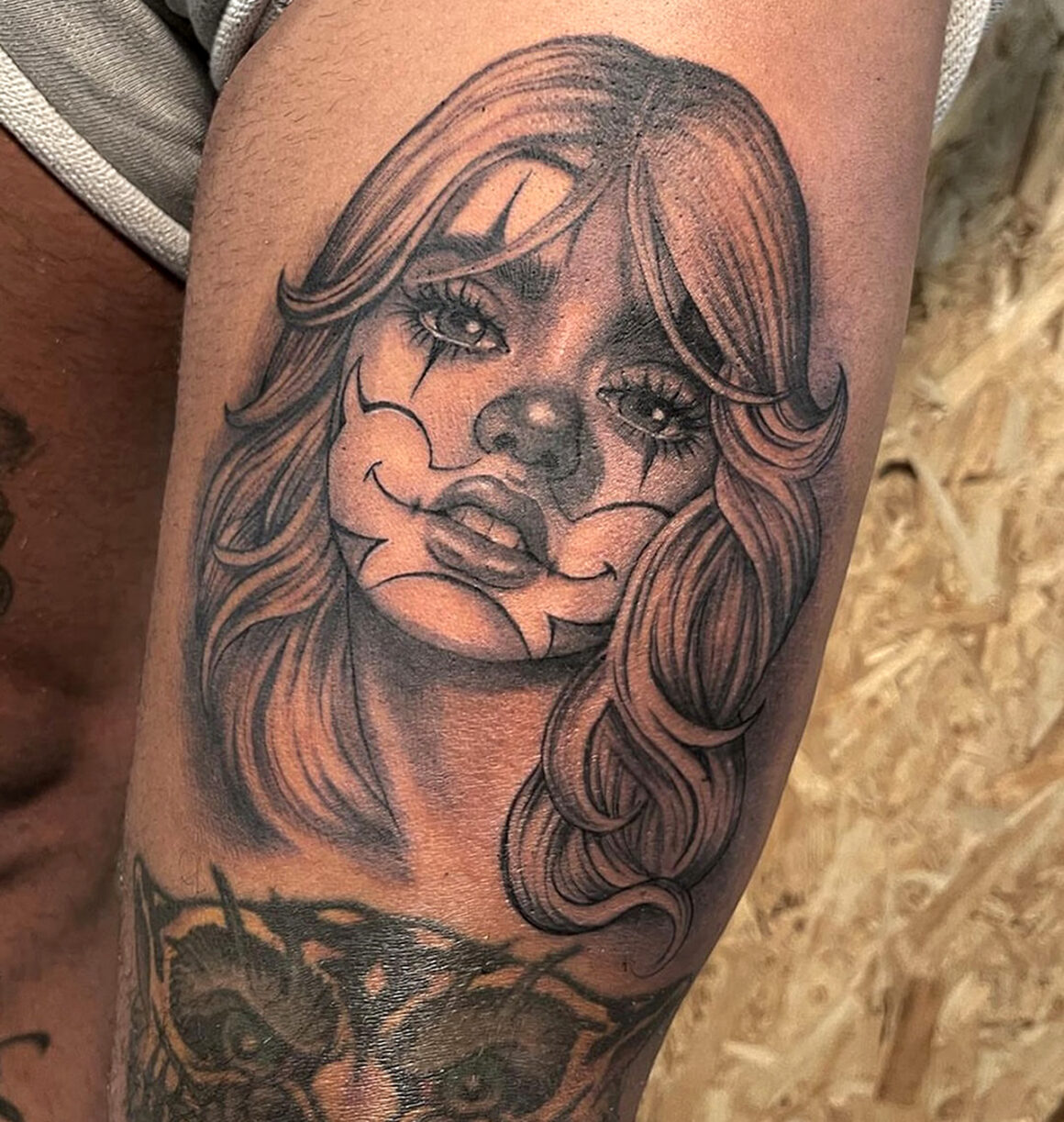 What does a great artist such as Frida Kahlo represent for you being Mexican? I saw that you sometimes paid homage with some tattoos…
Frida is Iconic. For me, personally she represents a symbol of passion. Despite a very troubled life Frida Kahlo managed to express herself in a time where very few Mexican women did.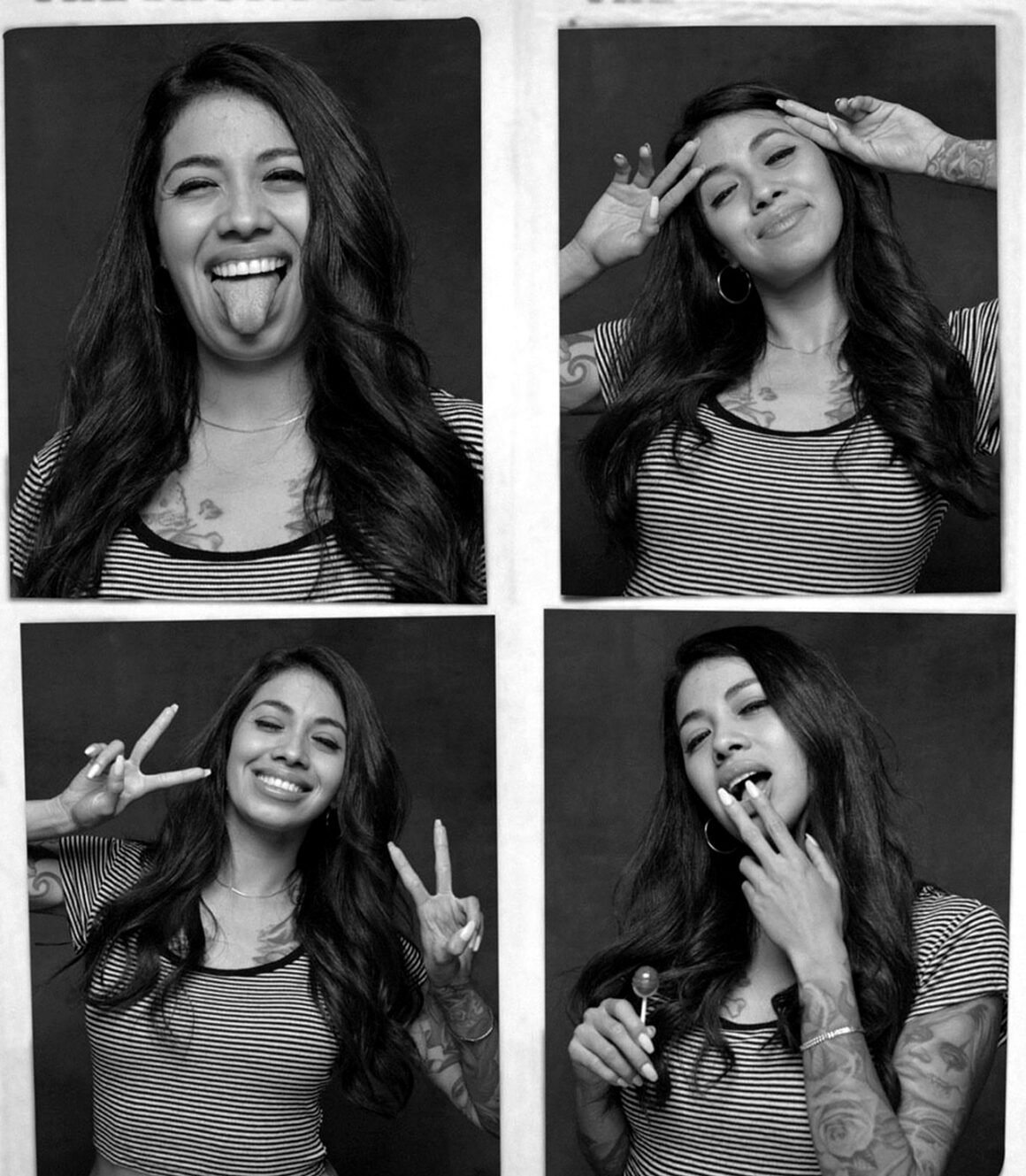 Although she is great, Mexico is full of many other amazing artists throughout history that I try to pay homage to on my tattoos, for example Jesus Helguera, Saturnino Herran, Guadalupe Posada etc. Just to mention a few.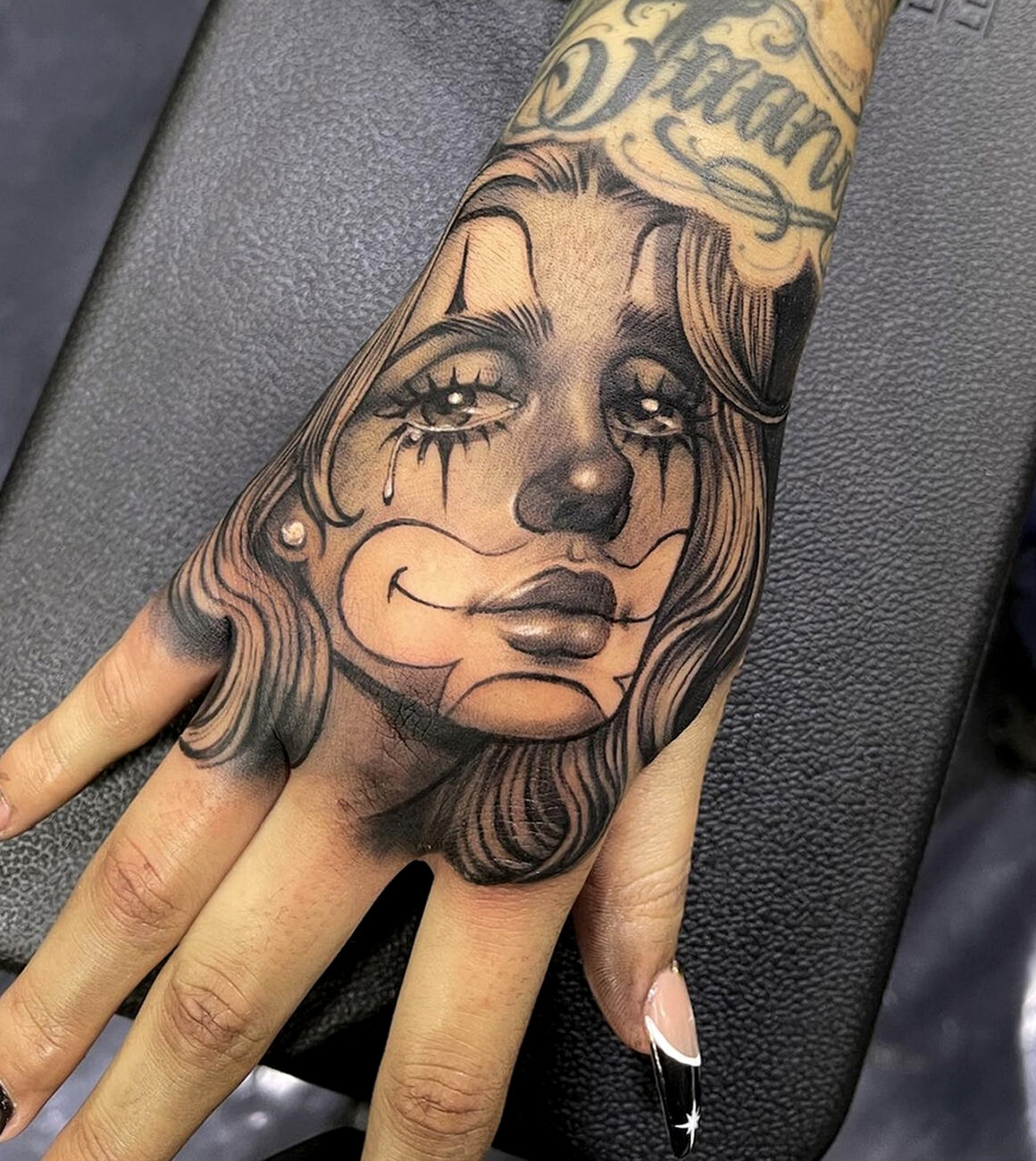 Do you think you also possess some modeling attitude, or do you prefer to be recognized as a 100% tattoo artist?
I'm 100% dedicated to developing my skills, my creativity and being recognized as an artist. However, I do enjoy sharing flattering photos of myself and I think it's important to show pictures of you if you want people to feel connected to you.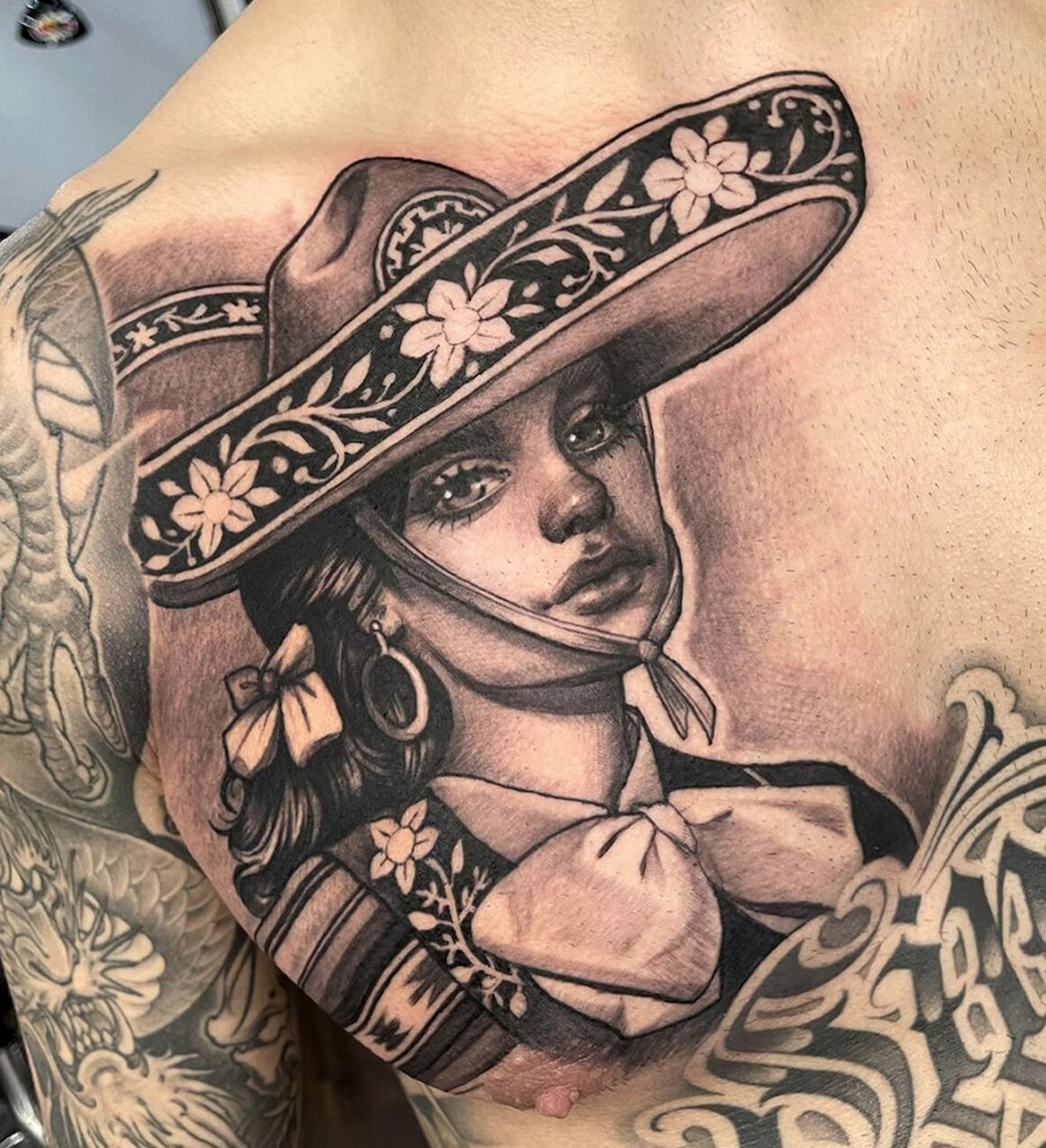 Would you like to tell me about your recent ebook 'From Mexico with love Vol. 2'? I know it contains as many as 50 black and white illustrations that you care a lot about…
Yes, this is my second ebook and it is ideal for anyone that tries to get insight to line drawings inspired by Mexican and Californian culture. It has my spin on elements of popular culture such as catrinas, charros, payasitas, sacred hearts etc.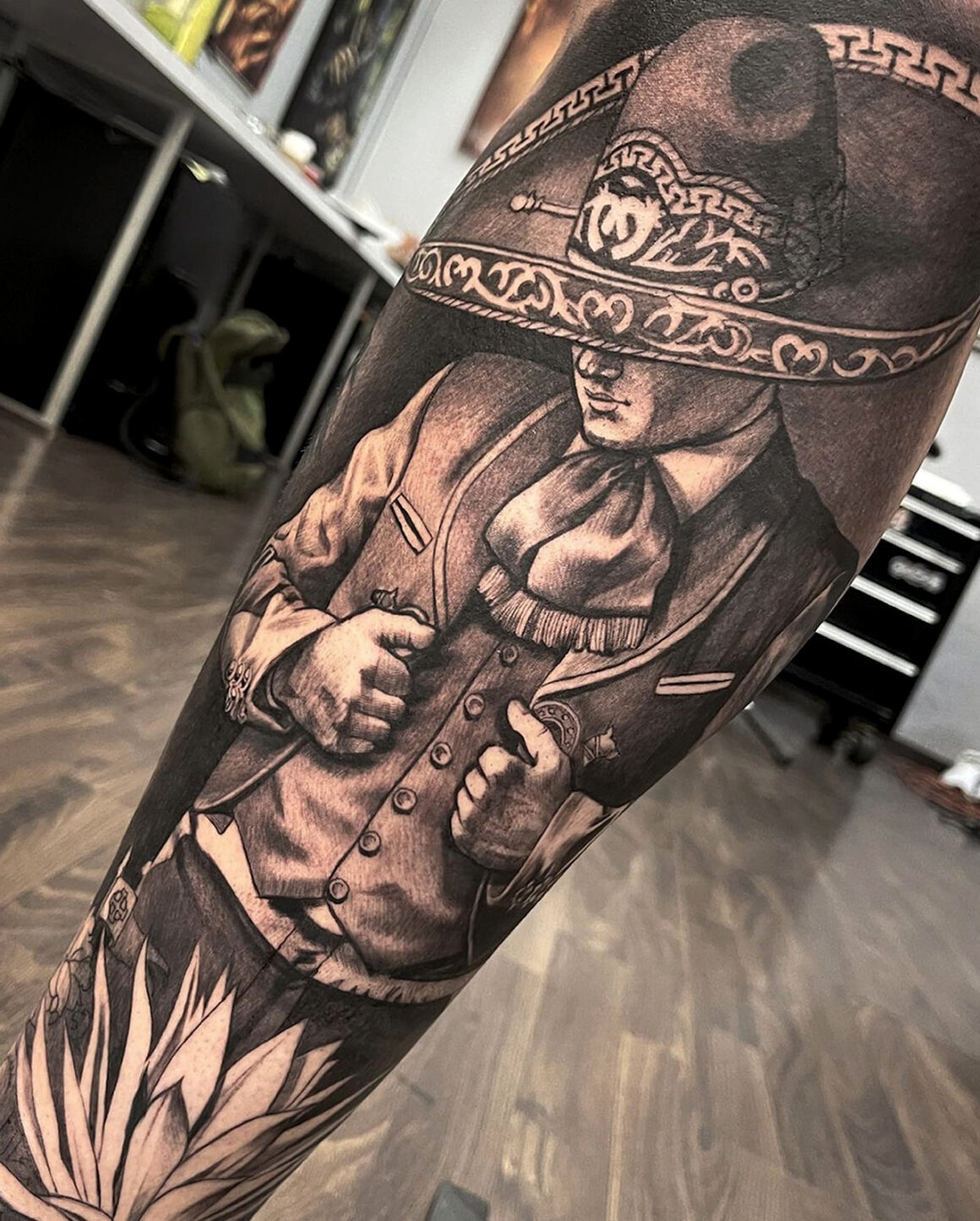 I love that you can download the ebook to your computer and phone, so you will always have it with you when you want to get some ideas from it (more infos here).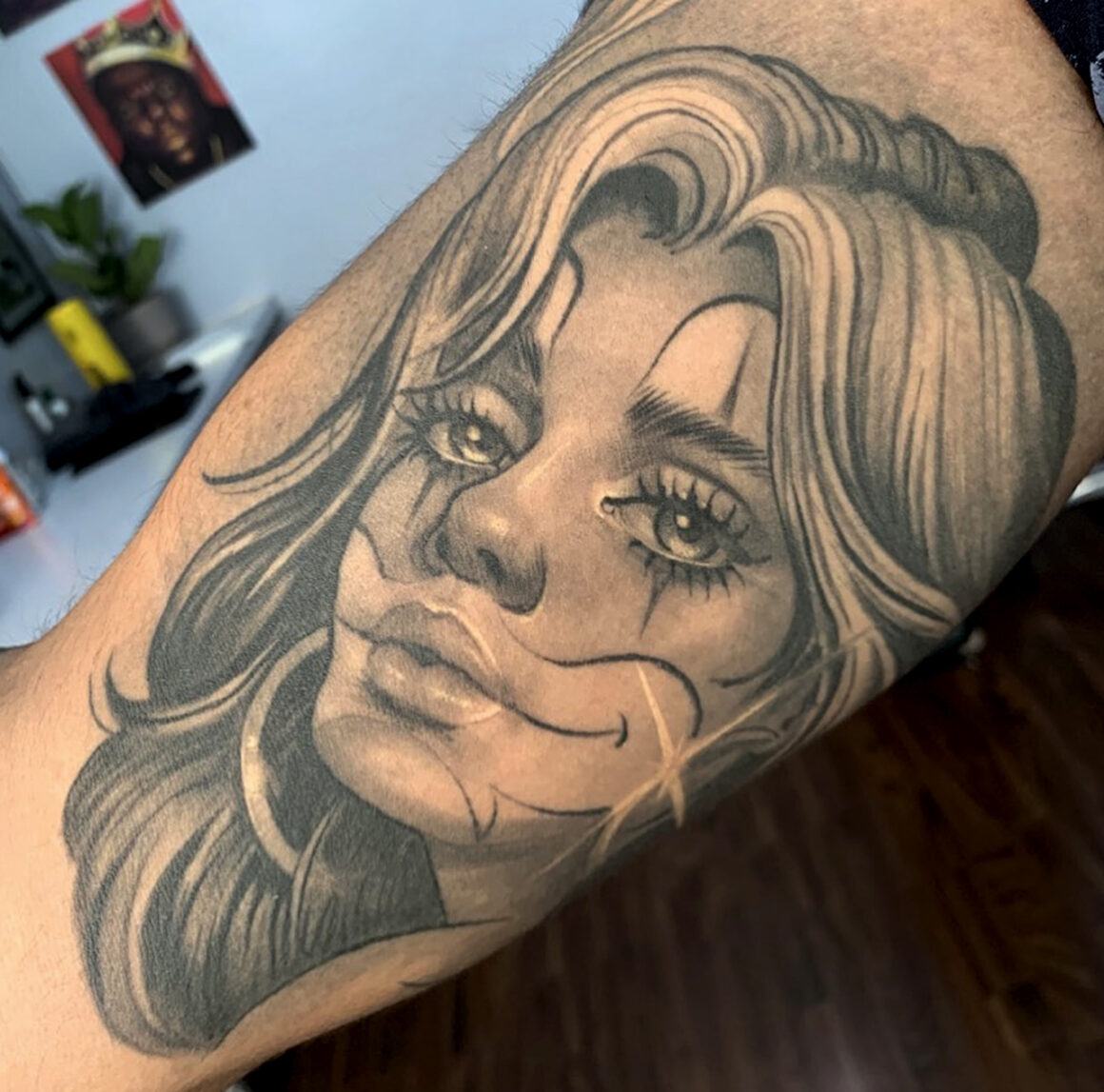 What does working at 'Grit N Glory' in New York represent for you? Do you consider it a special place in tattoo culture?
I think what actually makes a difference in between tattoo shops is the people and the relationships you form with them. 'Grit N Glory' (IG: @gritnglory) has been very welcoming to me since my first guest spot until the moment I decided to move to the city, and I appreciate that in a city as tough as NYC! In my opinion the second question should be answered by actual New Yorkers (smiles).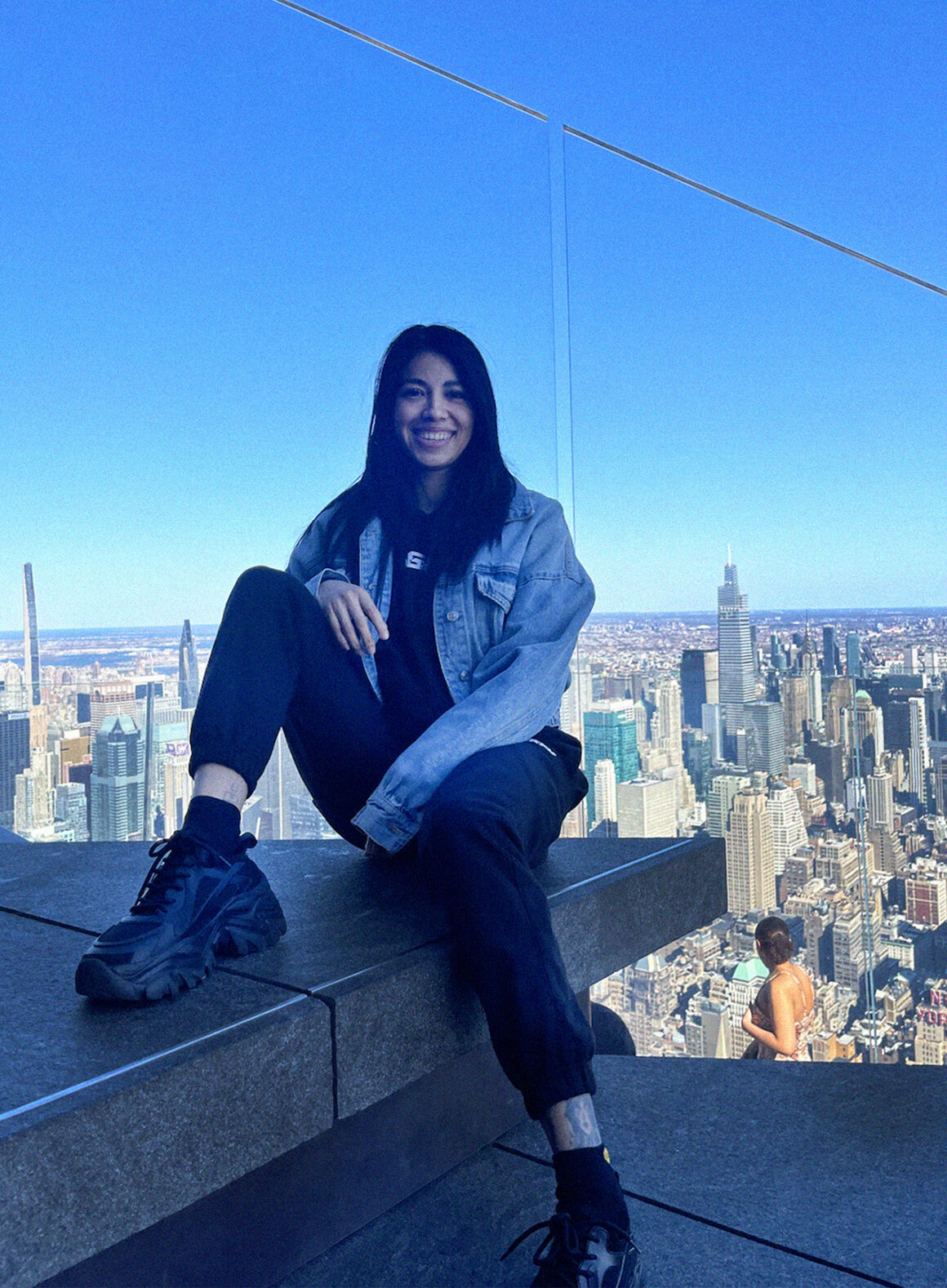 Do you like tattoo conventions and guest spots? Do you already have something on your agenda for next summer?
I love attending conventions or doing guestpots that are valuable and let me be inspired by the experience.
I think it's essential to learn what's new and innovative in the world of tattooing.
At the moment I have no plans for next summer yet, I only schedule a couple of months at a time, it gives me time to breathe and be flexible with my schedule.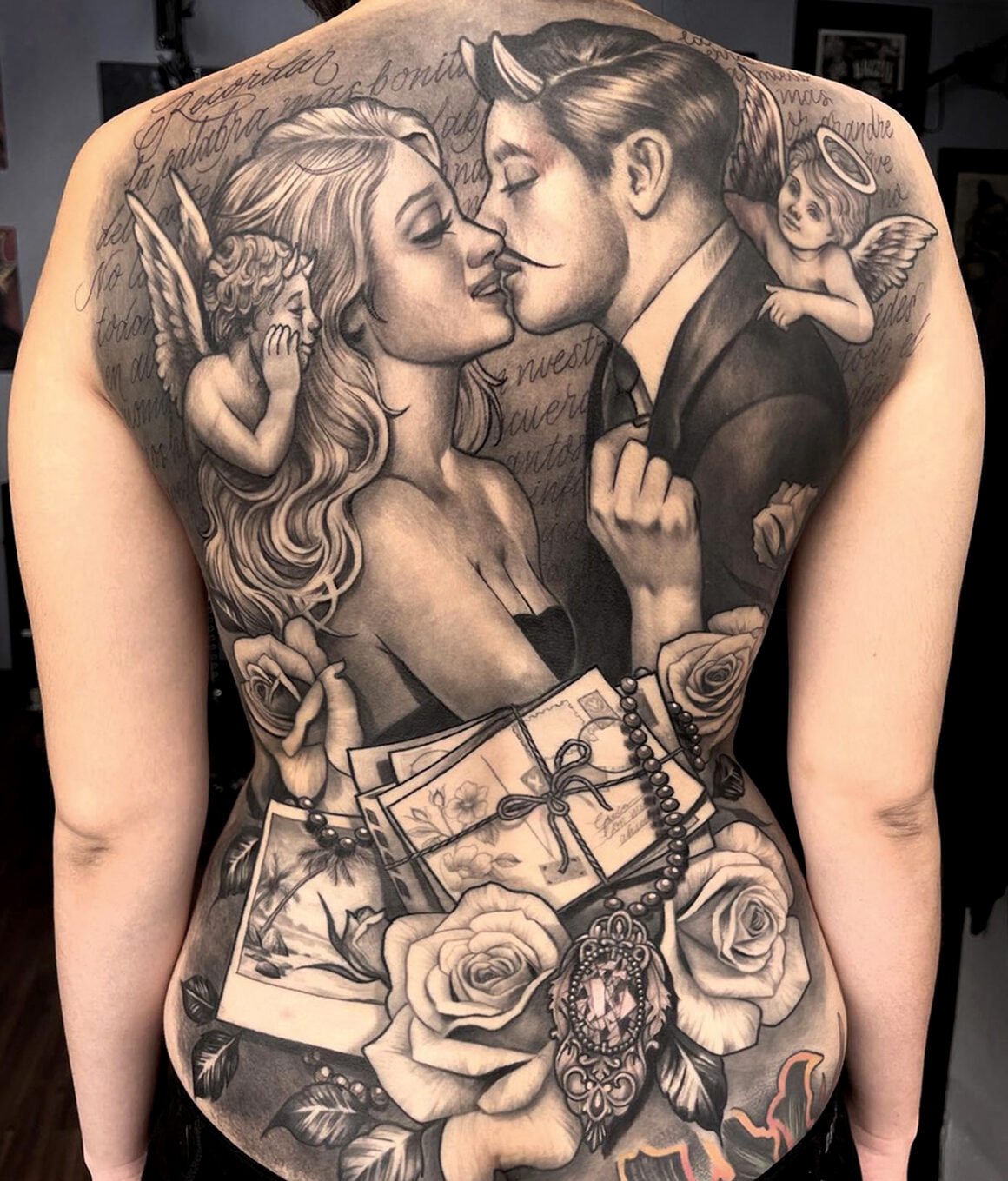 And your last famous words are… ?
Last words? I haven't said enough yet! (laughs) I guess be happy and thank you for having me!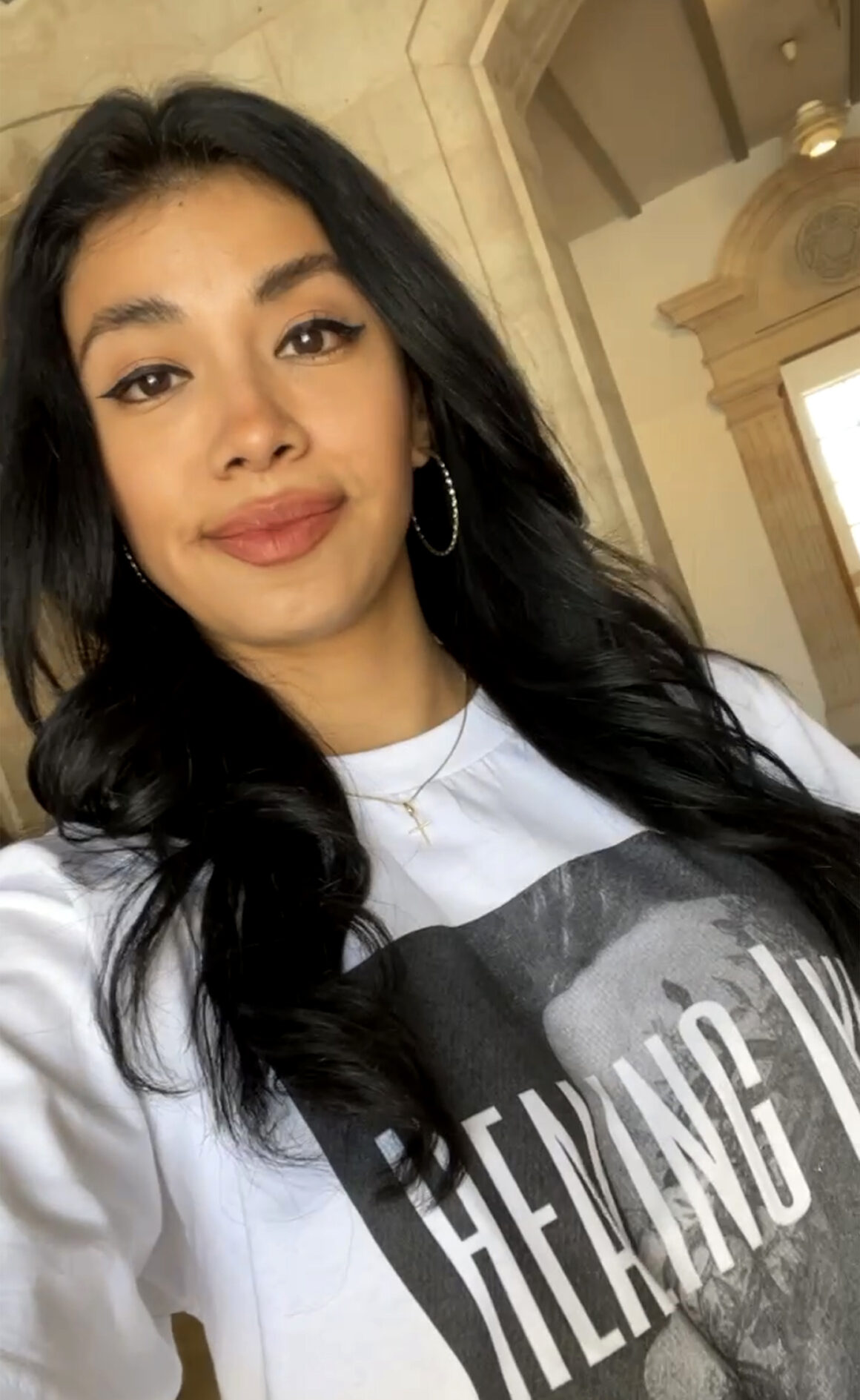 FROM MEXICO WITH LOVE VOL2 BY ELVIA GUARDIAN
From Mexico with love Vol2 presents over 50 sheets by tattooist Elvia Guardian inspired by Mexican culture and the West Coast of California.