His name is Alexey Trunov, but in the tattoo world he is known as Sicko… Black like the things he produces, in which Oriental, dark angels, demons and the feminine expressed in transversal manners coexist first as sketches on paper and then come to life on the skin of the people he tattoos.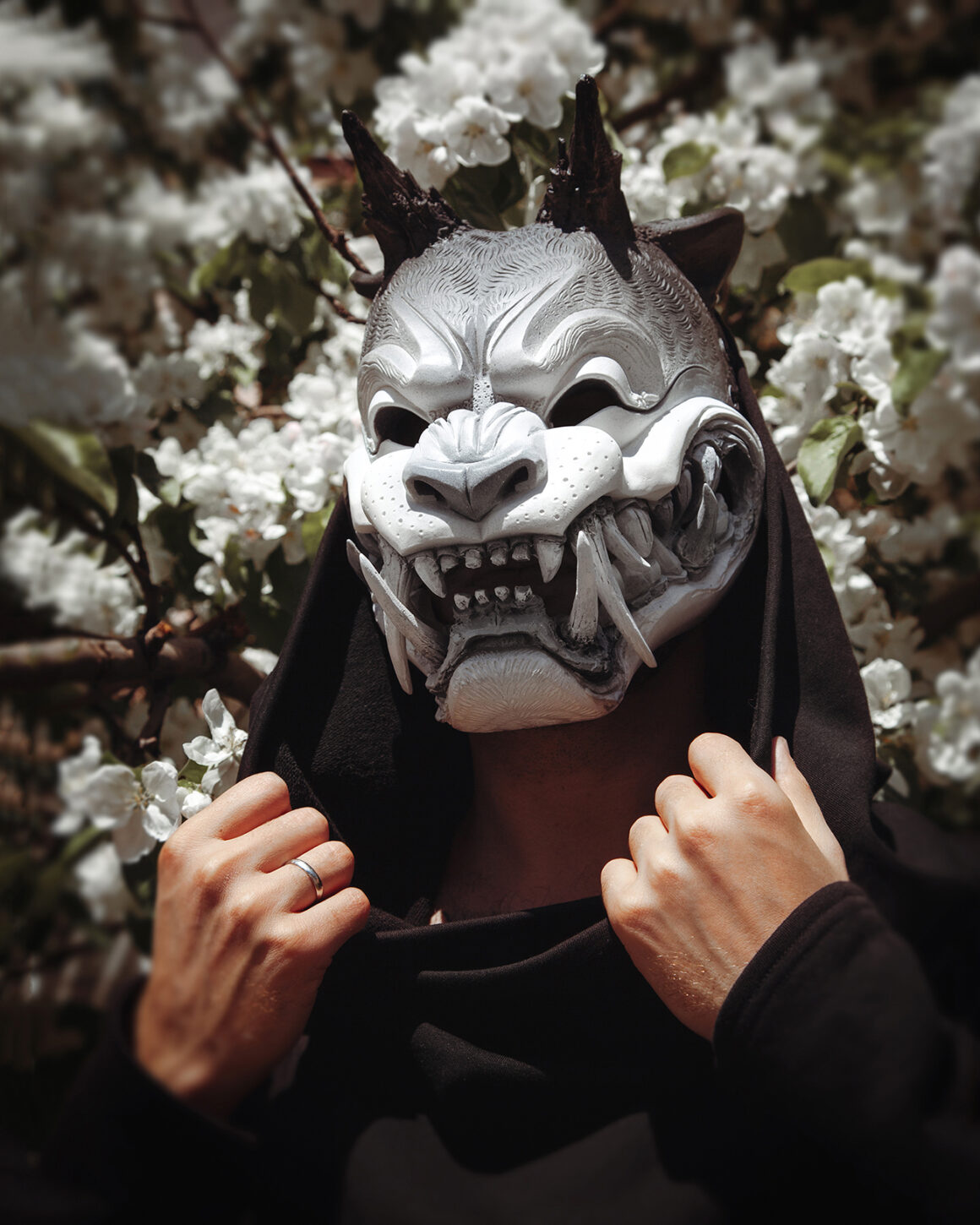 Hi Sicko… Is it ok to call you like that? Feel free to introduce yourself to our readers!
Hello Tattoo Life Magazine! My name is Alexey Trunov and I am a tattoo artist from Moscow, and @SickoBlack is my tattoo project name. Of course, you can call me Sicko since this is my stage name and we've been together for many years.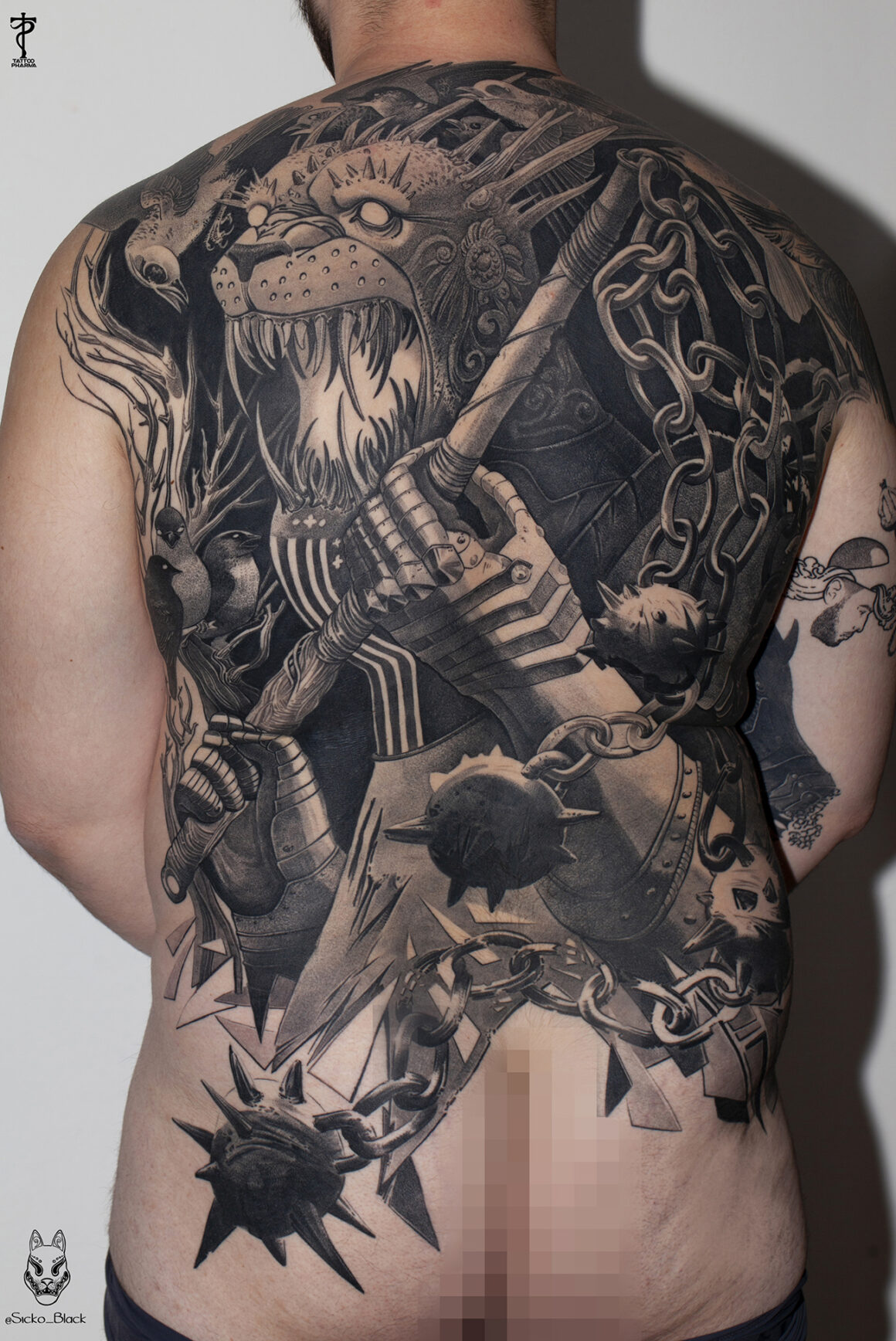 Are you a fan of Japanese masks and han'nya?
Right, I adore masks and not only Hannya and Japanese ones by the way. On the whole the demon theme is very interesting and close to me. I like the depiction of these characters in the folklore of different countries and not only Japan. I like the way people flirt with this theme by applying those images to them and collecting these masks for the interior.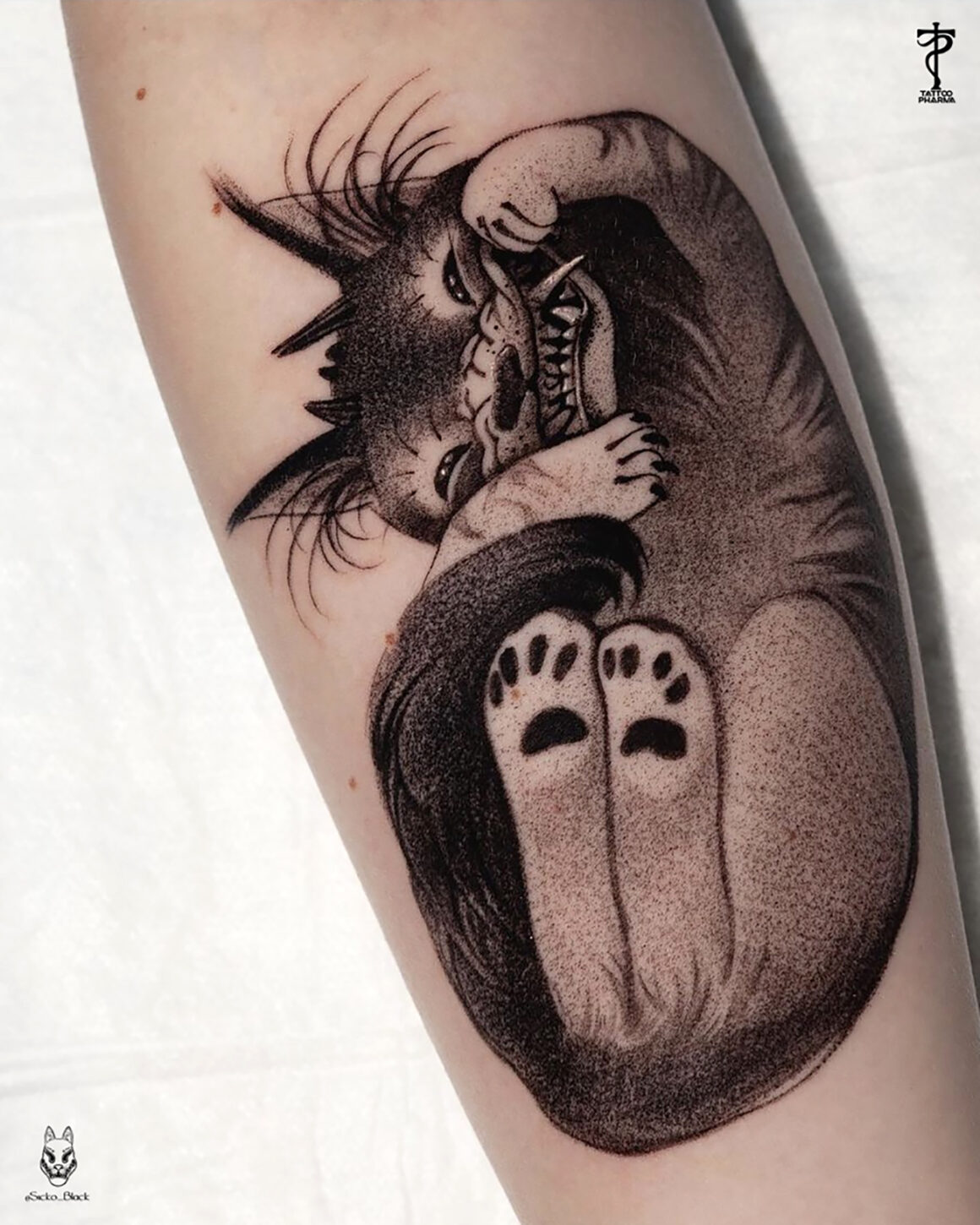 Partly thanks to tattoo art this theme is now so popular, but it seems to me that computer games and animation also play an important role. This art has greatly advanced the literature where these demons are originally from. As for me these images are interesting from the point of view of design and form first of all.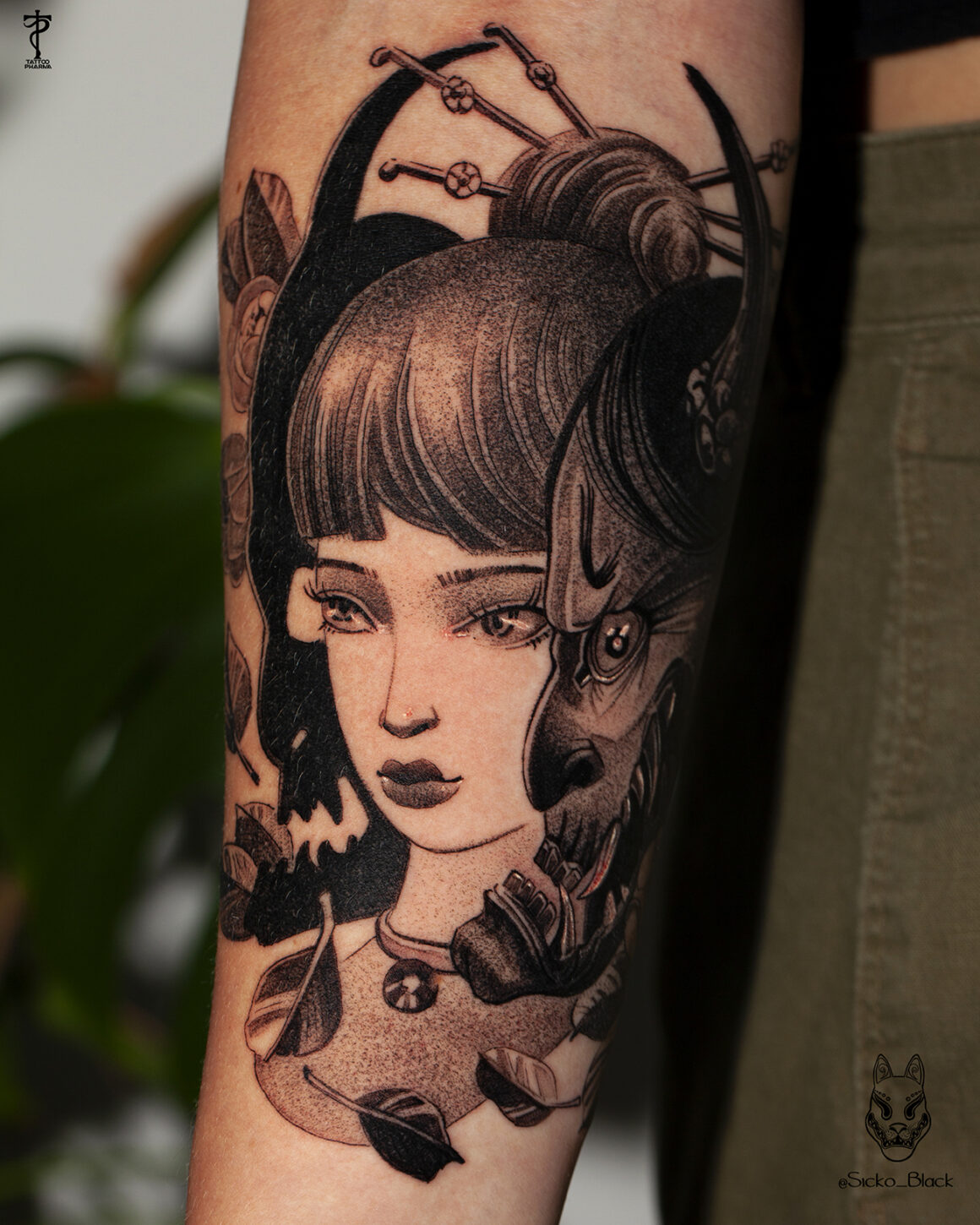 What are the themes that you feel are most relevant to you?
There are a lot of them. If we talk about creative work, I prefer drawing albums. So, relatively speaking, each album is some kind of the theme that is interesting for me and it has its own potential for further development. And I try first of all not to get hung up on one particular theme but to develop them in parallel.
For example, there is an album called Dark Ages where the main characters are some medieval knights and armoured demons, something dark like an echo of the long-gone times, a look into the abyss.
Or for example there is a sketchbook with animals, such little spirits which are both cute and otherworldly. I absolutely love the Oriental theme, these subjects are literally made for tattoos. It's also great to introduce female characters into these themes.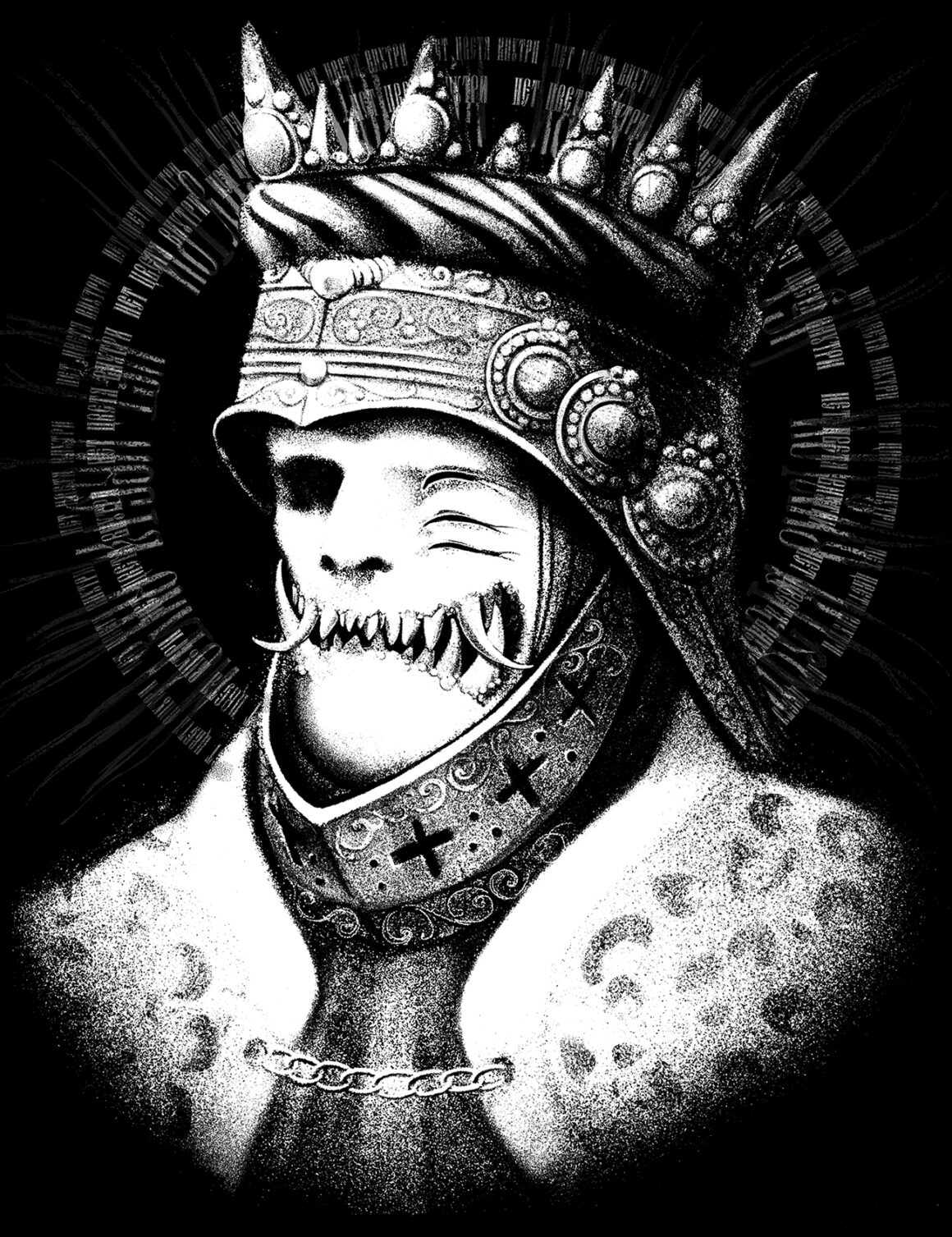 Thanks to this style of work I have lots of ready-made ideas and sketches in progress, which are always able to be adapted for any piece of tattoo. When working with clients this is also quite convenient, since often they bring not just images from the Net, but use my sketches and we just need to finalize them. In this matter there is complete harmony in the choice of themes which is based on mutual interest.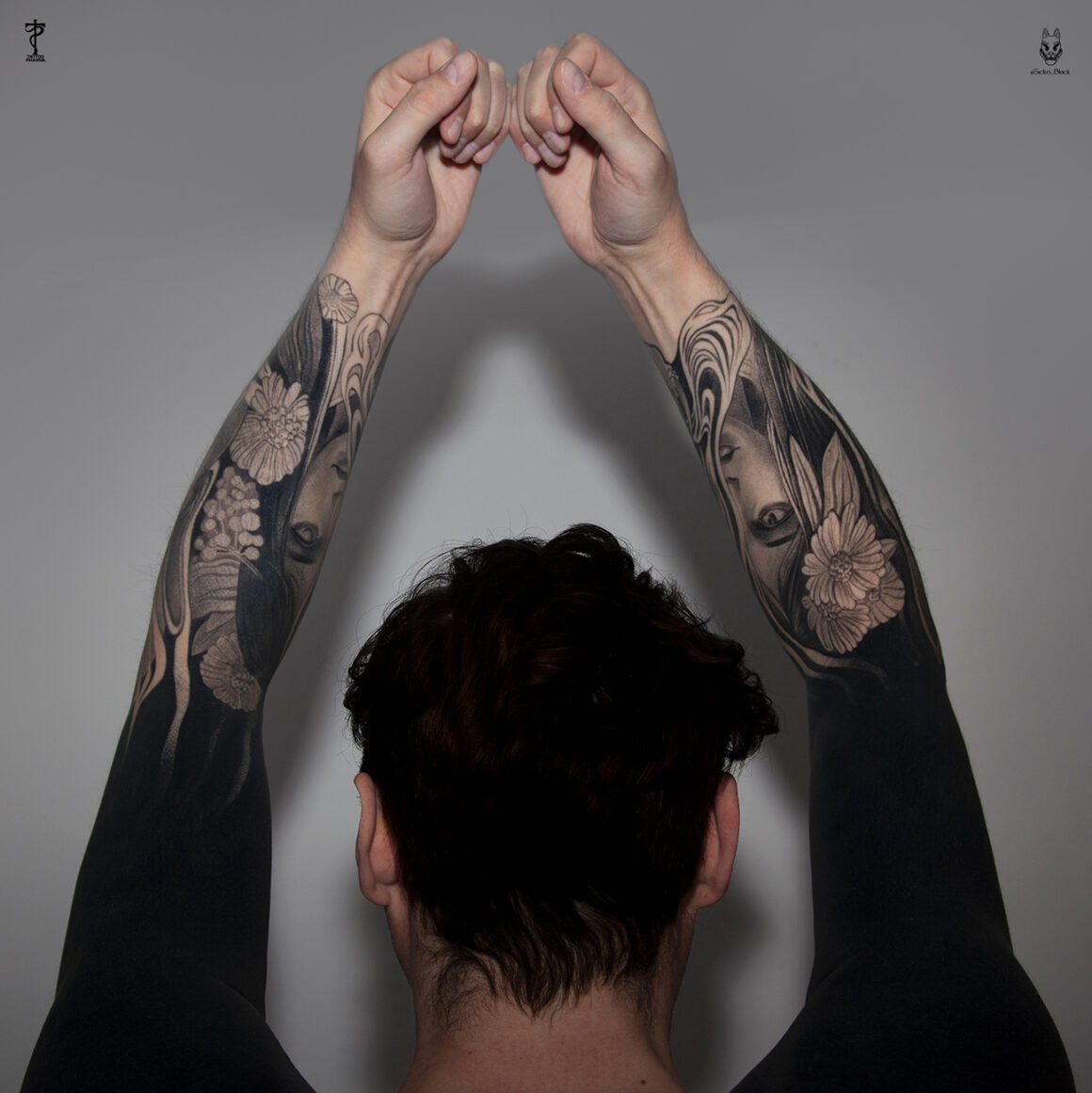 As a style, on the other hand, your black-and-grey imprint is clear. How would you describe it?
I like the interpretations of «Illustrative Black», which generally reflects my style, these are black and grey tattoos according to my sketches.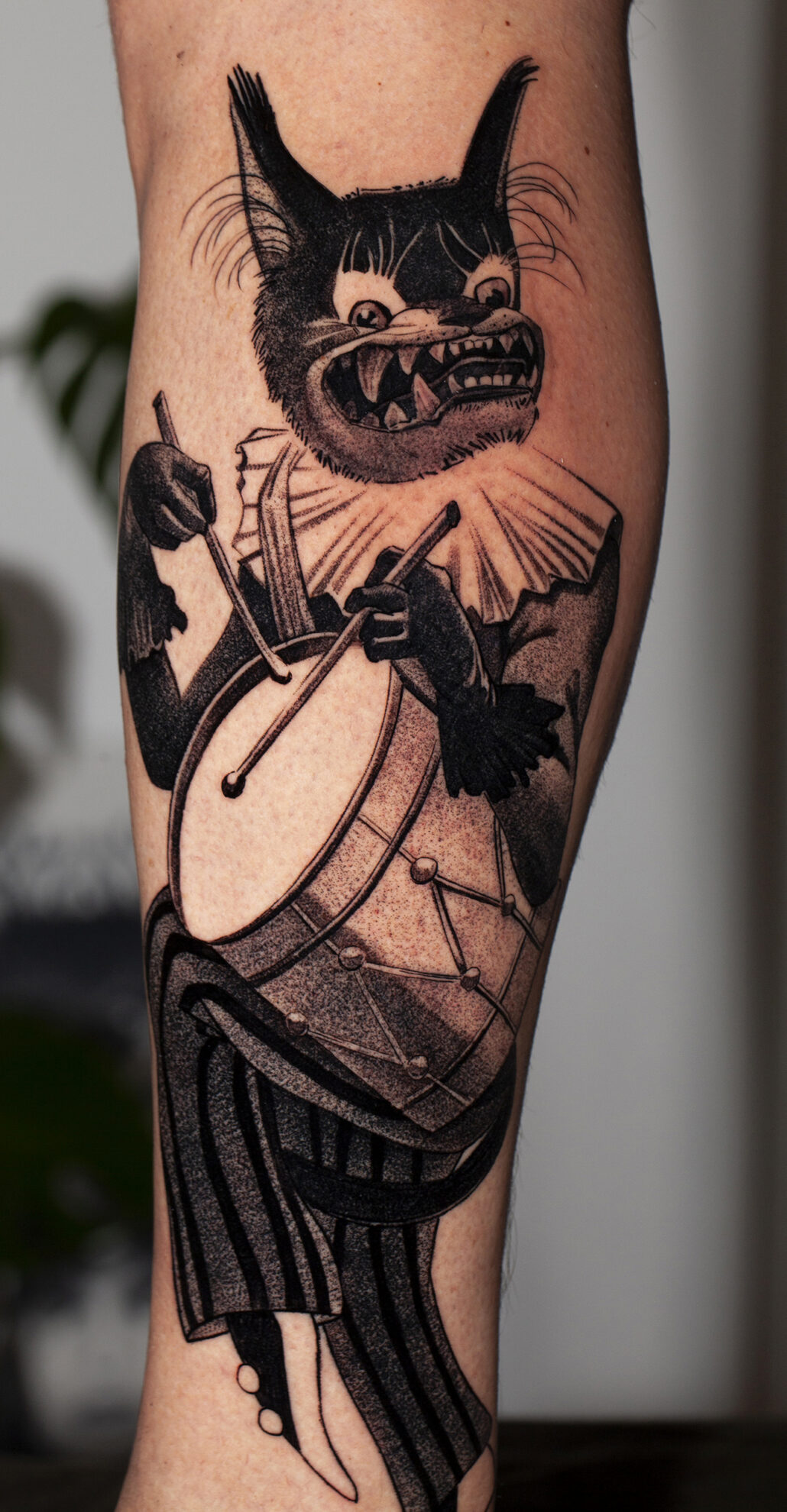 Are there any projects you are focusing on the most?
At the moment I am not limited with just tattooing even though I absolutely love this activity. And whatever I might do at the same time is somehow related to it. For example I have my own educational course "Drawing for Tattoo Artists" where I privately work with tattoo artists who want to improve their drawing skills.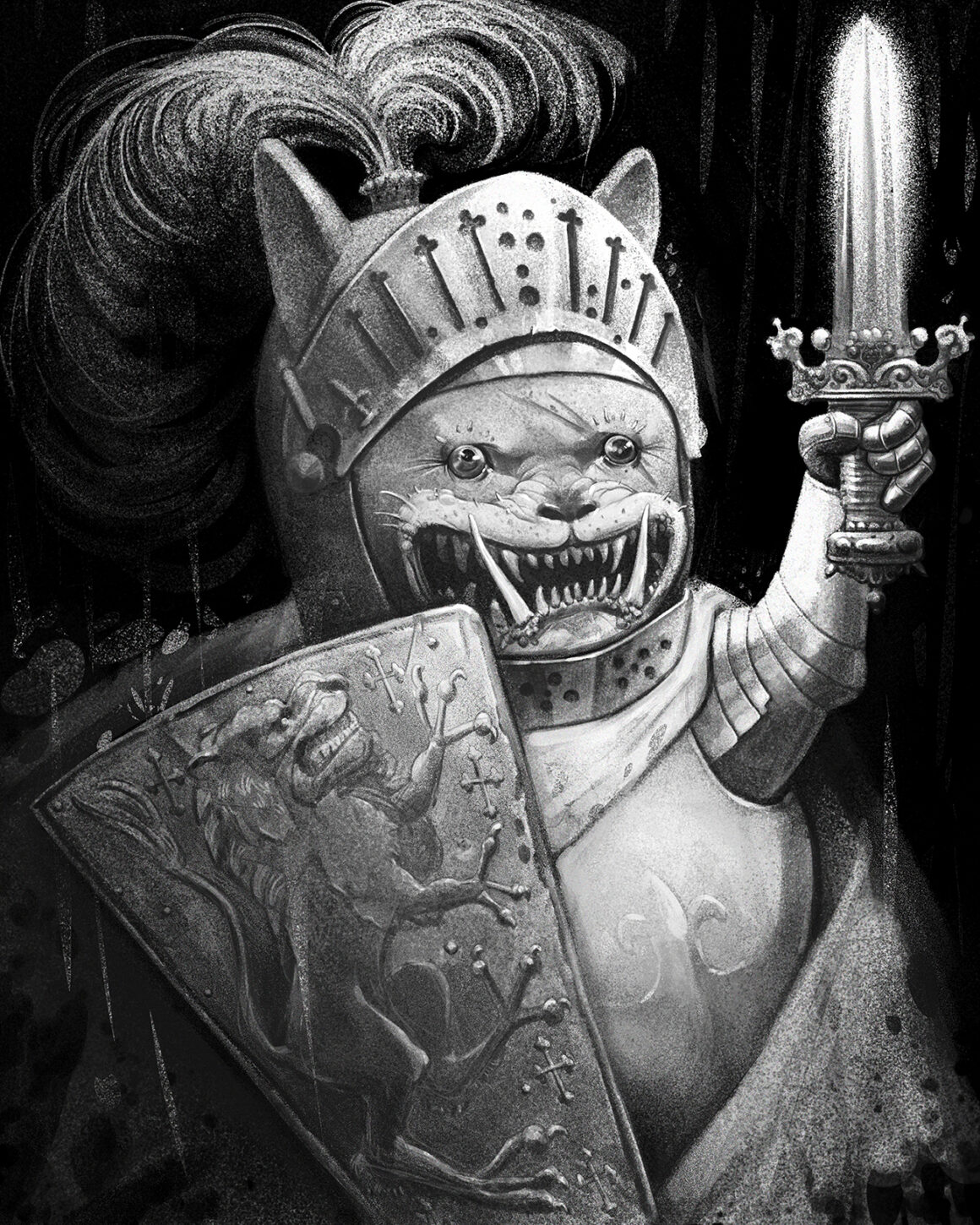 It's awesome that you can help improve the drawing skills of your colleagues who really want it. Because I believe that a tattoo becomes much more interesting when the author works more creatively, develops compositions and can draw the work professionally, it's really a piece of art and not just tracing a picture from the Internet.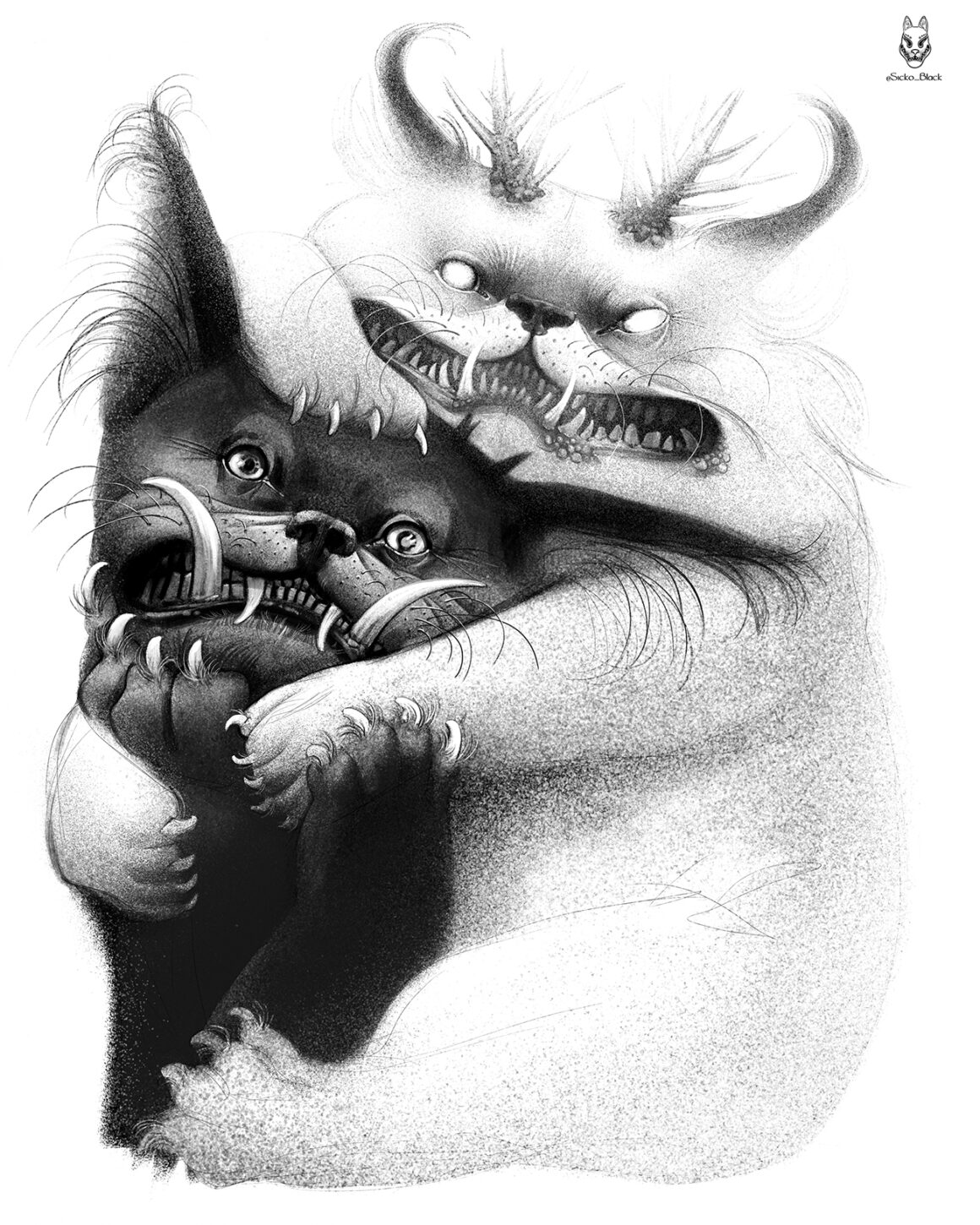 I am sincerely happy when my students improve their level and so are they and for sure their clients are happy too. This work is an ongoing activity. I have also been studying and developing sculpture for the last few years. I have recently opened an online store with my demon masks.
These masks can be used for decoration of the interior of your home or workspace and there are also several face masks.
They can also be used for photography and various kinds of shows. The store is evolving and new ideas are being added. In addition to standard solutions I often experiment with different materials. For example a cool demon series recently came out, I called it "HEave MEtal".
This is the same sculpture but made of bronze and it looks visually amazing due to the polishing and variety of patina. All this looks very natural and attractive. By the way this year my masks were given as awards at 2 major conventions in Moscow and St. Petersburg. A lot of work had been done and the result was amazing and both the organizers and participants highly appreciated this collaboration.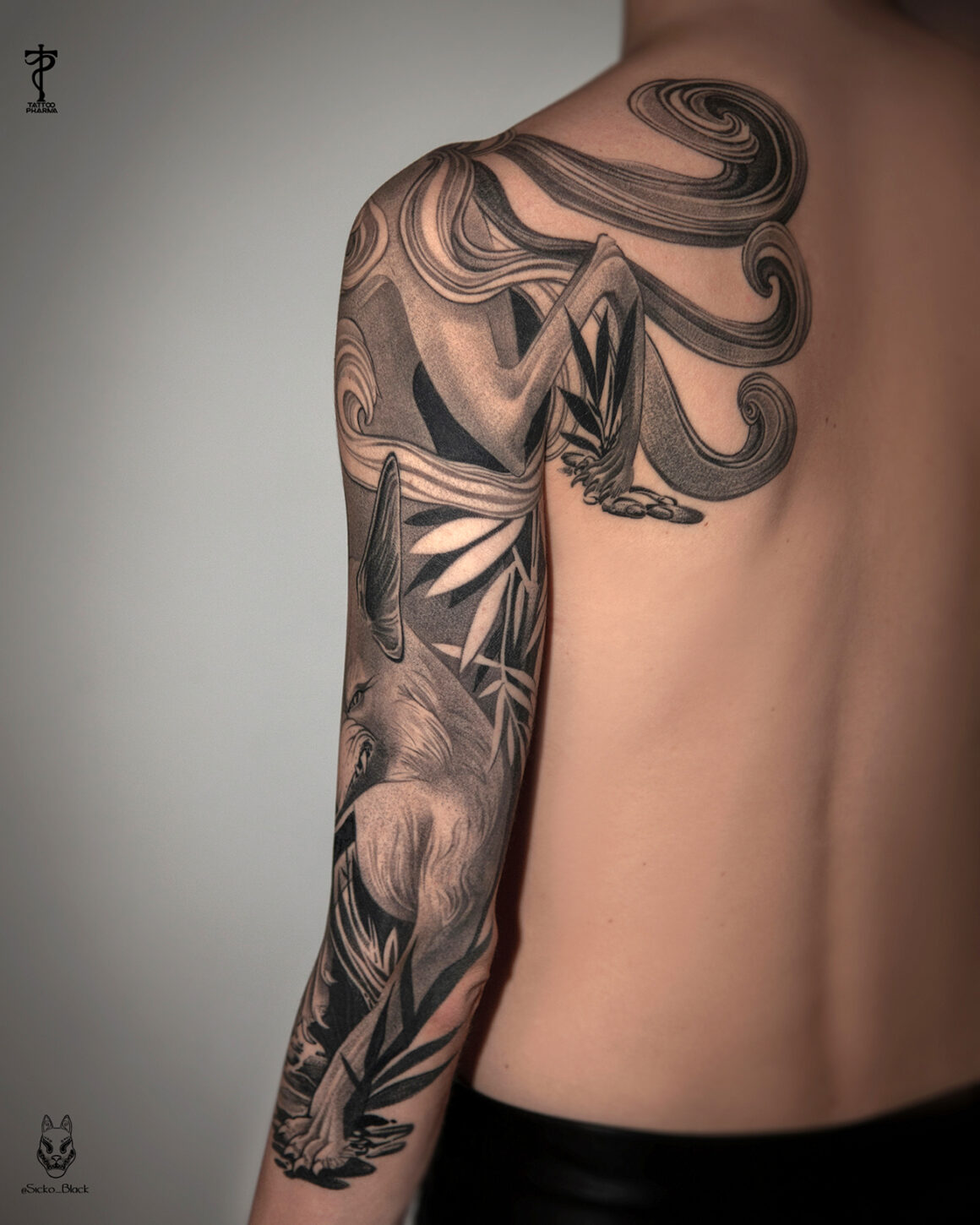 Where do you work Sicko? What kind of studio is yours?
This is not my first year in this profession and I have gained experience working in different studios. At the moment I have a private studio in Moscow where I work alone. Now me and my clients are much more comfortable in terms of organizing the process and saving my internal energy for the tasks that I face in the near future. This type of work is the most productive for now. Sometimes I also work in St. Petersburg as a guest master in various cool studios.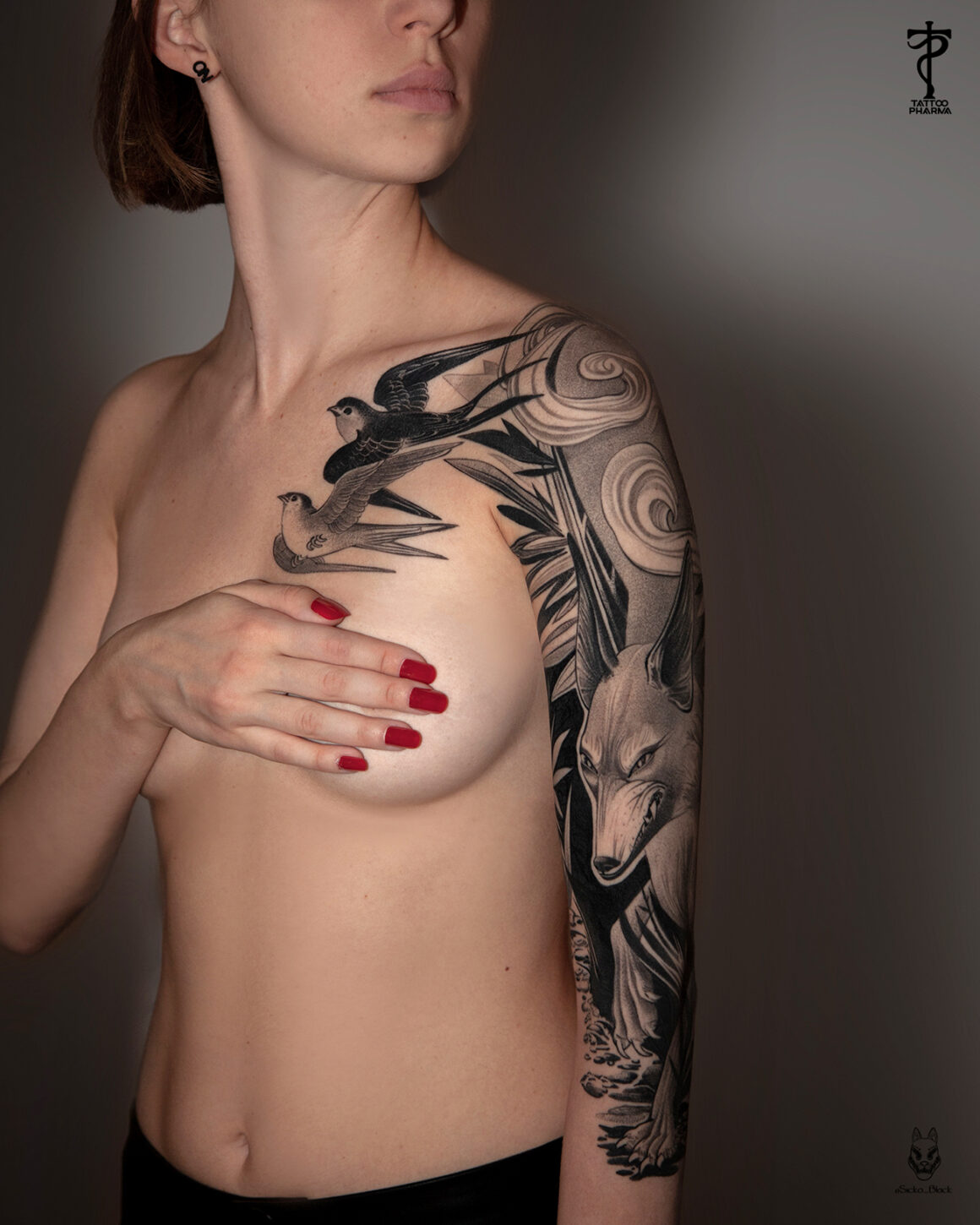 Do you attend conventions? What trips are you planning for your work?
If we are talking about the past time I attended many conventions in Europe and England and this was a great experience. It was very useful for me first of all to get an idea of ​​how tattoo culture is represented in different countries. Somewhere there is a distinct flavour and a preference for certain styles.
It was very interesting to see what kind of reaction my style would produce on convention visitors and colleagues.
And in general for me a tattoo convention is more like an art exhibition where in real time you can look at the work of other artists, but you can see and communicate with the guys you've been following for a long time and get a tattoo for yourself. About my plans for the future, I want to visit tattoo conventions in Asia, I have never been there and I think it will be very impressive. These are the plans by the end of this year, I really hope that we'll be able to realize them.
Last question: is there something in particular you'd like to tell our readers about you as a tattoo artist and about your art?
A tattoo artist nowadays is certainly an artist and the work will probably tell a greater story about himself/herself. I know that my works, drawings and sculptures reflect the emotions that I put into them. Although everyone understands them differently. Any fine art is a reflection of the master's inner world, so it is not necessary to talk about it, just look at the work. Thank you for your attention it was nice to chat and tell you a bit about my little demons.