Valeriia Volokhova, aka Ooqza, is a tattoo artist from Moscow (Russia). She tattoos "melancholic, gothic ladies", and her style is unique, dark, and pretty mysterious.
Her inspirations? Anime and manga, but also American comics, concept art, the fashion industry and her own mood… She's a talented person, who told us a lot (included the origin of her nickname) and share with us her interesting thoughts in this beautiful interview. Don't miss it!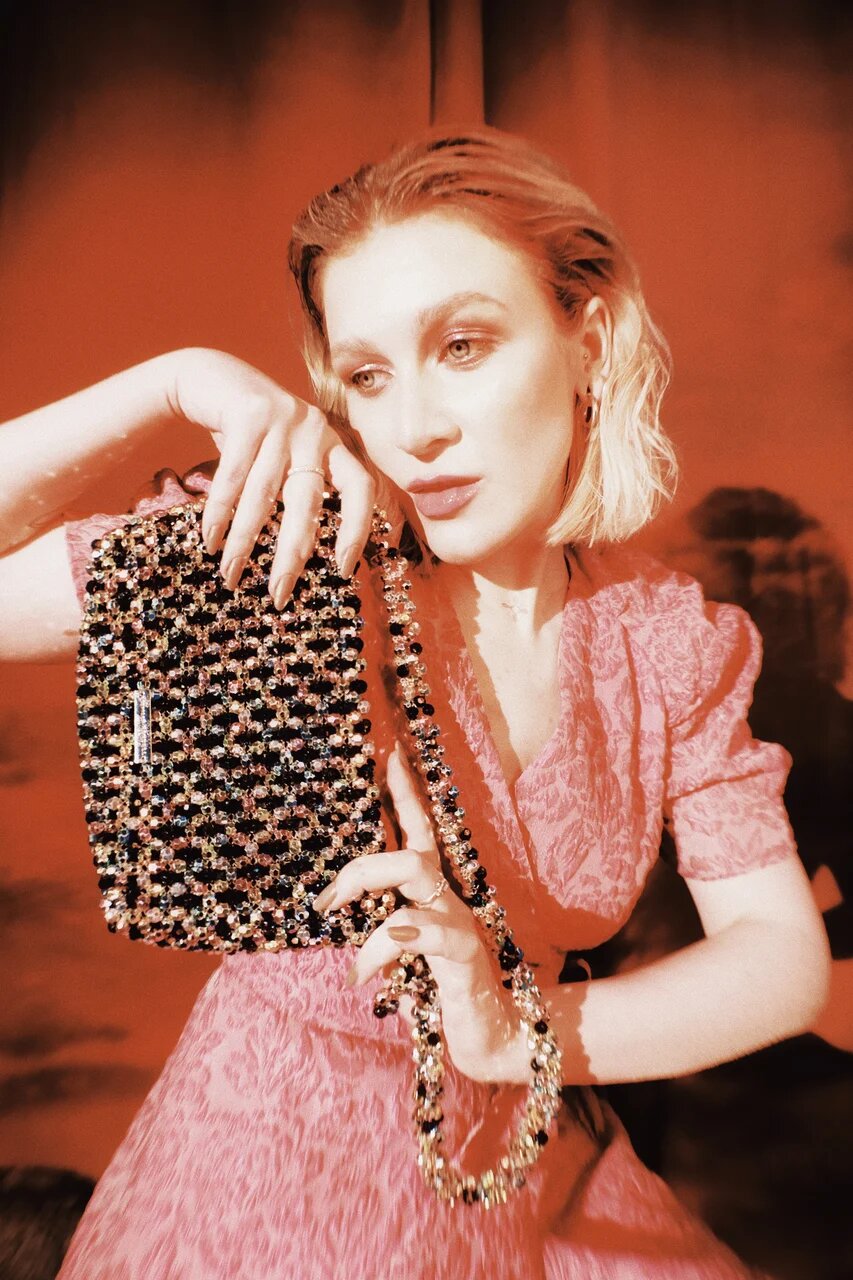 Hi Valeria, how would you introduce yourself to the readers of Tattoo Life?
Hi everyone! My name is Valeriia Volokhova, but few people know my real name, as well as the fact that I am a girl. There were many funny cases when customers expected to see a bearded man, but instead they met me in the Studio (laughs) and I introduced myself as Valeriia, as most call me Ooqza (read as Ukza).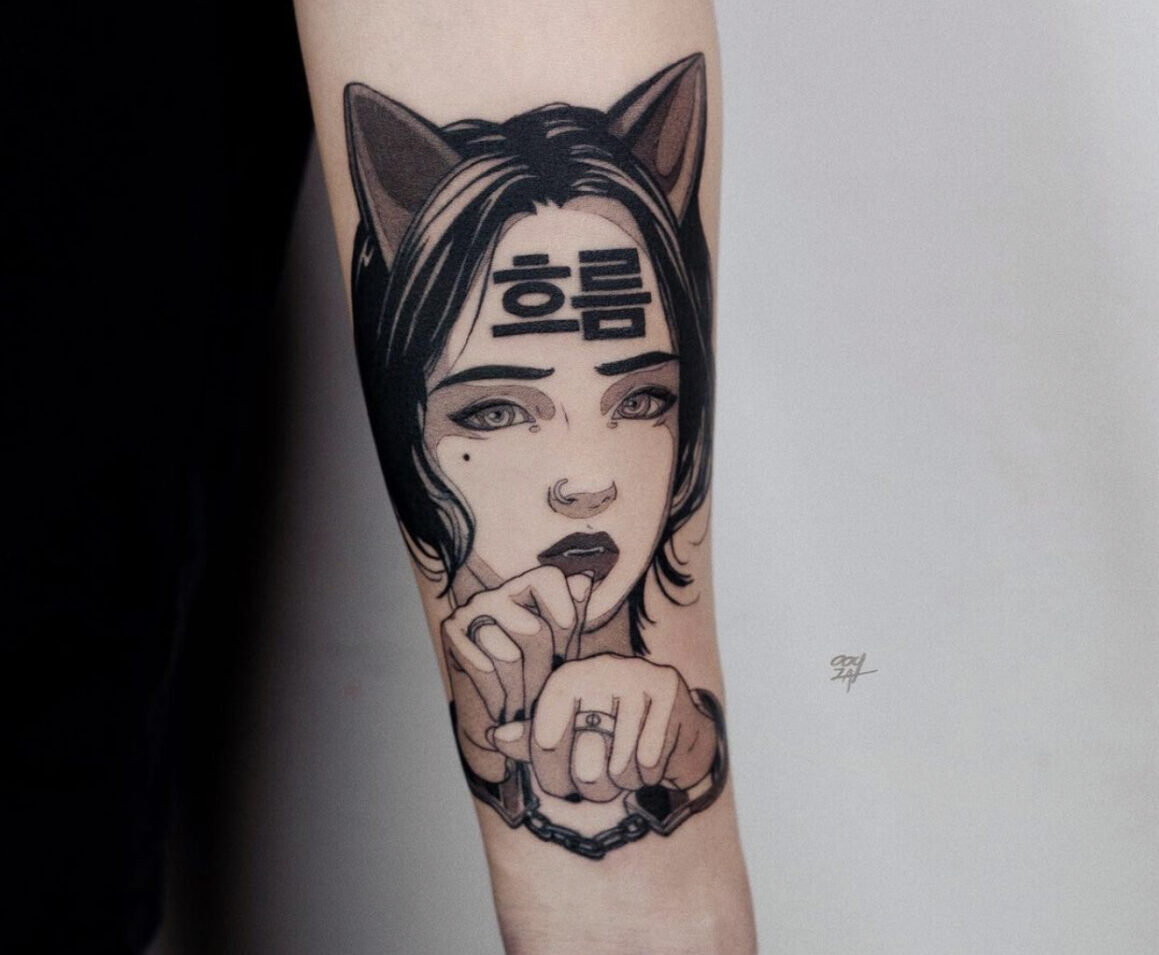 And how would you describe your work?

These can be characters from existing anime or manga, but most often they are melancholic, gothic ladies (sometimes guys), broadcasting the weakest and most painful traits of human nature, desperation, grief, anger. In romantic and fantasy images, sometimes frightening and cruel. Their eyes are empty, but who knows, maybe they are up to something…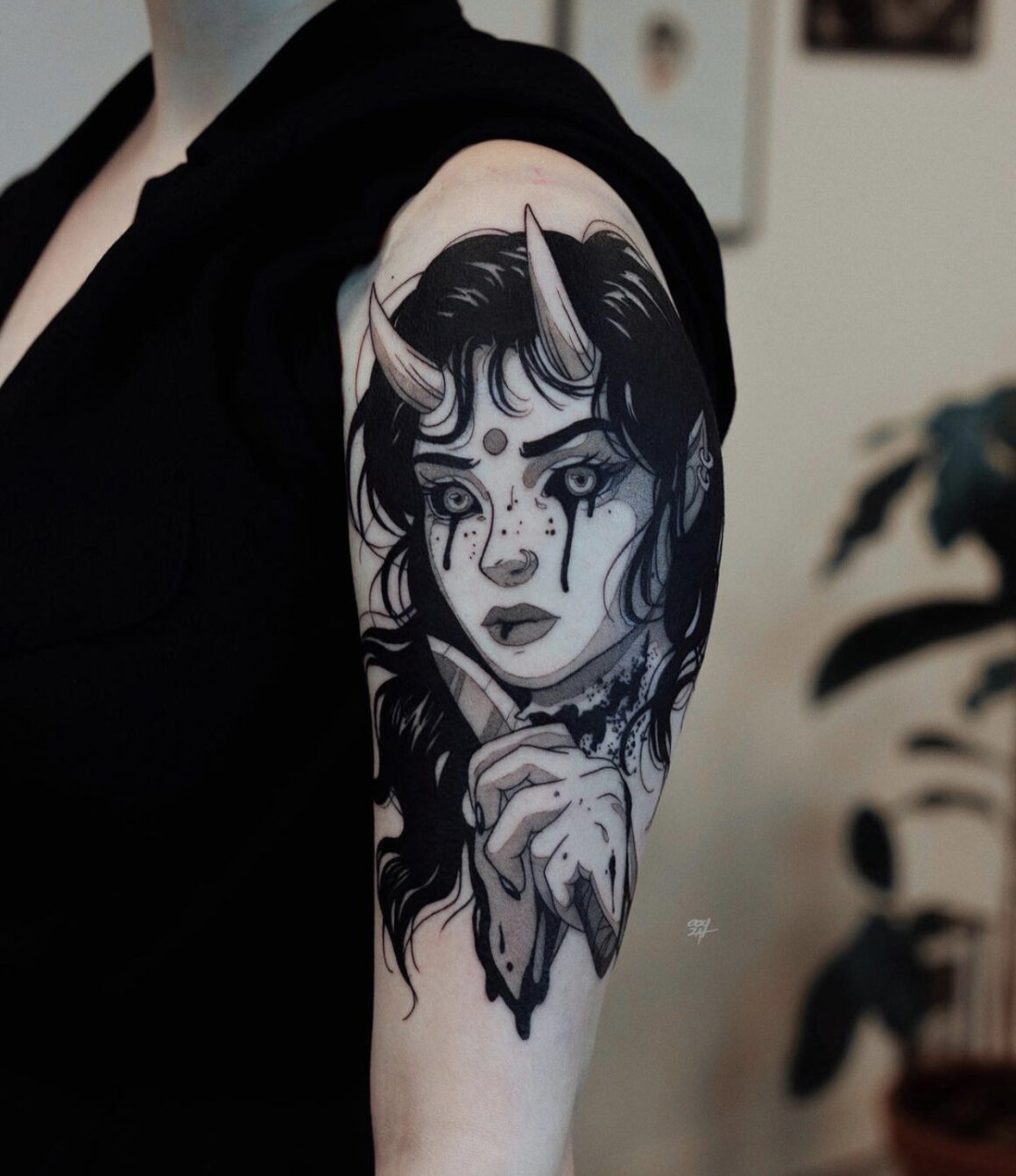 Can I ask you where the nickname Ooqza comes from?
This is a pretty popular question! I always wanted uniqueness in creativity and other aspects of life. When I found my own style I thought about changing the nickname and the combinations of existing words were not unique enough for me, so I spent several days collecting letter combinations simply by banging on the keyboard, haphazardly, randomly. When choosing from this many options a single one, I was guided by the number of syllables, a maximum of two, voiced pronunciation and beautiful clean spelling.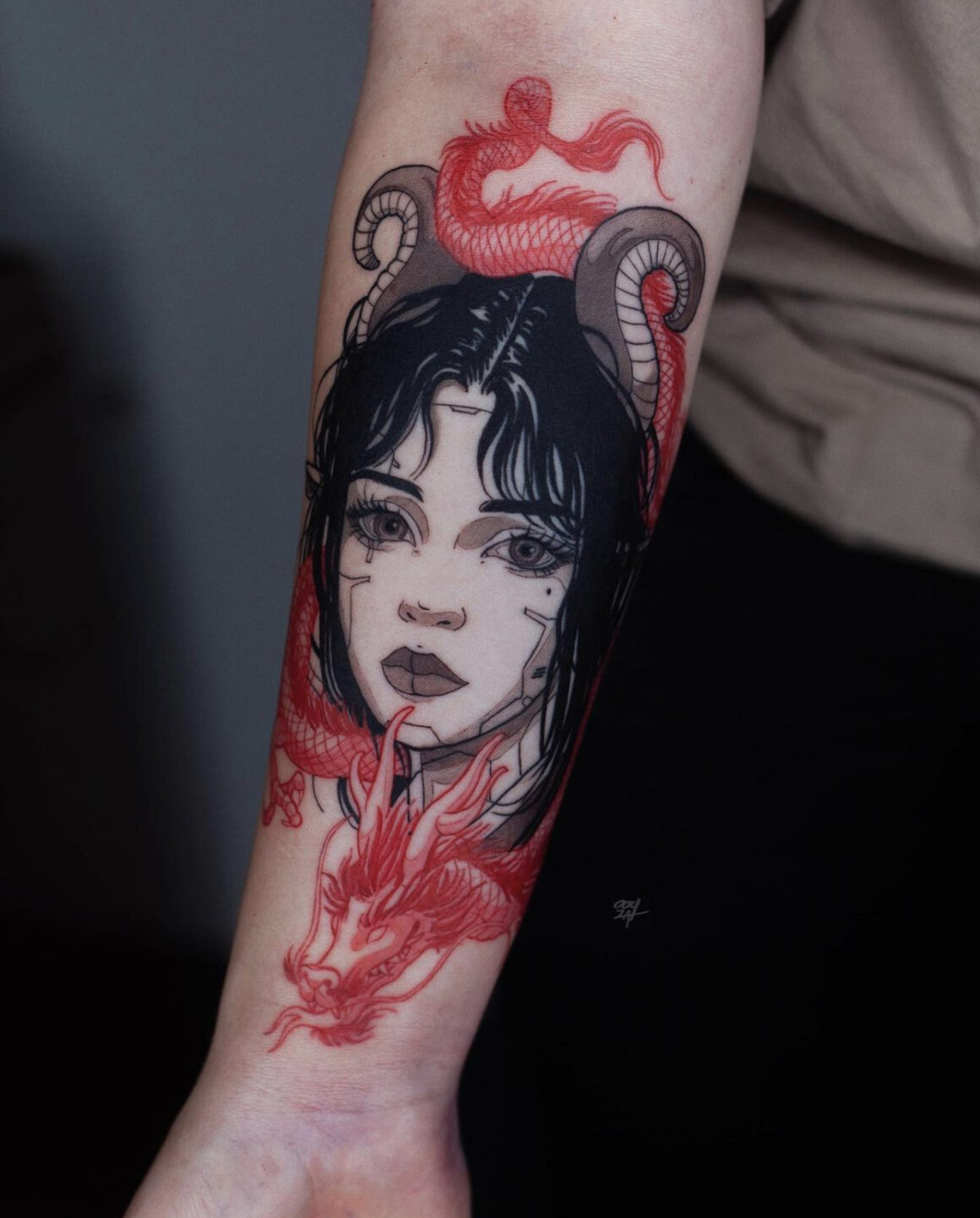 The most important thing was that this word would not be associated with anything other than me.


What about your history in the tattoo scene? Can you tell us the most important steps of your career?

When I started tattooing, I did not consider it a profession at all, it was just for fun with friends after lectures at university. I started doing tattoos more and more and when I graduated I understood that I wanted to be a tattoo artist and not a graphic designer. I moved to Moscow, which also served as an impulse for my development.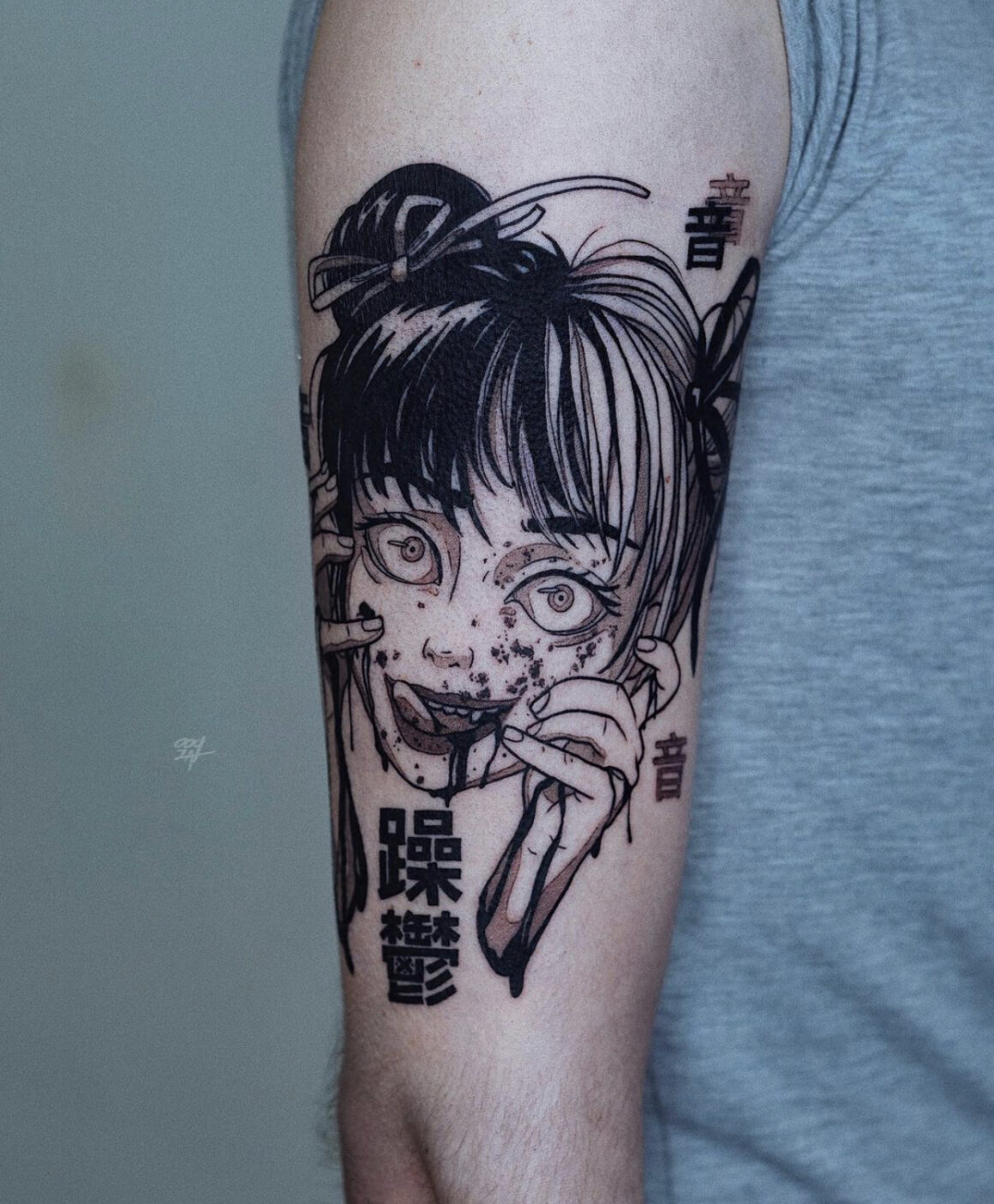 At that time, all my knowledge about tattooing was only my own experience, no one taught me. Working in a studio in the capital gave me the opportunity to observe other artists' tattooing process. I studied.
I consider the most important stage in my career was finding my own style.
It was August 2017, my mother got into a car accident and later died in the hospital. All those emotions that I felt I conveyed with the help of drawing. Engaging in creativity distracted me from the tragedy. I think that's why the pictures that I drew then were gloomy and sad. Now a lot of time has passed since that moment, I feel much better, but the style stuck with me and found a wide response among my followers, which I am very happy about! 
Now I still work in Moscow, but I do not have a stable place of work. I always travel to new studios and meet other artists.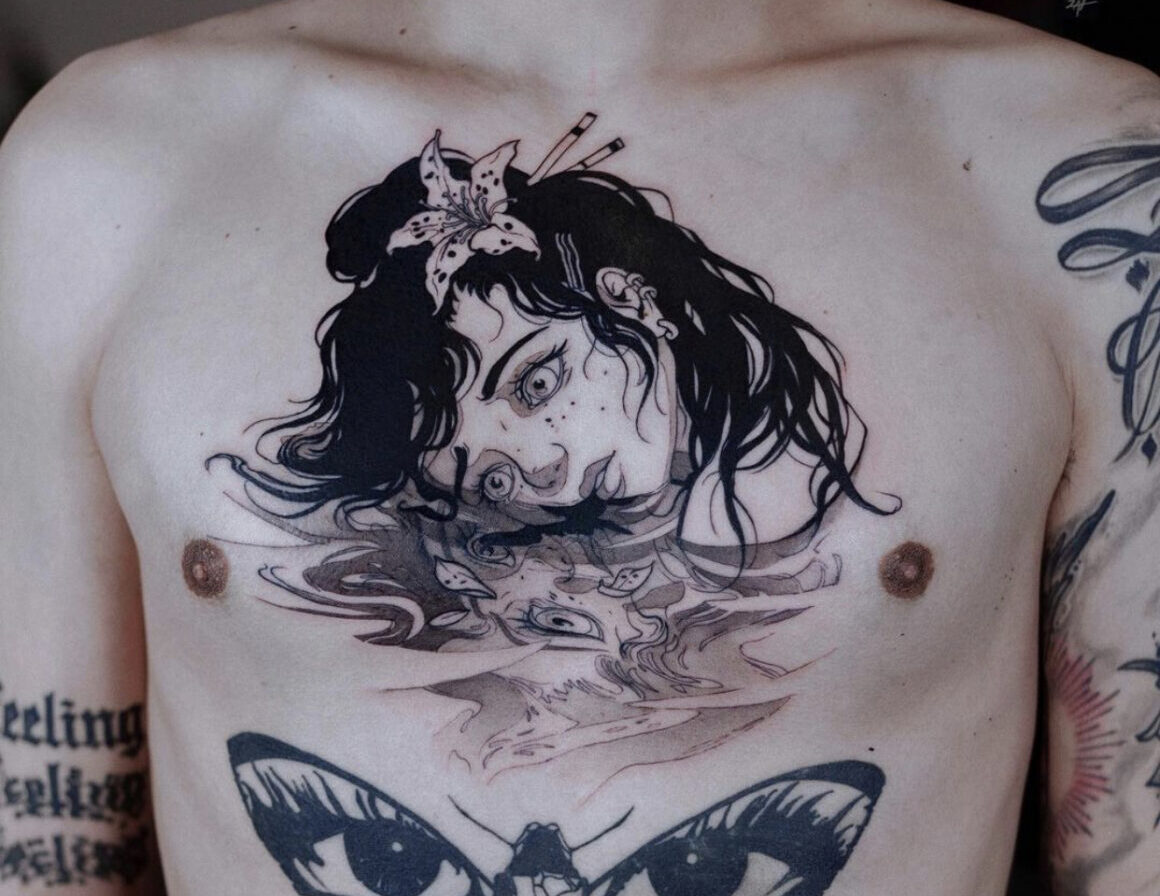 Where do you find inspirations and how do you research in order to make your tattoos?
I have always been interested in anime, since early childhood, and this certainly influenced my drawing style, I am also interested in concept art, creating characters from scratch. Come up with facial features, hairstyles, clothes, weapons. The whole image carries some kind of character's story. Although I have always sympathized more with the kind and good characters in anime, I draw the opposite of them, melancholic, dark, mysterious. 
Periodically I look at the work of digital artists, there are a lot of talented artists!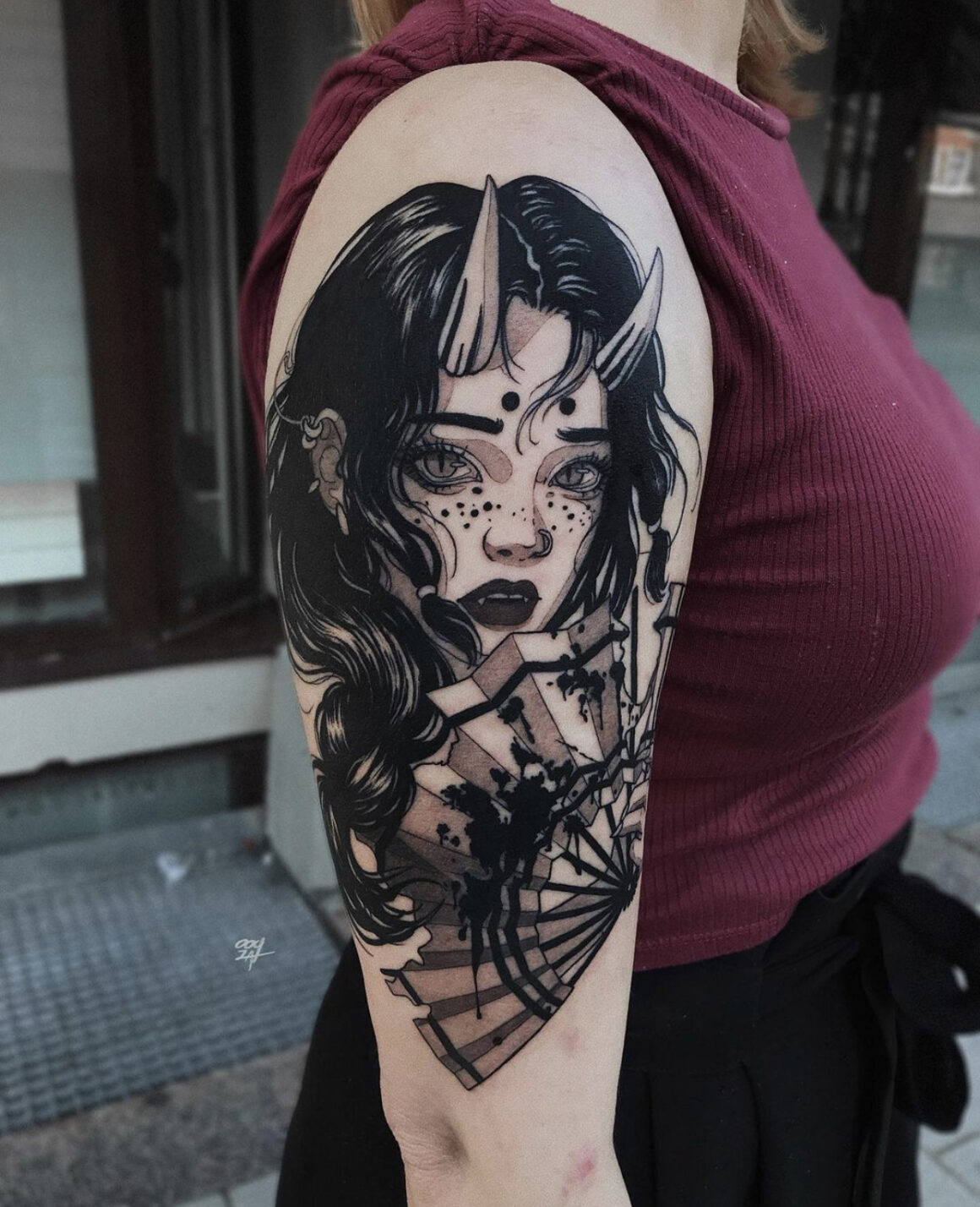 In your style there is a mix of different things and I think that in some ways you can put together Oriental and Western inspirations. Am I right?

To some extent! Initially, my sketches were inspired only by Japan, masks, geishas, yokai, but then it was so mixed! Some ideas for sketches were taken from Japanese urban legends, such as Kuchisake Onna – a girl with a surgical mask that closes her cut-off mouth. Now it is interesting for me not only to transmit emotions with my characters, but also to make them aesthetically more diverse.
I experiment and add red color to my works, I work with extra thin needles to make them even more detailed.
Sometimes people ask me what is the name of the style in which I work, I answer – ooqza. I came up with this. From a mixture of anime, manga, American comics, concept art, the fashion industry and my mood came my style.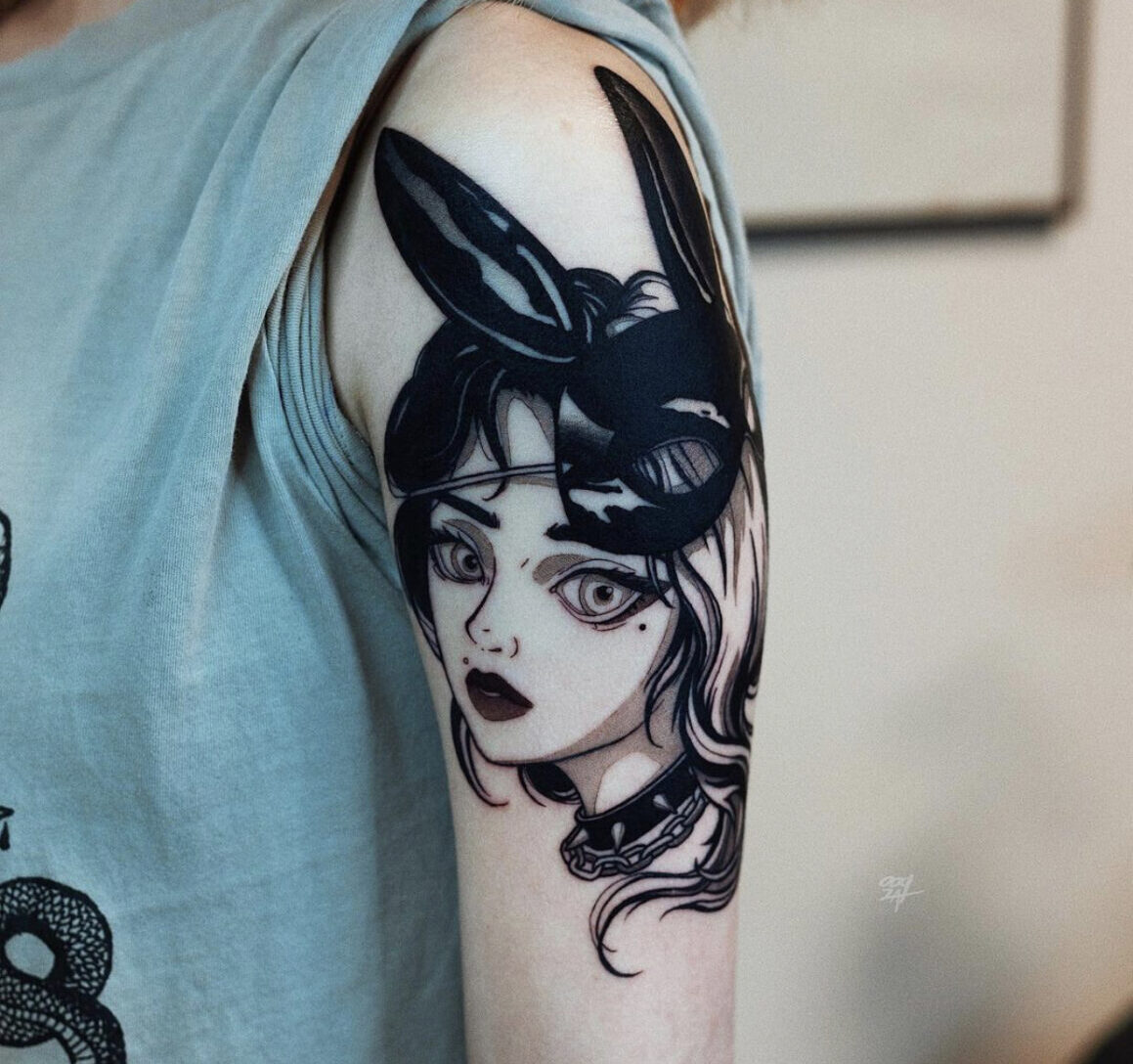 Are there some influences from movies, music or fine art in your work?
Definitely, modern culture has had an impact, but I cannot name specific people who have influenced me. Perhaps the creators of my favorite animes, then Xebec, which released the anime adaptation of the "Shaman king" manga from Hiroyuki Takei, or the Bones studio, which produced the anime, based on Hiromu Arakawa's "Fullmetal Alchemist" manga. I can go on and on! In general, I am not guided by existing work. I prefer to create unique drawings the way I see them.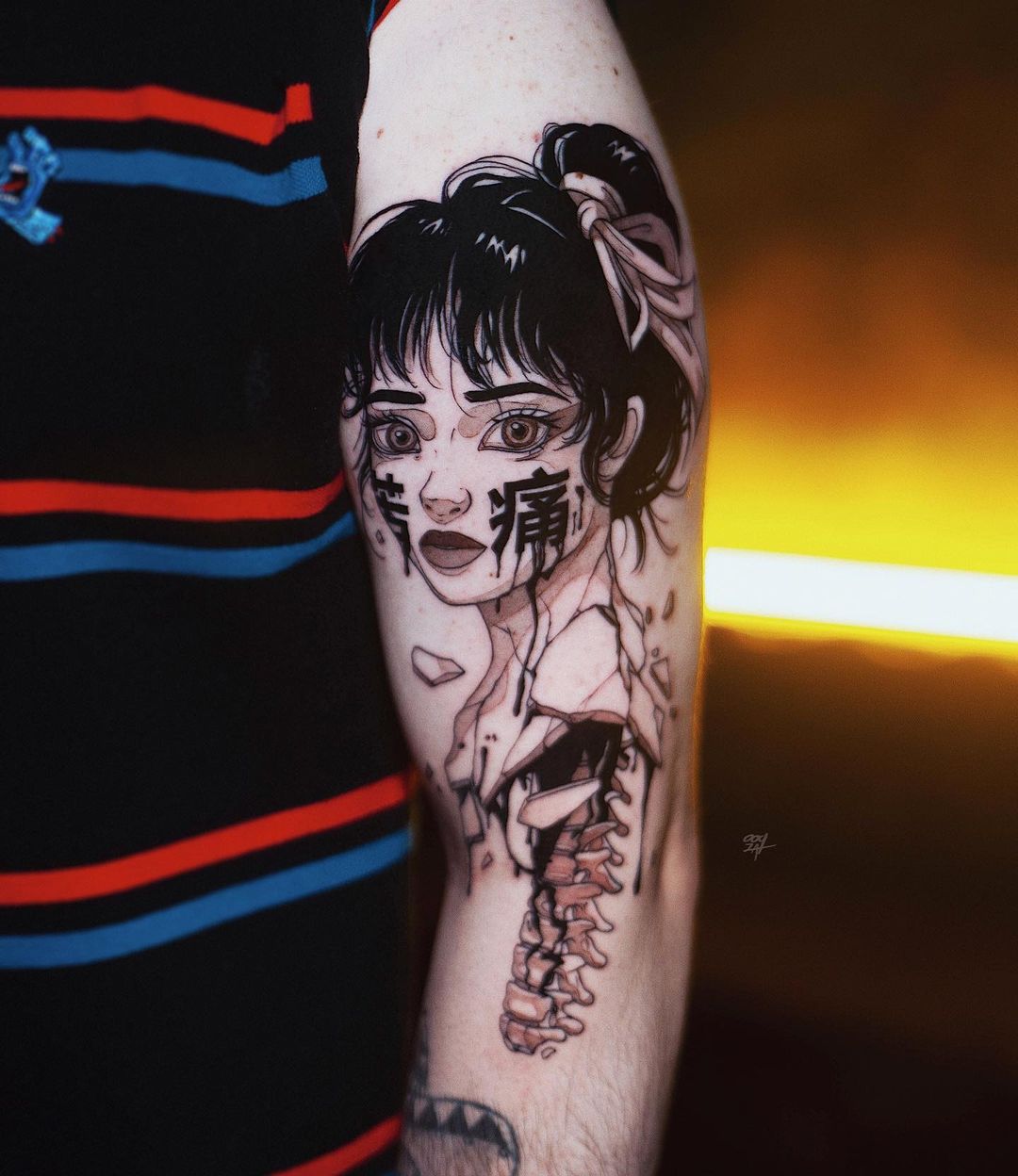 Where are you at the moment and what are you working on?
I am in Moscow, trying myself in new areas of creativity, going beyond the usual activities of a tattoo artist. I am looking for opportunities to collaborate with brands and other artists. Now I am working with an Ukrainian clothing brand on our joint project. I am also developing my own merch, I know that many of my followers have been waiting for this for a long time and finally I am in the process! The printing phase of my illustrations is coming to an end, so the T-shirts will be packed and on sale very soon! I have many more ideas for new projects, I hope I can implement them all!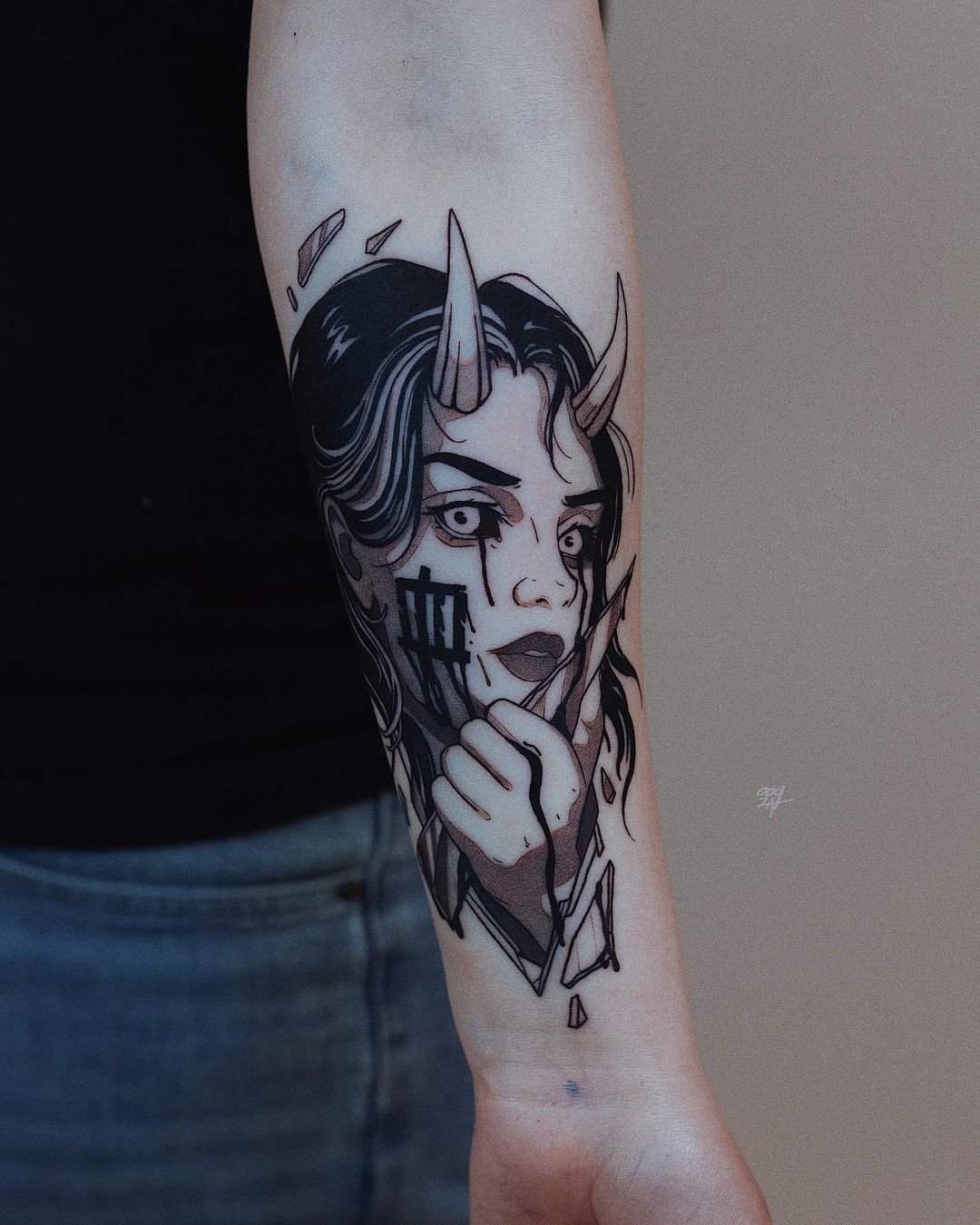 Other plans for the future?
Unfortunately, due to the lockdown, I cannot travel, although I used to do it quite often. I would like to fix it soon. I have traveled all over Europe and of course I miss this adventure vibe. Now I am aiming for a trip to the USA. I am waiting for the opportunity to apply for a visa. I plan to open a business related to art. So far, I have an abstract idea of what it will be, but the desire is strong and I am looking for my direction in this area.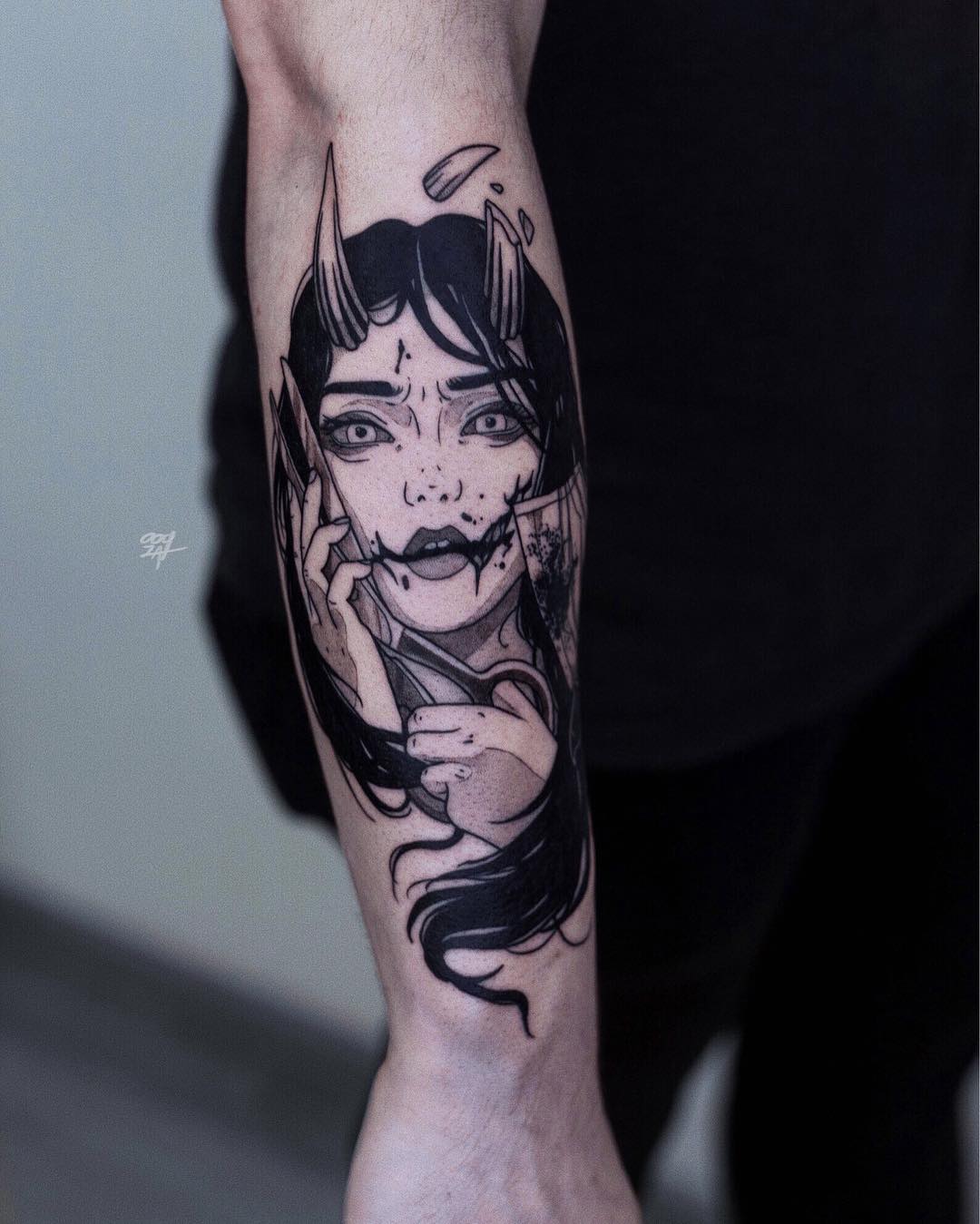 Is there anything you want to add before we say goodbye?
I would like to wish readers to listen to their hearts, do what they want, and not meet the expectations of others. Develop and improve your standard of living. Be free and move towards the goal you have set. If there is no goal, then try new things, communicate more and do not feel sorry for yourself. This path will certainly lead you to what you are looking for!
I was happy to talk to you, Stefania! Thank you for such a great opportunity to open up to the world and share my thoughts!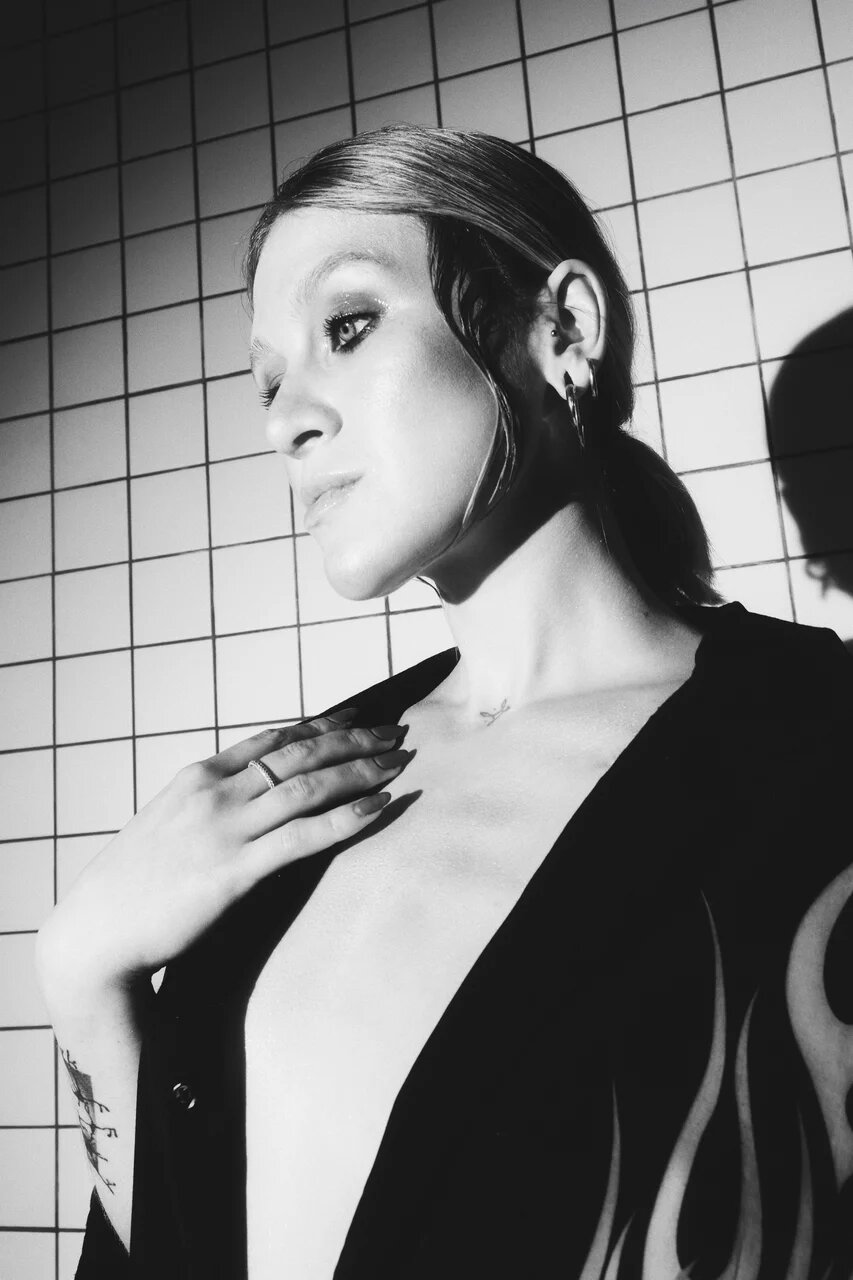 Follow
Oozqa
on Instagram:
@ooqza